Levoit is one of the most popular air purifier brands on the market at the moment, with a loyal customer base sticking around for good reason. All of their air purifiers are high-quality, attractive, efficient at filtering the air, with very affordable price tags.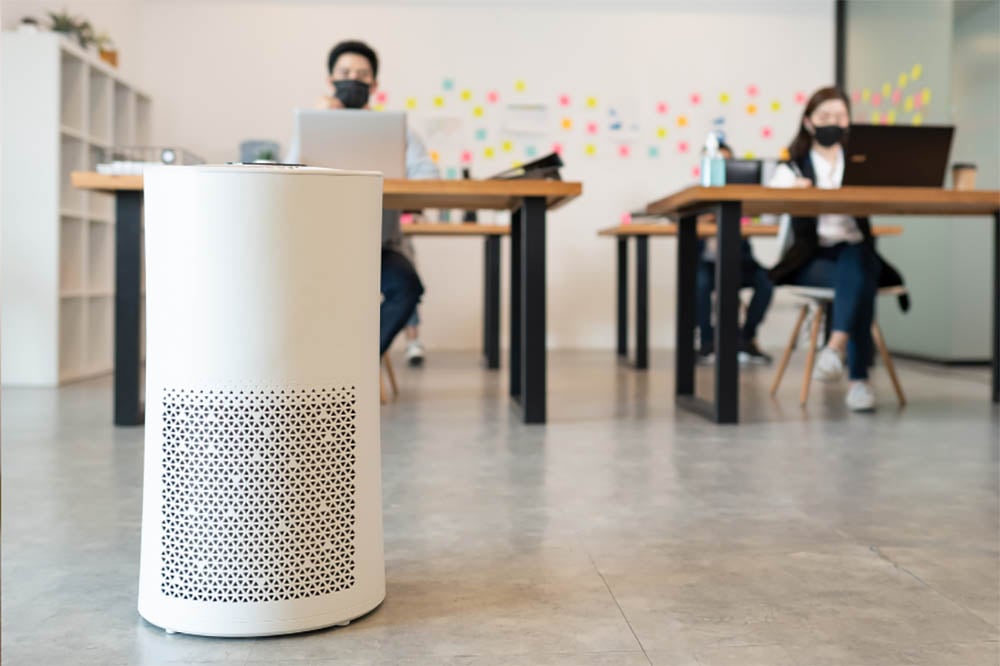 Levoit prides itself on their air purifiers not producing any ozone either, making the machines much safer for you and your family to be around. The reputable manufacturer offers air purifiers in all sizes to accommodate every customer, so we're sure that you'll find your ideal air purifier today.
Today we'll be looking at the best Levoit air purifiers on the market. In the previous year, Levoit pushed out a number of excellent air purifiers for us to look at, so we'll also be discussing whether these are better than the older models.
Of course, everyone's needs are different when it comes to air purifiers and it can be difficult to find the best for your individual needs. For this reason, we'll also be looking at the most important factors to look for when choosing your air purifier, as well as answering some of your most frequently asked questions below.
Table of Contents
The Core 300 air purifier is our favorite model from the Levoit catalog, for a number of reasons. Firstly, you can change the filters for one of the replacements to better suit your needs. There is one for pet owners or one that focuses on particularly bad air quality.
The room coverage is impressive at 210 square feet and allows for five air changes within every hour. We were also impressed by the low noise level between 24 and 50 decibels depending on the mode.
Overall, the Core 300 balances the ideal number of functions with a reasonable price point. Therefore, it offers the best value for customers. This is reflected in the outstanding number of positive reviews.
Here's How We've Determined the Best Levoit Air Purifiers
When looking for an air purifier, there are a few things that need to be considered to get the best one for you. To determine the best model, we've started by taking room coverage and efficiency into account.
Room coverage will tell you whether an air purifier is large enough for your room or not, and efficiency will assure you that the air purifier will actually remove pollutants from the air.
We've also looked into the noise level of the Levoit air purifiers to ensure that you can use them day and night without them disturbing your routine. Additional features will have also been noted for additional functionality and usability.
The Levoit Core 300 was first launched in 2019 after the success of another popular air purifier, the LV-H132. The Core 300 air purifier has a 3-in-1 filtration system that includes a pre-filter, H13 HEPA filter, and a carbon air filter to remove odors.
The Clean Air Delivery Rate (CADR) for the Core 300 is 141 cubic feet per minute, meaning that it can clean rooms sized 210 square feet with five air changes every hour of smoke, dust or mold spores. This means that you'll be able to feel the effects within minutes of turning the air purifier on.
The 360-degree design also improves the efficiency of the air purifier as it draws air from all angles, so that none is missed, the high-powered fan pushes the air back further into the room to clean it quicker.
We like the fact that you can customize the filters used within this air purifier to your personal needs. There is an original replacement filter as well as one specifically designed for pet owners or tackling highly polluted air.
There is an indicator light that tells you when you need to change the filter as well as four timer options, three fan speeds, sleep mode, and a child lock.
The noise level of the Core 300 is between 24 and 50, making it quiet enough to be used throughout the day and the night.
Customers love the fact that this air purifier is small yet mighty, with excellent efficiency of picking up 99.97% of particles as small as 0.3 microns. They also enjoyed how quiet it is and how it seemed to work before their very eyes.
Only 2% of the customer reviews were negative with one or two-star ratings, and the majority of these were down to a plastic odor that was emitted from the machine. However, only a handful of customers experienced this, and many more didn't.
The Smart LV-PUR131S is one of the only two Levoit air purifiers that comes with smart controls, allowing you to control the machine through your phone or home assistant. The three-stage filter comes with a true HEPA filter as well as an activated carbon pellet filter for odors.
The H13 HEPA filter can clean the air around you 30% faster than other air purifiers on the market, with 30% higher purification efficiency. This purifier can clean rooms up to 900 square feet in an hour making it ideal for large rooms.
The noise level is 27 decibels at its lowest, which is slightly higher than our first place pick but still impressively low for an air purifier. You can run this machine throughout the night without any issues.
Reason #1 to Choose This Product: Smart Controlled WiFi Capabilities
WiFi-controlled air purifiers are much more convenient than ones without this benefit, as your smartphone turns into your remote control. The VeSync app allows you to control your purifier from anywhere in the world so that you can always return home to clean air.
Use the app to control the timer, fan settings, and schedules, as well as viewing the air quality display on it and the filter life. You can also use your home assistant, such as Amazon Alexa or Google Home, to control your air purifier.
Reason #2 to Choose This Product: Carbon Pellet Filter
Unlike our #1 spot, the Smart LV-PUR131S uses a honeycomb activated carbon pellets filter to remove odors. Pellets and granulated odor filters are much more effective than mesh carbon filters as they can collect more odors and last for a more substantial amount of time.
You won't need to replace this filter as quickly as mesh carbon filters and you will be able to enjoy the benefits of it for longer.
The Core P350 is the best air purifier for pet owners as it has been created specifically with pet dander, allergens, and odors in mind. If you're a pet owner and want to rid your air of the less favorable aspects of having a pet, the Core P350 could be the ideal air purifier for you.
This air purifier has the same CADR and room coverage of our #1 pick - 141 cfm and 219 square feet. This is ideal for medium-sized rooms such as living rooms, kitchens, and dining rooms.
The noise level is also as low as the Core 300 with 24 decibels being its lowest running noise. There is also the option to use the display light as a night light if you wanted to.
Reason #1 to Choose This Product: Designed For Pet Owners
The H13 HEPA filter can remove up to 99.97% of particles larger than 0.3 microns. This is ideal for allergens coming from pets that make you sneeze, cough, or struggle to breathe when around them.
The carbon pellets absorb, decompose, and lock in pet odors so that these things can stop being unfavorable features in your house. There is also a pet lock feature that stops your pets from being able to tamper with the controls.
It might sound unlikely that your dog or cat would be able to alter the controls of your air purifier, but you'd be surprised! Better to be safe than sorry.
Reason #2 to Choose This Product: Warranty Period
Levoit offers a one-year warranty period with this air purifier, along with lifetime support from their American team. There is also the option to extend the warranty up to another year by registering the device online, protecting your purchase for a generous amount of time after the initial transaction.
The Levoit Core 200S is the second air purifier from this manufacturer that offers smart controls through your phone or home assistant. If you liked the sound of the WiFi capabilities of our #2 picks but didn't need as much room coverage, the Core 200S could be an ideal choice for you.
This is an ideal air purifier for small rooms up to 183 square feet, which is perfect for smaller bedrooms, dorms, and offices. This room coverage is the least significant on our list, but this comes with its own set of benefits as well.
Reason #1 to Choose This Product: Low Noise Level
The noise level for the Core 200S is 24 decibels, similar to the majority of the other Levoit air purifiers that we have looked at. 24 decibels is just slightly louder than a whisper, ensuring that you won't be disturbed during the night.
The noise level only reaches 50 decibels even on its highest power, which is roughly the same as a normal conversation at home. While this is loud enough for you to hear if you're listening out for it, the noise level shouldn't be significant enough for you to hear it when you're busy during the daytime.
Reason #2 to Choose This Product: Affordable Price
Considering that this is not one of our budget picks, the price point of the Core 200S is incredibly low. This is due to the lower room coverage, but you can find much more expensive air purifiers on the market with even lower room coverage on offer.
In terms of affordability compared to the functionality of the air purifier, the Core 200S is definitely the best air purifier on the market. It's also an excellent option if you're looking for your first air purifier to test out in a smaller room.
The fact that this air purifier also has WiFi capabilities makes the low price all the more impressive and sought after.
The Vital 100 is another small air purifier that can be positioned on a tabletop or on the floor out of sight. It's great for people suffering from allergies or have problems with mold, with an LED display that can show you exactly what settings are being used in real-time.
You also have the option to turn this LED display off when using the purifier during the night as not to disturb you. The sleep mode reduces the noise level down to 23 decibels to ensure that you won't be rudely awoken continuously throughout the night.
The three-timer settings are also helpful to prevent you from using too much energy when it's not necessary.
Reason #1 to Choose This Product: Fast Results
The room coverage of the Vital 100 is amazing - it can cover 500 square feet within just 30 minutes, and 300 square feet in just 18 minutes. The customer reviews are full of previous buyers raving about how quickly they felt this air purifier works.
It can also be used for smaller rooms up to 195 square feet to allow for five air changes per hour. This is thanks to the CADR of 130 cfm. No matter whether you use it in a small or medium-sized room, you will be blown away by the quickness of these results.
Reason #2 to Choose This Product: Energy Efficiency
The rated power of this air purifier is 55 watts, highlighting that it uses very little energy to run. In fact, the running costs of this air purifier could be as little as $1.66 per week - even when in use for 24 hours a day!
These figures will depend on your local energy rates, but the premise remains the same. The Vital 100 is impressively inexpensive to run and won't cause an eye-widening energy bill at the end of the month.
The Levoit LV-H133 is an excellent air purifier for larger rooms, and it also features some additional functions that we have not yet seen on Levoit air purifiers. The LED display can be turned off during the night time and you can set the timer for up to 12 hours.
Three fan speeds allow you to control the efficiency of your air purifier as well as the noise level. The lowest decibel that the LV-H133 can hit is 25 decibels, similar to the other air purifiers discussed above.
Reason #1 to Choose This Product: Air Quality Sensor
One of the most interesting features of the Levoit LV-H133 air purifier is its automatic mode and air quality sensor. These features have been added for your convenience so that you don't have to constantly alter the settings manually.
You will easily be able to see the quality of the air in your space thanks to the real-time indicator rings stating whether your current air quality is very good to bad. If you have the automatic mode toggled, it will then alter the fan speed to work with the air quality.
If the air quality is bad, the fan speed will increase to its highest setting. If the air quality is very good; however, the air purifier will reduce the fan speed to its lowest setting.
Reason #2 to Choose This Product: Large Room Coverage
The Levoit LV-H133 has an impressive room coverage that doesn't come close to any of the other air purifiers reviewed in today's article. Within just 30 minutes, this machine can clean the air in large rooms sized 1076 square feet.
What's more, it can clean rooms 538 square feet within just 15 minutes. This is ideal for large spaces instead of having to purchase two or more air purifiers to fill the space.
Budget Options
The Levoit LV-H128 is the least expensive of our budget options with an incredibly reasonable price point. The room coverage is smaller than what we have been looking at with 161 square feet, although this isn't as small as you might expect. You can use the LV-H128 for small rooms like offices and bedrooms.
The noise level is 28 decibels at its lowest, which is louder than the more expensive air purifiers higher on our list. The efficiency is the same as the more expensive models above as well.
Unlike the Levoit air purifiers that we've looked at in our article, the LV-H128 uses one-button control rather than a multi-button control panel. While this does improve the simplicity, the functionality is much lower and there aren't as many features to benefit from.
Overall, this is a reasonable air purifier from Levoit with a low price. However, the smaller room coverage and lack of functions don't make the lower price worth it. For a small price increase, you can get the Core 200S with WiFi capabilities. Plus the noise level is higher despite the smaller room coverage.
Next up is the LV-H132, which has a slightly higher price point than our low-cost option, although less functionality. You can adjust the fan speeds and night light, but that's where the functions end. There is no timer or sleep mode to benefit from, which the majority of the above Levoit air purifiers do have.
The room coverage of 219 square feet is suitable for small to medium-sized rooms, making it better suited to more customers. The noise level is 25 decibels at its lowest, which is higher than we've seen previously although not incredibly so.
We think that the Core 200S is still a better low-cost choice, but if you're not worried about smart controls and need slightly more room coverage, the LV-H132 could be the one for you. Just bear in mind that it is slightly louder and has a simplified number of features to benefit from.
Finally, the Vista 200 is another budget pick from the Levoit catalog. It features a sleep mode and gentle night light to ensure that you sleep comfortably throughout the night without disruptions. The noise level in sleep mode is 26 decibels, which is still higher than the more expensive air purifiers.
The room coverage for the Vista 200 is similar to our first budget pick with it being 161 square feet. This is rather small for the price point and will only work in small bedrooms and offices.
We don't see a reason why you would opt for the Vista 200 over any of the more expensive picks, or even our low-cost option of the Core 200S. These air filters can do much more than the Vista 200 with larger room coverages. The 200S is even cheaper than the Vista 200, and it has double the functionality of this purifier.
Verdict: Your Best Levoit Air Purifier
If you want the best value for money, we recommend the Levoit Core 300 Air Purifier. It has a respectable room coverage that will suit most people's needs, high efficiency, and even the option to change the filter to one that better suits your individual needs. It also comes with a reasonable price point for such an impressive machine.
If you want smart controls, the Levoit Smart LV-PUR131S is a great option. You can use your smartphone or home assistant to control the device, making it much more convenient for the user.
If you want to spend really low, we recommend picking the Levoit Core 200S. It has smart controls for an impressively low price.
Overall, Levoit air purifiers are all excellent in their own way. Remember to focus on your individual needs before choosing an air purifier. Just because we think the Core 300 is the best option on the market, it could be missing something vital that you need.
What Should I Look Out For When Buying Levoit Air Purifiers?
It can be difficult to know what you're looking for when given a long list of air purifiers. They might all blend into one 7 make it more difficult for you to understand the qualities behind each of them. This can lead to a rushed decision and subsequently you being left with a less than optimal purifier.
Below we have listed the most important criteria to look for to ensure that you get the best Levoit air purifier for your personal needs.
Criteria #1: Room Coverage
For starters, you must choose an air purifier that is the best fit for your space. There is no use in getting a purifier with a coverage of 200 square feet for a room that is 350 square feet. The purifier will clean the air around it before pushing it back into the unclean air, rendering the air purifier useless and wasting your energy.
So, always opt for an air purifier with enough room coverage that will suffice in your space. The larger the room coverage, the quicker the purifier will clean your room, and the more air changes you'll experience an hour.
However, opting for an air purifier that is too large for your room will increase the energy costs of what you need to be paying for, so bear this in mind.
Criteria #2: Efficiency
Efficiency is also very important when it comes to an air purifier. The majority of Levoit air purifiers come with H13 HEPA filters, which can trap 99.97% of particles as small as 0.3 microns. So, the efficiency of these filters is excellent and are among the best found on the market.
Carbon filters to remove odors are slightly less effective than the particle filters Levoit use, with them being pellet-based, granulated, or mesh. The former two are much more effective than the latter at removing odors, and their longevity is also improved.
If you have a specific issue in your home that you're looking to get rid of, whether it be airborne toxins, pet allergens, and dander, or particularly bad air quality, you should look for an air purifier that is going to aid you best.
Levoit offers air purifiers focusing on all different types of air pollution, all you need to do is find the best one for your personal needs.
Criteria #3: Noise Level
Air pollutants don't just invade your space in the daytime - they're also hovering around while you sleep. Many people want to use their air purifiers during the night so that they can breathe easily and wake up feeling their best.
However, using your air purifier throughout the night is easier said than done when the loud hum of the fan gets in the way of your sleep. Luckily, the majority of Levoit air purifiers have sleep modes and low noise levels.
The lower the noise level, the better. Make sure that your chosen air purifier has a low decibel level if you're planning on using it throughout the night time so as to not disturb your sleep.
Criteria #4: Convenience
Convenience is key for anything in the house, as the less convenient something is, the less use you're likely to get out of it. Smart controls are most convenient to the user on air purifiers as you don't need to use the controls on the machine itself.
Instead, you can either use your home assistant or smartphone to alter the settings. This is much more convenient so that you don't have to get up and walk right up to the machine to change the settings.
Washable pre-filters are also much more convenient than non-washable alternatives that require you to brush or vacuum them. Some pre-filters can't even be reused, which can increase your running costs quickly over time.
Automatic modes are also very convenient for the user as the machine will do all of the work for you.
Is a Levoit Air Purifier Definitely Right For You?
Levoit air purifiers are excellent for many reasons, although there are many other manufacturers on the market. Blueair focuses more on reducing their wastage and therefore yours, which might be an important feature for you. Levoit does not focus on this as much, which is why you might prefer to opt for a different manufacturer.
Levoit also uses carbon filters for its odor removal, although other manufacturers use activated charcoal. Some will prefer the former while others the latter, so it depends on which you find the most effective as for whether Levoit is a good option for you.
We would recommend perusing the market to learn about some other manufacturers before opting for just one.
FAQ #1: Do Levoit Air Purifiers Give Off Ozone?
No, Levoit air purifiers do not produce any ozone at all. They are safe to use around your entire family, including children and pets.
While most air purifiers that do produce ozone don't create enough to be considered harmful, the fact that Levoit machines are ozone-free is of great peace of mind for many people.
FAQ #2: Can You Vacuum A Levoit Air Purifier?
You can vacuum most Levoit air purifier pre-filters, but make sure that the label says that it is reusable before you do this. If the HEPA filter does not claim to be permanent or reusable, then you should be careful with it. These filters are commonly designed to be replaced, although people have vacuumed them in the past.
Vacuuming a filter that doesn't say it can be vacuumed could damage the mesh fibers and reduce its efficiency. If you wanted to clean your filter, a soft brush would be better to help preserve the mesh. This might get you a few more weeks of use out of the air purifier before you need to replace it properly.