Levoit offers an impressive variety of air purifiers on the market, with new products being released every year. The Levoit Core 300 is a popular option for many people thanks to its customizable filters and compact size.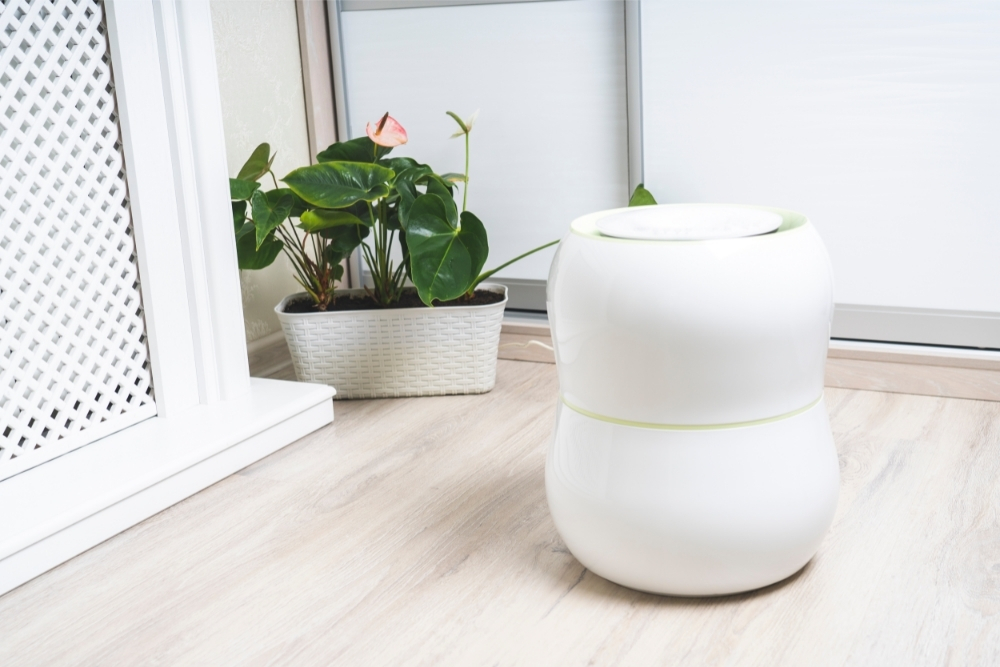 But how do you know whether the Levoit Core 300 is the best option for you? We'll be conducting a deep dive into this air purifier to find out what it can and can't do, and whether this will work for you or not.
We'll also be looking at how to use it as well as the previous customer reviews so that you can get a feel of what it's really like to have this air purifier in your home. Without further ado, let's dive right into our review of the Levoit Core 300 air purifier.
Table of Contents
If You Read Nothing Else
The Levoit Core 300 is a highly efficient air purifier with room coverage of 219 square feet with the ability to change the air five times an hour.
You can choose between three replacement filters to customize your purifying experience, which is a rarity among air purifiers at this price point. The noise level is impressively low starting at only 24 decibels, ideal for people who want to leave their machine running all day and night.
The pre-filter is slightly less convenient to clean thanks to the fact that it is not washable, but the functionality of this air purifier makes up for this fact in our eyes. The Levoit Core 300 also took our #1 spot in the "Best Air Purifiers for Mold" category because of it's outstanding performance for the price. It's also an ideal air purifier for those suffering from pet allergens, damp, and low-quality air in bedrooms, family rooms or studies.
What's So Good About The Levoit Core 300?
First, the Levoit Core 300 is one of a relatively small group of air purifiers that has had its performance verified by the US EPA's Energystar program. This means that, if nothing else, you can trust the reported numbers on Clean Air Delivery and room size coverage. Many air purifiers on Amazon today are from manufacturers who haven't bothered to get this testing and verification done.
The Levoit Core 300 is a cylindrical air purifier that draws air in from all directions, ensuring that no particle is missed thanks to a one-sided design. It is small enough to be kept on a tabletop or desk, or even right next to your bed.
The filters don't produce any ozone which is one of the main worries that potential buyers have with air purifiers, so this feature is excellent. The room coverage of 210 square feet is ideal for medium-sized rooms and this air purifier can change the air up to five times an hour.
There are three fan speeds for you to alter the usage of your air purifier, as well as additional features such as a sleep mode, a timer, and a child lock to prevent little fingers from altering the settings without your knowledge.
There is so much more to note with this air purifier, but we have narrowed the main points down to three. They are:
Standout Point #1: Customizable Filtration System
Just like many other air purifiers, the Levoit Core 300 comes with a three-stage filtration system that consists of a pre-filter, a True HEPA filter, and an activated carbon filter. The pre-filter is best for removing larger particles such as pet dander and dust, while the HEPA filter can remove 99.97% particles up to 0.3 microns small.
The carbon filter will remove odors and smoke from the air as well, making the most noticeable difference to the actual feel of the air in your home.
However, the Levoit Core 300 goes the extra mile by allowing you to customize your replacement filters based on your personal preferences and needs. You can get replacement filters focusing on toxins or pet allergens, and dander, or simply the original filter.
The toxin absorber filter features a high-efficiency activated carbon filter that is extra effective in removing air pollution, exhaust fumes, smoke, toxic fumes, VOCs, and other types of air pollution.
Alternatively, the pet allergy filter features an effective activated carbon filter to remove as many pet allergens and strong odors as possible. This is excellent for people who suffer from allergies to pets.
You will have to purchase these replacement filters for an additional cost, but the fact that you can alter the focus of your air purifier to your needs is something that isn't found on many other air purifiers.
Standout Point #2: Room Coverage
With a Clean Air Delivery Rate (CADR) of 141 cubic feet per minute, this air purifier can cover spaces up to 219 square feet. It can also clean the air in these rooms up to five times an hour, ensuring that you're always surrounded by high-quality clean air.
The 360-degree design pulls air from every angle to ensure that no air escapes a cleaning. The air will then be pushed back out into the air all around the room, as well as upwards from the top air outlet. This makes the air purifier much more efficient and allows you to feel the difference in air quality much quicker than lower-quality air purifiers.
Standout Point #3: Noise Level
Levoit pleases customers with a sleep mode, slowing the fan down enough to reduce the noise level. The sleep mode also introduces indicator lights that can work like night lights.
In sleep mode, the noise level is only 24 decibels, which is slightly louder than a whisper or rustling leaves. On the other hand, the maximum noise level is 50 decibels, which is the same running noise as a refrigerator.
Even at the highest noise level, you won't be disrupted by the Levoit Core 300. However, the sleep mode reduces an already quiet air purifier to almost silent. This allows you to sleep peacefully with clean air circulating around you throughout the night.
Standout Point #4: Compact
In general, an air purifier's performance is directly related to its size. The bigger the fan, and the bigger the filter, the more particles it can trap. Of course, not everyone wants a massive air purifier eating up precious space and looking ugly in their otherwise beautiful rooms.
We've talked about the Levoit 300's performance for its price, but the other point to understand is its performance for its size. This is a small machine that can be placed on benchtops, coffee tables or desks, and can still clear a space of 219sq ft.
Other air purifiers that are this small can't offer the same Clean Air Delivery. And other air purifiers offering the same Clean Air Delivery aren't this small or lightweight. Remember, chances are you'll be carrying the machine around the house at different times.
Can Do/Can't Do
The Levoit Core 300 can effectively clean the air in a 219 square foot space within just 12 minutes. It can remove up to 99.97% of particles, both small and large, without any hassle at all. This air purifier can also run continuously throughout the day and night without disturbing you.
According to the US EPA's Energystar review, the Levoit Core 300 also has a high Clean Air Delivery Rate per Watt of electricity used, meaning its running costs will be lower than similarly priced machines. In other words, you can actually keep it turned on all day without worrying about the electricity bill.
It can also clean the air without creating any ozone which can be harmful to your health when breathed in.
But is there anything that the Levoit Core 300 can't do?
Besides being able to purify larger rooms, we have noticed two things that could be improved with the Levoit Core 300 air purifier. Firstly, the carbon filter is not as effective as it could be at removing odors. A granule or pellet-based activated charcoal filter would have been a better choice for removing all odors.
Secondly, the pre-filter is not washable and therefore you'll have to spend more time cleaning it. You can use a vacuum cleaner on the netting, although you do run the risk of lessening its efficiency. You can also use a soft brush which would be more gentle on the pre-filter, but this might not clean it as well as a vacuum cleaner would.
How do You Use It?
The Levoit Core 300 air purifier is very simple to set up - simply remove it from the box, fit the filters according to the instructions, and turn the machine on. You'll be able to feel the effects immediately thanks to the high-powered fan and high CADR.
The functions are easily adjusted with the control panel on the top of the air purifier. All of the functions you can alter are on the top of the machine to make it easy to control. Choose between the three fan speeds, light mode, sleep mode, and between the four timers. The timers are preset into the air purifier for two, four, six, and eight hours.
What do the Reviews Say?
Levoit is a fan favorite among air purifier users, with all of their products having overwhelmingly high reviews. The Levoit Core 300 is no different, with 98% of the reviews being positive with three, four, or five stars.
Only 2% of previous customers have left a negative review with either one or two stars, giving us the impression that this air purifier is a very popular machine, and for good reason.
Happy customers were pleased with the longevity of the air purifier without its effectiveness being reduced. They also couldn't believe how quickly particles were being removed from the air, with dust being removed in front of their eyes.
Other features that happy customers have been raving about are the low noise level, night mode, different fan speeds, and the huge difference in the air quality.
The small number of negative reviews were mainly focusing on the plastic smell that some customers found emitted from their Levoit Core 300. However, as many customers did not experience this smell, we still feel comfortable recommending the Levoit Core 300.
How does it Compare?
Levoit Core 300 Air Purifier Vs Levoit Core 200s
The Levoit Core 200s is slightly more compact and lightweight than the Core 300, although both can be used on a tabletop without any issues. They are similar in functions, but the Core 300 does have a slightly larger room coverage than the 200s 183 square footage.
The main difference between these two air purifiers is that the 200s has WiFi capabilities that the 300 does not. This makes the former more convenient for the user and easier to use in general. You can control the 200s from your phone or home assistant.
With that being said, you cannot customize the filters for the 200s like you can for the 300. If you don't care about smart controls, the Core 300 does offer better functionality and a more impressive room coverage.
Levoit Core 300 Air Purifier Vs Levoit Core P350
Levoit created the Core P350 specifically targeting pet owners, removing allergens and pet dander from the air within minutes. With a room coverage of 219 square feet, this air purifier holds up well to the Core 300 and we cannot see any major differences between them.
So, pet owners will enjoy this air purifier. However, as you can use the Core 300 with a replacement filter specifically for pet owners, we don't know how beneficial the P350 is. The 300 offers better versatility so if you wanted to try the different filters you could.
Levoit Core 300 Air Purifier Vs Blueair 411
The Core 300 has a slightly larger room coverage than the Blueair 411's 190 square feet. The Blueair 411 has a single button operation in place, while the Core 300 has numerous buttons on its control panel. Some people will prefer the simplicity of the 411, but the 300 comes with more functionality overall.
The Blueair 411 does run at a lower decibel level between 18 and 48, while the lowest the Core 300 will go is 24 decibels. Both of these are impressively quiet, but the 411 might be better to sleep within your bedroom.
The Blueair 411 does come with a washable pre-filter, which is more convenient than the one that comes with the Core 300. Both of these air purifiers have excellent attributes, and the decision comes down to whether you value simplicity over functionality.
Verdict
If you are looking for an air purifier with a low noise level, good functionality, and the option to replace the filters to fit your needs, the Core 300 could be a great option for you.
However, if you don't care about changing the filters and want a smart-controlled model, the Core 200s might be best for your space.
If you value simplicity and only need an air purifier for a small room, the Blueair 411 is a respectable choice.
Overall, we like the customization of the Core 300 and find that it is one of the best choices on the market.