Table of Contents
Freshly made homemade coleslaw is a versatile side dish that is perfect for balancing out a heavy meal. Fresh, crispy vegetables provide relief from a meal of beef brisket, pork ribs, Jamaican jerk chicken, or sausages. Coleslaw also works well in sandwiches and is a key element in pulled pork slaw burgers.
This slaw is quick to make and, if you plan to serve it immediately, then you could skip the cabbage salting stage. If time is on your side then definitely follow all the steps below for the ultimate in crispy cabbage salads.
Recipe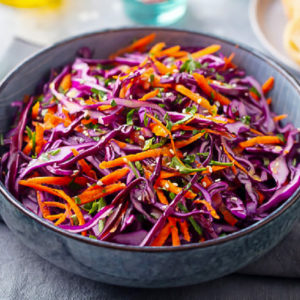 Homemade Red Coleslaw
This slaw is quick to make and, if you plan to serve it immediately, then you could skip the cabbage salting stage. If time is on your side then definitely follow all the steps below for the ultimate in crispy cabbage salads.
Ingredients
1

small

red cabbage

shredded

1

red onion

thinly sliced

2

medium

carrots

finely sliced

1

cup

Continental parsley

finely chopped

2

tsp

horseradish cream

1

tbsp

Dijon mustard

½

cup

mayonnaise

1

tbsp

lemon juice

salt and pepper

to season
Instructions
Place shredded cabbage leaves in a large bowl and toss with two tablespoons of salt. Place the shredded leaves in a colander and allow them sit for 30 minutes. Rinse and pat dry.

Toss cabbage, onion, carrots, and parsley in a large bowl until combined.

Add horseradish cream, Dijon mustard, mayonnaise, and lemon juice in a large bowl and mix with a spoon until combined.

Add the vegetables and season with salt and pepper. Use hands to mix all the ingredients until the sauce is evenly distributed.

Serve coleslaw immediately or cover and chill in the fridge for 2-3 days.
Cabbage basics for coleslaw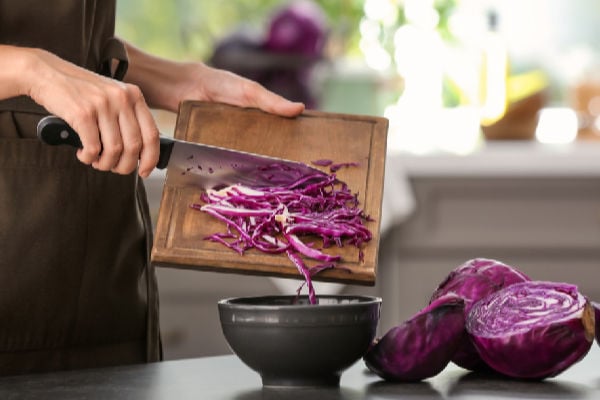 First off, let's look at the best cabbage to use for coleslaw. There aren't many "hard and fast" rules which make shopping for ingredients easy. Green, red, napa or savoy varieties all taste delicious and have super crunchy textures. Choose a fresh, firm cabbage that doesn't have any visible signs of damage, bruises, or rotting sections.
To prepare, remove the outer leaves that are usually a little tough and tattered.
Use a large, sharp knife to slice the head into quarters then remove the hardcore.
Finely slice the cabbage into shreds using a knife. Other options for processing include a mandolin or food processor that has an attachment to shred.
Substitution Advice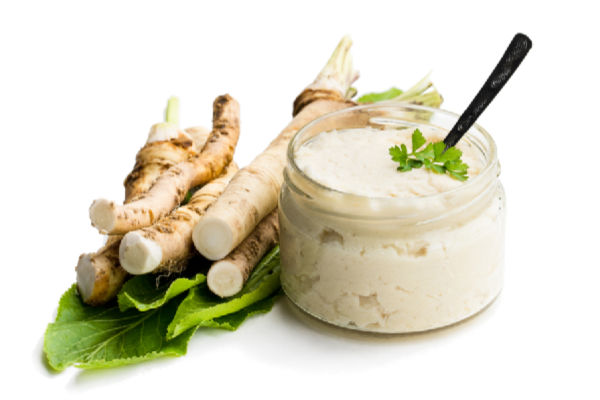 Don't have any horseradish?
Check out our guide on recommended horseradish substitutes.
Can't find any Dijon mustard?
Here's an article on the best substitutes for dijon mustard.
Tips for improving coleslaw
1. Don't skip the salt
Unless you're in a big hurry, don't skip the cabbage salting step. The salt is essential for drawing out moisture and helps the cabbage stay crispy until it's time to serve.
2. Tools make life easy
Shredding vegetables to the perfect size can be a challenge without the right tools. A special vegetable preparation knife can make life a lot easier. We compared two of the best Japanese options, Usuba and Nakiri to work out which was the best. If you want to up your chopping game, then take a look at our article: Usuaba Vs. Nakiri.
3. Get the sizes right
Carrots should be sliced very finely. A good option is the Julienne technique that slices carrots into a similar shape to matchsticks. Otherwise, grating will also work.
4. Be creative with the vegetables
If you don't have red cabbage for your coleslaw, then consider using green cabbage, fennel, kohlrabi, radicchio or finely sliced broccoli.
5. Up your knife skills
Brush up on your knife skills by watching our video lessons on how to slice an onion and also how to slice a carrot.
6. Choose a lighter option
For a lighter cole slaw, instead of using mustard, mayo, and horseradish, use your favorite vinaigrette. Alternatively, you can replace the mayo with low-fat plain Greek yogurt.
7. Sweeten the deal
Add some sweet flavor by finely slicing some of your favorite apples. Jazz or Royal Gala are superb when they're in season.
How to make coleslaw ahead of time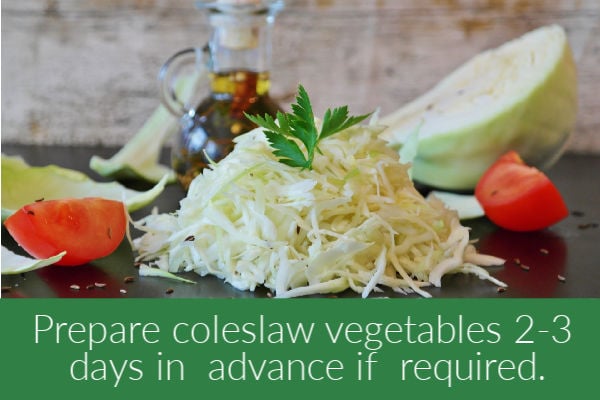 To make coleslaw in advance, prepare the vegetables and creamy sauce separately and store them in airtight containers. The vegetables are okay stored for 2-3 days; the sauce will keep for at least one week. The night before serving, combine the ingredients and store covered.
Is store-bought coleslaw okay?
Buying store-bought coleslaw is a real time saver. Use the contents as a starting point for our recipe above then add the extra ingredients that aren't in the bag.
Why is coleslaw so the perfect side dish?
Coleslaw is a Dutch creation and derives from the original koosla. It is hugely popular side-dish at the dinner table, outdoor barbecues, and picnics thanks to its simplicity and economical ingredients. But another significant advantage over most other salads is that it stores well – so planning ahead is possible.
Do you have a special ingredient that you love to add to coleslaw? Let us know in the comments below.