The main difference between haddock and cod is that haddock has a distinct, slightly fishy flavor with a tender texture, while cod has a mild, slightly sweet taste and flakier meat. Codfish are also big and round, while haddocks tend to be slightly smaller and slim.
Both are very popular white fish that belong to the Gadidae family. Since they are closely related, they also have similar sizes, appearances, nutritional content, and costs. But despite their similarities, many tend to develop a preference for one fish over the other.
This article will share tips on how you can tell a haddock from a cod. I will compare the sizes, appearances, tastes, textures, nutritional values, and costs of haddock and cod. This article will also answer some questions that you might have.
Table of Contents
What is a Haddock?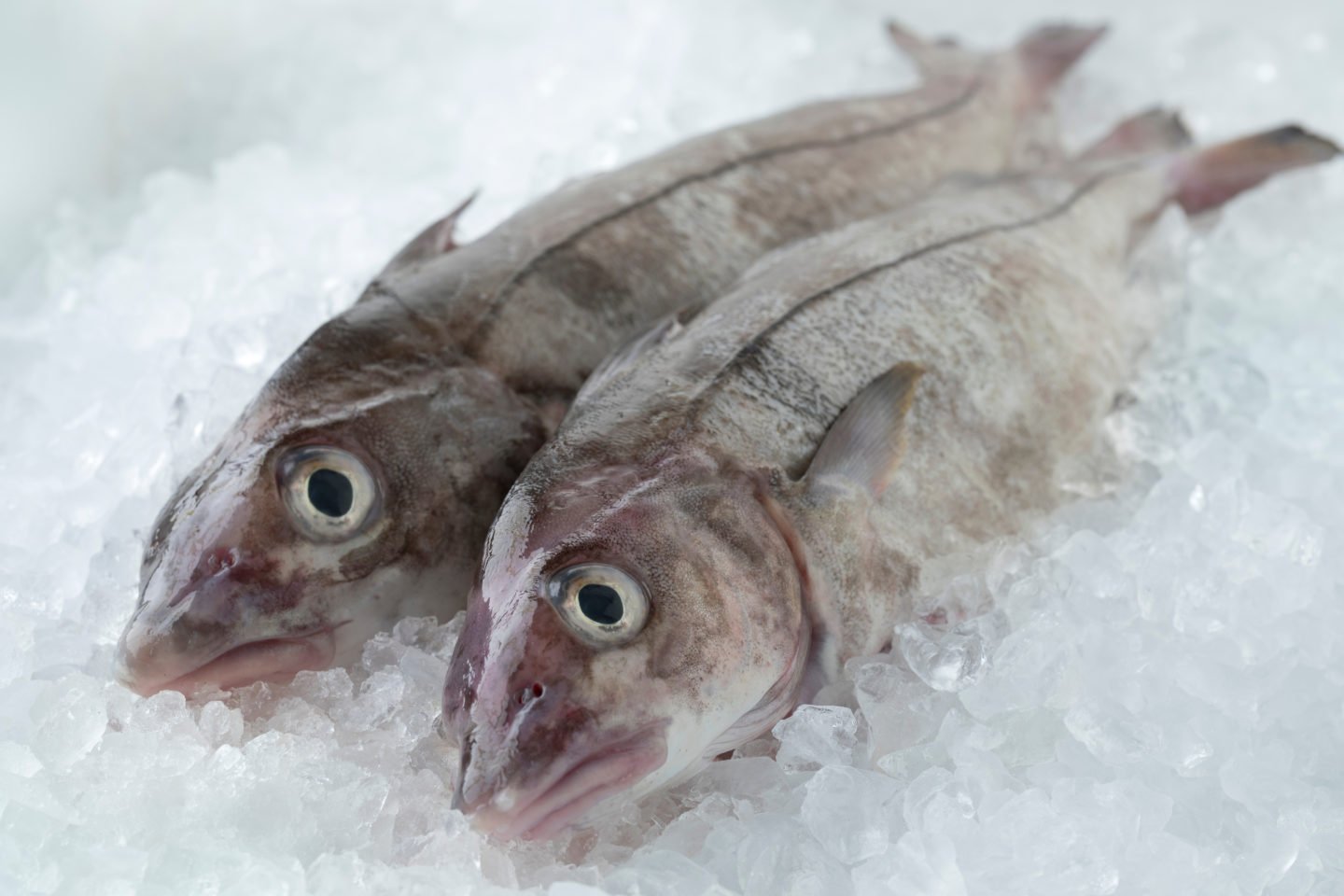 The haddock (Melanogrammus aeglefinus) is a marine fish found mainly in the deep, cold waters of the North Atlantic Ocean and its connected seas. Haddock like to live near the seafloor, where they can feed on mollusks, crustaceans, shellfish, worms, and other small invertebrates. Adult haddock may also feed on small fish such as herring, sand lance, and mackerel.
Haddock is usually available fresh, frozen, or filleted, but you can also buy it smoked, dried, or canned, depending on your needs. Haddock may be baked, roasted, grilled, fried, battered, broiled, breaded, or added to soups and stews. In some parts of Europe, haddock is preferred for fish and chips. Around the world, it also stars in various dishes.
What is a good substitute for haddock?
Cod is a good substitute if you can't find any haddock in your area. Other haddock substitutes include halibut, pollock, plaice, flounder, sole, and most other white fish with firm meat.
Is haddock sustainable?
Schools of haddock are most abundant in the Gulf of Maine and on the Georges Bank. According to the National Oceanic and Atmospheric Administration (NOAA) Fisheries, haddock is not subject to overfishing in those areas. Haddock can also be fished sustainably in Iceland, Norway, the Faroe Islands, and other fishing grounds that are sustainably managed.
However, haddock is considered vulnerable to overfishing in many other parts of the world. To prevent further depletion of the haddock population, know your local fishery's catch limit and regulations.
What is a Cod?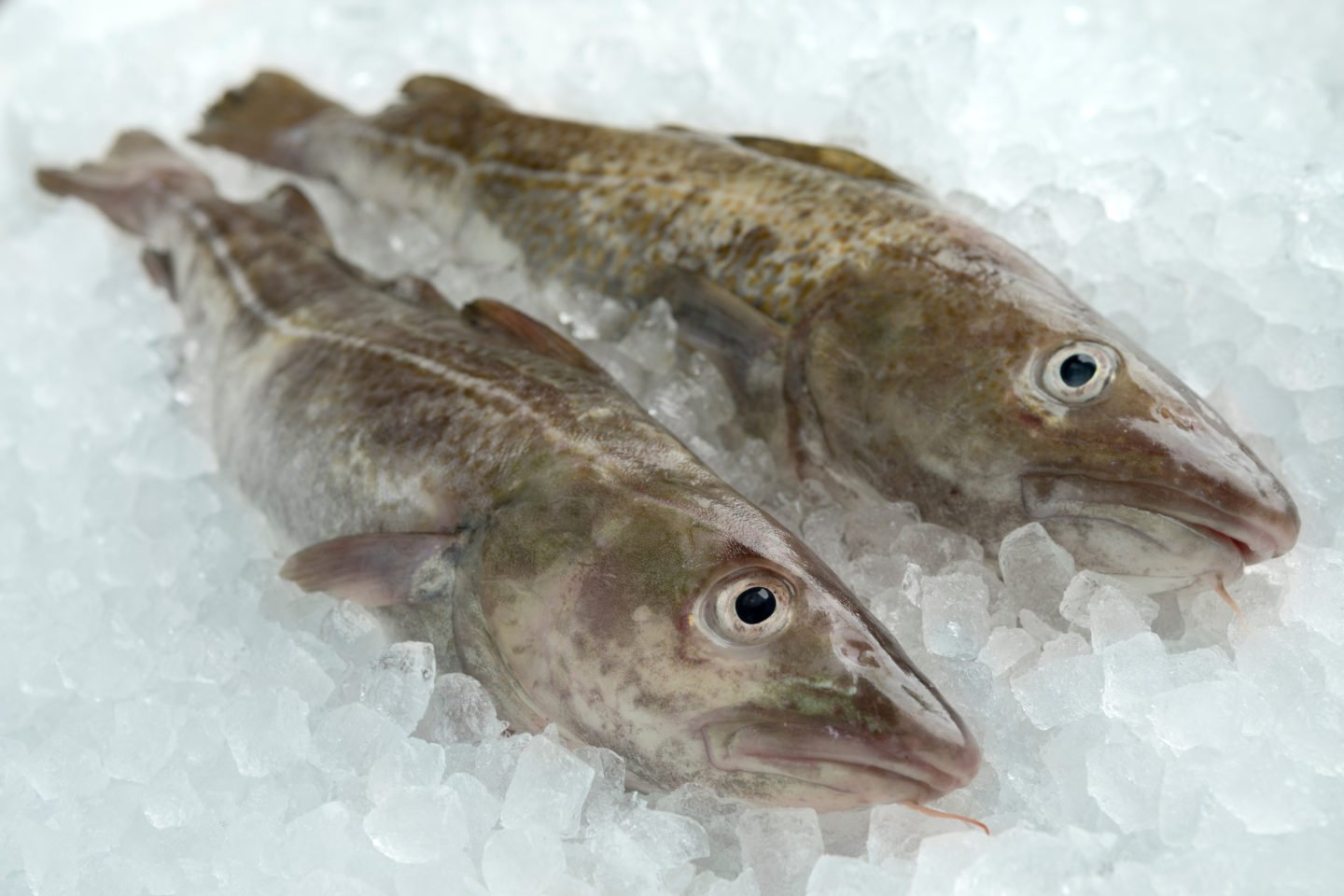 The cod is a cold-water fish native to the North Atlantic Ocean and the Pacific Ocean coasts of North America and Asia. Cod is a common term that can refer to various species in the cod family. The two most common are the Atlantic cod (Gadus morhua) and the Pacific cod (Gadus macrocephalus). Most cod species are saltwater fish, while many are estuarine fish, but a few species live in freshwater, too.
Codfish are voracious; they are bottom dwellers that feed on worms, shellfish, crustaceans, and smaller fish such as herring, mackerel, capelin, and even young haddock. Some larger adult cod even feed on young Atlantic cod.
Cod are sold fresh, frozen, and filleted, but you can also buy them salted, dried, or smoked. The best ways to cook cod include frying, baking, steaming, grilling, broiling, and adding it to a soup or stew.
Additionally, while some parts of Europe prefer to use haddock for fried fish and chips, others prefer to serve it with cod.
What is a good substitute for cod?
When you cannot find cod, a good substitute for it is haddock, black cod, tilapia, Alaska pollock, striped bass, hake, grouper, mahi-mahi, or similar fish.
Is cod sustainable?
In the past, cod has come close to extinction due to overfishing. Some codfish species remain endangered, but the NOAA Fisheries says some populations have started showing signs of slow recovery.
As with haddock, cod can be fished sustainably where their numbers are properly managed. Unfortunately, both major stocks of North Atlantic cod in the United States — the Gulf of Maine and the Georges Bank cod — are overfished. Consider learning about the regulations in your local fishery to fish sustainably.
How can you tell a haddock from a cod?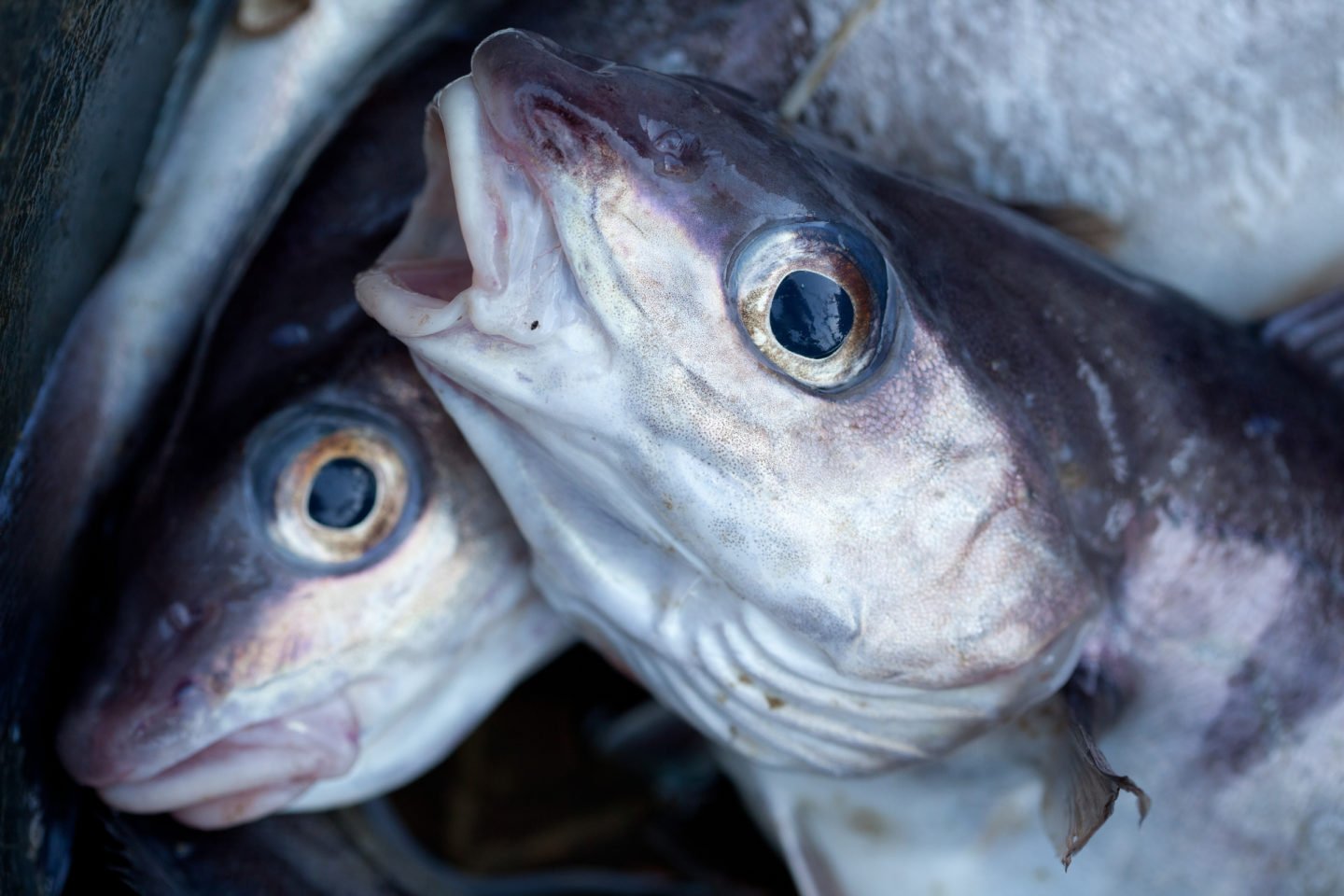 Haddock and cod have similar yet different appearances. However, you'll be able to tell them apart if you know what to look for.
Body shape - Cod tend to be big and round, while haddocks are slim and generally smaller than cod. Hence, the cod fillet is typically thick, while the haddock fillet is lean and flat.
Size and weight - Atlantic cod can range from 27 to 42 inches long and typically weigh 11 to 26 pounds, while most haddock weigh about 2 to 7 pounds and grow 14 to 23 inches long.
Front dorsal fins - Both haddock and cod have three dorsal fins. However, cod has a round dorsal fin in front, while haddock have tall, pointed ones.
Lateral line - Cod has a cream, white, or light-colored lateral line, while the haddock has a black lateral line.
Body color - Cod has a white underbelly and a greenish-brown body color ranging from gray-green to red-brown. Meanwhile, haddock typically has a gray to black back and a white underbelly.
Haddock vs. Cod: Taste and Texture
What does haddock taste like?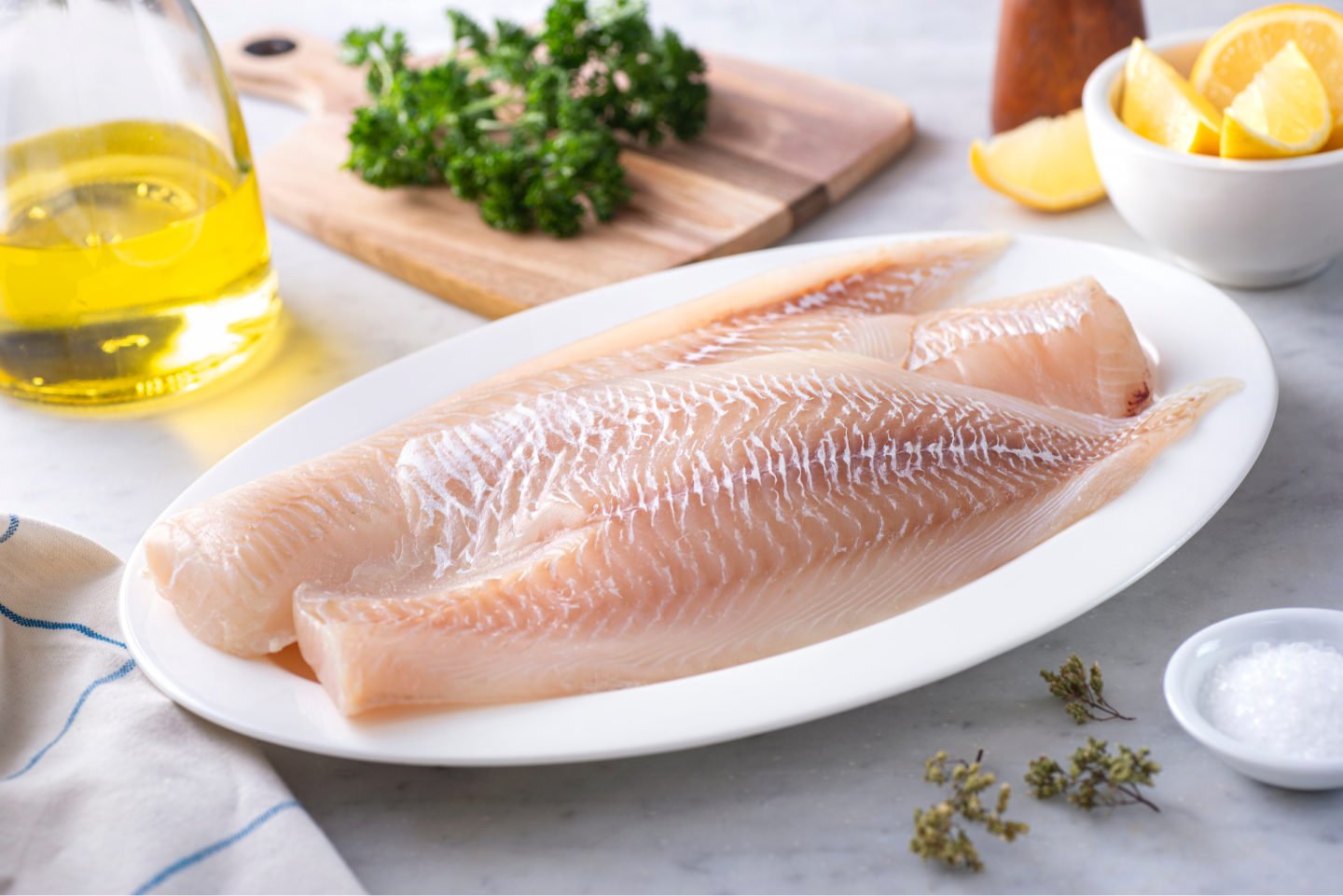 Haddock has a mild flavor that's more flavorful and slightly sweeter than cod but not as strong a flavor as salmon. Although haddock has a distinct flavor, it doesn't have an overpowering fishy taste. Some believe it has a flavor closer to halibut, while others consider it very similar to Atlantic cod.
Haddock has firm meat that remains tender even after cooking. Haddock isn't an oily fish, so its meat can become dry when cooked too long. But when cooked right, haddock will have firm yet moist and tender flesh.
What does cod taste like?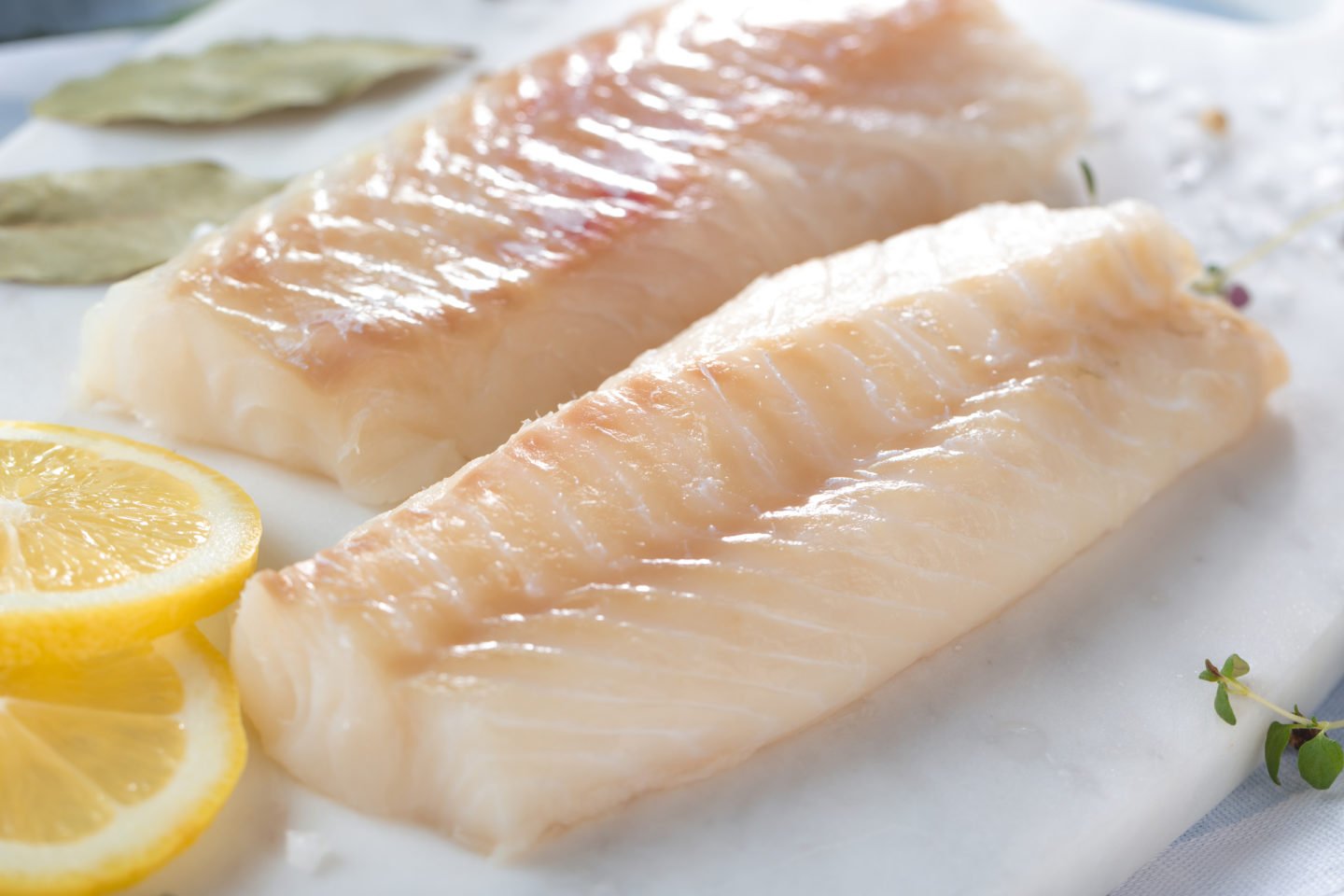 Cod is one of the most common and most popular fish for eating worldwide. Cod is known for its mild, clean taste. Hence, it is preferred by those who do not like eating fish with an overly fishy flavor. Atlantic cod is closer to haddock in flavor as it is slightly sweet, while Pacific cod is more savory.
Cod has firm, flaky white flesh that remains moist and tender even when cooked. Like haddock, codfish only have oil in their livers, which are also harvested to make another prized product, cod liver oil.
Like tilapia, cod tends to absorb any flavoring as it cooks because it has such a mild flavor. That makes it a good fish for a variety of recipes. Unlike haddock, cod can be dried and salted for longer preservation. This process results in salt cod, also known as the prosciutto of the sea.
Is cod healthier than haddock?
Haddock and cod are both healthy fish to eat. They contain many of the same vitamins, minerals, and amino acids. For instance, both fish contain a high amount of protein, no carbs, no fiber, and small amounts of mercury.
Haddock has higher amounts of amino acids, lower amounts of mercury, and less saturated fat than codfish. Still, cod has more protein and higher amounts of minerals like iron, potassium, magnesium, calcium, zinc, and selenium.
Cod has more omega-3 fatty acids than haddock. It's also lower in calories, has a lower glycemic index, contains less cholesterol, and has less sodium than haddock.
Thus, cod is healthier than haddock.
Is haddock more expensive than cod?
Both are affordable fishes that generally belong to the same price range. However, cod prices have risen in recent years due to overfishing. So although the price difference isn't big, cod is now usually more expensive than haddock.
Related Questions
Is haddock better than cod?
Neither haddock nor cod is necessarily better than the other. Instead, it all boils down to personal preference. For instance, some may prefer haddock over cod because it has more flavor, while others may prefer cod because it has a milder taste.

However, if you're after the nutritional content, cod is better than haddock since it is healthier. Although cod is slightly more expensive than haddock, both are still in the same price range. On the other hand, if sustainability is your main concern, go for haddock.
Is haddock or cod better for fish and chips?
Haddock and cod are often used to make fish and chips, but many prefer one over the other. For instance, some places in Europe would only use haddock for fish and chips, while some prefer cod over the former. In addition, some consider cod too mild-tasting for fish and chips, while others enjoy its clean flavor.
Is cod full of worms?
Unfortunately, parasite worms are common in cod and other white fish. However, these cod worms (or nematodes) are harmless when the fish is cooked correctly. As long as the fish is cooked to an internal temperature of 140 degrees Fahrenheit, these worms will pose no threat to one's health.

However, if a cod worm were to survive in your stomach, you can expect vomiting, a stomach ache, nausea, or diarrhea. Therefore, always make sure to remove any cod worms before cooking your fish.
Does haddock have worms like cod?
Yes, haddock can have worms like cod. Nematodes are called cod fish worms because these parasites specifically attach to codfish.