Edible flowers can take your dish to another level. They give food a dash of elegance and make the home-cook look like a creative genius in the kitchen. A common garden salad gains instant appeal with a scattering of color-coordinated petals. A decadent layer cake combined with a garnish of bee balm petals looks mouth-watering; even ice is more fun with pansies frozen in them.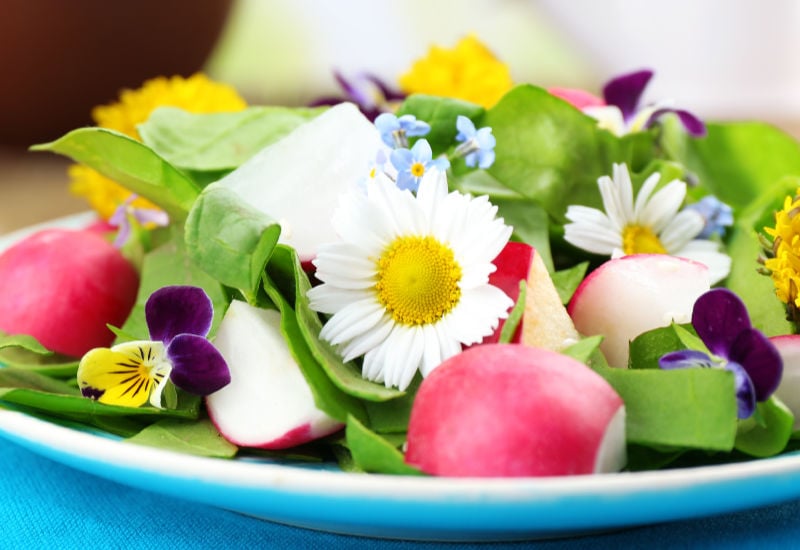 Flowers don't just offer visual impact; they can also add exciting flavors that are unique and hard to replicate with everyday ingredients. But if you're going to grow these flowers at home, only buy organic seedlings that haven't been sprayed. Avoid spraying them with any chemicals that could harm you.
Safety warning: If you're unsure about the identity of an edible flower, make sure you check with an expert before consuming it.
Table of Contents
18 edible flowers you must try
1. Anise Hyssop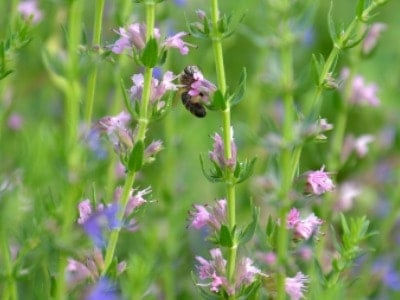 The anise hyssop flower is edible and tastes of licorice and mint with a strong aroma of fennel seeds that have been crushed.
Goes well with: Use anise hyssop in teas, cordial, or as a garnish in salads.
What part to eat: The leaves and flowers are both edible but you'll find the leaves have a slightly stronger anise flavor.
2. Apple Blossom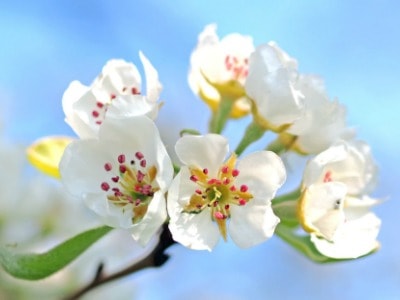 Apple blossom has a delicate floral taste with a hint of citrus.
Goes well with: Perfect for fruit salads or to flavor drinks.
What part to eat: Eat the blossoms raw or cooked.
3. Chamomile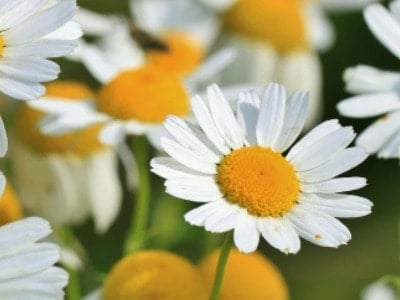 Chamomile has a mild, slightly bitter taste. The bright yellow centers have an apple flavor.
Goes well with: Use in cordials, tea, or in a salad.
What part to eat: Eat the blooms.
4. Daisy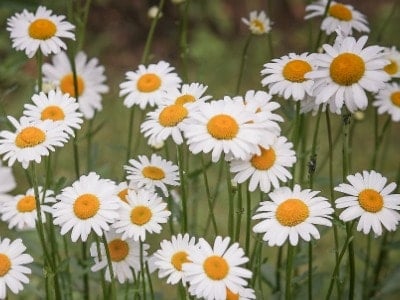 Daisies have a mild, bitter flavor.
Goes well with: Salads, sandwiches, soup, tea or as a dessert decoration.
What part to eat: Eat the blooms.
5. Dandelion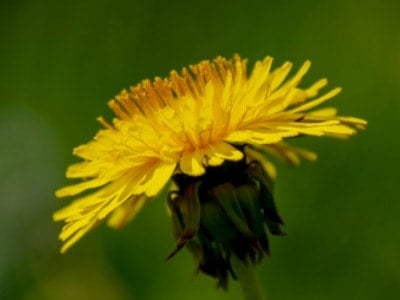 The common dandelion offers an earthy, bitter taste.
Goes well with: Casseroles, bacon, cheese, salads, tea, roasted and ground for use as a healthy coffee substitute.
What part to eat: Choose the buds for consumption; the petals are better for decoration. Dandelion greens can be eaten raw or cooked.
6. Day Lily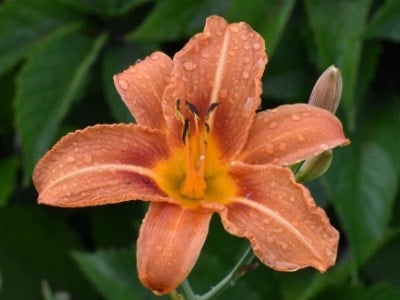 The day lily has a faint taste of vegetables with a mildly sweet undertone. This flower should not be confused with the Tiger Lily which should never be consumed as it is poisonous.
Goes well with: The tubers are excellent in casseroles or stir-fries. The flowers are best for decoration in salads and desserts.
What part to eat: Saute the unopened buds or the tubers and use the flowers for decoration. The stalks are tough and unpleasant to eat.
7. Dianthus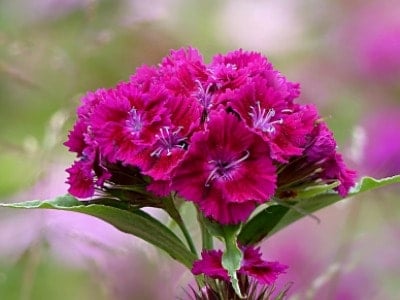 The dianthus has a fun flavor combination of sweet floral, mild spice, and a surprising hint of nutmeg.
Goes well with: Cordial, tea, salads, and as a dessert decoration. It is one of the ingredients used to make Chartreuse.
What part to eat: Petals are the best part to eat. The stamen and the base offer an unpleasant bitter taste.
8. Elderflower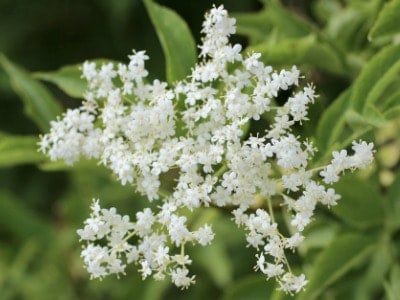 The elderflower offers a sweet, floral, vanilla-like flavor.
Goes well with: Delicious with cordial, tea, fruit, pies, cakes, frozen in ice, dipped in batter then fried and as a decoration for desserts. The flowers are used is a popular liqueur called St Germain.
What part to eat: The white flowers.
9. Hibiscus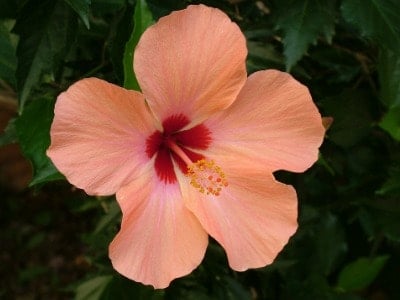 The hibiscus has a tart, lemon-berry flavor, similar to cranberry.
Goes well with: Use in cordial, tea, or used as a garnish in desserts or salads.
What part to eat: Eat the hibiscus petals fresh or dried
10. Lavender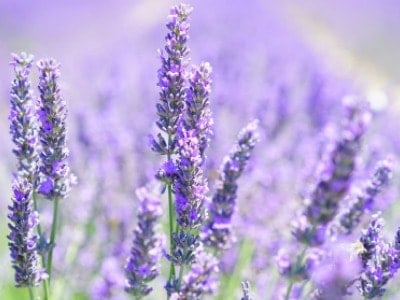 Lavender has a very distinctive floral flavor with a herbaceous undertone.
Goes well with: Lavender makes lovely tea, cordial, jam, ice cream, and cakes. It can also be used in savory dishes such as roast potatoes, chicken, lamb, or salads.
What part to eat: Use the flowers fresh or they can be dried.
11. Lilac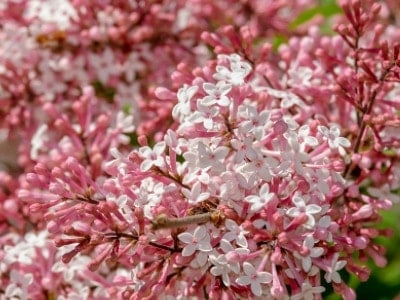 Lilac has a characteristic floral, lemon flavor, and tends to be bitter.
Goes well with: Use in yogurt, sorbet, water, cakes, and as a decoration on desserts.
What part to eat: Eat the flower petals.
12. Marigold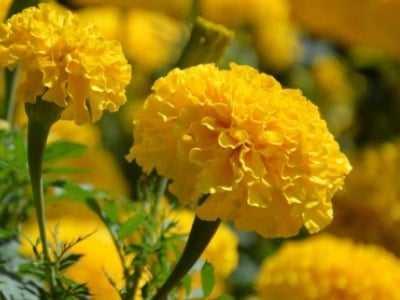 Marigolds have a bitter citrus flavor with an undertone of spice. They can impart a yellowing color to dishes and have been referred to as a "cheap alternative to saffron".
Goes well with: Marigolds are a nice colorful addition to salads and can be added to cakes, biscuits and even boiled with rice for extra color and flavor.
What to eat: Only eat the petals. They can be eaten fresh or dried.
13. Nasturtium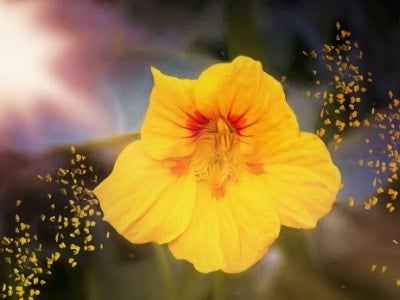 Nasturtium has a slightly spicy, peppery flavor, similar to watercress.
Goes well with: Add the large flowers to a salad, pesto, burger, omelet, or stuff the entire flower with your favorite savory fillings.
What part to eat: The whole flower can be eaten, you can even pickle the seeds.
14. Pansy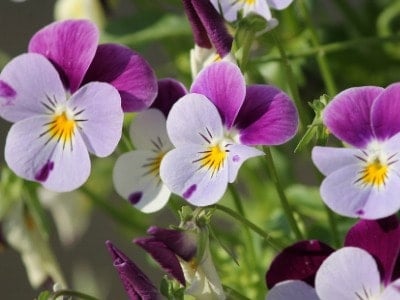 The pansy has a sweet, fresh, grass-like flavor.
Goes well with: Freeze in ice cubes, crystallize, decorate cakes and desserts, add to the tops of cookies, or to brighten up a salad.
What part to eat: The whole flower can be eaten. The leaves have a slightly milder flavor.
15. Rose
Roses vary in flavor depending on the variety. Some are spicy while others can be sweet or resemble fruits such as apple or strawberry.
Goes well with: Use roses in cocktails, honey, jam, cupcakes, salads, or as candied rose petals.
What part to eat: The petals are edible and the bitter white heel should be removed.
16. Saffron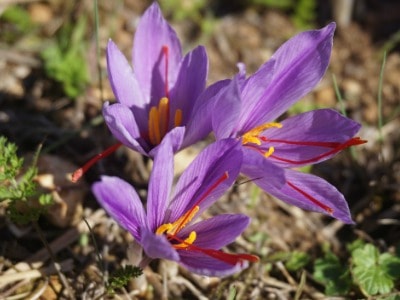 The stigma of the saffron flower has an elusive and hard to define flavor. It can be described as a mildly bitter, floral flavor.
Goes well with: For added color and flavor use saffron in paella, risotto, seafood, sauces, baked vegetables, and salads. It can also add a creative twist to cakes and slices.
What part to eat: Use the red stigma.
17. Tulip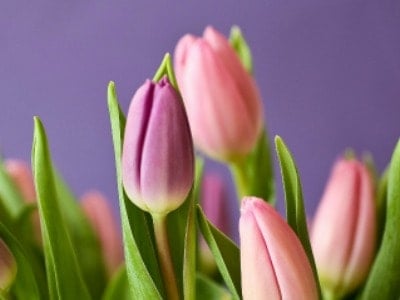 Tulips taste similar to slightly sweet lettuce and their texture is crispy.
Goes well with: Tulip can be stuffed with your favorite fillings, slice into pieces and add to salads or use them to decorate desserts.
What part to eat: Remove the stigma and pollen then eat the tulip bulb.
18. Courgette (AKA Zucchini) flower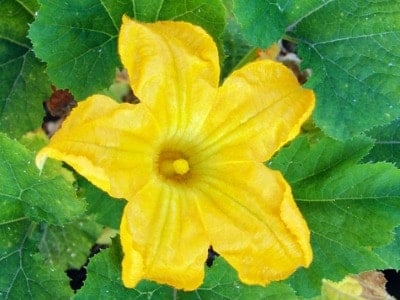 The courgette flower has a soft textured mouthfeel with a mild flavor, similar to that of squash.
Goes well with: These can be stuffed with your favorite fillings or get a little crazy and add to a tortilla.
What part to eat: Eat the colorful flowers that are similar to squash blossoms.
Safety tips when using edible flowers
If you're unsure about the identity of an edible flower, please check with an expert before consuming it.
Although they look harmless, not all flower varieties are suitable for eating, and some will cause serious illness.
Herb flowers have a similar, but spicier taste than the leaves on the plant. Take this into consideration to avoid overpowering your food with spice.
Avoid using harmful chemicals such as pesticides on blossom producing plants that you intend to eat.
Although tempting, avoid picking flowers from the roadside as they may have absorbed harmful toxins from the traffic passing by.
Some flowers can cause digestive health problems is you consume too many in a dish. Use them sparingly to avoid any stomach discomfort.
There are a dizzying number of flowers at your disposal when cooking. You'll find that buying them from specialty food stores can be quite expensive, especially if you use them often. My advice is to grow your own. Even if you have a small apartment, you can still set up a few pots inside and become self-sufficient in no time.
Benefits of edible flowers
Gain access to new flavors hard to find in everyday ingredients.
Add some colorful flair to your plating up.
Offer nutritional benefits such as antioxidants and Vitamin A, C, and E.
Gain additional benefits such as the calming effect of chamomile.
What can edible flowers be used for?
Flowers can be used for a wide variety of applications. Choose flowers with the right aroma, flavor, and aesthetics to match your meal – they can be used for:
infusions (tea, wine, vinegar)
preserves
salads
garnishing
desserts
ice cubes
baking
Flowers to avoid
These flowers should never be added to food. They have the potential to cause sickness and in severe cases, death. You can also check out this list of poisonous flowers for a more comprehensive list.
azalea
calla lily
daffodil
delphinium
hyacinth
iris
poinsettia
rhododendron
sweet pea
poppy
foxglove
oleander
clematis
bluebell
Edible flowers by color
If you're looking to color match edible flowers to your dessert (or main) then this infographic will help. It breaks down some of the most popular options by color.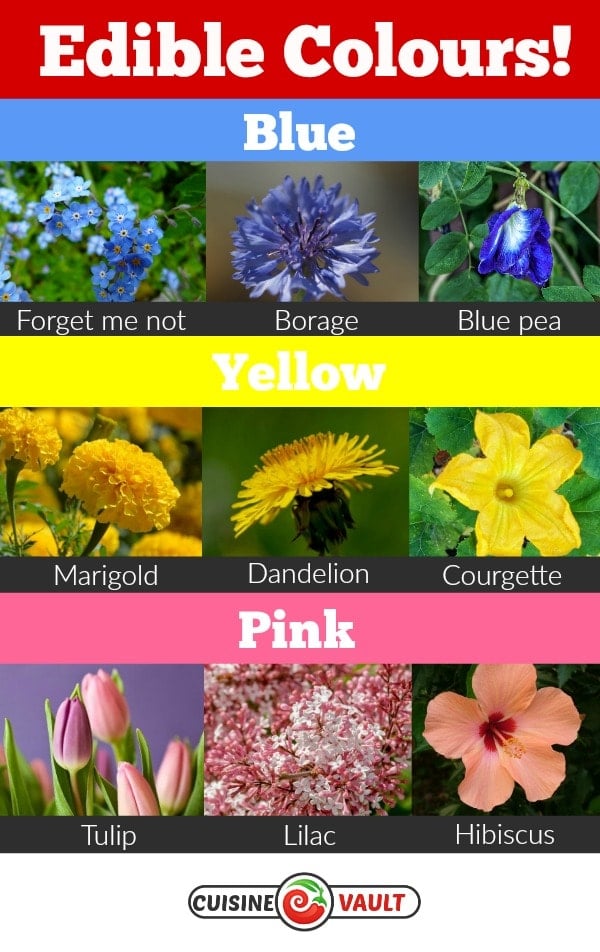 Blue
Forget me not
Borage
Blue pea
Yellow
Marigold
Dandelion
Courgette
Pink
White
Apple blossom
Elderflower
Daisies
A few dos and don'ts when using edible flowers
Do
Harvest flowers in the morning or late in the evening when the harshest rays of the sun aren't around. You don't want wilted petals. You can pick them just before using, or pick in advance, then store refrigerated in a glass of water.
When harvesting marigolds, chrysanthemums, dianthus, or roses it is recommended to chop off the bitter white segment of the petal that attaches to the flower.
Research flowers before eating to check there are no hidden allergens that could affect you.
Lay your flowers on a bed of damp paper towels and then place them in a plastic container with a lid. The damp towel provides moisture to stop wilting and the container offers protection.
Check the flowers before storing for dirt or insects. If you see either, lightly brush them clean with a pastry brush or give them a light dunking in water.
Treat your flowers with care when drying so as not to damage – this rule especially applies to dark or delicate petals that show damage easily. For a tougher flower like a lily, you don't have to be quite so careful.
Wash the flowers in a strainer with a gentle stream of tap water. Quickly dry them and keep out of sunlight to keep them looking their best.
Revitalize limp petals by laying them on top of icy water for 10 seconds.
Don't
Use a salad spinner to dry your flowers as this is very likely to damage them.
Taste flowers before removing the unwanted parts such as stamen or pollen.
Eat flowers that are unfamiliar to you.
Spray flowers with chemical sprays when they're growing if you're going to eat them.
Final Words
Edible flowers are a delightful addition to dishes and, surprisingly, they aren't used more often. They offer flavors that you couldn't get from any fruit, vegetable, or seasoning. What's more, they bring your meals to life with vibrant color and texture. For adding a splash of color to food, we recommend using anise hyssop, dandelions, daylilies, elderflower, or roses.
If you're not familiar with flower types, we strongly recommend checking with a more experienced gardener before consuming. It is better to be safe than sorry.
Enjoy flower foraging and get creative with your plating up. If you're not interested in searching for flora and don't enjoy gardening, then visit a greengrocer or specialist food store. Not all of them will stock edible flowers but those with a big range often will. You may also be able to get them to Once you start using flowers in your meals you'll never turn back.
Do you have an edible flower that you couldn't live without? Share it with us in the comments below.