There are many unique things about dragon fruits, also known as strawberry pear or pitaya in their native Mexico. Native to Central and South America, the dragon fruit grows on a climbing cactus whose white flowers bloom only at night, lasting for about 8 hours. Common varieties have either pink or yellow dragon fruit skin. The flesh, covered by black seeds, can be red, pink, or white.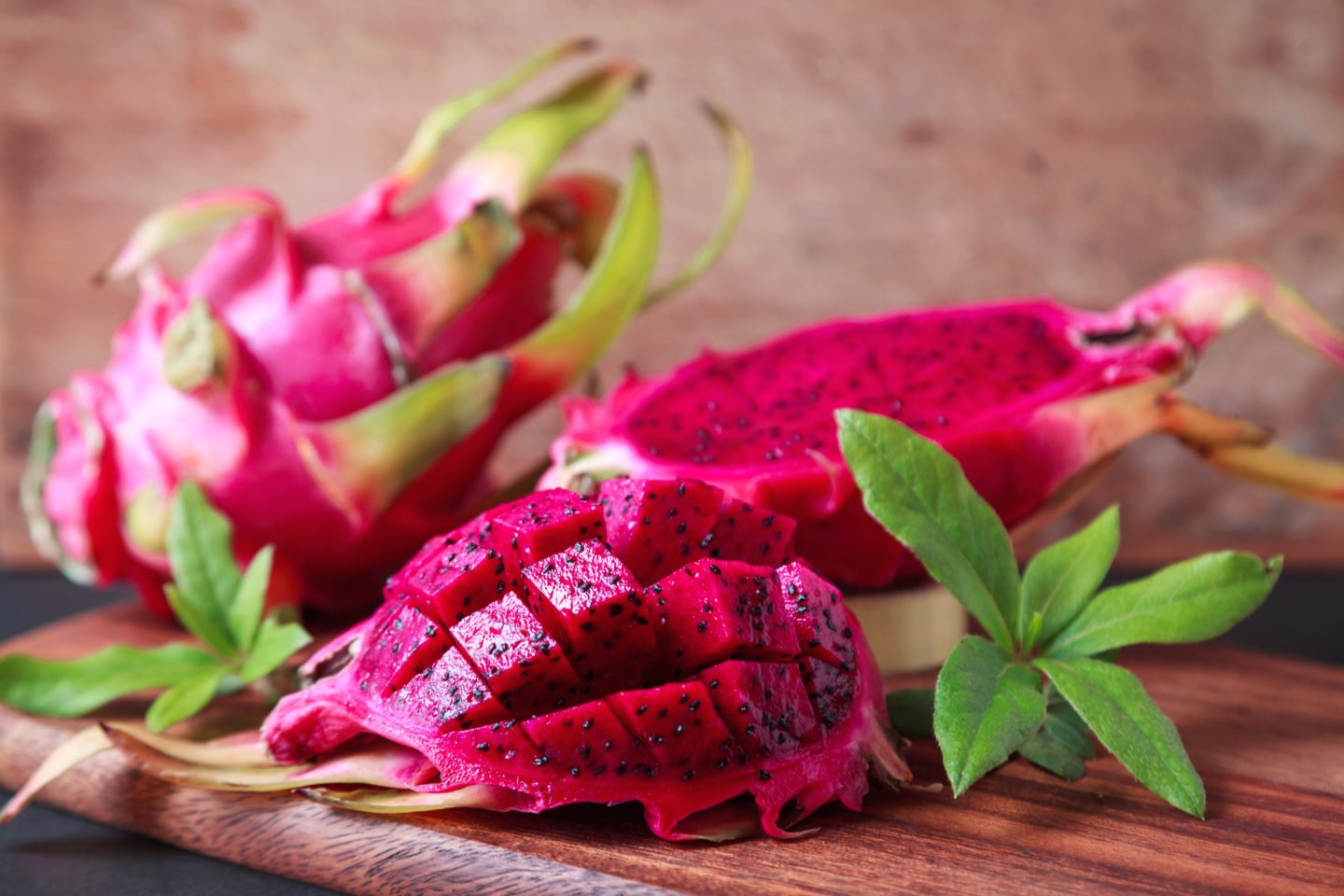 This fruit is not only pretty and tasty, but it also has a lot of fiber, water, probiotics, and antioxidants that help the digestive system stay healthy and keep bowel movements regular. Consuming dragon fruits is also very easy, as you can eat them as is or turn them into a smoothie or salad.
This article will provide information on everything you need to know about dragon fruits and their effects on constipation and regular bowel movements. This article will also give information about other important health benefits of eating dragon fruits, their side effects, and other important related questions.
Table of Contents
How Does Dragon Fruit Make You Poop?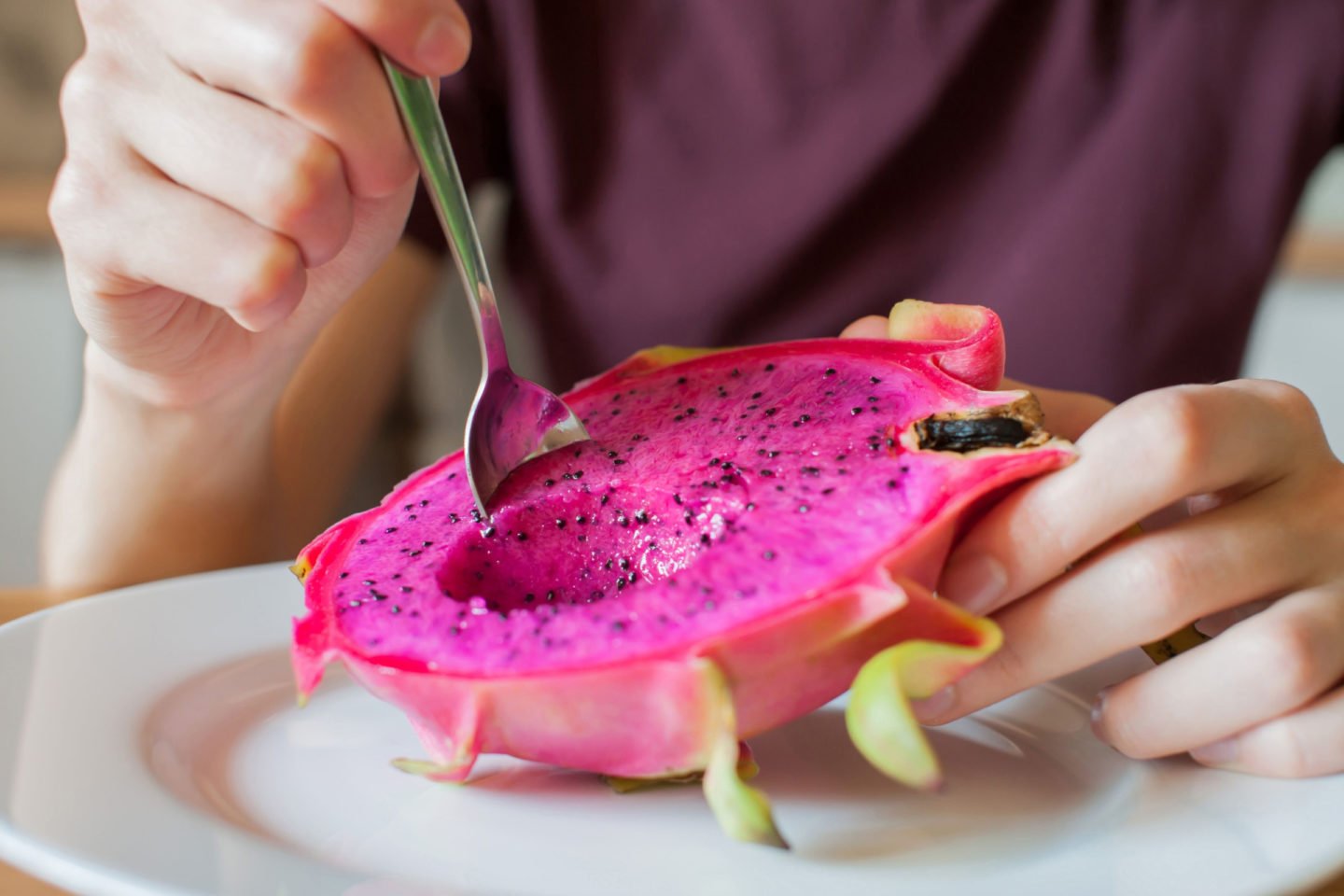 Dragon Fruit Contains High Amounts of Fiber
In just a single serving of 3.5 ounces or 100 g of dragon fruit cubes, you can get around 3 g of fiber already. Fiber, sometimes called roughage or bulk, is the part of plants and fruits that our bodies cannot digest. Since they don't get digested, they can't give us calories, energy, or nutrients, but they keep our digestive tract working well and help digestion.
There are two types of dietary fiber: soluble fiber and insoluble fiber. You can find both types in varying amounts among plants and fruits.
Soluble fiber dissolves in water, turning into a gel that helps improve digestion. It also reduces cholesterol levels and allows the body to control blood sugar levels. In contrast, insoluble fiber doesn't dissolve in water and instead draws water into your stool. This kind of fiber helps keep your bowels healthy and makes sure you go to the bathroom regularly.
Since fiber isn't digested or broken down, it continues to pass through our intestines, and as they go along, they absorb water or fluid. The fiber and fluid accumulate, forming a bulk or unwanted mass in the intestines. This makes the bowels push the food out, along with the feces that have formed.
This is why a daily fiber intake is vital for a healthy body. The more fiber, the better! Eating enough fiber helps in the prevention of constipation. Not only that, but eating foods high in fiber also reduces the risk of colon cancer.
Dragon Fruit Promotes the Growth of Good Bacteria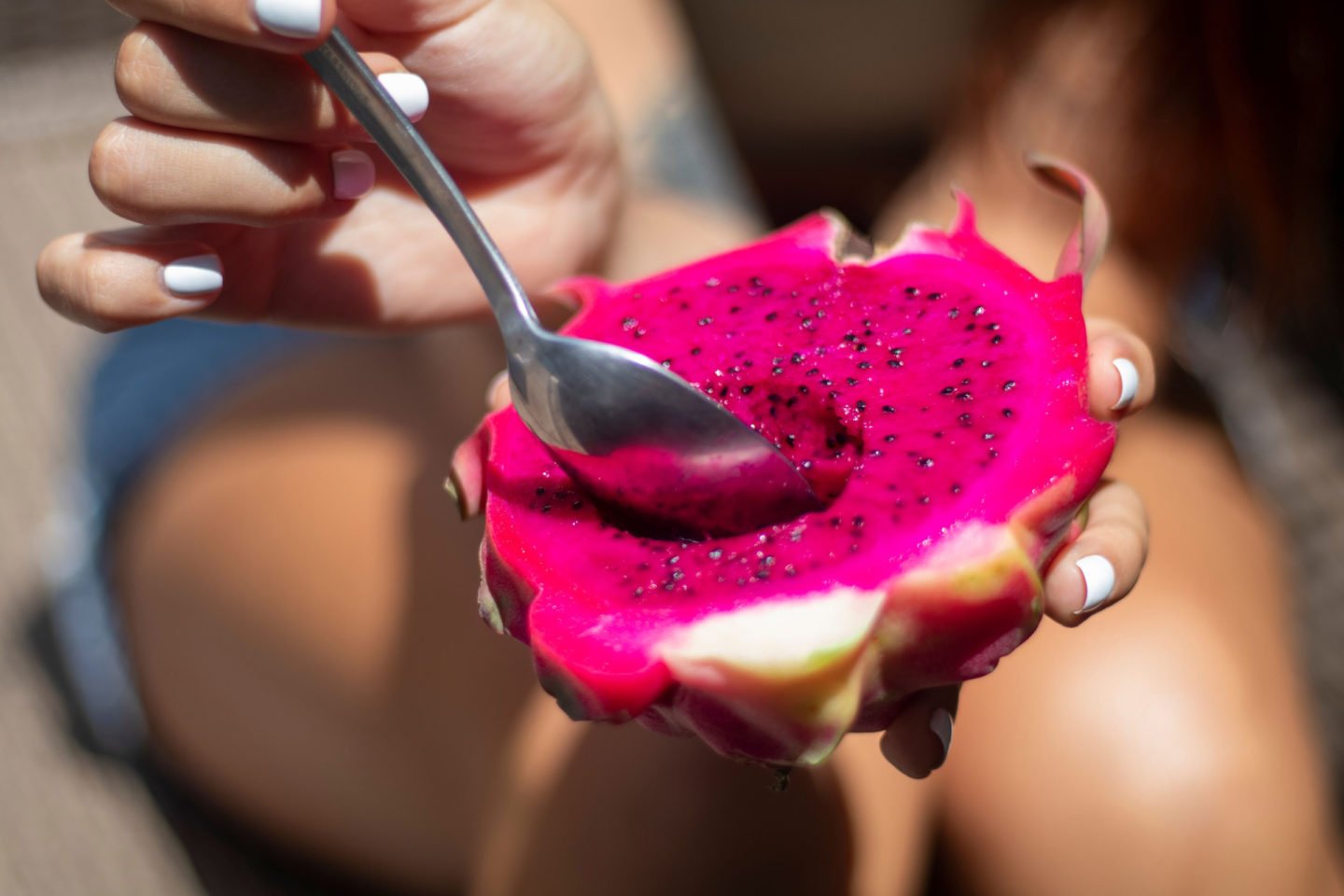 Dragon fruit contains lots of prebiotics, a specific type of fiber that humans cannot digest. Instead, the beneficial bacteria or microbiota in our intestines, also called probiotics, are the ones that feed off these prebiotics. Prebiotics promote the growth of these probiotics, improving the balance between the good and bad bacteria in our gut.
The human gut is home to trillions of microorganisms and more than 400 bacterial species. Probiotics, the beneficial bacteria in our gut, are also found in various foods and supplements, most commonly in yogurt. Specifically, dragon fruits contain prebiotics that promote the growth of two families of healthy bacteria: lactobacilli and bifidobacteria.
A study in 2013 discussed the vital role of good bacteria in our gut. They help maintain the metabolic homeostasis of our body, improve our immune function, and even synthesize essential vitamins like vitamin K and folic acid. They also protect us from harmful bacteria and other microbes which may lead to an intestinal infection.
Any disturbance in the balance of the good bacteria in our gut can lead to severe infections and diseases like inflammatory bowel disease, irritable bowel syndrome, and all its related diseases.
Dragon Fruit is a Rich Source of Antioxidants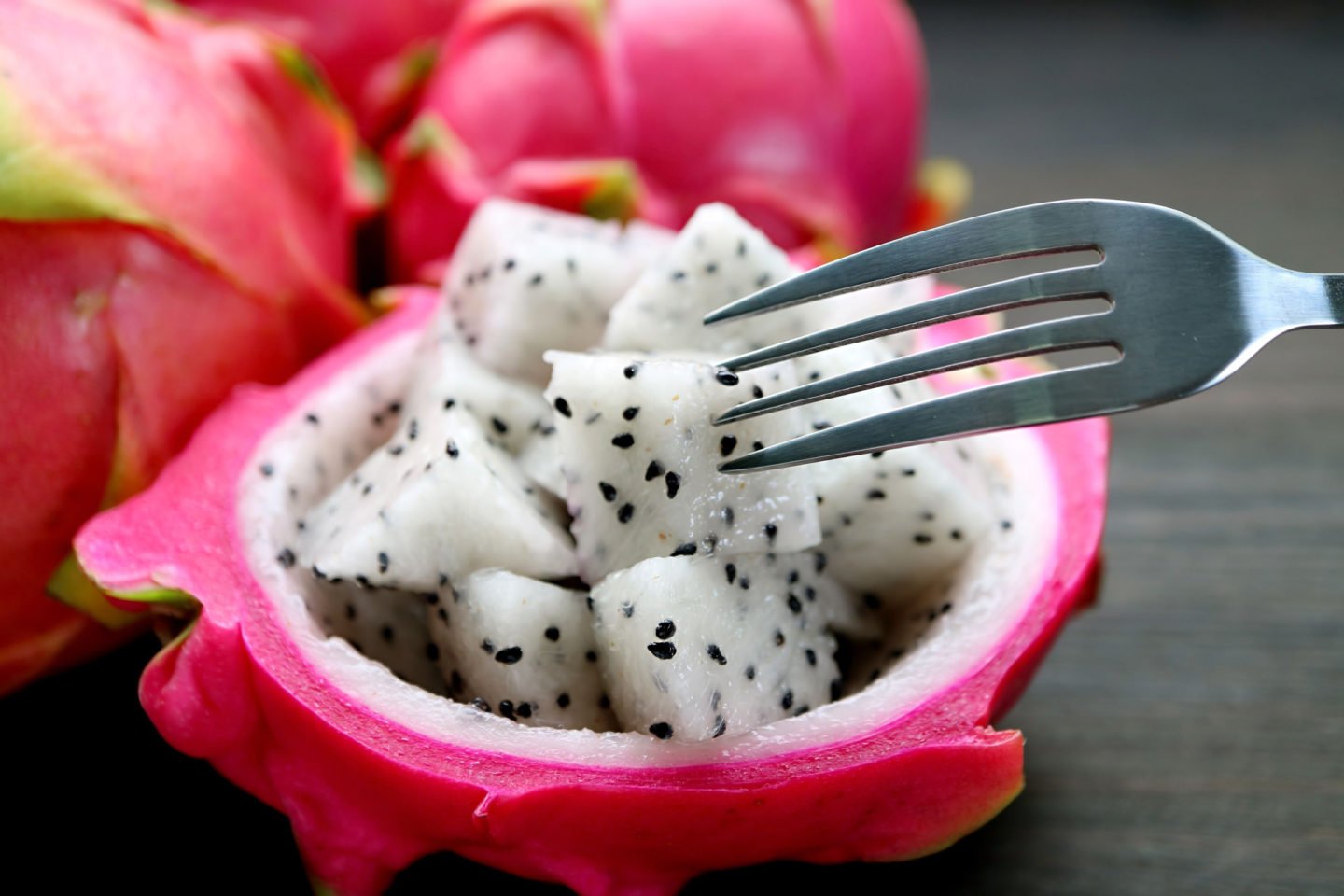 From the vibrant color of the dragon fruit alone, especially the pink variety, it is evident that it contains a lot of phytonutrients. These phytonutrients, also known as phytochemicals, have antioxidant properties that help protect the body's cells from free radicals, which may cause oxidative damage and even cancer.
The 3 primary antioxidants found in the pulp of the dragon fruit are betalains, hydroxycinnamates, and flavonoids. These antioxidants have numerous benefits, including protecting the LDL or "bad cholesterol" from becoming oxidized or damaged, possessing the potential for anti-cancer activity, promoting better brain health, and decreasing heart disease risk.
A 2010 study showed that a diet rich in antioxidants increased stool output after 48 hours. However, because foods rich in antioxidants also tend to be rich in fiber, it remains unclear if the increased stool output is due to the antioxidants, fiber, or even both.
Is Dragon Fruit Healthy?
Dragon fruit is one of the healthiest tropical fruits around. Unlike other tropical fruits, dragon fruit contains less sugar, which means fewer carbohydrates and virtually zero fat.
According to the USDA, a 100-g serving of dragon fruit has the following nutritional content:
Energy/Calories: 60 kcal
Protein: 1.18 g
Fat: 0 g
Carbohydrate: 12.94 g
Dietary fiber: 2.9 g
Sugars (total): 7.65 g
Calcium: 18 mg
Iron: 0.74 mg
Magnesium: 40 mg
Vitamin C (total ascorbic acid): 2.5 mg
Riboflavin: 0.1 mg
Niacin: 0.353 mg
Vitamin A: 59 IU
Sodium: 0 mg
Cholesterol: 0 g
The dragon fruit also has vitamin E, potassium, zinc, phosphorus, and copper, according to a study.
Because of its numerous health and nutritional benefits, the dragon fruit is a very healthy option for your diet. Because dragon fruits have a unique taste and look, they are always a treat and a good choice for any event.
How to Eat or Drink Dragon Fruit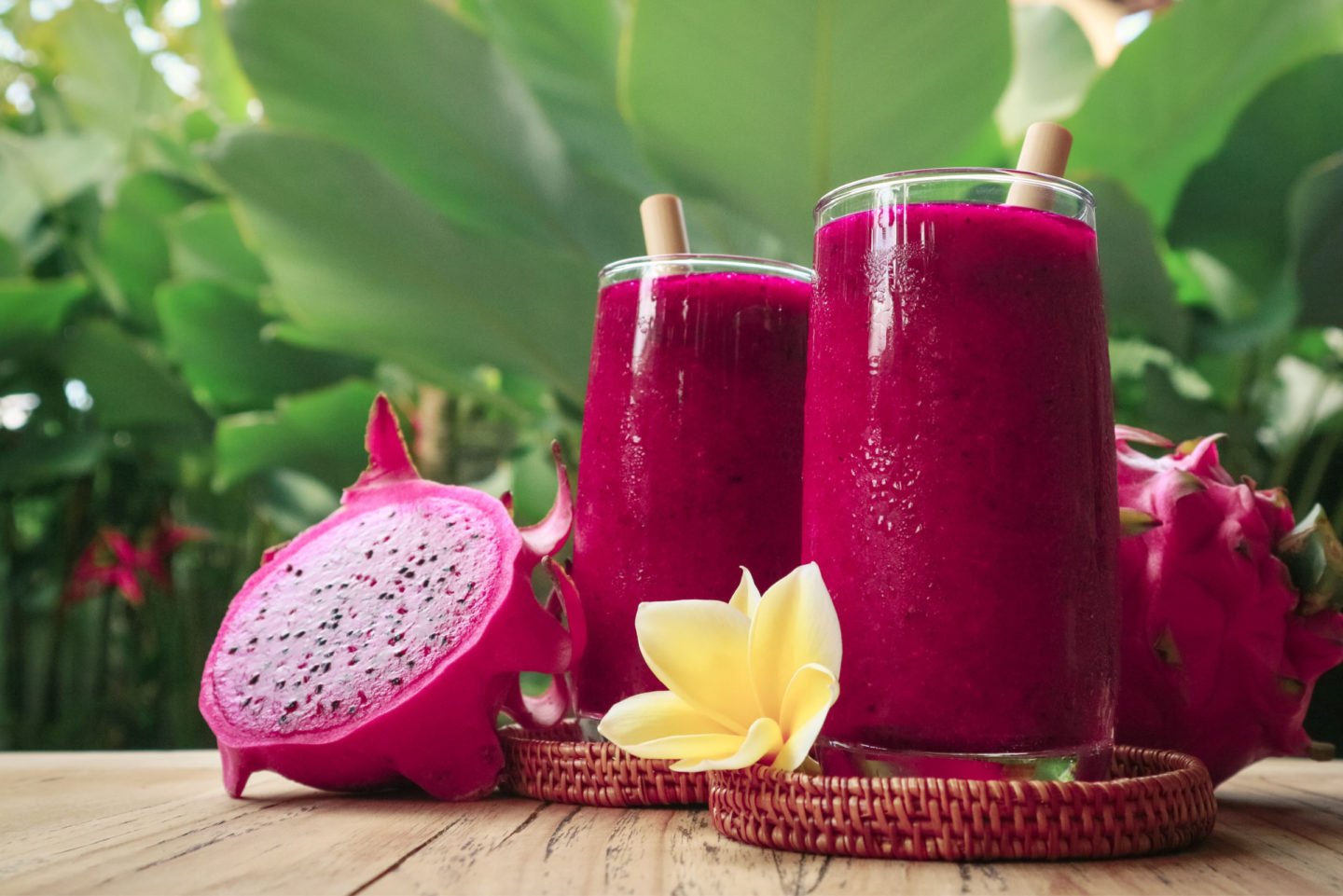 You can consume dragon fruit with very minimal preparation. Before cutting the fruit with a sharp knife, you should test if it is already ripe by pressing on its outer peel. The peel should feel soft but not mushy.
How to Consume Fresh Dragon Fruit
First, you need to cut the dragon fruit in half lengthwise using a sharp knife and cut it into more slices to make them easier to peel, or you may scoop out the fruit with a spoon. You may also cut the pieces into smaller cubes by cutting vertical lines into the pulp without cutting the peel. You can then remove the cubes using a spoon or your fingers.
Once you have cut the dragon fruit into smaller cubes, you may immediately eat it. You should also eat the black dragon fruit seeds because they are fiber-rich. If you wish to enhance its flavor, you can add it to a fruit salad, fruit juice, or make a dragon fruit smoothie.
How to Prepare a Dragon Fruit Smoothie
Due to its light taste, similar to a watermelon, a pear, or kiwifruit, you may want to enhance the flavor of your dragon fruit snack. You can blend it with sweeter fruits like bananas, mangoes, strawberries, blueberries, and pineapples. Different types of non-dairy milk like almond, coconut, soy, and oat milk are also a great addition to your dragon fruit smoothie.
Does Eating Dragon Fruit Have Side Effects?
Dragon fruit consumption is generally safe. But a very small number of people may have an allergic reaction to the fruit, though this is very rare.
Signs of allergic reactions to dragon fruit range from itchy and swollen skin, swelling around the mouth, vomiting, and severe itching — all symptoms of anaphylaxis. In cases of severe allergic reactions, seek immediate medical treatment.
Eating a large amount of dragon fruit in one sitting may cause you to have red poop and red urine. This is due to the presence of betalains, which gives the dragon fruit its red color. The good news is that this is just a temporary effect, and the color of both your pee and poop should return to normal after the fruit has cleared your system.
Related Questions
Is dragon fruit a laxative?
Yes. Due to their water and dietary fiber content, dragon fruits may help with constipation affecting individuals of all ages. Their black seeds are said to have a mild laxative effect.
What does dragon fruit do to your poop?
Based on one study, eating dragon fruit makes you produce more stool and go to the bathroom more often. This happens because the fiber soaks up water from the intestines and turns it into a soft mass that moves the intestines and makes you go to the bathroom.
Is dragon fruit good for weight loss?
Yes. While dragon fruits contain small amounts of sugar and calories, they are also packed with fiber, boosting your metabolism and making you feel fuller for a longer time. This will surely be a big help in your weight loss efforts.
What fruits are laxatives?
Fruits rich in fiber are excellent laxatives. These include prunes, apples, pears, kiwi fruits, figs, passion fruits, and citrus fruits like oranges, mandarins, and grapefruits.