We've all seen these scaly, bright pink fruits in the produce aisle, though not everyone has picked one up. However, the truth is that dragonfruit is only becoming more popular, prized for its beautiful appearance and nutritional benefits. So, if it's sitting on your kitchen counter now, you may be wondering how to cut dragon fruit.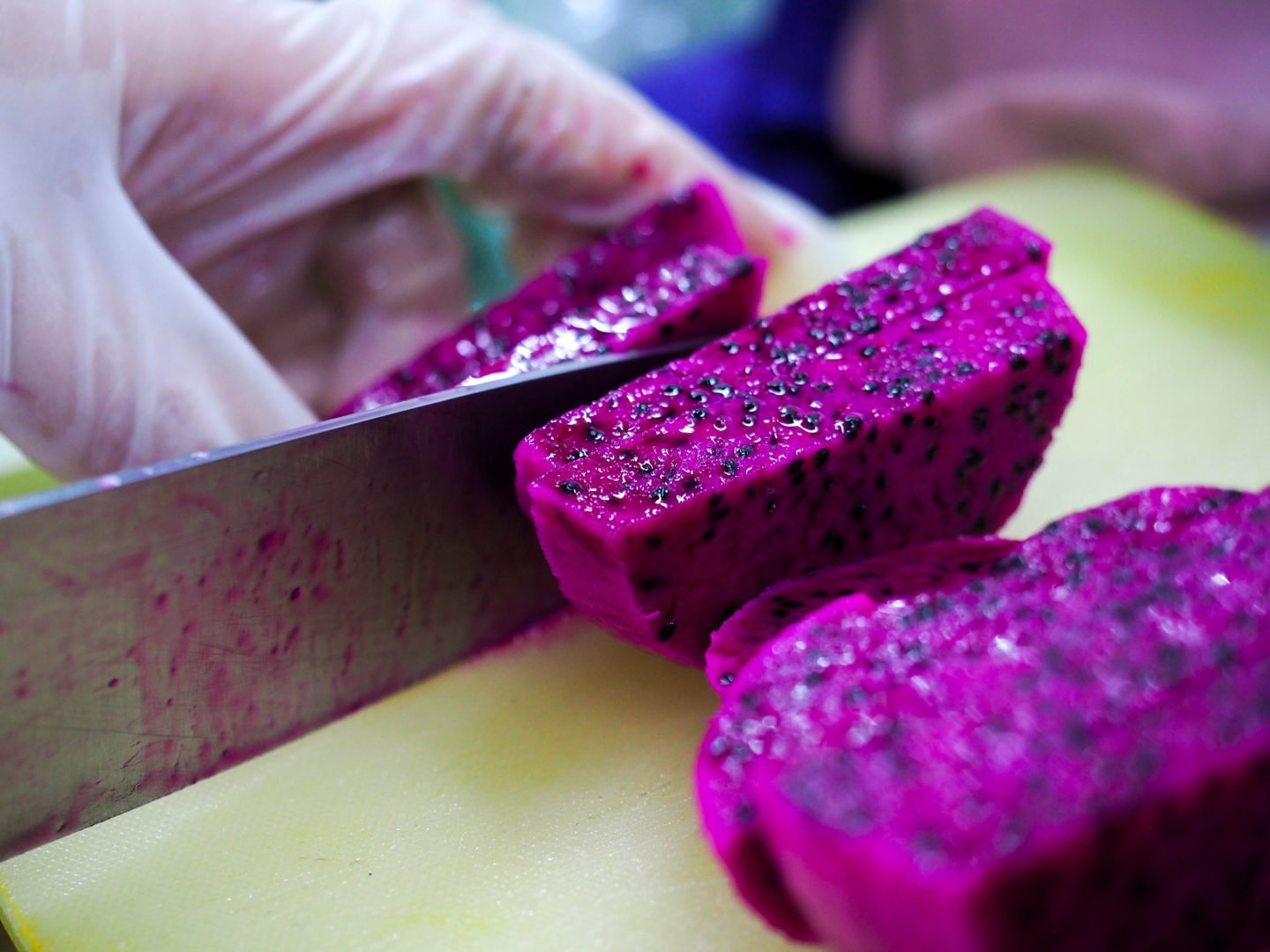 Cutting dragon fruit is relatively simple, and once you've done it, you'll never forget how. Look at our step-by-step guide below for more information on cutting this unique fruit.
Table of Contents
What is Dragon Fruit?
Depending on where you are in the world, dragonfruit may be known as pitahaya, strawberry pear, or Honolulu queen. It is native to Central America and South America but is cultivated today all across the world as it continues to grow in popularity.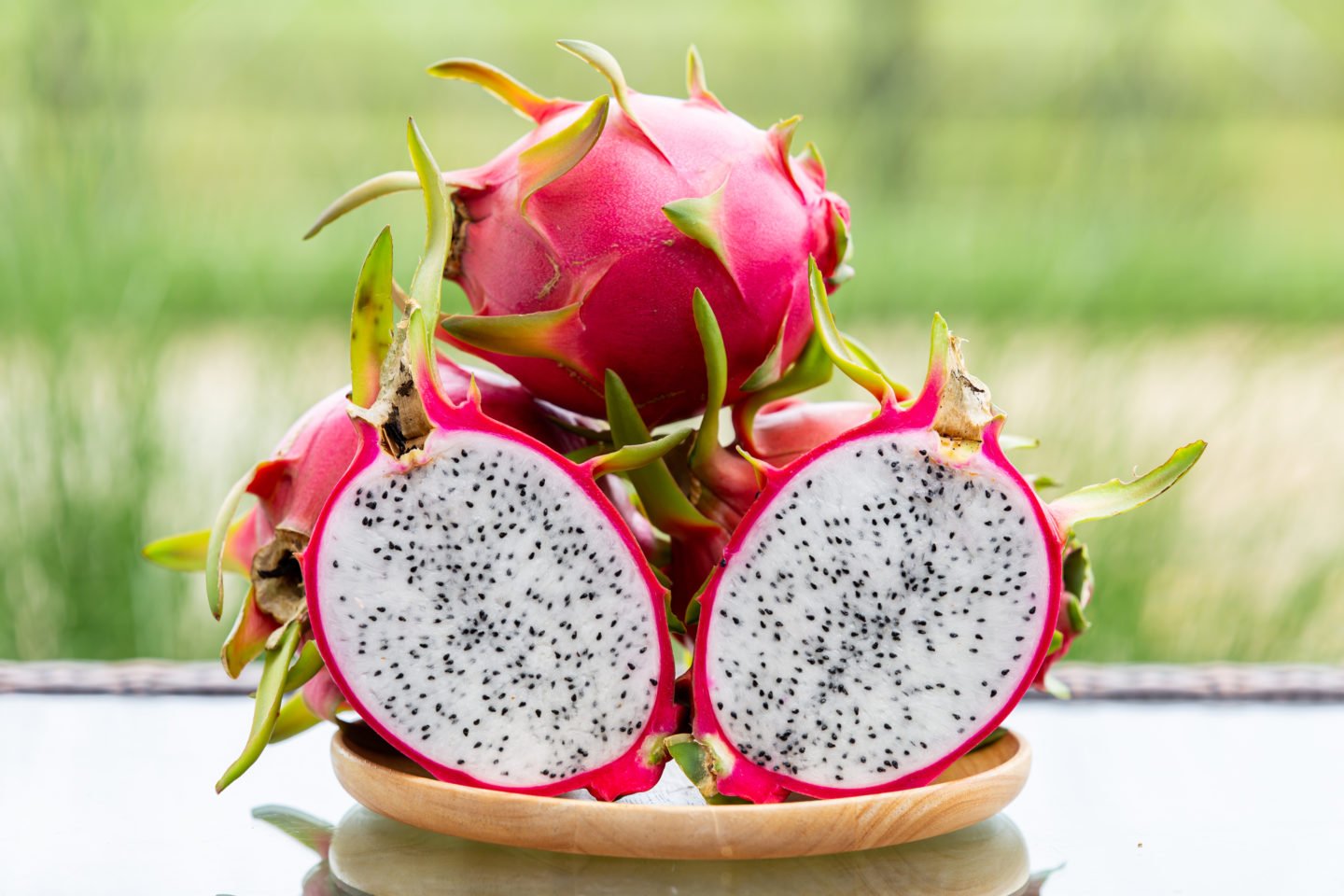 It is probably best known for its bright pink skin. It has a scale-like appearance, which is where the fruit gets its name. When cut open, the inside of the fruit contains a white pulp dotted with black seeds.
There are also yellow dragon fruits with white flesh inside and red dragon fruit with red flesh. While dragonfruit may look exotic, the truth is that its flavor is more familiar than you might think. They are mild and sweet and go well with many other fruits in a fruit salad.
Cutting Your Own Dragon Fruit
With its tough peel still on, dragon fruit might seem a little intimidating at first, but cutting them open is easy once you know how. Just follow these simple steps:
1. Test for Ripeness
Before cutting your dragon fruit, you first want to tell whether or not it's ripe. Look for these signs:
The dragon fruit should not be rock-hard but have a bit of give when you squeeze it
It should have a bright pink color
If the dragon fruit is mushy, that means its overripe
If your dragon fruit is underripe, try putting it in a brown paper bag with an apple or banana for a few days. These fruits release gasses as they ripen, which can, in turn, ripen other fruit.
2. Cut in Half
Start by cutting your dragon fruit from stem to tail down the middle. You'll want to make sure you have a sharp knife for this, as the peel is tough and can cause a duller knife to slip, potentially injuring you.
3. Remove the Skin
Now you should see the two main parts of the dragon fruit: the bright pink outer peel and the white and black meat inside. The peel isn't edible, so the next step is to remove it.
You can do that in a few different ways. First, you can use a spoon to scoop the white meat into a single piece. That works best for perfectly ripe dragon fruit, though if yours is a little over or under ripe, you may have some trouble.
You can also peel off the skin to remove it. To do so, cut your dragon fruit half into quarters and grab the base of the peel. Then, gently pull the peel away from the meat and discard it.
4. Cut the Fruit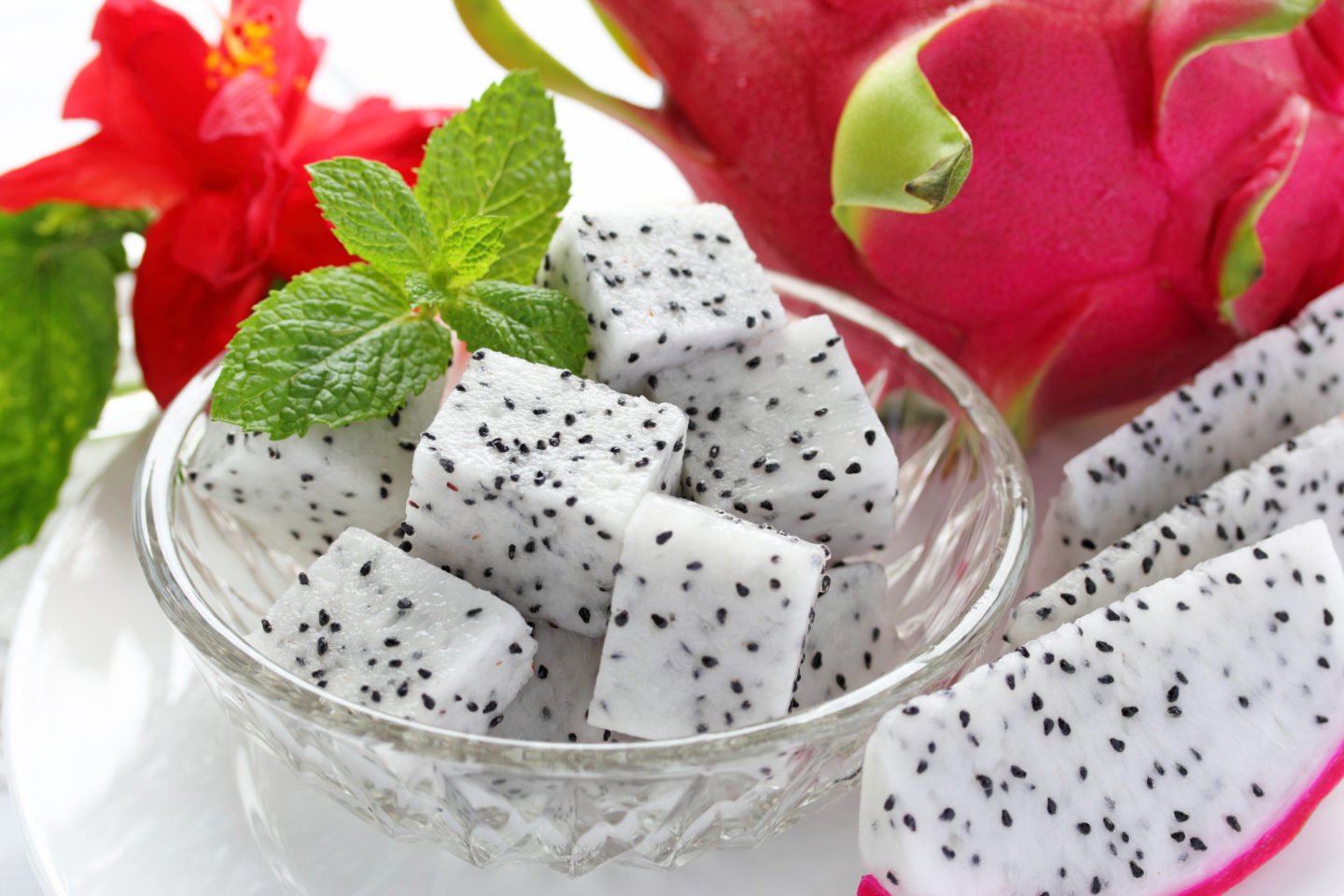 Now that you have separated the fruit from the peel, it's time to cut it. ¾-inch cubes are perfect for fruit salads or snacking. However, if you want a more elegant presentation, you can try cutting the halves into thin slices and arranging them on a plate.
5. Eat or Store
Fresh dragon fruit should be eaten immediately or stored in an airtight container and refrigerated. That can keep it fresh and ready to eat for up to one week.
Frequently Asked Questions
What does dragon fruit taste like?
Despite its bright and bold color, dragonfruit is actually quite mild. It has a sweet flavor that can be described as being somewhere between a pear and a kiwi fruit.
Is dragonfruit healthy?
Dragonfruit is more than healthy. In fact, it can be considered a superfood. It is low in calories, high in fiber, and contains several essential vitamins and minerals. It is also high in fatty acids, probiotics, and antioxidants.
Is dragonfruit skin poisonous?
While you probably don't want to eat dragon fruit skin due to its toughness, it's not poisonous. However, just as with any fruit, it is essential to wash it before eating it. That is because the skin may contain traces of pesticides leftover from the growing process.