While you often see red-skinned dragon fruit with white flesh, there are 5 major varieties of dragon fruit: white dragon fruit, red dragon fruit, pink dragon fruit, yellow dragon fruit, and sour dragon fruit. You might think it's that simple, but these varieties also have several types, which we will discuss in this article.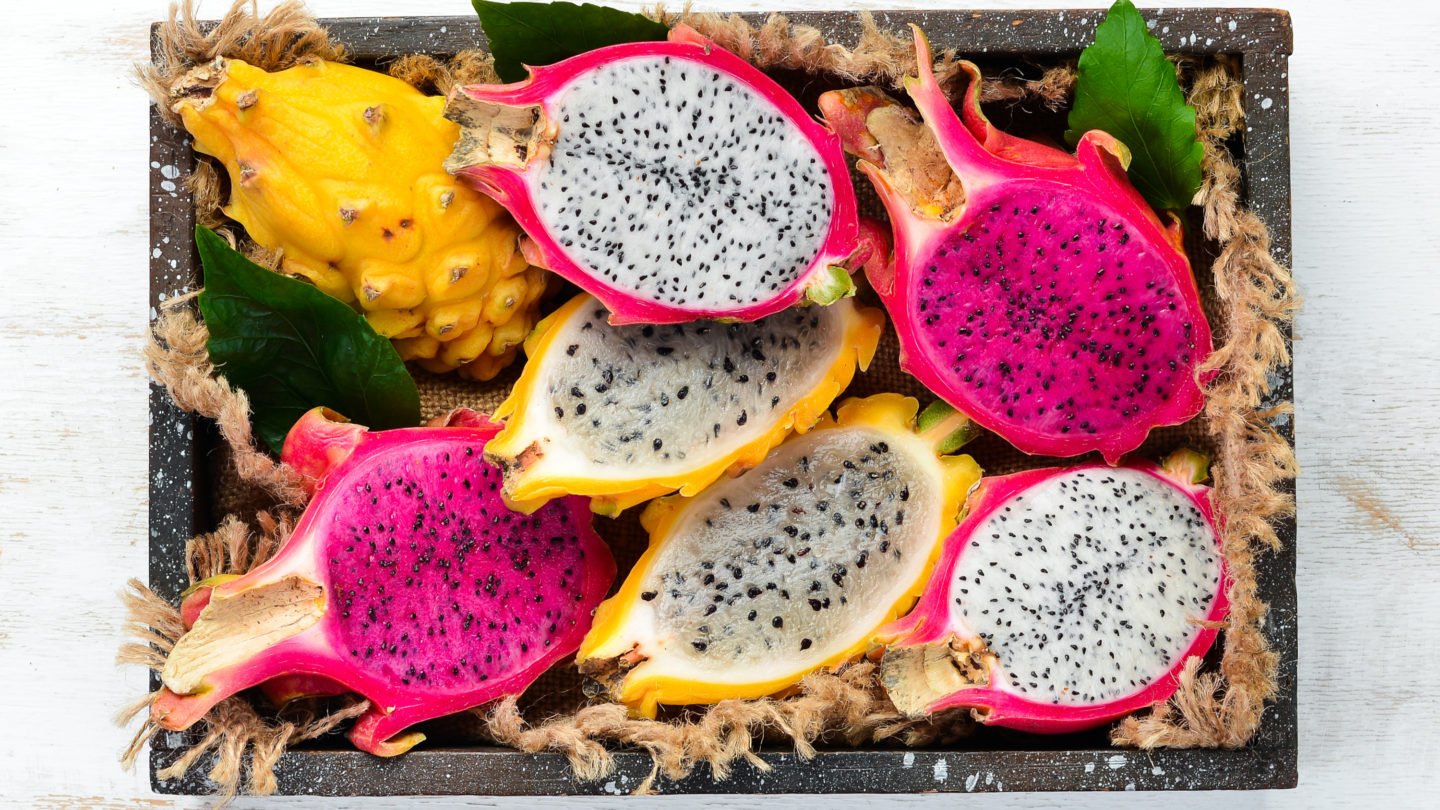 Dragon fruits are exotic fruits that grow from a cactus. These horned fruits are often imported due to the lack of supply and high demand, making them more expensive than other tropical fruits. However, with the correct temperatures, you can grow the dragon fruit tree and have your supply of this exquisite fruit.
This article will discuss everything you need to know about dragon fruit varieties, their types, and other specifications. I will also cover the most common, most expensive, sweetest, and the largest variety of dragon fruit and the uses of these precious fruits.
Table of Contents
What is Dragon Fruit?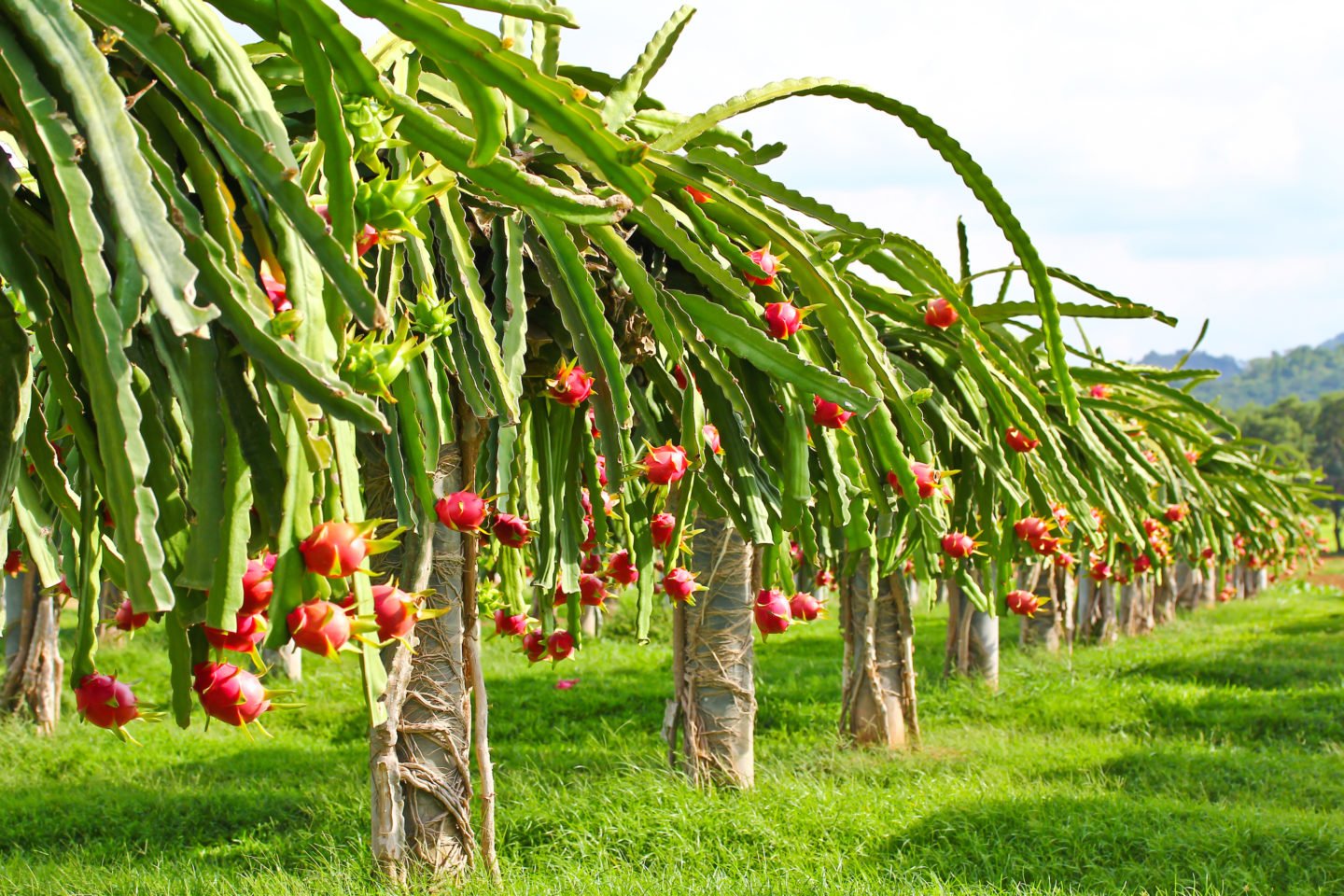 Pitaya or pitahaya, more commonly known as dragon fruit or strawberry pear, is a magnificent tropical fruit related to the cactus pear. Although it is a cactus fruit, it does not have spines or thorns on the outside. Originally planted in Mexico, Central America, and South America, it is now grown in Ecuador, Vietnam, and other parts of Southeast Asia, Israel, Nicaragua, California, and Florida, among other locations.
Dragon fruit tastes like a cross between kiwifruit and pear, with varied flavors and sweetness levels depending on the variety. The flesh of this gorgeous cactus fruit is high in water content and sprinkled with edible black seeds, making it the perfect summer fruit.
The prebiotic fiber found in dragon fruit promotes intestinal health by stimulating the development of probiotic bacteria, such as lactobacilli and bifidobacteria. In addition, dragon fruit contains phenolic acid, flavonoids, and betacyanin, which are all antioxidants. Vitamin C, iron, magnesium, protein, and calcium are also present at modest levels in the fruit. There's more on that here.
Dragon Fruit Varieties
A Breakdown of Dragon Fruit Species
Hylocereus undatus- Red peel with white pulp
Hylocereus triangularis- Yellow peel with white pulp
Hylocereus costaricensis- Red peel with red pulp
Hylocereus polyrhizus- Red peel with red pulp
Hylocereus ocamponis- Red peel with red pulp
Selenicereus megalanthus- Yellow peel with white pulp
Cereus triangularis- Yellow peel with white pulp
Acanthocereus pitajaya- Yellow peel with white pulp
Cereus ocamponis- Red peel with red pulp
White Dragon Fruit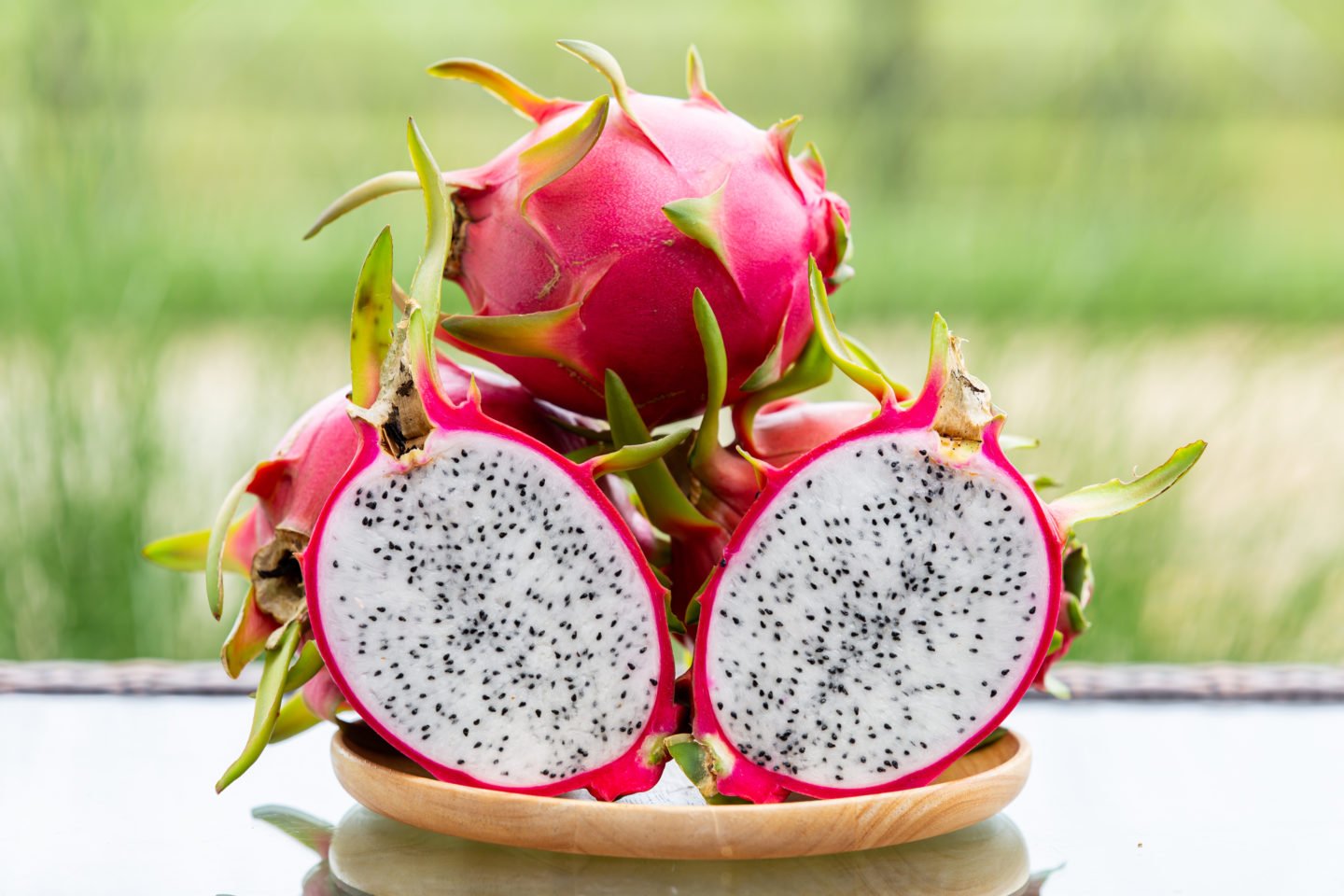 Hylocereus Undatus is another name for Selenicereus Undatus. It's a sort of dragon fruit with pink skin and white meat. It is the most famous dragon fruit and is delicious. Here are the common cultivars:
Vietnamese Jaina: The dazzling whiteness of its fruit makes it one of the most popular varieties in the world.
David Bowie: Consider the slender, white duke. This white dragon fruit type is thinner than the others and has a tangier, lemon-like flavor.
L.A Woman: The fruit size is medium to large, typically weighing 0.75-1.5lbs. It has a mild, somewhat sweet, refreshing flavor, but it usually leaves a bad taste in the mouth.
Seoul Kitchen: The fruit is medium to large and weighs approximately 0.75-1.0 lbs. this variety does not need pollen from another plant to bear fruit. The pulp in this fruit is smooth, sweet, and excellent when chilled or simply eaten out of hand.
Lake Atitlan: This exotic-sounding dragon fruit type is often on the bigger – and tangier – side, named after the volcano-ringed lake in Guatemala.
Neitzel: Made by rare fruit growers in California. It possesses a sweet and can weigh up to a pound.
Alice: This variety was named after Alice Snow, a Californian rare fruit grower. This cultivar is one of the most eye-catching due to its hot pink peel when ripe.
Thompson: This selection is large and can weigh up to 1.5 pounds. You will enjoy the easy peeling experience and this fruit's sweet and tasty pulp.
Guyute: This cultivar is easy to grow and is self-pollinating. The fruit from this tree weighs around 1 pound and is best served chilled.
Harpua: The fruit from this tree tastes a bit like a melon. The pulp's texture is snowy rather than crunchy and has a semi-sweet taste.
Red Dragon Fruit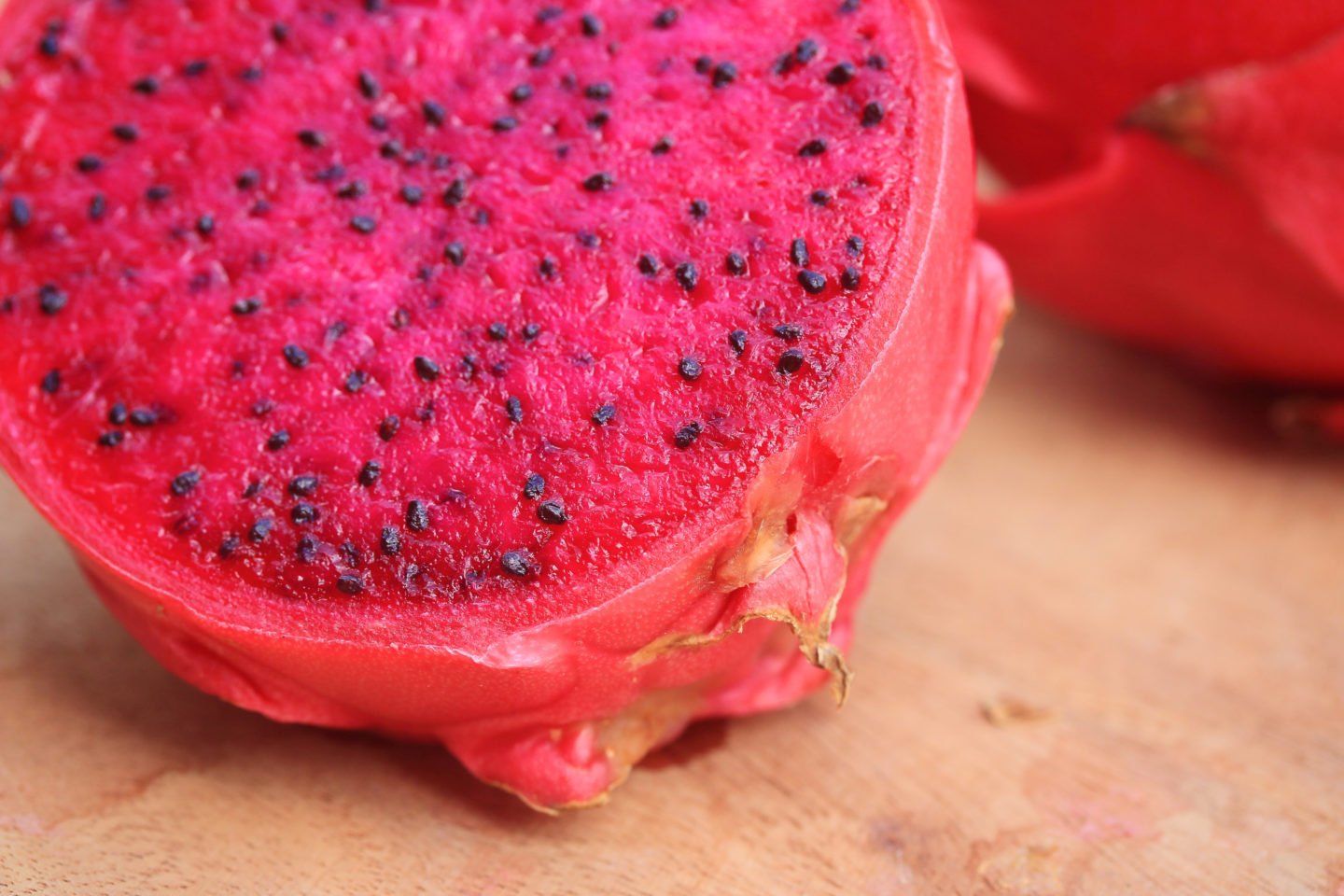 The rich red flesh of the red dragon fruit is the most stunning. This red-flesh dragon fruit is widely grown in Nicaragua, where it is miraculously fertilized by the rich volcanic soil, resulting in a more tasty and sweet fruit. Red dragon fruit is spherical, with little leaves referred to as "bracts" compared to its red skin/white flesh counterpart. They are also found in Israel, where it is smaller and resembles a large, pink pine cone.
Red Jaina: This variety is best turned into a smoothie, juice, or as part of drinks due to its semisweet pulp and attractive magenta color.
Natural Mystic: This cultivar originated from Thailand. Larger than the Red Jaina, the fruit weighs around 1 pound.
Costa Rican Sunset: One of the unique varieties. The fruit of this cultivar is elliptical rather than round, and the pulp is slightly lighter than Red Jaina but is more flavorful.
Zamorano: Originated from Honduras and one of the most versatile cultivars. Its fruit works great as a snack or a part of desserts and drinks.
Bloody Mary: This cultivar closely resembles Red Jaina in size, color, and taste.
Pink Dragon Fruit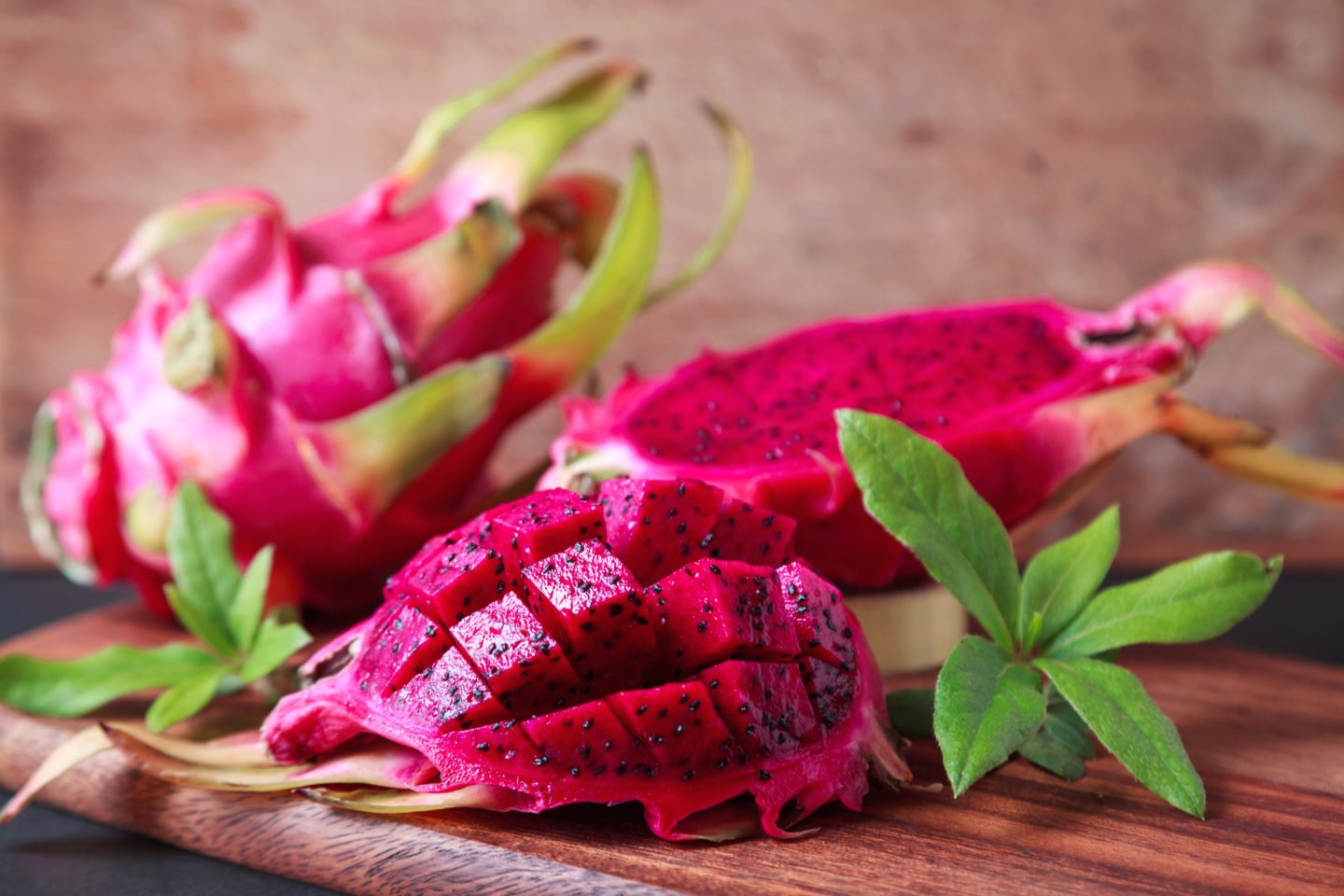 Though these dragon fruits are related to the red type, their flesh is different. The edible flesh of the pink dragon fruit ranges from soft to scorching pink. This type is common in Costa Rica and is often called the Costa Rican pitaya.
Makisupa: Has a paler peel than other pink dragon fruits and possesses a sweet yet sharp taste.
Delight: This cultivar was made in California. Among pink dragon fruits, this one has the palest pink pulp but is nonetheless sweet.
American Beauty: This variety is the total package of looks and flavors. The flesh is hot pink with a sweet taste and can be readily eaten.
Dark Star: The fruit of this variety weighs up to 1.25 pounds and has long skinny bracts. The taste of the pulp is likened to grapes and is best eaten chilled.
Purple Haze: You can tell purple haze apart from other varieties by their relatively fewer black seeds.
Voodoo Child: This cultivar produces small fruit with short bracts. Their fruits are slightly larger than an egg but provide a sweet, grape-like taste.
Cosmic Charlie: the fruit from this cultivar has long bracts, and the pulp tastes like a mixture of grapes and kiwi.
Yellow Dragon Fruit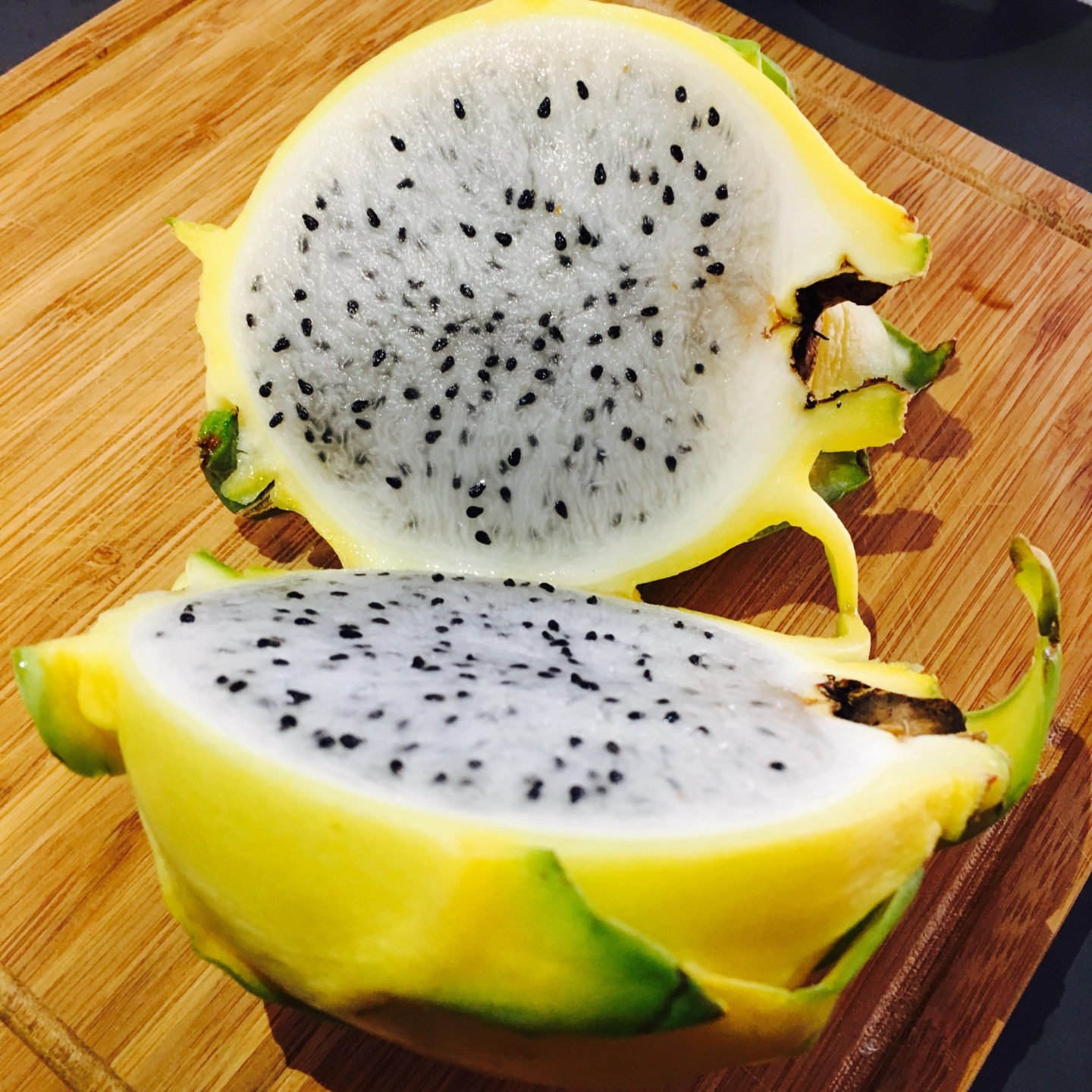 This dragon is the sweetest of all! The black seeds are bigger than in other varieties, and the interior is virtually transparent with yellow skin. Ecuador is well-known for its golden dragon fruit cactus. These vivid yellow species have thinner, less leafy bracts than their red-skinned siblings.
Because it is the sweetest and most delicious, it is also called the "gateway" dragon fruit. The taste of this fruit is addicting, and you can eat it straight out of the skin with a spoon or in a fresh, fruity salsa that goes well with fish. Most of the year, the yellow dragon fruit is accessible in bursts.
Sour Dragon Fruit
Stenocereus, or the sour dragon fruit, is the species commonly consumed in the arid parts of the Americas. Sour dragon fruit is refreshing due to its juicier flesh, in addition to having a solid and sour taste.
Locals still harvest this fruit in northwestern Mexico, and they sometimes call it by the term "ziix is ccapxl," which translates as "thing whose fruit is sour." The fruit of this dragon fruit plant has a more acidic, watermelon-like fragrance. The tiny black seeds have a nutty taste and are edible.
Which Dragon Fruit Variety Is The Sweetest?
The yellow dragonfruit (Hylocereus megalanthus), commonly known as the yellow pitahaya, is the tastiest and sweetest of all the dragon fruits. Due to its taste, this variety is one of the most popular among all dragon fruits. The yellow pitahaya is a bit smaller than the red pitahaya, but it is sweeter and juicier.
What Is The Most Common Dragon Fruit Variety
The most popular dragonfruit variety is the Red-White variant. The white interior makes a great addition to a fruit salad. The flavor of a dragonfruit is similar to that of kiwi fruit, although it is usually much larger.
What Is The Most Expensive Dragon Fruit Variety
The fruit from the yellow dragon fruit plant is more expensive than the pink and red ones. There is a lesser supply of yellow dragon fruits than other varieties, making them more expensive.
Related Questions
How can you use dragon fruit?
While dragon fruit is a delicious snack, you can use them to garnish your salads, make them a part of your drink, or make a juice or dragon fruit smoothie.
What is the largest dragon fruit?
The dragon fruits from the species Undatus are the largest among all varieties. Cultivars like the L.A. Woman and Thompson weigh up to 1.5 pounds.