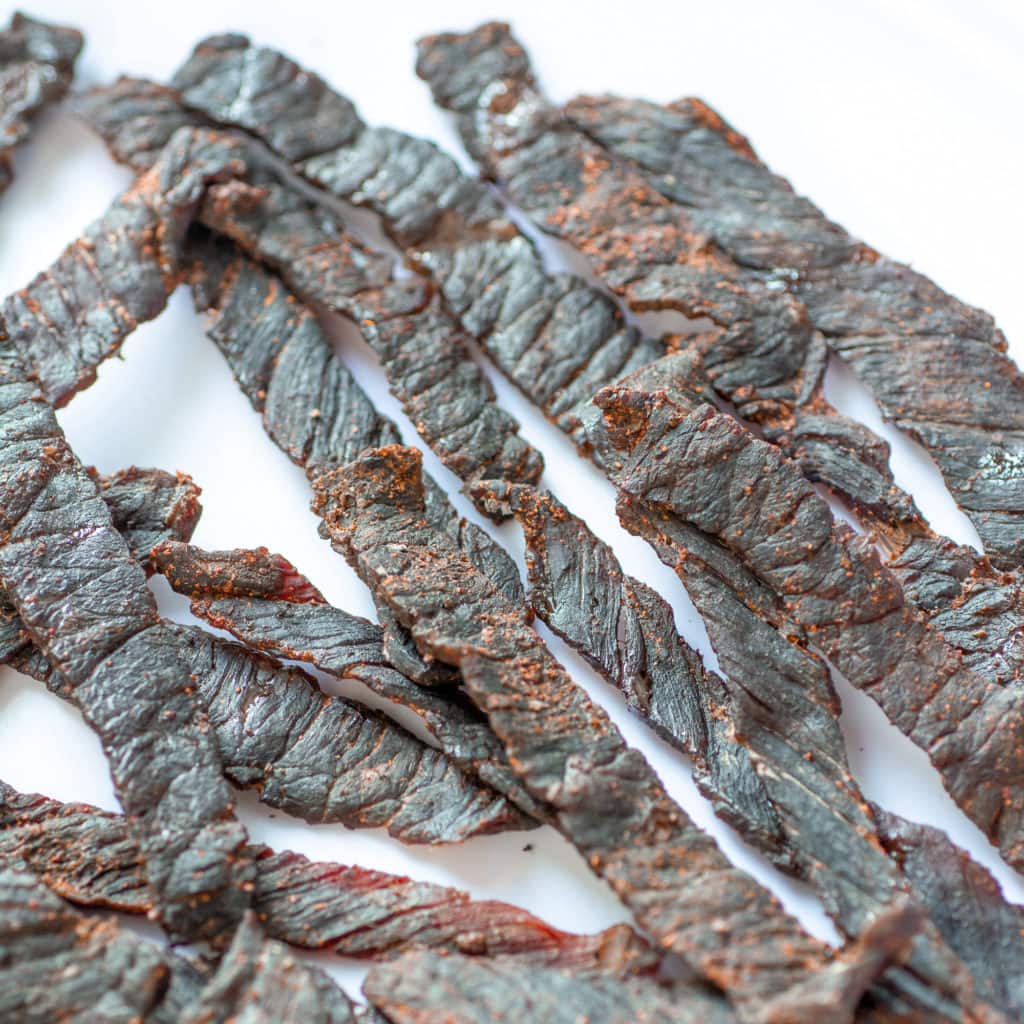 Here's the easiest low-carb beef jerky recipe that you can make directly in your oven (there's no need to buy a food dehydrator!).
This beef jerky is sugar-free, loaded with smoke flavor, and you can even enjoy it as a late-night snack since one beef jerky serving (with about 15 pieces) has only 0.7 grams of carbs. Another reason why I love this recipe so much is that this beef jerky has the perfect chewable texture (all thanks to my special marinade).
This beef jerky is compatible with keto, paleo, and gluten-free diets. Also, if you have trouble meeting your protein goal, this recipe is one of the easiest and delicious ways to do it.
Table of Contents
Is Beef Jerky Keto Friendly?
It depends on what kind of beef jerky we're talking about. If you're thinking about store-bought beef jerky, then, unfortunately, the answer is NO. It's not keto-friendly. Since most of the grocery store beef jerky products have sugar listed as an ingredient, they can't be suitable for a person following the keto diet.
But if you think of making keto jerky from scratch, then it's definitely OK to consume such a type of jerky (since there won't be any added sugar). And since you'll be the one adding the ingredients, you can be sure that nothing prohibited will be used during the cooking process.
Which Cut of Meat Is Best for Beef Jerky?
There are a few things that you should consider when choosing beef for your keto-friendly beef jerky:
Fat content. Since fat cannot be fully dehydrated, you should double-check the fat content in your cut of meat. The less fat there is, the better.
Look for meat with marbling. The chosen beef cut should have intramuscular fat since it gives a rich flavor and makes the beef jerky juicier.
Don't overpay. If you want to get a fancier beef cut, you sure can (but there is no necessity to do it). This case is one of the few where an economical cut is better than a pricier one.
So, it is best to purchase the following cuts of meat for beef jerky: flank steak, top round, round roast, round tip, eye of round, pectoral meat, or blade meat.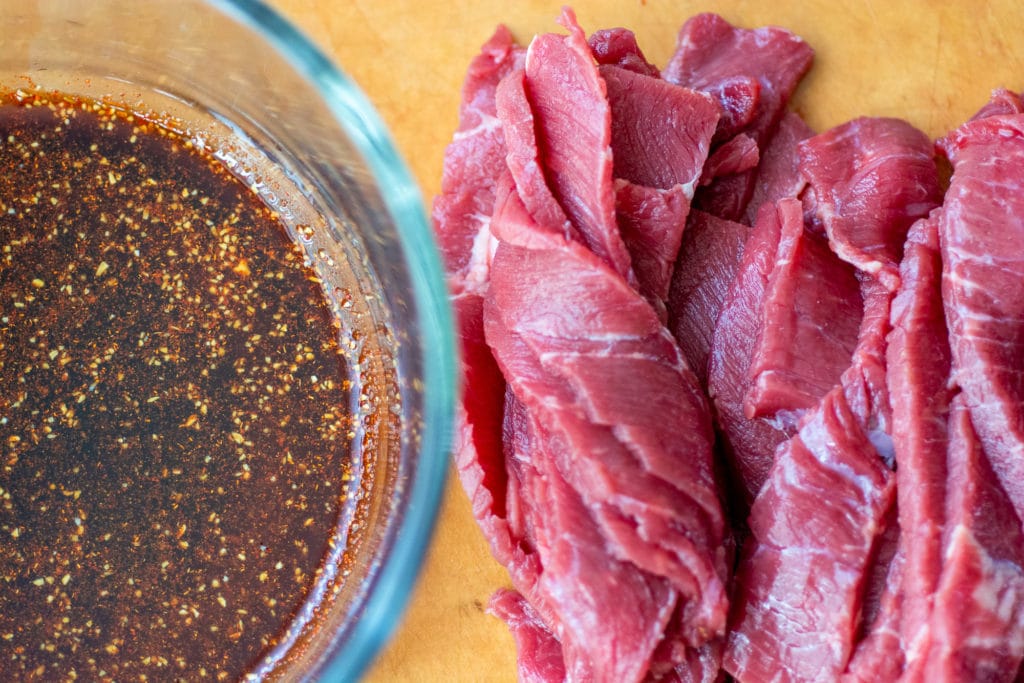 Here's What You'll Need
Aside from a nice low-fat beef cut, you'll also need ingredients for the meat marinade. Here's what you should prepare:
Soy sauce
Worcestershire sauce
Liquid smoke
Granulated garlic
Cayenne pepper
Smoked paprika
Salt
Of course, the marinade ingredients may vary according to your own preferences. But it is best not to skip the soy sauce.
If you wish, you can use garlic powder instead of the granulated kind. Also, you can add some onion powder, black pepper, and sea salt.
How to Make Keto Beef Jerky in the Oven
If you try making beef jerky at home, you'll never go back to eating the store-bought one. Homemade beef jerky is not only healthier but also insanely easy to make. Let me walk you through the steps of the cooking process:
Prepare the beef. Partly freeze it and then cut it into thin strips.
Make the marinade. Take a small bowl and combine all of the ingredients. Then, pour it into the beef (or add the ingredients one after the other directly into the meat strips).
Marinade the meat. Place the beef strips in the refrigerator for about 6-12 hours.
Dehydrate the beef strips. You'll need a baking sheet, aluminum foil, a wire rack, and, of course, an oven to dehydrate the meat.
Let it cool. Leave the beef jerky at room temperature to cool down.
For detailed step-by-step instructions on how to make beef jerky, scroll down to the recipe card.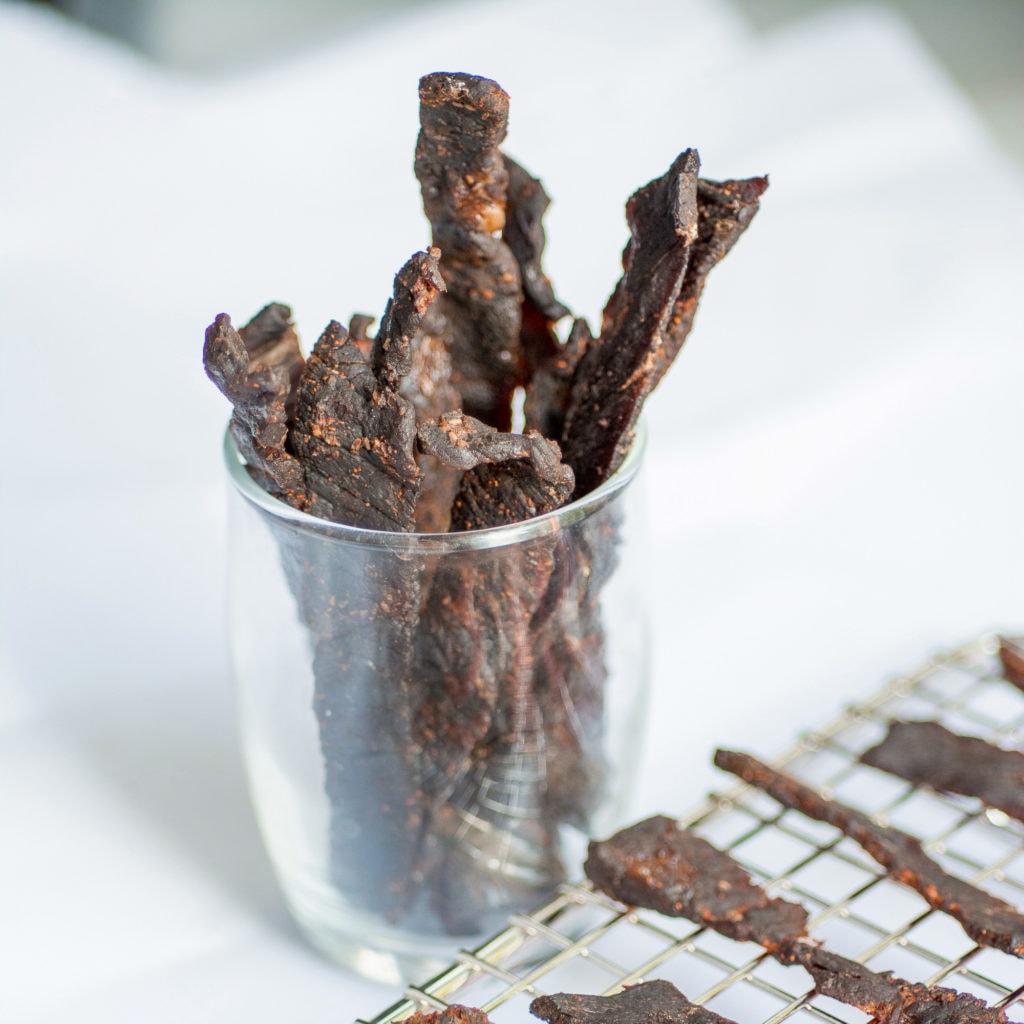 Cooking Tips
Here are a few tips that can make cooking keto beef jerky even easier:
Partially freeze the beef before cutting it. I love it when the beef jerky strips are thin, but sometimes it can be tricky to cut it that way. To ensure that you cut the beef into the perfect strips, place the meat into your freezer for about 30-40 minutes and only then cut it.
Don't skip marinating the meat. Many people say that it's unnecessary to marinade the beef when making jerky; however, it is a crucial step that adds the most flavor to the meat.
Use a wire rack to dehydrate the beef strips. Don't place the beef strips directly on a baking sheet since the meat won't dehydrate properly (it'll just cook in its juices).
Storing Instructions
You should store the keto beef jerky in a sealed jar or a zippered bag. It is safe to consume it for up to two weeks. However, if your beef has some fat, it is best to refrigerate such jerky.
I've heard people freezing homemade jerky, but I do not recommend doing so. I've tried to freeze my beef jerky once, and it failed big time.
Recipe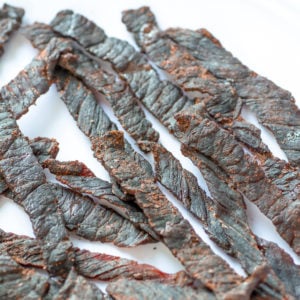 Keto Beef Jerky
You can make this low-carb beef jerky recipe directly in your oven (there's no need to buy a food dehydrator). It's sugar-free and loaded with a smoky flavor. Plus, you can eat 15 strips and still consume only 0.7 grams of carbs!
Ingredients
1

lb

flank steak

4

tbsp

soy sauce

1

tbsp

Worcestershire sauce

1

tsp

liquid smoke

1

tsp

granulated garlic

or garlic powder

½

tsp

cayenne pepper

½

tsp

smoked paprika

¼

tsp

salt
Instructions
Pat the beef dry with a paper towel and place it in your freezer for about half an hour (this will help you cut the beef into thin slices). Cut the beef against the grain into strips.

Place the beef slices into a large bowl and add the soy sauce, Worcestershire sauce, liquid smoke, granulated garlic, cayenne pepper, smoked paprika, and salt. Combine everything together to make sure all of the strips are evenly coated with the marinade. Leave the marinated beef strips in the refrigerator for at least 6 hours or more (up to 12 hours).

Cover a baking sheet with aluminum foil or parchment paper. Place a wire rack on top of that baking sheet and lay the beef strips across the rack (make sure that they don't overlap).

Preheat your oven to 175 degrees F and bake the beef jerky for about 3-4 hours (depending on the thickness of the strips). Flip the beef halfway through.

Let the beef jerky cool completely before serving.
Nutrition
Calories:
46
kcal
Carbohydrates:
1
g
Protein:
7
g
Fat:
2
g
Saturated Fat:
1
g
Polyunsaturated Fat:
1
g
Monounsaturated Fat:
1
g
Cholesterol:
18
mg
Sodium:
335
mg
Potassium:
128
mg
Fiber:
1
g
Sugar:
1
g
Vitamin A:
61
IU
Vitamin C:
1
mg
Calcium:
9
mg
Iron:
1
mg