Constipation is one of the most common digestive problems worldwide. Constipation is defined as having less than three bowel movements per week, hard, dry, or lumpy stools, stools that are difficult to pass, or a sense that not all stools have passed. While there are over-the-counter laxatives such as Psyllium husk, natural laxatives such as fruit juices also help relieve the symptoms.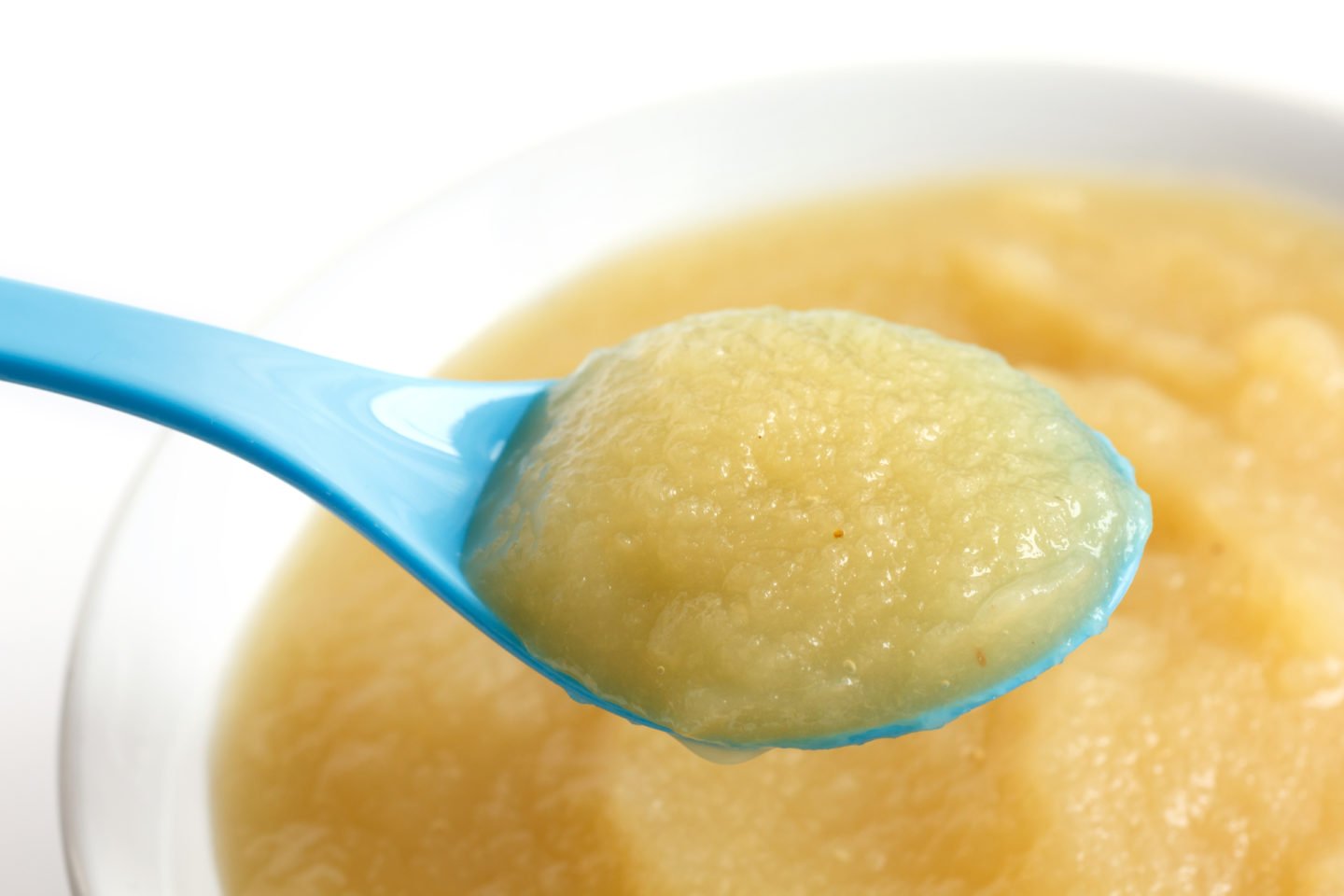 Apple juice is a common home remedy laxative that is safe for babies, kids, and adults. Apple juice is easiest to administer as it tastes great and contains water and fiber that combats chronic constipation. You might think that the same is true for applesauce since it's from apples, but no.
Applesauce contains high levels of pectin, a soluble fiber that bulks up the stool, making it harder to pass. For this reason, applesauce is better given when kids suffer from diarrhea. This article will cover everything you need to know about applesauce and constipation.
Table of Contents
What is Applesauce?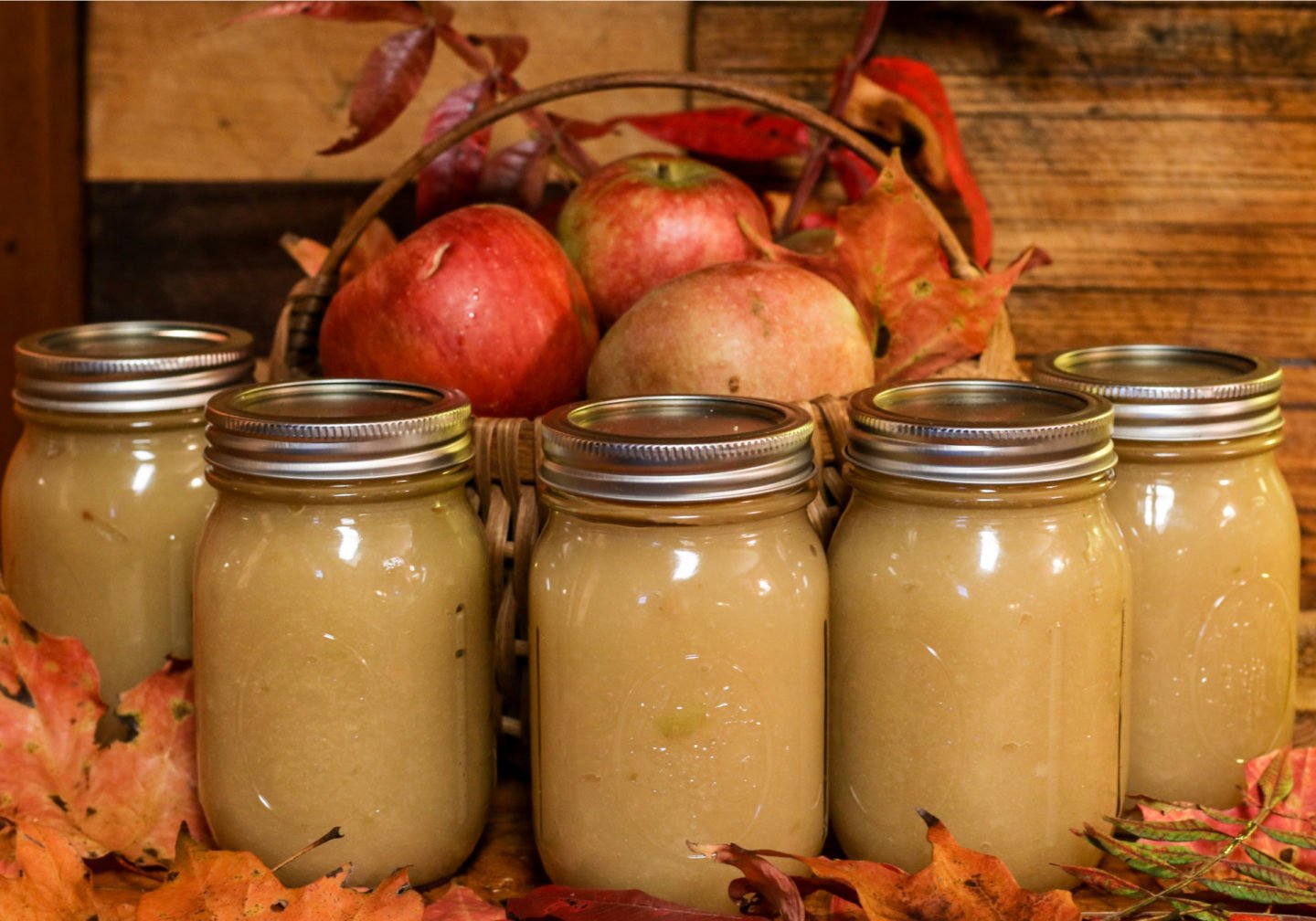 Apple sauce is made by blending apples and cooking them with water, apple cider, or fresh apple juice. A finer purée will result from more sour apples; the extremely acidic Bramley apple produces a very fine purée.
Sugar and spices, like allspice, cinnamon, and Red Hot candies, are added for taste. Citric acid, lemon juice, or other acidifiers are added to keep the color and guarantee a high acidity for safe storage. Vitamin C also helps preserve the applesauce's color. Generally, applesauce is used as a side dish or an ingredient in some baking recipes.
Is Applesauce Healthy?
Aside from being an excellent snack, applesauce contains nutrients and antioxidants that help one maintain weight, lower blood sugar levels, and even help prevent heart disease, asthma, cancer, and Alzheimer's disease. It also contains vitamins and minerals such as potassium, calcium, phosphorus, magnesium, folate, and vitamin C.
People who look out for their sugar levels often use applesauce as a sweetener as it has a low glycemic index and has been proven to reduce the risks of developing diabetes.
Applesauce can also replace butter in baking if you want a low-fat alternative to your recipe. Due to its high pectin content, applesauce resolves diarrhea and constipation. When taken in healthy amounts, it regulates digestion.
Does Applesauce Cause Constipation?
Since apple juice is one of the most popular natural laxatives, people also take high amounts of applesauce to treat constipation and relieve the symptoms. However, eating too much applesauce worsens constipation. Here's why.
Applesauce Contains High Levels of Pectin
While applesauce is generally healthy, people who suffer from chronic or occasional constipation should not include it in their diet. Yes, it helps one poop, but daily intake of excessive amounts dehydrates the gut and results in constipation.
Applesauce lacks water and contains high levels of pectin, which bulks up the stool. Pectin is a naturally or commercially produced starch needed for making jellies and jams. Pectin is responsible for the thick consistency of these products. Aside from jams, pectin is also used in developing gums and other starchy candies.
Citrus fruits, tart apples, cranberries, quince, and apples are fruits that contain high pectin levels. While pectin helps in maintaining healthy digestion, too much pectin causes constipation. When ingested, pectin acts as a soluble fiber that draws water into the gut and forms a gel for a softer stool.
Pectin may help for occasional constipation, but since pectin draws water into the gut, it tends to dehydrate the body when consumed excessively regularly. Once dehydrated, the pectin will still form a gel and bulk up to stool. However, since the stool lacks moisture, it will be lumpy, hard, and difficult to pass.
How much pectin should be taken daily to relieve constipation?
According to a study on patients with constipation, taking 24 grams of pectin every day helped relieve their constipation. Apple pulp is made up of 15-20% pectin. Since applesauce is made with the fruit's pulp, it contains high pectin levels. However, you have to take pectin in high amounts to result in constipation.
Applesauce Lacks Water and Contains More Carbohydrates
While apples contain water, most are evaporated during the cooking process when making applesauce, leaving a jam-like consistency. Unlike apple juice which is 88% water without the pulp, applesauce is made from the whole fruit and simmered until soft.
Since applesauce comes from the whole fruit, it contains more soluble fiber and carbohydrates. Unfortunately, most applesauce products also have added sugar of around 15 grams per 100 grams of applesauce, making them less healthy than apple juice.
Unlike dietary fiber, carbohydrates are harder to digest and stay longer in the digestive tract. These carbohydrates are then fermented by bacteria in the gut, resulting in bloating, gas, and sometimes abdominal discomfort. Too many carbohydrates in the body also worsen acid reflux symptoms.
Apple Juice Vs. Apple Sauce: Which Is Best For Constipation Relief?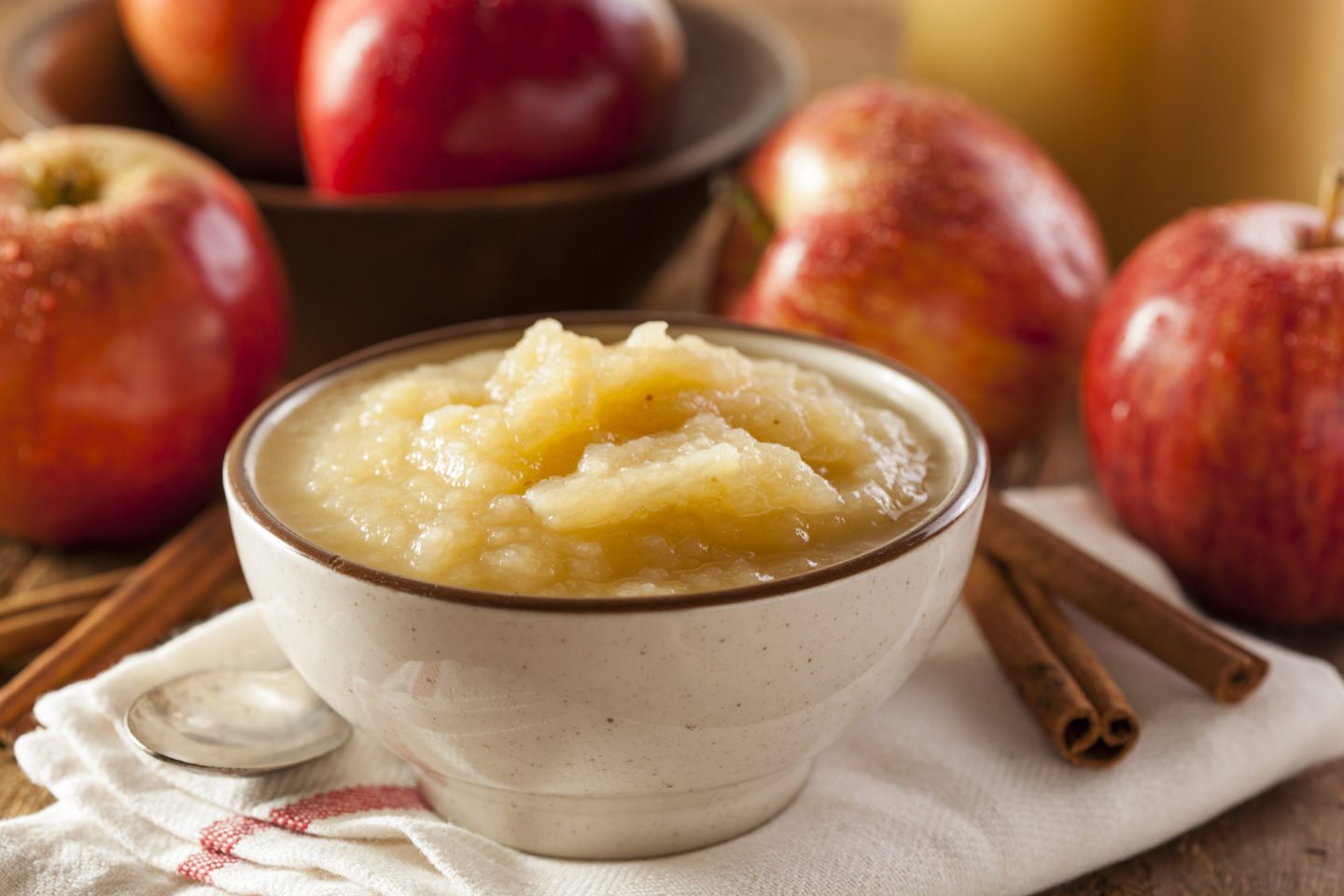 When it comes to constipation relief, apple juice is the better option. While apples contain natural laxative properties that stimulate digestion, apple juice has more water that helps soften stool and hydrates the body at the same time. Although apple juice does not contain as much fiber as applesauce, the water is enough to make one poop hours after drinking.
On the other hand, apple sauce contains pulp and has more pectin. If your stool is already dry and lumpy, apple sauce may help relieve the symptom by drawing water into the gut and
softening the stool, but without enough water in the body, the stool will remain lumpy and hard to pass.
How Much Apple Sauce Should I Eat To Avoid Constipation?
How Much Apple Sauce Should Adults Eat?
Eating a cup of applesauce every day helps relieve constipation—a medium-large apple yields around 1 cup of applesauce. Apples contain around 50% pulp, and the pulp consists of 20% pectin. Eating over 3 cups of applesauce in a day can lead to bloating, indigestion, and eventually weight gain and constipation.
How Much Apple Sauce Should Kids Eat?
Kids can eat up to half a cup of apple sauce in a day, divided into 2-3 servings. It can be given as a part of the meal or as an ingredient to their dessert. Since applesauce contains high amounts of sugar, it's not the best regular snack for kids but can be helpful in cases of occasional constipation.
What Foods Cause Constipation?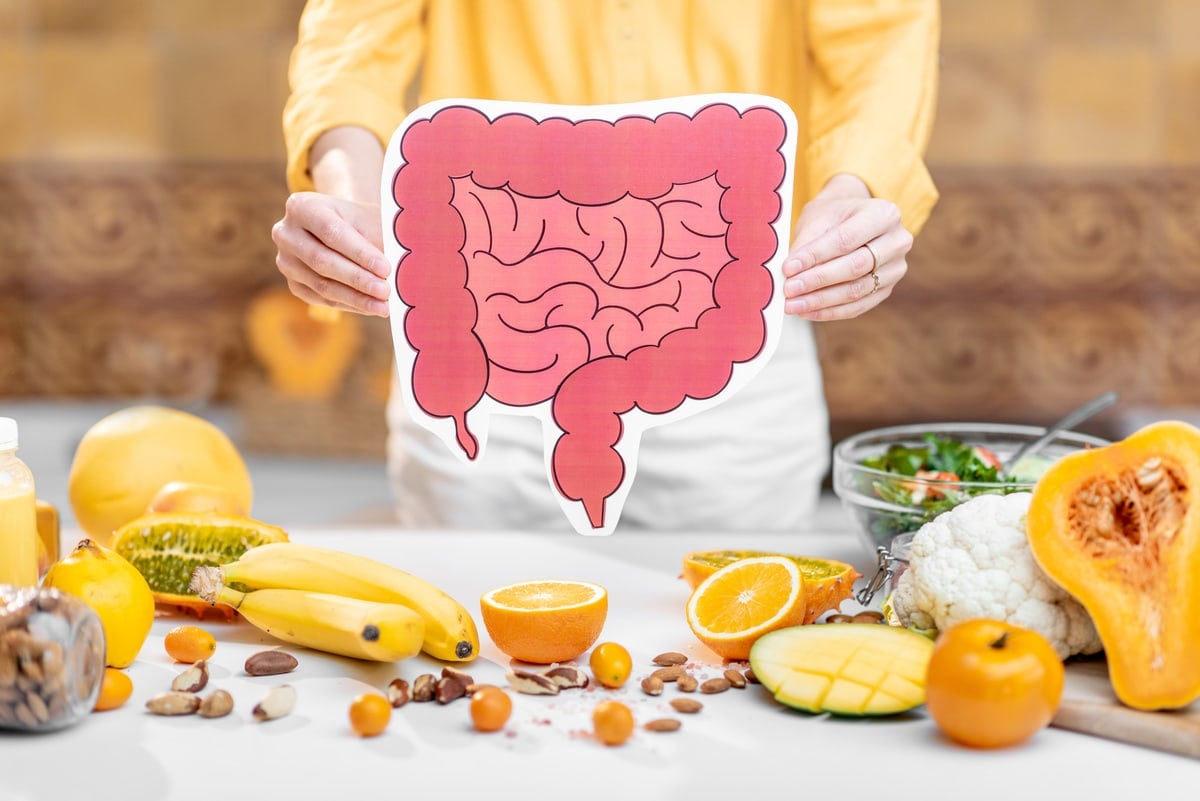 Bananas
Like apples, bananas contain high pectin amounts that draw water to the stool. However, bananas, especially the unripe ones, also have high levels of starch that are harder to digest and stay in the digestive tract for longer. So while bananas are a great source of potassium, it's best to eat them after having diarrhea than when trying to relieve constipation.
Processed Grains
Processed grains are the usual source of carbohydrates in one's diet. However, white flour and white rice products such as white bread contain more than 75% carbohydrates, making them harder to digest and causing constipation.
Therefore, if you suffer from chronic constipation or are prone to developing occasional constipation, you should lessen your white rice and white bread intake.
Milk and Dairy
While milk and dairy are excellent sources of protein, calcium, and other essential nutrients, drinking too much milk or eating too much dairy can lead to constipation. A part of the processing of commercial milk and dairy includes pasteurization. Pasteurization breaks down some essential digestive enzymes present in fresh milk.
Most of these products also contain lactose. Upon reaching the intestines, lactose produces methane, a gas that tends to slow down the passage of food, causing slow digestion and eventually constipation.
Red Meat
While red meat tastes delicious in every way, it causes constipation. This is because red meat contains high fat and low fiber. Both reasons lead to constipation. Red meat also takes so long to digest, causing a slow stool formation. Although high in protein, its low fiber content makes it an enemy for people with chronic constipation.
It takes at least 4 hours for the stomach to digest red meat, and since it takes the place of other fiber sources in a meal, it slows the digestion even more. The fat content in red meat also worsens constipation as it takes longer to digest.
Fried Foods and Sweets
Fried foods are often fatty and low in fiber which slow digestion. Aside from that, fried foods also contain high amounts of salt. When one eats too much salt than necessary, the body absorbs more water from other sources such as the intestines, which results in slow digestion and dry stools.
Since water is essential in moving foods and softening the stool, people who suffer from occasional and chronic constipation should avoid too much salt.
Sweets like biscuits, cookies, chocolate, and ice cream also worsen constipation as they are full of carbs, starch, and fats. In addition, these components are harder to digest, slowing stool formation. Aside from that, these foods also replace fiber-rich portions in one's diet.
Low-Fiber Food
Since dietary fiber and water are the two things that resolve constipation, low-fiber foods should be avoided when one can't poop. That includes rice cereal, pancakes, pasta, canned food, dairy, milk, meat, and even nuts and lentils.
What Foods Help Relieve Constipation?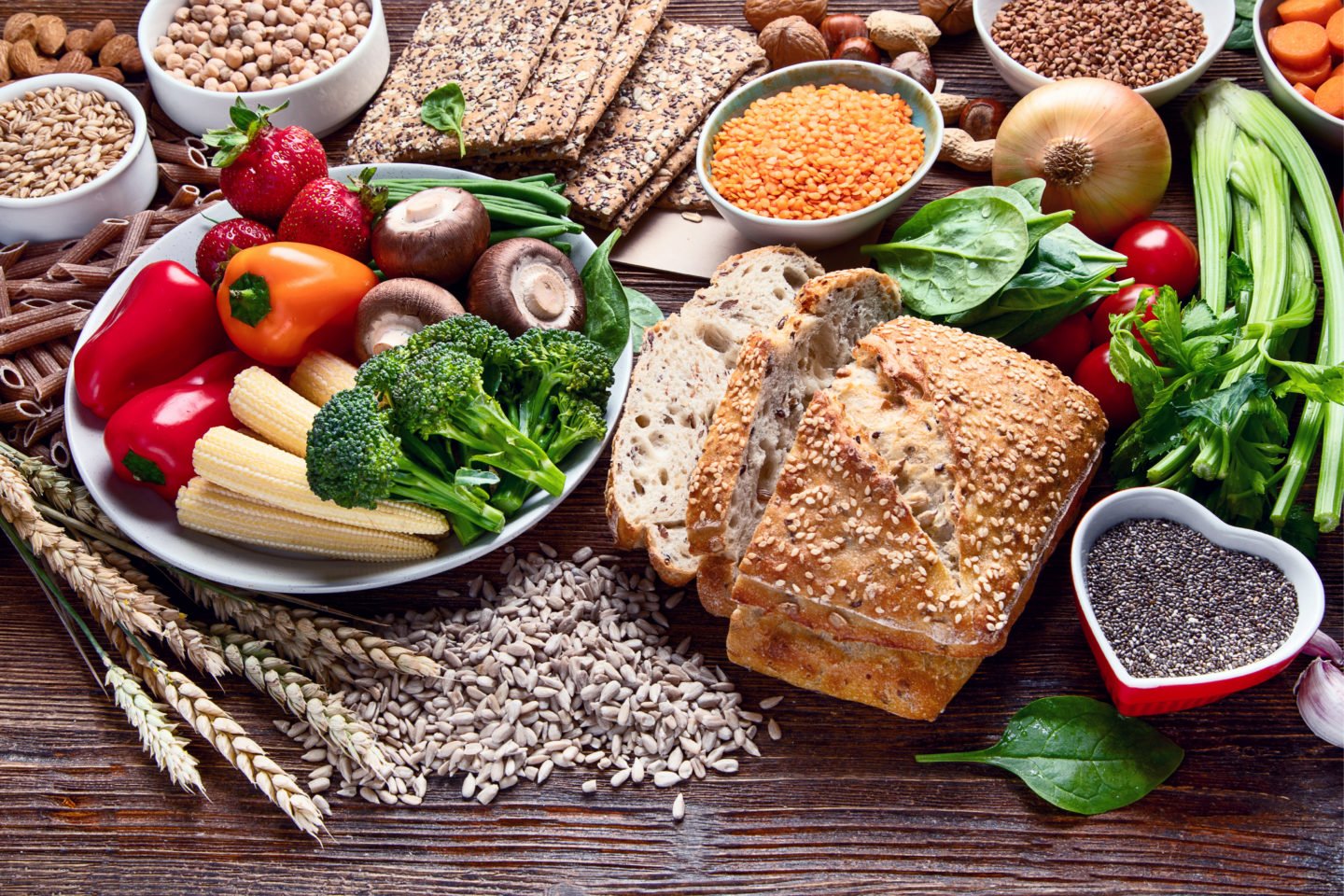 Broccoli
Also known as the fiber vegetable, a cup of crushed broccoli contains 5 grams of fiber, which is equivalent to 20% of the daily required dietary fiber intake. Broccoli also contains a substance called sulforaphane that protects the gut and helps ease digestion. Broccoli can be eaten raw, blanched, as a side dish, or made into a low-fat dip.
Prune and Prune Juice
Prunes and prune juice are among the most effective natural laxatives due to their high sorbitol contents. Sorbitol draws water into the gut, aiding digestion and softening the stool, resulting in regular bowel movements. It takes only 6-12 hours to make your baby poop, while resolving chronic constipation in adults takes longer.
Apple Juice
Apple juice hydrates the body and aids digestion due to its high water, fiber, and sorbitol that soften the stool. Unlike eating applesauce, drinking apple juice provides more water and lesser pulp to the body, making it ideal for relieving constipation. It's incredibly delicious, too!
Pear and Pear Juice
A medium-sized pear contains 6 grams of soluble and insoluble fiber, 21% of the required daily intake. Pear juice also aids digestion due to its high sorbitol and water content.
Chia Seeds and Flaxseeds
Chia seeds and flaxseeds are excellent sources of dietary fiber. Incorporating them into yogurt, cereal, or water will grant relief in less than 24 hours. These seeds also contain high levels of antioxidants and omega-3 fatty acids, making them helpful for those with inflammatory bowel diseases like irritable bowel syndrome.
Whole Grain Bread
Whole grain bread is a high-fiber food containing protein, magnesium, and other nutrients needed for healthy eating. All these nutrients promote a regular bowel movement by increasing digestion and water content in the intestines.
These types of bread also contain very little fat and only enough carbohydrates, making them excellent for maintaining digestive health.
Related Questions
Is applesauce good for baby constipation?
Since babies cannot ingest solid food like whole apples, applesauce can be incorporated with baby food. 1-2 tablespoons of applesauce in a meal are enough to stimulate their digestion.
Does applesauce give you diarrhea or constipation?
Both. Since applesauce is rich in fiber, it can relieve occasional constipation and cause diarrhea. However, eating large amounts of applesauce daily without drinking enough water can lead to dehydration and bulking of the stool, which leads to constipation.