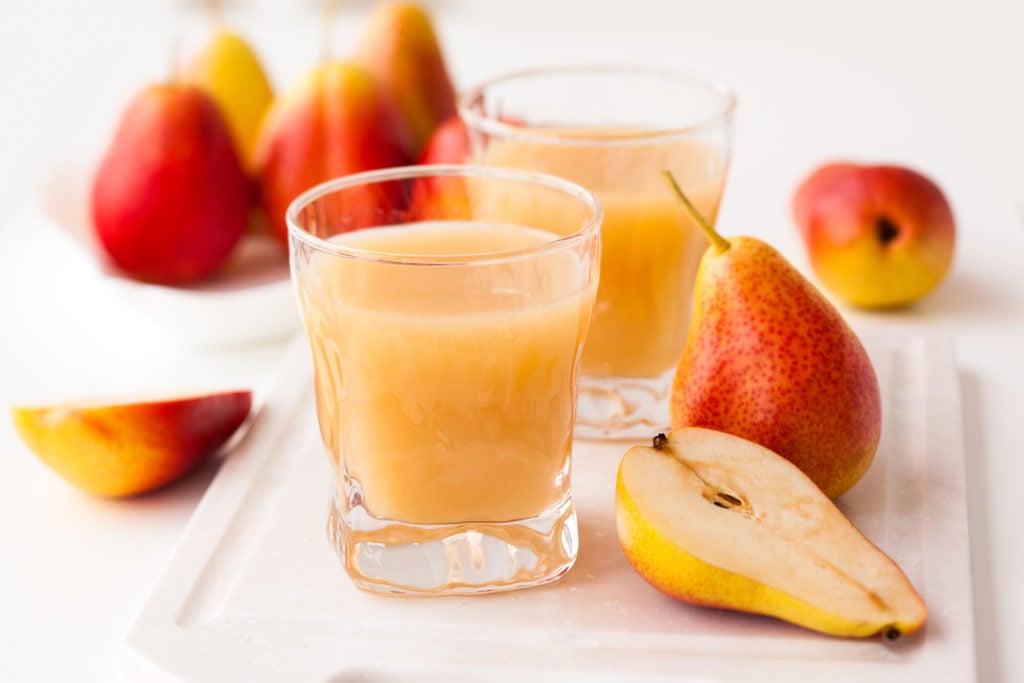 Almost 20% of the general population (including infants and toddlers) suffer from constipation. It not only affects their daily activities but also causes complications that might become severe if left untreated.
While there are laxatives that ease the symptoms of constipation, these laxatives also pose several side effects, including cramps, abdominal pain, and dehydration. A healthier option is to drink pear juice.
Pear juice is one of the best natural ways to prevent and ease the effects of constipation. For a start, pear contains high levels of fiber which promotes digestion and faster bowel movement. It also has high amounts of sorbitol, which draws more water into the gut and softens the stool for easier passage.
The vitamins and minerals present in pear juice also aid in regulating body functions, healthier immunity, and overall health that can help prevent the development of constipation. In this article, we will be discussing the main factors that make pear juice a great way to prevent and ease constipation.
Table of Contents
How Does Pear Juice Prevent and Relieve Constipation?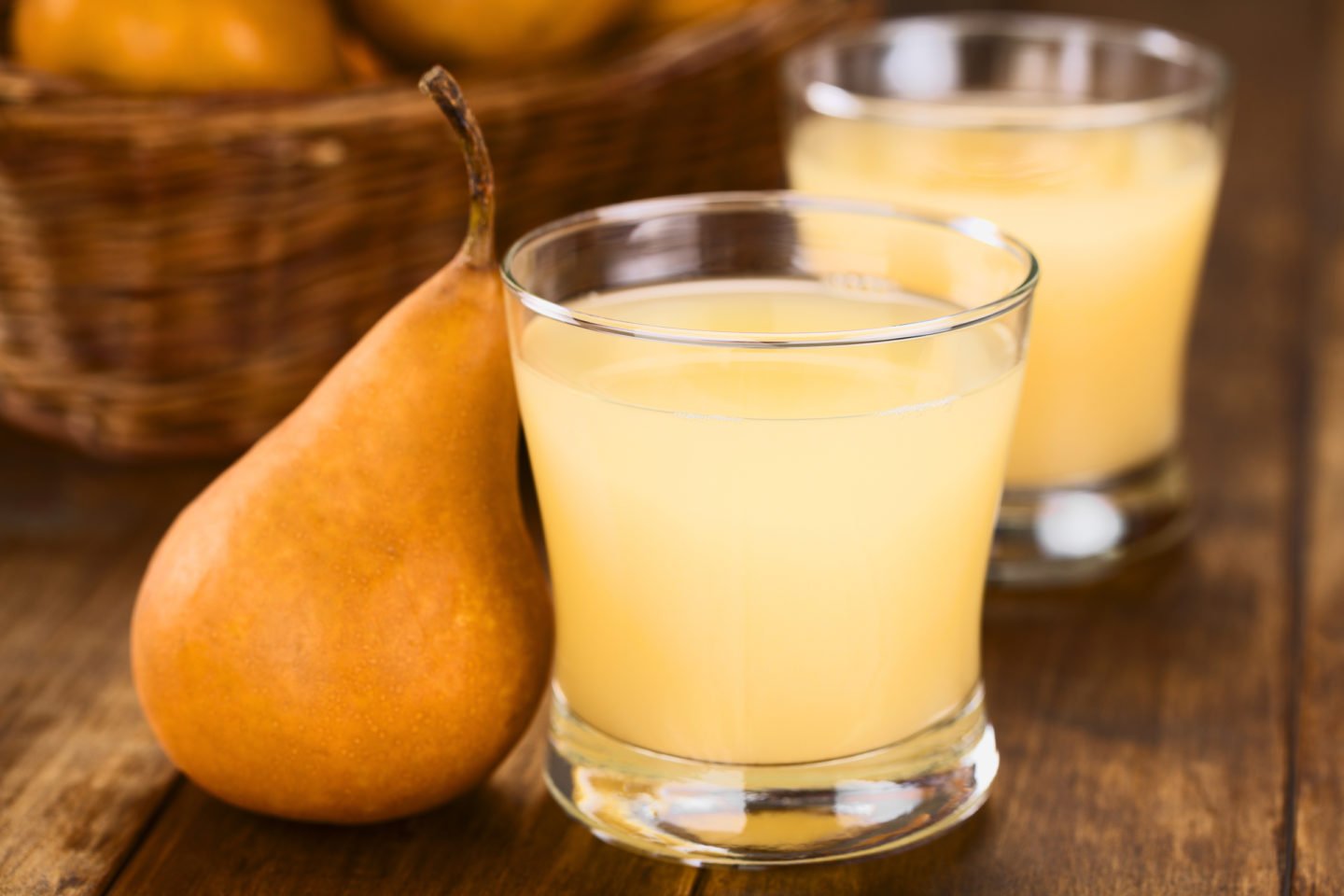 Pear Juice Contains High Amounts of Fiber
Pears are one of the most fiber-dense fruits. A medium-sized pear has 6 grams of fiber, roughly 21% of the daily required requirement. Because the skin of a pear provides the bulk of the fiber, eat it for increased taste, texture, and nutrients.
Fiber is a complex carbohydrate, yet it contains zero calories. Fiber's importance for our health stems from the fact that we can't digest it. Instead, fiber absorbs water like a sponge and removes waste and toxins as it passes through our digestive system.
Most Americans should intake between 21 to 38 grams of fiber per day, depending on age and gender, as per the Dietary Reference Intakes, a reference for suggested and sufficient intakes of certain nutrients.
There are two types of dietary fiber: soluble fiber and insoluble fiber.
Plant cell walls are a source of insoluble fiber. It bulks up your stool and aids in the movement of food through your digestive tract, reducing your risk of digestive issues, including diverticulosis, constipation, and hemorrhoids. Each medium pear can provide 2.2 grams of insoluble fiber.
Meanwhile, soluble fiber originates from the inside of the plant cell. It forms a gel when it dissolves in water and is great in softening the stool for easy passage through the intestines. A daily intake of 3 to 6 grams of soluble fiber may help decrease cholesterol levels and relieve constipation. Each medium pear provides around 3.3 grams of soluble fiber.
How to Make a Fiber-rich Smoothie with Pear Juice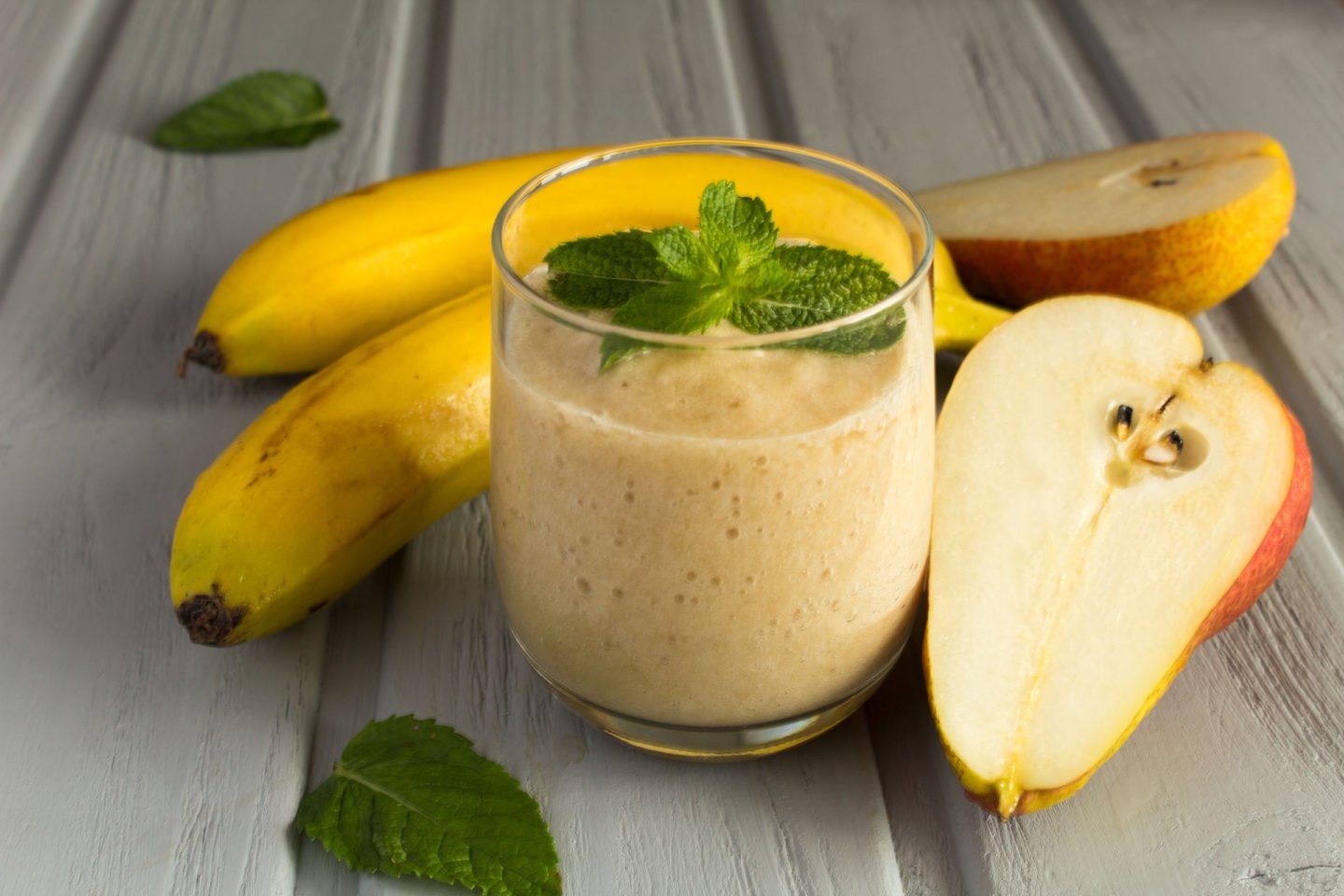 To extract the most fiber from pears, we suggest using a hand blender instead of a juicer. Throwing away the pulp lessens the fiber content, so making a smoothie with other fiber-rich fruits is the best way. Apples, berries, oranges, bananas, mangoes, persimmon, and even guava can increase the fiber in your diet.
To make the smoothie, simply freeze all the fruits you like and start blending them at high speed. The mixture should look like sorbet and will not need any sweetener or dairy product, as they might cause a sugar spike or increased cholesterol levels.
Pear Juice Hydrates the Gut
Dehydration is one of the most prevalent causes of chronic constipation. That is because while the food you eat passes through your stomach and into the large intestine or colon, the intestines will absorb most of the water from your food, making it dry and difficult to pass. To prevent dehydration, according to Healthline, you will need to drink at least 8 glasses of water a day to allow your body to retain more water.
If you want to get rid of constipation quickly and cheaply, water is the way to go. Our organs need water to function correctly. And the digestive system is no exception. Digestion necessitates the use of water. It keeps the food moving through your intestines while maintaining their smoothness and flexibility.
Since infants and kids are not fond of drinking enough water, one way to grant their body's hydration needs is by giving them water-rich fruit juices like pear juice. Pears contain 80-84% water, and a glass (240 mL) of pear juice has around 200 mL of water. The high dietary fiber and water content of pear juice is a winner combination in promoting regular bowel movements and functional constipation relief.
How to Make a Hydrating Smoothie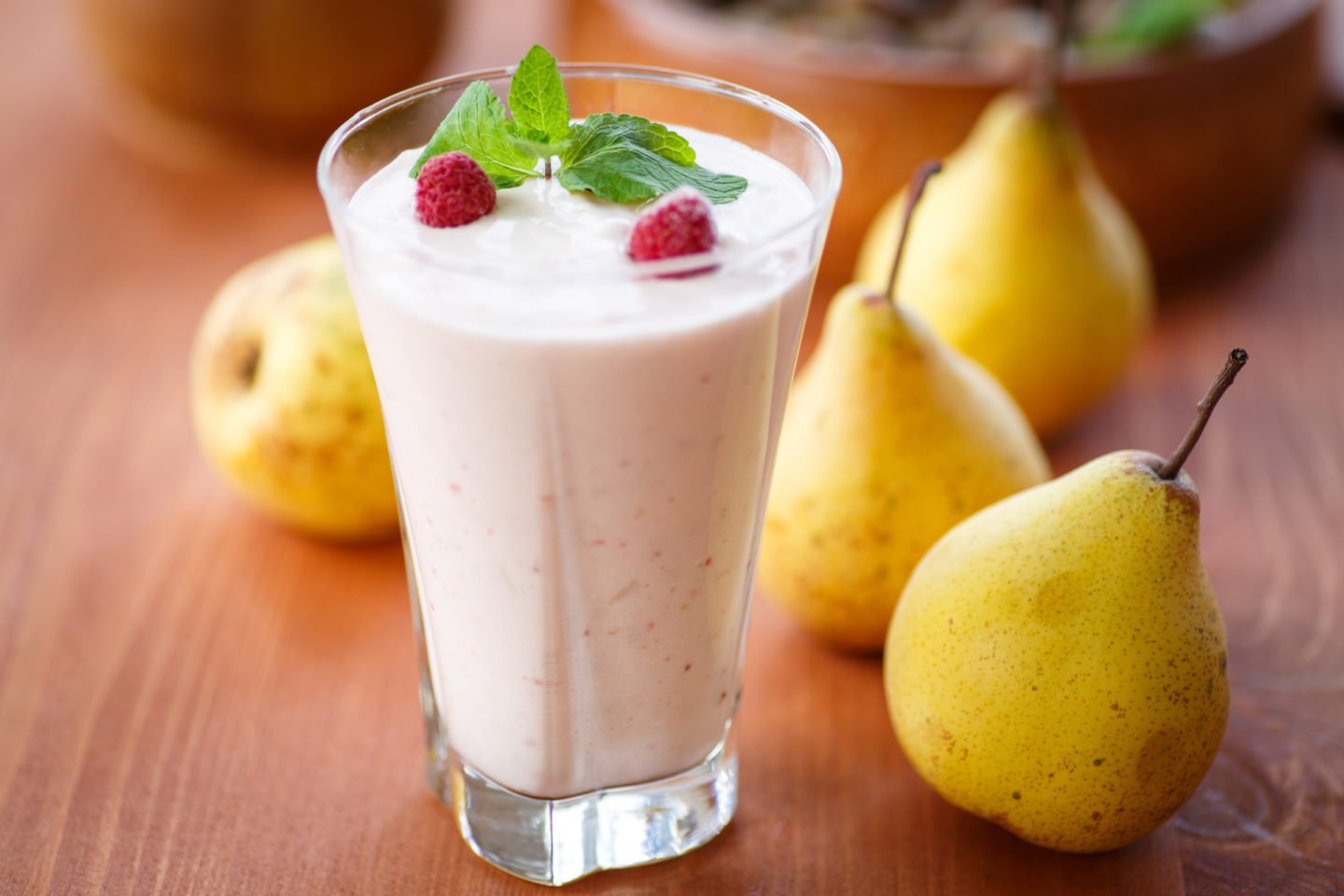 Although pear juice is already hydrating in itself, kids may enjoy a variety of flavors in their drinks. Here are some water-rich fruits that you can mix with pear juice into a smoothie: citrus fruit, watermelon, cantaloupe, strawberries, starfruits, apples, oranges, pineapple, lemon juice, lime juice, cherry juice, cranberries, and raspberries.
To create the hydrating smoothie, choose three to four of the water-rich fruits mentioned above and freeze them before blending. The water in the fruits will turn the mixture into a smoothie that all kids can enjoy.
Pear Juice is High in Sorbitol, a Natural Laxative
Sugar-free sweets, soft beverages, and chewing gums frequently include sorbitol as an artificial sweetener. Sorbitol, also known as glucitol, is a sugar alcohol found in fruits and berries. It has roughly one-third fewer calories than sucrose or regular table sugar, making it a more popular option.
Sorbitol acts as a diuretic and a natural laxative when ingested in large doses. As a result, people frequently used it as a laxative or an irrigating agent. It works by drawing water to the stomach and regulating bowel movement.
Pear is a rich source of sorbitol, as it contains 2.1 grams of sorbitol per 100 grams of pears. It is one of the top 5 richest natural sources of sorbitol. However, since it is a natural laxative, daily consumption of high sorbitol can cause several side effects, including abdominal discomfort, diarrhea, dry mouth, and even electrolyte imbalance.
How to Make a Sorbitol-rich Smoothie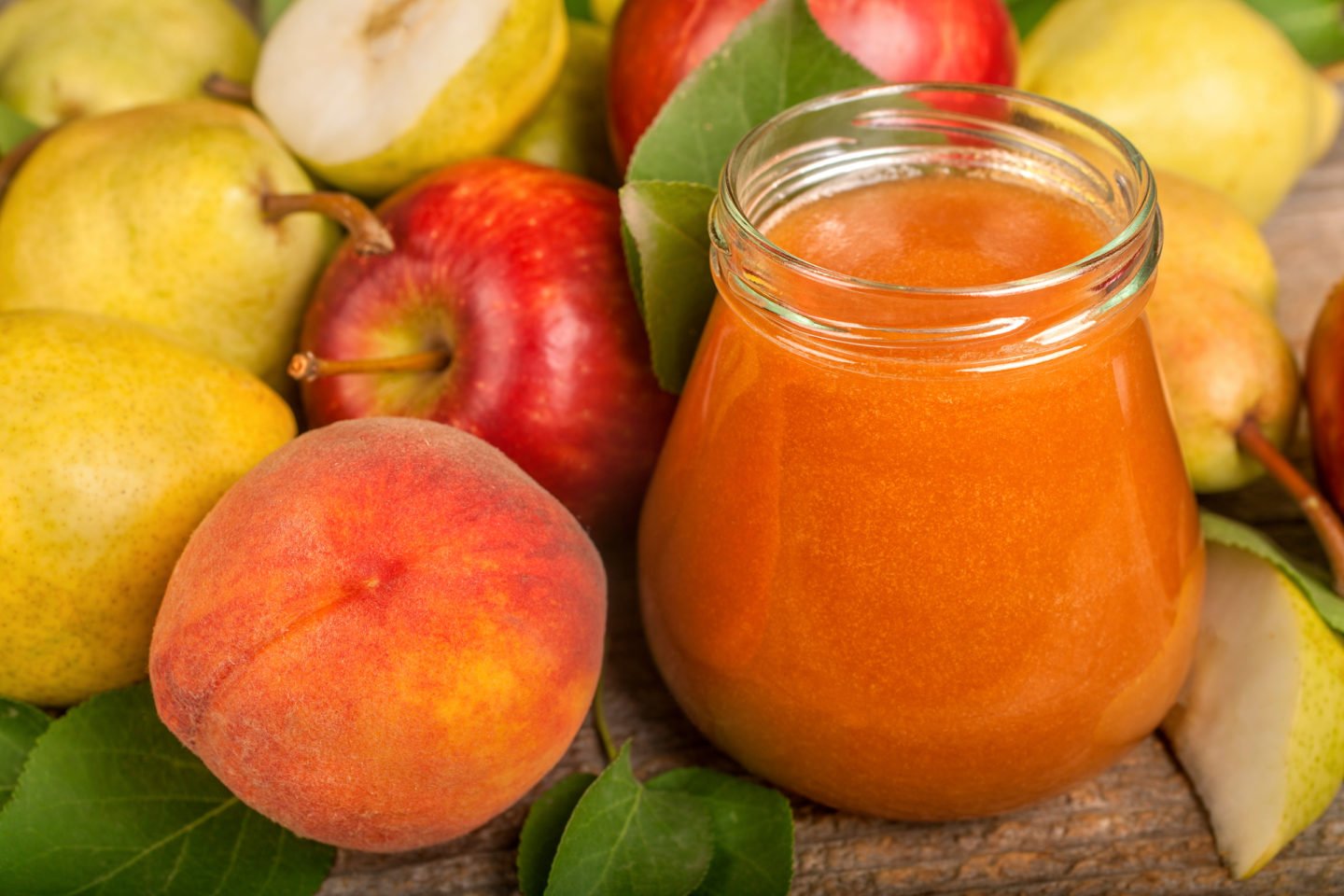 While sorbitol-rich fruits can relieve constipation, it is important to note that taking more than 20 grams of sorbitol a day can cause diarrhea and abdominal discomfort. However, if you're in dire need of functional constipation relief, you can try mixing some of the richest sources of sorbitol: prune juice, peach juice, apricot juice, or apple juice.
To make the smoothie, take a whole pear, add any sorbitol-rich juices and dried fruit, and blend at high speed. Drinking two glasses of this smoothie can relieve constipation, but too much may cause more harm than good.
Pear Juice is Rich in Vitamin C
Vitamin C is perhaps the most well-known vitamin on the market. This is because vitamin C has a long history of immune support and is an antioxidant that brings in a lot of health benefits. For example, vitamin C can help treat slight constipation in some persons. Surprisingly, this is a good side effect of one of the vitamin's few drawbacks.
Vitamin C has a mild laxative effect when taken in high levels as a supplement. That is due to the vitamin's ability to improve gastric motility or speed up digestion. However, most people would consider this a side effect rather than a direct health benefit.
In addition, many often note the dosage leads to "bowel tolerance." That's a polite way of saying that if you have diarrhea after drinking pear juice, you should cut down your dose.
A glass of pear juice (240 mL) provides 141% of the daily required vitamin C intake. That makes it an excellent natural way to achieve functional constipation relief. Drinking two glasses of pear juice will help revolve irregular bowel movements.
How to Make a Vitamin C Smoothie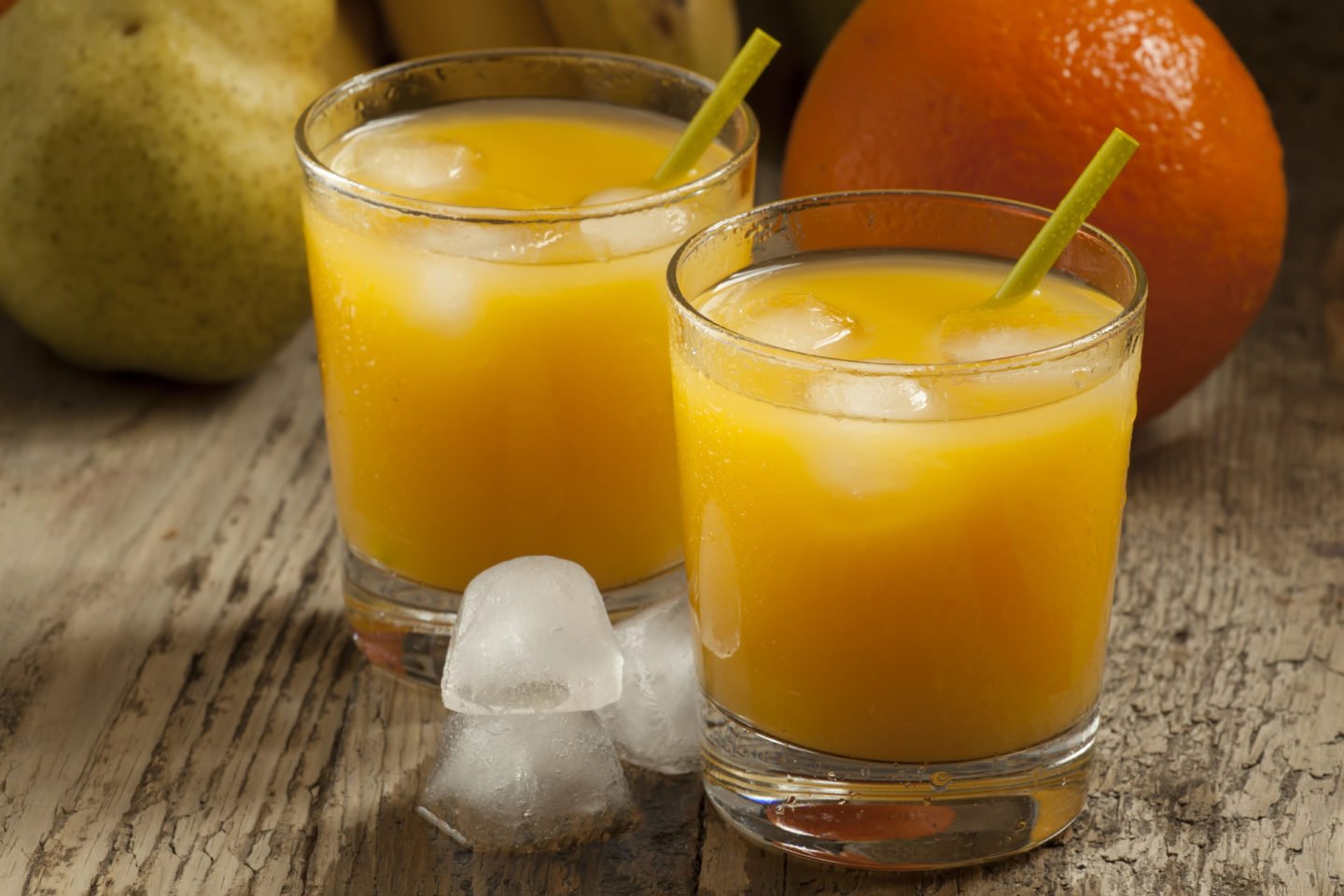 Making a smoothie out of pear juice and other vitamin C-rich fruits effectively hydrates the gut and fasten digestion and regular bowel movements. To make a vitamin C smoothie, mix your pear juice with these fruits or fruit juices: lemon juice, prune juice, pineapple juice, watermelon juice, papaya, mango, and berries.
Pear Juice is High in Fructose
Honey and fresh fruit contain fructose, a natural sugar. When it comes to blood sugar and carbohydrates, naturally occurring fructose affects your body the same way as artificial sweeteners. So, fructose in fruits can also boost your energy like table sugar and corn syrup but with healthier consequences.
A medium pear contains 11.8 grams of fructose, which is higher than the fructose content of grapes. In our intestines, fructose is a sugar that the body cannot metabolize properly. So, when you've had too much fructose, your body's first reaction is to remove it through bowel function. Just as it does with dietary fiber.
According to Harvard Health Publishing, too much sugar in the gut causes diarrhea. "Sugars stimulate the gut to put out water and electrolytes, which loosen bowel movements. If you ingest a lot of sugar, you may develop diarrhea."
Taking 40 to 80 grams of fructose per day can result in diarrhea; this is proof that fructose-rich fruits can encourage faster digestion and regular bowel movements.
How to Make a Fructose-rich Smoothie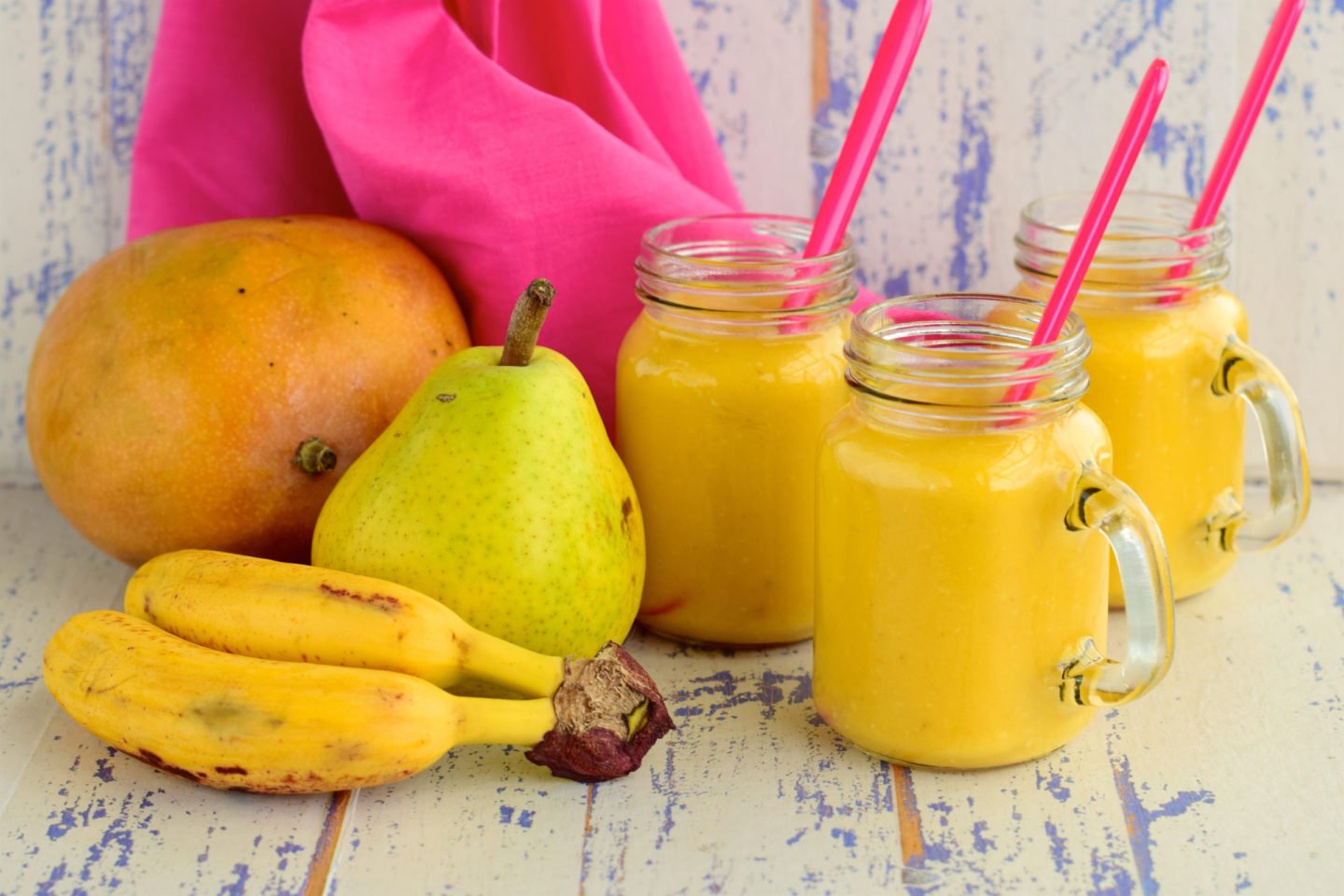 Mixing pear juice with other fructose-rich fruits results in a sweet, enjoyable smoothie to relieve constipation. Mix your pear juice with apple juice, prune juice, pineapple juice, or grape juice. You can add strawberries, bananas, kiwi, and dates to your smoothie.
Choose three fructose-rich fruits and mix them with pear juice at high speed to achieve a smoothie consistency. Before blending, you can freeze the fruits to make a refreshing drink that kids will love.
Related Questions
What causes infant constipation?
According to Mayo Clinic, dehydration is the most common cause of constipation in babies. Another cause is feeding your infant too many solid foods. For relief, change your baby's diet and add pear juice, apple juice, or prune juice. However, consult your pediatrician for the right dosage for your baby.
How do you know that you are constipated?
According to Mayo Clinic, the most common symptoms of constipation are going on less than three trips to the bathroom in a week, straining during hard stool release, having a dry and hard stool or lumpy stool, and feeling you haven't completely emptied your rectum after stool release. If you start experiencing these, you should drink fresh fruit juices that are natural laxatives or take home remedies to avoid chronic constipation.
Does drinking pear juice help with constipation?
Pear juice contains high amounts of water, fiber, sorbitol, vitamin C, and fructose — which all aid in proper digestion and constipation relief. The water in the pear juice helps soften the stool for easier passage, while the fiber aids in faster digestion. Together, sorbitol and vitamin C act as natural laxatives, easing bowel movements and preventing constipation. In addition, pear juice has a lot of nutrients that improve overall health.
How much pear juice should I drink for constipation?
Generally, two glasses of pear juice are enough to promote faster digestion and relieve constipation. Each glass of pear juice (240 mL) is 84% water. It provides 24% of the daily required dietary fiber, 114% of vitamin C, 2 grams of sorbitol, and 11.8 grams of fructose; all contribute to its ability to prevent and relieve.
Can prune juice help relieve constipation?
Prune juice is a well-known natural laxative. It is rich in fiber and sorbitol, facilitating faster digestion and preventing fewer bowel movements. Like pear juice, prune juice also provides high levels of fructose and vitamin C, which also aid in relieving and preventing chronic constipation.
Can fruit juice help relieve constipation in kids?
Juices have high water content, which softens the food intake for faster digestion and helps relieve constipation in toddlers and baby constipation. Prune juice, apple juice, and pear juice are the most commonly recommended fresh fruit juices to give to kids dealing with constipation.
What juices can help relieve constipation?
These fruits provide natural laxative effects, high vitamin and dietary fiber contents, and overall health. Among the most famous natural laxatives are prune juice, apple juice, pear juice, lemon juice, pineapple juice, orange juice, watermelon juice, cucumber juice, and Mosambi juice.