Chia seeds are among the best plant-based sources of protein, dietary fiber, and antioxidants. These tiny seeds also produce incredible amounts of calcium, iron, magnesium, and omega-3 fatty acids. Aside from that, once appropriately stored, these seeds could last for years.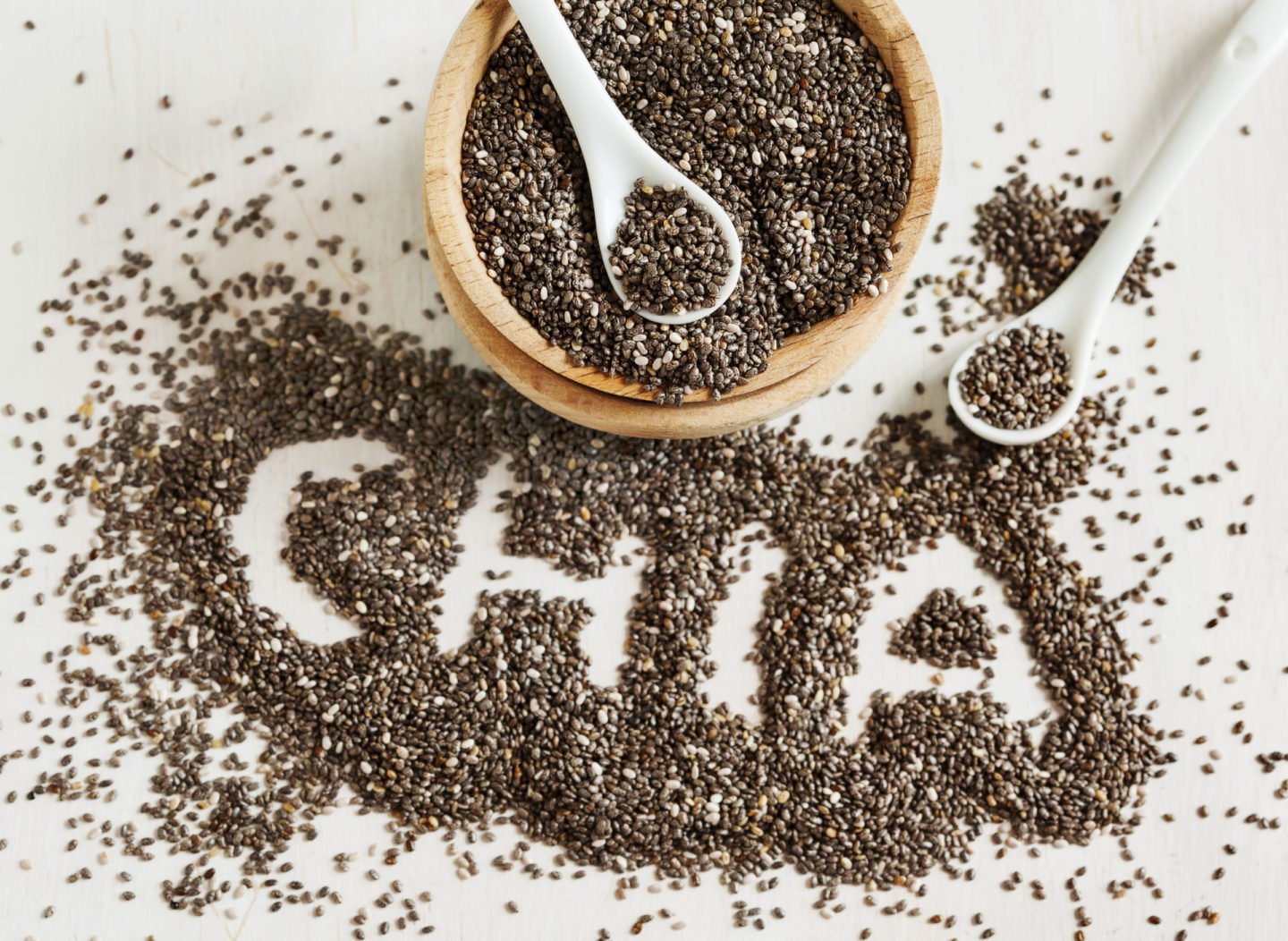 However, despite being viable for up to 4 years, chia seeds eventually lose their quality and spoil or go bad. Due to enzymatic changes, expired chia seeds produce a bitter taste and a chemical-like odor that should tell you to skip using them. Since mold and insects also thrive in chia seeds, storing them in an airtight container is recommended.
Read on to learn everything about keeping chia seeds to lengthen their shelf life, how long they last, how to tell if they have gone bad, and other related topics.
Table of Contents
What are Chia Seeds?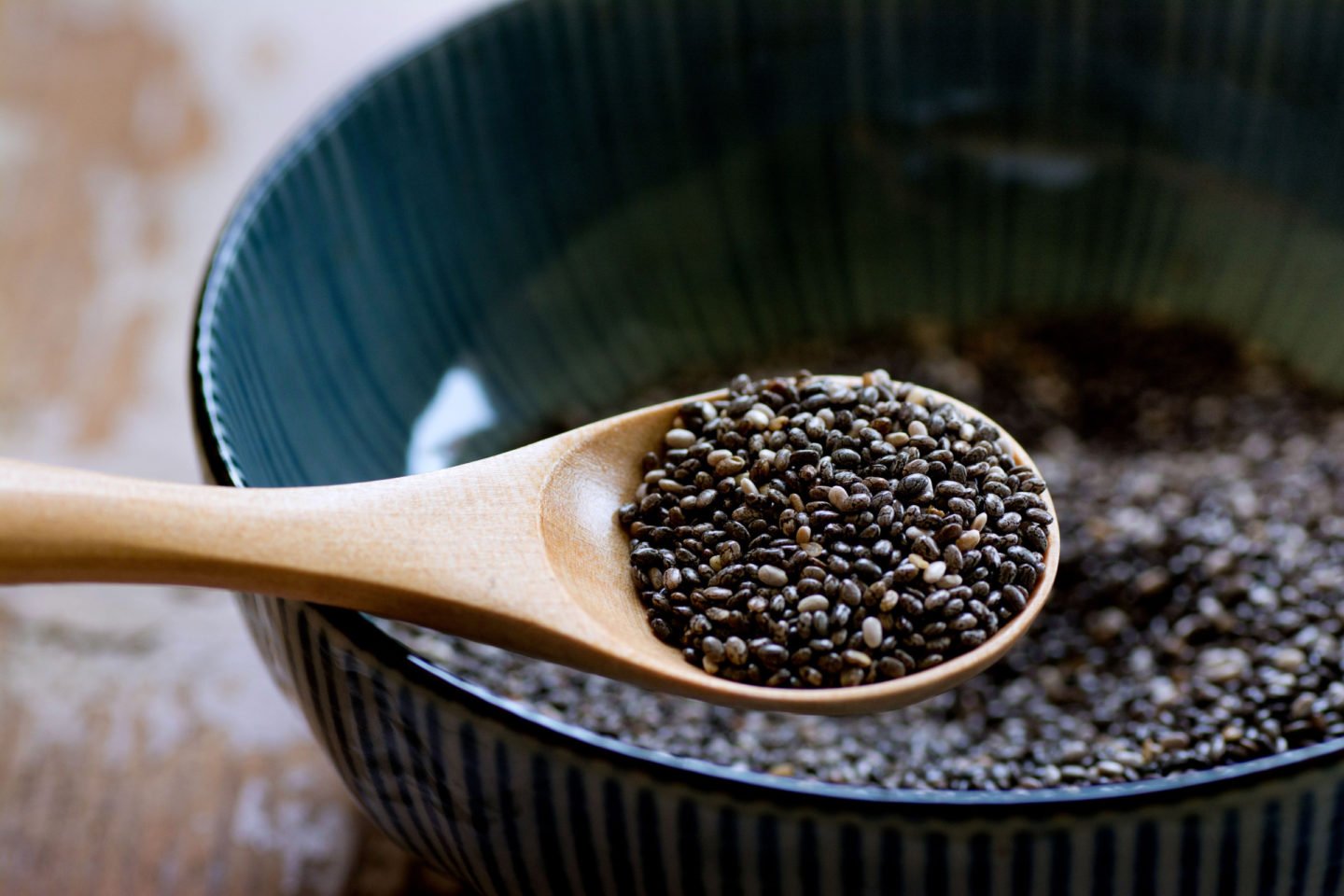 Chia seeds are round seeds from the chia plants. They come in various colors: black, brown, or white, depending on the plant's genetics. Even though the chia plant is native to Mexico and Guatemala, it is now grown all over the world because the seeds have so many health benefits.
Nowadays, soaked chia seeds are planted in figurines and styles, also known as chia pets. When mixed with any liquid, chia seeds can hold liquid 12 times their weight, making them an excellent hydration source for any dish or baked goods. Due to their nutritional value, chia seeds are a great addition to any oatmeal mix.
Other than that, you can also add chia seeds to rice meals, cereals, yogurt, and milk to create chia seed pudding. Chia Fresca is also a popular drink option, where you mix a tablespoon of chia seeds in your fruit drink or water for that protein and fiber boost.
Do Chia Seeds Go Bad?
Although chia seeds last for years, they eventually go bad even when you store them properly. As long as you keep your chia seeds in an airtight container, enzymatic changes will be the only thing that causes them to lose quality.
However, note that moisture promotes the growth of microorganisms like fungi that cause molds and ruin chia seed conditions. To prevent this, always keep the container's cap closed after getting the amount you need. Also, do not place them near warm places or areas with heat sources to avoid moisture buildup.
How Long Do Chia Seeds Last?
Dry Chia Seed
Just to make things clear, fresh chia seeds, raw chia seeds, and dry chia seeds are all the same thing, as farmers harvest them after the flowers have dried up, resulting in dry, multicolored seeds. Dry chia seeds are the ones you buy in the grocery store, either packed in plastic bags or glass jars.
Dry chia seeds, fresh chia seeds, or raw chia seeds last up to 5 years when unopened and up to 3 years once opened but stored in an airtight container in the refrigerator or a cool, dry place. Since chia seeds have a lot of healthy fatty acids and oils, you shouldn't put the container they come in in direct sunlight or near a heat source, as this could damage the contents.
Chia Gel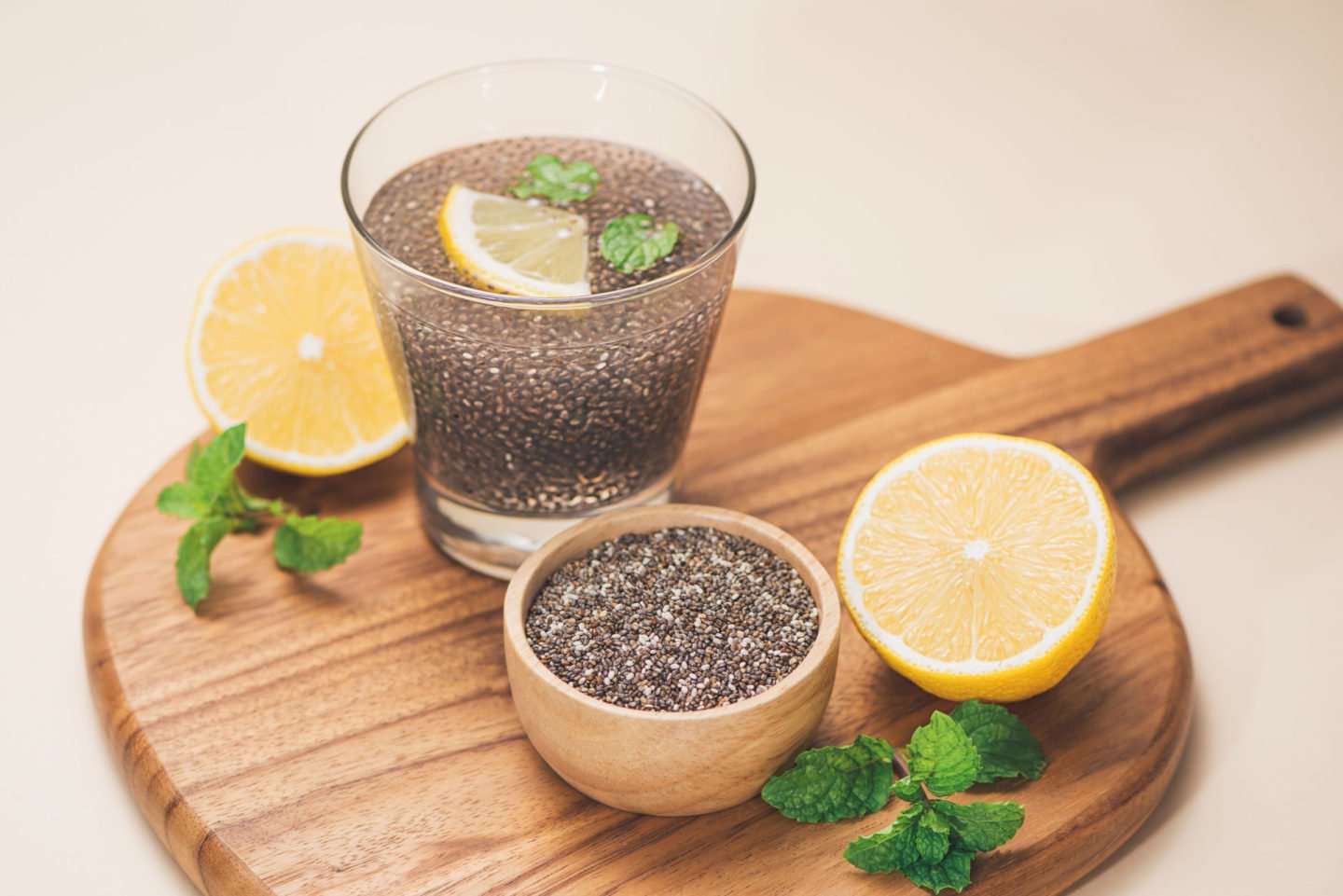 Chia gel comes from soaking chia seeds with water, fruit juice, dairy milk, nut milk, stocks, vegetable juice, or any liquid that has a runny consistency. When chia seeds are soaked, they grow and form a slimy layer, which is called chia gel.
Chia gel shelf life depends significantly on the liquid used to make it. For instance, when mixed with water, chia gel lasts up to 3 weeks in the refrigerator and up to two months when frozen in a freezer bag. However, fruit juices and milk spoil easily, so chia gel with these types of liquid only lasts a maximum of one week.
Chia Seeds in Yogurt
Eating chia seeds in yogurt is an excellent way to boost your protein intake. Chia seeds in yogurt are a popular breakfast these days because they are low in calories and high in fiber. To do this, you simply have to combine yogurt, chia seeds, and fruit options and leave them in the refrigerator overnight.
Chia seeds in yogurt last up to a week in the refrigerator, but this greatly depends on the other ingredients you add to the mixture. Berries and soft fruits spoil the easiest, so adding them to chia seeds and yogurt shortens the shelf life to 3 to 4 days.
Chia Seeds in Oatmeal
Chia seeds are a great addition to oatmeal recipes. Like chia seeds in yogurt, oatmeal with chia seeds should marinate overnight in the refrigerator. However, oatmeal has a shorter shelf life. Overnight oatmeal chia seed recipes last only up to three days in a mason jar in the fridge.
Chia Seeds in Cereal
Chia seeds add extra nutrients to your cereal mixes. Although milk lasts up to 7 days in the refrigerator, cereal quickly melts when mixed with any liquid and spoils after 2 to 3 days in the fridge. When doing grain with chia seeds, I recommend consuming chia seeds within the day.
4 Ways You Can Tell If Chia Seeds Have Gone Bad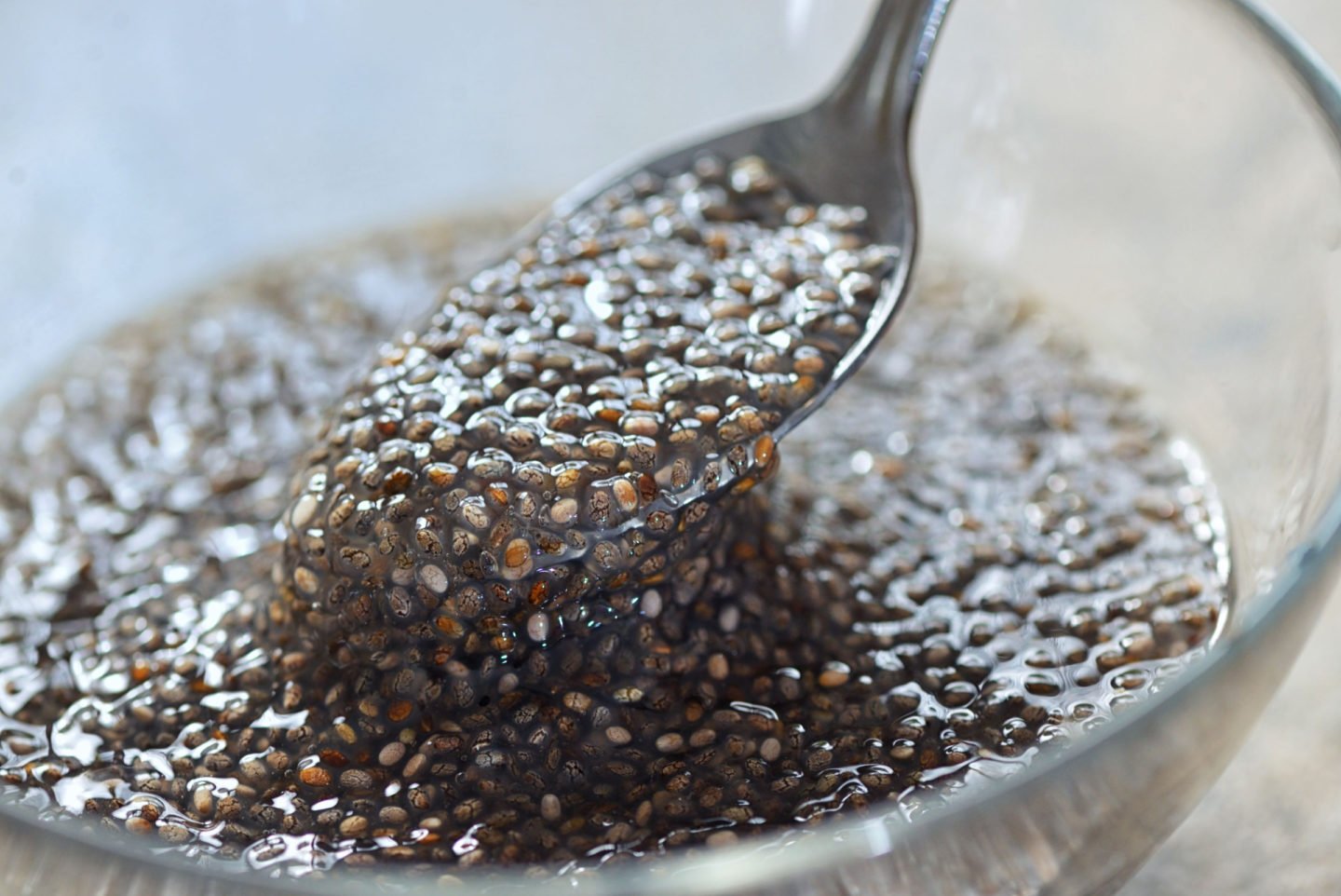 Appearance of Molds
Molds appear as dust or a cottony layer on the surface of chia seeds. Even though mold doesn't always mean that chia seeds have gone bad, it does mean that they are contaminated with microorganisms that make toxins that are bad for human health. When you start to notice this, it's best to throw the batch out to prevent serious health problems.
Also, if pantry bugs show up in your jar, it's a sign of contamination because they could be carrying germs.
Slimy Texture
When stored properly, chia seeds should remain dry and shiny. However, when exposed to moisture or water, the chia seeds start to spoil and eventually form a slimy layer. When this happens, you should not eat the chia seeds to avoid food poisoning, as microbes grow better in moist environments.
Chemical-Like Smell
Fresh chia seeds provide a mild nutty scent. However, they lose their aroma and develop a rancid, chemical-like odor once they expire. Moreover, once chia seeds get spoiled due to contamination, they produce a sour smell that should tell you to throw them out.
Bitter Taste
Given that you haven't noticed any changes in the appearance and smell of your chia seeds, the last way to identify expired chia seeds is by tasting them. Fresh chia seeds have a nutty taste, but rancid chia seeds often have a sour or bitter taste.
How To Choose Good Quality Chia Seeds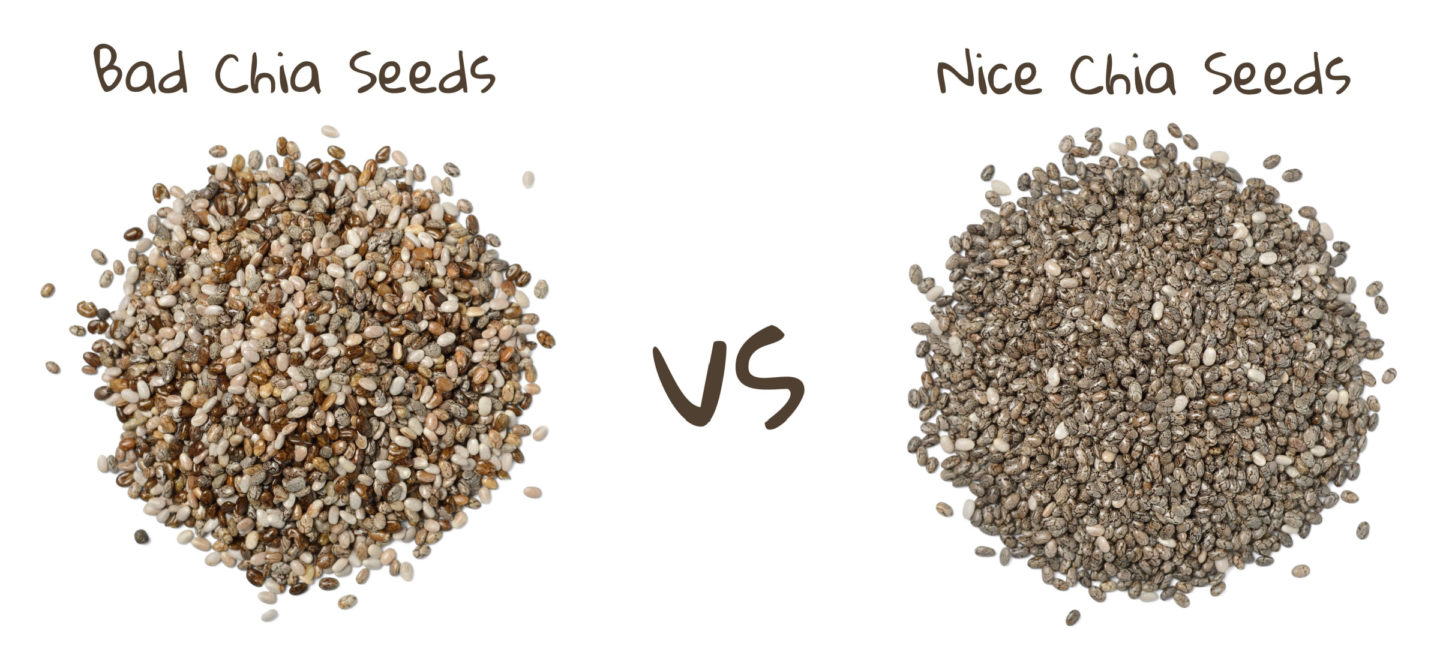 When choosing chia seeds, choose a batch with a variety of colors. Chia seeds should never be brown; instead, they should be either white or black chia seeds with white specks. Most brown chia seeds are immature seeds that haven't had enough sun or water to grow properly, or a weather event like a frost has damaged the crop.
Chia seeds lose nutritional value as they turn brown because they contain fewer Omega oils and have a bitter flavor.
Chia Seed Storage Tips to Extend Shelf Life
Storing chia seeds in a mason jar and placing them in the fridge is the best way to lengthen their shelf life, as refrigerated chia seeds last up to five years. Moreover, you can place chia seeds with liquid ingredients in the freezer to keep them longer. This includes chia fresca, chia with yogurt, chia with cereal, chia pudding, and others.
Frozen liquid with chia seeds lasts up to a month in the freezer.
Can You Eat Expired Chia Seeds?
While you can consume chia seeds past their expiry date, you should never eat any chia seeds with signs of spoilage. The presence of molds, pantry bugs, and a rotten smell indicates that you have spoiled chia seeds that can lead to food poisoning.
Related Questions
How long are chia seeds good for after the expiration date?
You can consume chia seeds two years past their expiration date if you don't notice any spoilage.
Do chia seeds need to be refrigerated after opening?
Yes. Although you can keep chia seeds in a cool, dry place, refrigerating them prevents the growth of microorganisms, leading to a longer shelf life.
What can you substitute for chia seed?
You can use flax seeds, sesame seeds, sunflower seeds, or hemp seeds as toppings instead of chia seeds. All these options contain high amounts of protein, soluble fiber, and fatty acids.