This keto strawberry chia pudding is the most delicious and quickest chia pudding you'll ever try. It takes only 10 minutes in total to make this keto recipe, and you'll need just 6 simple ingredients.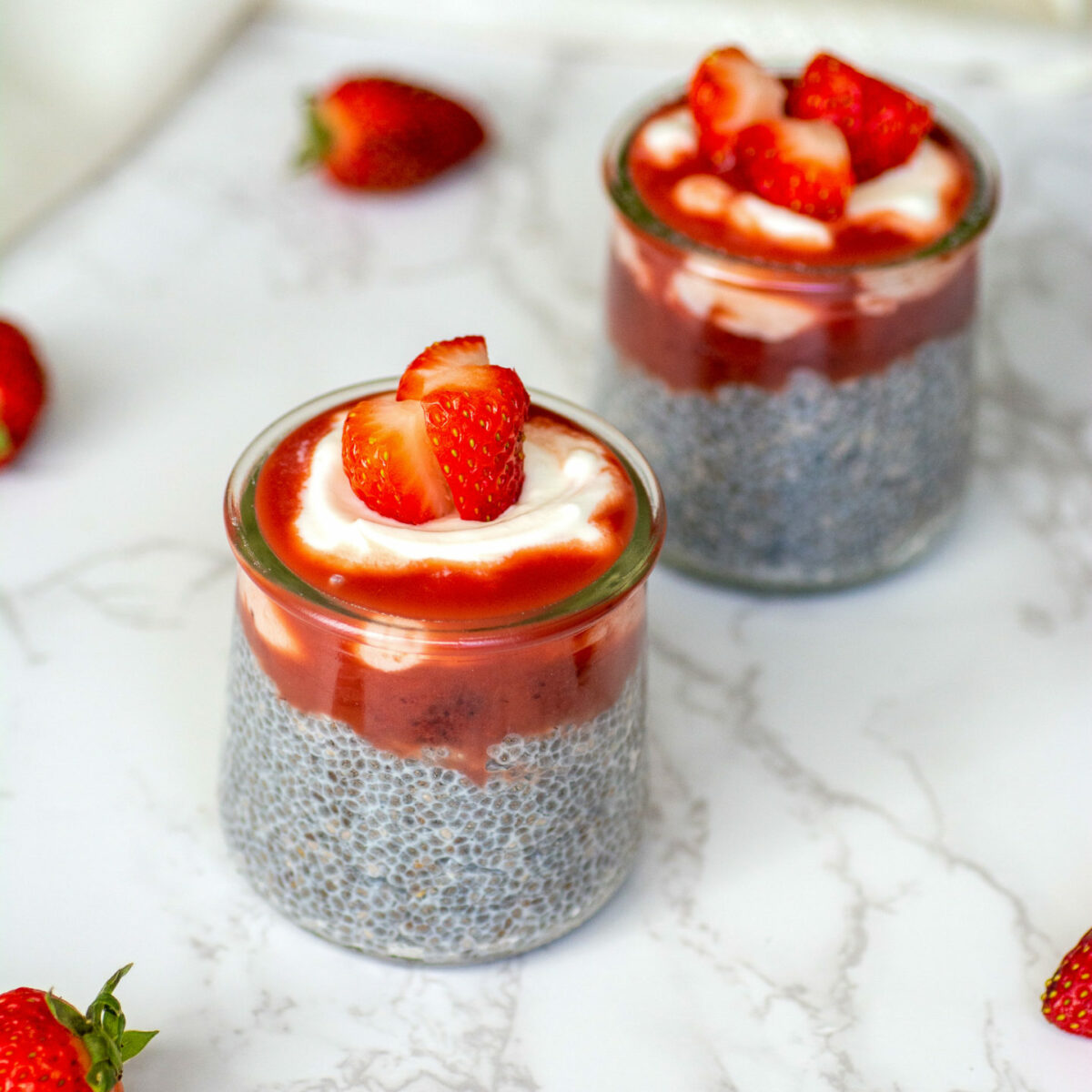 There's no need to wait overnight to enjoy this delicious low-carb dessert. I've chosen the fastest cooking method to make this keto chia pudding. Also, I like to make it this way because it always thickens and turns out just as it should without any issues.
It's possible to mix and match a few ingredients to make different flavors of this keto chia pudding. My favorite type is strawberry chia seed pudding, but you can swap the strawberry jam for any other low-carb type: blueberry, raspberry, apricot, etc.
Table of Contents
Is Chia OK for Keto?
Yes, chia is perfectly keto-friendly. Even though chia has some carbohydrates (12 grams per 1 tablespoon), most of those carbs come from fiber. That means that those carbs are not harmful to the keto diet, and you can definitely enjoy this keto dessert.
Is Chia Healthy for You?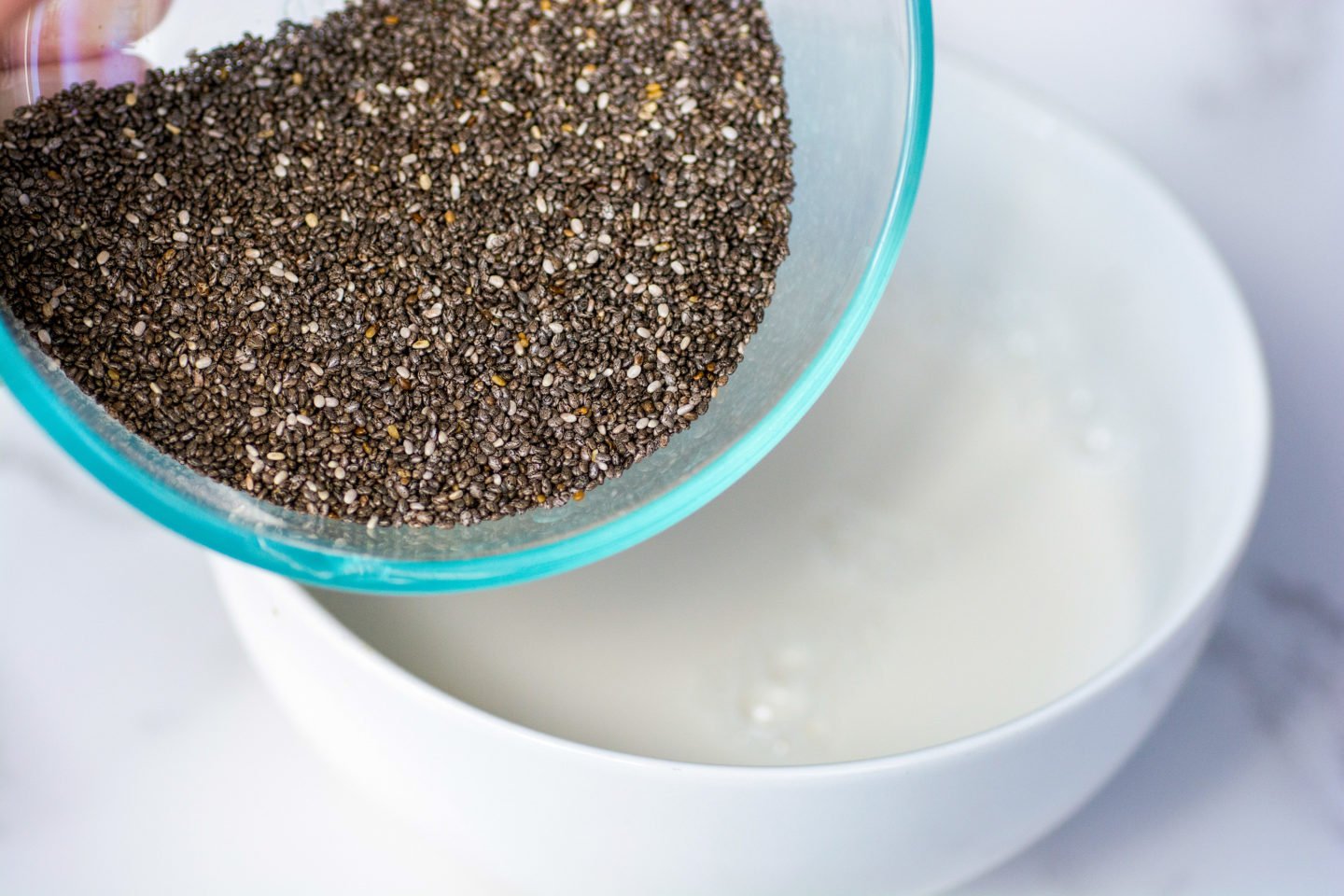 Yes, chia seeds are by all means healthy for you. Adding chia to your daily diet can bring many amazing benefits to your health.
Here are a few of the chia benefits:
Lowers blood sugar level
Decreases your chances of developing a heart disease
Weight-loss support
Helps to fight infection
Aside from the benefits mentioned above, chia seeds are also loaded with calcium and omega-3 fatty acids, which is awesome for your health.
How to Make Chia Pudding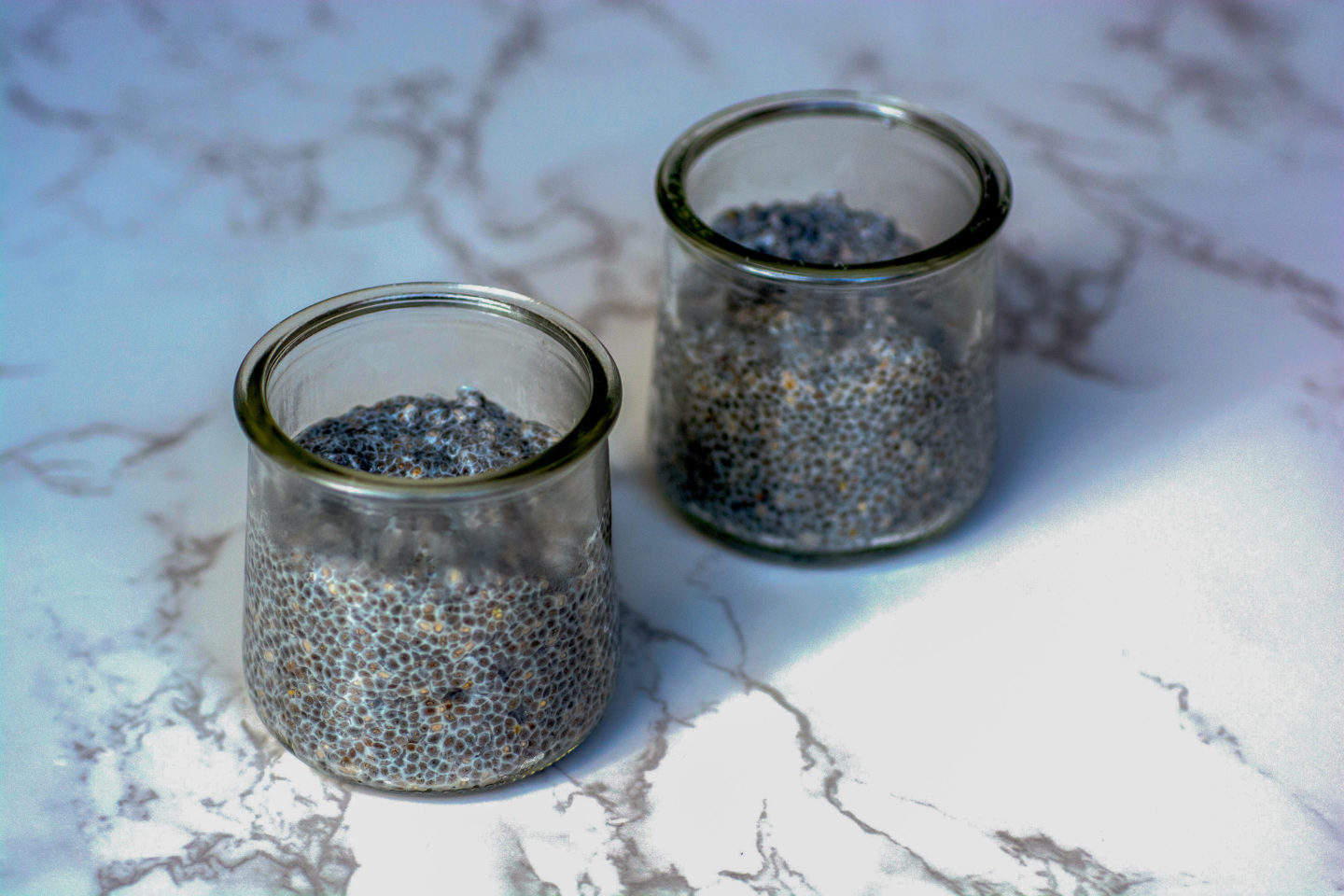 For this keto chia pudding recipe, you should prepare the following 6 ingredients:
Plant-based milk: I used unsweetened almond milk, but feel free to use any plant-based milk you like. If you want your chia pudding to be vegan and low carb, you can use coconut milk, flax milk, soy milk, macadamia nut milk, or cashew milk instead. Just make sure to double-check the label when buying your milk. There should be no sugar in it and, for a healthier option, choose a milk brand that doesn't add gums.
Chia seeds: I love these organic chia seeds and use them all the time.
Vanilla extract: choose any vanilla extract.
Sweetener: I used this powdered monkfruit sweetener. It's best to use the powdered sweetener since it dissolves quickly in the milk. Or you can use any low-carb syrup that you like. It's okay to substitute this sweetener with any of the following: stevia, erythritol, xylitol, swerve, keto maple syrup, etc.
Strawberry jam: I have no clue why, but I just love how chia pudding tastes with some strawberry jam. Sometimes, I use the homemade kind, but this sugar-free strawberry jam will be perfect for this recipe if you don't have any.
Yogurt: To give even more flavor to this chia pudding, I always add some yogurt on top of everything. When choosing the yogurt, make sure it's sugar-free and low-carb. My favorites are Ratio keto-friendly yogurt and this dairy-free keto plain yogurt.
Once you gather all of these ingredients, prepare a small saucepan and small jars or glasses for the pudding.
The one thing that I hated about chia pudding recipes is that almost all of them are overnight. That means that you need to wait almost 6-8 hours while the pudding chills in the fridge to eat it. Well, this recipe doesn't require that much time to wait.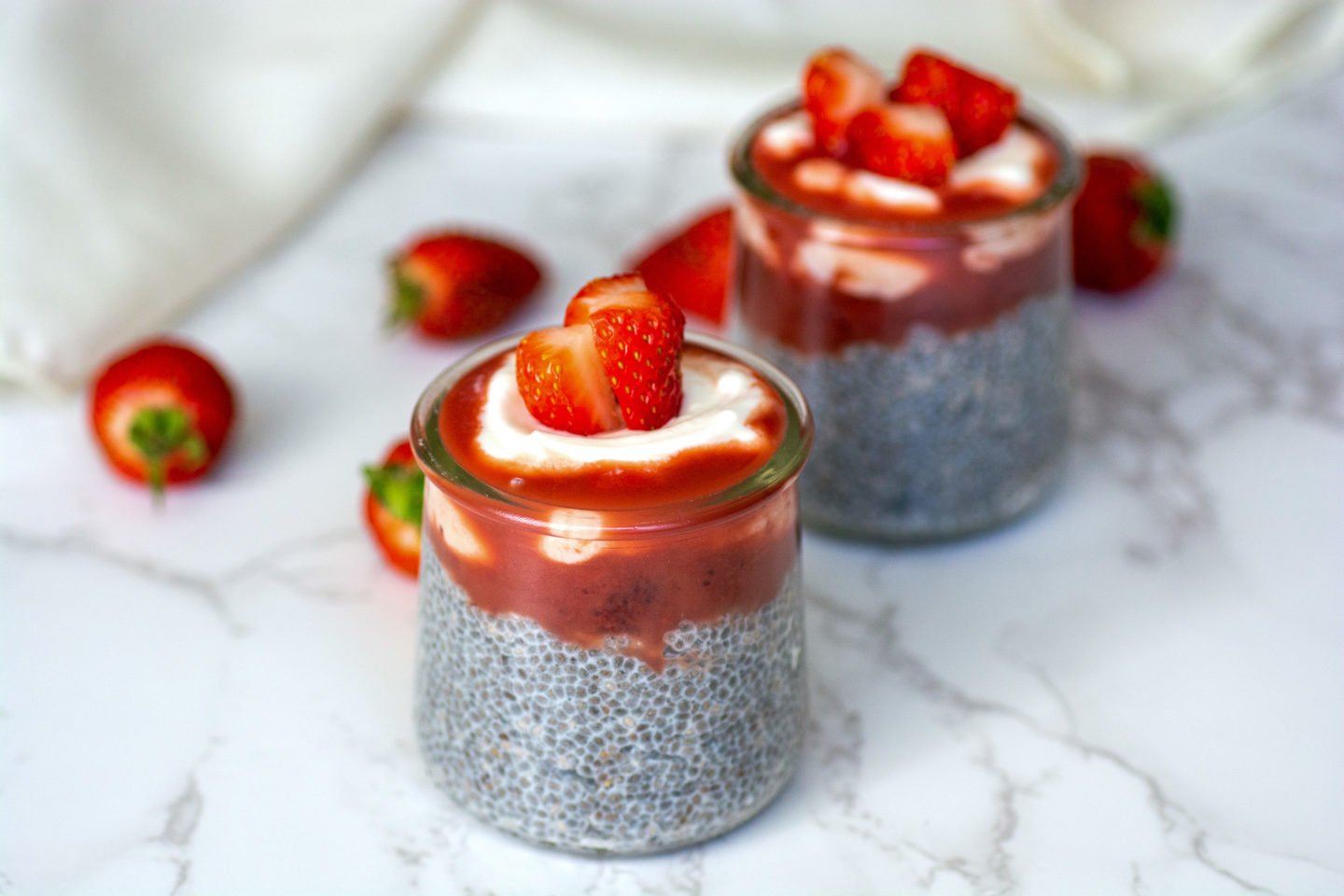 I use heat to thicken the pudding. Here's how:
Combine the chia seeds, milk, sweetener, and vanilla extract in a saucepan.
Place it over medium heat and wait for it to start simmering.
Transfer the chia mixture into your glasses or mason jar and wait a few minutes for it to cool down.
That's it! The chia pudding should become perfectly thick as it chills. While you wait, add everything you want on top of it (like strawberry jam and yogurt) and enjoy. Also, you can garnish the chia seed pudding with some strawberry slices and coconut chips.
Keto Chia Pudding Variants
You can use this keto chia seed pudding recipe and mix and match a few ingredients to get different flavors. First of all, you can swap the strawberry jam for other jam kinds. Here are some ideas:
Raspberry chia pudding
Apricot chia pudding
Blueberry chia pudding
Peach chia pudding
Cherry chia pudding
All of the above options will be keto-friendly, so all you need to do is pick a low-carb fruit or berry kind and use its jam for this chia pudding.
Another option that you can try is to add some cocoa powder into the chia milk mixture when making the pudding. Then grate some dark chocolate over the ready pudding. This way, you'll have the perfect keto chocolate chia pudding and will be able to eat it without causing any harm to your diet.
Storing Instructions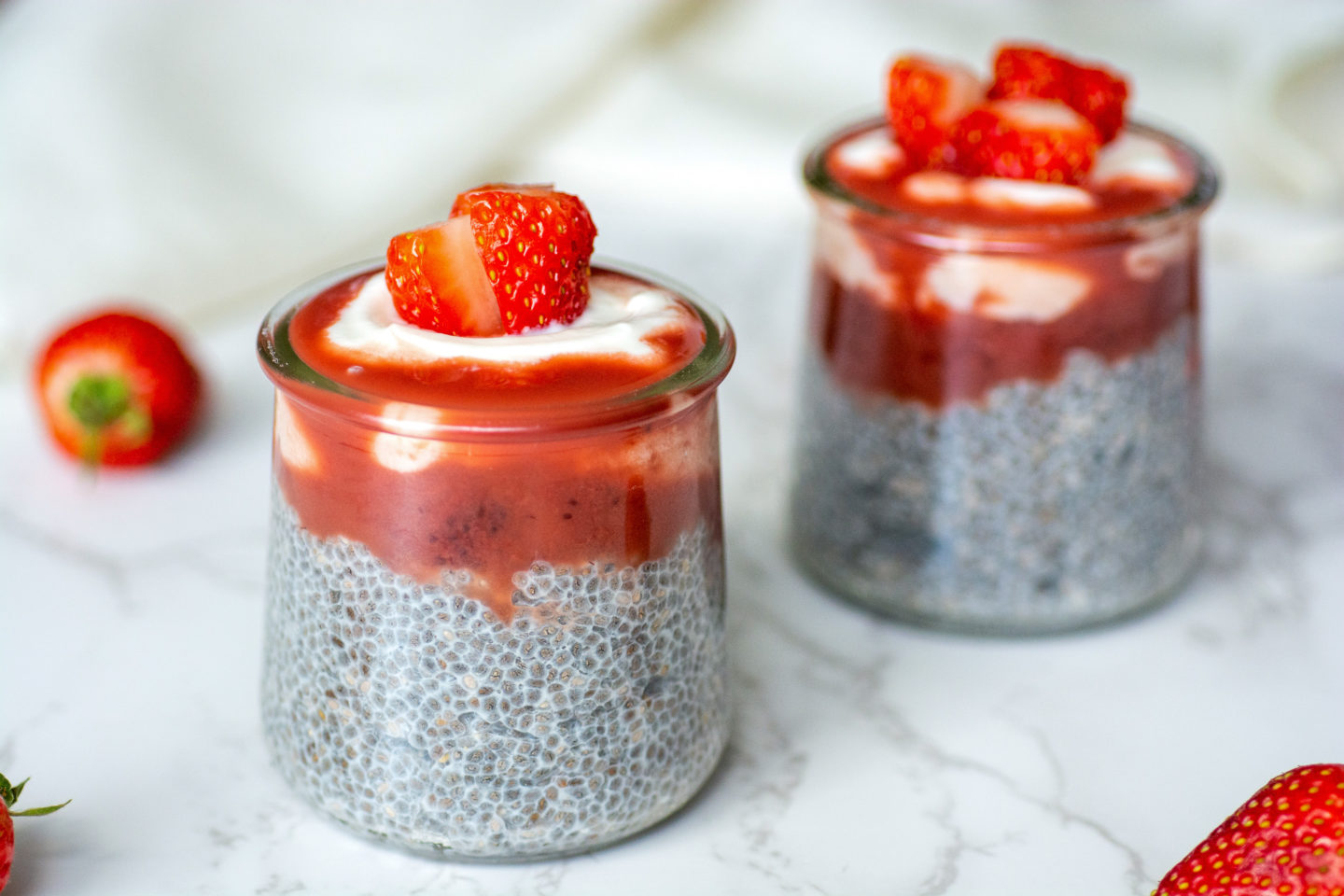 This keto chia pudding can be stored in your fridge for up to 3 days. Then, whenever you wish to serve it, simply take it out of your fridge and enjoy this guilty pleasure.
I do not recommend freezing the chia pudding. I've tried it once and had to throw the whole thing away. The chia seeds had this really weird texture, making it completely the opposite of how it should taste when freshly made.
Recipe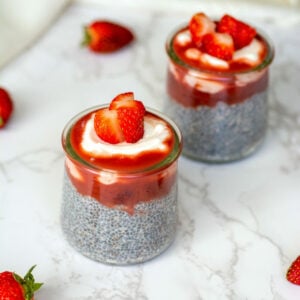 Strawberry Keto Chia Pudding
This keto strawberry chia pudding is the most delicious and quickest chia pudding you'll ever try. It takes only 10 minutes in total to make this keto recipe, and you'll need just 6 simple ingredients.
Instructions
In a small saucepan, mix together the milk, chia seeds, vanilla extract, and sweetener. Place it over medium heat and as soon as it starts simmering, set it aside. Pour the chia mixture into glasses or jars and let it cool completely.

Place a tablespoon of the strawberry jam into each glass on top of the chia pudding. Then put a spoonful of yogurt on top of the strawberry jam.

Garnish the chia pudding with a few strawberry slices.
Nutrition
Calories:
249
kcal
Carbohydrates:
27
g
Protein:
8
g
Fat:
15
g
Saturated Fat:
2
g
Polyunsaturated Fat:
10
g
Monounsaturated Fat:
2
g
Trans Fat:
1
g
Cholesterol:
3
mg
Sodium:
97
mg
Potassium:
215
mg
Fiber:
15
g
Sugar:
6
g
Vitamin A:
43
IU
Vitamin C:
1
mg
Calcium:
369
mg
Iron:
3
mg