Banana milk has been a popular beverage in Korea for a long time now. At first, when it was introduced, it was considered a luxury drink. But now many people actually like it, not because it's been that way for a long time but because it is actually that good.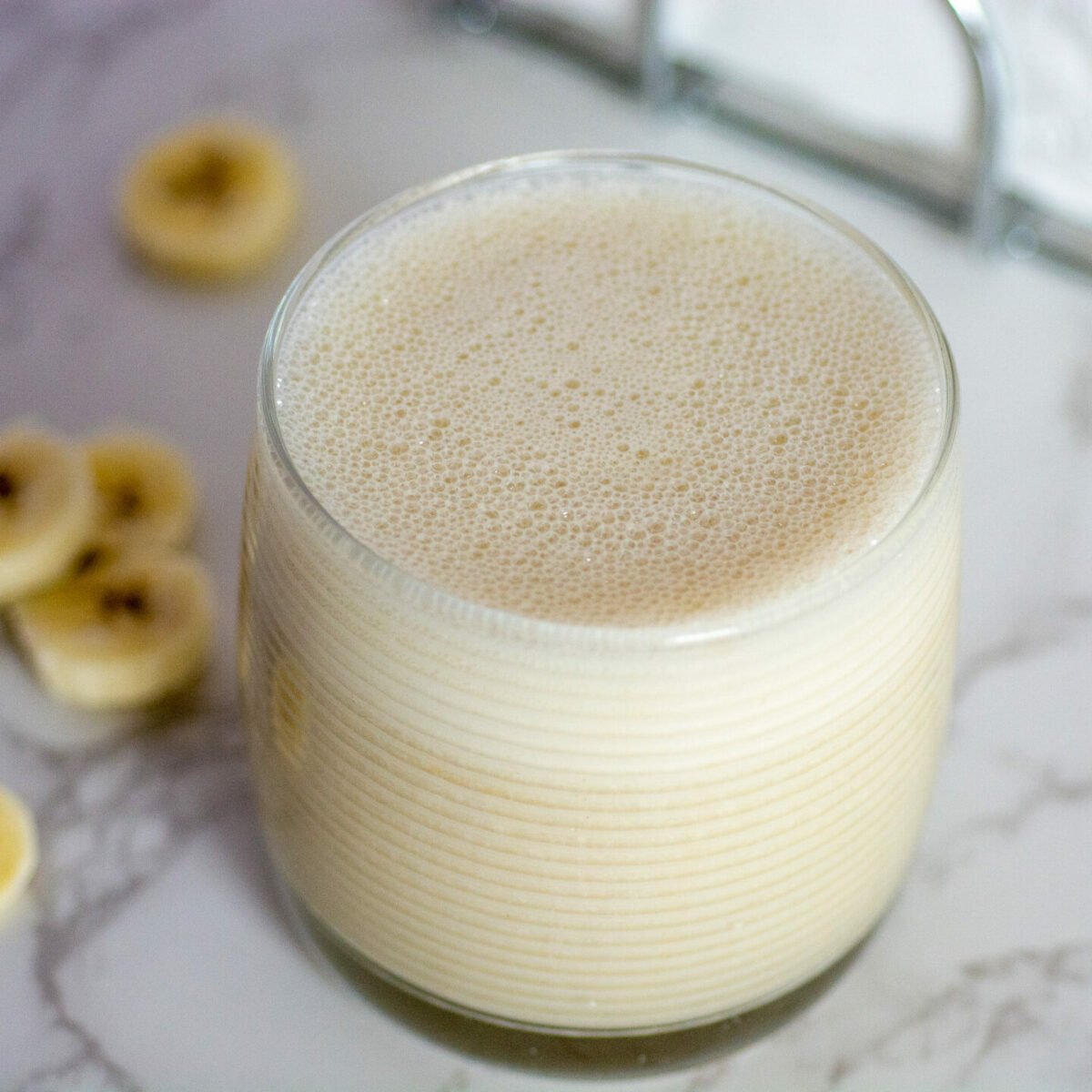 Of course, you can always buy Korean banana milk at a store. But it's a lot better to make it from scratch at home since this way, you'll be in charge of the ingredients you use, and the outcome will have great nutritional value and provide you with all the needed benefits for your body.
This Korean banana milk recipe is the one that you need. It is very straightforward and consists of only five ingredients that I'm pretty sure you already have in your kitchen. And to actually make the milk, all you need is a blender.
Table of Contents
What Is Korean Banana Milk Made Of?
The Korean banana milk that you can find in Korean grocery stores nowadays is made of mostly milk, sugar, banana juice concentrate, fatty acids, guar gum, and carrageenan. So while the first ingredients are okay, the last ones, unfortunately, aren't. If you take care of your health and try to live a healthy lifestyle, you definitely need to avoid carrageenan in your food.
Moreover, you won't even find a real banana listed as an ingredient in store-bought Korean banana milk; it's just banana-flavored milk. So your best option, if you want to try banana milk, is to make it yourself at home using the right ingredients.
Is Korean Banana Milk Healthy?
Yes, Korean banana milk is a healthy beverage. However, it will be healthy only if you make it yourself. The store-bought version of Korean banana milk is nothing even close to healthy and can even have a bad effect on your body. So if you like this drink and want to stick to only healthy ingredients, then your best option is to make Korean banana milk at home from scratch.
Korean Banana Milk Ingredients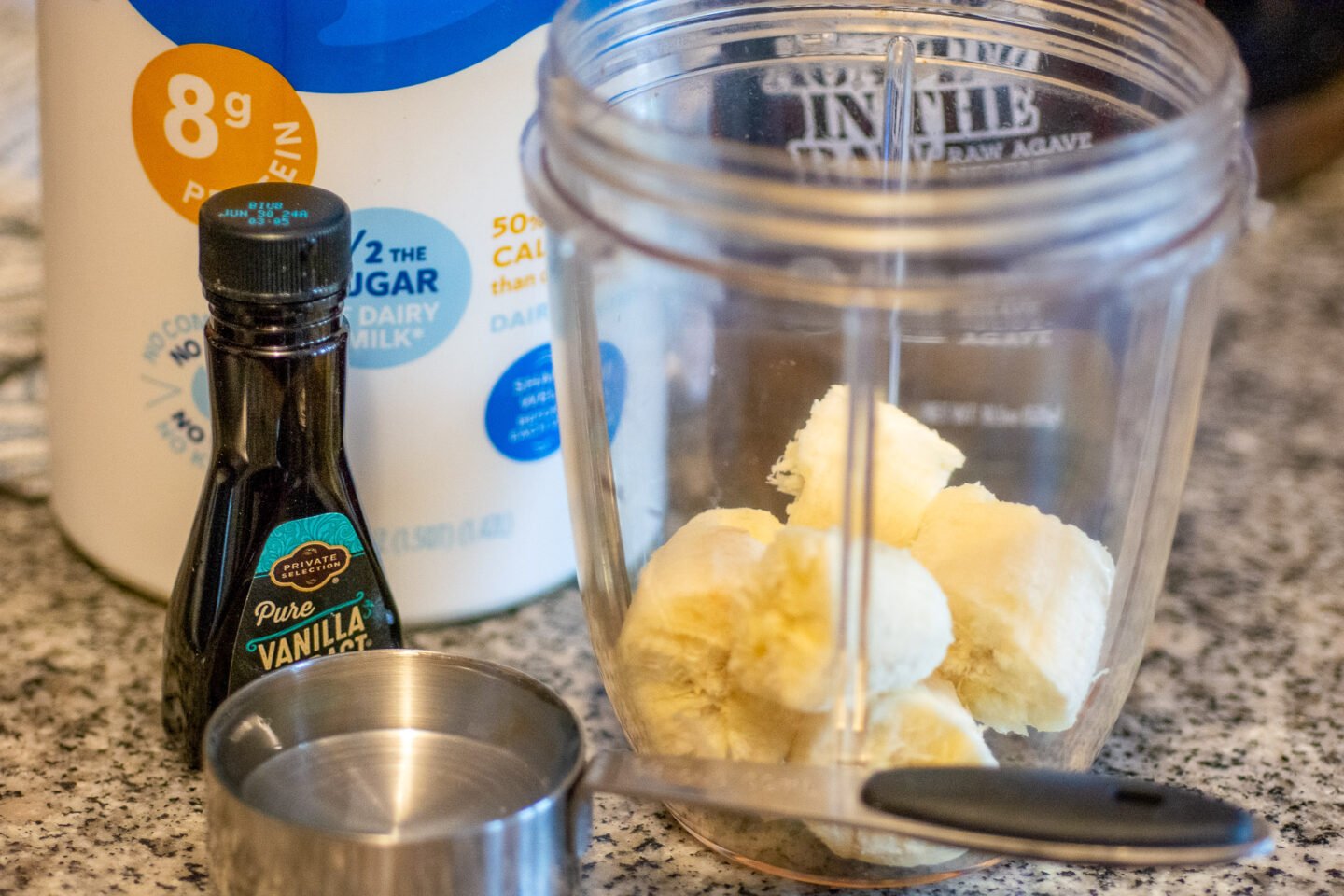 For this Korean banana milk recipe, you'll need only five ingredients. All of them are important, and there's not much you can substitute for them with. So here's what you should prepare to make your Korean banana milk:
Fresh banana: This is the main ingredient in this recipe since it gives it all the banana flavor. Banana milk wouldn't be banana milk without a banana.
Milk: Depending on whether you are dairy-free or not, you can use either whole milk or a plant-based alternative if you're vegan. For example, you can add almond milk, oat milk, soy milk, hazelnut milk, or even coconut milk to your Korean banana milk beverage.
Water: You also need just a bit of water for this recipe to make sure that the Korean banana milk isn't too thick to drink.
Vanilla extract: This is what will boost the flavor of your Korean banana milk. But if you don't like vanilla or, for some reason, don't want to add it to your drink, you can definitely skip it.
Sweetener: Depending on what you prefer, you can use any type of sweetener. My favorite option for this Korean banana milk recipe is agave syrup. But you can also use honey, maple syrup, erythritol, Stevia, or even brown sugar to sweeten your banana milk.
That's it! Once you have prepared all of the ingredients above, you can take your blender out of your kitchen drawer and move on with the main process.
How to Make Korean Banana Milk At Home
So, you've gathered the ingredients for your banana milk; what's next?
Aside from the ingredients, you'll also need a blender to blend everything. Personally, I use a NutriBullet blender. I've been using it for years now, and it has never failed me. But for this recipe, any blender will be a good option since, without it, you won't be able to make the Korean banana drink properly.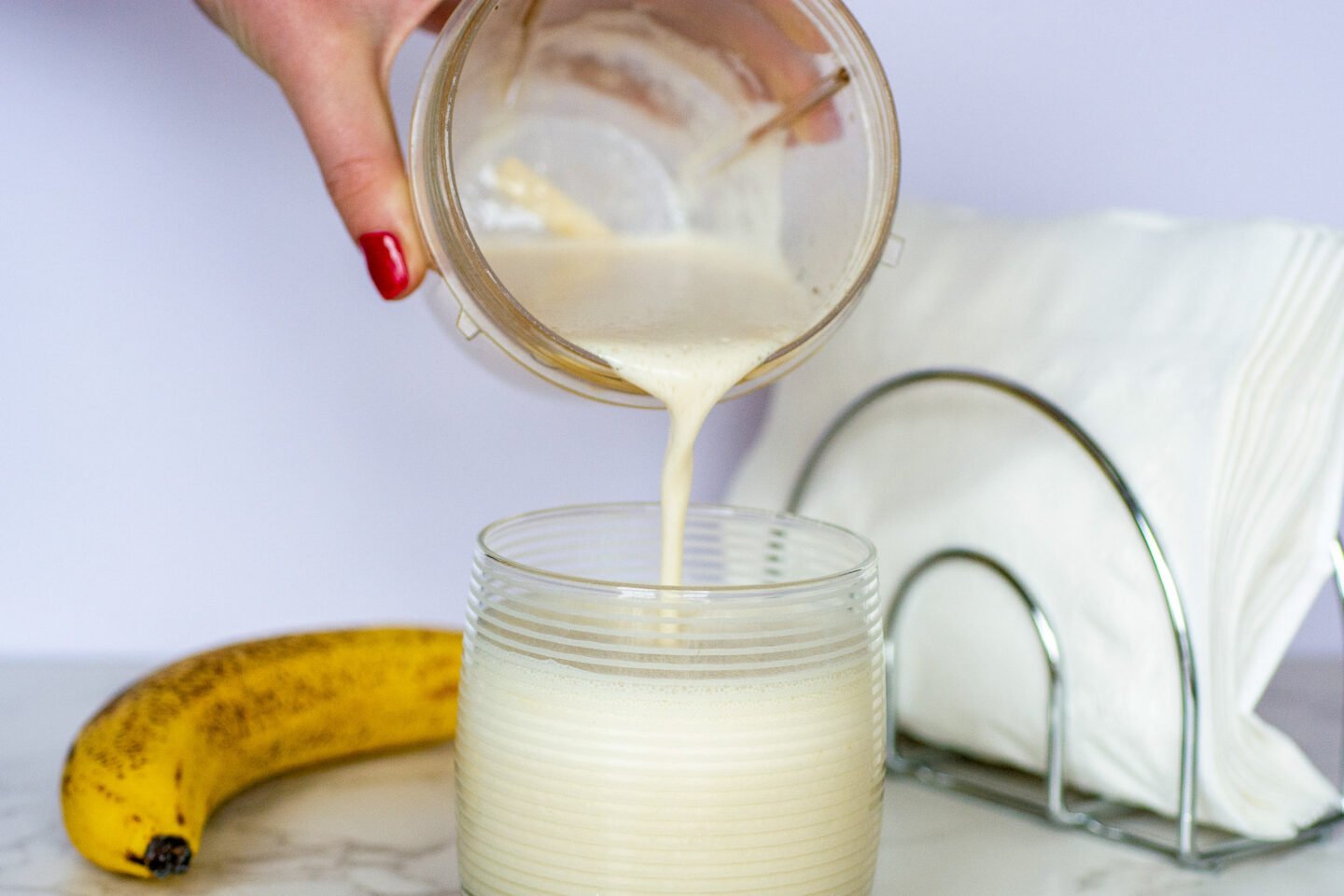 Now all you need to do is place all of the required ingredients into the cup of the blender and blend it until smooth. Once you've done that, pour the banana milk into glasses or cups and enjoy.
Storing Instructions
What I like about this homemade banana milk is that you can easily store the leftovers in your refrigerator. Of course, you won't be able to store them as long as the store-bought Korean banana milk. But still, these leftovers will be good for up to 2 to 3 days.
I don't recommend freezing this beverage since one of its main ingredients is milk, which doesn't freeze well in drinks.
Recipe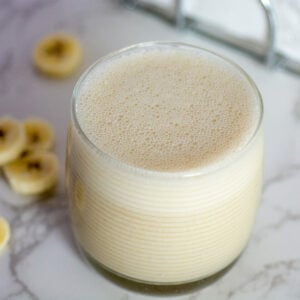 Korean Banana Milk
It's better to make your own Korean banana milk at home. It has more nutritional value and you can control the type of ingredients to use to fit to your dietary needs. A bonus benefit is that it only needs five ingredients that you can easily find in your home kitchen.
Ingredients
1

small

ripe banana

¼

cup

water

1

cup

plant-based milk

¼

tsp

vanilla extract

2

tbsp

agave syrup
Instructions
Place the banana, water, milk, vanilla extract, and agave syrup in a blender and combine until smooth.

Pour into a glass and serve.
Nutrition
Calories:
258
kcal
Carbohydrates:
56
g
Protein:
2
g
Fat:
4
g
Saturated Fat:
0.1
g
Polyunsaturated Fat:
2
g
Monounsaturated Fat:
2
g
Sodium:
331
mg
Potassium:
365
mg
Fiber:
3
g
Sugar:
41
g
Vitamin A:
65
IU
Vitamin C:
16
mg
Calcium:
307
mg
Iron:
0.3
mg