Comté is a nutty-tasting, cow's milk cheese that has a creamy texture with delicious silky melting properties. It is ideal for making fondue and can be added to salads, sliced into a sandwich, or sprinkled onto gratins.
If you can't find this variety of cheese where you live or you want a cheaper option, then you're going to need an alternative. We've compiled a list of our favorite substitutes for Comté so that you can get by without it.

Table of Contents
What can I use to replace comté?
The best Comté substitutes are Gruyere, Beauport, Emmentaler, Gouda, Jarlsberg, Raclette, and Fontina. Although they don't perfectly mimic the taste and texture of Comté, they are all mild-tasting cheeses with excellent melting properties; each option has similar characteristics and uses in the kitchen.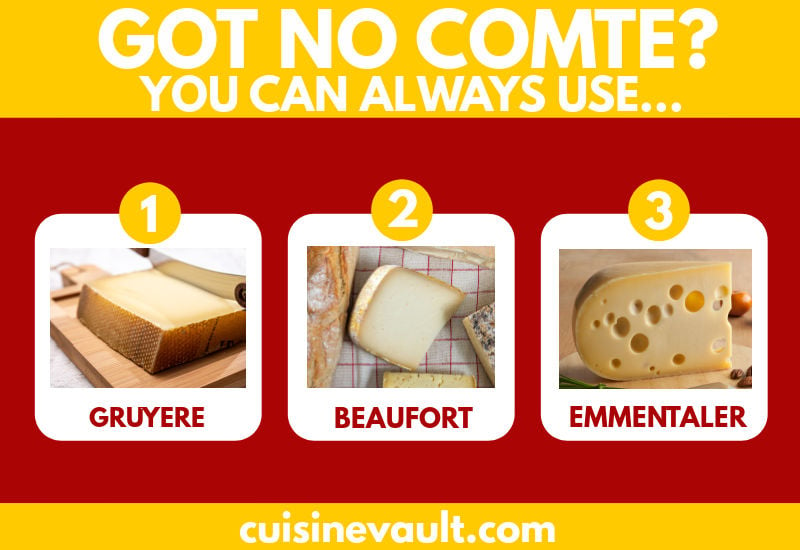 1. Gruyere
Gruyère is your best option when replacing Comté in dishes. Both cheeses are manufactured in the same way and have a comparable aging process. What sets them apart is that each product uses milk from different regions. Gruyère is Swiss, Comté is French. The different environment and food sources impact the milk's flavor, resulting in slightly different tasting cheeses.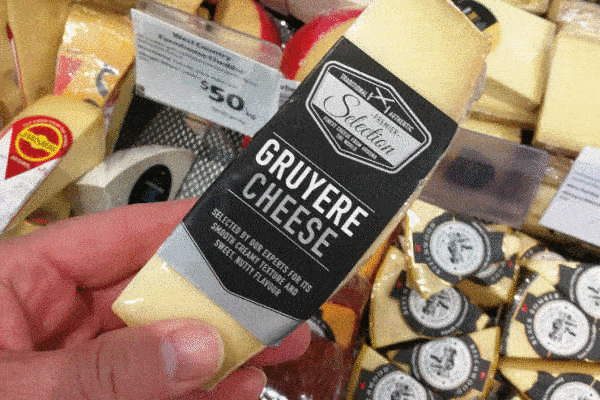 Some people argue that gruyère has stronger hazelnut and butter notes, but these flavors will surely vary depending on the cheese's age. The fact is, Gruyère is Comté - it's just not from Comté.
2. Beaufort
Beaufort is a milky, nutty, dense cheese that's produced in France. A wedge of this product is a lot like Swiss gruyere only without the holes. The milk comes from cows which graze high up in the French Alps. This altitude is what helps impart a unique flavor into this cheese.
Beaufort melts with ease and is hugely popular in Europe for fondue making. It is an excellent addition to Croque Monsieur or Croque Madame and also pairs deliciously with salmon and other types of fish.
This cheese is one of the best substitutes for Comté that you can find. It generally has a more subtle taste as the curd is cooked at a lower temperature. This also results in a creamier, more giving paste. Keep in mind that when left to mature long enough, it will develop a sharper flavor.
3. Emmentaler
Emmentaler, or Emmental, is another Swiss cheese which melts into delicious silky liquid when heated, much like Comté. It is a cow's milk cheese that has a medium-hard texture and holes throughout.
This is a great alternative for adding to ravioli and is also delicious sliced into sandwiches. We've found Emmental in the specialty cheese section of supermarkets, but it isn't as common as Gouda or Jarlsberg. You may need to try a cheese specialty store or buy online.
4. Gouda
Gouda is a hugely popular Dutch cheese that has a mild fruity flavor which is slightly sweet and nutty. It is a similar style of cheese to Comté and can be used in all the same applications; however, you may find it has less nuttiness and saltiness.
If you're finding it a challenge locating some of the other cheese varieties on this list, then use Gouda. It is an everyday cheese sold in most supermarkets and is a lower-cost variety in the United States.
5. Jarlsberg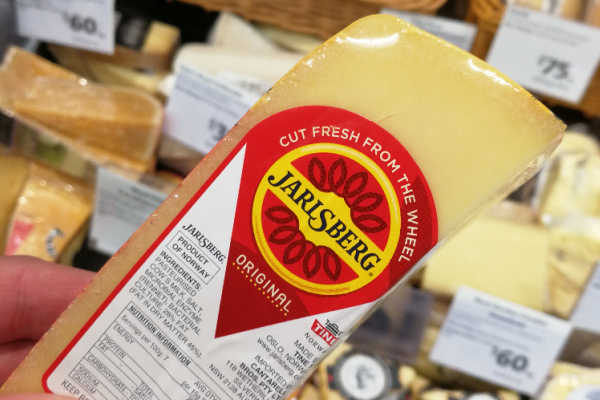 Jarlsberg is a Norwegian cheese that's made from cow's milk. It is mild tasting with nutty, sweet flavor notes. Although similar to Comté, it is a little milder with a butterier texture.
The Jarlsberg variety is popular sliced into sandwiches, but it also tastes delicious in baked dishes like quiches.
6. Raclette
Raclette is a smooth, firm cheese with most of its production volume made in Switzerland. It has a creamy texture and small irregular holes like many other Swiss varieties. Raclette is a milky, nutty, fruity cheese that rates up with the best for its ability to melt.
You can use Raclette in cheese toasties, pasta, gratins, and casseroles. But based on price, you may want to reserve it for special occasions, proudly served up on a cheese board. Raclette also makes a suitable oka replacement.
7. Fontina
Fontina is an Italian cheese that offers mild flavor with a subtle roasted nut and browned butter undertone. This differs from Comté but both options can be used in the same way. If it's important to find a substitute that closely mimics Comté then Fontina wouldn't be your first choice. This is a good option if you're in a pinch or you want something a little different.
Tip: Be sure to check out our article on substitutes for Fontina.
Fast facts about comté
Alternative names for Comté are Gruyère du Comté or Comté Gruyere.
It is produced in discs with a dusty-brown rind. They range from 16 two 28 inches in diameter and measure roughly 4 inches in height.
French cheese (fromage) gets divided into two categories: industrially manufactured cheese and fromages fermiers. The latter translates to farmstead or farmhouse cheese which means it is made at the same location as where the milk is produced.
The record for the largest cheese robbery was in November 2015. It was carried out in eastern France and 4 tonnes of Comté was stolen from a warehouse. The estimated value of the cheese was €40,000!
Comté has Protected Designation of Origin (PDO) from the E.U. This means it must be manufactured following a strict process and be made within a certain area.
The cheese is a mild ingredient in the kitchen. It is versatile and can be added to a wide range of recipes, or simply served as part of a fruit platter.
It is an expensive cheese - we paid just under $30 for a small block at the supermarket!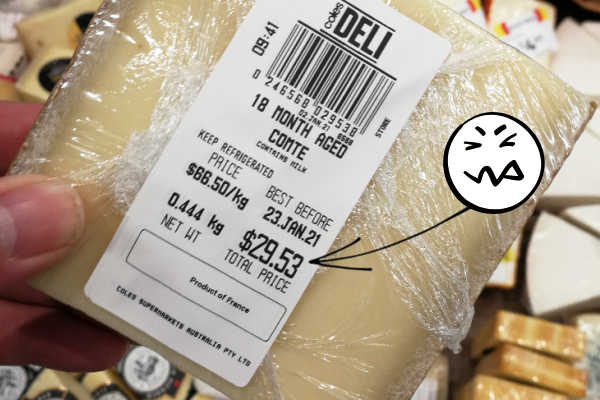 Is Comte cheese like Parmesan?
Comté is a firm-textured, nutty, mild cheese from France while Parmesan is an Italian cheese that is much saltier and has a stronger bite. Parmesan is good for grating onto dishes during serving while Comté is a more versatile ingredient – perfect for melting, slicing, and grating.
Related reading:
What are some tasty Mimolette alternatives?
How can I replace Lillet Blanc in my next cocktail?
What is a good beef consommé replacement?
What are the best brioche substitutes?
Summing up
Some useful Comté cheese substitutes include Gruyere, Beauport, Emmentaler, Gouda, Jarlsberg, Raclette, and Fontina. Unless you're cooking for a "cheese aficionado", few will know you've made a sneaky substitution.
Why are you looking to replace Comté in your cooking? Is it the price, availability, or don't you enjoy it? Please let us know in the comments below.