Whether you work in a commercial kitchen or you're simply a passionate home cook, nothing beats slipping on a well-made apron. It almost feels like your cooking skills go up a notch. We reviewed The Brody Bib Apron to get you the facts about one of the leading aprons on the market, and whether it's worth your hard-earned moolah.
Table of Contents
A quick intro
There is no shortage of businesses that supply aprons online. But who can you trust for quality kitchen wear? We searched the internet for the best manufacturers of personalized aprons in the United States. Three of these companies were short-listed and agreed to make us one of their aprons with the Cuisinevault logo added. The plan was to do a comparison review of each apron.
Then Coronavirus entered which caused unexpected complications.
To cut a long story short, we only had one apron to review! It was made by the legends at Cayson Designs. Instead of pulling the plug on the review, we decided to pull together an in-depth rundown of the apron we received.
Review of Cayson Designs Brody Apron
This review looks at the The Brody Bib Apron - its features and what we liked about it. If you want the apron without a logo added then head over to Amazon and pick up one now. Here is the link - The Brody Bib Apron. (Note: We make a small commission if you decide to buy one). If you want your apron personalized then keep reading.
When our apron arrived in the mail there was a mild case of euphoria. Who doesn't like getting stuff in the mail? Once the packaging was torn off, our apron was photographed and used daily for a week to give it a proper test run. Let's dive in and take a closer look at what it had to offer.
Here's a quick snapshot of the apron we received. Excuse the many creases, we really should have ironed it!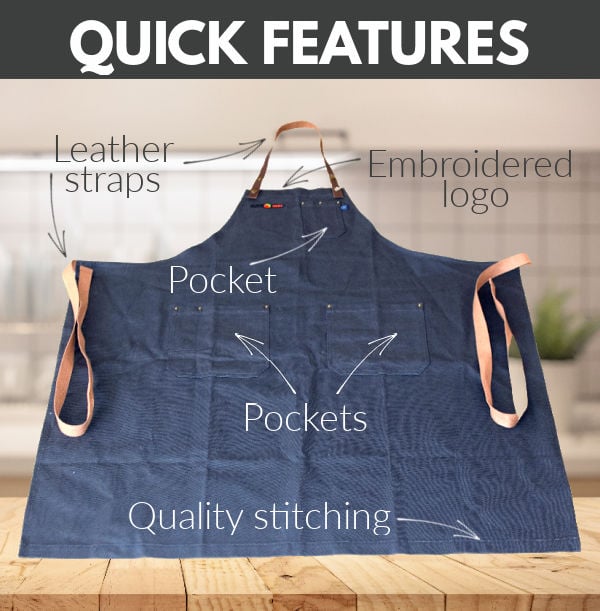 Pockets
You may be surprised to know that pockets are super-helpful in the kitchen. This apron had a chest pocket that is divided into two thin sections (aka double pen pockets). Use these to store pens, tweezers, thermometers, spoons, peelers, or any other utensils that tend to get misplaced easily. These pockets are useful at home, and essential in a larger commercial kitchen.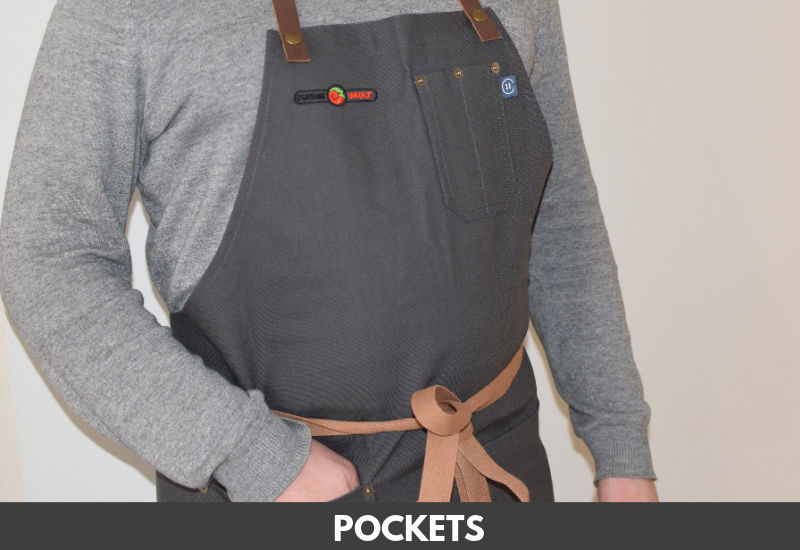 At waist level, two much larger pockets are perfect for storing a mobile phone, notebook, small towel, or anything else used regularly in the kitchen. Follow the steps of many chefs and stow an offset spatula in this pocket – a multi-purpose tool useful for more than just decorating cakes.
In commercial kitchens, standing around with hands in pockets won't go down well with the head chef. But if you're at home there are no rules. The waist pockets are the right spot for your hands while you're waiting for that cake to rise. Just make sure they're clean!
Neck strap
The neck strap adds a "quality feel" to the apron thanks to the use of ranch tan leather. It looks impressive and will last for many cook sessions without tearing. Sometimes it's the small things that are the difference between a good and great apron. In this case, the brass snaps are a classy touch.
The strap length is adjustable, allowing the user to choose a position that offers superior comfort. It can easily be removed which is handy for washing, or if you want a break from it being around your neck.
Embroidery
Although we are no experts in embroidery, it seems that this job may not be the easiest thing to get right. Through the years we've ordered a range of embroidered apparel which wasn't always up to scratch. The embroidery offered by Cayson Designs seems to be legit. Our logo isn't the simplest of designs, but it still looked great. No awkward unwanted extra bits or color issues.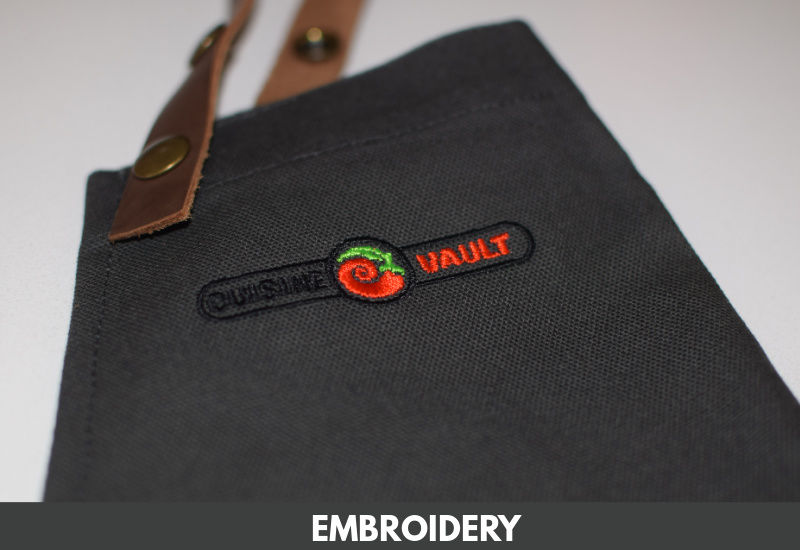 Not everyone wants to add a logo, especially if you're buying an apron as a gift for a loved one. Instead, add a name or some text of your choice - it just needs to fit in the allocated space. Get your text embroidered in a wide range of colors or fonts, and there is no set-up charge.
Waist strap
The waist ties are 100% cotton and tie up easily at the front. Probably most importantly of all, they're comfortable once tied up, even after wearing the apron all day.
Potential pitfalls
Give some thought about how your personalized logo or text will look on the apron. Does it have the right fit for the style and color you're choosing? Our logo would pop better on a lighter-colored fabric don't you think? Make sure there is plenty of contrast between the logo and the fabric.
Are you a messy cook that tends to end up with ingredients all over yourself by the end of cooking? You'll do well to choose a darker colored material that hides stains better than a white one would.
Summary table
If you like numbers then here are a few specs to give you an idea of sizing and colors etc. Basically, this apron is a one size so it'll fit most people.
| | |
| --- | --- |
| Apron Measurements | 40" length x 36" width |
| Waist Ties | 39" x 1" |
| Neck Strap | 29" |
| Fabric | 100% cotton |
| Colors choice | Charcoal, Moss, Navy, Rust |
Where to buy
Cayson Designs are based in San Francisco, CA and their products are designed and made there. To check out their wide range of designs, head over to their website and take a look. You can buy directly from them or visit Amazon to buy The Brody Bib Apron with no logos added. If you want a personalized apron with embroidery then allow up to 7 business days plus shipping time.
Final words
The Brody Apron made by Cayson Designs is a stylish looking piece of kitchen wear that a home cook or professional chef would be happy wearing. If you are after the bare basics of an apron then take a visit to Walmart and get yourself something much cheaper from there. This product is in a different class and makes a statement that you mean business in the kitchen
Although the apron looks impressive, we were just as excited by the durable materials used and the stitching which will keep giving for many years.