Cardamom is a complex tasting spice that combines citrusy, spicy and herbal flavors all in one pod. It's also highly fragrant. If you've ever visited an Indian restaurant, that's likely the aroma that hit you first.
One problem with cardamom is the expense. If you need this costly spice for one dish, you probably don't want to buy a whole container. So what is the best substitute for cardamom? We'll take a look at some excellent options and their best uses.
Other useful articles:
Get substitutes for celery salt, sage, or fenugreek.

Table of Contents
Best cardamom substitutes
In most dishes, leaving cardamom out and not replacing it isn't an option. It offers a potent flavor, so if you don't substitute with other spices, your meal won't reach its full potential.
1. For Savory dishes
Cardamom adds flavor to casseroles, soups, garam masala, sausage making, and many other meat dishes. Indian cuisine reveres the cardamom pod. So what's a suitable backup combination of spices?
Cinnamon and cloves
When combined, they're complex and carry a flavor punch. Cinnamon provides a sweet, woody flavor while the cloves offer intense astringency. You're not going to achieve the perfect alternative to cardamom, but you'll create an excellent surrogate.
How to use:
To replace 1 tsp of cardamom powder, use ½ tsp of cinnamon and ½ tsp of cloves.
Allspice
A useful option for replacing cardamom in savory meat dishes would be to use allspice. This spice is another pungent, fragrant spice that works well with meat. Combine salt, pepper, and thyme with allspice to make a rub, then coat the meat before cooking.
2. For Sweet Baking
Cinnamon and ginger
Cardamom is a versatile ingredient that also adds a distinctive flavor to sweet baked goods. If you have a recipe that calls for this spice, use cinnamon and ginger as your best substitute.
How to use:
To replace 1 tsp of cardamom powder, use ½ tsp of ginger and ½ tsp of cinnamon. You may want to reduce each of these spices initially, then slowly add more. Both ingredients offer an intense flavor that may be unpleasant if too much is used.
Mace
Another back-up option to use if you don't have ginger and cinnamon would be to use mace. This spice offers a warm, lemony sweetness that is perfect for sweet baked goods like chocolate cake or carrot cake.
3. For coffee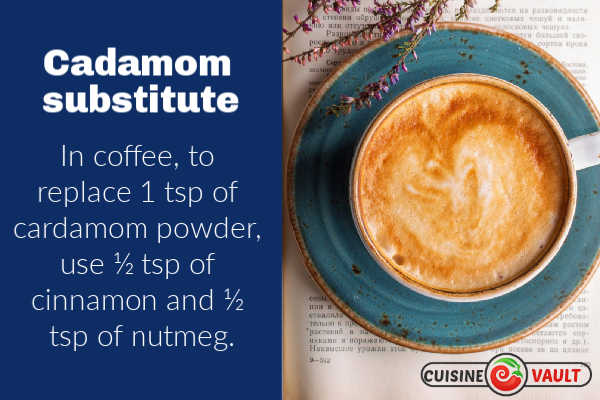 Cardamom pods have been infused in coffee for centuries in the Middle East. This practice is now becoming a popular trend in parts of the Western world.
Cinnamon and nutmeg
If you don't have any cardamom, then use cinnamon and nutmeg. The result is a spicy hot beverage that has a festive, eggnog feel to it. The added hit of caffeine is a bonus.
How to use:
To replace 1 tsp of cardamom powder, use ½ tsp of cinnamon and ½ tsp of nutmeg.
A word of warning
The alternatives provided above suit foods that don't use cardamom as the main flavor. For example, you can't use alternative ingredients like cinnamon to replicate a cardamom spice cake. It won't taste the same.
Use these substitutes when cardamom is included in the recipe to contribute to the flavor of the dish, not dominate it.
Ground cardamom vs. pods vs. seeds
The flavor punch offered by cardamom in its various forms varies wildly. You'll need to take that into account if you're looking to substitute pods for powder or seeds.
| Original ingredient | Replacement |
| --- | --- |
| 1 teaspoon ground cardamom | 6 cardamom pods |
| 1 teaspoon ground cardamom | ½ tsp ground seeds |
| 1 cardamom pod | 12 cardamom seeds |
Fun facts about spices
Ginger and turmeric belong to the same botanical family as cardamom.
Black cardamom has a unique smoky fragrance; green cardamom has a delicate aroma.
Back in the 4th Century BC, Egyptians used cardamom as a breath freshener thanks to its sweet and pungent flavor. [Source]
Nutmeg can cause hallucinogenic effects in large quantities.
Nutmeg can be used in savory and sweet recipes.
Cardamom replacements: infographic

Final Words
Cardamom is a unique tasting spice, and finding a good substitute isn't easy. No single spice or combination of spices will provide an exact match for cardamom. Your best option is to invest in a jar of this delicious spice. It's a versatile ingredient that's suitable for a wide range of recipes.
It's not always possible to get your hands on this spice. Price is often a significant factor. If you can't, or won't, buy cardamom, then use cinnamon and cloves for a savory recipe. For baking, use cinnamon and ginger as your backup spices. Enjoy a cup of cardamom coffee? As an alternative, use cinnamon and nutmeg.