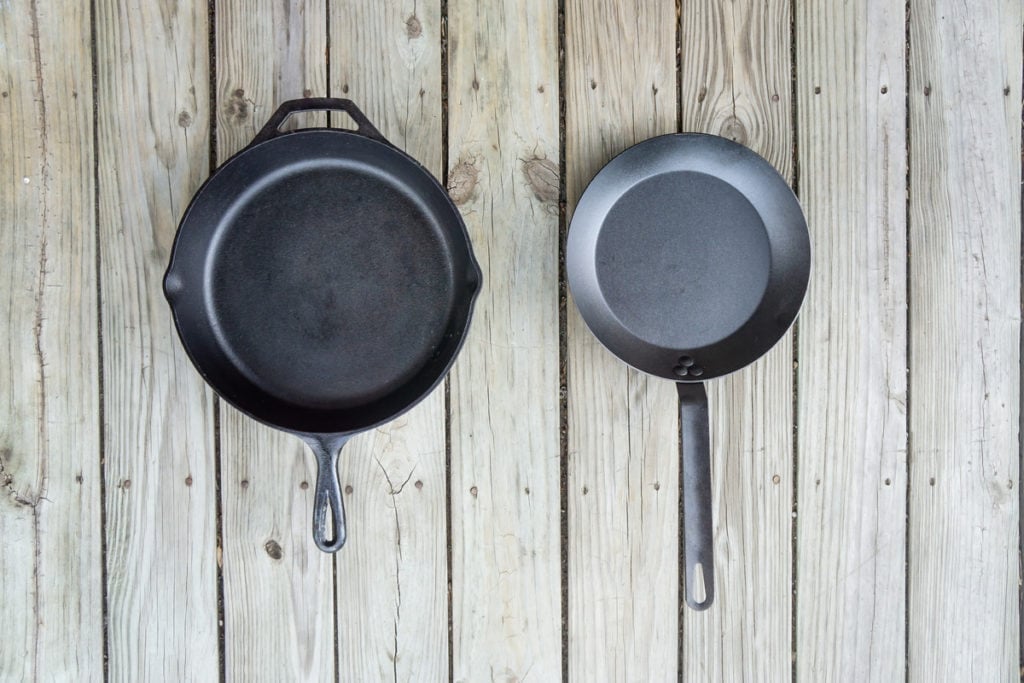 A good cook knows that the type of cookware used matters to the outcome of the dish. You may have heard of carbon steel and cast iron cookware, but what's the difference? How are they similar?
Yes, they're both affordable, great options for home cooking, and can withstand high heat. But, did you know that one type distributes heat better than the other? Indeed, one of the things that cast iron does better than carbon steel is heat distribution.
Surprisingly, there are a lot of facts you need to know about carbon steel and cast iron. Let's take a good look at the differences, similarities, pros, and cons of carbon steel and cast iron cookware. By reading this post, we aim to help you decide on which cookware to buy.
Table of Contents
Carbon Steel vs. Cast Iron: Similarities and Differences
Carbon steel and cast iron are similar in some ways but different in many ways too. Think of them as cousins in the cooking industry. In a nutshell, here are the differences and similarities between carbon steel and cast iron cookware. Further details will be explained below.
| Differences / Similarities | Carbon Steel | Cast Iron |
| --- | --- | --- |
| Materials | 99% iron and 1% carbon | 98% iron and 2% carbon |
| Resilience | Resilient | Not quite resilient |
| Shape | Sloping, curved side with a 60-degree angle | Straight upright sides |
| Surface | Smooth surface | Depending on the manufacturer, it may have a smooth to a slightly rough surface |
| Durability | Carbon steel is more durable than cast iron | Less durable than carbon steel |
| Heat Retention | Heats and cools quickly | Heats and cools slowly |
| Weight | Lightweight (3-7 pounds) | Heavy (4-20 pounds) |
| Costs | Affordable ($20-$70) | Affordable ($20-$80) |
| Versatility | Highly versatile | Highly versatile |
| Heat Distribution | Uneven heat distribution | Even heat distribution |
| Heat Tolerance | Up to 800° Fahrenheit (depending on the manufacturer) | Up to 700° Fahrenheit (depending on the manufacturer) |
| Can withstand high heat? | Yes | Yes |
| Easy to maneuver / Ease of Use | Yes | A bit challenging to maneuver |
| Needs Seasoning? | Yes | Yes |
| Susceptible to Rusting and Discoloration? | Yes | Yes |
| Dishwasher safe? | No | No |
| Reacts with acidic foods? | Yes | Yes |
| Compatible with all cooktops? | Yes | May scratch the surface of induction cooktops |
| Nonstick? | Yes, if well-seasoned | Yes, if well-seasoned |
The Similarities
High Heat Tolerance
Both carbon steel and cast iron can withstand high heat. This means you can leave them on the burner or oven for long periods without worrying about them getting damaged. But of course, you would not want to do this unless you like to eat overcooked foods.
Requires Seasoning
Both types are nonstick cookware if properly seasoned. If not pre-seasoned, both types of cookware are prone to rust and discoloration. For example, grey cast iron may have white discolorations all over it when not pre-seasoned adequately.
Furthermore, seasoning prevents foods from sticking to carbon steel and cast iron cookware. It also prevents rusting and is recommended to protect your cookware from general wear and tear. When foods start to stick in your pan, you know it's time to re-season again.
Cooking Limitation
Since both carbon steel and cast iron are reactive pans, they have cooking limitations. They both react with acidic foods such as tomatoes, lemons, wine, vinegar, and cranberries. While it's safe to eat acidic foods cooked in carbon steel or cast iron cookware, the food may turn out darker or have a metallic taste, and you wouldn't want that.
What can happen if you cook acidic foods in carbon steel or cast iron cookware?
Imparts off-color
Strip away the food's seasoning
The food may taste metallic
Strip away the patina built up in your pan
The Solution: According to experts, it's better to use non-reactive pans like enameled cast iron, stainless steel, or glass cookware when cooking acidic foods.
Dietary Benefit
Carbon steel cookware comprises 99% malleable iron materials, while cast iron is made from 98% iron. Research shows, both iron-containing cookware can supply iron to the body. Iron is an essential element in the body needed to make hemoglobin (or for blood production).
Additionally, the iron from the cookware binds to the food. Don't worry, it's safe. In fact, it's healthy for you. It is estimated that one cup of food cooked in iron-containing cookware can supply 6-8 milligrams of iron to the body.
Costs
Both carbon steel and cast iron are relatively inexpensive, and yes, they're affordable. Amazon's best-seller carbon steel cookware may cost $20-$70. At the same time, cast irons are also affordable ranging from $20-$80. Of course, the price depends on the size and brand of the cookware.
What Is Carbon Steel Cookware?
Carbon steel cookware is smooth-surfaced, durable, and easy to maneuver. Carbon steel is available in skillets, woks, roasters, and carbon steel pan forms. Most restaurants use carbon steel because of its many benefits, but you don't need to be a chef to use carbon steel. It's also great for home-cooking.
Also, you can use it for any type of cooking method. A carbon steel skillet or carbon steel wok won't fail you when browning, searing, sauteing, braising, broiling, or baking. For instance, if you want all-around cookware that can be used on the grill, stove, broiler, oven, or even campfire, carbon steel is the way to go.
Of course, like any product out there, carbon steel has its pros and cons. Here's what you should know and how it differs from cast iron.
Pros of Carbon Steel Cookware
Lightweight and Easier to Maneuver: Carbon steel is lightweight and easier to maneuver than cast iron. So tossing or pan-flipping will be easier when using carbon steel cookware to prevent food from sticking in the pan.
Durable: Compared to cast iron, carbon steel is more durable. Basically, carbon steel cookware is built to last forever because it can withstand high heat. Also, there are slim chances of scratching, breaking or warping carbon steel cookware.
Heats Up Fast, Cools Quickly: One of the primary benefits of using carbon steel is that it heats up quickly and cools down quickly. This is useful, especially when cooking delicate ingredients like roasted vegetables. This is the exact opposite of cast iron which heats and cools slowly. Also, you don't have to wait longer for it to cool down before cleaning it.
Compatible With All Heat Sources and Cooktops: As mentioned earlier, carbon steel cookware is compatible with any kind of heat source or cooktop. So switching from different cookers will be a breeze, unlike the cast iron, where it can scratch the surface of your glass induction cooker.
Cons of Carbon Steel Cookware
Hot Handles: Depending on the brand, the handles of carbon steel cookware are prone to getting hot. There are carbon steel brands you can readily purchase with wooden or silicone handles. But if that's not the case, wear oven mitts or silicon candle holders to avoid getting a nasty burn.
Uneven Heat Distribution: One definite drawback of carbon steel cookware is its uneven heat distribution. Unlike cast iron cookware, which has even heat distribution as one of its perks. This is a concern, especially when cooking meat, with the possibility of having uneven sear or burnt edges.
How to Clean Carbon Steel Cookware?
It's not a tough job to clean carbon steel cookware; you just need to wash it with warm water and wipe it dry. You can also use a scrubber to scrape off the remaining food. Avoid using harsh soap and scouring pad because it will wear down the seasoning.
Also, it's not recommended to clean carbon steel cookware in the dishwasher. It can cause carbon steel to rust and lose its non-stick ability.
Best Foods to Cook in Carbon Steel
Carbon steel can be used for almost all cooking methods. From browning, searing, sauteing, braising, broiling, to baking, you can use it for cooking foods like:
Steak
Salmon
Eggs
Bacon
Skin (for crispy chicken skin)
Roasted Vegetables
Stir-Fries
Broccoli Frittata
One-Skillet Pasta
Pan-Fried Salmon
Skillet Pizza
Cornbread
Skillet-Baked Classic Apple Pie
Shepherd's Pie
Tofu
Hash browns
What Is Cast Iron Cookware?
Cast iron cookware is a kitchen must-have popular for its durability, functionality, and versatility. It's the best cookware for heat retention, especially when cooking a crispy, golden brown, thick-cut steak to perfection.
It's also available in different forms such as cast iron skillet, cast iron frying pan, wedge pan, grill pan, fluted cake pan, loaf pan, muffin pan, pizza-baking pan, pot, corn-stick pan, griddle, Dutch oven, saute pan, waffle iron, crepe maker, panini presser, and cast iron wok.
With proper care and handling, cast iron cookware can last for many years. You can even pass it on to your children or grandchildren. Here are some pros and cons when using cast iron cookware.
Pros of Cast Iron Cookware
Even distribution of heat: Yes, even when the flame is only in the middle of the cast iron, the heat will evenly distribute on the surface. It doesn't matter if the heat source is an open fire or the stove; the heat will evenly distribute compared to carbon steel, where the heat does not evenly distribute.
Food stays hot for a longer period: Cast iron cookware heats slowly but cools off slowly as well. As a result, this keeps the food warm, even long after it has been taken out of the fire. This is something a carbon steel cookware doesn't do.
Better Heat Retention: Since cast iron cookware heats slowly, it has better heat retention than carbon steel. This is ideal when roasting and pan-frying. Although you can still roast or pan-fry in a carbon steel frying pan, you'll have a more pleasant outcome using a cast iron cookware.
Cons of Cast Iron Cookware
Heavy: One of the main concerns of cast iron cookware is its heavy weight. As compared to carbon steel, cast iron is way heavier and thus more challenging to maneuver. You can still toss or pan-flip cast iron, but you need some muscle strength to do that.
Not compatible with induction cooktops: Carbon steel is versatile and can be used on any kind of cooktop without any concern. With cast iron cookware, you should be careful when using them in your induction cooktops, as they may scratch the surface. Its bottom is grittier and rougher, which can cause scratches.
How to Clean Cast Iron Cookware?
The cleaning processes of carbon steel and cast iron pans are easy and similar. In fact, it can be as simple as washing the cookware with water and wipe it dry. However, if any food has stuck to your cookware, you might need to use a scouring pad or a cast iron pan cleaning brush to remove them.
After wiping your cookware dry, you can season it with a few drops of oil, cover the cooking surface with a paper towel, and store it. Also, avoid using dishwashing soap as it can damage your seasoning.
Just like carbon steel cookware, you can't clean cast iron in a dishwasher as it will strip away the nonstick surface, which can only be acquired through seasoning. Additionally, using dishwashing soap or cleaning cast iron in a dishwasher can also make cast iron cookwares prone to rusting.
Best Foods to Cook in Cast Iron Cookware
Cast iron cookware is ideal for searing proteins like steak. If you want to achieve the perfect outer crust while ensuring your preferred degree of doneness, cast iron won't disappoint.
Cast iron is also suitable for deep-frying different foods like chicken. Just make sure to use a large deep-dish cast iron skillet and avoid splatters by placing the protein away from you.
Furthermore, it's the perfect cookware for caramelizing ingredients like onions or carrots. And, since it has a built-up finish, cast iron cookware is also ideal for baking.
Here are some common foods and recipes best cooked in cast irons.
Fried Chicken
Chicken Fried Steak
Pancakes
Pan Pizza
Spanish Tortilla
Corn Tortillas
Bibimbap
Lasagna
S'mores
Panini
Crepes
Oatmeal
Thick Cut Steak
Smash Burgers
Bacon
Cornbread
Country Ham with Redeye Gravy
Fried Eggs
Chocolate Chip Cookie Cake
Shepherd's Pie
Cobbler
Chicken Pot Pie
Whole Roasted Chicken
Mac and Cheese
Red Snapper
Grilled Cheese
Clafouti
The Take-Away
There you have it! From what you've learned above, what would be the best cookware to use—carbon steel or cast iron? Well, it really depends on your needs, the types of food you usually cook, and your cooking style.
Both have their pros and cons. So, if you can have both and use each for a specific dish, that would be a great idea. And if you ask professional chefs, they would recommend both.
So, the bottom line is: use the proper cookware depending on the type of food you're preparing if you want the best taste and outcome.
References:
https://www.pca.state.mn.us/featured/are-you-cooking-these-cookware-considerations