Cleaning is among the most important activities in every kitchen, and selecting the right tool is a necessity. They are quite a few cleaning tools to clean your cast iron cookware, like chainmail scrubber, sponge, even a paper towel and cast iron brushes.
These brushes are available in two designs; handheld ones that fit your palm and those featuring a handle. Cast iron brushes with the handheld feature offer you additional control and maneuverability while the handled ones do a better job of reaching tight spots when cleaning. The bristle material is another crucial aspect you need to consider, since you do not want a cleaning tool that is too gentle, proving ineffective on harsh residue. This article aims at highlighting some of the best cast iron brushes to buy right now and everything you may need to know about them.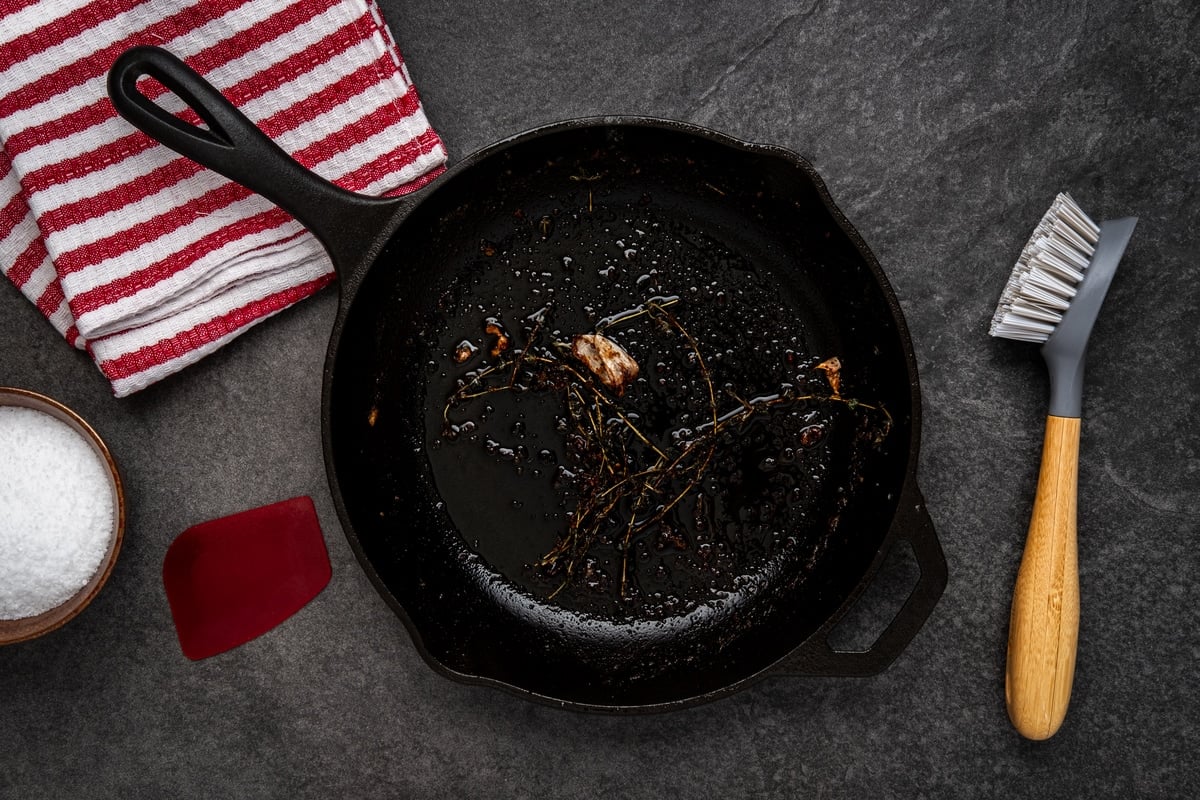 Table of Contents
Which are the Best Cast Iron Brushes?
1. Full Circle Tenacious C Cast Iron Brush
The Full Circle Tenacious C cast-iron brush is one of the least expensive tools available for cleaning your cast-iron kitchenware, and it does a great job. The brush features an ergonomic handle that enhances comfort and usability, while the extra-tough nylon bristles prove effective when cleaning. This tool also has an in-built scraper explicitly designed to remove stubborn foods stuck on your cast iron cookware.
The Full Circle brand is famous for its preference for using recyclable bamboo plastic in its products, as is the case with the Tenacious C brush. The use of this material improves its friendliness to the environment and applies a non-toxic BPA coating on its surface. This piece of functional cleaning equipment also leaves a small footprint on the planet.
2. OXO Good Grips Cast Iron Brush
If you crave an effective and reliable cast iron brush for your pan, then the OXO Good Grips cast-iron pan brush is probably your best option. This brush is available in two variants: the pan brush and the panini press brush, and each serves a specific situation. This brush is ideal for removing leftovers from ridged and flat griddles and grill pans, and including soap in your routine is unnecessary.
Removing cooked foods from the cookware's surface is possible, courtesy of the short and stiff bristles on the cast iron brush. These angles are strategically angled to cover a wider surface area and to allow one to achieve a deeper cleaning advantage on tight spots. Its scraper tip effectively penetrates grooves and corners, while its soft handle features a non-slip coating enhancing comfort during operation. The only limitation associated with the OXO cast iron brush is its inefficiency when used as an alternative to a cast iron grill brush on outdoor grills.
3. Lodge Care Scrub Brush
The Lodge Care scrub brush is another prospect on our list worth considering, especially since it falls under the $10 price mark. The primary reason most homeowners and restaurant managers prefer this brush is its 10-inch handle, which makes it efficient for deep cleaning activities. Its handle is curved from rubber wood, which complements its natural lacquer finish, creating an elegant look.
This brush guarantees you a thorough clean of your iron cookware while preserving its finish, since it features stiff nylon bristles on the plastic head. Its ergonomic design and sturdy build make it stand out from the other options, and reliable feedback from verified purchases can confirm its effectiveness and durability.
4. Subekyu Bamboo Dish Scrub Brushes
The Subekyu bamboo dish scrub brush is among the world's leading handheld brushes you can buy right now. It features a compact design that fits perfectly in your hands, making it easy to brush off the stain from your cookware's surface. Its firm, high-density bristles also play a significant role in cleaning, as they remove cooked food stuck on these surfaces without scratching or tampering with the end. This brush is ideal for cleaning stubborn stains from all your cast iron cooking equipment, from chopping boards to the kitchen sink.
Not most modern brushes are invested in using environmentally friendly materials in their products, but Subekyu does. It features a compostable bamboo handle and sisal bristles, ensuring the item is significantly eco-friendly. To increase longevity and improve your maintenance approach, it would help to keep the brush dry after use as it prevents water damage.
The Subekyu Bubble Up bamboo brush is another exemplary item from the Subekyu brand that is a favorite for many. One outstanding aspect of this cleaning tool is that it comes in a set that includes a wooden scrubber and a soap holder. The holder acts as a soap dispenser, reducing soap wastage and making it convenient to have soaps in your routines.
Unlike other cast iron brushes, this option features soft and stiff bristles in its design. The soft bristles are ideal for cleaning objects with smooth surfaces, like a skillet, pan, or pot, while the hard ones are effective in cleaning stubborn stains on your cookware. This handheld brush has a bamboo handle and sisal bristles, placing it among the few brushes that effectively reduce their environmental footprint. If you buy the Subekyu Bubble Up bamboo dish brush, ensure it remains dry after every use as an approach to extending its durability.
6. BBQ-Aid Barbecue Grill Brush and Scrapper
The BBQ-Aid barbeque grill brush and pan scraper guarantees users an effortless cleaning process if included in their routine. This brush is one of a kind, as it features an exquisite design that consists of an ergonomic wooden handle and a stainless-steel scrubber with bristles. The quality offered by the BBQ aid brush is exemplary, as its bristles are sturdy enough to tackle every task and allow it to work with every angle of a wooden grill brush.
Its handle is fifteen inches long, making it easier to clean through tight spots and allowing you to manipulate the tool with more than one hand. Other stand-out features of this grill brush include a stainless-steel core and a proprietary oversize head, which is replaceable. Regardless of the grill type you are using, from porcelain to weber and even char-boil, this prospect is the best option for all your cleaning needs.
7. Cave Tools BBQ Grill Brush
The Cave Tools BBQ grill brush is among the most durable options on the market, promising its users reliable functionality and effectiveness with every use. Its longevity comes from its rust-proof design and protective coating, which helps reduce damage from severe conditions. Its unique design comprises three brushes, attached to one frame by a heavy-duty strength clip. These three brushes allow you to cover more surface area when cleaning your cast iron grill pan or other equipment in your kitchen.
Cleaning your grill with this brush is simpler and more efficient as its stainless-steel bristles cover the entire head, making it easier to clean surfaces at tight angles. The brush is significantly low maintenance, and the only necessary care instruction is cleaning after use. Every cave tool BBQ grill brush purchase comes with 25 professional barbeque recipes featuring a detailed guide and informative video tutorials.
What's the Difference Between a Frying Pan and a Skillet?
The main difference between a cast iron skillet and a frying pan is that the former features a deeper set. This difference makes the two items ideal for different purposes. For example, a frying pan features a flat bottom, making it ideal for frying, searing, and browning food, while a skillet is preferable for deep frying. What makes the skillet perfect for both shallow and deep-frying is the presence of a lid in its design.
Is it Safe to Use a Wire Brush on Cast Iron?
Using a wire brush on cast iron cookware is not recommended since you risk damaging the surface of the cooking equipment in question. The cleaning routine of cast iron equipment should include soft-bristled brushes made from plastic or natural fibers to avoid damaging their fine finishing. For example, you risk reducing the effectiveness and longevity of a cast iron Dutch oven if you clean its interior surface with a wire brush instead of a combo brush.
Is a Brush Good for Cleaning my Cast Iron Skillet?
Yes, you can use a brush and hot water to clean your not-so-dirty cast iron skillet. The brush will prove effective in eliminating the burnt food on the pan's surface while the water drains the waste. A pan scraper is an excellent alternative to using a brush, and it proves more effective in handling tough stains on the surface of your skillet.
Conclusion
The list of available cast iron brushes on the market is endless, and the options mentioned in this article are worth considering. Our best brush is the full circle tenacious C cast iron brush, primarily because of its long bamboo handle and stiff bristles and scraper. If the prospects mentioned do not meet your expectations, you are open to digging deeper into the hundreds of options available.