Shrimp not only have that addictive creamy and buttery taste you love but also provide a rich source of nutrients like protein, iodine, omega 3 fatty acids, and potassium. In addition, the red pigment that shrimps produce is also from the antioxidant astaxanthin, which helps prevent inflammation.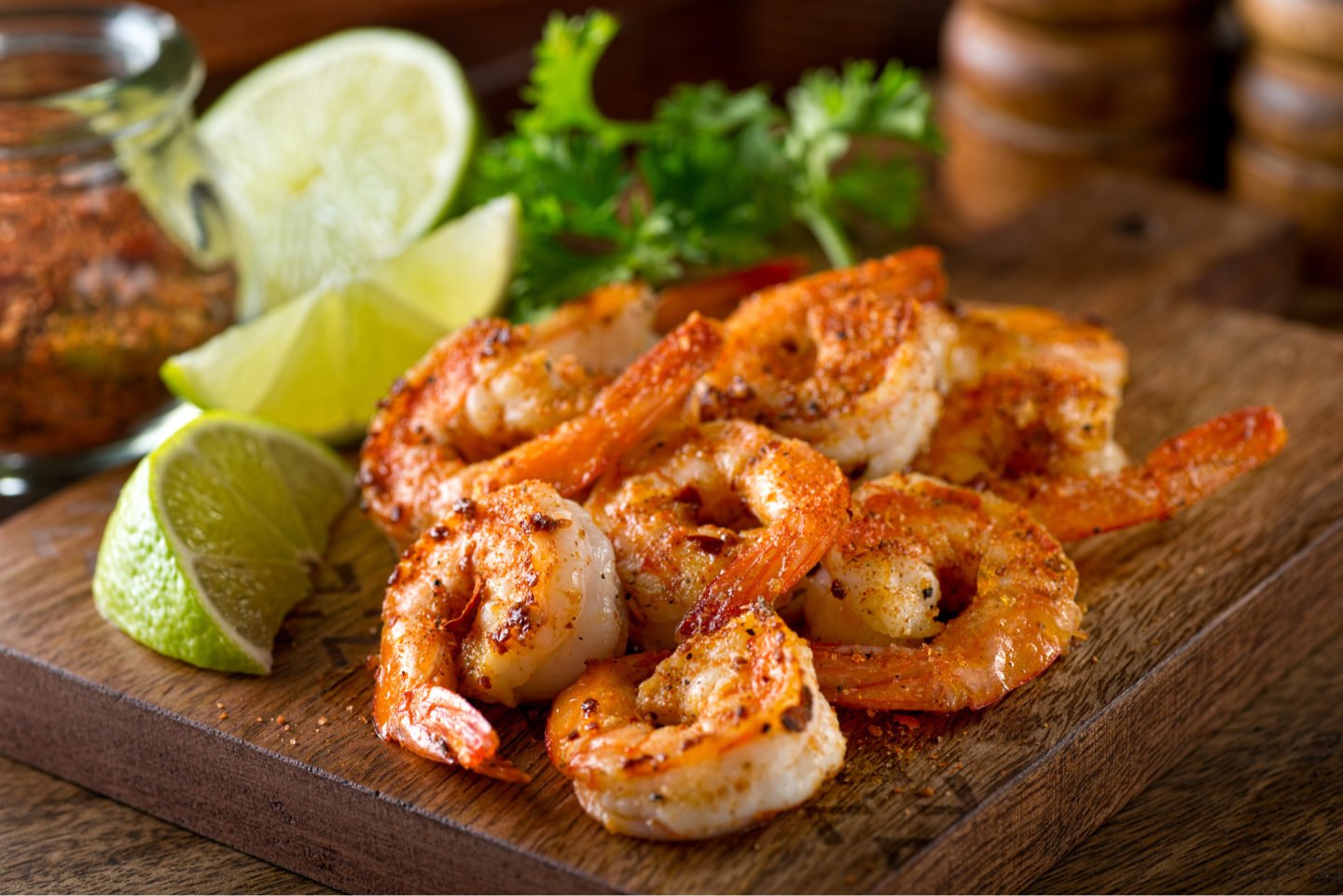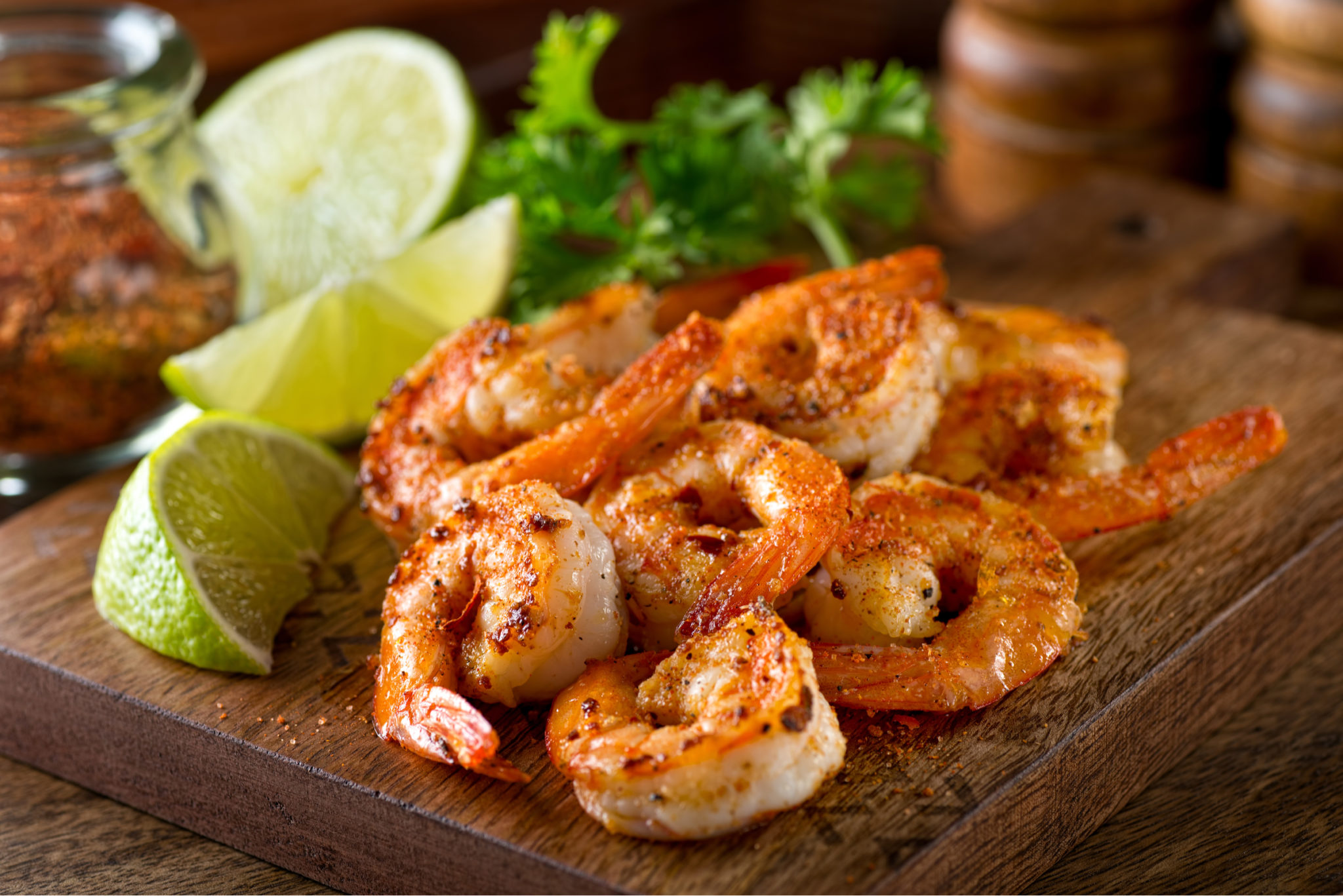 While shrimp is one of the healthiest and most loved shellfish worldwide, eating too much might cause heart problems and allergic reactions. Shrimp contains high amounts of cholesterol and sodium that contribute to the development of heart disease. Consuming more than 300 grams of shrimp per day puts one at risk for cardiovascular diseases.
People who have shrimp allergies should also refrain from eating even small amounts of shrimp to avoid complicated allergic symptoms. While eating shrimp is overall safe, some people must be cautious. This article covers everything you need to know about shrimp consumption, its benefits, and its risks.
Table of Contents
How Much Is Too Much Shrimp?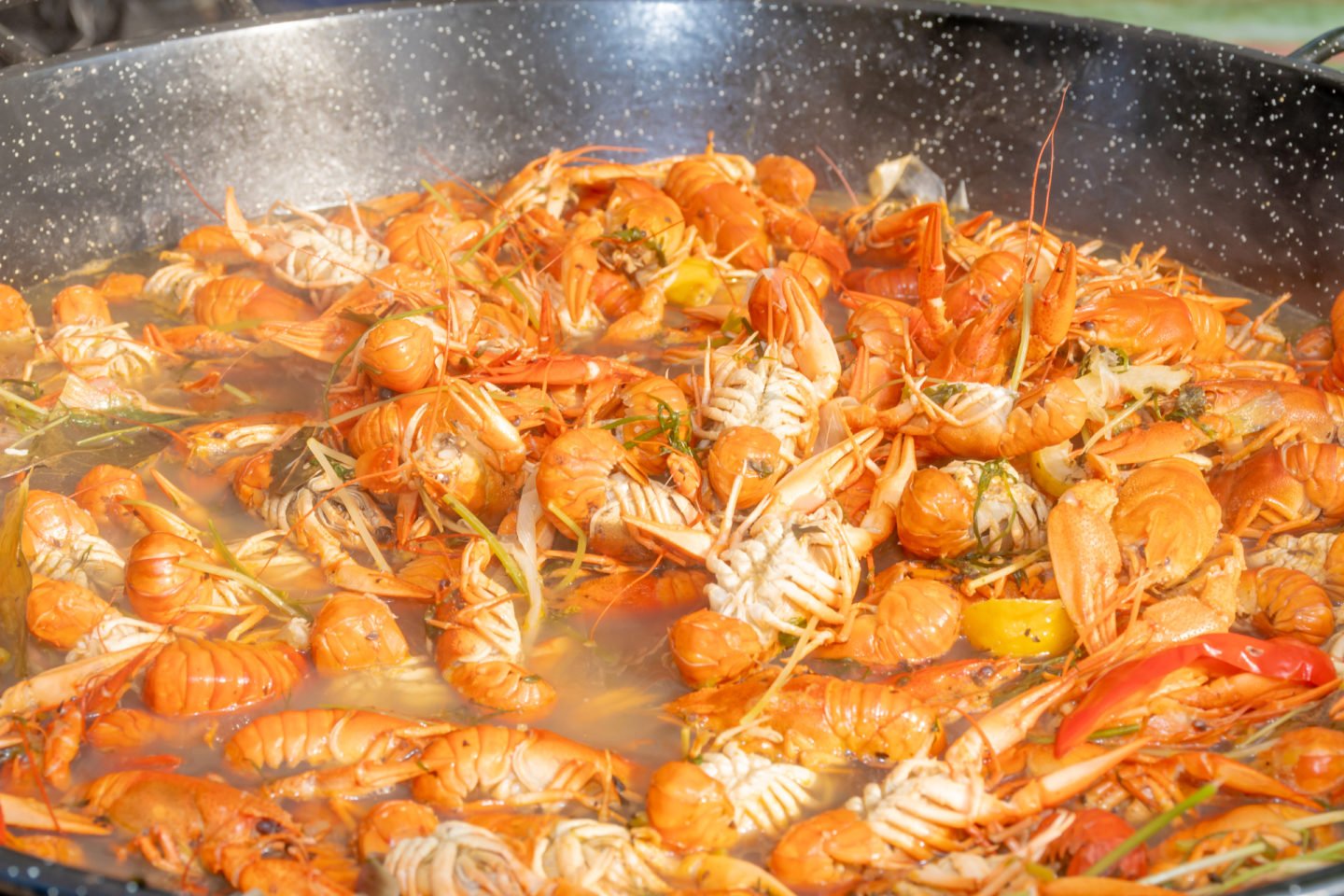 People with no known heart conditions can consume 300 mg of cholesterol daily. According to the US Department of Agriculture, 100 grams of shrimp contains 187 mg of cholesterol, which is 63% of the daily required cholesterol intake. Therefore, if you eat only 100 grams of shrimp every day, no adverse effects are expected.
However, people with high cholesterol levels should watch their shrimp intake. 300 grams of shrimps (around 15 jumbo shrimps) provide 561 mg of dietary cholesterol, which is almost twice the regulated intake. That does not only increase the risk for heart diseases but also for fatty liver disease.
Although there is no upper limit to shrimp intake, we can only assume that anything far beyond the advised serving is too much. That is true for all types of shrimp: farmed shrimp, wild shrimp, frozen shrimp, fried shrimp, and imported shrimp. Shrimp shells and shrimp tails are included in the serving.
How many shrimp can kids eat?
According to the Food and Drugs Administration, shrimps belong to the "best choice" shellfish and are safe for kids to eat. Kids ages 1-3 years who don't have shellfish allergy or shrimp allergy are allowed to eat up to one ounce or 3 medium-sized shrimps.
Moreover, kids ages 4-7 can take 2 ounces or 6 medium-sized shrimps in a day. Ages 8-10 should intake 3 ounces, while kids 11 and up can eat up to 4 ounces of shrimps a day. Since shrimps are nutritious, kids can eat up to 3 servings per week.
Shrimps are an excellent source of protein, as 100 grams of shrimp provides 24 grams of protein, which is 48% of the required daily intake. In addition, kids need protein to boost their muscle development and growth, making eating shrimp a healthy part of their diet, given that they are free from any shellfish allergies.
How many shrimps can adults eat?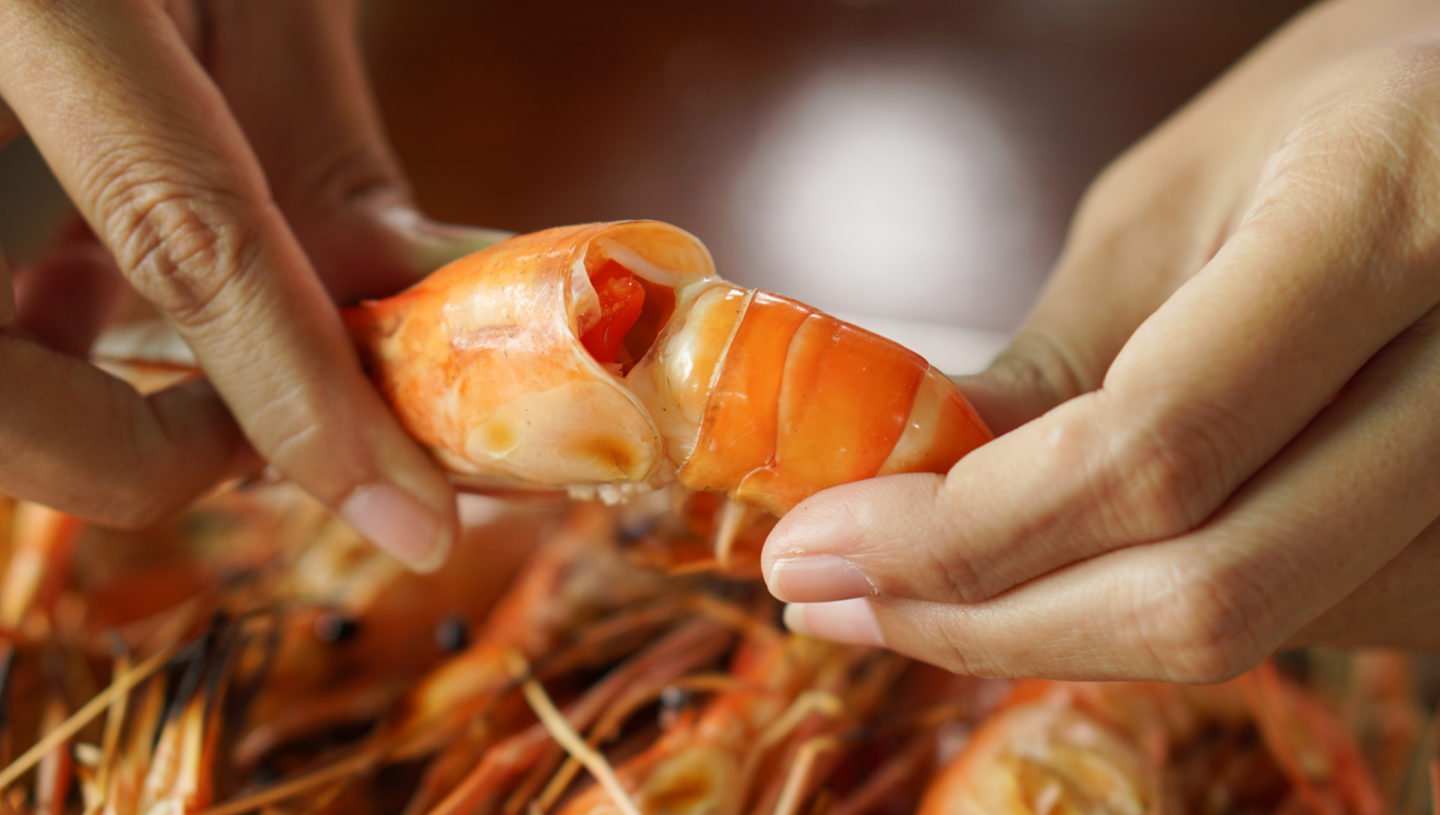 According to research, adults can consume two or three servings (8-12 ounces) of shellfish or shrimp per week. Therefore, it's crucial to properly cook the shrimp and avoid serving raw shrimp, as seen in sushi or sashimi. It's also a good idea to know where the shrimp comes from.
The danger in eating too many shrimps also relies on the ingredients it's cooked with. Garlic butter shrimp became popular in recent years, and a stick of butter contains 243 mg of dietary cholesterol and 92 grams of fat. Moreover, most shrimp recipes use a lot of salt, which causes high blood pressure.
How many shrimps can pregnant women eat?
Shrimps are safe for pregnant and lactating women. In addition, shrimps are among seafood identified with low mercury content. Shrimps are also a great source of nutrients needed for the baby's development, and it is low in calories, with only 99 calories per 100 grams.
According to the Food and Drugs Administration, pregnant and lactating women can eat 4 ounces of shrimps per serving and safely consume 2-3 servings in a week.
Benefits of Eating Shrimps
Packed with Nutrients
Eating shrimp (100 grams) provides the following nutrients:
Calories: 99
Protein: 24 grams (48% of DV)
Potassium: 259mg (7% of DV)
Selenium: 69% of DV
Vitamin B12: 35% of DV
Phosphorus: 17% of DV
Zinc: 11% of DV
Calcium: 7% of DV
Magnesium 9% of DV
Shrimp is an excellent source of selenium. This mineral is required for optimal thyroid function, promoting fertility, and preventing infection and inflammation.
This crustacean also contains traces of omega-3 fatty acids as well as iodine. Because your body doesn't require much of these micronutrients to survive, even a tiny amount can help.
Aids Weight Loss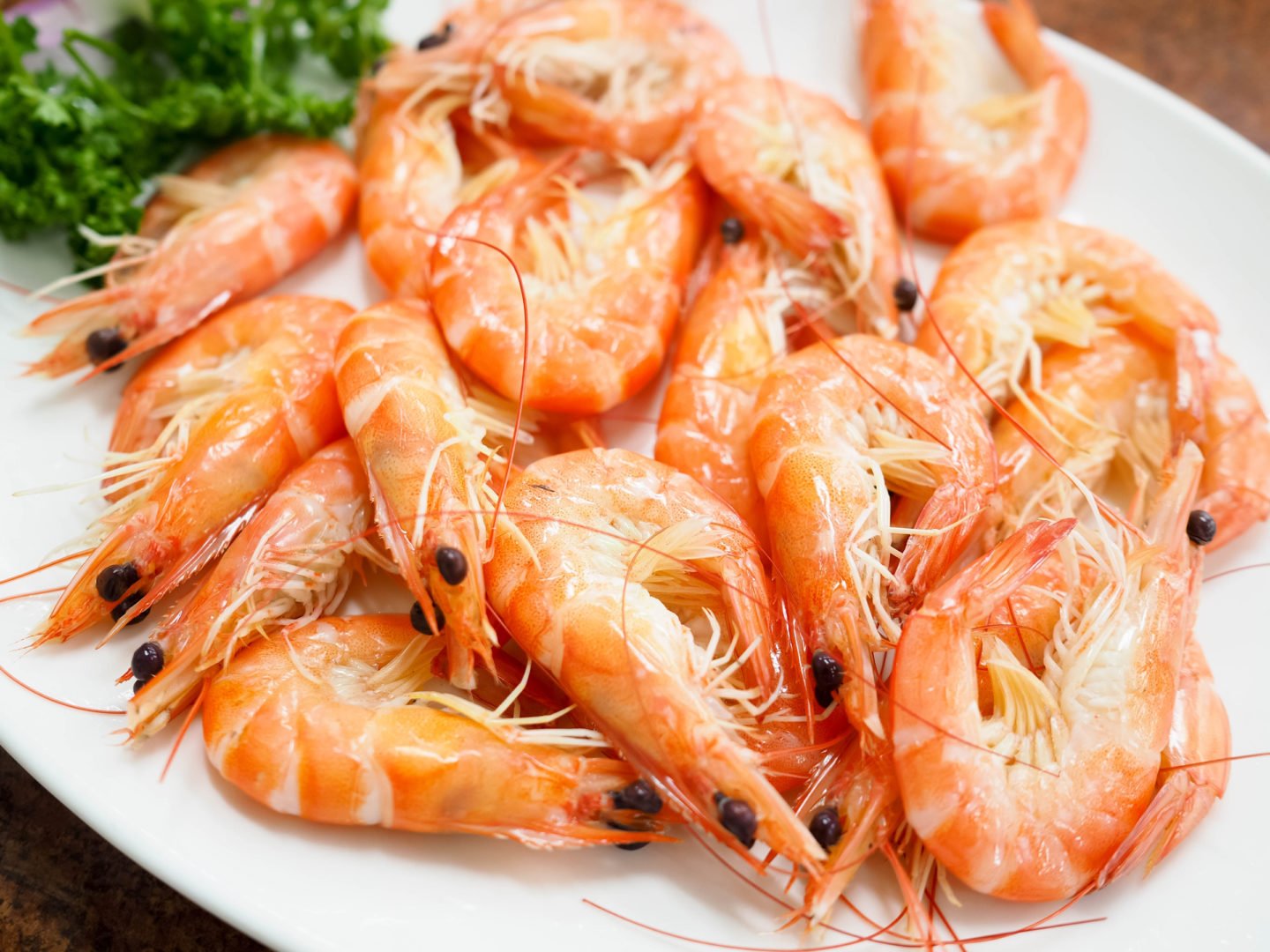 Aside from its low-calorie contents, the fats in shrimp are a healthy fat, as most of them are polyunsaturated fats and omega 3 fatty acids. Both play a role in maintaining good heart health. Moreover, shrimps are an excellent source of protein, which is much needed when dieting, especially in maintaining the muscles.
Shrimps are incredibly delicious and addicting, so adding them to one's diet is easy. However, when on a diet, make sure that you watch how you cook the shrimp. Adding butter and salt to it defeats the purpose, as butter contains saturated fat and salt retains water, increasing weight.
Eye and Bone Health
Shrimps are rich in the antioxidant astaxanthin, which promotes eye health. Astaxanthin has been essential in maintaining excellent eye health, including shielding the retina from oxidative damage caused by UV exposure.
Phosphorus and vitamin D are both found in shrimp and shellfish. When combined with calcium, the given nutrients can help build bones, lowering the chance of fractures and osteoporosis.
Risks of Eating Too Much Shrimp?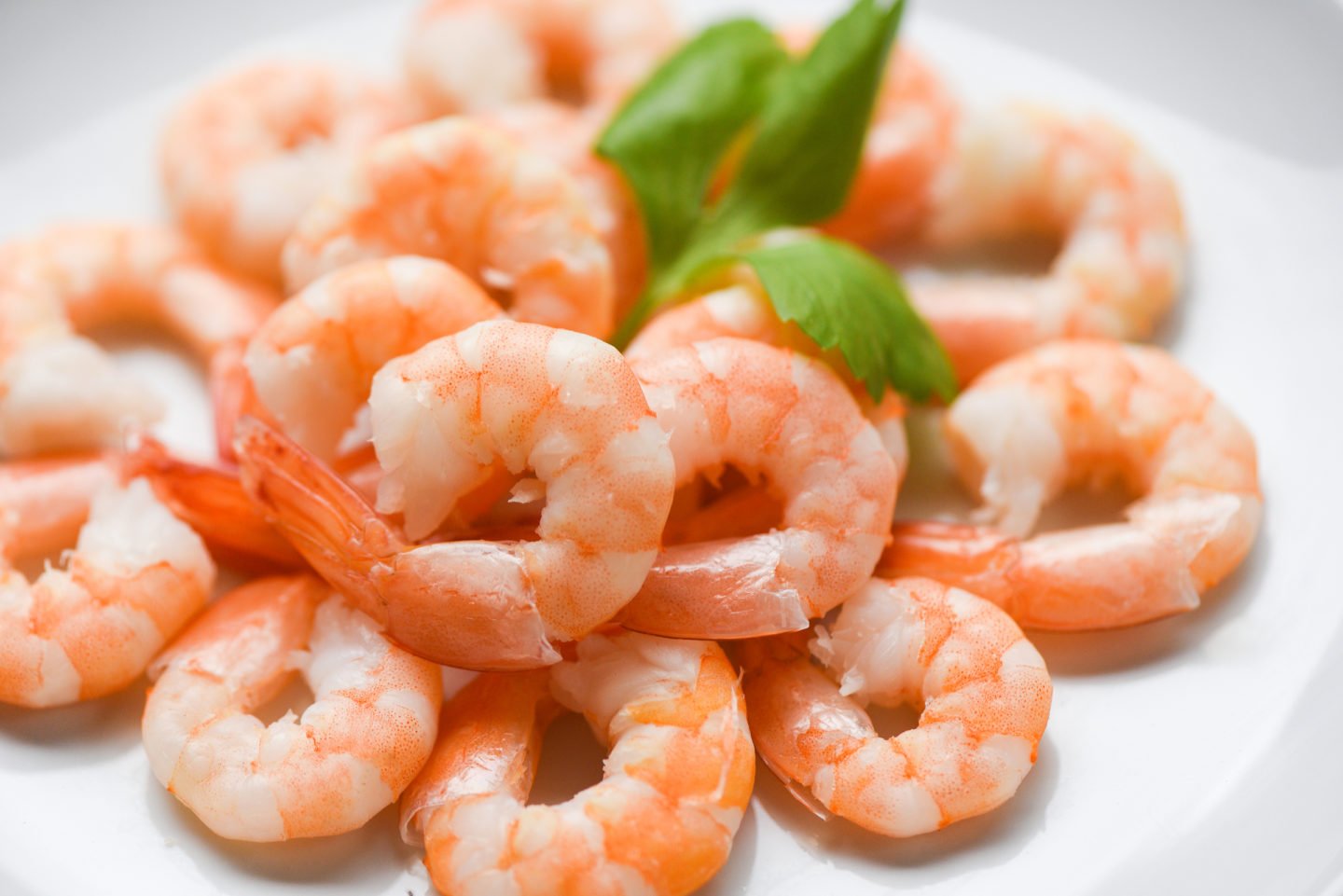 Increased Risk for High Blood Pressure
While shrimps are overall nutritious, eating too much can increase the risk of developing high blood pressure. That is because shrimps contain high levels of dietary cholesterol and are often cooked with butter and salt. Butter consists of 81% fat, and salt increases blood pressure.
Increased Risk For Bacterial Infection
The marine bacteria Vibrio (Vibrio vulnificus) is found in sea organisms. When infected, people develop Vibriosis. This bacterium can be contracted by eating raw shrimp, other raw shellfish, or raw fish. Meanwhile, E coli has also been found in some shrimps.
To avoid the infection, make sure that you eat only cooked shrimp. It also helps if you know where the shrimps are from, as farmed shrimp are more likely to contain bacteria and cause food poisoning.
Allergies
Some people have tolerance for shrimp but only up to a certain amount. However, eating too much shrimp can cause allergic reactions such as hives, swelling of the face and other body parts, trouble breathing, diarrhea, and even fainting.
Can You Eat Other Seafood Instead of Shrimp?
If you don't like shrimp, you can eat fish and other seafood instead. Oyster, salmon, fresh tuna or canned light tuna, sardine, scallop, squid, and tilapia are considered the best choices. Other white fish and farmed fish like carp, grouper, rock fish, and blue fish are good choices.