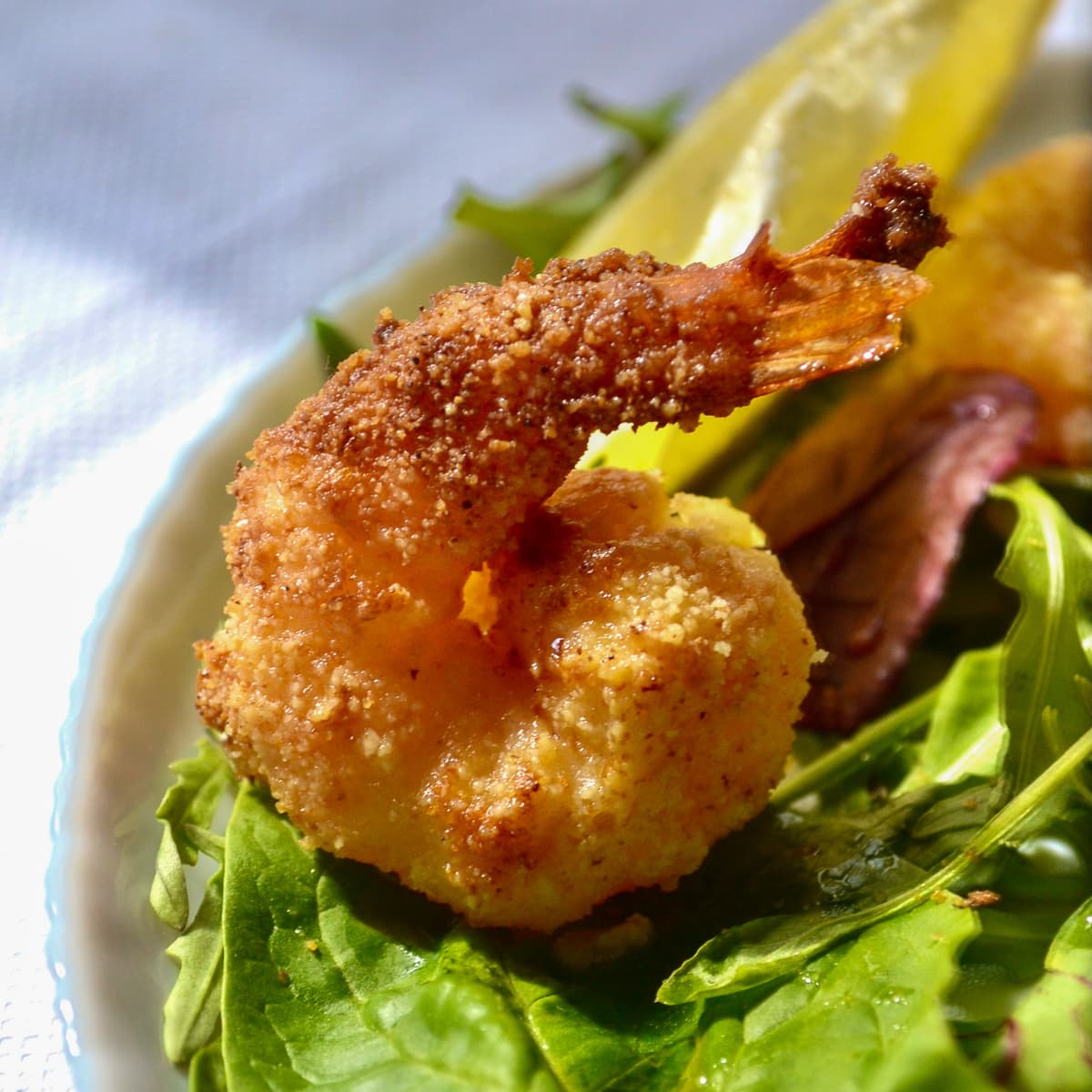 These keto air fryer shrimps are crispy, juicy, and simply delicious. And most importantly—they are healthy and a perfect option for a scrumptious family dinner! These low-carb shrimps are so good that you might end up craving them every week. If you don't have an air fryer, you can make them in the oven or on a frying pan, and they will still turn out incredible.
You won't find an easier keto shrimp recipe anywhere else. This one will take you in total just 20 minutes, and most of the work will be done by your air fryer.
With one serving of these crispy air fryer shrimps, you'll consume a little more than 3 g of carbs, which means you can still eat some more carbs and not exceed the daily limit. This is especially an important factor when being on the keto diet since you won't need to make the low-carb life difficult for you!
Table of Contents
Cooking Tips
It's fairly simple to make the keto shrimps coated in almond flour and butter in the air fryer. But if you're worried that something may go wrong, here are a few tips that will ensure a wonderful result:
Oil the air fryer basket before placing the shrimps. I recommend doing so to prevent the coating from getting stuck to the basket. You can either use a cooking oil spray or oil the basket with a brush.
Halfway through the cooking, flip the shrimp on the other side. This will make the shrimp equally crispy on each side.
Separate the dry and wet ingredients. It is best to use the two-step coating process for these shrimps. If you combine both the wet and dry ingredients into one bowl, the shrimps won't turn out as crispy as they should, and the coating may drip from the shrimp onto the bottom of the air fryer.
Make sure that there is some space between the shrimps. If you put them close together, they will stick, and as a result, you'll get one large fried shrimp bread instead.
If you want a vegetarian keto shrimp coating option, just don't add the eggs. Instead of the heavy cream, you can use either almond or coconut milk. And, if you don't want to add butter, you can substitute it will coconut oil.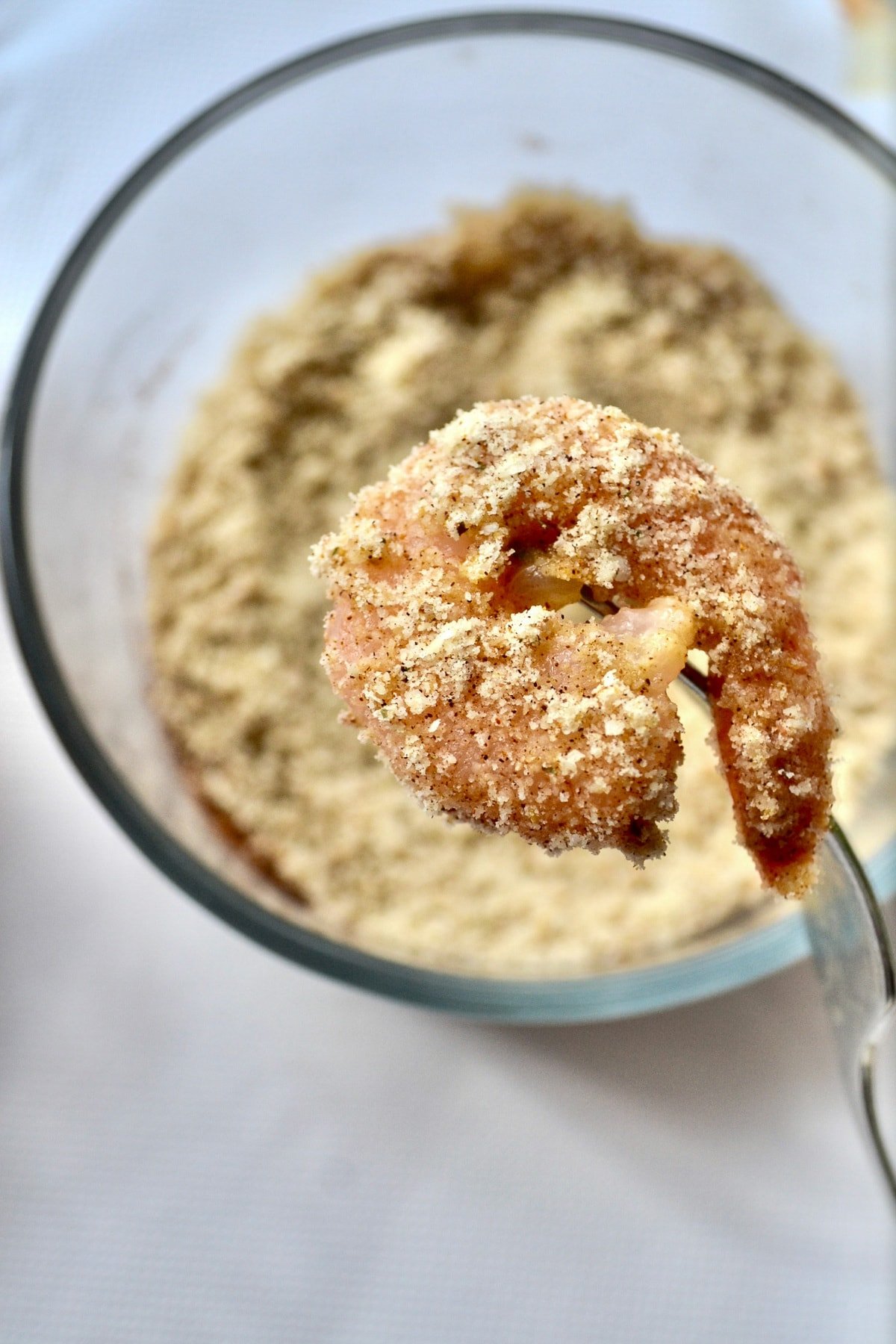 Try to Add These Spices and Herbs
For this recipe, I chose to use simple spices that can be found in anyone's kitchen—garlic powder, salt, and pepper. If you have it, I recommend adding some dried parsley.
Here are some other herbs and spices that would go perfectly with the keto shrimp:
Crushed pepper flakes
Italian seasoning
Paprika
Cayenne pepper
Onion powder
Chili powder
Cumin
Dried thyme
I also love to add this Lawry's Casero Garlic Salt to the shrimp coating. It is so delicious that after trying it once, you won't want to make your shrimps without it since it has everything you need—salt, garlic, and parsley.
Cooking Methods
If you don't have an air fryer yet, then you can try out other cooking methods for these shrimps. Although, I do recommend getting an air fryer since it really makes cooking keto dishes much easier. Plus, it offers you more options. I have a Ninja Air Fryer, and I must say, it never disappoints me.
Alternatively, you can try making the keto shrimps in the oven instead. It is also quick, but it'll take you a bit longer to preheat your oven. Simply coat the shrimps and place them onto a baking pan. Then, spray some oil over them, and cook in the oven preheated to 350 degrees F for 15 minutes.
Or, you can also fry the shrimps in oil on the stove, but it won't be as healthy as with the other two options.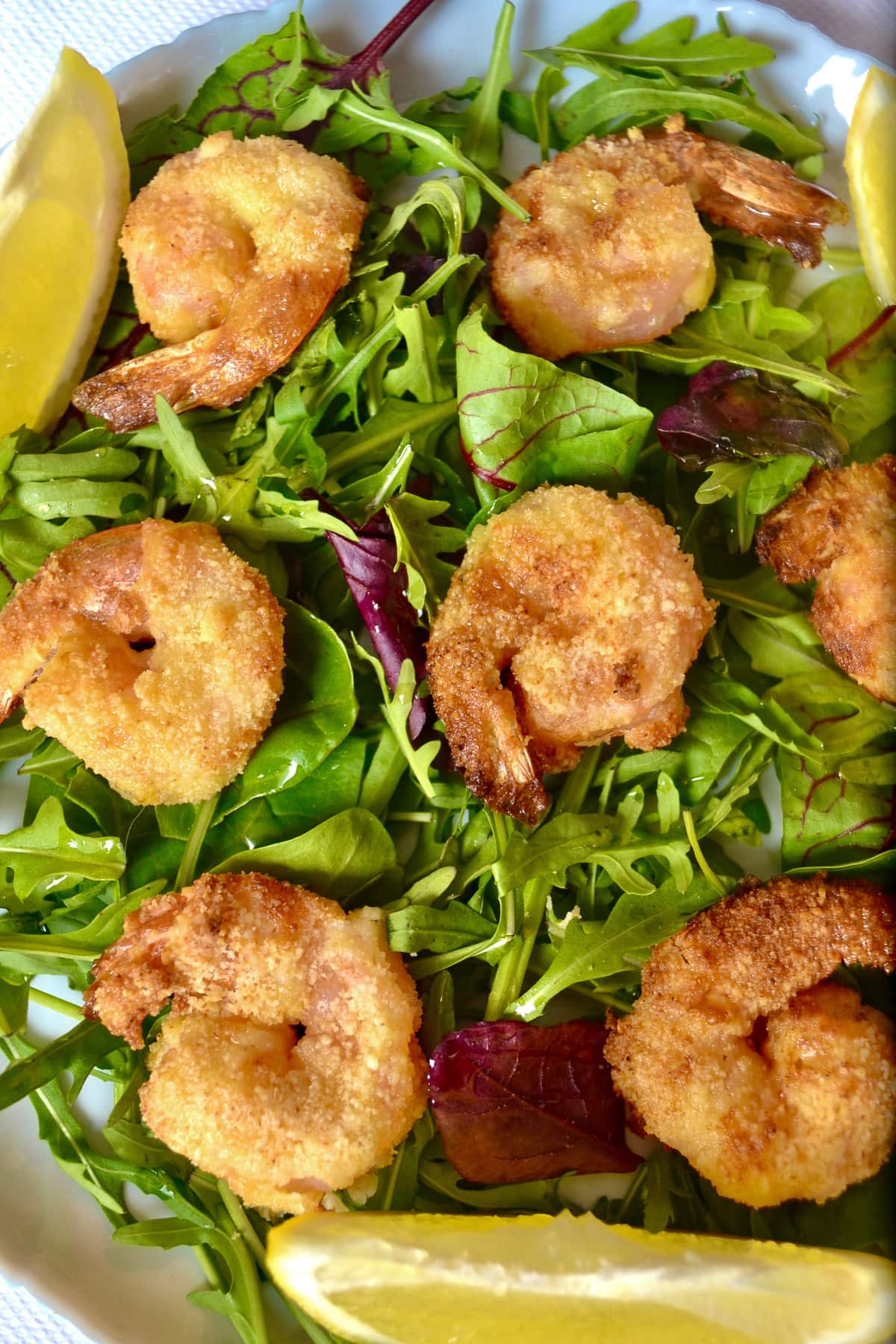 Serving Options
The simplest and tastiest way to serve these keto air fryer shrimps is with the Bang Bang Shrimp Sauce. It perfectly combines with the crispy crust and almond flour coating.
If you want to make your dinner more filling, place the shrimps on top of the alfredo zoodles. They will ideally go together.
Or, if you have any leftovers, then you can add the shrimps the next day to your breakfast. For example, place them inside the breakfast cheese wrap.
How to Store Them
Seal the leftover shrimps in a bag and store them in the refrigerator for no more than three days. Before serving, throw the shrimps onto the air fryer for about 3-4 minutes to return that crispiness.
You can also freeze the shrimps for up to 9 months. But since it doesn't take much time to cook them, I choose not to freeze them. Whenever I'm craving those, I just make a fresh batch of keto shrimps.
Recipe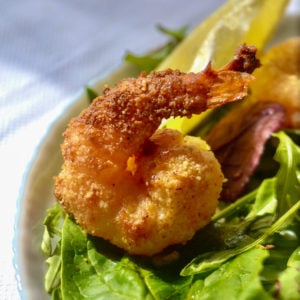 Keto Crispy Air Fryer Shrimp
These keto air fryer shrimps are crispy, juicy, and healthy. They are a perfect option for a scrumptious family dinner, or a great addition to your breakfast!
Ingredients
1

lb

cooked shrimp

peeled and deveined

1

oz

butter

melted

1

large

egg

2

tbsp

heavy cream

6

tbsp

almond flour

1

tsp

garlic powder

1

tsp

dried parsley

optional

salt and pepper to taste
Instructions
In a small bowl, mix all of the dry ingredients—almond flour, garlic powder, salt, pepper, and, if desired, parsley.

In a different bowl, mix together the wet ingredients—melted butter, egg, and heavy cream. Mix everything, throw in the peeled shrimps. Make sure that each shrimp is covered in the egg mix.

Spray the air fryer basket with cooking spray or use a brush to oil it.

Take the shrimps one by one and dip them into the dry mix. Then, place into the air fryer basket. Depending on your air fryer's size, you may need to cook the shrimps in two or three batches.

Set the air fryer to 390F, cook for five minutes, flip the shrimps onto the other side, then cook for five more minutes. Note: In total, you'll need to cook the shrimps in the air fryer for 10 minutes.
Nutrition
Calories:
294
kcal
Carbohydrates:
3.1
g
Protein:
42.5
g
Fat:
20.2
g
Saturated Fat:
4
g
Trans Fat:
1
g
Cholesterol:
458
mg
Sodium:
1213
mg
Potassium:
177
mg
Fiber:
2
g
Sugar:
1
g
Vitamin A:
253
IU
Vitamin C:
6
mg
Calcium:
277
mg
Iron:
4
mg