Everybody knows coffee grounds smell amazing. But have you ever thought about eating coffee grounds? While it might sound crazy, the benefits of eating coffee grounds just might surprise you.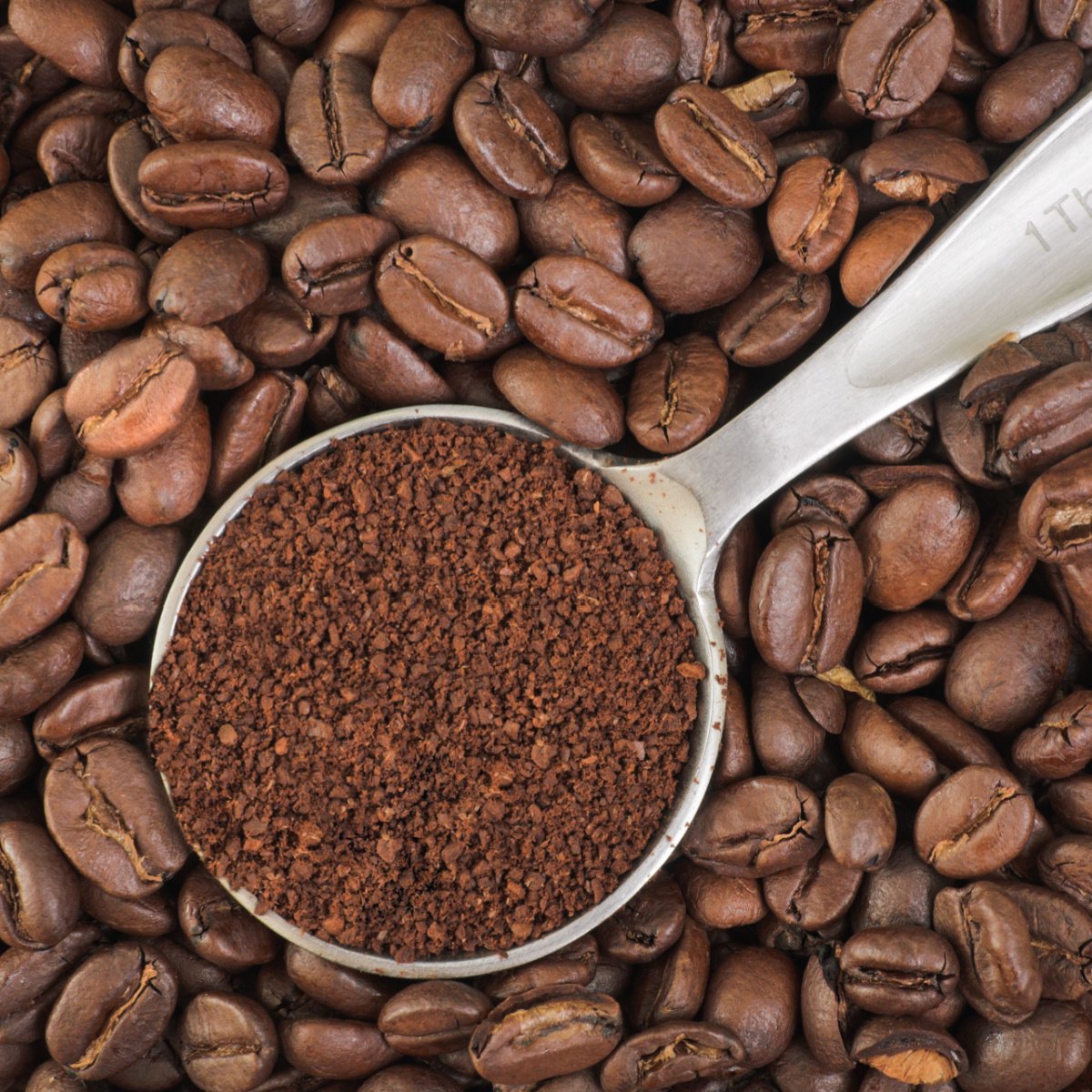 Coffee grounds are safe to eat in small amounts. Eating coffee grounds may provide you with more antioxidants and fiber and promote weight loss.
This article will teach you everything you need to know about eating coffee grounds. By the end, you may have found a new natural way to enhance your health.
Table of Contents
Benefits of Eating Coffee Grounds
So why would anyone eat coffee grounds in the first place? It definitely doesn't sound as appealing as drinking a cup of coffee.
Research shows an array of potential health benefits from eating coffee grounds.
One benefit is that coffee grounds are rich in antioxidants. Antioxidants can help to neutralize harmful free radicals that can cause damage and disease in your body.
Another benefit is that coffee grounds are high in fiber. Fiber can help reduce cardiovascular disease risk, lower cholesterol, and help with gastrointestinal diseases.
A recent study also found that rats that ate coffee grounds experienced more significant weight loss. While eating coffee grounds may not appeal to you, it may benefit your health.
Drawbacks of Eating Coffee Grounds
While there are many benefits to eating grounds, there are also some drawbacks. Before adding coffee grounds to your diet, consider the pros and cons.
The most obvious drawback is that eating coffee grounds is generally less pleasurable than drinking coffee. The texture and taste of coffee grounds are quite strong and bitter.
Another drawback of eating coffee grounds is that they could cause potential bloating and gas. The fiber found in coffee grounds has the potential to aggravate your gastrointestinal tract. This is why it's recommended that you only consume small amounts of coffee grounds.
Coffee grounds may also cause quicker absorption of caffeine in your mouth. While you may see this as a perk, it could be a drawback if you're caffeine sensitive. Caffeine-sensitive individuals may find the caffeine hit to be too strong all at once.
Generally, there is no science to recommend eating coffee grounds in large amounts. Keep this in mind, as eating more coffee grounds may have more negative than positive effects.
Caffeine in Ground Coffee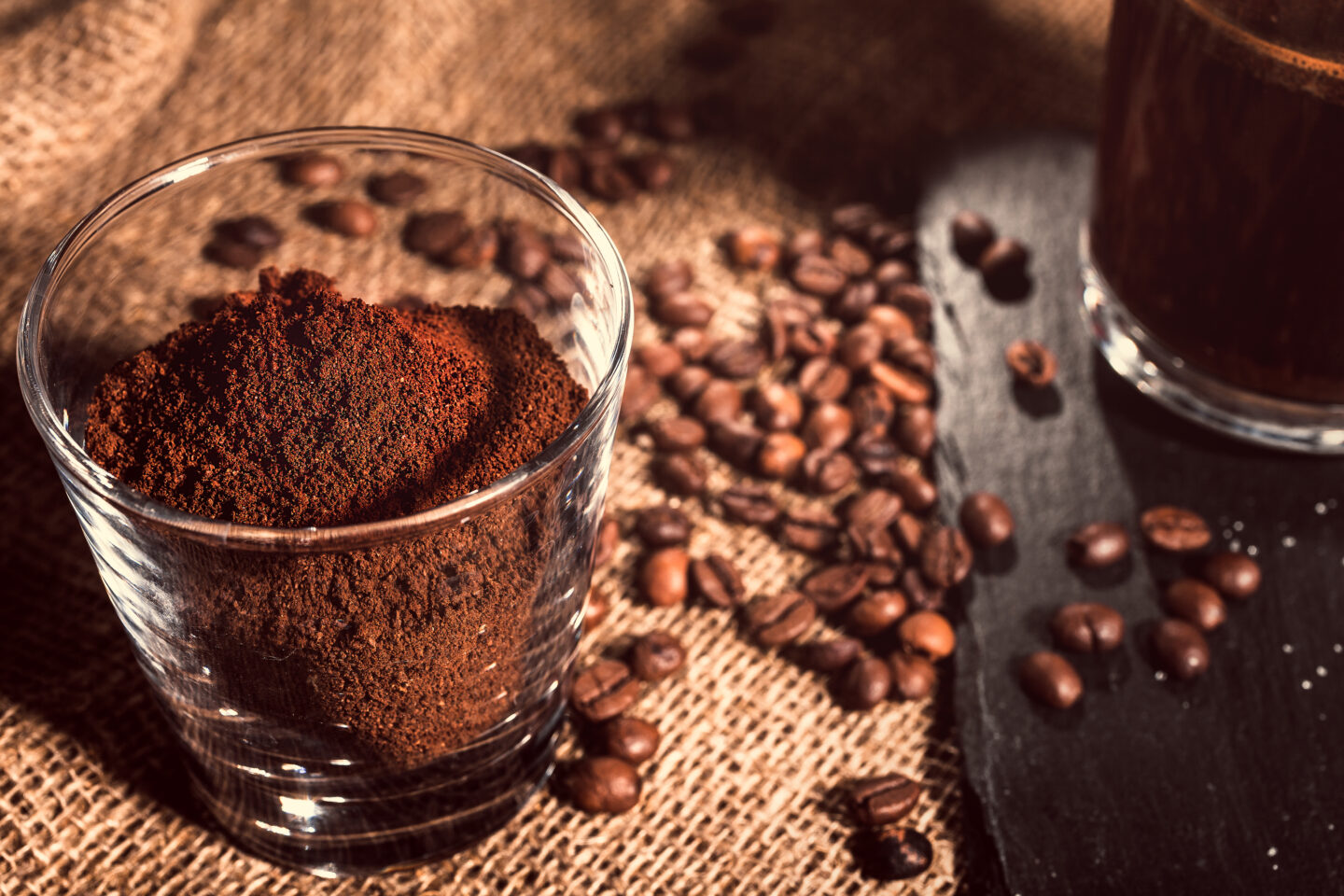 You will get about 60 milligrams of caffeine per tablespoon of ground coffee. This amount could vary slightly based on the roast, the coarseness of the grounds, and the type of coffee bean.
If you're measuring it out based on grams, you will get anywhere from 3.59 and 8.09 milligrams of caffeine per gram.
It's important to note that the caffeine in coffee grounds may absorb slightly faster than in liquid coffee. This is because the grounds will interact more with the glands in your mouth, which results in faster absorption.
So if you're looking for a quick caffeine hit, eating a few coffee grounds might just do the trick.
Will Eating Coffee Grounds Hurt You?
It's only natural to wonder if eating coffee grounds could hurt you. This is partly because we don't see many people eating coffee grounds.
Coffee grounds will not hurt you if you have no dietary restrictions. They have been found to be safe to consume.
However, there are a few instances where you should be cautious when consuming coffee grounds. And if you have health concerns regarding digestion, it's always best to consult your doctor regarding dietary changes.
Individuals with IBS or other gastrointestinal concerns may want to avoid eating coffee grounds. Because of the high fiber content and the increased density of acid in coffee grounds, they could irritate gastrointestinal symptoms.
Individuals particularly sensitive to caffeine may also want to be cautious with eating coffee grounds. Recall that caffeine in coffee grounds is more readily absorbed. This means the caffeine may impact you more strongly.
Eating Coffee Grounds for Weight Loss
Many people don't know that coffee grounds may help promote weight loss.
One study found that rats who ate coffee grounds experienced 5% greater weight loss than those that did not. The coffee grounds also helped lower their blood pressure, blood sugars, and cholesterol.
Keep in mind this study was done in rats. These findings have yet to be replicated in humans, so we can't necessarily assume these results translate to humans.
When trying to lose weight sustainably, it's best to consult your doctor first. But it doesn't hurt to ask your doctor if consuming a small number of coffee grounds may help.
The amount of coffee grounds used in the study was small. So if you do implement this technique, know that you wouldn't need to consume more than one tablespoon per day.
How Many Coffee Grounds are Safe to Eat?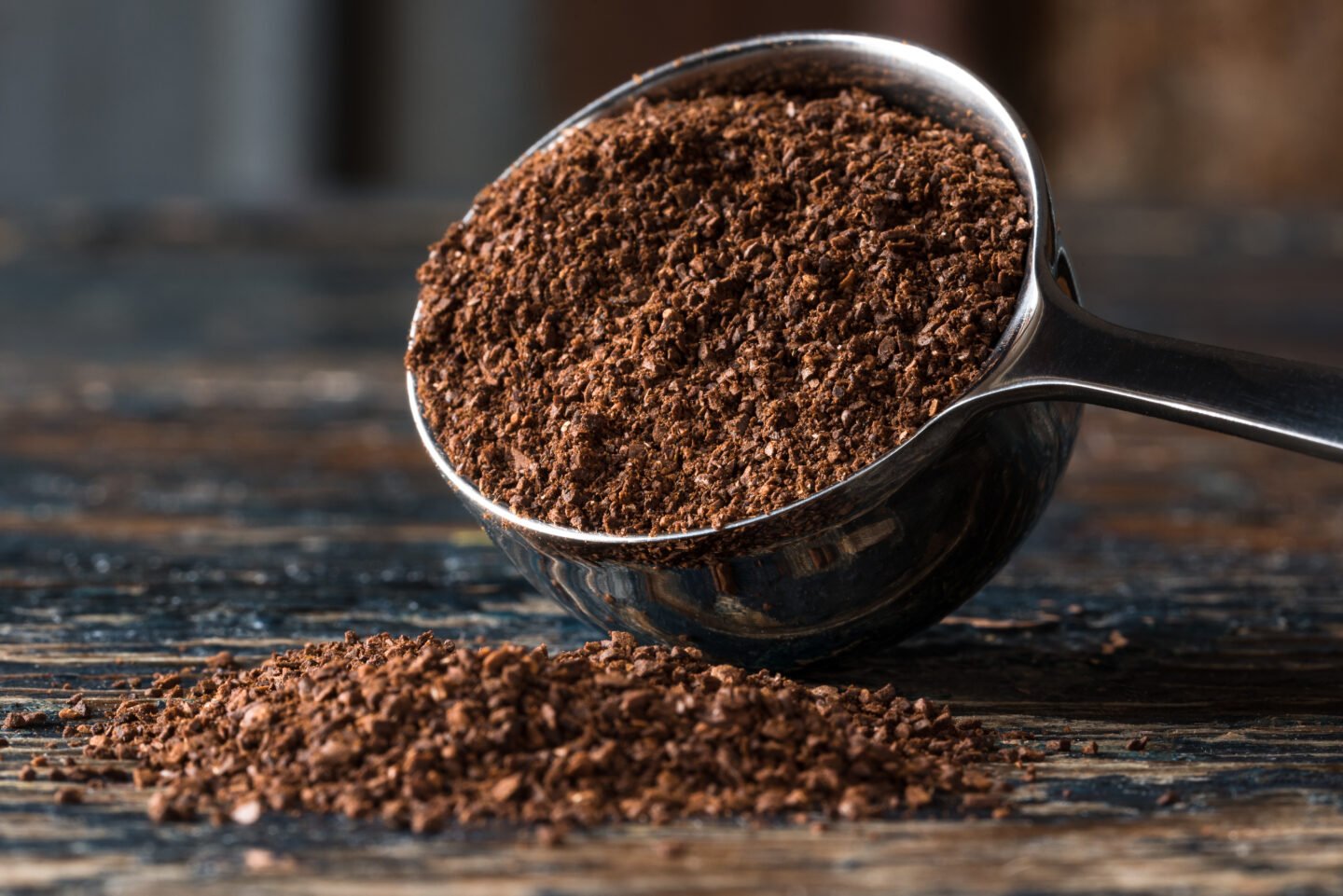 Currently, there are no hard dietary guidelines regarding coffee ground consumption.
Generally speaking, you are not recommended to consume more than two tablespoons of coffee grounds daily. Eating more than this amount may result in gastrointestinal problems.
Many people will start with a small spoonful to test their body's reaction. If you don't experience any gut issues, you may progressively increase it up to two tablespoons per day.
If you are eating two tablespoons a day, that's about 120 milligrams of caffeine. This amount can add up quickly if you're also still drinking caffeine.
Be sure you don't exceed the FDA-recommended caffeine limit of 400 milligrams for your safety.
Fresh Coffee Grounds vs. Brewed Coffee Grounds
You can eat either fresh or brewed coffee grounds. If you do eat fresh coffee grounds, make sure you moisten them with water first. Otherwise, that will make for an unpleasant experience.
Fresh coffee grounds may have more caffeine content as the caffeine has not been infused into your coffee. However, fresh coffee grounds are also slightly more acidic, which can irritate your gut if it is sensitive.
Brewed coffee grounds will still contain antioxidants and caffeine while being less acidic than fresh grounds. Also, the current research on eating coffee grounds is primarily performed with brewed coffee grounds. So the research-backed benefits may be primarily applicable to brewed grounds.
If you're going to try eating coffee grounds, I'd recommend brewed coffee grounds first. And if it goes well, you can get bold and try fresh coffee grounds.
Final Thoughts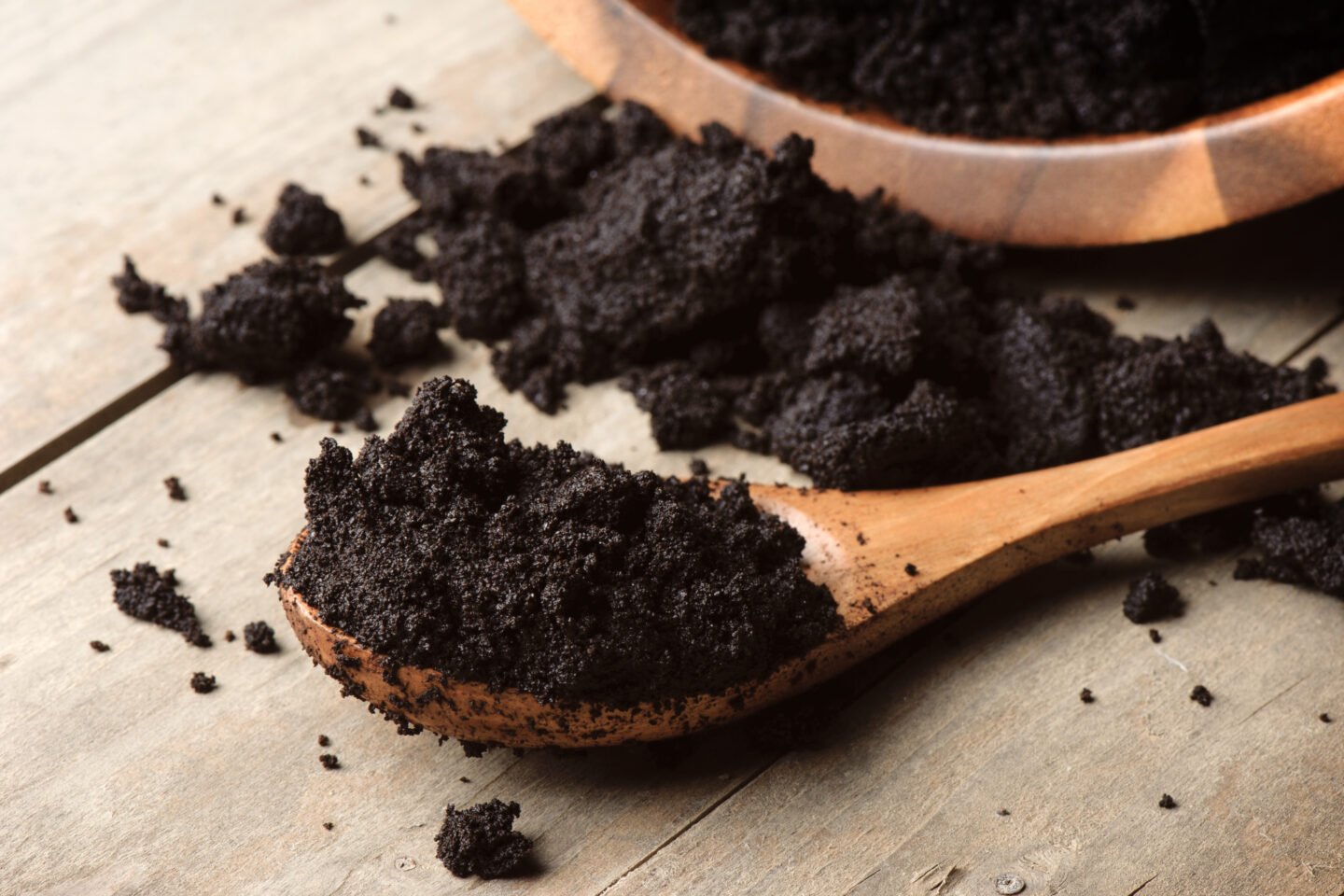 The truth is you can safely eat coffee grounds. And it may surprise you that many potential health benefits are linked to eating coffee grounds.
The potential health benefits of eating coffee grounds include increasing your body's antioxidants and dietary fiber. Animal studies also indicate small amounts may help you lose weight.
Eating coffee grounds will not hurt you if you have no dietary or gastrointestinal issues. However, caffeine-sensitive individuals and people with gut problems may want to be cautious when eating coffee grounds.
There are no strict dietary guidelines regarding eating coffee grounds. It's always best to consult your doctor first, but it's generally recommended not to consume more than two tablespoons daily.
Now that you know all the benefits of coffee grounds, think twice before throwing them away. A small spoonful of coffee grounds daily changes your health for the better.