Coway Air Purifiers are made in South Korea, a fact worth mentioning because the country's capital city Seoul is, according to NASA, one of the world's cities with the worst air pollution.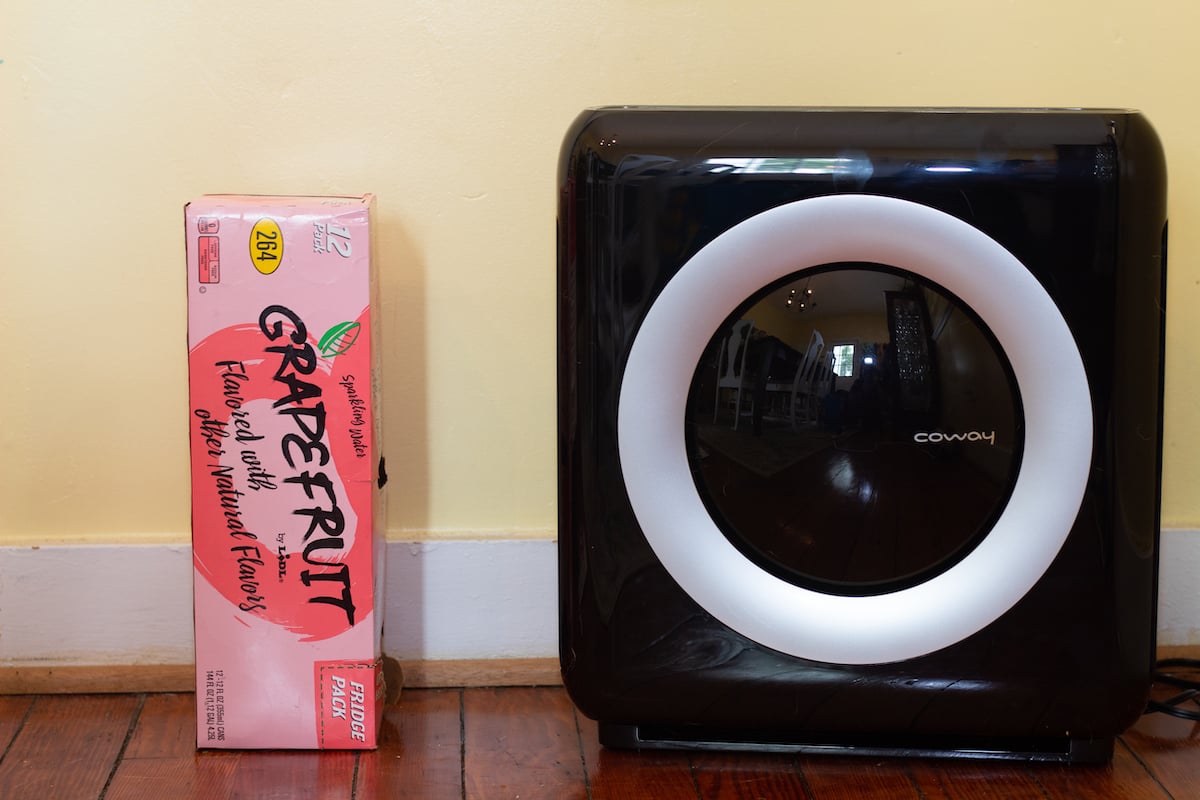 Put another way, people who live there don't have a choice but to take air quality seriously. That seriousness is reflected in the performance of Coway Air Purifiers, which have been verified by the US EPA's Energystar regulator for air purifiers.
This article is not about whether Coway machines can purify air. That fact is clear. It's about which one's perform best relative to their price, and which ones would best suit your home, its size and the pollutants you need to clear most.
Without further ado, let's get right into our reviews of the best Coway air purifiers available right now.
Table of Contents
The clear winner in our eyes is the Airmega 400 air purifier, as it finds the ideal balance between price point and functionality. It does not feature smart controls like the more expensive 400S, but the performance is identical and you get to save.
If you don't need smart controls and want to save just under $100, the 400 is the one for you. It uses an air quality monitor to always keep the air around you clean and high-quality. There are also a number of features to benefit from such as the low noise level and impressive room coverage.
The Airmega Max 2 filtration system is very efficient and doesn't produce any ozone, which is a particularly good benefit for pet owners and new parents.
Here's How We've Determined the Best Coway Air Purifiers
To start out we put the metrics of each machine side by side in an enormous comparison table that is painful viewing for all but the most dedicated data nerds. Here we could compare everything from annual energy costs, to room size coverage. We were even able to compare metrics that are hard for the casual shopper to find, like running costs per sq ft of room size, or actual (not just reported) noise levels.
Then it came to actually testing the machines. We filled rooms with smoke. We slept next to air purifiers. We measured their results with independent handheld air quality monitors to see exactly how each air purifier changed air quality and in what time.
We put the numbers on paper next to the subjective experience of actually using each air purifier and came out with a clear ranking. Here's how that ranking looks, from top to bottom.
Without further ado:
Starting off our list is the Airmega 400 Smart air purifier, with a great room coverage of 1,560 square feet. It can clean this air at least twice every hour, ensuring that you can enjoy fresh and clean air throughout the entire day.
The CADR rating is 350, which is incredibly impressive and one of the best ratings on the market for this price point. This is unsurprising due to the importance of performance to Coway.
The Airmega Max 2 filter is made up of a True HEPA filter and an activated carbon filter to collect odors. The HEPA filter can remove up to 99.97% of pollutant particles as small as 0.3 microns, including pollen, mold, airborne viruses, and fungus.
The filtration system removes more than 99% of VOCs and other fumes such as NH3 and CH3CHO. The Airmega 400 Smart will ensure that the air inside your house is as clean as possible at all times.
Coway has included a pollution sensor that tests the air quality in real-time. The LED rings will tell you the current quality of your air so that you can adjust the settings as soon as possible. Alternatively, the automatic mode can do all of the work for you depending on the air quality.
There are five fan speeds that come with the Airmega 400 Smart - Smart, Sleep, Low, Medium, and High. The maximum fan speed has a noise level of 43.2 decibels, which is equivalent to a library noise. It's also worth noting here that noise levels seem to decrease with more expensive Coway models. Our tests of the much smaller Coway Mighty at full speed showed a decibel level more than 10dB louder.
Here's the decibel reader on the lower-priced Coway Mighty at full speed.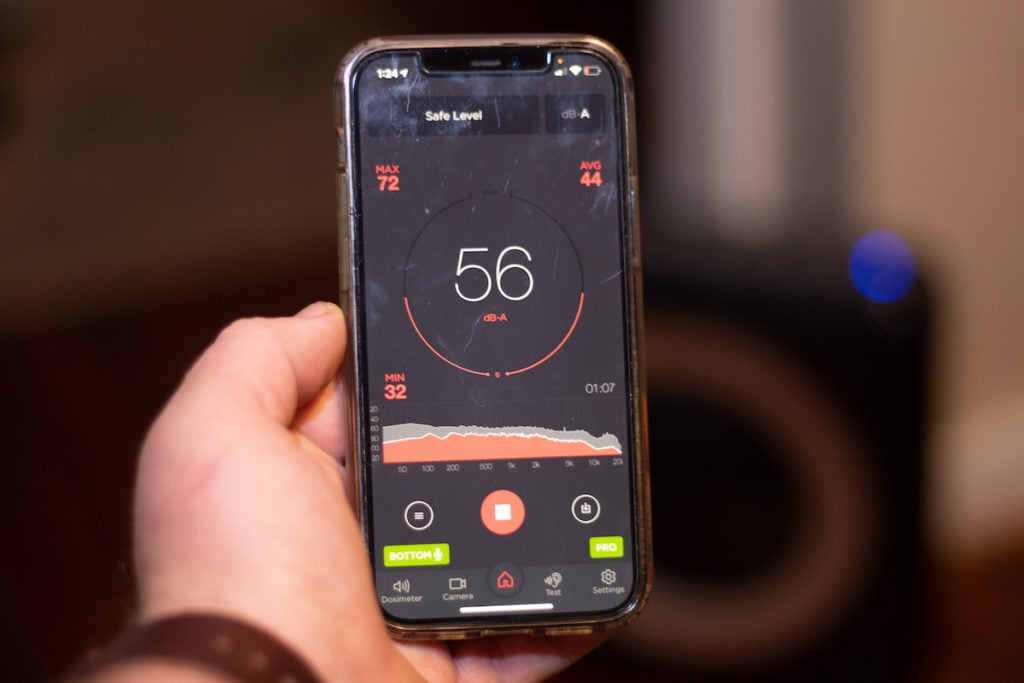 This air purifier has a washable pre-filter that can be used time and time again without reducing its efficiency. The pre-filter is designed to catch larger particles, so it's important to keep on top of its maintenance.
Looking at the customer reviews, the majority of them are very positive and full of happy customers talking about the high-quality air purifier that they received. There are a few negative reviews, although the majority of these are concerning shipping or customer service.
You might be wondering whether you're reading the same review as our #1 pick. However, there is a difference between these two air purifiers! The Airmega 400S air purifier can be controlled through your smartphone by downloading an app.
The rest of the features of the 400S are exactly the same as the 400 Smart air purifier. The price point for the 400S is reasonably higher than the alternative without smart controls, so it's up to you whether you think the additional asking price is worth these two upgrades.
Reason #1 to Choose This Product: Smart Controlled Through An App
The Coway Airmega IoCare app can be downloaded onto your smartphone or tablet to control the 400S air purifier. The app allows you to monitor the air quality both indoors and outdoors so that you have as much information as possible.
The app can also notify you when the filter needs replacing. You can control the speed, control the smart mode, and create schedules so that you can enjoy your air purifier exactly how you want. You can also control the 400S through your home assistant such as Amazon Alexa.
Reason #2 to Choose This Product: Smarter Automatic Mode
The Airmega 400S air purifier also has a smart mode with three settings to automatically adjust the fan speeds to keep the air quality high throughout the day and night. This is the same as our #1 pick, although the 400S takes it one step further and takes another factor into consideration to adjust the automatic mode.
The fan speed isn't just controlled by the current air quality, but it can also be controlled by taking the lighting conditions into account. By doing this, you can keep the automatic mode on throughout the day and night without risking the fan speed being increased to the highest setting while you're asleep.
The Coway Airmega 300 is the smaller alternative to our winning product on this list, the Airmega 400. The 300 can be used in rooms up to 1,256 square feet, which is still a very impressive room coverage for medium to large-sized rooms. Again, it can clean these rooms at least twice in a one-hour timeframe.
Just like with #1 and #2 on our list, this air purifier uses an Airmega Max 2 filter to remove small and large particles as well as odors.
The noise level is the same as the previous air purifiers we've looked at - 43.2 decibels. The thing we like most about the Airmega 300 is that it is similar to the best Coway products on the market but without such a high price point.
Reason #1 to Choose This Product: Smaller Room Coverage
As we mentioned earlier, the Airmega 300 doesn't have as impressive square foot coverage. This isn't necessarily a bad thing, as not everyone needs room coverage of 1,560 square feet. 1,256 square feet is still very impressive and suitable for the majority of medium to large-sized rooms.
The CADR rating is 340, which is slightly lower than the 400 and 400S. However, a rating of 340 is still above the market average and it's very impressive for an air purifier.
Reason #2 to Choose This Product: Lower Price Point
The cost of the Airmega 300 is around $100 less than its larger counterpart, the Airmega 400. Plus, it's even cheaper than the 400S thanks to the fact that it does not feature any smart controls.
If you're looking for an air purifier similar to the Coway Airmega 400 but with a nice reduction in the price, the 300 could be ideal for you.
The Airmega 300S is as close to the 400S as it comes among Coway's portfolio. Essentially, it's exactly the same as the 400S but smaller and less mighty. The room coverage is the same as the 300 with 1,256 square feet. The CADR rating is also the same at 340. Every half an hour, a room at this size will have all of its air cleaned.
The price of this air purifier is similar to that of our #1 pick, so your choice between the 400 and the 300S will depend on whether you value the extra room coverage or smart controls more.
Reason #1 to Choose This Product: Portability
There are very few differences between the 300S and the 400S, although the former does have a lower weight and therefore is easier to transport from room to room. There are about three pounds of indifference with the weight of these air purifiers. While this doesn't sound like too much, your arms will be able to tell the difference after a few moves.
The size is also smaller for the 300S, with it measuring at 13.6 x 13.6 x 21.2 inches. Compared to the 400S 14.8 x 14.8 x 22.8 inches, the 300S is reasonably smaller in size and therefore will be able to fit into your room easier without sticking out. Again, the smaller size helps the 300S to be more portable.
Reason #2 to Choose This Product: Smart Controls
Much like our #2 pick, the 300S can also be controlled through your smartphone, tablet, or home assistant. One interesting thing to note is that the 300S states that it is compatible with Amazon Alexa, Dash Replenishment, and Google Home.
However, the 400S only states that it is compatible with the former two home assistants. This indicates that the 400S cannot be used with a Google Home and therefore the 300S will be the best choice for people with this type of home assistant already set up in their houses.
The 200M is an older Coway air purifier that has remained on the market for so long due to its high performance and loyal fanbase. When it was first released onto the market, the 200M would have been the best option money could buy.
With a room coverage of 361 square feet, this air purifier is much less powerful than the ones looked at previously. It's best used for small to medium-sized rooms, with an automatic mode to remove any hassle from you.
There is still an indoor air quality sensor on this air purifier which is a rarity to find on many similar models on the market. This stands testament to how impressive Coway is and how their customer's health has always been one of their top priorities.
Reason #1 to Choose This Product: Proven Reliability
Despite the Airmega 400 having taken the title of top-of-the-line from the 200M, it still holds up well all these years later. Older models remaining in production despite the release of newer models coming out can only mean one thing - people are still purchasing the old ones.
People are still purchasing this Coway air purifier, which must mean that it stands the test of time. Plus, a lot of the customer reviews are concerning how reliable and long-lasting it is.
Reason #2 to Choose This Product: 4-Stage Filtration System
Until now, we have only looked at Coway air purifiers that use an Airmega Max 2 filtration system. However, Coway also offers a 4-stage filtration system that uses a pre-filter, True HEPA filter, activated carbon filter, and an ionizer.
The ionizer can trap the small percentage of particles that the HEPA filter misses. This makes it all the more efficient and reliable.
Budget Options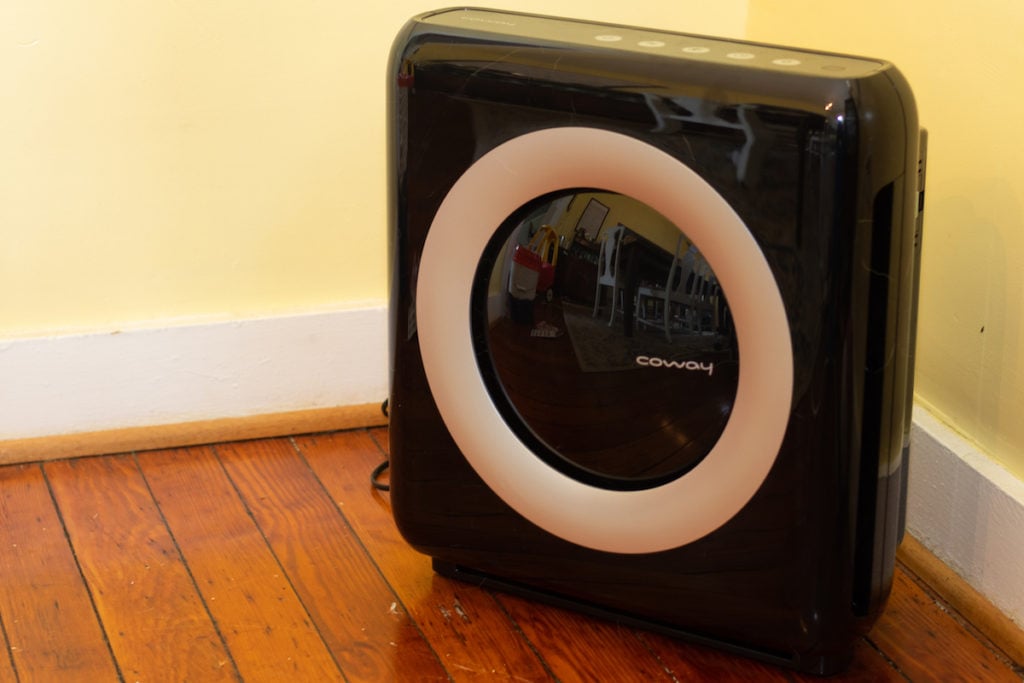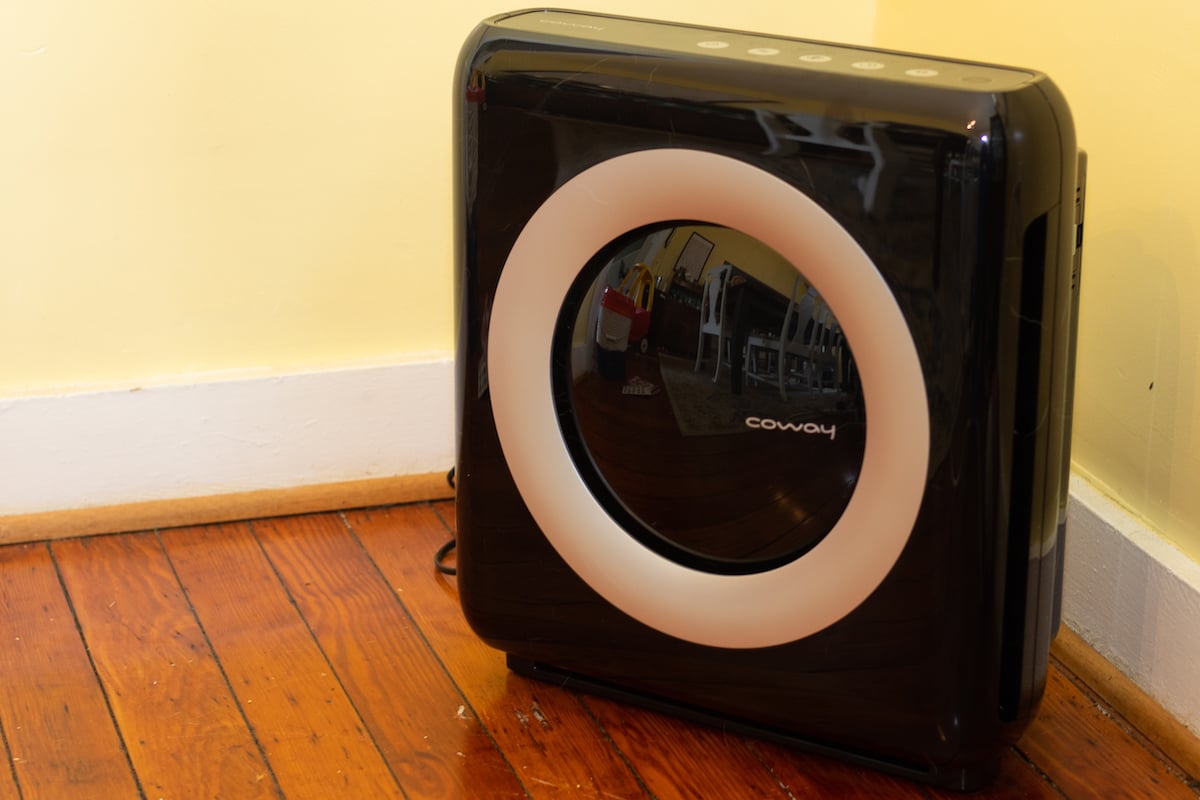 Our favorite budget Coway air purifier is incredibly popular with over 10,000 customer ratings. You might not think that this is a budget pick thanks to its impressive number of features that are also found on the more expensive air purifiers looked at above.
However, the room coverage is less significant at 361 square feet. This is suitable for small to medium-sized rooms. The CADR rating is 246 which is less than the more expensive models, but still impressive according to the market average.
In our tests, it purified a 700sqft room that was filled with smoke, in under 30 minutes. These were the air quality readings in the smokey room: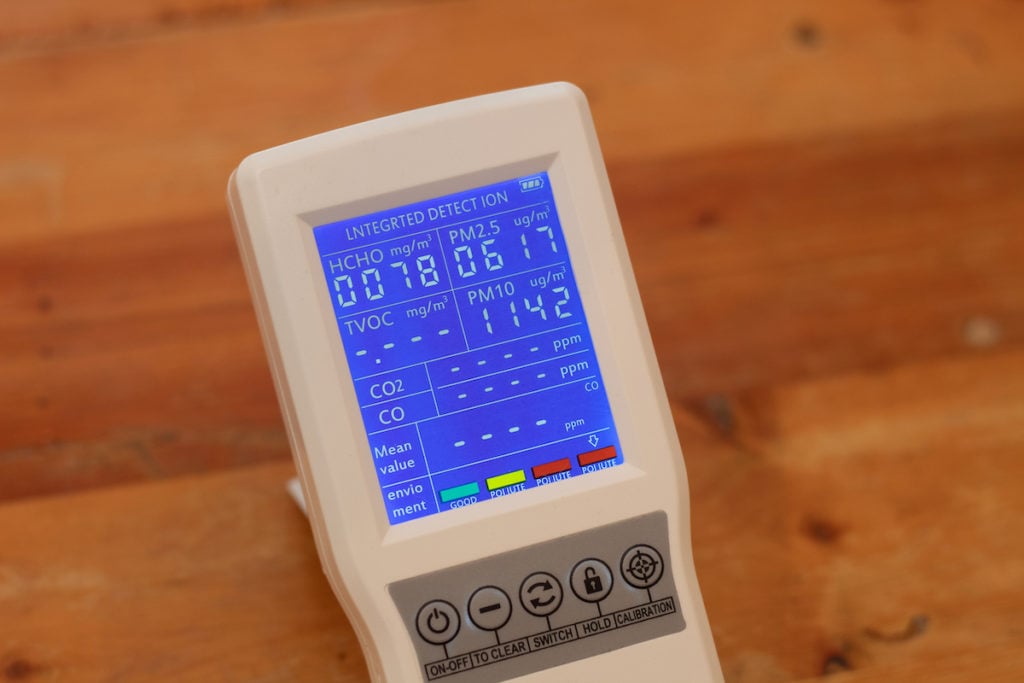 And this is how they looked afterward: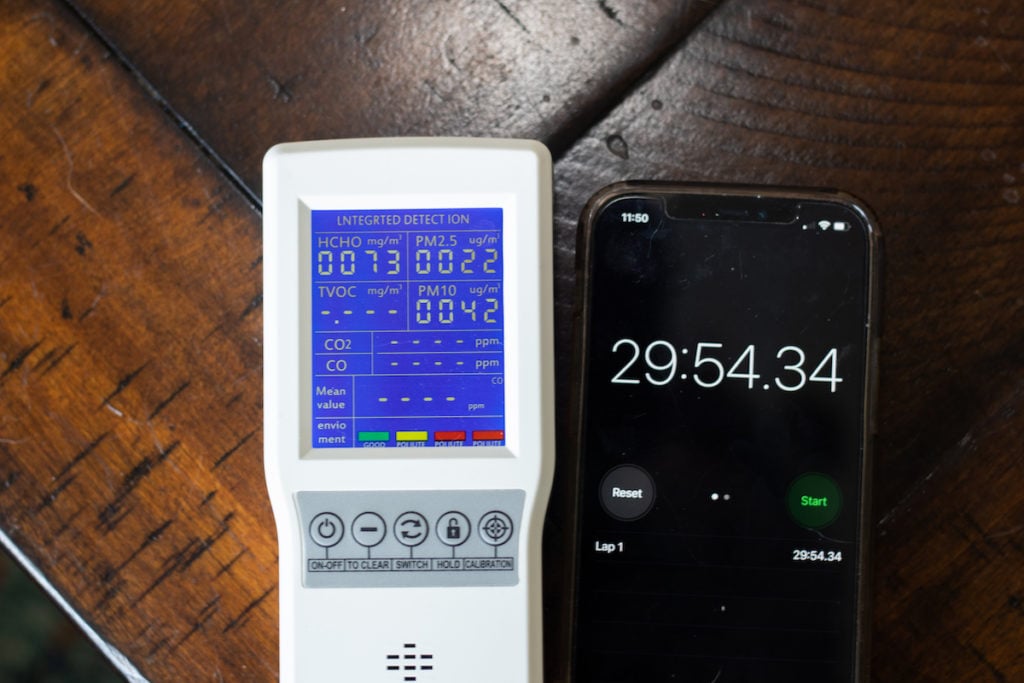 The maximum noise level is slightly higher at 53.8 decibels, which might disrupt your life more than a more expensive Coway air purifier. But at low speed the mighty runs at the sound of quiet conversation: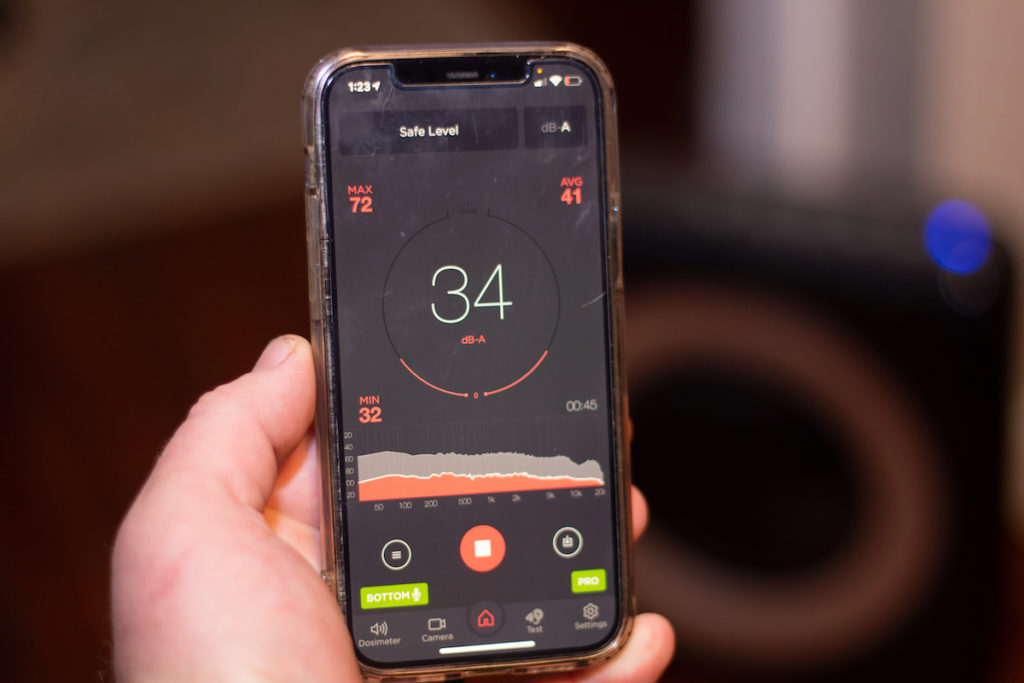 Overall, this is a great air purifier if you're looking for a budget pick. The AP-1512HH works similarly to the more expensive Coway air purifiers, just with a less significant room coverage and CADR rating.
With a room coverage of 330 square feet, the AP-1216L is nowhere near the power performance of the higher-priced models. The CADR rating is 235 which is the lowest that we have seen so far, so a lower price point can be correlated with a less effective air purifier.
The 4-stage filtration system is less effective than the Airmega Max 2 filter. It also uses an ionizer which not everyone is happy with introducing to their home due to the ozone created. The amount of ozone isn't enough to harm you or your family, but some people still believe that it's better to be safe than sorry.
The tower design is taller and more intrusive than the design of the more expensive air purifiers. Coway is not known for its stylish air purifiers, but the tower design is one that looks lower quality than it is.
Our final budget option delivers you a party environment as well as cleaning and humidifying the air. The air purifier releases anoin into the air to clean even the smallest particles. You can use the air purifier model alongside the humidifier mode so that you don't have to choose between the two benefits.
Stand this model on your desk and position the humidifier in any area you want it to. The smaller 200ml capacity means that you'll need to refill this humidifier much more frequently than other more expensive models.
There is the option to use the humidifier sporadically rather than continuously, although previous customers have still found that this feature uses the water up quite quickly.
This product doesn't come with a warranty or any other features that the more expensive air purifiers and humidifiers come with. The lights are a nice touch, but many of the previous customers didn't think that they made up for the lower quality humidifier and air purifying features.
Previous customers even recommended that people should invest in a larger air purifier and humidifier. However, this is a good option if you want a novelty item that also doubles as a nightlight. You'll also need to be okay with the fact that its water needs topping up every few hours.
Verdict: Your Best Coway Air Purifiers
If you want the best value for money, the Coway Airmega 400 is the best air purifier on the market.
If you'd prefer an air purifier with smart controls through your phone, pick the Airmega 400S or 300S.
If you don't need room coverage as substantial as the Airmega 400, choose the Airmega 300.
If you want to keep the spend low, pick the Coway AP-1512hh Mighty.
All of the Coway air purifiers that we have looked at today have similar functions and benefits. They are marginally different, so you'll need a clear idea in your head of what you want from your air purifier before choosing one from Coway's portfolio.
What Should I Look for When Buying Coway Air Purifiers?
When looking for your new Coway air purifier, there are a few things that you should be aware of before jumping into a purchase. While the manufacturer might be the same, not all of their air purifiers will perform the same.
Below is a list of criteria that you should bear in mind when comparing the different Coway air purifier options.
Criteria #1:

Filtration System

Coway has adopted its own filtration systems for two of its air purifier series - Airmega Series and AP Series. The Airmega Series uses an advanced version of a typical filtration system called the Airmega Max 2 filter. This combines both a True HEPA filter along with an activated carbon filter for odors.

The Airmega Max 2 filter can catch incredibly small pollutant particles as well as larger ones, such as mold spores, smoke, dust, and much more. The carbon section of the filter can capture household odors, cigarette smoke, among other undesirable scents.

On the other hand, the AP Series uses a 4-stage filtration system that includes a True HEPA filter, a pre-filter, a deodorization filter, and a vital ionizer. This can capture particles up to 0.3 microns in size and improves air quality greatly.

Both of these filtration systems are impressive and very effective, although the Airmega Max 2 would take the lead slightly in our opinion. The Airmega Max 2 filter can remove particles from much more significant spaces than the AP series filter.

The 4-stage filtration system also uses an ionizer to remove more particles from the air. This can create a small amount of ozone which many users tend to steer clear from as when inhaled it can cause harm to the lungs.

However, the amount of ozone created from air purifiers is not usually enough to pose a threat to you or your family. Nevertheless, some people still choose to stay away from air purifiers with ionizers, especially if they have pets or young children.
Criteria #2:

Room Coverage

Most air purifiers are rated for their room coverage with the use of Clean Air Delivery Rate (CADR). As we mentioned earlier, Coway is determined to make their air purifiers have the best performance that they can, so their CADR should be among the most impressive on the market.

CADR is measured in Cubic Feet per Minute (CFM) and tells you how effectively the space is going to be cleaned by the air purifier. Most air purifier brands will have products with CADR ratings below and above 200, but not all will be consistently high.

However, all of Coway's products that we have looked at above have an exceptional CADR rating of above 200. Many of the air purifiers from this manufacturer actually have even higher CADR ratings than this, but 200 is the lowest they go for.

The higher the CADR, the more space an air purifier will be able to cover effectively.

You can also check the Air Changes per Minute (ACH) for Coway's air purifiers to see whether they're best for you. An air purifier with a higher ACH will be best for places with high air pollution as the air will constantly be being changed and cleaned to prevent the pollutants from taking over again.

If you live in an area of less pollution, you might opt for an air purifier with a lower ACH to save energy and keep the noise level low.
Criteria #3:

Noise Level

Speaking of noise levels, that of an air purifier should be low so as to not disturb your daily activities. However, many air purifiers with impressively high CADR ratings can be rather noisy and sometimes even have noise levels of 60 decibels and above.

55 decibels is around the same noise level as a refrigerator. While this might not sound too loud, hearing this constantly throughout the day and night can quickly seem louder than it really is.

So the low noise level on Coway air purifiers is a welcomed surprise. All of Coway's air purifiers have a noise level of below 55 on the highest setting, with this number dropping to the low 30s while the machines are on low speed.

Coway might not be the quietest of air purifiers on the market (some dip just below 30dB in real tests, but it's rare), but the impressive CADR rating makes the slightly higher noise level bearable for many customers.
Criteria #4:

Price

As we have already mentioned, Coway tends to have higher price points than other air purifier brands on the market. You might be wondering whether it's worth spending the extra amount on a Coway machine or going for a cheaper alternative.

In our opinion, the additional cost is more than worth it for a Coway air purifier. They are high-performance machines, and if you compare this to the price per performance rating, Coway air purifiers are actually some of the best air purifiers out there.

So, opting for a higher price is definitely worth it. However, if you don't want to spend so much on an air purifier but still want to enjoy the benefits of Coway products, you can opt for a budget option that we have listed above.

Budget picks are not going to have such a high performance as the more expensive Coway air purifiers. Whether the saved money is worth it will be down to your personal opinion.
Is a Coway Air Purifier Definitely Right For You?
Coway air purifiers have high-performance ratings and therefore are best for medium to large-sized rooms. There is not typically one model ideal for just small rooms, so if you have a small space you might want to opt for another brand to avoid wasting money on energy costs.
Coway air purifiers are generally considered expensive so they might not be the best choice for people on a budget. While there are budget picks from Coway's portfolio, there might be other air purifiers on the market that are of high enough performance for your needs, at a lower price.
FAQ #1:

Are Coway Air Purifiers Good?

Based on their performance relative to price, Coway air purifiers match up well with the highest quality machines from the biggest air purifier brands like Honeywell, Levoit, Blueair, or Alen.

They have completed verifications that only the most dedicated brands bother with, like the US EPA's Energystar rating program. This means their performance is independently verified and they can't make performance claims that are unsupported.

So by performance alone, objectively yes, Coway Air Purifiers are as "good" as the best brands. But there are other features that set Coway apart too.

Relative to performance their noise levels are typically low compared to other brands.

Many people also find them aesthetically more pleasing than more sterile, industrial-looking machines. They look like a cool piece of technology that belongs in a modern house or apartment.

It can be difficult to find a high-quality air purifier with an air quality sensor built into it. However, Coway includes this feature onto every one of their machines, as well as an automatic mode to work alongside it.

As you can see from our #5 pick, Coway air purifiers also stand the test of time and work well for much longer than other air purifiers on the market can.
FAQ #2:

Why are Coway Air Purifiers so Expensive?

Following on from our previous FAQ, Coway air purifiers are able to have higher price points thanks to the premium build quality, excellent longevity, and superior features that can otherwise be difficult to find in other brands of air purifiers.

We wouldn't consider Coway air purifiers to be overpriced, as you're paying for the convenient features such as the high ACH and low noise levels. However, some people do not believe that these features are worth the extra money and therefore opt for a cheaper air purifier from another brand.
FAQ #3:

Where are Coway Air Purifiers Made?

Coway air purifiers are made in South Korea and shipped to their final destinations. Since being founded in Korea, Coway has not strayed from its roots and decided to remain in the same place for over 30 years.

Coway ships its products to over 40 countries, with the USA being one of their largest customer bases. They're also verified by the US EPA's Energystar rating system.