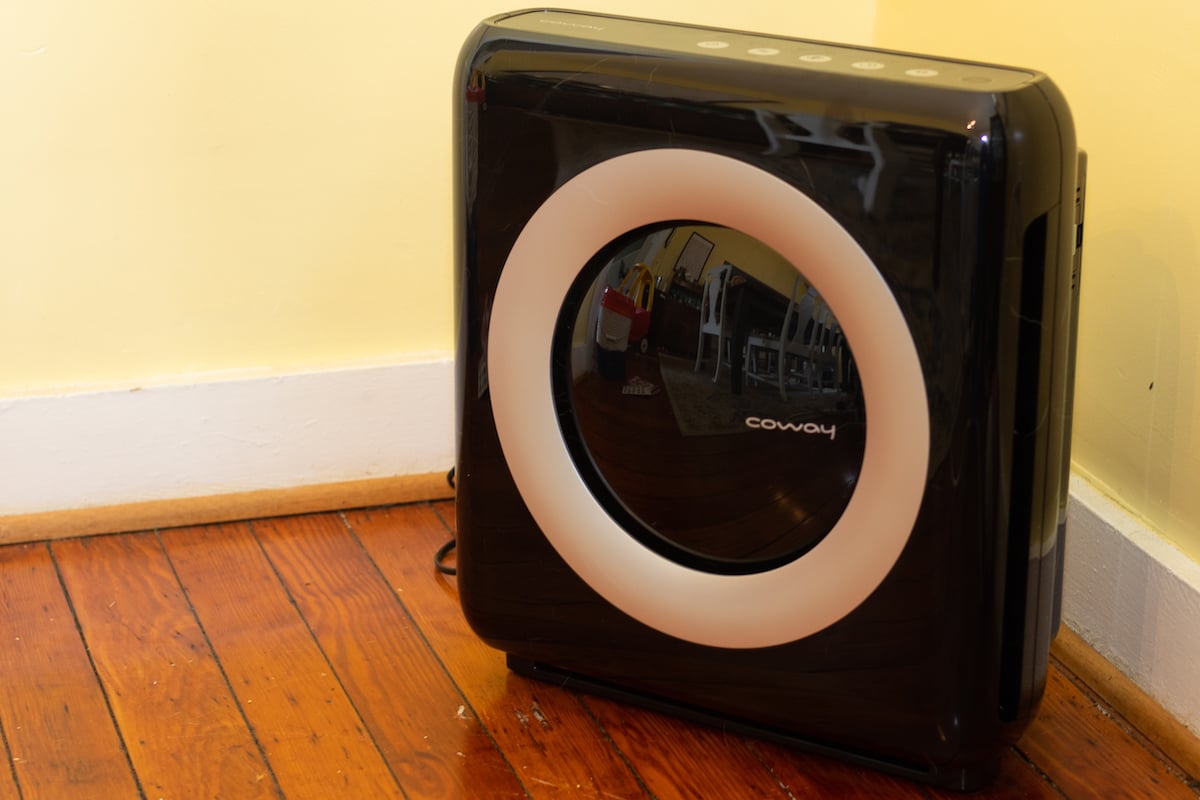 I feel like every year my seasonal allergies get worse and worse. Maybe it's living in an area that has traditionally high amounts of pollen and allergens, or perhaps it's my two dogs tracking in pollen/contaminants on top of their pet dander. Regardless of the reason, this year I have been suffering more than ever and I decided it was time to get an air purifier.
During my search for a new portable air conditioner, I had the chance to test the Coway AP 1512-HH air purifier for a week. During that week I ran several tests to assess how best this air purifier could be used at home. I used it in smaller rooms like a bedroom or nursery and larger environments like my kitchen and living room.
After a week of testing, I found that despite its larger size, and odd design, I really enjoyed this air purifier. With a great auto mode feature, 3 separate speeds, an eco mode along with a four-stage filtration process, the Coway Ap 1512hh mighty air purifier makes it easy to keep the air in your home at the highest quality possible.
Table of Contents
What's in the Box?
The Coway AP1512 is a larger air purifier than some I've seen, at around the size of a small television it needs a larger amount of packaging and the box itself is quite bulky. Inside the box I found:
1 Coway Ap 1512-hh air purifier
1 User's Manual
1 quick start guide
The air filter came wrapped in plastic and had to be removed from the air purifier and unpacked before I could start it up for the first time. The air filter is composed of two separate pieces and includes:
1 Hepa Air Filter
1 Activated Charcoal Pre Filter
How Does It Look/Feel/Sit?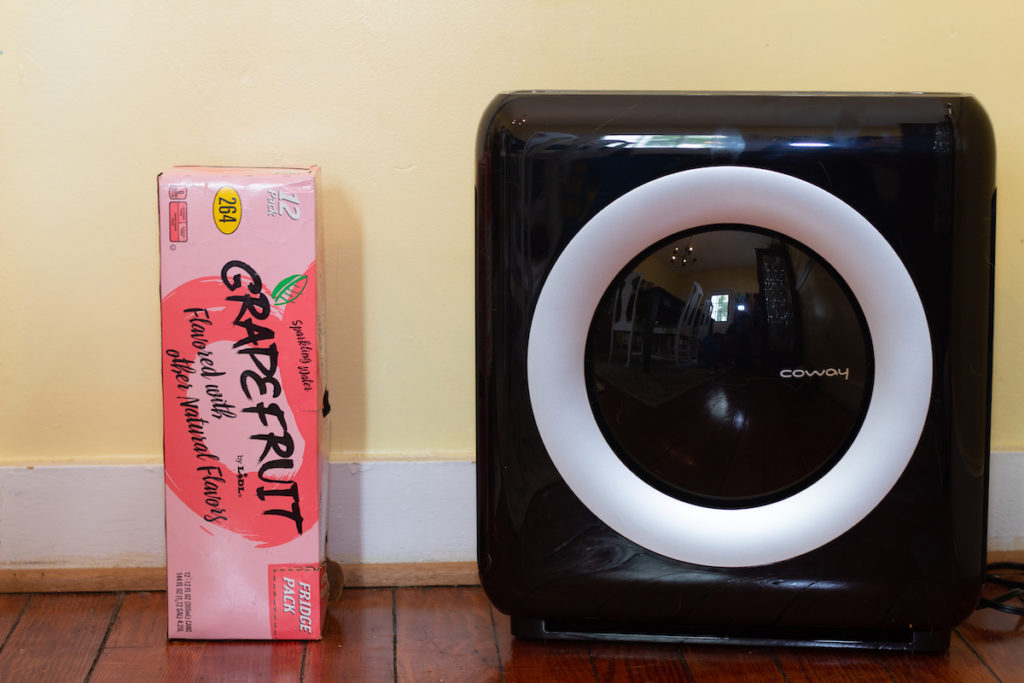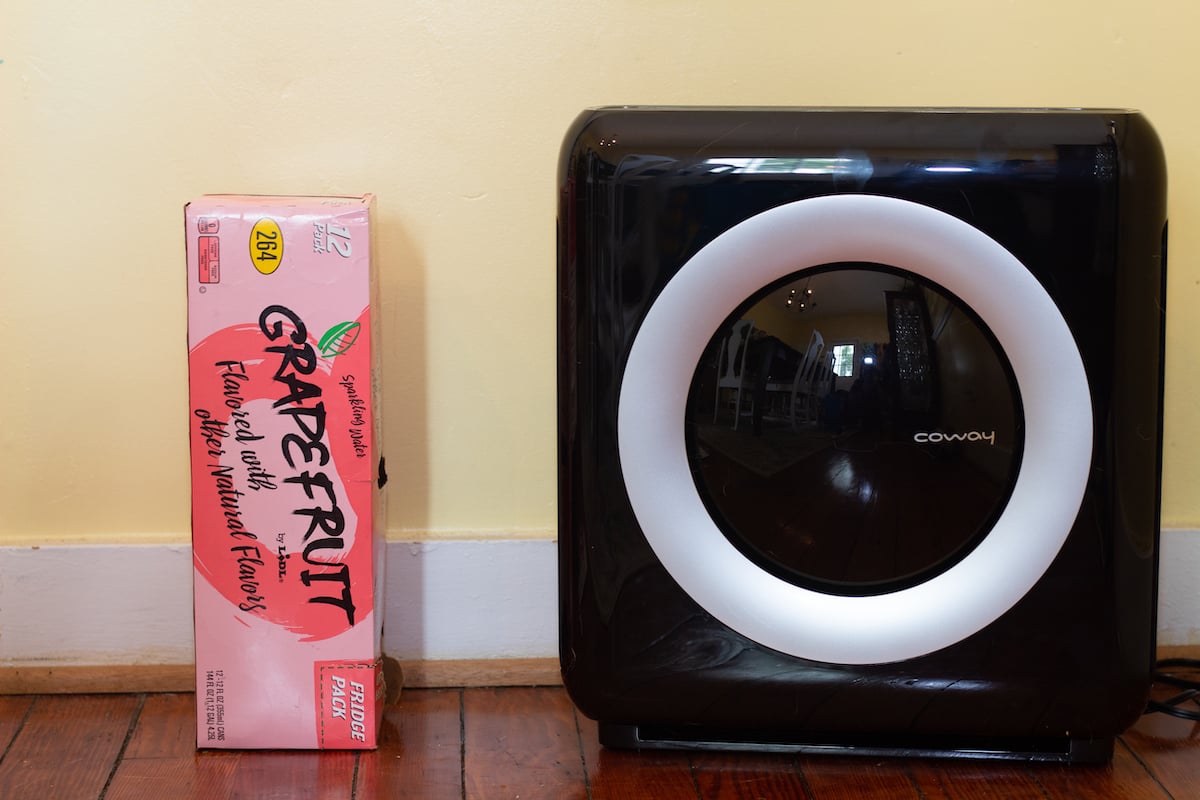 The Coway AP 1512hh air purifier comes in two color finishes, white or black. In my case, I had the black version. The air purifier comes wrapped in a plastic coating that gives it a static charge when removed and it immediately began drawing pet hair to its surface (I have a long-haired dog and this is a pretty consistent issue around our home). Once I wiped the machine with a damp cloth it helped to discharge most of the static energy and it became less of an issue.
The Coway ap1512hh is 13.3" X 18 x 6.5 and is about the size of a small/medium tube television. It has a light grey ring around the large air inlet section at the front of the purifier and the air outlet is located on a protrusion at the back of the machine. The control panel is top-mounted and has 3 fan speeds, an ionization function, eco function, auto setting, and air quality indicator light.
This air purifier is larger than many I've seen and is appropriate for medium-sized rooms or apartments. It can cover up to 361 square feet so it's perfect for a living room or a study.
How Easy is it to Set Up?
The instructions provided were easy enough to understand even with a larger feature set than many air purifiers. I set it up in my living room and got it ready to run for the first time. Once I got the machine unpacked and the filters unwrapped, I plugged in the air purifier.
The air purifier blinked to life with a small electronic chime and the air quality indicator light immediately let me know the air quality in my living room was at the highest level. Even with great air quality in the room I still set the fan to the third setting and allowed it to run for a bit to get a feel for how the machine sounded and operated.
Overall, the Coway Ap 1512hh is incredibly easy to set up and requires little effort to operate effectively.
Test #1:

General Air Clean

To get a good baseline for the performance of the Coway AP 1512hh I wanted to set it up in a larger room where I could hopefully see the largest overall difference. To begin I took a reading of the air in my living room using my handing air quality meter. I was surprised to find that my air was actually quite clean despite my pets and the higher-than-average pollen this season.

Here's how the measurements looked after the initial (non cleaned) test: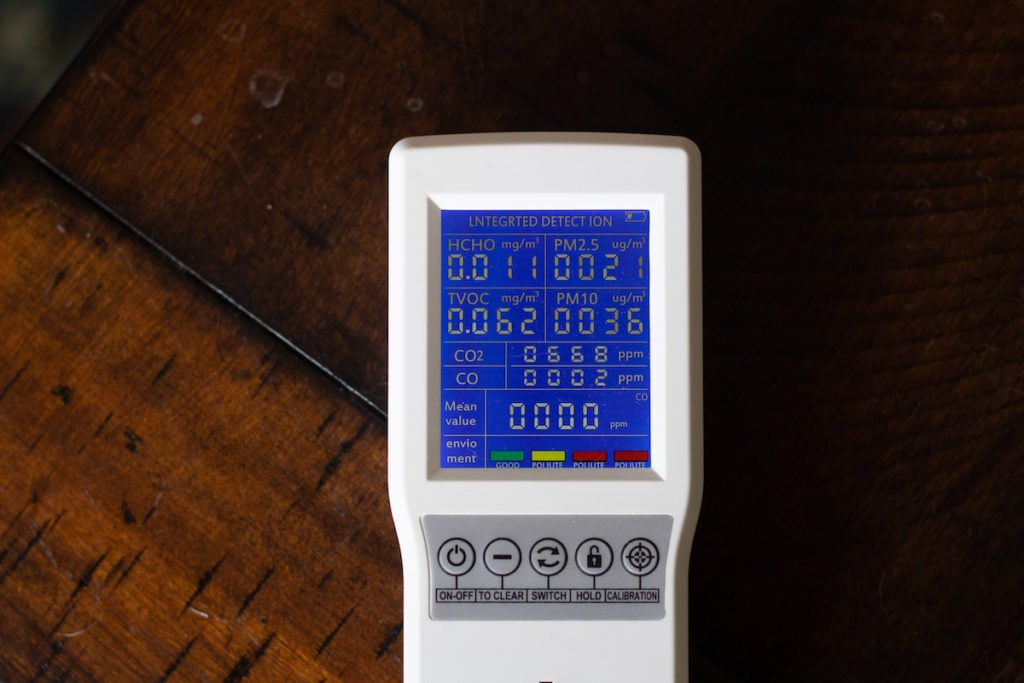 I have an older home that was built in the early 1920s and with that comes higher ceilings, especially in my living room. While I love my high ceilings, my ~360 sq ft living room is actually much larger than most when you consider the added factor of it being a 3-dimensional space. While most air purifiers quote their range in sq ft, it's important to take into account the height of the ceilings in a potential room, because this can certainly affect the performance of your machine.
Next, I set up the Coway AP 1512HH and set it to the highest speed or the third fan setting. At this speed, I hoped to get a feel for how long it would take to achieve stable, high-quality, purified air.
I noticed the values on the air quality meter fluctuating for around 30 minutes before they finally stabilized and I felt the air quality had reached an optimal level. While the values on the air quality meter didn't change greatly, I did immediately notice a fresher, less stale quality to the air as some of the household odors were captured by the activated charcoal filter.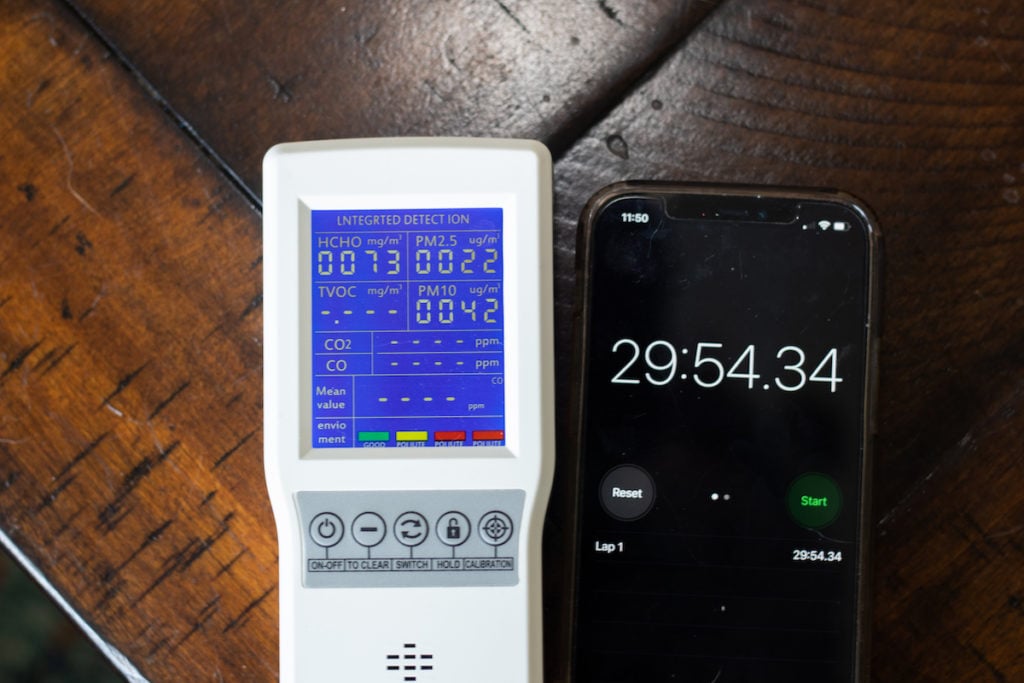 While an air purifier like the Coway Ap 1512hh can make a huge difference in your quality of life, unless you have spectacularly poor air quality to begin with, this might be less immediate. If you are a smoker or live in an area with a high level of air pollution you will definitely notice a more instant difference in your air quality, while in my case the benefits took a little longer to directly observe.
Over the week of testing, the benefits of having an air purifier became more and more distinct as time went on. I found myself waking up with less congestion, and my allergies became less noticeable as the Coway AP 1512hh continued to remove fine dust, indoor air particles, and even volatile organic compounds from the air.
Test #2:

Purifying Cooking Smoke

While my air quality is generally very good at home, I cook a lot and like many home cooks, I'm prone to creating a lot of cooking smoke and odors throughout the process. I wanted to test how the Coway ap1512hh could purify smokey air I decided to cook one of the smokiest foods I know, pan-fried bacon.

To begin my test I started by preheating a cast iron skillet on my stovetop and filling it with sliced bacon. I fried the bacon until crispy and opted not to turn on the vent fan over my stovetop to ensure the smokiest environment possible. After the bacon was crispy I let the pan continue to heat with just the bacon grease inside, again to ensure I created the smokiest kitchen possible.

At this point, standing in a very smokey kitchen/dining room, I took a reading on my air quality meter and found that the air in the room was at its lowest possible level, with a lot of airborne particulate matter present. I plugged in the Coway Ap1512hh set the fan speed to the highest setting and started a timer on my phone to see how long it would take to clear the air in the room.

Here's how the numbers looked in my really smokey kitchen: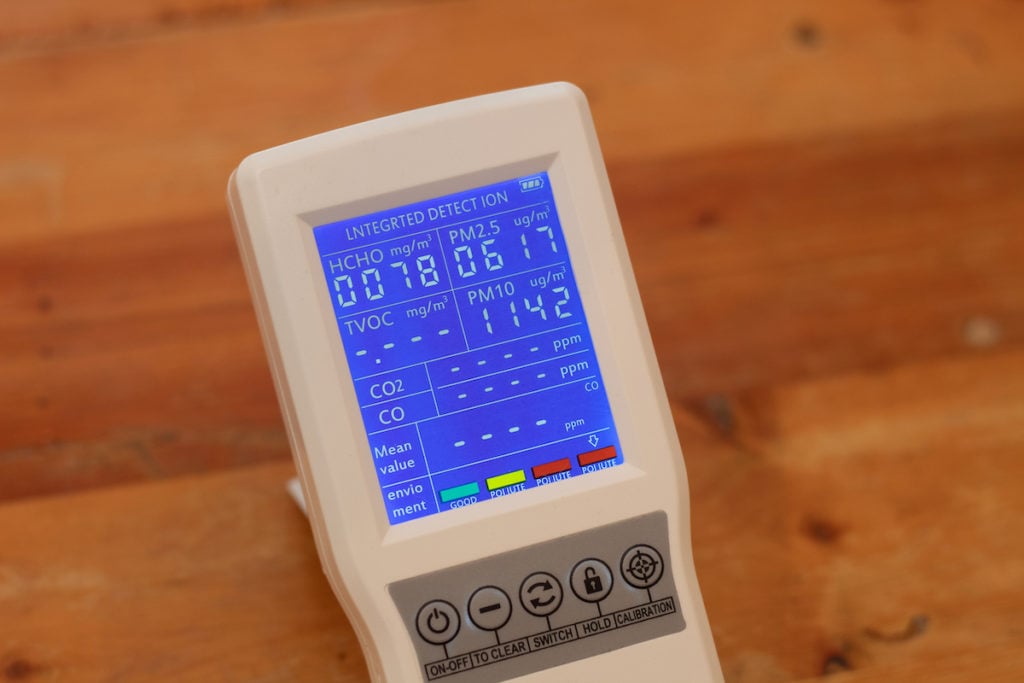 Given that I don't have an enclosed kitchen space, I was really surprised at how quickly I saw an improvement in the air in the room. While my kitchen is only ~110 sq ft in size when you combine that with my living room and dining room it comes out closer to 700 sq ft in total, which is definitely beyond the outer edge for this air purifier in terms of coverage.
Even with my open floor plan, the air in the space started to improve after 5-10 minutes.
It only took 45 minutes to move the air quality in my 700sq ft kitchen/dining room/living room from the highest level of pollution, back to completely clean air.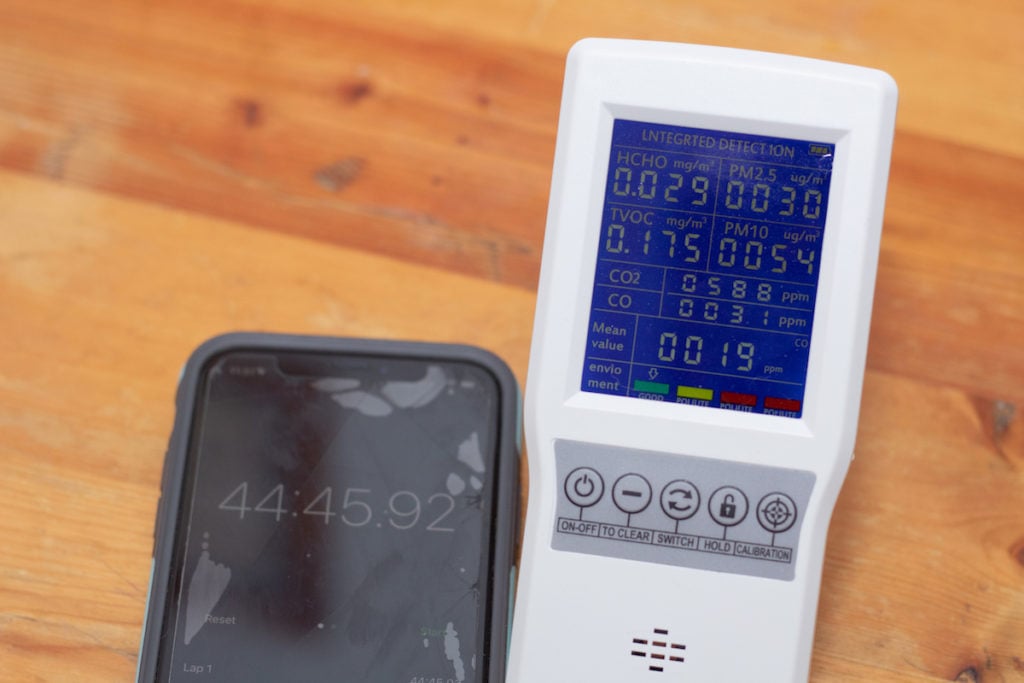 While there was still a lingering scent of cooked bacon after the air was deemed "clean" by my air quality meter, but that has more to do with the fat from the bacon clinging to my stovetop and kitchen surfaces than the air itself.
Test #3:

Night-Time

I can sleep through just about anything so nighttime noises aren't really an issue for me. Even though the Coway Ap1512hh is a noisier air purifier than others I've tested before, especially in the highest fan setting, it's really no noisier than a white noise machine or box fan.

Throughout my week of testing, I would regularly keep this air purifier in the eco mode, especially when sleeping. This allowed me to keep the noise to a minimum while still maintaining all the benefits of this incredible air purifier.

While I couldn't turn the air quality indicator light off while the air purifier was plugged in I never found this to be an issue. Though the air quality indicator does create a small amount of light pollution from the led indicator light, it isn't more than a small, soft night-light and definitely didn't cause any issues or disturbance while I was trying to sleep.

Waking up after sleeping with the Coway AP1512hh for an evening was a truly wonderful experience. It felt like I could breathe easily for the first time in weeks and my allergies were almost non-existent. Furthermore, the air in my bedroom smelled incredibly fresh, thanks to the activated charcoal filter and the four-stage filtration system. Even while running on Eco mode the Coway air purifier was able to make a huge difference in the quality of the air in my room while I slept.
Test #4:

Noise Levels

Because of the size of the Coway Ap 1512hh, it can create a larger amount of noise than a lot of comparable models, especially when set to the highest speed. Even at its highest speed it still is only about as noisy as a medium-sized box fan or tower fan. I measured it at 56db from a few feet away.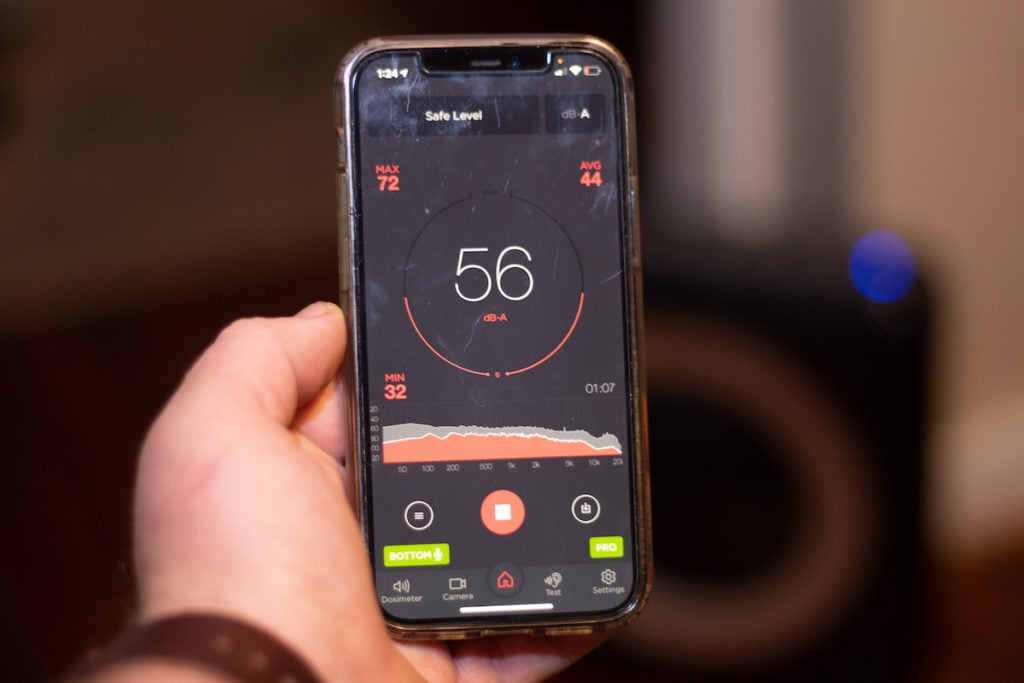 At its lowest speed, the Coway AP 1512hh barely registers above a whisper, and the eco mode (my preferred mode) is only slightly louder than that. I measured 34db at the lowest speed.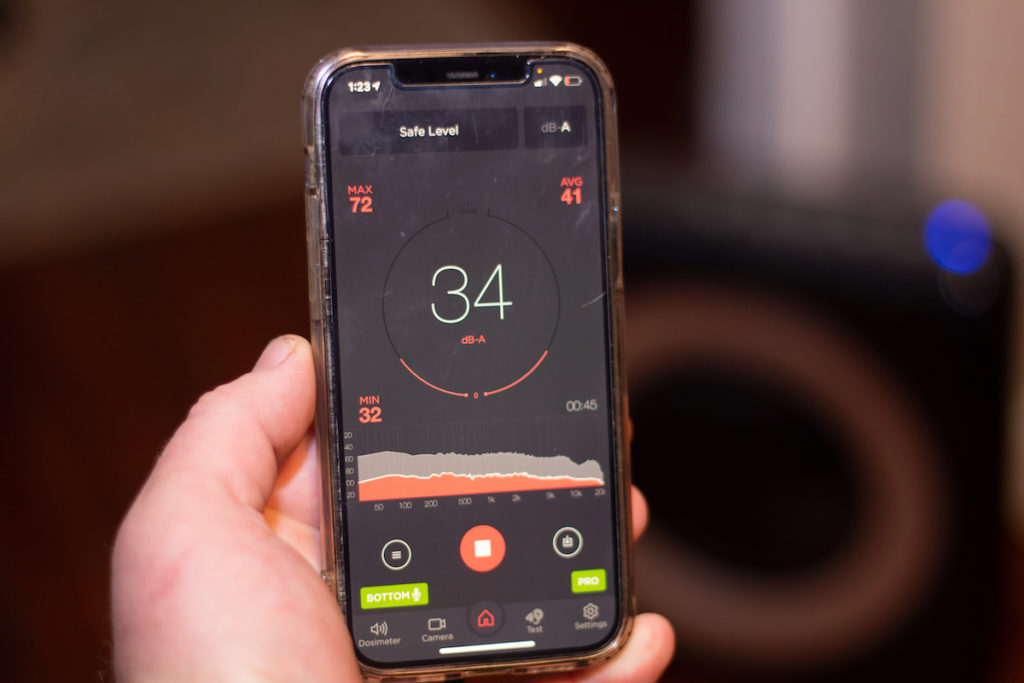 Overall, unless you happen to enter a situation where the Coway air purifier needs to run at a higher speed to remove a larger amount of air contamination, you will barely notice it as it runs in the background.
How Simple is it to Operate?
While this air purifier is more feature-rich than many I've had the opportunity to look at, it is quite simple to operate. The auto mode automatically optimizes the air purifier's functions so you can get the best quality air possible with the touch of a button.
If you want to run the Coway Ap 1512hh on a specific speed setting you can choose from three different speed levels, low, medium and hi, along with a 4th eco mode that again optimizes the air purifiers functions to keep the energy costs as low as possible. Beyond just the speed settings the Coway air purifier comes equipped with a timer setting for 1, 4, and 8 hour time intervals depending on your needs.
The Coway Ap 1512hh mighty air purifier comes with a four-stage filtration system composed of a washable pre-filter screen, an activated carbon deodorization filter, a true HEPA filter, and a vital ionizer. The ionizer can be turned on with the click of a button on the control panel and when it is in operation it uses an electrochemical reaction to help remove particulate from the air during filtration.
How Accurate is the In-Built Air Quality Indicator?
The Coway ap 1512hh mighty air purifier comes with its own air quality indicator. With a simple design based on a 3 color system, you can instantly gauge the quality of the air in your room thanks to the bright red indicator light. When the air quality in your room is at its optimal level the indicator light will be light blue, as the air quality drops it cycles through purple and finally to red for the lowest quality air level.
As I tested the Coway ap1512-hh I regularly tested the air quality in the room using a separate air quality meter, but I was happy to see that at all points the Coway mighty pollution sensor included with the Coway HEPA air purifier was right in line with the readings on my meter. Furthermore, though my air quality meter could provide a lot of information about the quality of my air, the air quality indicator light on the Coway air purifier is far easier to read and understand.
How Easy is it to Carry Around?
While the Coway Ap1512-hh is a fairly large and bulky air purifier, it surprisingly light and easy to tote around the house from room to room. With a conveniently located handle slot on the back of the purifier, it's easy to move it one-handed. Though there isn't a way to store the cord during transport or storage, it wasn't a huge deal for me, I just held the cord in my other hand to keep it from tripping me as I moved it around my home.
Does it "Bounce Around" While in Operation?
While I've seen a few reviews mention that this air purifier will move around or shift from the vibrations during operation, I didn't notice this in any of my tests. I ran the Coway AP1512-hh on hardwood floors, tile and carpet without issue and I never once saw the air purifier shift or move while running.
How Easy to Clean and Change Filters?
The Coway Ap1512hh comes with a filter change indicator that helps easily identify when it's time to change your filter to maintain the highest air quality possible.
Because the filters come wrapped in plastic that needs to be removed before operating I was already familiar with the filter replacement process. To remove the filters from the Coway air purifier, gently remove the front air inlet panel and then remove the pre-filter screen. In addition to the HEPA filter and activated charcoal odor filter, the Coway air purifier comes with a washable pre-filter as well. This filter screen captures large air particles, pet dander, and dust.
Set both the washable pre-filter screen and the air inlet cover aside before removing the two-piece air filter. The two-piece filter system includes an activated carbon filter along with a true HEPA filter, both are replaceable and replacement filters can be ordered easily from Coway or other online retailers.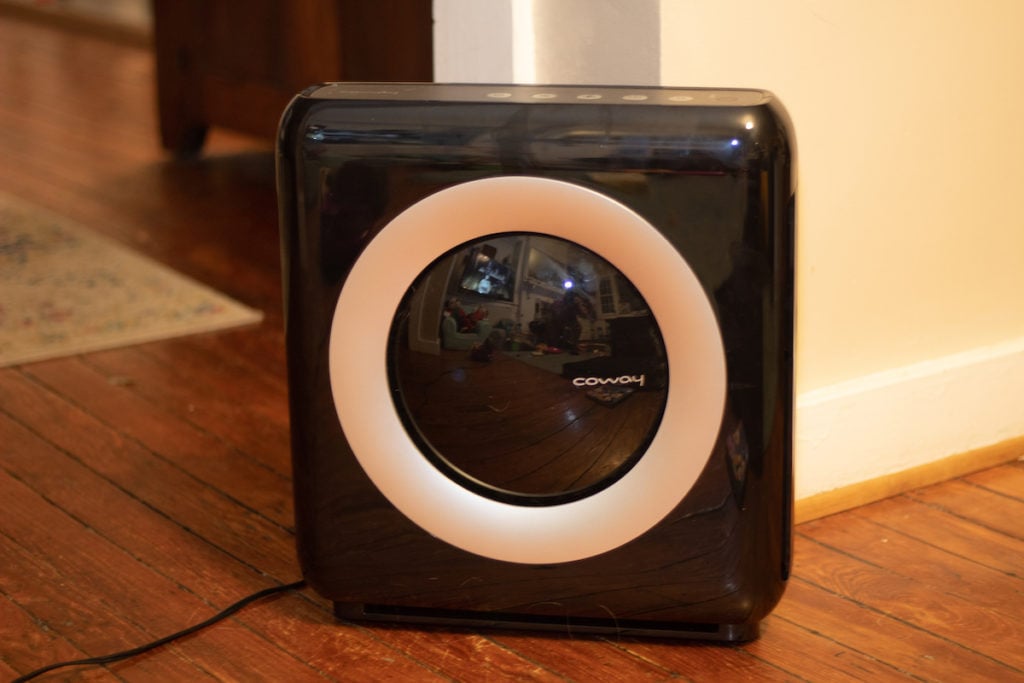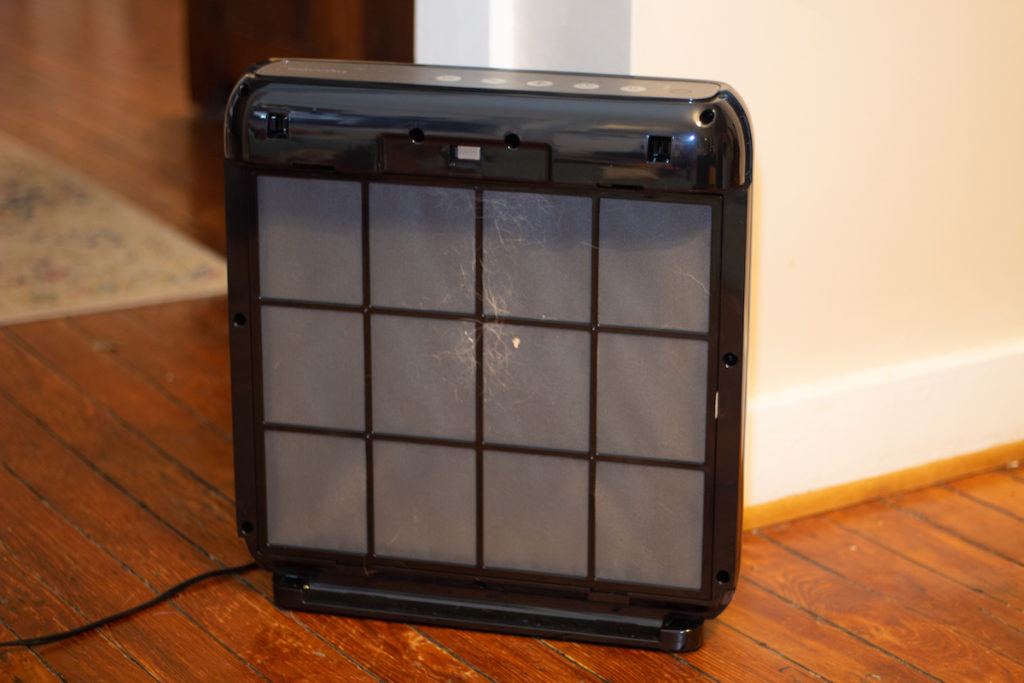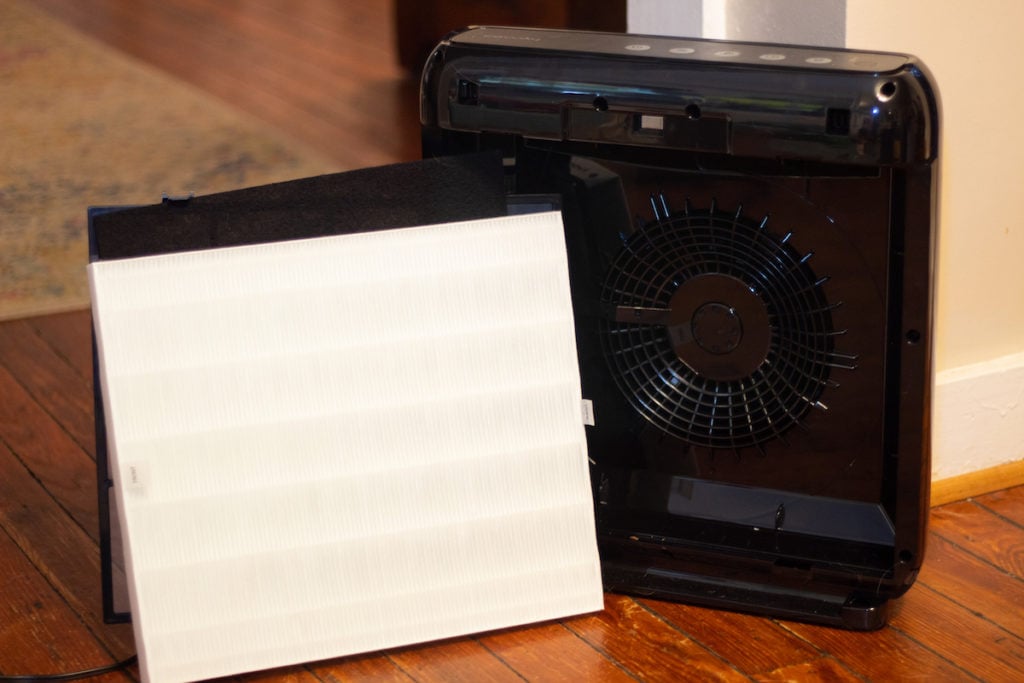 What is the Eco Mode?
In my opinion, the Eco mode is one of the most powerful functions included with this air purifier. Like the auto mode, the energy-saving Eco mode will automatically detect and seek to eliminate air contamination. 30 minutes after placing the AP 1512hh in Eco mode the air purifier will begin automatically powering off when it detects no air pollution and will turn itself back on when it senses the presence of air-born particles.
By using eco mode you can help keep the air in your home pollution-free while also limiting power consumption.
The design of the Ap1512 hh is a little more space-age than I like in my appliances but for some that aesthetic is ideal. One issue I would like to see remedied in future additions would be the ability to draw air in a 360° range by placing the air inlet on the top of the machine rather than the front. Though the design of the Coway Ap1512-hh allows for a large coverage radius, I've found in reviews for other models that a top-mounted air intake can be far superior to front-mounted systems.
What's the Warranty?
The Coway AP1512hh comes with a 3-year limited warranty covering the motor, control panel, and internal parts from defects or malfunction associated with normal wear and tear. You need to register your air purifier with Coway to take advantage of the warranty. Head to the Coway Website for more information about the registration and warranty program.
Verdict
After a week of testing the Coway Ap1512-hh in my home, I am a fan of this air purifier. With a sleek, space-age design, a large coverage range, and a relatively low price tag this is a great air purifier for owners with small/medium-sized apartments or medium-sized individual rooms.
The feature-rich design, the multitude of functions and convenient presets make this HEPA air purifier easy to set up and run. The built-in air quality indicator makes it a cinch to check the quality of your air at a glance, and both the auto mode and eco mode make it easy to keep the air in your home at a consistently high level.
The four-stage filtration system does a great job of getting your air clean and keep it that way. The washable pre-filter traps pet dander and larger contaminates while the activated charcoal deodorization filter helps eliminate all sorts of airborne odors. Finally, the true HEPA filter scrubs the air clean of volatile organic compounds and airborne pollutants while the vital ion system helps remove the finest particles (such as mold spores) before spreading fresh clean air throughout your home.
If you have seasonal allergies or just want cleaner, fresher air at home then this air purifier will definitely get you where you want to be. If you happen to smoke, do a ton of cooking, or have generally poor indoor air quality then the Coway mighty air purifier will absolutely be a game-changer in your home.
How does it Compare?
While the Blueair Blue Pure 211 is a more expensive air purifier than the Coway AP 1512hh mighty air purifier there are a few reasons the increased price tag might be worth it. Though the Coway model has a relatively large coverage range at 361 sq ft the Blueair covers up to 540 feet which is a considerably larger footprint.
Aesthetically these two air conditioners are about as different as they could be. While the Coway air purifier is a larger square model with a front-mounted air intake and a uniform gloss black finish, the Blue Pure 211 is a tower or pod style air purifier with a two-tone finish and one-button operation.
Both of these purifiers have washable pre-filters, odor filters, and HEPA filtration. The Coway air purifier model comes with a vital ion system that charges particles through an electrochemical process. Where the Coway A/P1512hh offers a large number of presets and features, the Blue Pure 211 boasts 1 button operation that automatically senses and adjusts to the presence of air pollutants.
Both of these air purifiers have great reviews and while the Blue Pure 211 is more expensive its increased range makes it easy to justify the added expense. If you are looking for a great air purifier for medium-sized rooms then the Coway AP1512-hh is a great option for you. On the other hand, if you are looking for a one-button operation and a larger coverage range then the Blue Pure 211 is a better bet as long as you can afford the higher price tag.
At more than double the cost the Levoit LV-134 is a pretty sizeable upgrade from the Coway AP1512hh. While the Coway air purifier model has a range of 361 sq ft, the Levoit LV134 can handle up to 1170 sq ft and can clean the air in a 710 sq ft room in under 18 minutes.
Like the Blue Pure 211, the Levoit LV-134 is a tower-style air purifier. With a white finish and a top-mounted air inlet, the Levoit LV-134 can pull air from 360° making it easy to place for ideal coverage in almost any room. As with the Coway Ap1512hh, the Levoit model comes with a built-in air quality meter and multiple fan speeds allowing for more control over your air conditioner.
Overall these are two very different air purifiers and they offer individual solutions for those with unique air purification needs. If you are looking for a great air purifier for a medium-sized room or apartment and you don't want to break the bank then the Coway 1512hh is a great option. On the other hand, if you want a top-of-the-line air purifier that can handle a really larger area, the Levoit LV-134 is better suited for your needs.
NOTE: Also consider here the Levoit Core 300 and Core 200 for high performance at a low price.
The Medify MA-40 is a high-quality tower-style air purifier. With a coverage range of up to 1600 sq feet, the MA-40 can clean the air in an 841 sq ft room in under 30 minutes. While the Medify MA-40 has a higher price tag than the Coway AP1512hh the larger range is definitely a selling point.
Like the Coway model, the Medify MA-40 comes with 3 fan speeds, an 8-hour timer, and a child lock feature that can be helpful if you have inquisitive kids running around. Aesthetically the Coway Ap1512 and the Medify MA-40 are opposites. While the Coway model is squarish with rounded edges and a glossy black or cream finish, the Medify model is a tower shape with an off-white finish and a glass touch screen control panel.
Overall the Medify MA-40 is a great air purifier for those looking to handle larger spaces. The Coway on the other hand is a great air purifier for medium-sized rooms or for those looking to stick to a tight budget. Both of these air purifiers produce great results and have consistently high reviews from purchasers, so you can be sure either will keep your air free of pollutants and contaminants.