Potassium occurs naturally in many foods, and it's essential for muscle contraction, normal blood pressure, and maintaining intracellular fluid balance. Everyone needs some potassium in their diet, but people with kidney disease don't excrete the excess as well as healthy people, so they may need to stay within a daily intake recommended by their doctor.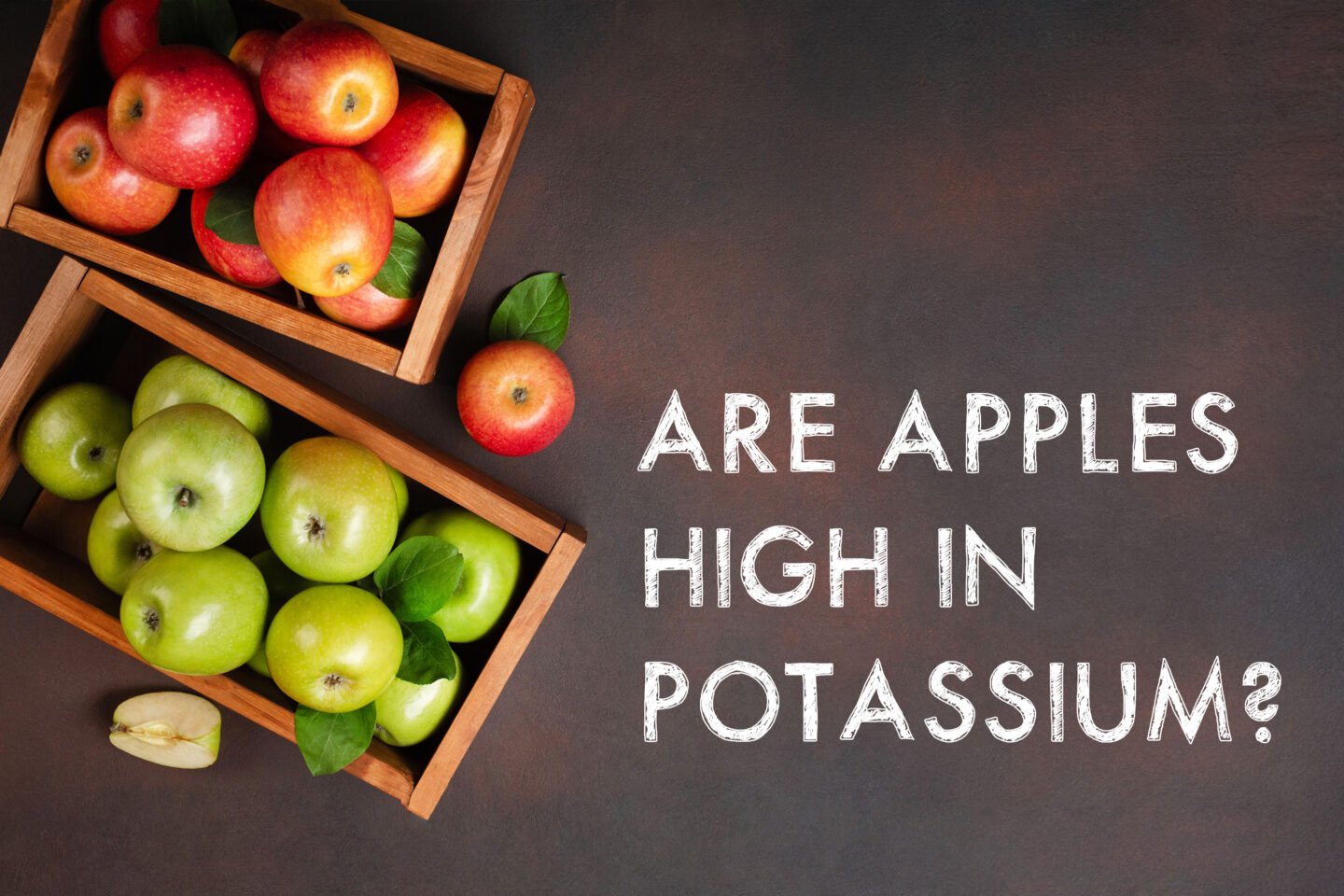 Low-potassium diets can be challenging, as followers must know the potassium content of common foods and stay within their daily limits.
Are apples safe for those on such a diet?
Table of Contents
Are Apples High or Low in Potassium?
Apples are low in potassium, so they are safe for most on a kidney-friendly diet.
They're also delicious, versatile, and nutritious, making them an excellent addition to any healthy diet.
RELATED: Can You Check Your Potassium Level at Home?
How Much Potassium Is in Apples?
One medium apple contains around 194mg of potassium, less than the 200mg per serving threshold for low-potassium foods.
Are Apples Healthy?
A medium apple only contains around 95 calories, most of which come from carbohydrates, including fiber. Fiber keeps you feeling full longer after eating and soaks up excess stomach acid.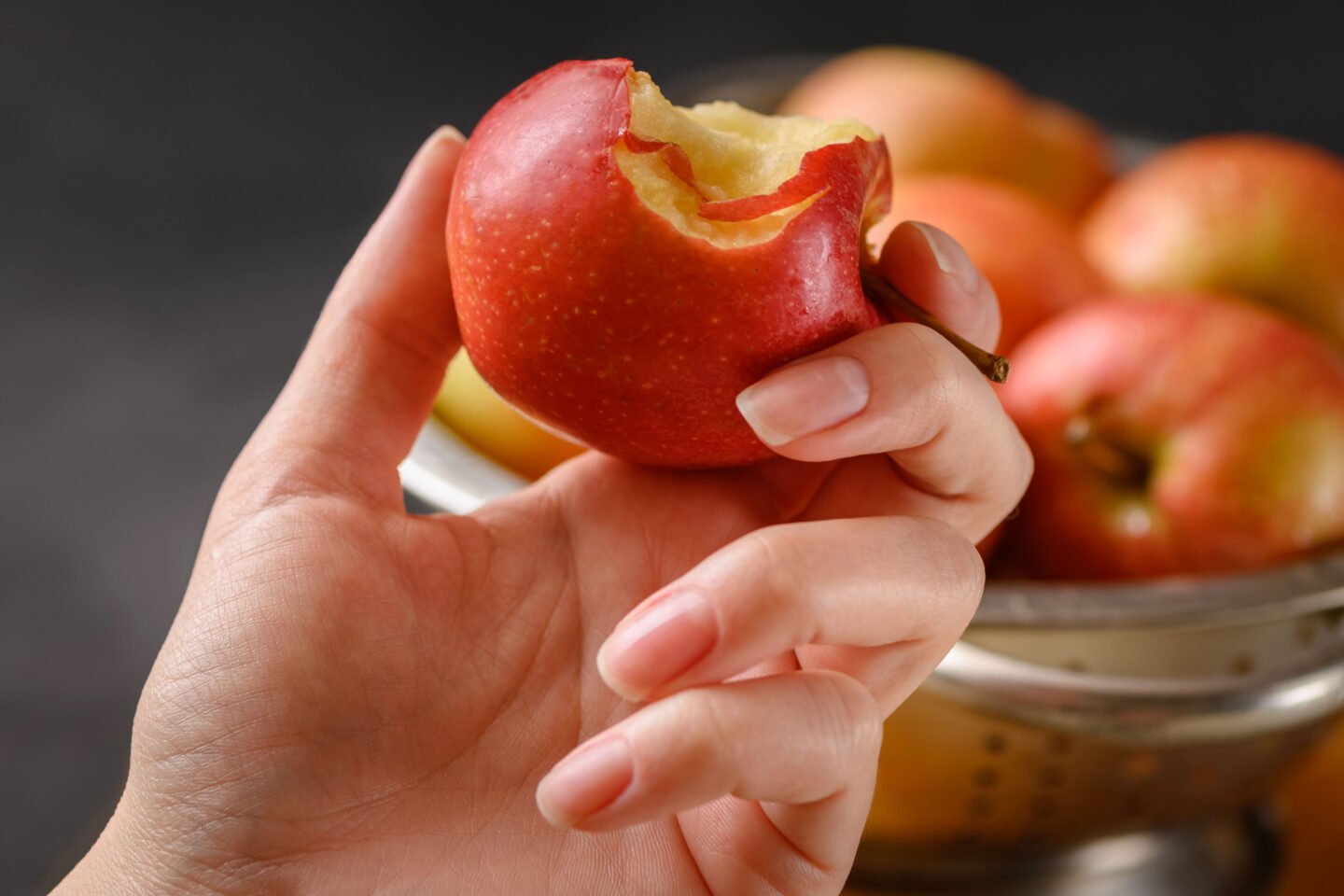 Apples are a great source of vitamin C, which boosts your immune system and supports the growth, development, and repair of tissues and cells. It also supports healthy teeth and gums and helps form collagen, crucial for healthy skin.
Apples contain pectin, a prebiotic fiber that feeds good gut bacteria, aiding digestive health.
They're also rich in vitamin K, which is essential for forming blood clotting factors.
Are Apples Good for Bone Health?
Researchers believe that apples' anti-inflammatory substances and antioxidants increase bone density, helping prevent osteoporosis.
Is Apple Juice High in Potassium?
Apple juice is high in potassium, with a cup containing around 300mg, so most followers of a low-potassium diet should strictly limit their intake or avoid it altogether.
It's also higher in sugar and contains less fiber than fresh apples, which can slow digestion and increase blood sugar levels.
Which Has More Potassium, Apples or Bananas?
A 3.5 oz (100 g) serving of banana has 358 mg (10% DV) of potassium, while the same serving of apple contains 107 mg (3% DV).
Bananas also contain more magnesium and vitamins B6 and C.
| | | |
| --- | --- | --- |
| 100 g | Banana | Apple |
| Calories | 89 | 52 |
| Carbohydrates | 23 g | 14 g |
| Protein | 1.1 g | 0.3 g |
| Fat | 0.3 g | 0.2 g |
| Fiber | 2.6 g | 2.4 g |
| Potassium | 358 mg | 107 mg |
| Vitamin C (%DV) | 14% | 7% |
| Vitamin B6 (%DV) | 20% | 0% |
| Vitamin B12 (%DV) | 0% | 0% |
| Calcium (%DV) | 0% | 0% |
| Iron (%DV) | 1% | 0% |
| Magnesium (%DV) | 6% | 1% |
| Vitamin D (%DV) | 0% | 0% |
*Percent Daily Values are based on a 2,000 calorie diet. Your daily values may be higher or lower depending on your calorie needs.
Can You Get Too Much Potassium from Apples?
It would be almost impossible to get too much potassium just by eating apples. However, if you follow a low-potassium diet, you should ensure you stay within the daily intake recommended by your doctor.
Don't know which foods are high in potassium? Read our article 15 Best Food Sources of Potassium. We also have a guide on this important mineral: Potassium 101: All You Need To Know About Potassium.