Rainbow trout is always a sought-after catch, whether you're a practiced freshwater angler or just love quality seafood. It's extremely versatile, with a mild flavor and a slight fishiness that is great grilled or fried.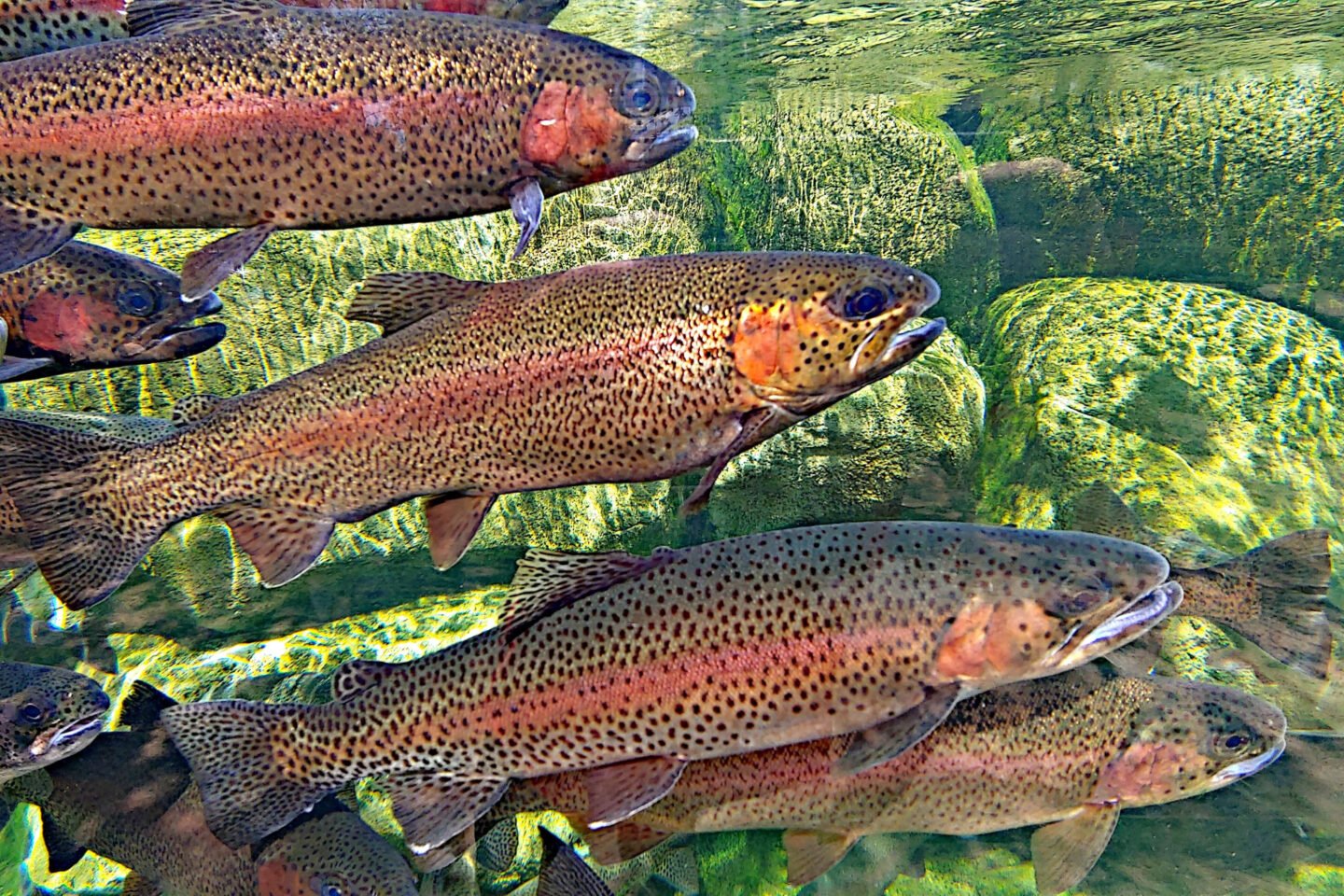 If you like the flavor of other freshwater fish, there's a good chance you'll enjoy what this one has to offer. Get more details on rainbow trout's flavor, nutritional value, and cooking tips below.
Table of Contents
Does rainbow trout taste good?
Like with any meat, your rainbow trout's flavor depends on a range of factors, including the fish's diet, environment, and living conditions. One of the biggest factors that affect the taste and texture is whether it was caught in the wild or farm-raised.
Rainbow trout that has been caught in the wild should taste fresh and clean, like a more mild counterpart to salmon. It's a bit fishy, a bit nutty, but is overall very delicate. When properly cooked, it should easily flake since it has a slightly higher fat content than more common whitefish like cod or tilapia.
While freshly caught rainbow trout is delicious, farm-raised fish can be just as good. They tend to be sweeter and fattier, with a stronger flavor than the wild variety.
Overall, rainbow trout is an excellent choice if you want a fish with a higher fat content that has a mild flavor and delicate texture. When purchased in a store, it is relatively affordable for its quality and can be cooked in various ways to great effect.
Rainbow Trout Taste vs Other Fish
There are plenty of other fish in the sea, which are more or less like the famous rainbow trout. To better understand how rainbow trout tastes, see how it compares with these other commonly-enjoyed varieties.
Salmon
Comparing rainbow trout vs salmon taste reveals two fish similar in flavor, color, and texture. In fact, the two are close cousins in the fish world, so it makes sense that they have so much in common.
But does rainbow trout taste like salmon enough to substitute it in recipes? Yes and no. The fish has a milder flavor and lighter-colored meat, so it might not fool any of your dinner guests. However, it is close enough to serve as a good substitute when grilling, frying, or sauteeing.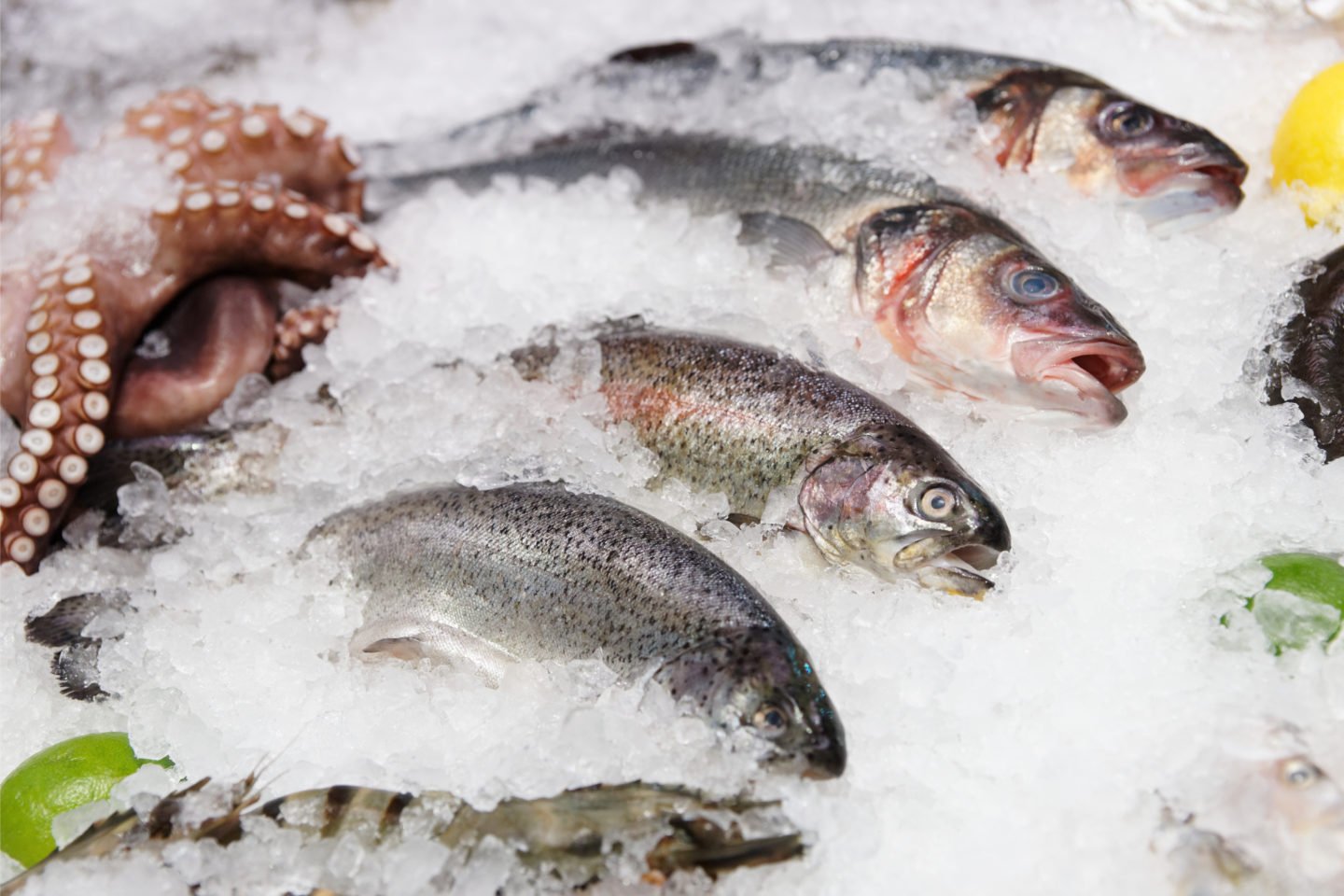 Cod
Compared to salmon, cod is on the other end of the fish spectrum, with a leaner and more mild flavor. Cod has flaky, white flesh, and since it has a lower fat content, it is one of the least fishy tasting fish. But does trout taste like cod?
If you think of rainbow trout as the midpoint between salmon and cod, you won't be that far off. This makes it a highly versatile fish that can appeal to those looking for a fattier catch and a more mild flavor. Again, where you caught your fish and where and how it was raised can make all the difference.
Other Trout Species
All trout are freshwater fish, which gives them a fisher taste than those caught in the ocean. Rainbow trout has a milder, more delicate flavor compared to other trout.
Is Rainbow Trout Healthy?
Rainbow trout is lean compared to other river fish like salmon, making it an extremely healthy source of protein. The fats it does contain are omega-3 fatty acids, which are non-saturated, and help fight inflammation. As long as it's caught in unpolluted water, it has low levels of dangerous mercury.
Best of all, cooked rainbow trout retains its nutritional value. You can expect a good dose of Vitamins A, D, and B12.
Factors That Can Affect Rainbow Trout's Flavor
Rainbow trout have a diverse diet that includes insects, algae, other fish, and debris at the bottom of the water. When they're able to find a good balance of these food sources in the wild, they will have their characteristic mild nutty flavor. However, farm-raised fish may have altered diets, affecting their flavor for better or worse.
The most important factor that affects a rainbow trout's flavor is its water quality. Muddy water will result in a muddy flavor, and some anglers have even reported catching fish that taste just like dirt. That's why it's always better to fish in clear waters, or if you're buying your fish, only do so from a reputable seller.
Cooking Rainbow Trout
Since rainbow trout is so versatile, it can pair well with different ingredients and cooking methods. Learn more about the options below to prepare for your next fish dinner.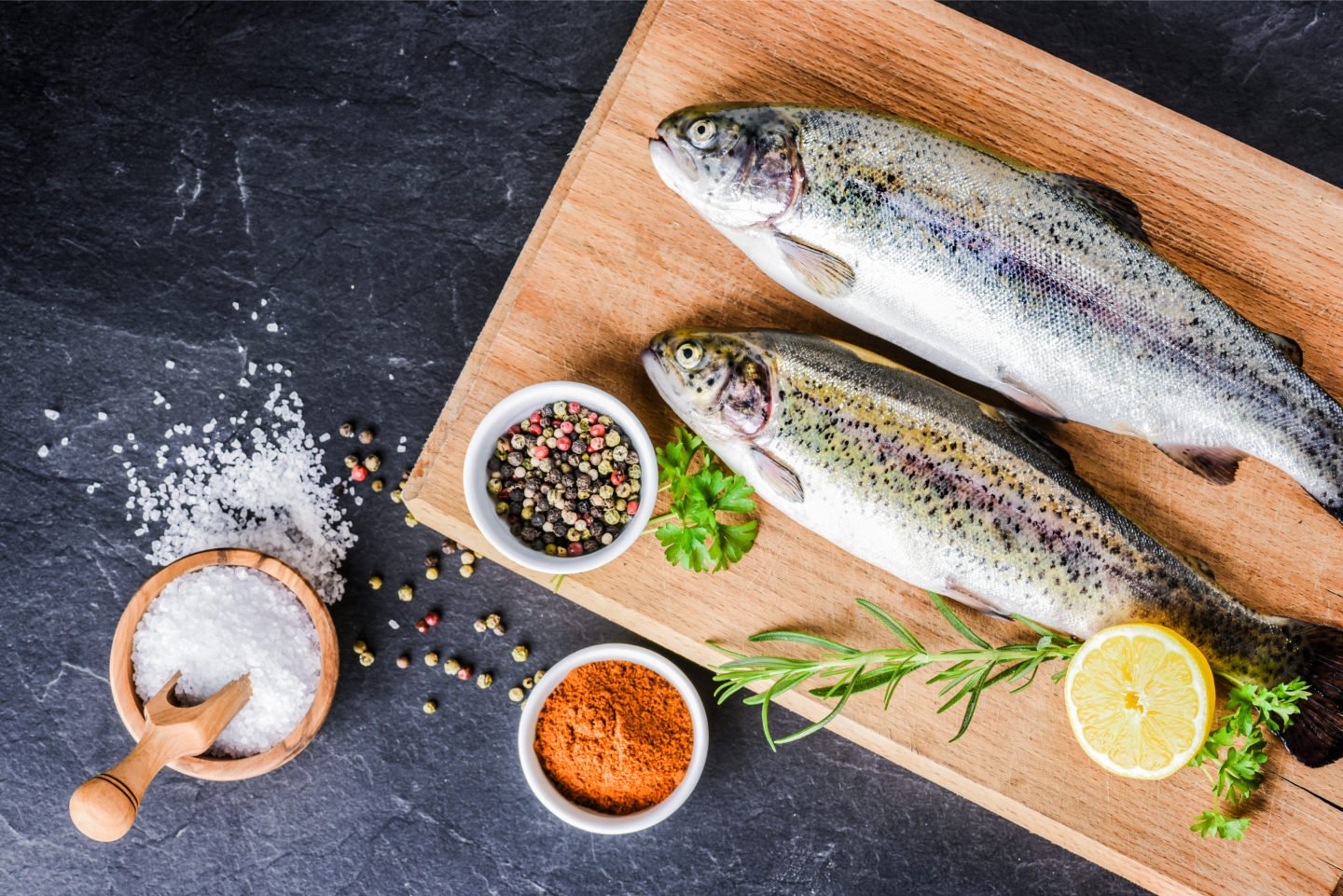 Pairing With Other Ingredients
Generally, the best way to enjoy a quality fish is to let the flavor of the meat speak for itself. Pairing rainbow trout with heavy, overpowering flavors will never do it justice. If you're looking for a few good accompaniments that will let the fish's natural flavors shine through, try some of these:
Butter - Butter is a better choice than olive oil as it adds a subtle nutty flavor when browned, which pairs perfectly with the fish. Simply let a few tablespoons sizzle in your pan before dropping in your fillets, and continue basting with the melted butter as they cook.
Lemon - Perhaps one of the most classic additions to any fish dish, lemon helps cut through rainbow trout's lean fat while highlighting its more subtle flavors. It's also a good way to neutralize the natural fishy smell of most seafood. Simply squeeze a wedge over your fillet just before serving.
Garlic - When paired with butter and lemon, this pungent aromatic will help give your rainbow trout some extra zest without killing its flavor.
Dill - If garlic is too strong for your fish, a fresh herb can be a more subtle option. Dill has a tangy and slightly citrusy taste that will add a bit of extra edge to your trout. It also looks nice on the plate.
Thyme - Thyme is another great fresh herb, which is less tangy but brings plenty of citrus flavors. Lemon thyme can especially taste great when sprinkled over your fillets after leaving the pan.
Bacon - Bacon is a stronger ingredient and should be used in moderation to accompany the fish when serving. A single strip or two, finely diced and added to the pan when smoking, can help impart a salty and slightly smokey flavor.
Capers - These pickled buds can be a good alternative to lemon. Like olives, it has a bright, vinegary taste that can help neutralize the fishy smell and taste in attractive pops of flavor. All it takes is a quick sprinkle just before serving.
Preparation Methods
Feel free to substitute rainbow trout for fish in any of your favorite recipes. No matter how you choose to cook it, its mild flavor and delicate texture are sure to be enjoyed.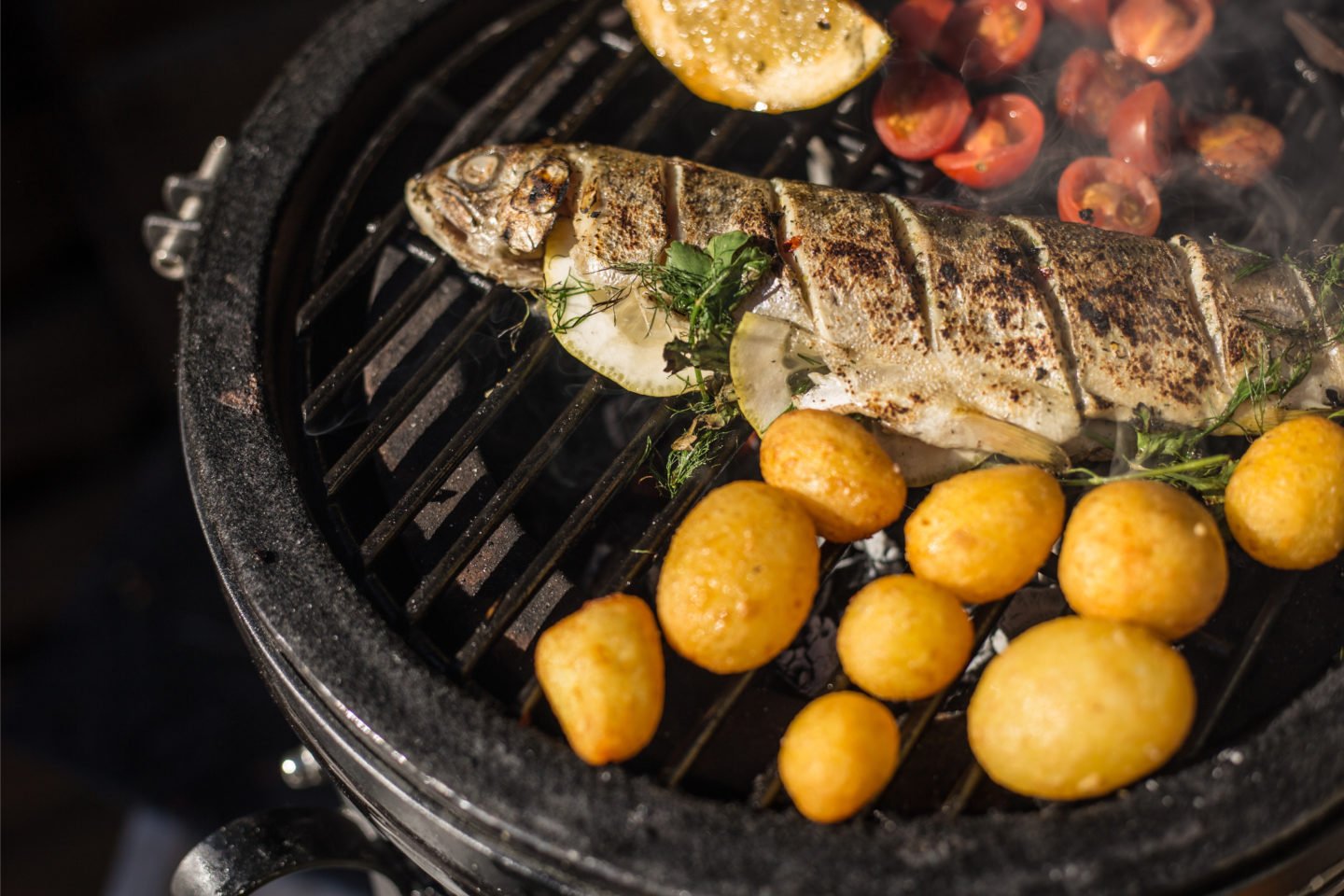 Pan-fried - As mentioned above, butter is the way to go when pan-frying rainbow trout. All it takes is 3 to 5 minutes per side, depending on the thickness of your fillet. Feel free to leave the skin on or take it off, but remember to keep constantly basting to ensure your fish is moist.
Grilled - Grilling is a great way to give your fish a natural, smokey flavor. Start by preheating your grill to medium, and be sure to grease your grills thoroughly to keep the fish from sticking. You can grill the fish whole for 4 to 6 minutes per side.
Baked - Baking is one of the easiest and healthiest ways to enjoy rainbow trout. Simply line a baking sheet with aluminum foil and lay your fish skin side down on it. Season your fish, loosely close the foil around the fillet, and bake at 375 degrees Fahrenheit for 20 to 25 minutes.
Frequently Asked Questions
How can I keep rainbow trout fresh longer?
If you want to keep your fish tasting fresh in the refrigerator, there's a trick to extend its lifespan. Start by washing it in cold water and drying it with clean paper towels. Then wrap it tightly using aluminum foil, plastic wrap, or wax paper. When ready to store, place it on ice.

This will let you keep your catch for up to two days without having to freeze it.
Can you eat rainbow trout raw?
Rainbow trout is safe to eat raw, though it might not be the most enjoyable experience. Generally, fish enjoyed as sushi or sashimi come from the ocean, as these have a leaner and less fishy flavor. Raw trout may taste too fishy to be enjoyed this way.
Is it legal to fish for rainbow trout?
The legality of trout fishing depends entirely on your local laws. Many states stock trout in fishing areas, where they can be caught during the designated fishing season.