Jump to Recipe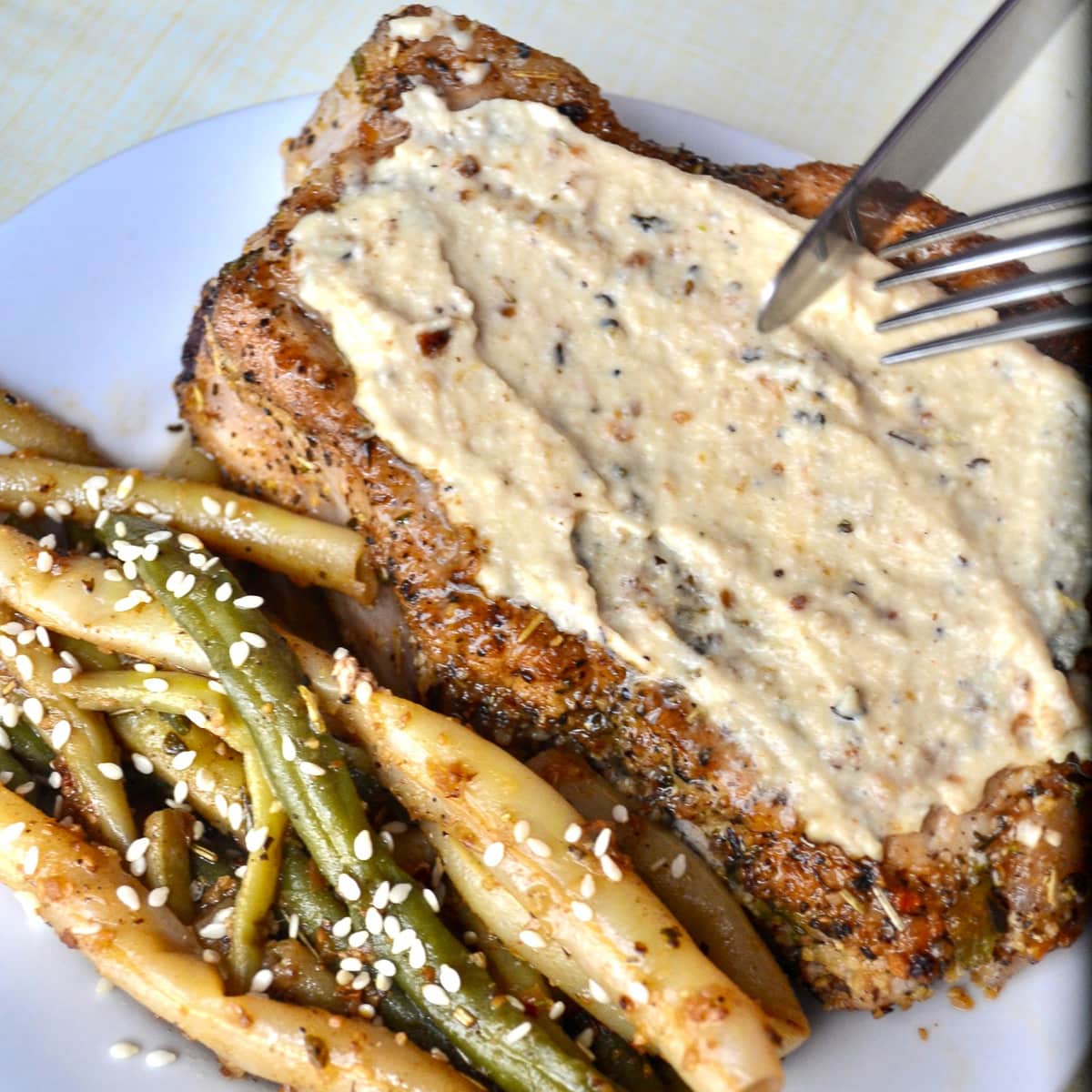 This recipe is my secret to the perfect low-carb dinner for any occasion. The pork chops are juicy and topped off with a flavorful cream sauce with garlic and herbs. This recipe is incredibly simple and it does not take too much time. In less than half an hour, you can prepare this filling meal that will satisfy your whole family.
This keto-friendly pork chop recipe is by far my favorite pork recipe. The ingredients that I used for this meal are present in my kitchen at all times since cooking this dinner every week has almost turned into a family tradition.
These pork chops and cream sauce contains just 2.5 grams of carbs per serving. And when combined with some green beans on the side, it turns into the ultimate low-carb dish.
Table of Contents
How to Choose the Pork Chops
I love to cook pork chops since they are tender, lean, and have a mild flavor. Also, they are quick to cook.
When selecting the best piece of meat, I always look for chops that are slightly pink and have at least some marbling, since it plays an essential factor in the meat's flavor.
Let's Get Cooking
Preparing the keto pork chops is a straightforward process. With just the four steps written on the recipe card, you can prepare this meal, and you'll need to spend only 25 minutes of your time.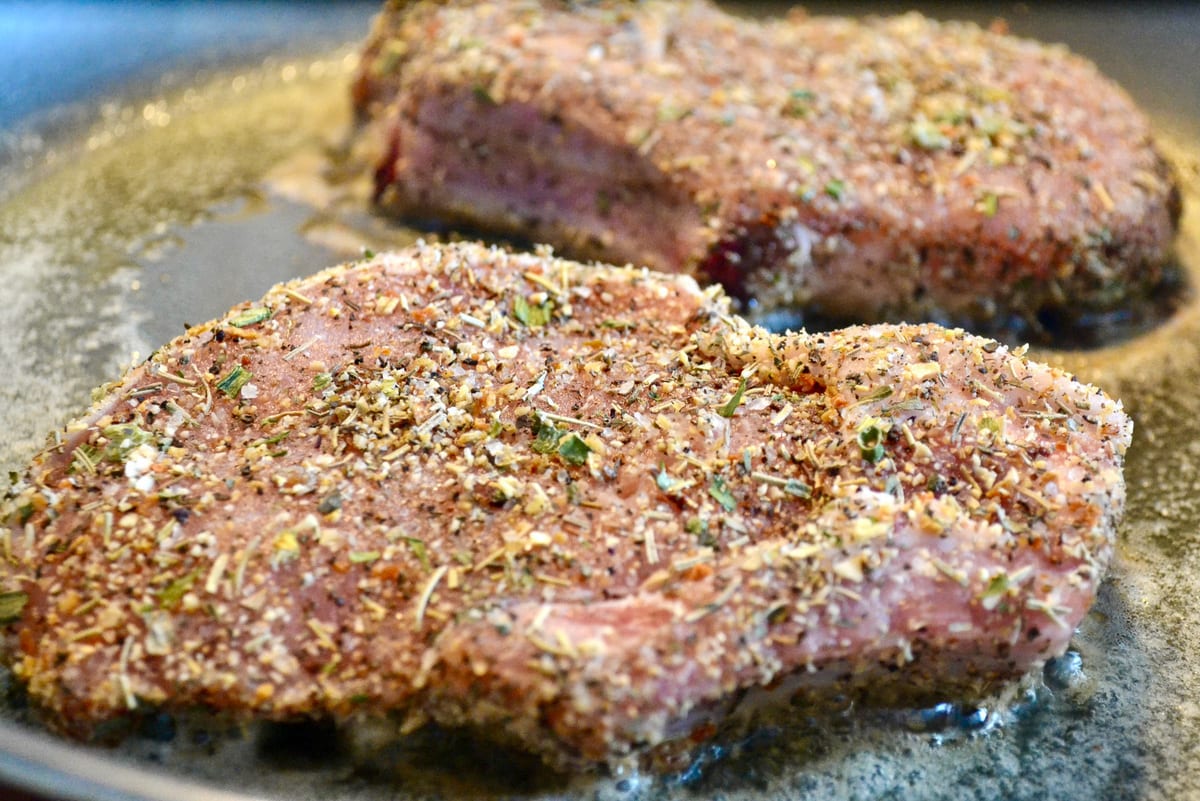 Here are some tips that can help you make these fantastic low-carb pork chops even better:
To make the meat more tender, brine the pork chops. This is the best way to ensure that the cooked meat doesn't turn out too dry. To brine the pork chops, place them in a bowl with water, add some salt and herbs, such as bay leaves, and set it aside. After at least half an hour, pat the pork chops dry with paper towels and rub in the dry rub.
Don't cook the pork chops right after taking them out of the refrigerator. It is always better to cook warmer meat. So before making the pork chops, let them warm up in the kitchen for about half an hour.
Place the pork chops on the frying pan only when it is scorching hot. Let the butter melt and heat up before putting the pork chops on the pan.
If you chose a thick pork chop, cover the frying pan with a lid. This will ensure that the meat is fully cooked and doesn't get burnt.
Other Ways to Make the Keto Pork Chops
Cooking the low-carb pork chops in a frying pan is only one of the ways of doing so. Here are some other cooking methods that you can try:
Bake them in the oven. It's almost impossible to fail with this cooking method. The pork chops always come out juicy, tender, and flavorful. First, quickly sear them in a frying pan and then transfer them into a baking pan. Cover it with foil, then cook for 10-15 minutes in an oven preheated to 390F.
Use an Instant Pot. There is almost nothing that your Instant Pot won't be able to handle. This cooking method is most suitable for rib chops, but it also works well for pork chops. Simply sear them, layer over some veggies—broccoli, cauliflower, or green beans are good choices—add water, then pressure cook for 15 minutes. You'll get a perfect one-pot dinner meal.
Cook the meat on an electric grill. This is also a time-saving option for cooking keto pork chops. Just spray the grill with some olive oil, place the previously brined and spiced pork chops, and cook on the grill for about 5-7 minutes. I have the T-Fal GC7 model and find it to be pretty versatile.
I don't recommend making the pork chops in the air fryer since they usually turn out a bit dry. Even if you brine the pork chops before cooking, there still is a chance that they will not be as juicy as they should.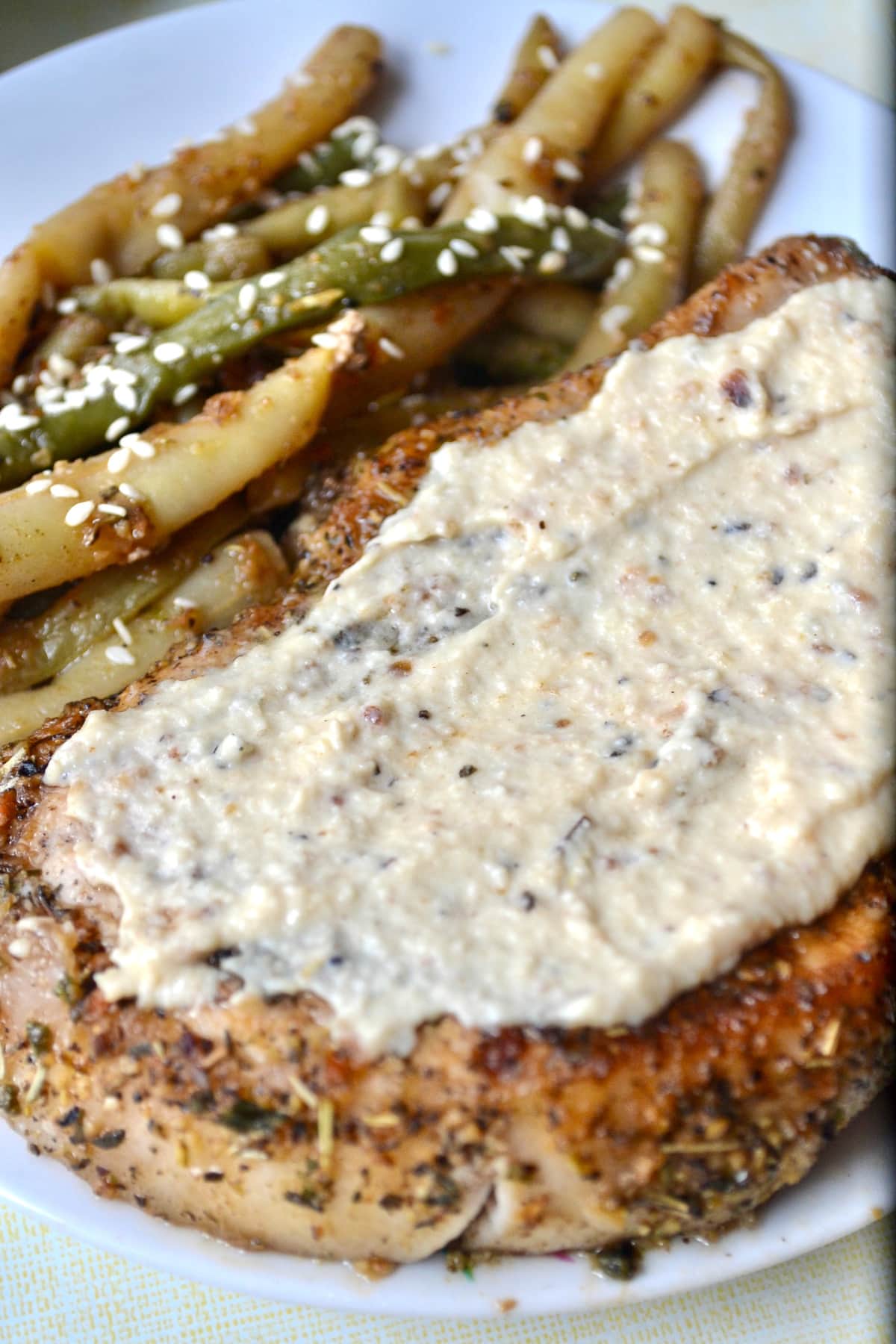 Serving Tips
If you're not sure about what it is best to pair the pork chops for dinner, here are some ideas:
To make a side dish quicker, try adding some green beans into the frying pan when making the pork chops. This way, they will get the flavor from the pork chop's dry rub and will be ready at the same time.
How to Store the Chops
You can store the cooked keto pork chops in the refrigerator for up to 4 days. I recommend keeping the sauce separate from the pork chops. Whenever you want to serve it, simply reheat everything in the microwave.
I don't recommend freezing cooked pork chops since they might turn out a bit dry after thawing.
Recipe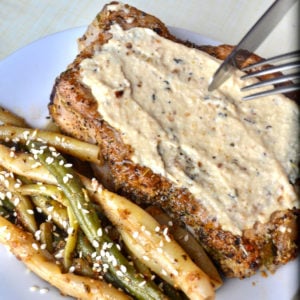 Keto Pork Chops With Cream Sauce
This recipe is my secret to the perfect low-carb dinner for any occasion. The pork chops are juicy and topped off with a flavorful cream sauce with garlic and herbs. Plus, it's easy and fast to make.
Ingredients
2

pork chops

2

tbsp

ghee butter

1

tbsp

olive oil

½

tsp

dried thyme

½

tsp

dried basil

½

tsp

dried scallions

½

tsp

garlic powder

4

tbsp

heavy cream

1

tbsp

almond flour

salt and pepper to taste
Instructions
In a small bowl, combine all of the ingredients for the dry rub—dried thyme, garlic powder, dried basil, dried scallions, salt, and pepper. Rub this mix onto the pork chops.

In a large frying pan, melt the butter, add the olive oil, place the pork chops, and fry on medium heat for about 5 minutes on each side.

Remove the pork chops from the frying pan. Pour the heavy cream into the pan, stir, and let it boil. Then, add the almond flour and continue stirring for one minute.

Pour the sauce over the pork chops and serve.
Nutrition
Calories:
509
kcal
Carbohydrates:
2.5
g
Protein:
40.1
g
Fat:
42.4
g
Saturated Fat:
21
g
Trans Fat:
1
g
Cholesterol:
169
mg
Sodium:
77
mg
Potassium:
540
mg
Fiber:
1
g
Sugar:
1
g
Vitamin A:
458
IU
Vitamin C:
1
mg
Calcium:
47
mg
Iron:
1
mg