The lingonberry is a vibrant red fruit that is grown in cooler northern hemisphere climates. Its flavor is a mix of sweet and tart in one mouthful, making it a popular accompaniment to poultry, fish, and pork. The berries are also ideal for making jam, smoothies, juice, sauce, and desserts. An essential ingredient in Swedish cuisine, they're commonly served along with side dishes such as meatballs, potato pancakes, and cabbage rolls.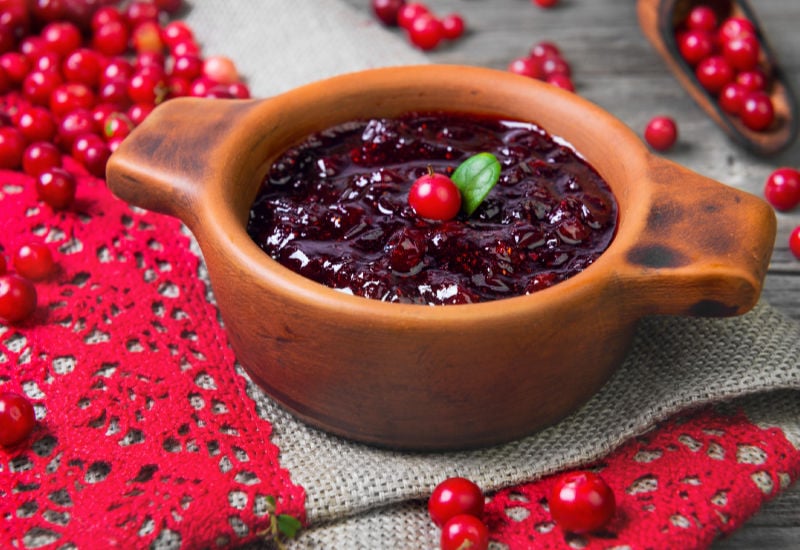 Although lingonberries are an everyday item in some parts of the world, that may not be the case where you live. You're going to need a lingonberry substitute to help finish that recipe. We've created a list of our favorite backup options to cover any situation.
Table of Contents
Recommended Lingonberry Substitutes
1. Cranberries

The best substitute for lingonberries in the kitchen are cranberries which can be used interchangeably in practically any recipe, using equal ratios. They share a very similar flavor profile, being from the same Vaccinium family of plants.
The cranberry is slightly larger, but they are also higher in acidity which makes them taste sourer. Keep this in mind when using them as a replacement in recipes; you'll want to increase the sugar when adding them in desserts like cheesecake, ice cream, and pancakes. If you decide to toss cranberries into a salad, consider balancing their sour taste with something sweeter like currants, or a sweet dressing.
One of the most common uses for lingonberries is preserving them as a jam. The Swedes add it to everything, including toast, potatoes, chicken, cupcakes, or yogurt. To replace lingonberries in jam, the cranberry is the best option. Cranberry jam or sauce is the perfect condiment for Thanksgiving turkey or served alongside meat for Christmas dinner.
Did you know? Cranberries also make a useful acai berry substitute.
2. Pomegranate Molasses

Pomegranate molasses is a useful second option if cranberries aren't available. As this is a liquid, you couldn't use it for salads or any recipe that requires solid pieces of fruit, such as cupcakes. Its flavor is more astringent and woody, but it still adds a tasty berry flavor to dressings, marinades, cocktails, and soups. If you were hoping to make lingonberry vodka then using fresh pomegranates is your best option.
3. Red Currants

Fresh red currants are a delicate berry related to the gooseberry (not to be confused with the cape gooseberry, aka physalis). They make an excellent garnish on puddings and cakes and have a similar flavor to lingonberries, although they are quite acidic. Red currants are delicious with mint, served as a condiment with roast lamb. If you are hoping to make lingonberry sauce or preserves, red currants are a good replacement.
4. Cloudberry

Cloudberries are a juicy type of fruit that have apricot-colored skin. They have a tart, slightly sweet flavor that is similar to the lingonberry or red currant. Their texture is softer though, a lot more like raspberry and there is a stronger musky undertone. They're lovely eaten raw, as part of a cheese platter, or cooked into a hot sauce that accompanies desserts. Cloudberries are also excellent in cordials and jams. Use cloudberries when you want to replace lingonberries with a different flavor or for a visually unique look as a garnish.
5. Apple Sauce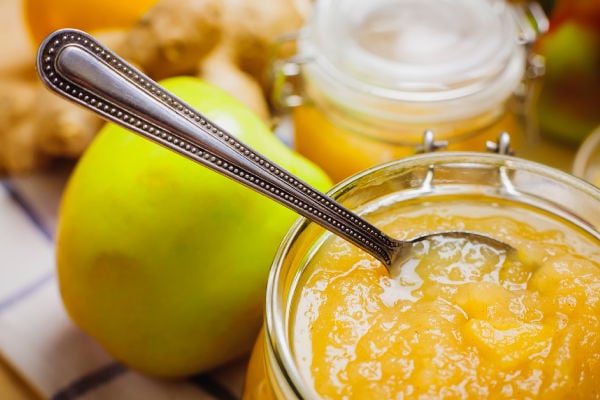 Are you looking for an alternative to lingonberries that is readily available in any store? Apple sauce looks and tastes completely different, but it can be used in many ways that lingonberry is used. Meat dishes, desserts, pies, and pastries all benefit from apple sauce. If you don't enjoy tart flavors, then ditch the other options on this list and choose apple sauce.
Related reading:
What is a useful Asian pear substitute?
What does the cucamelon taste like?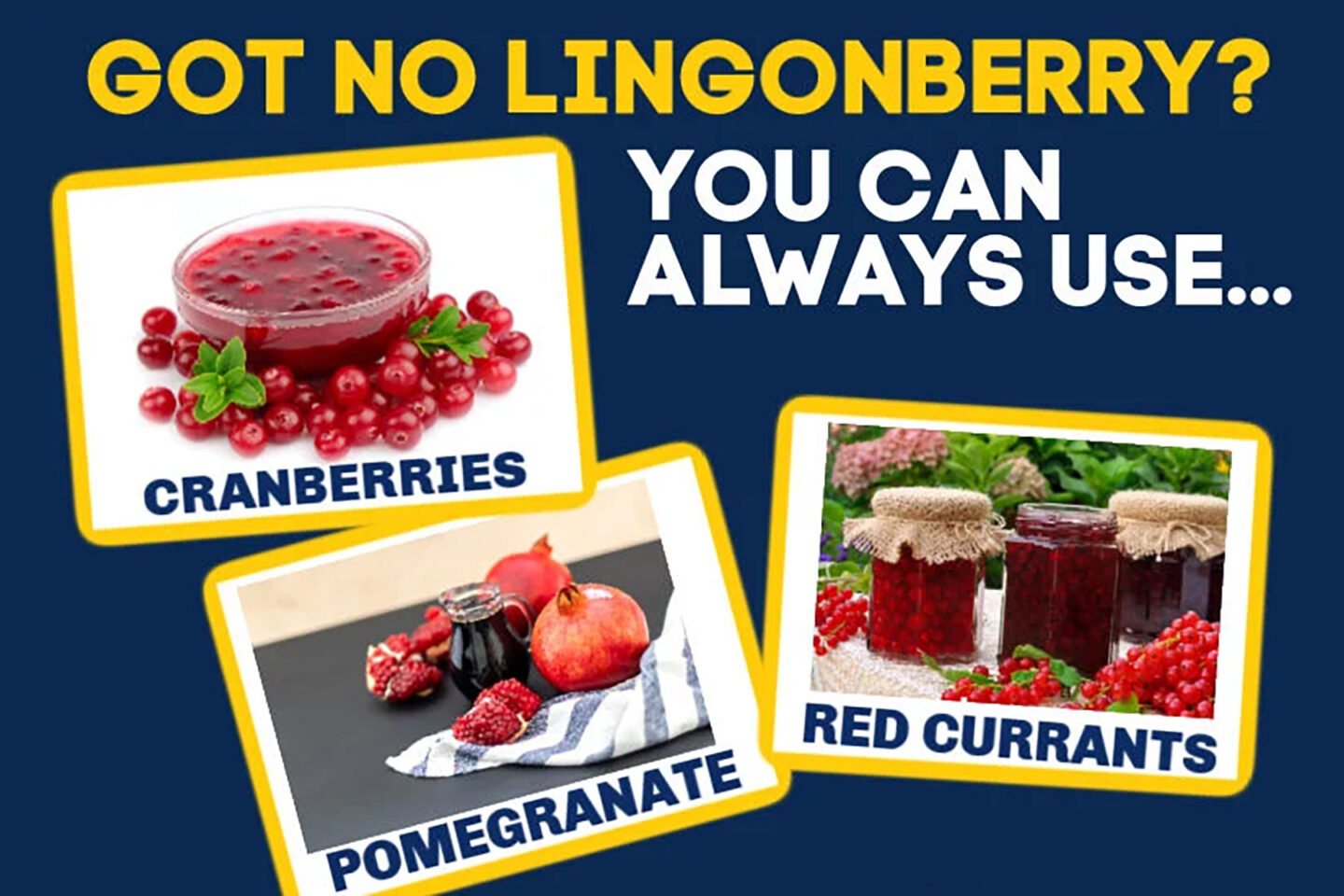 Lingonberry Fast Facts
They are a tart-flavored red berry that can be found growing on a woody, evergreen shrub.
Also known as cowberry, mountain cranberry, foxberry, or partridgeberry.
The berries are packed with antioxidants that help to fight infection. Source.
Summing Up
The next time you're in the kitchen cooking Swedish meatballs or cabbage rolls, you may find the recipe calls for fresh lingonberries or their jam. The problem is that many stores don't stock the berries, fresh or frozen, and finding the jam is also fruitless (excuse the pun). If you're in no hurry, then it's easiest to buy the lingonberries in sauce or a bag of Freeze Dried Organic Wild Lingonberries from Amazon. Another good option is to pay a visit to your local Ikea, which also stocks lingonberry jam.
For those that need a lingonberry substitute now, the closest option that you'd like to have locally is fresh cranberries, cranberry juice, or sauce, depending on what you need it for. Pomegranate molasses, red currants, and cloudberries are also possibilities, although they don't mimic the flavor profile as well as cranberries. If you don't care about the flavor, use apple sauce, a versatile food that is excellent with meat, and many other ingredients.
What is your "favorite lesser-known" berry that you couldn't live without? Please let us know in the comments below.