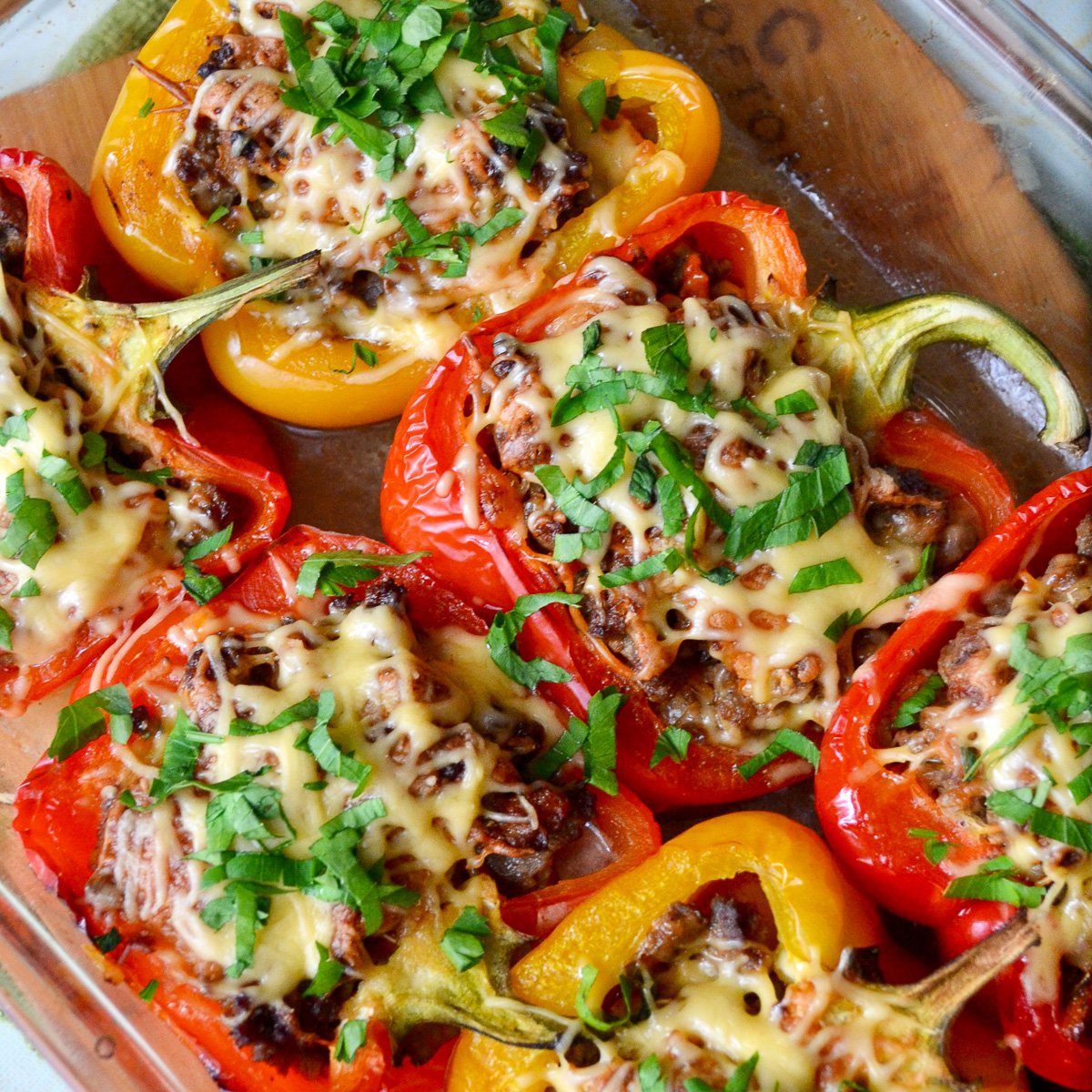 These keto stuffed peppers will quench your hunger in seconds. It's a perfect combination of veggies and meat, making it a perfect keto lunch or dinner. They are not just delicious, but filling, and at the same time low-carb.
The ingredients used in this recipe are pretty basic. And besides, it'll take you only 45 minutes to make this meal. From the proportions of ingredients used in this recipe, you'll make three servings. If you are looking to stock up your freezer with the keto peppers, double everything.
My goal was to make a minimum carb keto-friendly dish, and I succeeded. I took the traditional stuffed pepper recipe as the basis for this one but removed some of the high-carb ingredients, such as rice. And as a result, this recipe turned out even better than the one that I used to make before.
Table of Contents
What Meat Type Is Best for Keto Peppers
I've tried to make the keto stuffed peppers both with lean ground beef and extra lean. Both of them turned out great. But since I like to grind meat by myself, I've baked the peppers with other meat as well, such as pork and venison.
Chicken isn't the best option here since it doesn't contain as much fat as the other meat types. But you can always add some olive oil to it when frying, just to increase the fat in the keto stuffed peppers.
Use Other Veggies for Stuffing
If you're not a fan of bell peppers, there are other vegetables that can replace them in this recipe and will turn out even more delicious than with the peppers. For example, try to stuff the meat mixture into zucchini. It will be incredibly juicy.
Other vegetables that are also great for this recipe are squash and eggplant. My personal favorite is eggplant. It has a very specific taste when baked in combination with ground beef. So, you can choose whichever vegetable you like better and use it to stuff the meat.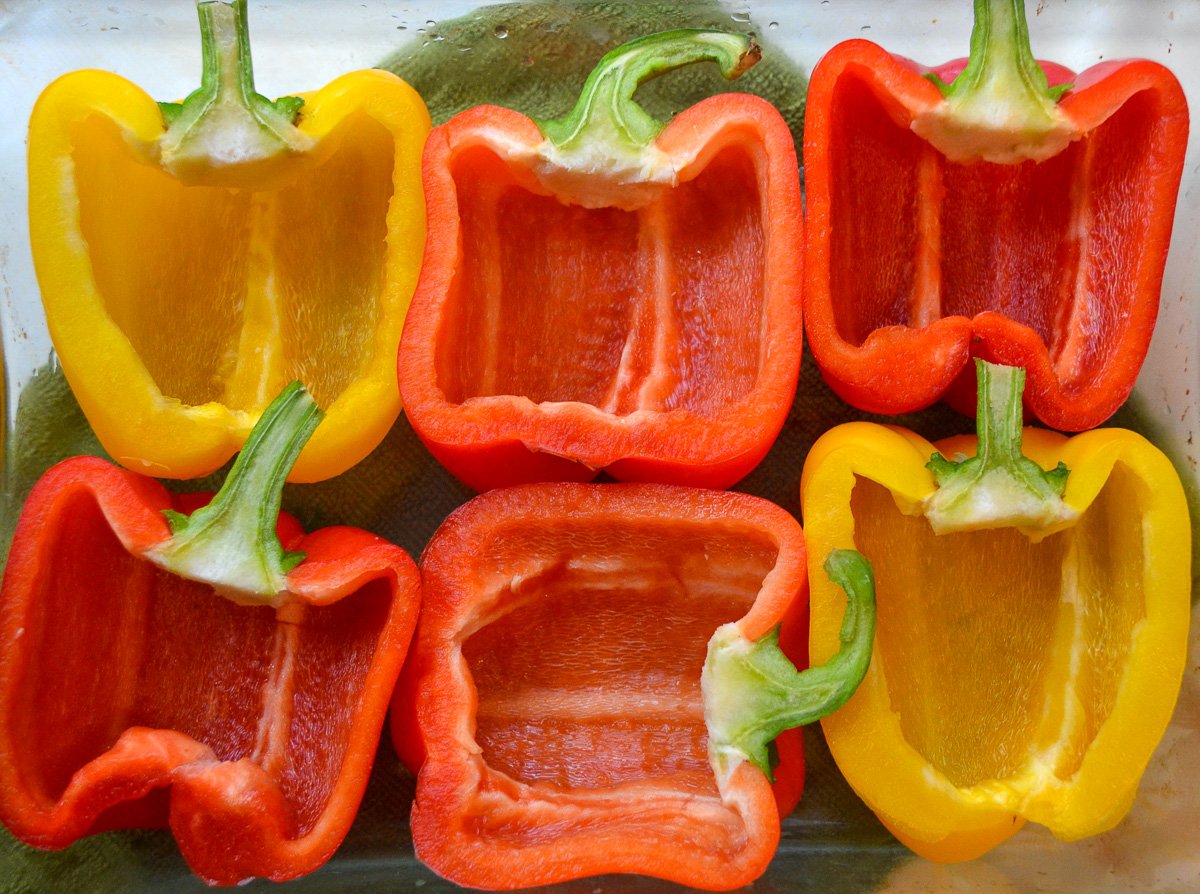 What Cheese is Best for This Recipe
Here I used cheese only for topping. I didn't give any to the ground beef mixture. I usually always use shredded mozzarella cheese for most of the recipes.
You can also add any other keto-friendly cheese type. Some of them are Colby Jack, cheddar, and pepper jack.
How to Bake the Keto Peppers in the Oven
Here are some tips that you should know before placing your stuffed peppers in the oven:
The oven should be preheated to 350 degrees F.
Pour some water into the pan to preserve the juiciness of the meal.
Don't add the cheese right away since it will become hard. You should add it when the peppers are almost ready and then place them back into the oven for five more minutes.
Use a non-stick pan, or otherwise place a piece of baking paper on the bottom.
If you want, you can cover the pan with foil. But I usually skip this step since the peppers turn out juicy anyway.
Use the Slow Cooker Instead of the Oven
If you want to make this recipe beforehand but have some other things to do, using a slow cooker for baking the stuffed peppers in is a great choice. It won't take much time to bake there. And the best thing is that you can leave them there and go on with other work that you have to do.
To bake them using this appliance:
Do everything as stated in the recipe card instructions.
Stuff the peppers with the meat mixture and place them into the slow cooker.
Pour in the water and cook on high for 2-3 hours.
When it is almost ready, sprinkle each pepper with cheese and cover the lid for five more minutes.
How to Serve
My favorite way to serve the keto stuffed bell peppers is by adding some sour cream on top just before eating. The sour cream's taste ideally combines with the ground beef and pepper flavor.
If you want to increase the amount of fiber in your daily diet, then make a salad from leafy greens and fresh veggies.
Since I didn't include cauliflower rice into the stuffed peppers, you can make a cauliflower puree to go with the meal.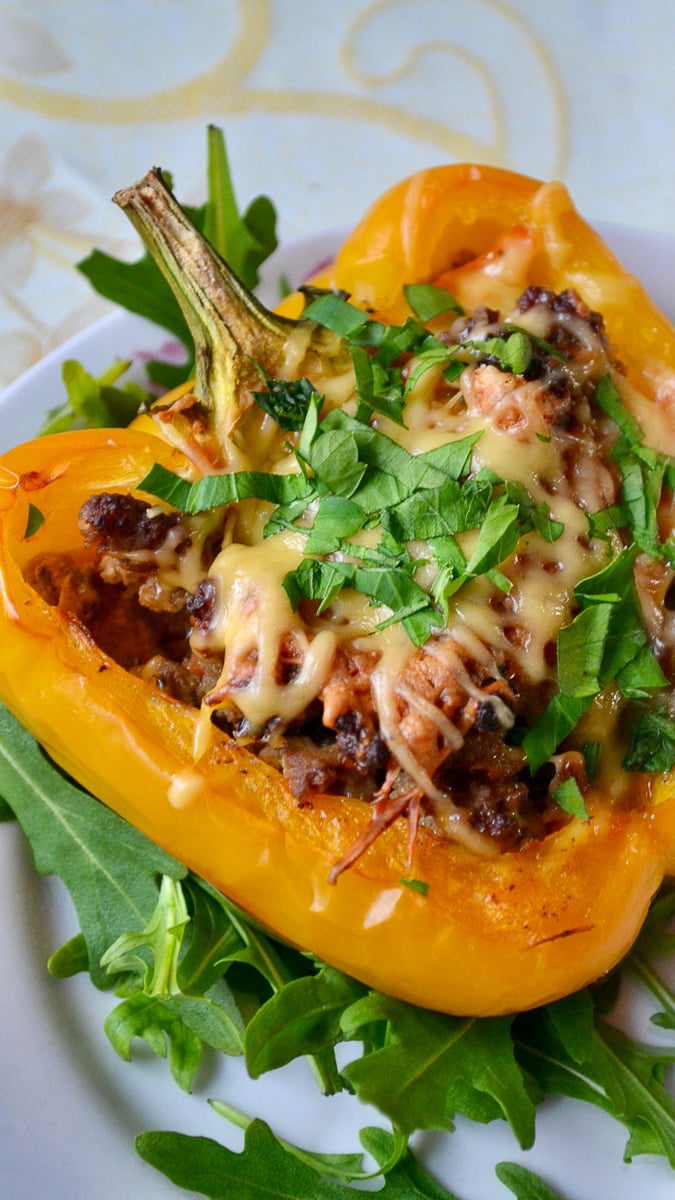 What to Do With the Leftovers
So, you've eaten two stuffed bell pepper halves. But what to do with the rest? If you have a big family, they definitely won't resist the mouth watering smell of the baked stuffed peppers.
Otherwise, you can store the leftovers from the meal in the fridge for up to 3 days. To heat them, place them on a plate and microwave for 1-2 minutes, depending on how your microwave operates.
Recipe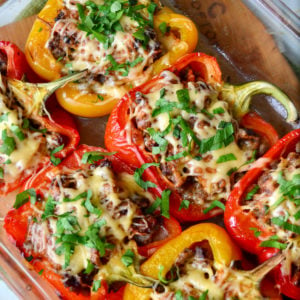 Keto Stuffed Peppers With Ground Beef
These keto stuffed peppers will quench your hunger in seconds. It's a perfect combination of veggies and meat, making it a perfect keto lunch or dinner. They are not just delicious, but filling, and at the same time low-carb.
Ingredients
3

bell peppers

1

lb

ground beef

1

large onion

1

tbsp

tomato paste

1

tsp

garlic powder

½

tsp

dried oregano

1

cup

shredded mozzarella cheese

1

tsp

olive oil

½

cup

water

salt and pepper to taste
Instructions
Preheat the oven to 350F.

Cut the bell peppers in half and take out everything from the inside.

On a medium sized skillet, fry the ground beef, onion, and carrot for about 10 minutes. Add the tomato paste and spices.

Take any oven-safe pan and grease it will spray oil. Pour the water on the pan's bottom, place the peppers, and stuff them with the meat.

Bake in the oven for 30 minutes. Then take out the pan, place the cheese on top of each pepper, and bake for five more minutes.
Nutrition
Calories:
1704
kcal
Carbohydrates:
40
g
Protein:
109
g
Fat:
121
g
Saturated Fat:
50
g
Trans Fat:
6
g
Cholesterol:
411
mg
Sodium:
1159
mg
Potassium:
2434
mg
Fiber:
11
g
Sugar:
23
g
Vitamin A:
12198
IU
Vitamin C:
468
mg
Calcium:
725
mg
Iron:
12
mg