Looking for a hearty, filling, and at the same time low-carb dinner recipe? Then these keto-friendly stuffed eggplants are definitely worth a try!
These stuffed eggplants are exceptionally delicious, and they're also capable of satisfying the most intense craving for comforting homemade food. Plus, they're not too high in calories!
Even though eggplants have some carbs, the perfectly combined stuffing makes this recipe a perfect option for keto stuffed eggplant boats that stick to the ketogenic diet.
Juicy ground beef, tons of mozzarella cheese, tomato paste, and spices — these simple ingredients have the power to make your dinner unforgettable!
This recipe is even suitable for those who don't have much time to cook. You can bake these stuffed eggplant boats in less than an hour. And trust me—you'll never believe how delicious they are until you've actually tried them out!
Jump to:
A Few Secrets That You Must Know
If you've never baked eggplants before or gave it a try but failed, don't worry. I failed on my first try, too! To help you out, here are some tips that should help you with the cooking:
Use a spoon to take out the insides of the eggplant.
Don't throw the insides away. Cut them into small cubes and add them to the stuffing instead.
Rub in salt onto the eggplants to draw away unneeded moisture.
Cooking them for 30 minutes in the oven preheated to 350F is more than enough. If you leave them there for longer, they might overcook.
Don't place all of the cheese on top at the same time. Leave some for later. When you have about three minutes left before the eggplant is ready, place the cheese on top and put them back in the oven. The slightly melted cheese will work to enhance the flavor of the meal.
Chop up some olives and green onions and sprinkle them over the cooked eggplant boats. Doing this not only makes them tastier but also adds more healthy fats to the recipe.
If you follow these tips, you should get the recipe right from the first try. So don't waste any more time, and try cooking this delicious dinner right now!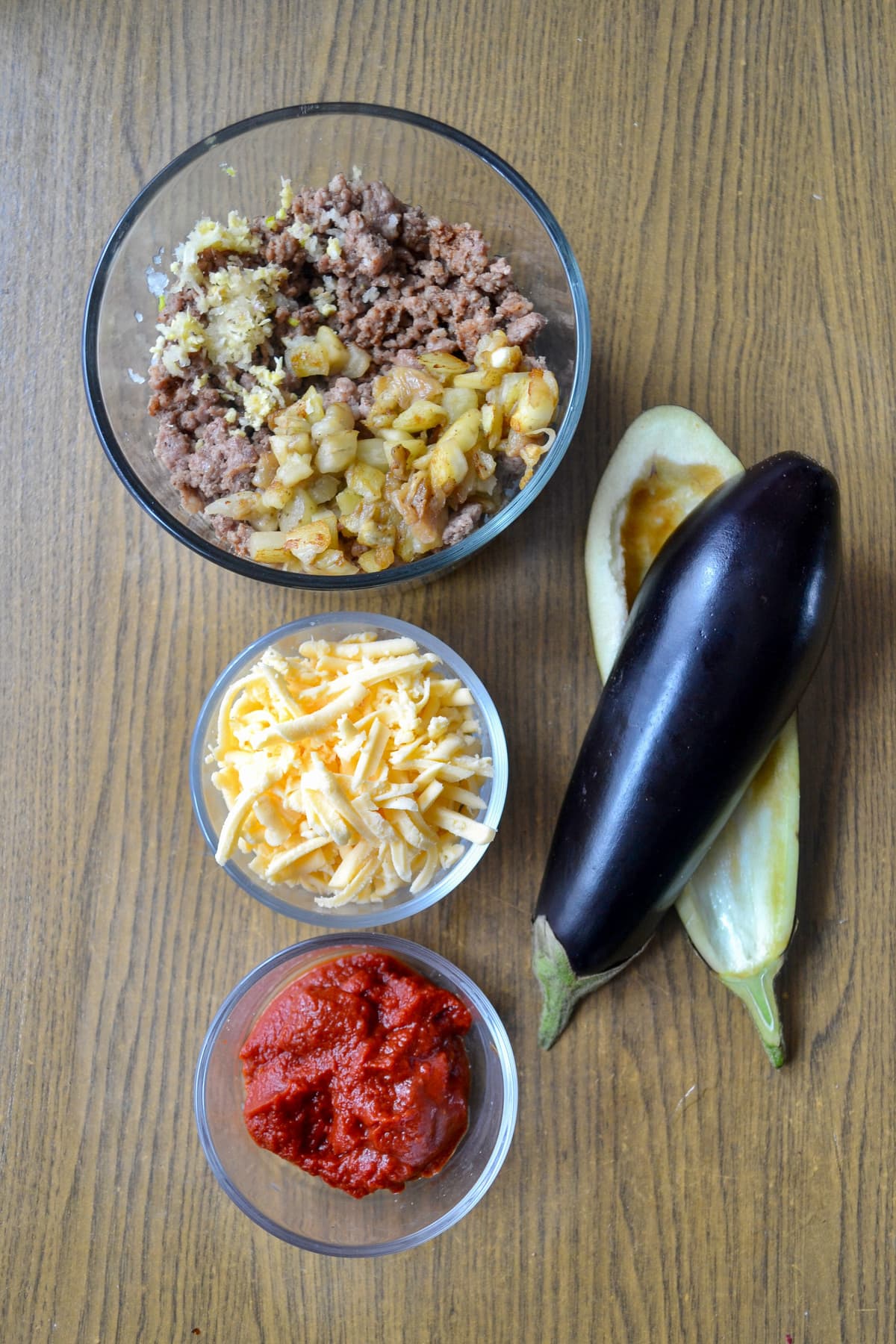 Mix And Match the Stuffing Ingredients
The ingredients listed in the recipe card are just one variation of how you can make stuffed eggplant boats. There are also other options that you can try.
Firstly, swapping the ground beef with ground turkey is an excellent idea. It will cut down a little on the fat, and it will still be delicious. If you prefer, you can add some fat by topping the eggplant halves with some pepperoni slices.
You can also make meatless stuffing for the eggplants. Just combine tomatoes, mushrooms, and onions for the filling. If you're a fan of spinach, you can mix it up with some cream cheese. Then, top the ready boats with fresh parsley or basil.
If you decide to add anything new to the recipe, remember that any change you make may influence the number of calories, fat, protein, and carbs that the meal contains.
And if you're on the keto diet, it's essential to monitor the number of carbs that you consume throughout the day to make sure that there isn't too much of it.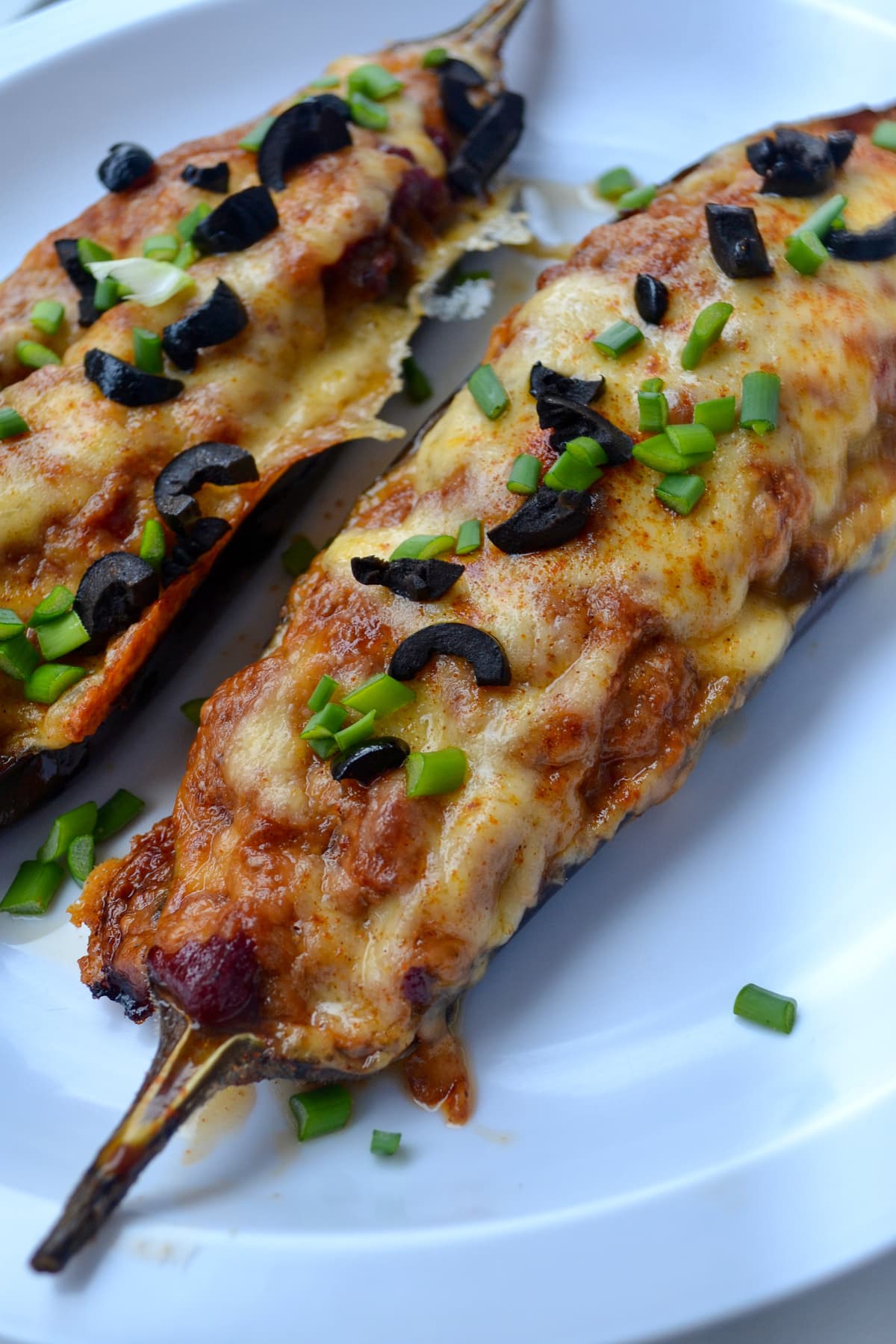 Best Way to Serve the Eggplant Boats
I always serve these keto stuffed eggplants with yogurt sauce on the side.
For the sauce, just combine one cup of plain yogurt, one minced garlic clove, one teaspoon of lemon juice, and some salt, then pour it over the eggplant halves.
Since this is quite a filling dinner option, you can mix some fresh salad and chop up some vegetables to go along with it. Drizzle the salad with some olive oil and lemon juice, and it's ready to serve!
Just the thought of making this dinner again makes my mouth water!
How to Store the Leftovers
You can make more of the eggplant boats and store them in an airtight container in the refrigerator for up to 3 days. After reheating them in the microwave, you won't be able to differentiate them from the freshly baked ones!
If you don't have a lot of free time, you can cook extra stuffed eggplants and freeze them. They'll be okay for up to 3 months. Whenever you want to eat them, simply place them in the refrigerator to defrost, and then reheat in the microwave for a minute or two on high.
Personally, I like to prepare everything, stuff the eggplants, and freeze them uncooked. This way, I can throw them in the oven whenever I want to and have a fresh keto-friendly dinner ready in just 30 minutes.
Recipe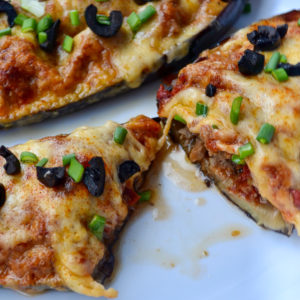 Keto Stuffed Eggplant Boats
These stuffed eggplants are exceptionally delicious, and they're not too high in calories! Juicy ground beef, tons of mozzarella cheese, tomato paste, and spices — these simple ingredients have the power to make your dinner unforgettable!
Ingredients
1

medium

eggplant

6

oz

ground beef

3

minced

garlic cloves

½

cup

mozzarella

shredded

2

tbsp

tomato paste

1

tbsp

olive oil

red pepper flakes, dried basil, salt, and pepper to taste
Instructions
Cut the eggplant in half. Using a spoon take out the insides of the eggplant and rub in salt. Slice the eggplant insides into cubes.

In a pan, fry the ground beef with the insides from the eggplant for about 10 minutes, and then add all of the spices, herbs, and minced garlic.

Oil the bottom of the eggplant and the baking pan. Preheat the oven to 350F.

Stuff the eggplant with the fried ground beef, then place the tomato paste and cheese on top. Bake for 30 minutes in the oven.

Once ready, sprinkle the eggplant boats with olives and chopped green onions.
Nutrition
Calories:
329
kcal
Carbohydrates:
8.3
g
Protein:
24.5
g
Fat:
26
g
Saturated Fat:
11
g
Trans Fat:
1
g
Cholesterol:
83
mg
Sodium:
364
mg
Potassium:
944
mg
Fiber:
8
g
Sugar:
10
g
Vitamin A:
486
IU
Vitamin C:
9
mg
Calcium:
186
mg
Iron:
3
mg