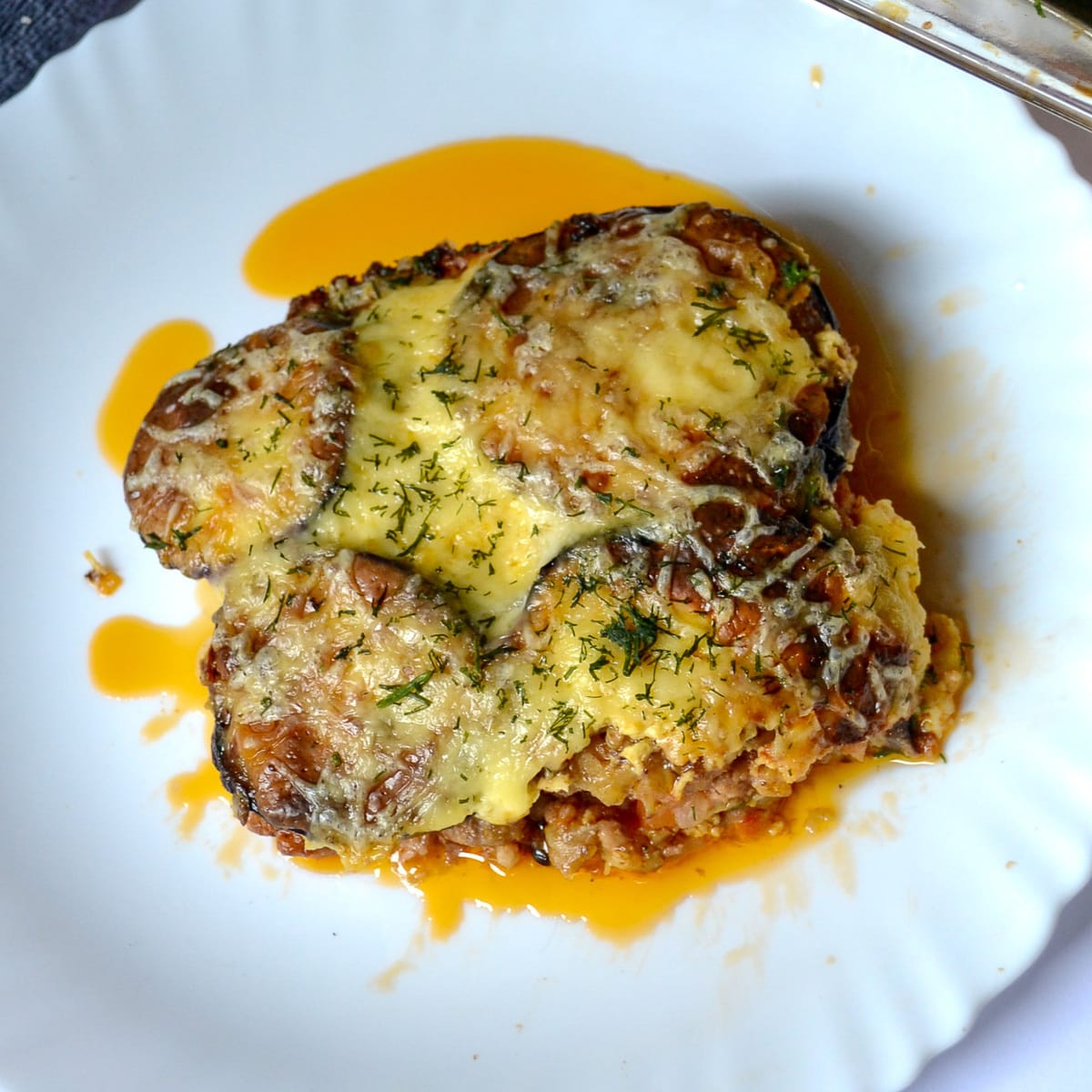 This keto moussaka is low-carb, gluten-free, and insanely flavorful. Yes, you will need an hour to cook this dish, and it may seem a bit tricky to make it, but the outcome is definitely worth the effort.
This dish consists of layers of fried eggplant with a delicious meat sauce topped with homemade low-carb bechamel sauce. You can use any kind of ground meat to make the sauce, but I do recommend sticking with beef.
If you're craving delicious homemade comfort food, then this low-carb version of the Greek moussaka hits the spot. The traditional version of the dish has about 30g net carbs, so I had to make some changes to make it more keto-friendly.
Table of Contents
What Is Moussaka?
Moussaka is a traditional Greek dish. When it first made its appearance, it was a fairly simple dish consisting mainly of vegetables and meat. Then after some time, bechamel sauce also became a part of it.
This dish is quite similar to lasagna. One can even say that moussaka is to Greeks what lasagna is to Italians. It consists of fried eggplant layers (just like pasta sheets in lasagna) and a rich tomato meat sauce. Traditionally, this dish requires either ground beef or ground lamb for the meat sauce.
Is Moussaka Keto-Friendly?
Traditional moussaka is not keto-friendly mainly because of the bechamel sauce. The main ingredient in the sauce is flour, which is definitely not a keto product. Also, some like to layer the moussaka with potato slices. In that case, the number of carbs in the dish skyrockets.
So to make moussaka keto compatible, I had to make some changes, which include making a low-carb bechamel sauce, skipping the potatoes, and using the right ingredients.
How to Make Low-Carb Moussaka
This keto moussaka consists of mainly three layers—the eggplant base, the tomato meat sauce, and the bechamel sauce. To make it, you'll need the following ingredients:
Eggplants
Ground beef
Onion
Garlic
Marina sauce
Cream cheese
Heavy cream
Egg yolk
Cooking oil spray
Salt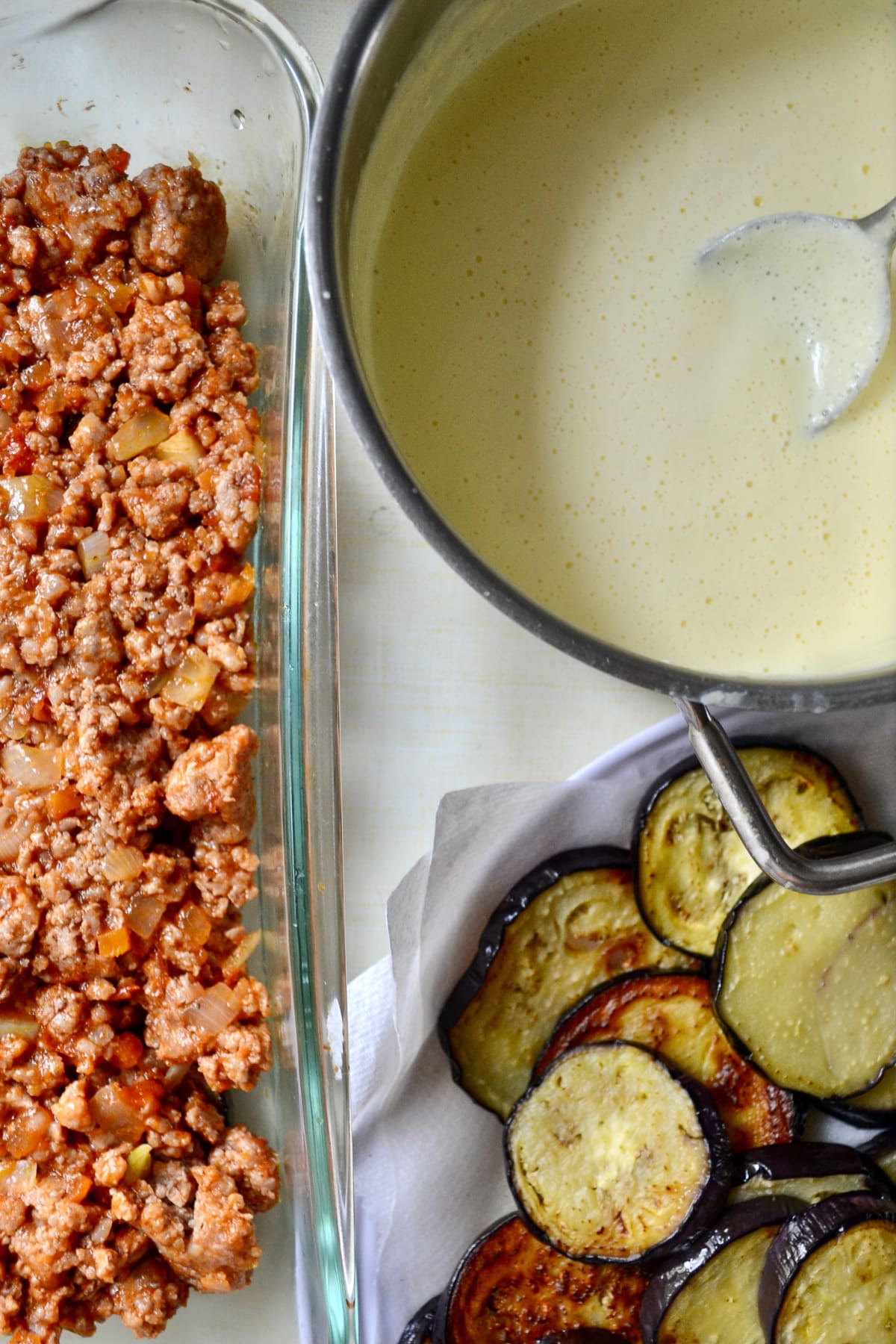 And that's it! For a more detailed description of the exact amount of ingredients needed for this recipe and for the cooking instructions, check out the recipe card below.
There are four main steps to making the moussaka:
Cooking the eggplant. I like to fry the eggplant slices with some cooking oil spray on a skillet. But, you can either do it my way, bake them in the oven, or even grill them. The cooking method that you choose for the eggplant is completely up to you.
Make the tomato meat sauce. You'll first need to cook the ground meat on a skillet, then drain the excess fat. After that, you'll need to throw in the chopped onion and minced garlic, add sugar-free marinara sauce, and cook for a few more minutes.
Make the low-carb bechamel sauce. It's even easier to make than the traditional bechamel sauce. For the sauce, you'll need cream cheese, heavy cream, an egg yolk, salt, and some water.
Assemble the moussaka. First, add the eggplant slices, then the meat sauce, repeat, and top everything off with the bechamel sauce.
What Baking Dish to Use?
For this moussaka recipe, I used a 9 x 12-inch baking dish. However, if you want the moussaka to be thicker and have more layers, you can definitely use a smaller baking dish. With that in mind, I don't recommend using a larger one since the moussaka will turn out too thin. If you have a larger dish, you might want to use more ingredients.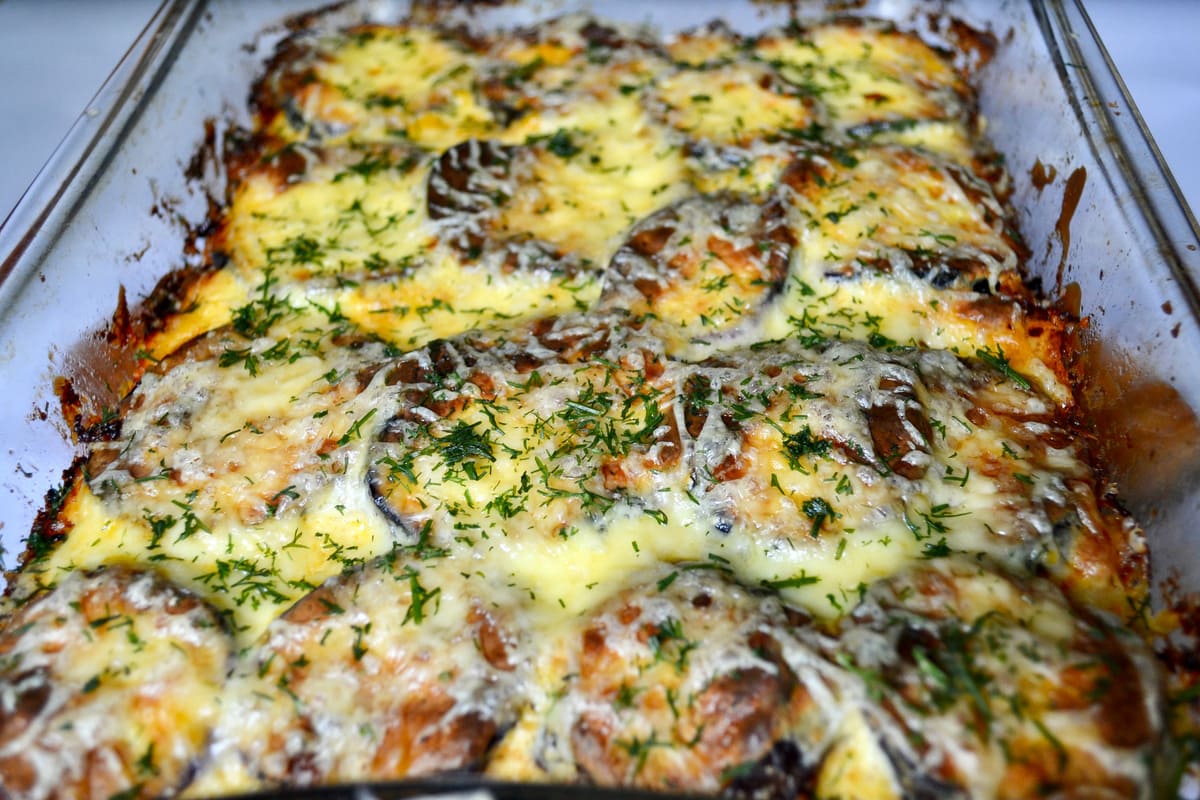 Storing and Freezing Tips
From the ingredients in this recipe, you make a moussaka that can be divided into eight servings, so there might be some leftovers. Keep in mind that you can store the keto moussaka leftovers in your refrigerator for 3-4 days. Whenever you wish to serve it, simply place a slice of the moussaka in your microwave for a minute or two to reheat.
If you want to make this moussaka beforehand and freeze it, you definitely can. Simply follow the instructions, assemble the moussaka, wrap it with food wrap, and place it in the freezer. Then whenever you want to cook it, place the baking dish with the moussaka in the oven preheated to 350 F, and bake for 50 minutes. Or, you can also cook the dish first before freezing it.
Serving Ideas
My favorite way of serving this low-carb moussaka is with a salad made of chopped tomatoes, cucumbers, parsley, and with a vinaigrette salad dressing. There is definitely nothing that would taste better than a fresh salad with this dish.
Or, if you're craving a nice loaf of crusty bread, you can also toast a slice of the keto feta bread.
Recipe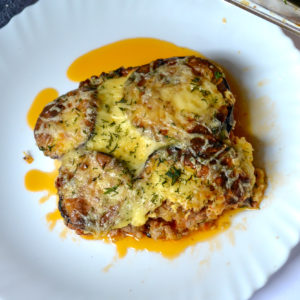 Keto Moussaka With Eggplant
This keto moussaka is low-carb, gluten-free, and insanely flavorful. It consists of layers of fried eggplant with a delicious meat sauce topped with homemade low-carb bechamel sauce.
Ingredients
Base:
3

small

eggplants

cooking oil spray

salt
White sauce:
3

oz

cream cheese

½

cup

heavy cream

¼

cup

water

1

egg yolk

salt

to taste
Instructions
Prepare the base for the moussaka. First, slice the eggplants and season them generously with salt. Set the eggplant slices aside for about 15 minutes. Then rinse the eggplants with water and pat them dry with paper towels. After that, spray a skillet with some cooking oil, and over medium heat, fry the eggplant slices until brown on each side.

Prepare the meat sauce. In a large pan, fry the beef mince with chopped onion over medium heat until fully cooked (for about 10-15 minutes). Add the minced garlic, marinara sauce, salt, and pepper. Cook for a few more minutes and then set aside.

Prepare the white sauce. In a saucepan, mix cream cheese, heavy cream, and water. Cook it, constantly stirring, over low heat. After the cream cheese has melted, temper the egg yolk and slowly add it into the white sauce. Continue stirring until the sauce thickens, but be careful not to let it boil. Add some salt and set aside.

Assemble the moussaka. Spray the bottom of the baking dish with cooking oil. Layer half of the eggplant slices on the bottom of the baking dish, evenly spread out the meat sauce, and place the second layer of the eggplant slices on top of it. Then, pour the white sauce on top of the eggplant slices.

Preheat the oven to 350 F and bake the moussaka for about 35-40 minutes, just until it acquires a light crust. Let the moussaka cool down a bit before serving.
Nutrition
Calories:
288
kcal
Carbohydrates:
11.5
g
Protein:
21.5
g
Fat:
17.6
g
Saturated Fat:
12
g
Polyunsaturated Fat:
1
g
Monounsaturated Fat:
10
g
Trans Fat:
1
g
Cholesterol:
117
mg
Sodium:
102
mg
Potassium:
667
mg
Fiber:
5
g
Sugar:
7
g
Vitamin A:
434
IU
Vitamin C:
5
mg
Calcium:
57
mg
Iron:
2
mg