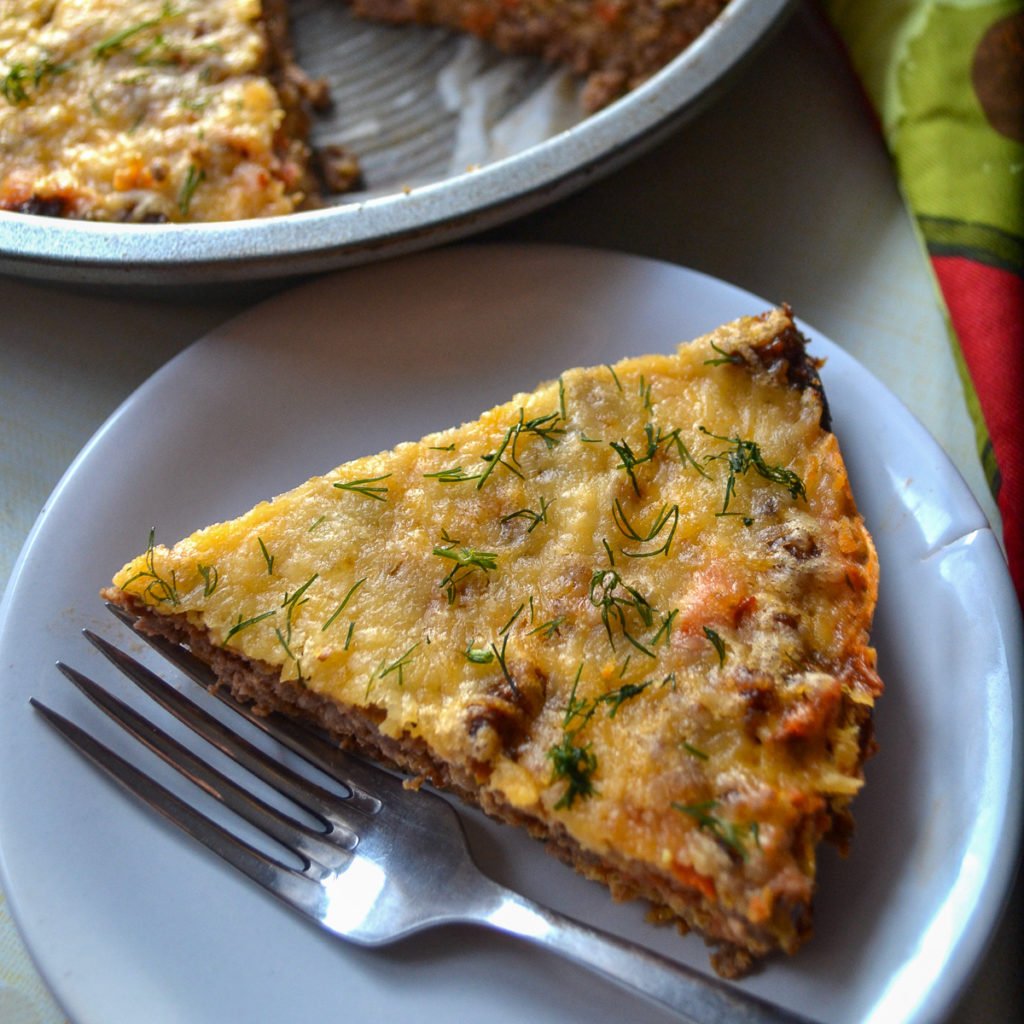 This low-carb keto meat pie will make your mouth water instantly. The ground beef, eggs, spices, herbs, and lots of cheese are just what you may need for a filling lunch or dinner. Plus, the carrots and onions make this meal even more flavorful!
It won't take you long to cook the keto flour-free pie — it takes only 15 minutes to prepare and 30 minutes to bake in the oven. Depending on the size of the pie plate that you choose, you can make more of the beef pie and store it in the fridge to have a ready lunch or dinner for a couple of days.
This is one of my favorite recipes that contain ground beef. It is easy to make, low-carb, high fat, juicy, and very versatile when choosing a side dish — just as I like it.
Table of Contents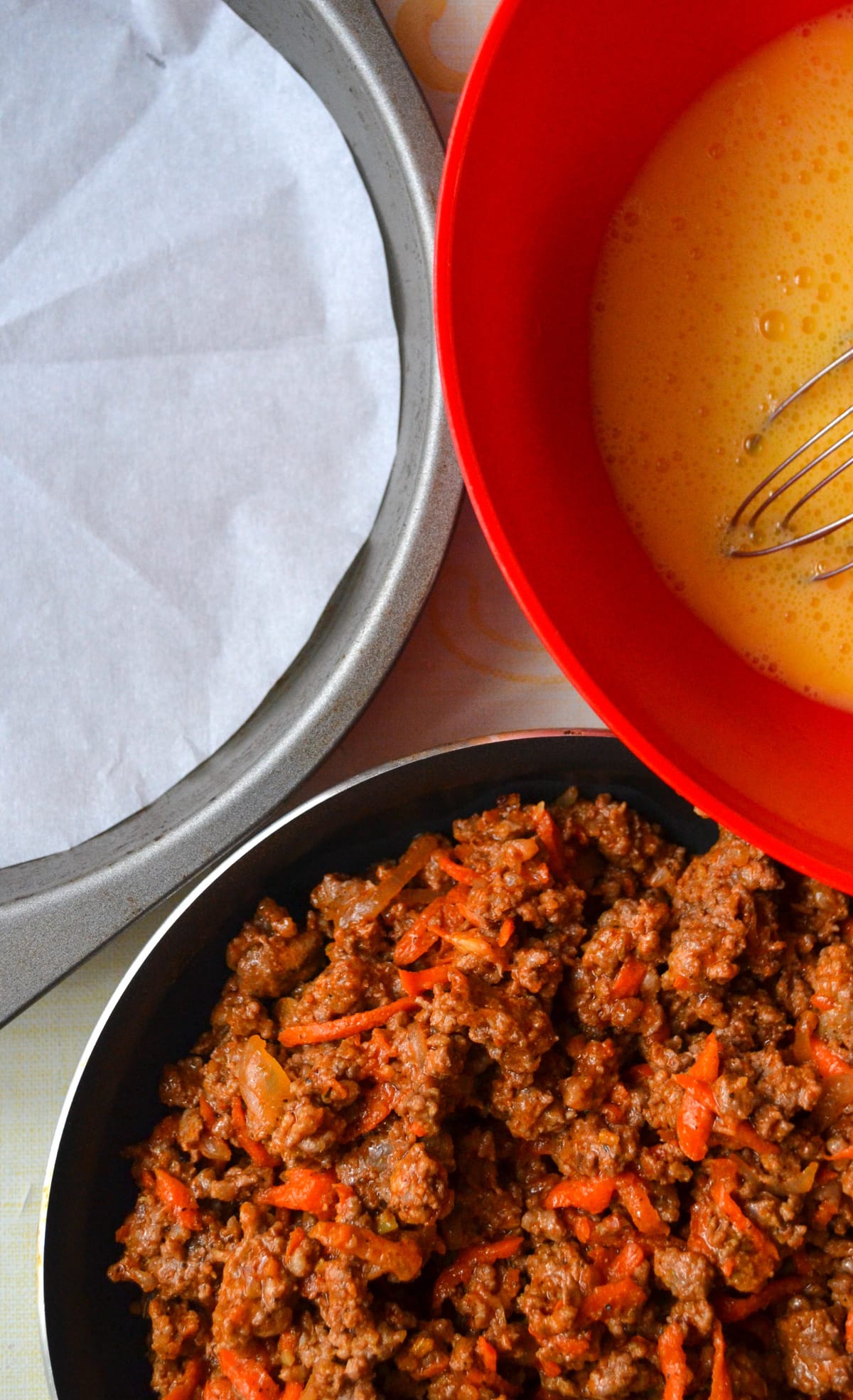 What You'll Need
To bake this delicious recipe, all you'll need are a few ingredients. The main ones are ground beef and eggs. When choosing the meat, always get the lean type. This way, the pie won't turn out too dry. Also, I used large eggs for this recipe.
To make this keto meat pie more nutritious, I decided to add some carrots and onions. Together, it's the perfect combination for a flavorful meat pie. Bell pepper or tomatoes can also be added to make the pie even juicier.
Two ingredients that make the keto meat pie tastier are tomato paste and sour cream. They add great flavor and make it creamy.
You can also go wild with the spices and herbs, but for me, garlic powder, onion powder, and basil make a perfect addition. Other spices that you can try are cayenne pepper, curry powder, or cumin. You can also top it off with some fresh herbs, such as chives, parsley, pesto, basil, and others.
The best part of the meat pie is the cheesy top. It's best to use either shredded mozzarella or cheddar cheese, but you can also use Colby jack, feta, or parmesan cheese.
The full list of ingredients and exact measurements are included in the recipe card below.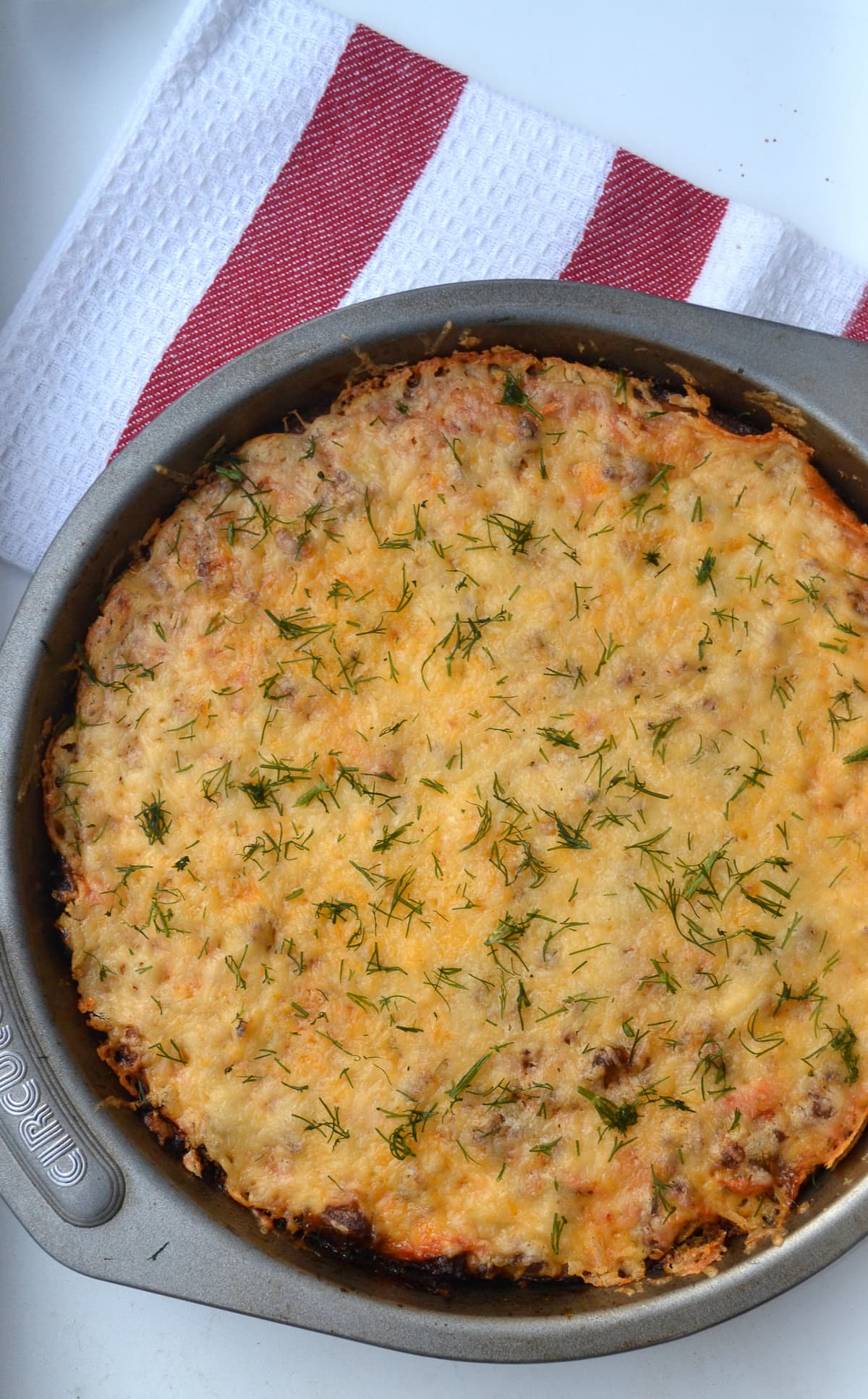 Serve It This Way
This ground beef pie is a very versatile meal. It tastes excellent with all kinds of side dishes. If you want to stay on the low-calorie side, a simple vegetable salad with some oil and vinegar will go well with this ground beef pie. Another good option that you can try is sauteed vegetables, such as broccoli or cauliflower.
My personal favorite is garlic butter mushrooms. This side dish goes well with almost all keto meat recipes, including this one.
How to Store the Leftovers
If there are any leftovers, place them in a container with a lid. This ground beef pie can be kept in the fridge for up to 4 days.
If you want to cook and store this recipe in advance, you can easily do it. Simply double the ingredients and get a larger pie pan for baking. Then, let it cool completely and cut into portions. You can store them in the freezer for 3-4 months.
The night before you eat it, put it in the fridge so it can thaw overnight. In the morning, use the microwave or the oven to reheat it.
To reheat the meal, simply place one slice in the microwave for one and a half minutes. It will taste just as good as when it was freshly baked. You can also reheat it in the oven. To do this, place the pie slice in a pan, cover it with foil, and place it into an oven preheated to 350F for 10 minutes. Just between you and me, I sometimes eat it without reheating!
Useful Tips
I don't know the exact number of times I've baked this meat pie, but it's been more than ten times for sure. The first time I made it, it got stuck to the pan, and I couldn't remove it correctly because I forgot to place the baking paper on the pan's bottom. So don't make this mistake.
Here are some other things that you should know before making the ground beef pie:
Set aside the pie and let it cook for about 15 minutes before cutting it. This way, it will hold together and won't fall apart when taking a slice out of the pan.
Add the cheese when the pie is almost ready. If you add it right away, it will get hard and it won't be as tasty.
Don't bake the pie for longer than 30 minutes. You don't want it to get burnt. For best results, keep a close eye on it after 20 minutes of baking since everyone's oven is different.
Recipe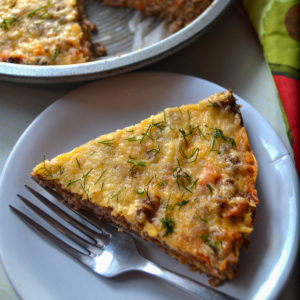 Keto Ground Beef Pie
This ground beef pie is a very versatile meal. It tastes excellent with all kinds of side dishes. If you want to stay on the low-calorie side, a simple vegetable salad with some oil and vinegar will go well with this ground beef pie.
Ingredients
1

lb

ground beef

1

medium

carrot

1

medium

onion

1

tbsp

tomato paste

2

tbsp

sour cream

5

large

eggs

1

cup

shredded cheddar

or mozzarella cheese

½

tsp

garlic powder

1

tsp

dried basil

salt and pepper

to taste
Instructions
Preheat the oven to 350F.

Cook the ground beef on a large skillet over medium heat for about 5minutes, then add the grated carrot and chopped onion and cook for ten more minutes. Afterwards, add the sour cream, tomato paste, and spices.

Crack the eggs into a medium bowl and whisk them. Add the ground beef into this bowl and mix everything together.

Place a piece of parchment paper into a pie plate and grease the sides, then transfer the mixture.

Bake for 25 minutes, then sprinkle the shredded cheese on top and bake for five more minutes. Wait for it to cool down a bit before cutting.
Nutrition
Calories:
525
kcal
Carbohydrates:
6
g
Protein:
35
g
Fat:
39
g
Saturated Fat:
17
g
Trans Fat:
1
g
Cholesterol:
346
mg
Sodium:
389
mg
Potassium:
569
mg
Fiber:
1
g
Sugar:
3
g
Vitamin A:
3269
IU
Vitamin C:
4
mg
Calcium:
284
mg
Iron:
4
mg