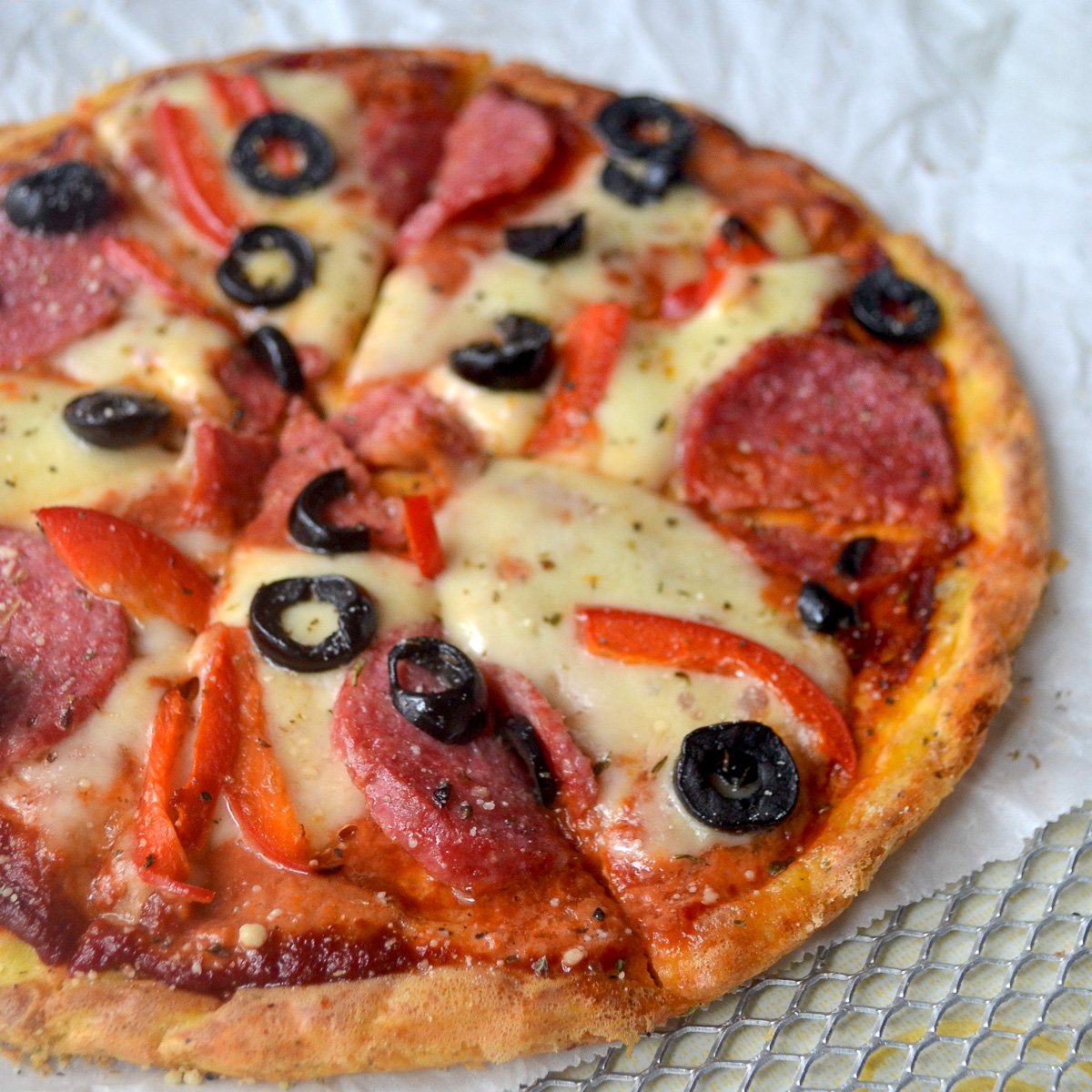 Looking for the perfect low-carb alternative to the traditional pizza crust? Try this recipe, and I promise you won't regret it! It'll only take you 30 minutes to make this mouth-watering pizza for lunch or dinner. Plus, the whole pizza has only 7 grams of carbs!
For most people, the tastiest part of any pizza is the cheese. So I thought, why not just make the crust out of cheese? This made the pizza as keto-friendly and as low-carb as possible! You can also cook it in advance and freeze it to have a ready keto meal ready for when you're busy.
By keeping the pizza low in calories, you can eat one whole pizza by yourself without feeling guilty after! The delicious toppings, along with the extra cheese, will leave you wanting more.
Table of Contents
Tips For the Best LCHF Pizza Crust
Those who eat this pizza won't be able to tell that there's no flour in it. It's as tasty as the usual pizza, yet it's much healthier! Crispy dough, delicious sauce, extra cheese, and yummy toppings are what make it so incredibly delicious.
But how can you make such a tasty pizza crust and keep it low-carb? Here are some tips for you to ensure that the pizza crust turns out the way it should:
Use the proper-sized pie pan. For this recipe, I used a 6-inch pan. I was able to make two pizzas using the ingredients listed in the recipe card. You don't necessarily need to have a pan of the same size. Just think of how thick you want the crust to be and choose the pan size based on that.
Cook it for the needed amount of time. If you want the crust to be a bit crispy, leave it in the oven for 5-7 more minutes. Don't be afraid; you won't burn it. Though just to be on the safe side, if you choose to bake it longer, keep a close eye on the oven.
Experiment with the cheese type that you choose for the crust. Mozzarella isn't the only cheese that you can use for a keto-friendly pizza. For example, sometimes, I like to add some cream cheese to the crust mixture for it to have a softer texture. You can use any other low-carb cheese that you want to.
Throw in some herbs or spices into the crust mixture. Since there are eggs in the mixture, you might want to hide its taste. One way you can do it is by adding herbs or spices, such as dried garlic, oregano, smoked paprika, or anything else that you like to add to your meals.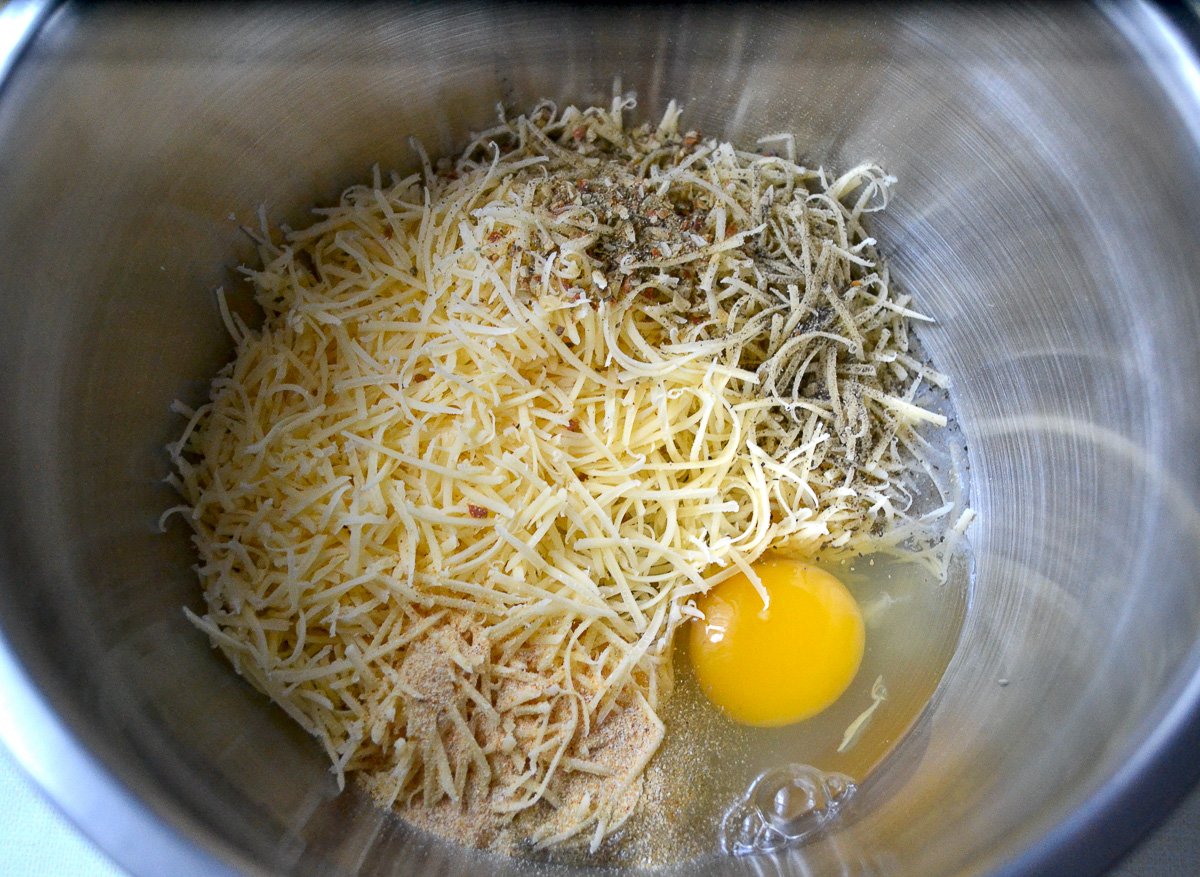 Topping Variations That You Should Try
This pizza crust will taste incredible with any pizza topping. You can either throw in the same toppings that are listed in the recipe card or decide for yourself. If you want to try something different, but have no idea what exactly you want to try, here are some low-carb pizza toppings that I like to add:
Tomato sauce, grilled chicken, bacon, spinach, and a blend of cheese types - Colby jack, mozzarella, and cheddar.
White sauce, shredded rotisserie chicken, onion, mozzarella cheese.
White garlic sauce, bacon, pickles, Parmesan cheese.
White sauce, salami, spinach, cheddar cheese.
Tomato sauce, salami, sausage, mozzarella.
Remember that if you choose pizza toppings different from those listed in the recipe card, you may get a different amount of calories, fat, protein, and carbs.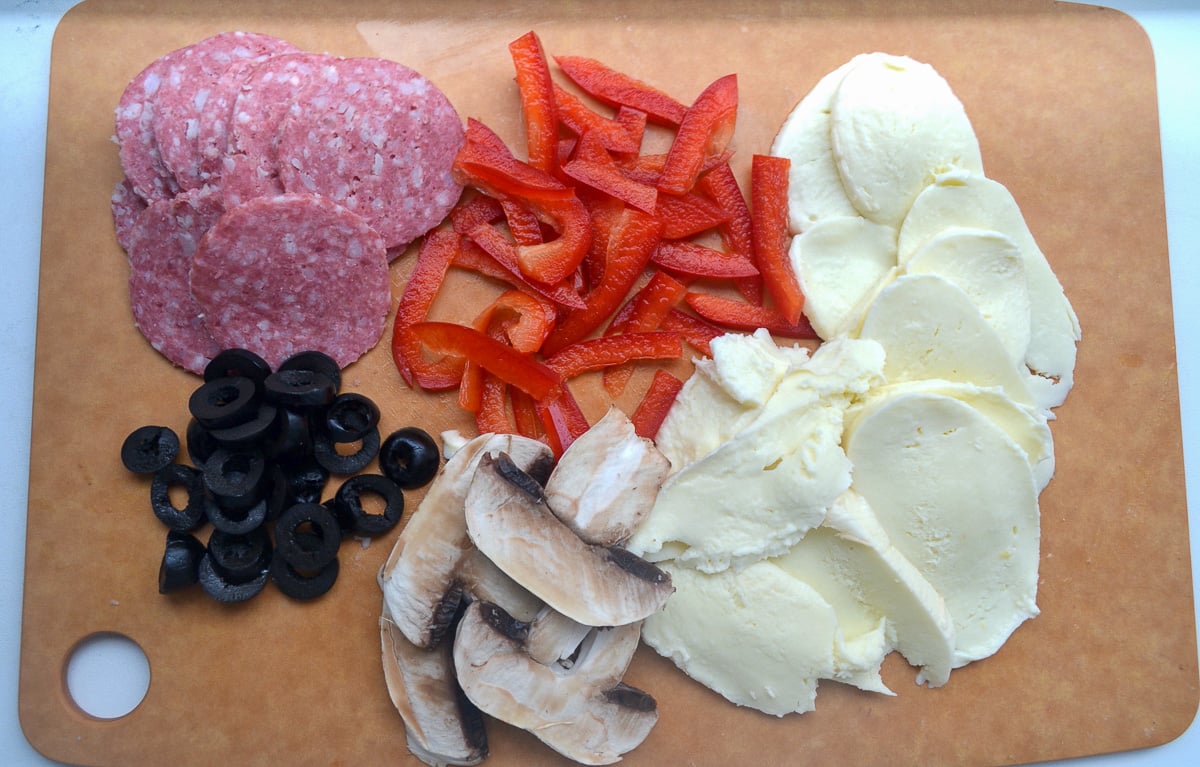 How to Make the Pizza Sauce
I prefer not to bother with making a fancy pizza sauce and go the simplest way possible — just use the usual tomato paste. If you also want to do it the same way, make sure that the tomato paste you choose has zero sugar.
Also, there are a lot of different low-carb pizza sauces on the market. So if you want to experiment, you can. If you have extra time, you can also choose to make your own homemade pizza sauce!
How to Store It
You can freeze this keto pizza crust either baked or uncooked. I always choose to bake the crust in the oven first, and without adding any sauce or toppings, freeze it. I keep a stack of those pizza crusts, as they last for almost a month. It's incredibly convenient to have a ready pizza crust in your freezer when you have no time to cook but still want to eat something delicious.
Truth be told, this pizza crust has saved me more than once from getting off the ketosis diet!
Recipe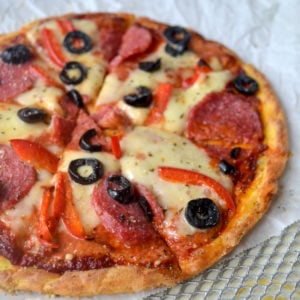 Keto Flourless Pizza Crust
This is the perfect low-carb alternative to the traditional pizza! It'll only take you 30 minutes to make this pizza that contains just 7 grams of carbs. This pizza is so low in calories, you can eat one whole pizza by yourself without feeling guilty after!
Ingredients
Crust:
3

eggs

½

cup

mozzarella cheese

shredded

salt, pepper, or other spices to taste
Toppings:
1

tbsp

tomato paste

6

slices

salami

5

olives

¼

cup

mozzarella cheese

¼

cup

bell pepper
Instructions
To make the pizza crust, whisk together the eggs and cheese. Add the spices and any preferred herbs.

Preheat the oven to 350 F. Cut parchment paper into a circle and place it inside the pie pan. Pour the mixture into the pan and use a spatula to spread it evenly. Bake for about 10 minutes until you see that it turns light brown.

Take out the pan with the ready crust and add your toppings. Place it back into the oven for 10 more minutes.
Nutrition
Calories:
397
kcal
Carbohydrates:
7
g
Protein:
28
g
Fat:
35
g
Saturated Fat:
11
g
Trans Fat:
1
g
Cholesterol:
300
mg
Sodium:
1187
mg
Potassium:
350
mg
Fiber:
1
g
Sugar:
2
g
Vitamin A:
1385
IU
Vitamin C:
26
mg
Calcium:
262
mg
Iron:
2
mg