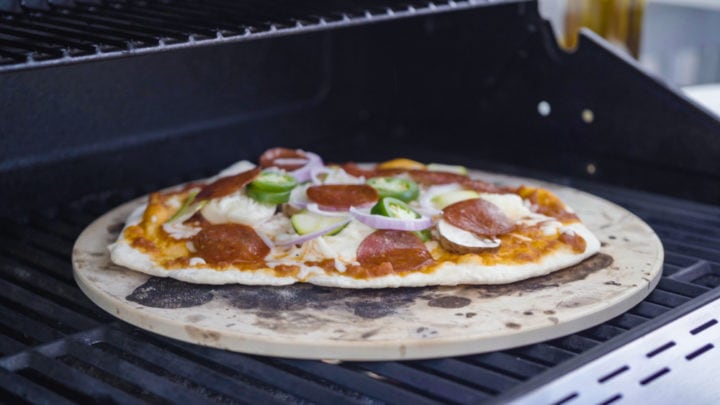 When you talk about pizza stones, there are many kinds of materials you can choose from. You have cast iron, cordierite stones, and steel. Remember, baking a pizza inside the oven is different if you place it inside the grill.
But which material of pizza stone is best for the grill? The pizza pan should withstand high temperatures from the direct heat of the grill without incurring any damage. The thermal shock from gas or charcoal grills can be too much for the pizza stone.
So if you plan to use your charcoal or gas grill to whip up pizza, look for pizza stones made of cast iron, cordierite stones, or steel. If you're a pizza lover, here is a list of the best products for a pizza stone for the grill you can choose from.
Table of Contents
Best Overall: Pizzacraft Round ThermaBond Pizza Stone
The Pizzacraft Round ThermaBond Pizza Stone meets all the expectations of the best overall pizza stone. This product is a fusion of style and functionality. Its material type is cordierite stone that went through ThermaBond Technology.
The Pizzacraft Round ThermaBond Pizza Stone resists thermal shock, avoids breakage, promotes even heat distribution, aids in long-lasting heat retention, and guarantees durability.
In addition, it's easy to maintain, easy to use, and requires no seasoning. However, when you buy this product, never season it as it may give off a rancid chemical smell. Also, never use soap when cleaning it. Just use hot water and a non-abrasive scrubber.
Aside from making pizza, you can use this as a baking stone to bake bread and pastries in the oven or for reheating a frozen pizza. Thanks to the Pizzacraft Round ThermaBond Pizza Stone, you can serve your family a restaurant-grade pizza.
Most Lightweight and Budget-Friendly: Pizza Stone Round Engineered Tuff Cordierite
Who says you have to spend too much money to buy a quality pizza stone? The Pizza Stone Round Engineered Tuff Cordierite is the ideal choice that combines quality and affordability. Like the product above, its material is cordierite stone.
This means it has strong thermal stability and can withstand high heat in the grill, and it has a multipurpose trait. Aside from cooking a golden crust pizza on the grill, you can use this pizza stone for baking scones, cookies, and many more baked goodies inside the oven.
Another selling point of this pizza stone is its lightweight at 5.49 pounds. If you've used a pizza stone before, it's a struggle to bring the pizza out of the oven because the pizza stone is heavy. You never have to struggle with that again if you use the Pizza Stone Round Engineered Tuff Cordierite.
The package also comes with a free multipurpose scraper. You can use the scraper as a dough cutter or remove excess food. Overall, the Pizza Stone Round Engineered Tuff Cordierite is a great bargain.
Best Universal Baking Tool: Culinary Couture Cordierite Round Pizza Stone
Another great contender for the best pizza stone for the grill is the Culinary Couture Cordieriete Round Pizza Stone. We call it the best universal baking tool because it doesn't serve as a pizza stone alone. You can use it for baking pastries, cooking chicken tenders, or even reheating food leftovers.
Like the other products mentioned above, the Culinary Couture Cordierite Round Pizza Stone is also made from superior cordierite material. That means three things - it's durable, has high heat tolerance, and is long-lasting.
Although its maximum heat tolerance is lower than the Pizza Stone Round Engineered Tuff Cordierite mentioned above, it's still an excellent pizza when used in the oven or grill. It's important to have peace of mind that it won't crack in the charcoal or gas grill.
What makes this pizza stone best from all the others? It comes with a free e-Book with 45 delicious pizza recipes. Isn't that awesome or what? Not only are you buying a durable pizza stone, but you get to learn new delectable pizza recipes as well.
Best for Gas Grills: Hans Grill Pizza Stone
Do you like to stray away from tradition and prepare rectangular pizzas instead? Then the Hans Grill Pizza Stone is perfect for you. The Hans Grill Pizza Stone is the best pizza stone for gas grills, charcoal grills, and of course, your oven too.
Its rectangular shape fits many popular gas grills. This pizza stone is also made from a thick slab of cordierite stone, so you know it retains heat excellently and won't crack inside the grill.
Like the other cordierite pizza stones mentioned above, it absorbs moisture under the pizza while cooking. Also, its thickness is just right enough, so you won't have to wait for long hours to preheat it, and it's thin enough to crisp up the base. What can you expect? A homemade pizza with a crispy crust and a slice of heaven.
Of course, other than pizza, you can use the Hans Grill Pizza Stone to prepare other baked goodies like artisan bread, cookies, pies, meat delis, finger foods, and many more. No wonder it's one of the best-selling pizza stones on Amazon.
What you'll love about this pizza are the freebies that come with it. It comes with a free wooden pizza peel or paddle so you can seamlessly transfer the pizza in and out of the grill. In addition, it comes with free pizza recipes so you can make pizzas at home like a true Italian chef.
Best for Outdoor Camping Trips: UNICOOK Heavy Duty Cordierite Pizza Grilling Stone
Pizza on a camping trip, because why not? Then you should definitely have the UNICOOK Heavy Duty Cordierite Pizza Grilling Stone. This rectangular, heavy-duty cordierite stone has excellent durability, superior strength, and exceptional thermal shock capabilities.
It can safely heat up to 1400 degrees Fahrenheit. That's why it's not just best for outdoor grills, but when baking other goods in the oven as well. In addition, it comes with a unique porous structure with invisible micropores. That's why you can expect a thick, golden-brown crust thanks to its even heat distribution.
Who wouldn't love the UNICOOK Pizza Stone? It comes with a free dough cutter. Lastly, the UNICOOK pizza stone also passed the chemical and sensory test; that's why you'll be confident of the product's quality.
Best Steel Pizza Stone: NerdChef Steel Pizza Stone
Enough about cordierite for pizza stones; what about steel? We bring you the NerdChef Steel Pizza Stone made of alloy steel. We love this steel pizza stone because it has 20x higher conductivity than cordierite stone and twice the heating capacity.
So aside from the charcoal grill and barbecue grill, you can use the NerdChef Steel Pizza Stone even in a wood fire oven without worrying about thermal shock resistance. Solid steel is unbreakable for life, and NerdChef keeps this promise.
With a steel pizza stone, you won't worry about hairline cracks or breaking because it won't. With alloy steel, if it's not taken care of properly, rusting will be the issue. But as long as you follow the proper care and washing instructions, you won't have to worry about that.
You'll love this pizza stone as it comes pre-seasoned with flaxseed oil and has finger holes for easier handling. The baking steel cookware is heavy. That's why it has finger holes so you can easily transfer it. Plus, you can hang it on the wall.
Lastly, aside from being a pizza stone, you can use it for baking goodies in the oven, use it as a cold plate, and you can make ice cream on it as well. Just place dry ice underneath it, and voila! You can make an ice cream directly on top of it.
What to Look for Before You Buy The Best Pizza Stone for Grill
Choosing a pizza stone for grilling won't be a tough job as long as you know what to look for. So what should you look for when buying a pizza stone, especially when using it in the grill? Here's what you should know:
Thermal-shock Resistant
Temperatures inside the grill may range between 650 to 100 degrees Fahrenheit. So you should look for the best pizza stone for the grill that can withstand this heat and is thermal-shock resistant. All the products mentioned above can withstand the heat requirement in charcoal or gas grills.
Absorption Property
A pizza stone should have an absorption property. A pizza stone needs to have a maximum absorption property to absorb the moisture of the pizza. This feature contributes to the golden-brown, crispy crust of the perfect pizza. You wouldn't want a soggy pizza, right?
The Thickness of the Pizza Stone
Always look for a pizza stone with a thickness between 0.5 to 1 inch. The thicker the pizza stone, the greater its heat retention, but it will take longer to preheat. As for thin pizza stones, they require less time to preheat. However, heat retention won't be as good as with thick pizza stones. But don't worry, as long as you stick to the suggested thickness range, you're good to go.
The Size of Your Grill or Oven
Of course, before buying a pizza stone, you should consider the size of your grill or oven at home. That's why we included the item dimensions in the product description so you can check if it can fit in your grill or oven.
Care Instructions of Pizza Stones
For any kind of cookware, without the proper care, you are risking damage to the product. So here are some things to remember when taking care of your pizza stones so you can last for a long time.
Cordierite Stone
Cordierite is a type of ceramic stone and is a great material used for pizza stones. But without proper care, it may crack and give off a rancid chemical odor. In case you decided to purchase a cordierite pizza stone, here are some care instructions you should remember:
Never season cordierite or ceramic pizza stone with oil, grease, or butter. With frequent use, it will develop its naturally nonstick surface.
Do not use detergent, dishwashing liquid, or harsh cleaning solutions to clean your cordierite pizza stone. Any substance used to clean the pizza stone gets absorbed and will affect the food's flavor.
Before cleaning a cordierite pizza stone, let it cool first. You can use a stone brush or damp rag to remove food particles. Then wet the surface with a small amount of hot water. Never submerge the whole pizza stone in water or place it in a dishwasher.
Use a potholder, oven mittens, or pizza paddle when handling a hot pizza stone. The material is sure to get hot after taking it out of the oven or grill.
Always handle your cordierite pizza stone with care. Do not drop it as it may break.
Steel Pizza Stone
As for steel pizza stones, they have a similar cleaning process to ceramic pizza stones. Never use a detergent or soap to clean it. Except, you can season the steel pizza stone. However, only season it when it loses its nonstick quality.
Final Thoughts
By this time, you already have a pizza stone in mind that you want to buy. Go for it! Regardless of whether you choose the cordierite pizza stone or steel pizza stone mentioned above, you're making the right choice.
Remember to follow the care instructions that come with it, and always measure your grill or oven first to make sure it fits. We're excited to hear about your Tastylicious homemade pizza with your new pizza stone. Would you mind sharing your tips and recipes with us? Leave a reply or a comment below!