Some people may prefer cold pizza, though I think hot, melted cheese is best. When it comes to parties, there is no better crowd-pleaser. The only problem is getting your delivery driver and your guests to arrive at the same time.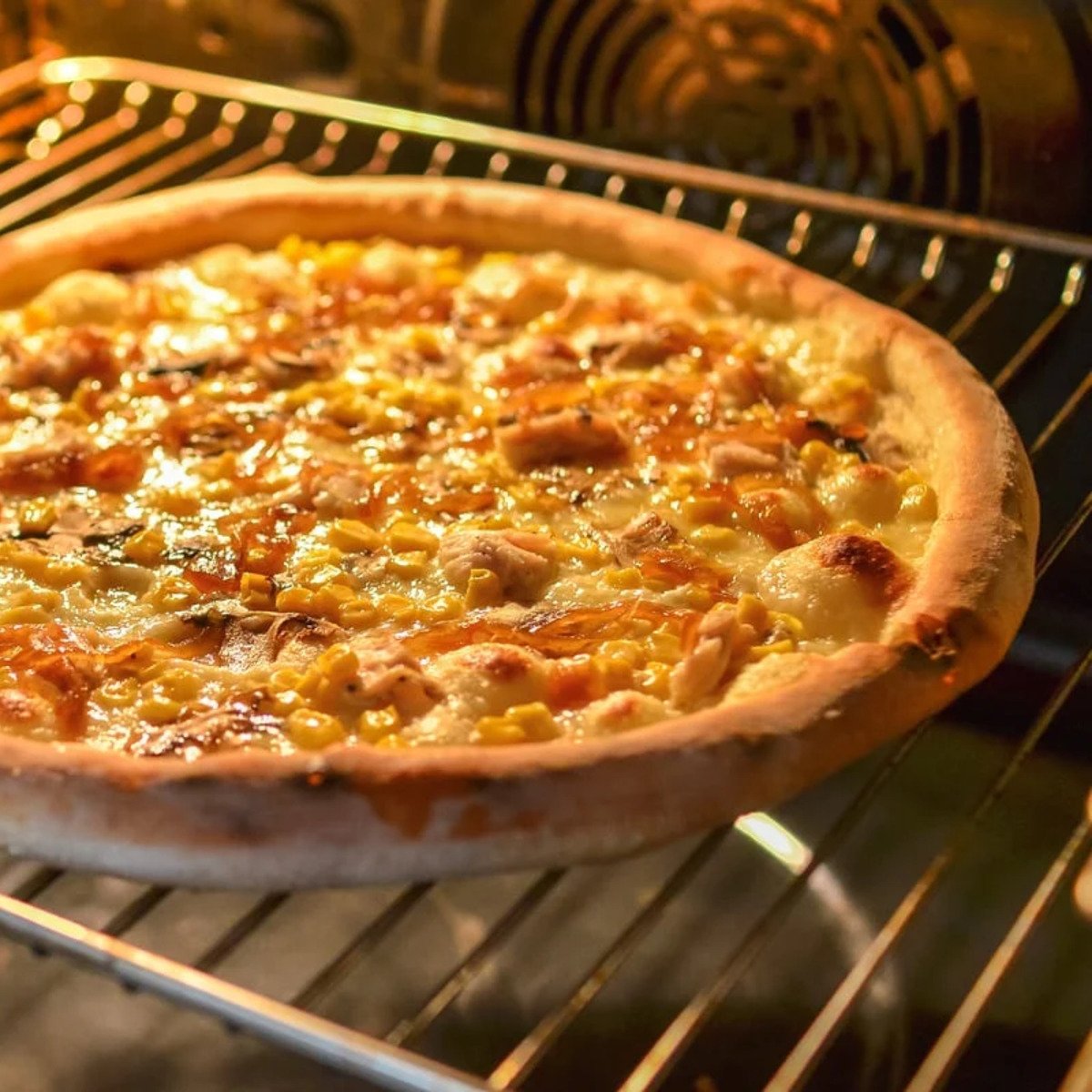 If you're wondering how to keep pizza warm in the oven, never fear. I have plenty of tips and tricks to ensure your pizza is ready to go when you need it. Take a look at this guide for some of my favorite methods for keeping this dish at its best.
Table of Contents
Why It's Crucial You Keep Your Pizza Warm
Of course, it's easy to understand that keeping pizza fresh and hot is the best way to enjoy it. But did you know that keeping leftover pizza warm is also an important part of food safety?
Since pizza is perishable, you shouldn't keep it at room temperature for more than two hours. Doing so helps prevent the growth of bacteria that can make you sick. When reheating, a temperature of at least 165 degrees Fahrenheit is recommended.
Tips on Keeping Freshly Delivered Pizza Warm
There are plenty of ways to keep your pizza warm, but most important of all is knowing what steps to take after your pizza is delivered. Follow this simple guide to keep it as fresh as possible for hours.
Begin preheating your oven to 200 degrees Fahrenheit while the pizza is on its way. You can also put a baking sheet or pizza stone in the oven at this time as well. They should all be up to temperature by the time the pizza arrives.
Once the pizza is delivered, be sure to thank and tip your delivery driver. Then, unbox the pizza and carefully slide it onto a baking sheet or pizza stone. A pizza paddle can help with this process.
Once the pizza is in place, lower the temperature of your oven to 150 degrees Fahrenheit. Once your guests arrive, whether that's in ten minutes or two hours, the pizza should be piping hot and fresh.
What is the Ideal Temperature to Keep Pizza Warm?
The perfect temperature to keep pizza warm in the oven is 150 degrees Fahrenheit. This will ensure your pizza stays hot without burning.
However, keep in mind that storing it in this way for more than two hours is not recommended. Doing so will dry out your crust and begin to burn your cheese.
6 Ways to Keep Pizza Warm
The truth is that there are plenty of ways to keep pizza warm. Take a look at some of the options below and choose the one that gets the results you want.
Aluminum Foil
Aluminum foil is the classic method to keep pizza warm and is also one of the most effective. Simply wrap individual slices of pizza in foil and bake at 400 degrees Fahrenheit for five to ten minutes. Once it's ready, it will be as good as fresh!
The advantage of this method is that it can reheat pizza that has already gone cold. On the downside, it is best suited to reheating a few slices at a time. For preserving a whole pizza, try one of the other methods.
Baking Sheet
One secret about baking sheets that some home cooks don't know is that they double as pizza stones. Simply turn yours upside down and preheat to sear your pizza crust to perfection.
If you're looking to use a baking sheet to keep pizza warm, you can take advantage of this same principle. By placing the pizza on a baking sheet at 150 degrees Fahrenheit, you can keep the cheese melted and the crust crisp.
Frying Pan
My favorite under-utilized pizza heating method has to be the frying pan. Once you see how simple it is, it will be yours too.
Start by heating a cast iron pan or griddle to medium-high heat. You can drizzle in a bit of oil if you like, but it's unnecessary.
Once the pan is up to temperature, sprinkle a few drops of water onto the pan's cooking surface and cover. After just two minutes, the steam created by the water drops will revitalize your cheese.
Microwave
The microwave has to be the most classic method for reheating pizza. While it may not get your crust as crispy, it will melt your cheese perfectly.
However, one thing about microwaves is that they tend to turn pizza crust chewy. To avoid this, simply put a small bowl of water and the plated pizza on it. As the pizza cooks, the water will evaporate and keep your crust from getting chewy.
While ideal for a single slice, the microwave isn't the best choice for a whole pizza. In this case, it may be better to use your oven.
An Insulated Bag
One of the best ways to keep pizza warm is to take advantage of the tricks used by pizza companies. Insulated pizza bags are not only effective but also convenient, as they allow you to transport your hot pizza where needed.
Insulated bags are ideal for travel, but keep in mind that they are not designed to keep pizza warm for long. If you're planning to use it for more than an hour, it may be wise to consider another method.
Is a Pizza Stone Worth it?
Most pizza stones cost between $30 and $40, which can be a good investment if you use them frequently. They are the best way to give your warm pizza a perfectly crisp crust and are made to last a lifetime. They can be useful for reheating pizza too, rapidly transferring heat when left in a preheated oven.
However, if you're looking to save a bit of money, there are plenty of other ways to keep your pizza warm. A simple baking sheet can do the trick, and even a cast iron pan can be a good option.
What to Avoid
Now that you know how to keep pizza warm in the oven, take a moment to learn reheating techniques to avoid. These methods can either ruin your pizza or are a serious safety concern.
The Toaster
Believe it or not, some recommend sliding a slice of pizza right into your toaster. While some have found success with this method, I do not recommend it.
Unless you get the cooking time exactly right, you will end up with a puddle of sauce and mozzarella inside your appliance. In most cases, this means you'll need to buy a new toaster.
Putting Cardboard in the Oven
One of the most common pizza reheating methods also happens to be the most dangerous. Putting cardboard, or any paper products, in your oven is never recommended.
The combustion point of paper ranges between 420 and 450 degrees Fahrenheit. This means that it will catch fire if put in an oven that's hot enough. However, that doesn't mean it is safe to put cardboard pizza boxes in an oven that's cooler than these temperatures.
The fact is, many factors can affect the point at which paper products burn. Humidity, oven settings, and the thickness of the material all play a role. Because of this, it's hard to predict whether your cardboard box will catch fire in your oven.
When in doubt, it's better to avoid putting cardboard in your oven altogether.
Frequently Asked Questions
Keeping pizza warm doesn't have to be difficult. See some of the most frequently asked questions to perfect your technique.
How long can I keep pizza warm in the oven?
Ideally, it's best to avoid keeping pizza warm in the oven for longer than two hours. After this time, the crust will begin to dry out and the cheese may burn.

But, if you lower the temperature slightly, you can stretch this time to as long as three hours. Though after this point the quality of your pizza will begin to suffer.
How long does pizza stay warm in a delivery bag?
Pizza delivery bags are a great way to keep pizza warm on the go. However, they are not designed to keep them fresh for the long term.

If immediately sealed in an insulated bag right after cooking, you can expect your pizza to stay warm for an hour. However, if you need to wait longer, you can always heat it in the oven for a few minutes.
What is the best temperature to reheat pizza?
150 degrees Fahrenheit is the ideal temperature to reheat pizza. This will reactivate the oils in the crust and cheese without burning or drying it out.