Jump to Recipe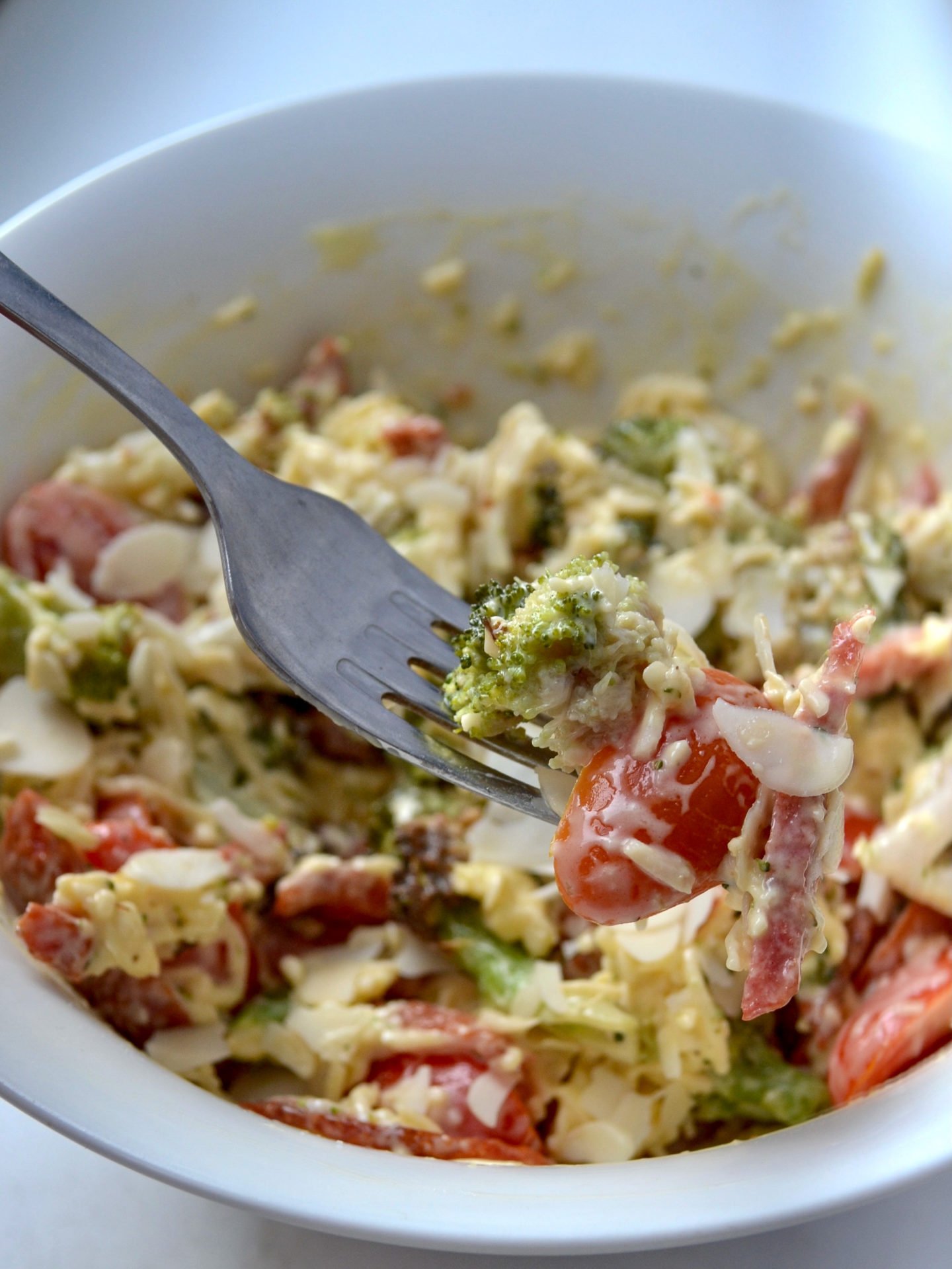 This broccoli salad is perfect for a filling lunch or dinner. When topped off with the homemade low-carb sauce, you'll be tempted to eat it to the very last bite!
You'll need less than 20 minutes to make the salad, making it an excellent option for people pressed for time. It can be served both as the main course or as a side dish.
The basis for this recipe is broccoli, cheese, and sauce. Other ingredients can be chosen according to your own preferences. You can add almost anything to this salad — tomatoes, avocado, bacon, cranberry, onion, etc. I've tried many variations, but out of all of them, this is my favorite one.
Table of Contents
What's So Awesome About This Recipe
Here's why I love this broccoli salad so much:
It's nutritious. I can talk nonstop about the benefits that come with eating broccoli, but I think you already know those.
It's keto-friendly. This recipe is low carb and high fat, which means that it is an ideal option for a keto meal. If you decide to change the ingredients, make sure that you choose only low-carb products.
It's delicious. The whole family will enjoy it. Even if your kids or partner can't stand looking at broccoli, this salad might just make a difference!
It's easy to prepare. Even if you are in a hurry, you'll be able to make this keto salad quickly and mess-free.
There's only one disadvantage to this recipe: if you make too much of the salad, you won't be able to resist it and might just eat everything!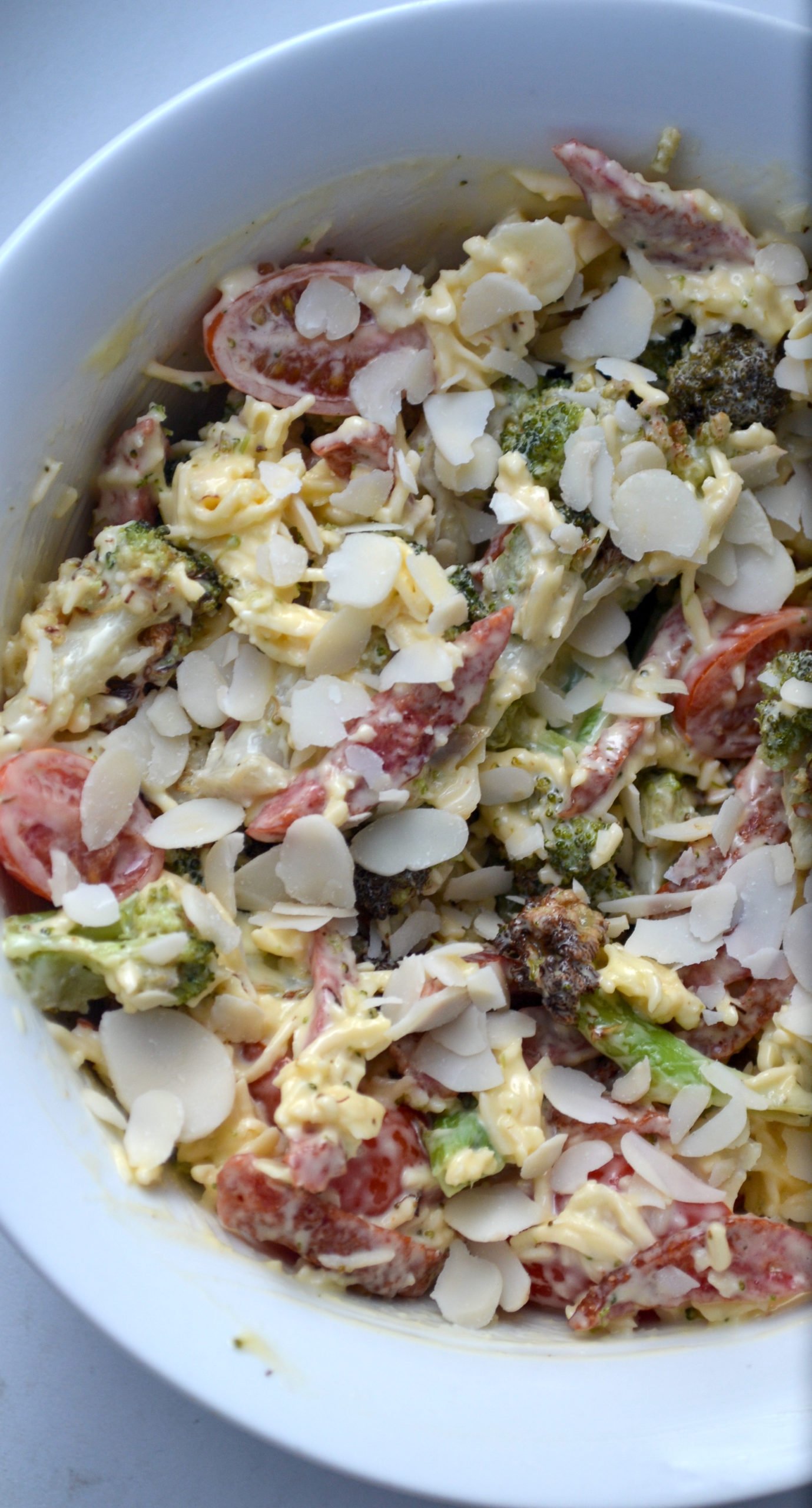 Do You Need to Cook the Broccoli
Raw broccoli is ideal for those who like the crispness. If you don't like raw broccoli, you can cook it how you like it.
I personally like to throw the broccoli in the air fryer for about 10 minutes. This way, it'll have the crispness plus an incredible taste from the dry garlic and smoked paprika that I sprinkle over it when frying.
Steaming is also a great option. This way, the broccoli preserves all of its vitamins and nutrients.
Tips For Storing
You can store this keto salad in the fridge for up to 3 days, but you should keep in mind that the longer it stays in the fridge, the softer and more flavorful the broccoli gets.
If you want the broccoli to preserve its crispiness, then you should store the homemade salad dressing and the salad ingredients separately. I always triple the recipe proportions, make the dressing, and chop everything ahead of time so that I can enjoy it for a couple of days.
How to Make the Dressing
For the keto salad dressing, you'll need one raw egg, olive oil, lemon juice, salt, garlic, vinegar, and mustard. I like to experiment with the mustard types. Whether you choose dijon mustard, spicy brown, or French will make a huge difference for the sauce.
You can also add any herbs and spices that you like. Here's what you should do:
Crack the egg into a hand blender cup.
Add ½ cup of olive oil, one teaspoon of lemon juice, minced garlic, some mustard, and salt to taste.
Use the hand blender to mix everything together for about 1 minute.
That's it! In just a couple of minutes, you've made your own homemade keto sauce. I always make extra since I can store it in the fridge for up to one week, and my family loves it.
Mix And Match the Ingredients
This keto salad recipe is highly customizable. You can add any ingredients that you think will taste good with broccoli. Here's a list of the ingredients that I like to add:
Onions
Sunflower Seeds
Bacon
Raisins
Cranberry
Olives
Parmesan
Chicken
Walnuts
Cheddar Cheese
Avocado
Even something as simple as broccoli + bacon + cheese will be delicious when served with the keto salad dressing.
But remember that if you make any changes to this recipe, the carbohydrates, fat, protein, and calories may vary. Ensure that the products you choose to add are low-carb since they will make a significant difference to your meal.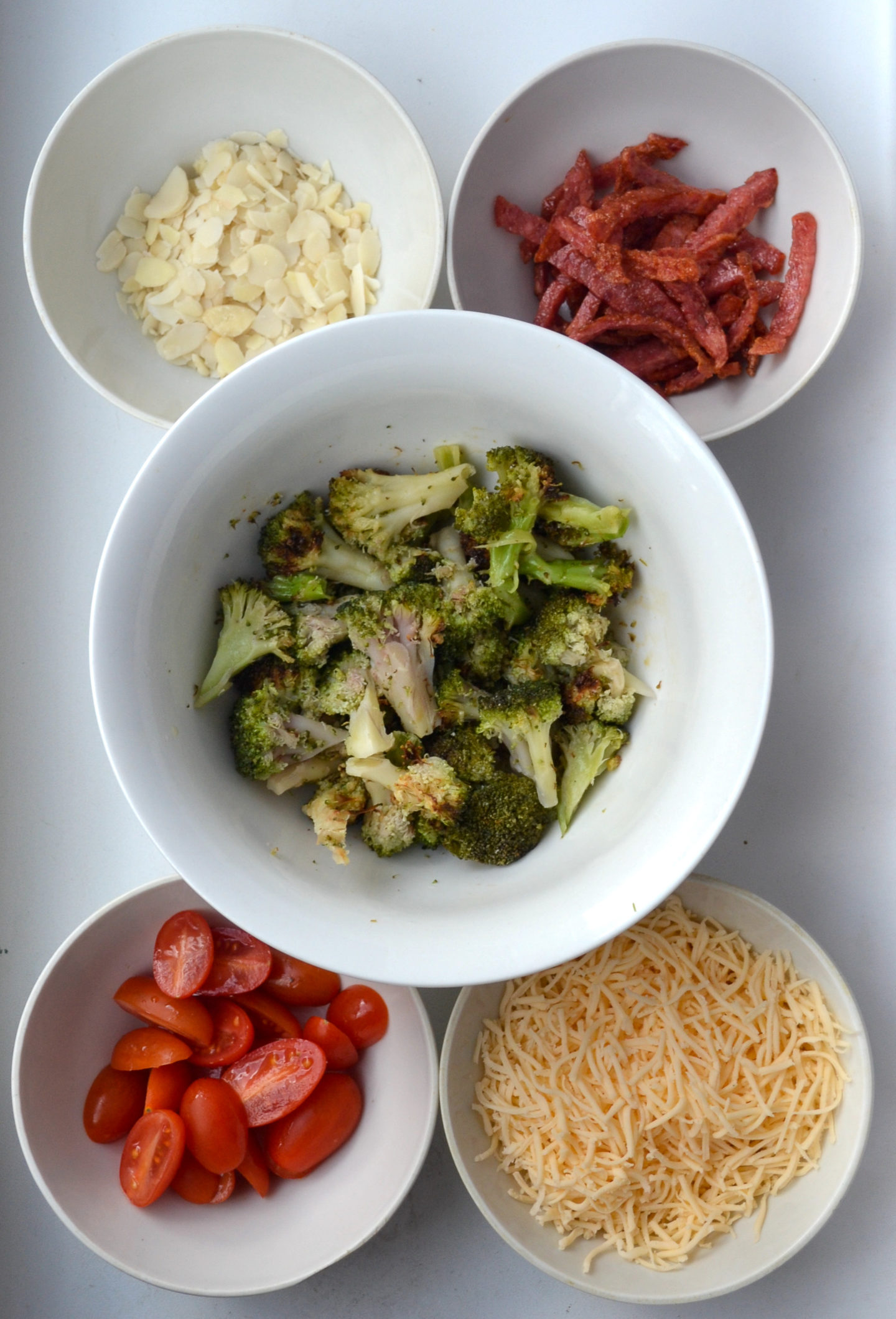 What About Sugar
The traditional broccoli salad dressing has lots of sugar in it, which isn't keto-friendly. I think that this salad is tasty even without that sweetness that comes from the traditional dressing. But if you want to reproduce that, you can easily use a sweetener.
The best sweeteners for people that are following the keto diet are stevia, erythritol, sucralose, yacon syrup, xylitol, and monk fruit sweetener. My favorite one is erythritol. It has a tiny amount of carbs and is great for any purpose, whether you're baking a dessert or making a broccoli salad dressing.
Recipe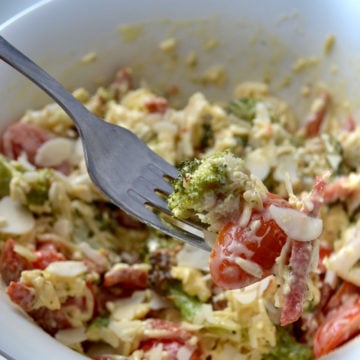 Keto Broccoli Salad With Homemade Sauce
This broccoli salad is perfect for a filling lunch or dinner. Top it off with the homemade low-carb sauce, and you'll be tempted to eat every last bite! Plus, you only need 20 minutes to make it.
Ingredients
1

cup

broccoli

⅔

cup

cherry tomatoes

¾

cup

mozzarella cheese

shredded

⅓

cup

salami

⅛

cup

almonds

sliced

½

cup

homemade keto sauce
Instructions
Cut the broccoli into smaller pieces and the cherry tomatoes in half.

Slice the salami and fry it for a couple of minutes without adding any oil.

Throw everything into a large bowl and add the sauce right before serving.
Nutrition
Calories:
395
kcal
Carbohydrates:
7.7
g
Protein:
19.7
g
Fat:
33.7
g
Saturated Fat:
8
g
Cholesterol:
48
mg
Sodium:
710
mg
Potassium:
418
mg
Fiber:
3
g
Sugar:
3
g
Vitamin A:
810
IU
Vitamin C:
52
mg
Calcium:
265
mg
Iron:
1
mg