Low-calorie, yet nutrient-dense and packing numerous nutrients and antioxidants essential to our health, broccoli deserves its reputation as a super-food.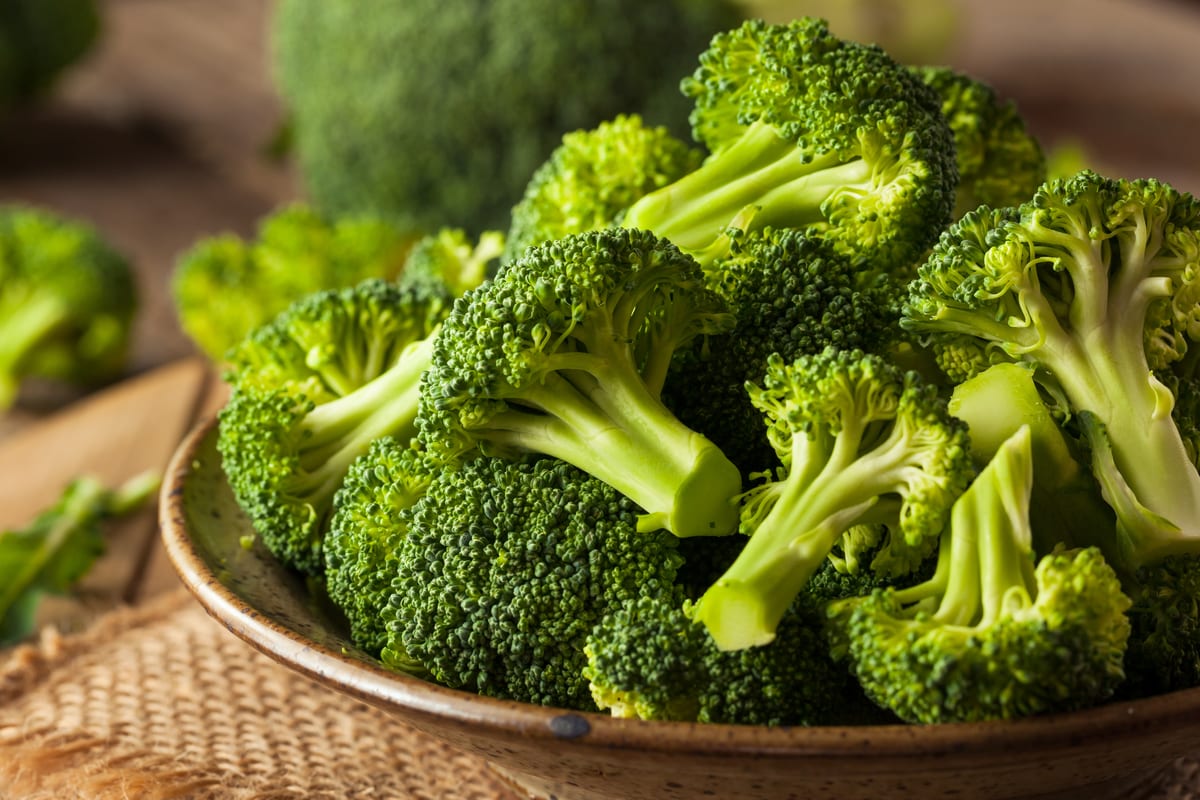 For example, a single cup of raw broccoli provides 135% of the recommended daily intake of Vitamin C, the powerful antioxidant. It also contains a wide array of other vitamins, minerals, antioxidants, glucosinolates, fatty acids, and nutrients that our bodies need. Among the many health benefits it provides, broccoli helps prevent cancer, lowers bad cholesterol levels, reduces inflammation, promotes bone health, improves heart health, keeps the eyes and skin healthy, and even aids weight loss.
In this article, we will look at broccoli in detail, starting with its origins, some of its varieties, learn how to plant, grow, harvest, and store broccoli. Of course, we will also take a look at its nutritional values, broccoli health benefits, and any health risks it may have. Finally, we will find out how easy it can be to add broccoli to your diet—and learn why people juice and blend broccoli.
Table of Contents
Origins
Belonging to the Brassica oleracea species, broccoli (Brassica oleracea italica) looks like a miniature tree with its large, usually dark green flower heads that branch out from a thick, firm, and typically light green stalk. It closely resembles cauliflower, which is also a cruciferous veggie that belongs to the Botrytis Group. Because the two vegetables are so similar to each other, health experts often compare them.
Native to the Mediterranean region, broccoli resulted from the breeding of wild cabbage cultivars grown in the Roman empire. Early civilizations began cultivating the cruciferous vegetable around the sixth century and improved the vegetable in the Italian Peninsula. By the 18th century, broccoli had already made it to northern Europe. And, in the 19th century, Italian immigrants brought and introduced this vegetable to North America. However, farmers in the United States only began growing broccoli in the 1920s.
Since then, broccoli became increasingly popular, both within the United States and without. In fact, a statistical report showed that Americans ate an average of 6.1 pounds of broccoli throughout the year 2019.
Growing Broccoli At Home
Gardeners consider broccoli to be one of the easiest crops you can grow at home by yourself. Best planted in the cool weather of late winter or early spring, broccoli tastes best from October to the early spring in April. It loves the sun and thrives in cool climates. Although broccoli is a cool-season crop, it grows best when it receives 6 to 8 hours of full sun every day. Otherwise, it may produce thin, leggy plants and subpar heads. In case long stems do develop, try replanting the seedlings up to their first leaves, and then provide more light.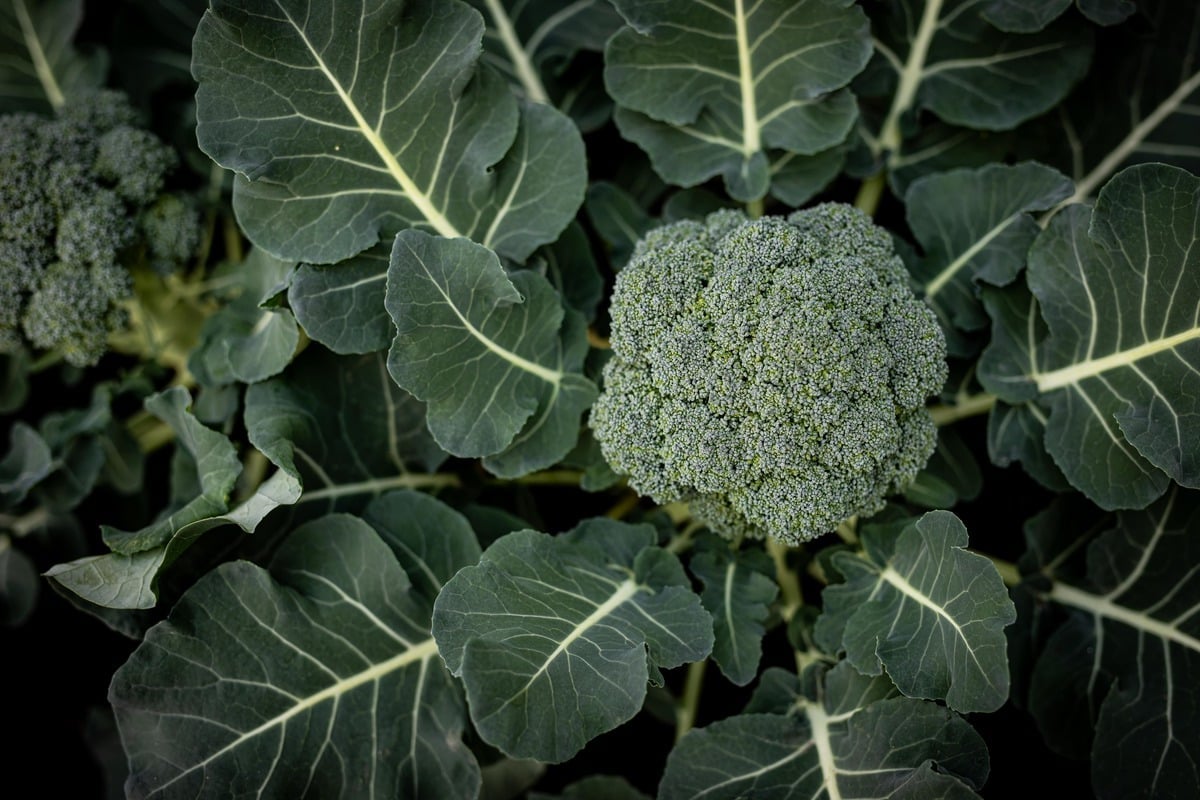 When sowing the broccoli seeds, make sure to plant them just below the surface, about ¼ to half an inch deep and 3 inches apart. Alternatively, plant each seedling 18 to 24 inches (45 to 61 cm) away from one another, with each row spaced 24 to 36 inches (61 to 91 cm) apart. Gardeners say that providing more space between the plants encourages larger central heads to grow. As broccoli grows, make sure to water them regularly—about 1 to 1.5 inches of water per week—and keep the soil moist. Water the plants at the base, not from the top, as water can pool and rot the center of the broccoli.
Harvesting and Storing Broccoli
Grown from seeds, broccoli typically takes 100 to 150 days to mature. And, when grown from transplants, they take 55 to 80 days. Make sure to harvest the buds while they are still green and tight, just before they start flowering. If you spot yellow petals among the plants, harvest them immediately as quality will decrease rapidly. Make sure not to let broccoli bolt, as this means the plant can no longer be eaten.
To harvest broccoli, cut the central head off with about five to six inches of stem, making a slanted cut as you do so. This will ensure that water does not pool in the center stem and ruin secondary shoots. Then, leave the base of the plant and side-shoots to allow new heads to grow. If you do so, you will be able to harvest each plant for many weeks, albeit smaller.
Once harvested, gardeners advise refrigerating fresh broccoli as soon as possible. You can store unwashed broccoli in the refrigerator for 3 to 5 days. Alternatively, blanch the broccoli before storing it as it freezes well. Doing this will allow you to keep fresh-quality broccoli frozen for up to 12 months. Furthermore, those who grow broccoli advise harvesting broccoli during the cool, morning hours to maintain the quality of fresh-picked broccoli heads.
Why is broccoli good for you?
Health experts have long considered broccoli a superfood. In fact, it has been dubbed the "crown jewel of nutrition". Of course, there is a good reason for this. It has a low-calorie content, and it contains an abundance of vitamins, minerals, antioxidants, omega 3 fatty acids, and other essential nutrients that work together to bring about numerous health benefits.
According to the United States Department of Agriculture (USDA), 100 grams (3.5 oz) of all raw broccoli contains the following:
Energy: 34 kcal (141 kJ)
Carbohydrates: 6.64 grams
Sugars: 1.7 grams
Dietary fiber: 2.6 grams
Fat: 0.37 grams
Protein: 2.82 grams
Water: 89.3 grams
In terms of vitamins, the same 100 grams of raw broccoli contains:
Total Vitamin A: 31 μg; 4% of the recommended daily value (%DV)
beta-Carotene: 361 μg; 3 %DV
lutein zeaxanthin: 1403 μg
Thiamine (Vitamin B1): 0.071 mg; 6 %DV
Riboflavin (Vitamin B2): 0.117 mg; 10 %DV
Niacin (Vitamin B3): 0.639 mg; 4 %DV
Pantothenic acid (Vitamin B5): 0.573 mg; 11 %DV
Vitamin B6: 0.175 mg; 13 %DV
Folate (Vitamin B9): 63 μg; 16 %DV
Choline: 19 mg; 4 %DV
Vitamin C: 89.2 mg; 107 %DV
Vitamin E: 0.78 mg; 5 %DV
Vitamin K: 101.6 μg; 97 %DV
Lastly, the same 100 grams of raw broccoli contains the following minerals:
Calcium: 47 mg; 5 %DV
Iron: 0.73 mg; 6 %DV
Magnesium: 21 mg; 6 %DV
Manganese: 0.21 mg; 10 %DV
Phosphorus: 66 mg; 9 %DV
Potassium: 316 mg; 7 %DV
Sodium: 33 mg; 2 %DV
Zinc: 0.41 mg; 4 %DV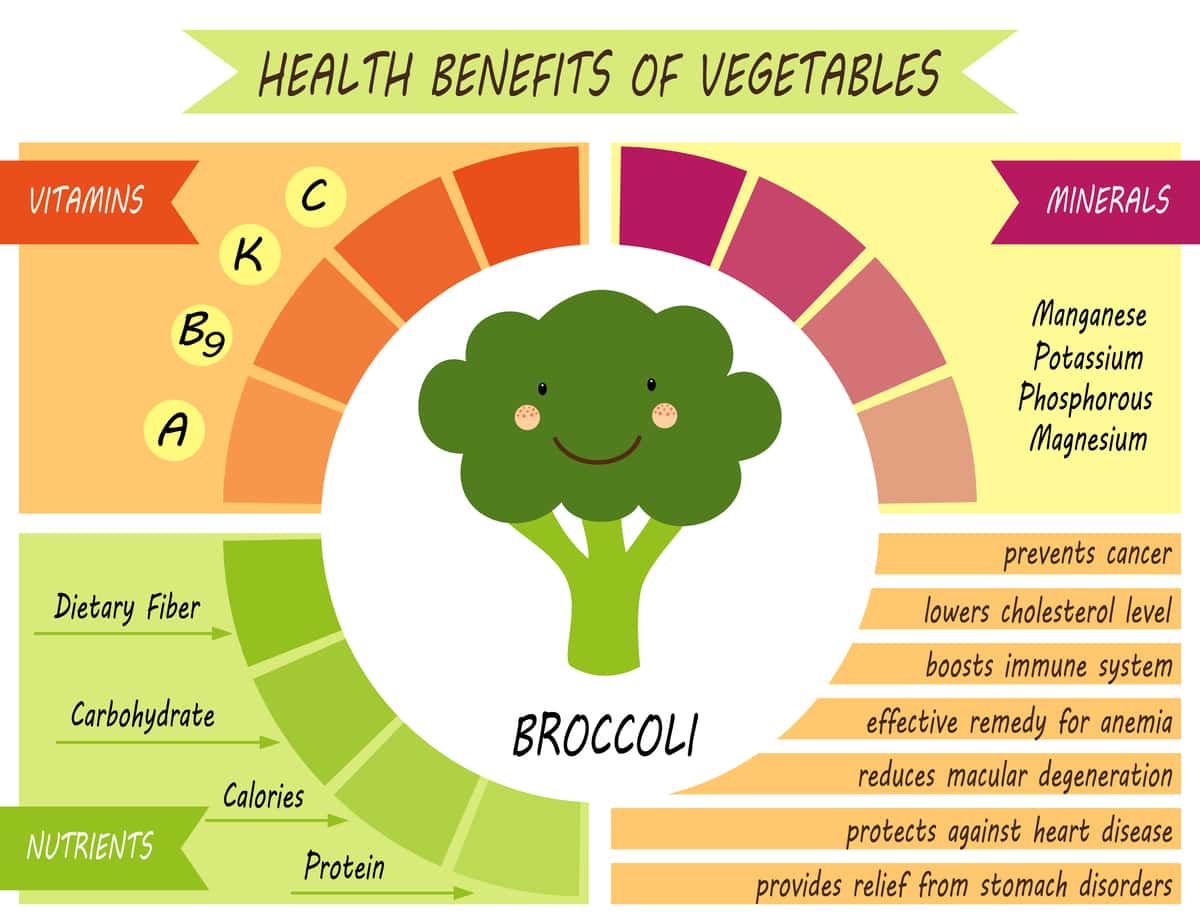 Health Benefits
In addition to being a good source of protein, fiber, vitamin C, and vitamin K, broccoli also contains many minerals including iron, calcium, zinc, potassium, magnesium, selenium, phosphorus, and numerous other vitamins, such as vitamins A, D, E, and the B vitamins. Aside from those, it also offers many health benefits, including the following:
Reduces Cancer Risk
Studies have shown that broccoli, kale, and other cruciferous vegetables contain bioactive compounds that help fight against cancer. These compounds boost the immune system and reduce the cell damage done by free radicals and certain chronic diseases. Experts have shown through multiple studies that eating cruciferous vegetables may reduce the risk of certain types of cancer, such as breast cancer, lung cancer, prostate cancer, stomach cancer, colorectal cancer, renal cancer, and bladder cancer. However, most of these were small studies, and experts believe that more research should be done to further back these claims.
Lowers Cholesterol Levels
On top of the many vitamins and minerals that it contains, broccoli also has soluble fiber, which helps draw cholesterol out of the body. Although cholesterol has many important functions, too much of it can form blood clots that can cause a heart attack or stroke. The fiber in broccoli helps lower cholesterol by binding with bile acids in the digestive tract, making it easier to excrete cholesterol. This prevents the bile acids from being reused, thus requiring the body to produce new bile acids from cholesterol, lowering the cholesterol levels in the body.
In addition, a 2008 study concluded that regularly consuming steamed cruciferous vegetables lowers the risk of cardiovascular disease and cancer.
Broccoli Improves Eye Health
Some people's eyesight degenerates faster than others do. For instance, some people end up needing eyeglasses in their teenage years, while others will never need them. But, impaired eyesight is one of the most common consequences of aging. While they may never need eyeglasses, other age-related eye disorders exist that worsen their eyesight just the same.
Broccoli contains the carotenoids lutein and zeaxanthin, which are linked with a lower risk of developing age-related eye disorders. Aside from those, broccoli also contains beta-carotene, vitamin A, phosphorus, vitamin C, vitamin E, and the B vitamins, which all promote eye health. These nutrients help protect the eyes against macular degeneration and cataracts. In addition, they also help repair damage caused by harmful radiations.
Supports Bone Health
Experts believe that one of the top health benefits of eating broccoli is that it promotes healthy bones. It contains high levels of calcium and vitamin K, which both play an important role in keeping bones healthy and preventing osteoporosis. Furthermore, broccoli also contains potassium, magnesium, zinc, phosphorus, copper, and vitamin A, vitamin C, and B vitamins. All of these work together to promote bone mass, prevent the loss of bone density, and keep bones strong. In fact, dairy milk contains high amounts of calcium, which is why doctors always stress the importance of including milk in a healthy, balanced diet.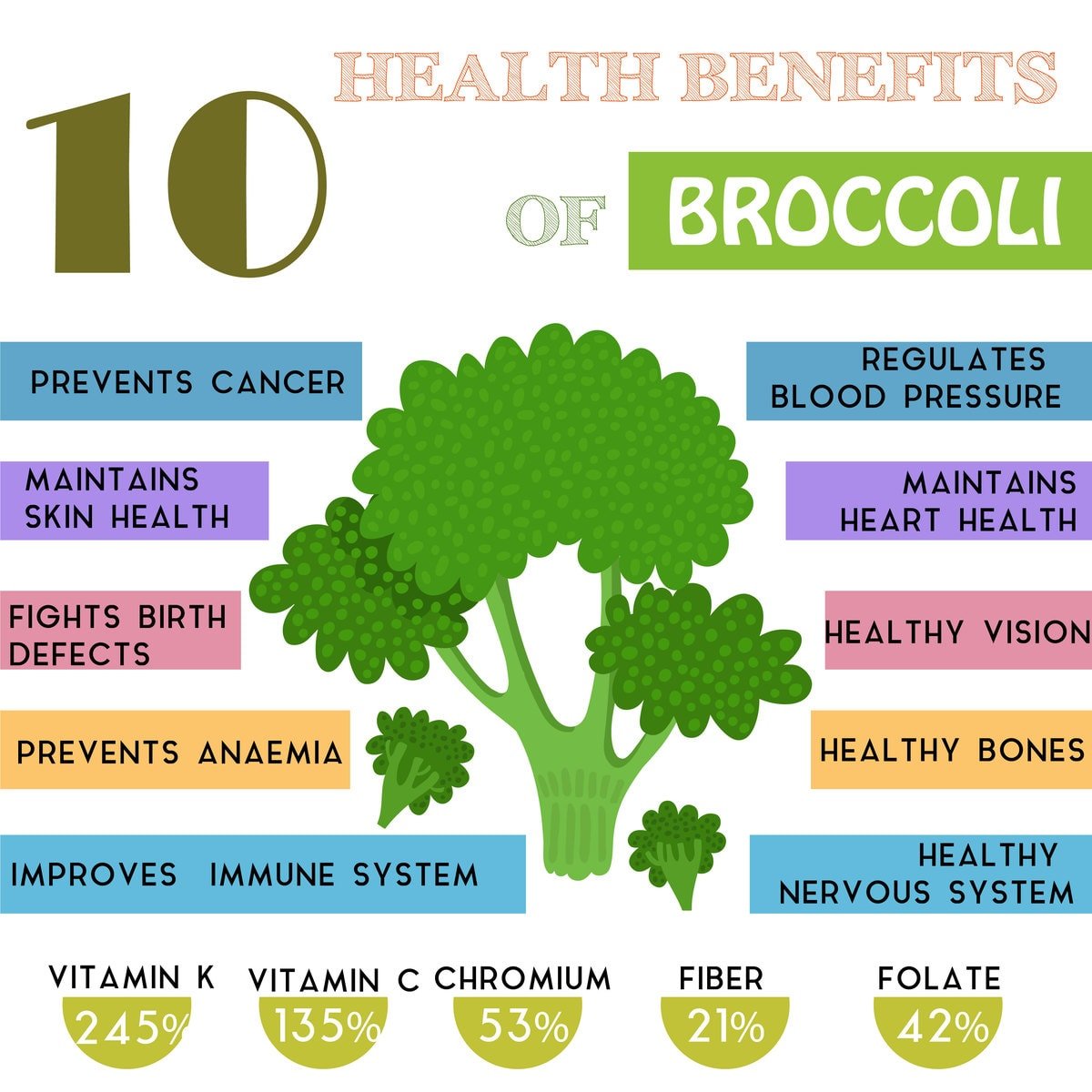 Keeps The Heart Healthy
Today, cardiovascular disease (CVD) remains the leading cause of death worldwide. Referring to the many diseases that affect the heart and blood vessels, these include hypertension (high blood pressure), coronary heart disease (heart attack), cerebrovascular disease (stroke), heart failure, and other heart diseases.
In 2008, a study by Nutrition Research found that regular consumption of steamed broccoli reduced the total amount of cholesterol in the body, thereby lowering the risk of cardiovascular disease. Furthermore, a 2011 study by The American Journal of Clinical Nutrition found that increased consumption of vegetables, particularly cruciferous vegetables like broccoli, promoted cardiovascular health and overall longevity.
Promotes Better Blood Sugar Control
A study from the International Journal of Food Sciences and Nutrition found that people who consumed broccoli sprouts daily had a significantly lower resistance to insulin after a month. This finding supports the claim that eating broccoli may promote better blood sugar control in people with diabetes.
In 2017, a study from the Science Translational Medicine suggested that eating broccoli and other cruciferous vegetables may help obese individuals with type 2 diabetes manage their blood sugar levels better. Scientists found that a compound in cruciferous vegetables, called sulforaphane, could reduce the symptoms of type 2 diabetes. After 12 weeks of consuming broccoli sprout extract, the obese individuals' fasting blood glucose levels went down a significant 10 percent more than those who did not. However, the non-obese participants did not experience the same effect.
Can you eat too much broccoli?
Experts say that broccoli is generally safe to eat. However, some people may need to avoid the veggie. So, always consult your doctor before making any major changes to your diet to make sure that you always do what is best for you. Doctors say that consuming broccoli every day is generally safe, but make sure to take note of the following side effects:
Eating cruciferous vegetables such as broccoli can make you gassy. For those who regularly suffer from irritable bowel syndrome (IBS), it may upset their bowels and make their symptoms worse.
Because broccoli contains high amounts of vitamin K, people who take blood-thinning medication such as warfarin should beware. Vitamin K helps produce a protein called prothrombin that plays an important role in blood clotting, which can interfere with the intended effects of blood-thinning medicine.
Lastly, people with kidney problems should take extra care and make sure to consult their doctor. Broccoli contains phosphorus, which can start to build up in the blood if one's kidneys do not work well.
Adding Broccoli To Your Diet
Broccoli can be eaten in a number of ways. You can eat it raw, steamed, boiled, or cooked in a variety of ways. However, experts say that the way you prepare broccoli can affect which nutrients you get, as well as the amount of each. A 2007 study by the University of Warwick found that boiling broccoli caused many of its cancer-fighting nutrients to get lost. Thus, doctors advise that those wanting to consume broccoli for its anti-cancer benefits should avoid cooking the vegetable for too long.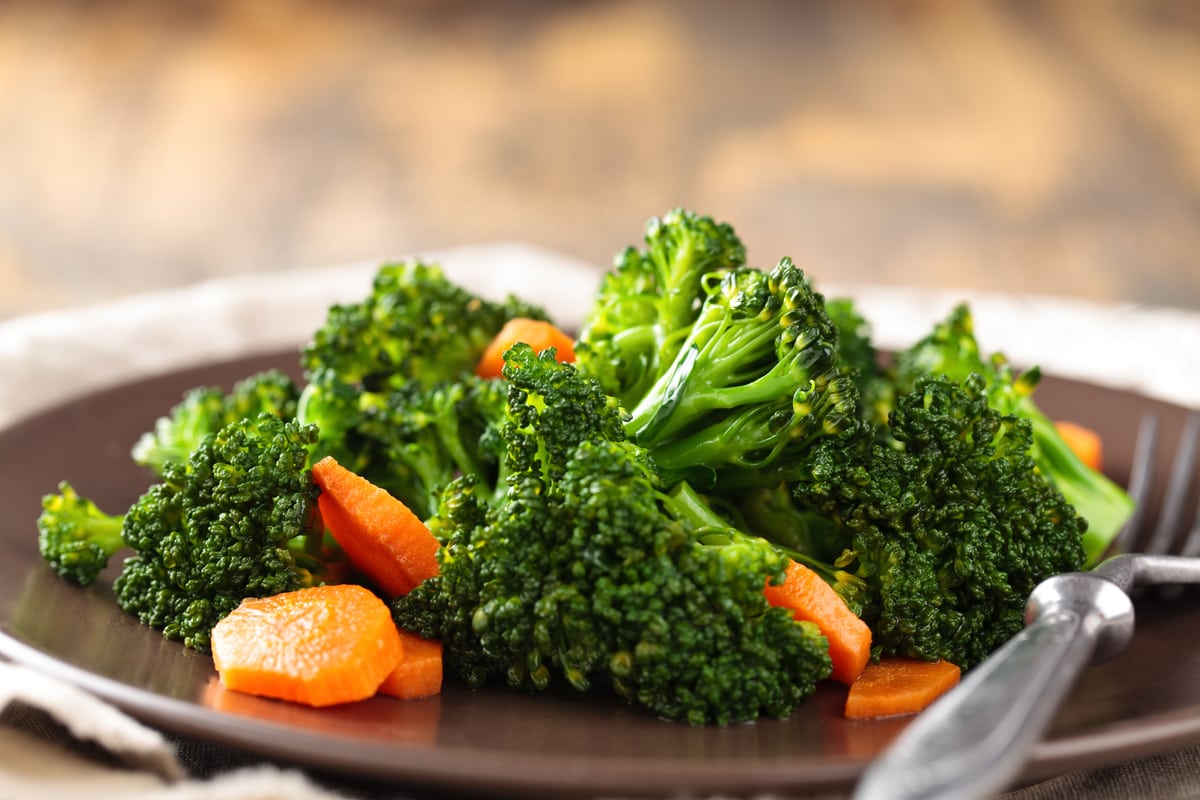 Of course, raw broccoli contains all of its nutrients, but it is also more likely to irritate your bowels and cause gas. In an attempt to determine the best way to consume broccoli, experts conducted a study to find out how the different cooking methods affect the health-promoting compounds of broccoli. They compared the effects that steaming, microwaving, boiling, stir-frying, and stir-frying followed by boiling had on broccoli. In the end, the researchers found that gentle steaming is the best way to retain its nutritional content.
Easy Ways To Add Broccoli To Your Diet
Just like beets, broccoli is also a topic of controversy in the health world. People either love it or hate it. Some people perceive the taste to be more bitter than others, which may be why some people like broccoli more than others do. Furthermore, those who eat the vegetable also have their own preferences. Most simply eat the broccoli florets, but some people eat the leaves and stems, as well.
Before throwing away any part of the broccoli, take note that each part contains different nutrients. Broccoli leaves contain the highest amount of antioxidants, calcium, vitamin E, and vitamin K, while the stalk contains the most fiber. Furthermore, health enthusiasts may argue over whether broccoli is healthier when eaten raw or cooked, but experts say that it is a valuable addition to a balanced diet either way.
However, many experts do not recommend boiling broccoli as doing so can remove up to 90 percent of its nutrients. Instead, you can make steamed broccoli, roasted broccoli, stir-fry, microwave, or add it to a variety of dishes, including salads, soups, and stews. If you want to retain as much of its nutrients as you can, simply steam the broccoli then drizzle it with extra virgin olive oil. You can also add broccoli into baked goods, homemade pesto, and other sauces, or simply juice or blend raw or frozen broccoli. No matter how you consume it, adding broccoli to your diet can be a great way to intake more nutrients and promote better overall health.
Adding Broccoli To Juice
Some people like the taste of broccoli and have no problem eating it, whether raw, cooked or as a part of various recipes. But, not everyone can handle the taste of broccoli. If you cannot handle the taste of broccoli but would like to include it in your diet, adding it to your juice may be a good alternative. By doing so, you will be able to consume most of the broccoli's nutrients in liquid form, which is easier for the body to absorb.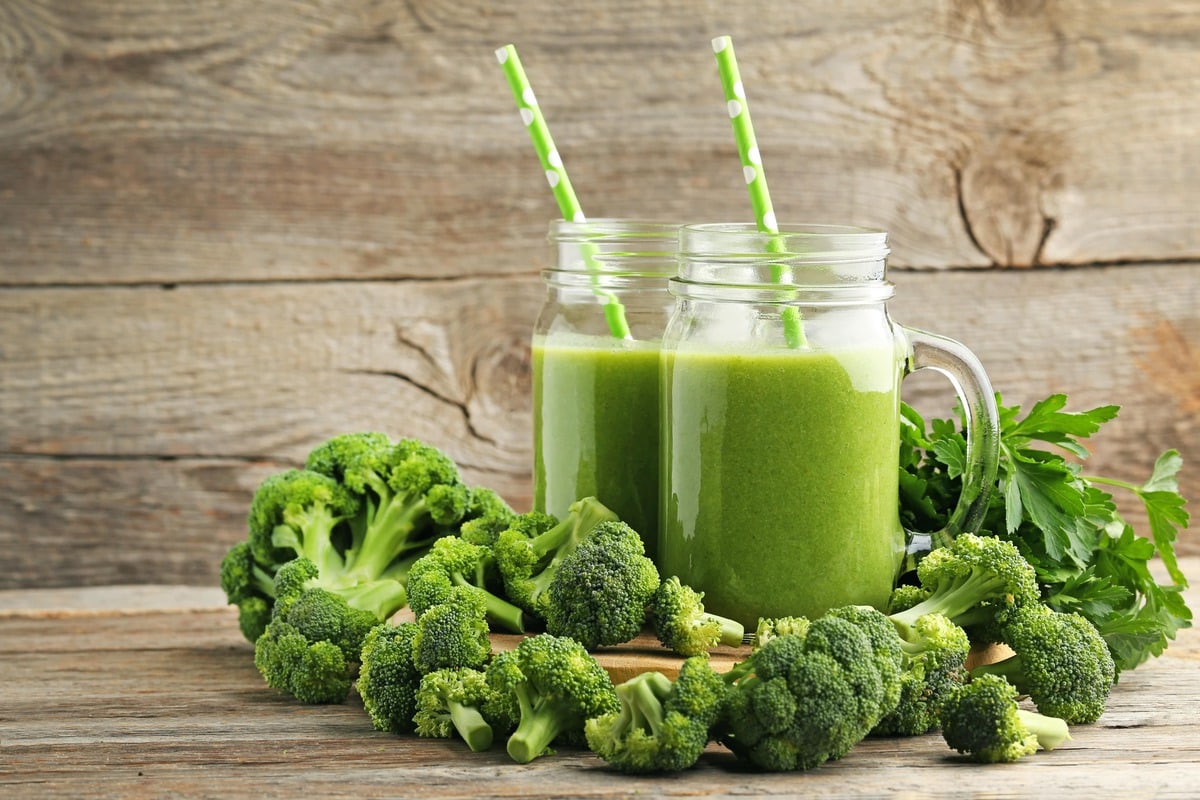 Aside from that, drinking juice can also keep you hydrated, especially if you do not drink enough water. Not only will it quench your thirst, but it will also provide you with the nutrients of broccoli. Moreover, several studies have also shown that juicing aids digestion, keeps you regular, supports weight loss, gives the digestive system a short break from digesting fiber, and lowers the risk of developing certain chronic conditions, such as cancer.
On the other hand, experts say that the biggest downside to juicing is the fact that it causes the fiber to get lost in the process. While it may be an advantage to some, the loss of fiber is a downside to most. Furthermore, drinking 100% fruit juice can cause one's blood sugar level to spike, which is why many doctors advise against juicing for those with diabetes. To prevent blood glucose levels from spiking, juicing enthusiasts recommend juicing mainly vegetables and adding just a few slices of fruit to add some sweetness.
Sample Recipes
Once you have consulted your doctor, you might feel a little lost when you decide to start juicing. To make things easier for you, we have gathered some of the best and most nutritious broccoli juice recipes:
Adding Broccoli To Smoothies
For those who decided against juicing broccoli because of the loss of fiber, blending can be a great alternative. Blending can also keep you hydrated, but it offers several benefits beyond that. Additionally, blending can be more convenient than juicing as it often takes less time to blend than to juice. Thus, busy individuals often choose to blend rather than juice it.
Of course, the benefits do not end there. Unlike juicing, blending retains the ingredients' fiber; it does not get lost in the process. Because of this, many health experts recommend blending over juicing. After all, fiber provides many health benefits. Those pressed for time often take smoothies as a healthy meal to consume on the go as it contains fiber, which gives the feeling of fullness. In addition, smoothies also contain all of the ingredients' nutrients, which results in lower cholesterol levels, a boost to the immune system, as well as a reduced risk of developing certain chronic diseases.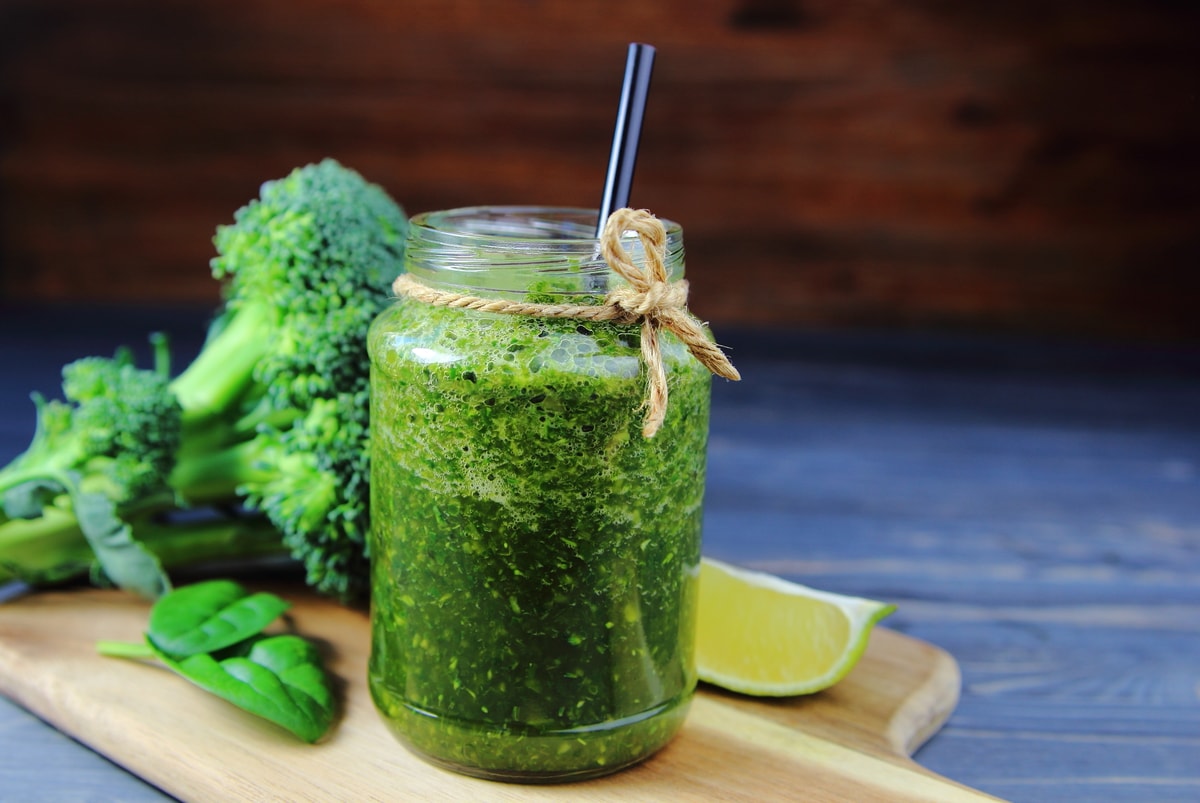 Still, not everyone can regularly drink smoothies. Because it contains fiber, those who regularly suffer from abdominal pain, gas, bloating, and constipation may experience worse symptoms if they do so. For these people, juicing may be better as the extracted juice does not naturally contain fiber. And, if you do decide to try blending, keep in mind that not all smoothies are equal. You will need to keep a close eye on the ingredients and the overall nutritional values, as not all smoothies are nutritionally balanced. The ingredients and their amount both play a huge part in differentiating a healthy smoothie from an unhealthy one.
Sample Recipes
If you want to give blending a try or simply own a blender but not a juicer, here we recommend some of the best broccoli smoothie recipes to help you out:
Bottom Line
Whether you eat raw or cooked broccoli, there is no denying that it is a great addition to a balanced diet. It contains very few calories and provides a ton of vitamins, including vitamin A, vitamin C, vitamin K, and the B vitamins; minerals, such as calcium, magnesium, manganese, selenium, zinc, iron, and potassium; and other essential nutrients and plant compounds.
Aside from helping you reach your daily intake of each essential nutrient, broccoli also promotes better overall health in a variety of ways. It reduces inflammation, improves blood sugar control, lowers cholesterol, boosts the immune system, reduces the risk of certain chronic conditions, and keeps the eyes, skin, bones, and heart-healthy.
Of course, remember that broccoli will provide you with the most benefits only when eaten as part of a healthy, balanced diet. Too much of one thing is never good, so make sure to consult your doctor and plan out the best steps to your optimal health.
Sources:
https://www.thespruceeats.com/broccoli-history-1807573
https://www.newworldencyclopedia.org/entry/broccoli
https://www.statista.com/statistics/257338/per-capita-consumption-of-fresh-broccoli-in-the-us/
https://www.healthline.com/nutrition/broccoli-vs-cauliflower
https://en.wikipedia.org/wiki/Broccoli
https://en.wikipedia.org/wiki/Cauliflower
https://www.britannica.com/plant/broccoli
https://candidegardening.com/GB/plants/eaabf98455d9bdfef9c454fdb2db6e7c
https://www.almanac.com/plant/broccoli
https://harvesttotable.com/how_to_grow_broccoli/
https://www.gardeningknowhow.com/edible/vegetables/broccoli/how-to-grow-broccoli.htm
https://www.mayoclinic.org/diseases-conditions/high-blood-cholesterol/symptoms-causes/syc-20350800
https://pubmed.ncbi.nlm.nih.gov/16723441/
https://www.tandfonline.com/doi/abs/10.1080/07315724.2000.10718070
https://pubmed.ncbi.nlm.nih.gov/29749440/
https://ourworldindata.org/causes-of-death
https://www.who.int/news-room/fact-sheets/detail/the-top-10-causes-of-death
https://timesofindia.indiatimes.com/life-style/health-fitness/diet/11-health-benefits-of-broccoli/articleshow/30843390.cms
https://www.health.com/food/health-benefits-broccoli
https://www.healthline.com/nutrition/benefits-of-broccoli
https://www.healthline.com/nutrition/sulforaphane
https://www.medicalnewstoday.com/articles/266765
https://www.bbcgoodfood.com/howto/guide/health-benefits-broccoli
https://www.livescience.com/45408-broccoli-nutrition.html
https://www.webmd.com/food-recipes/health-benefits-broccoli
https://www.scirp.org/journal/PaperInformation.aspx?PaperID=20482#.VOMjkPmsV8E