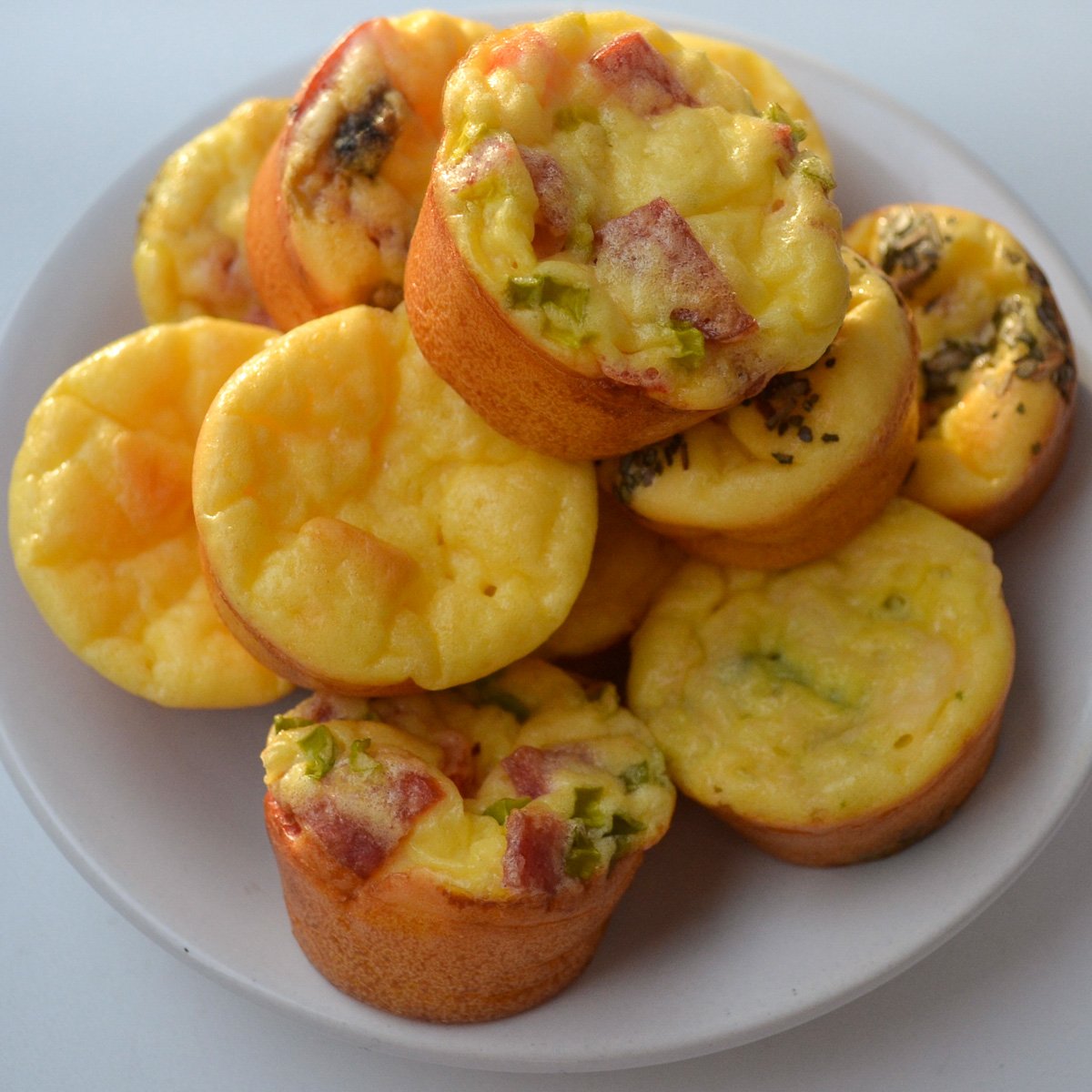 Looking for a tasty grab-and-go keto breakfast idea? Then you should definitely try these egg bites! Each bite contains less than one net carb, which makes them perfect for people following the ketogenic diet.
You can load the egg mixture with your favorite meat and veggies such as bacon, ham, spinach, broccoli, or bell pepper—it's really up to you! If you're a vegetarian, then skip the meat part; it will be just as delicious without it.
I used to consider meal prep as something unnecessary. But when you're pressed for time, it can come in handy. These keto breakfast egg bites are perfect for stocking your freezer and fridge. They're easy to reheat, and the flavor is preserved even after storing them in the freezer or fridge.
Table of Contents
What Are the Basic Ingredients
I've listed all of the ingredients that I used to make my egg bites in the recipe card, but you don't necessarily need to include all of them. These keto muffins are based on only five simple ingredients:
Eggs
Sour cream
Mozzarella cheese
Almond flour
Baking powder
Everything else that you add to the egg bites is up to you. There are many great ideas that you can try, but you can be sure that every time will be a new, delicious taste!
Six Ways to Make the Egg Bites
Use the ingredients listed above to make the egg mixture for this recipe. Then you can add absolutely any meat and vegetables to the muffins. Me and my family like these options the most:
Salami + mushrooms + garlic powder
Bacon + cherry tomatoes + dry basil
Spinach + cottage cheese
Salami + bell pepper + chopped green onions
Chicken + mushrooms + dry oregano
Broccoli + chicken
When making the keto egg bites, I use a mini muffin pan that has twenty-four cavities. To add variety, I make a different flavor each time I finish making four mini muffins. Some extra cheese on top never hurts, too!
To make the egg bites even tastier, you can experiment with spices and herbs. For example, if you want to add some heat to the meal, add some chili pepper powder. My favorite additions to the egg bites are garlic powder, basil, and smoked paprika.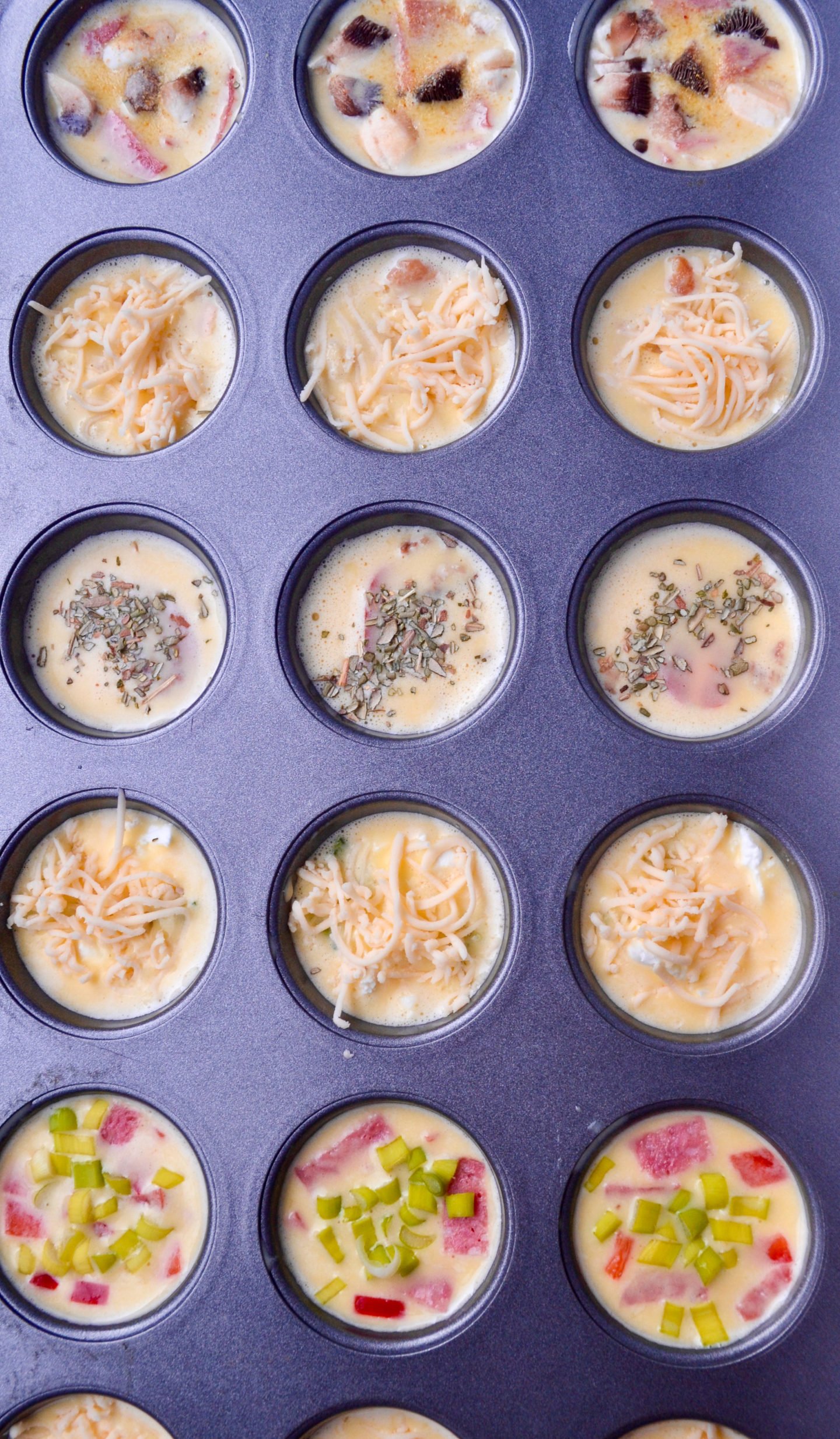 Best Way to Serve
If you make everything exactly as in the recipe card, you'll get four servings. Every serving has 246 calories, which makes the meal very low-carb. I'd say it's even too low-carb, considering it's a complete and filling keto breakfast!
You can either eat more of the keto egg bites or add something else to your breakfast. For example, you can gain the needed calories by adding some more cheese, a bit of avocado, or leafy greens. I usually make a vegetable salad to go with the keto egg bites.
Just remember that whatever products you add to your breakfast will change the calorie amount!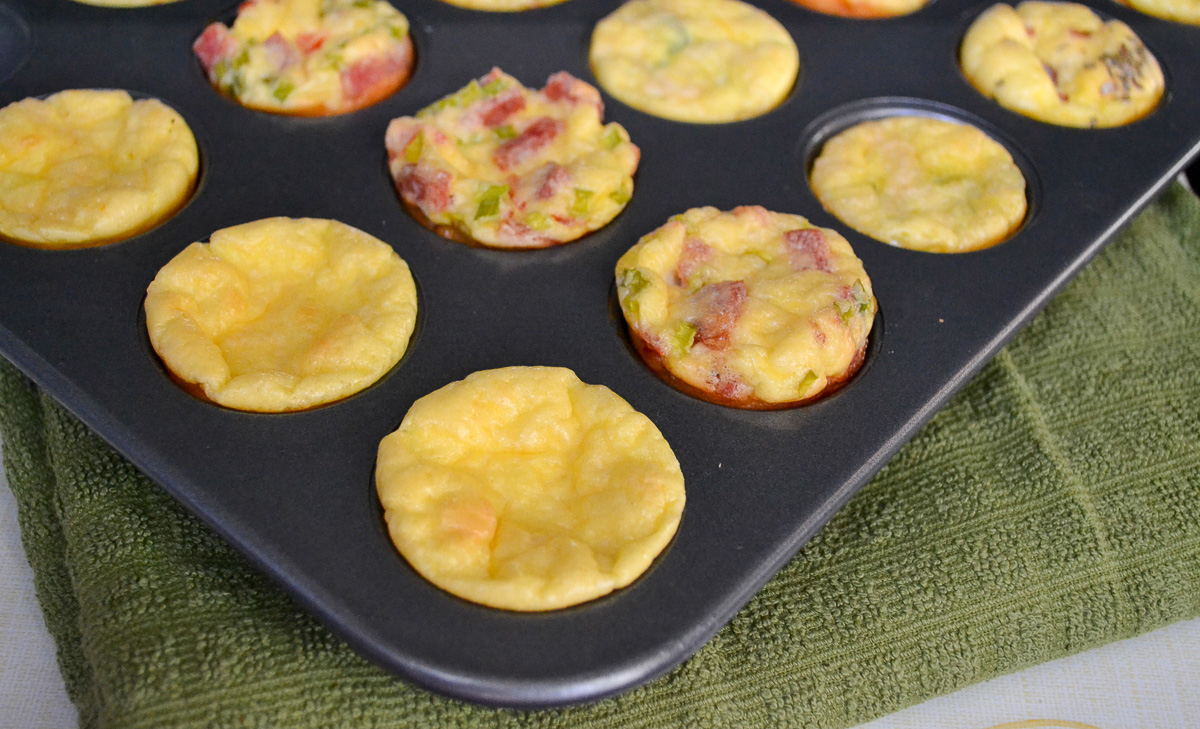 Don't Make This Mistake
Even though it's a bit embarrassing for me to tell you this, I think it'll be a big help to you. I hope this will prevent you from making such a mistake when baking the egg bites.
The first time I made these, they escaped from the pan. I put too much of the egg mixture inside the cavities, and while baking, the egg mixture spilled everywhere.
So, to not make the same mistake as I did, remember to fill each cavity only halfway.
Useful Tips
Here are some tips that may come in handy when making the keto breakfast egg bites:
Whether you bake the egg bites in a muffin pan or silicone liners, always spray some oil to grease it. This way, you won't have a problem taking the cooked egg bites out.
To meal prep with this recipe, double or even triple the ingredients.
For the egg bites to be both filling and healthy, always add a combination of meat and vegetables.
To make this recipe tastier, add your favorite spices and herbs. I like to sprinkle the egg bites with some garlic powder, oregano, cayenne pepper, and sometimes cumin.
How to Store It
As I've already mentioned, I like to make large batches of these keto egg bites so I can always have a breakfast option ready in the freezer.
If you also want to freeze them, make sure they cool completely before placing them in a freezer bag. The egg bites can be stored in the freezer for up to 3 months. The night before you eat the egg bites, leave them to thaw in the fridge overnight. In the morning, heat them in the microwave for about 40 seconds.
You can store the keto egg bites in the fridge for up to 3 days. Whenever you want to eat them, you can reheat them in the microwave, or even eat them cold!.
Recipe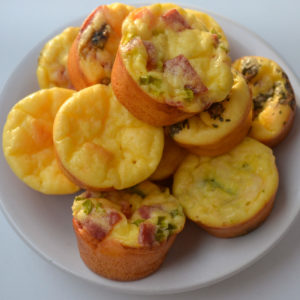 Keto Breakfast Egg Bites
These tasty breakfast egg bites are a great grab-and-go keto breakfast idea. Each bite contains less than one net carb! You can load the egg mixture with your favorite meat and veggies such as bacon, ham, spinach, broccoli, or bell pepper—it's really up to you!
Ingredients
5

eggs

2

tbsp

sour cream

½

cup

mozzarrella cheese

3

tbsp

almond flour

1

tsp

baking powder

¼

cup

salami

¼

cup

mushroom

⅛

cup

bacon

4

cherry tomatoes

⅛

cup

spinach

⅛

cup

cottage cheese
Instructions
Preheat the oven to 350F.

Crack the eggs into a medium bowl and beat them with an immersion blender or mixer.

Add sour cream, almond flour, baking powder, and cheese into the egg mixture. Beat once again.

Spray the mini muffin pan with olive oil and add the desired ingredients.

Pour the mixed eggs into the pan. Make sure that each cavity is not more than ½ full.

Bake for about 15-20 minutes.
Nutrition
Calories:
246
kcal
Carbohydrates:
3
g
Protein:
17
g
Fat:
23
g
Saturated Fat:
6
g
Trans Fat:
1
g
Cholesterol:
221
mg
Sodium:
386
mg
Potassium:
179
mg
Fiber:
1
g
Sugar:
1
g
Vitamin A:
515
IU
Vitamin C:
4
mg
Calcium:
117
mg
Iron:
2
mg