Starburst is a famous candy brand that you commonly see in your local grocery stores. Despite being very convenient, most Starburst products contain ingredients derived from animal sources.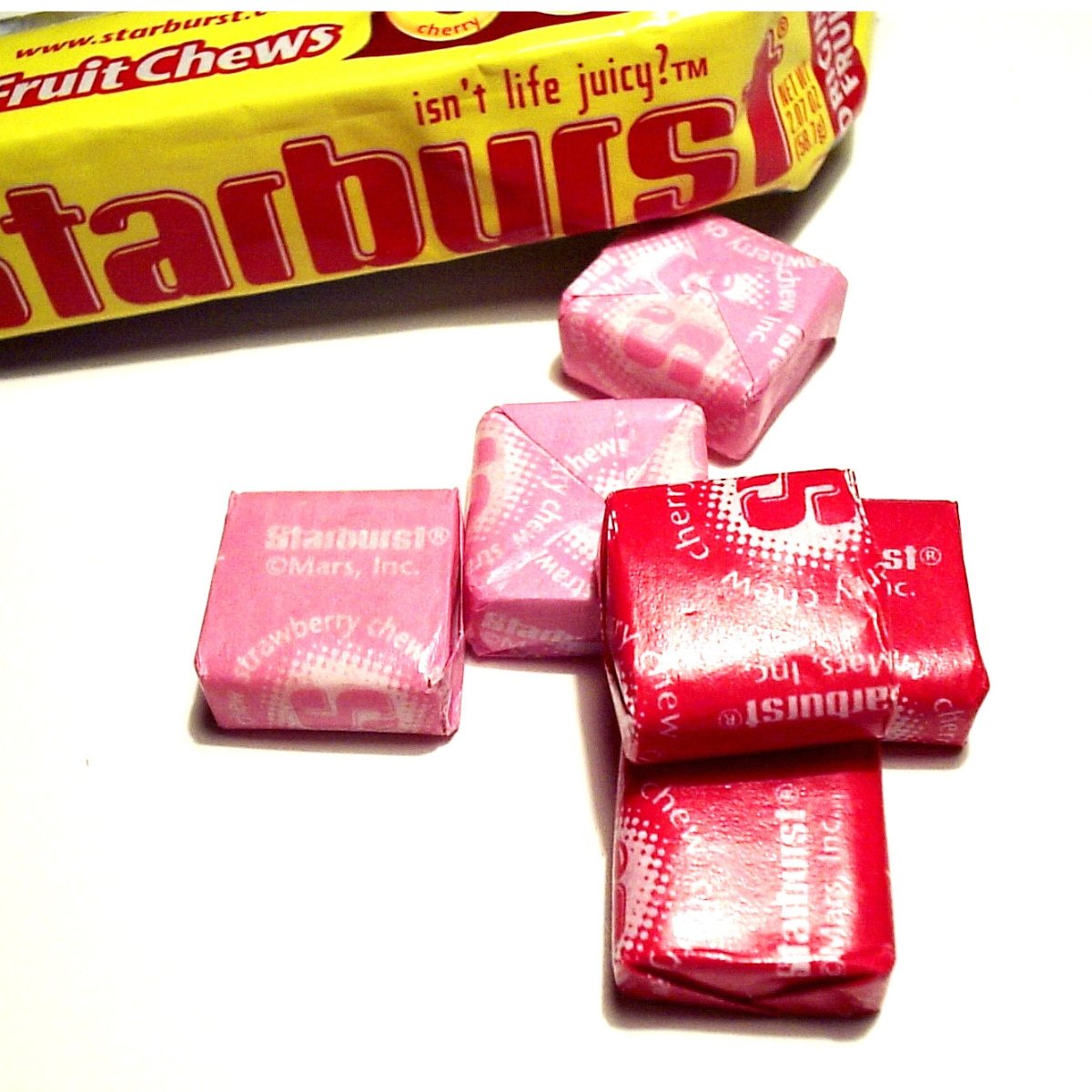 For instance, the Starburst Original flavor contains gelatin, which is an animal product that most Muslims don't consider halal. However, some countries in the United Kingdom sell Starburst products that do not contain gelatin, making them halal.
Since different countries have different manufacturers, it's always best to check the label when buying any Starburst product. Read on as I discuss every ingredient in Starburst and whether they are halal.
Table of Contents
What Is Starburst?
Starburst is a popular brand of chewy candy that has been around since 1960 and is manufactured by The Wrigley Company. It is available in various flavors, including strawberry, orange, cherry, lemon, and grape.
Starburst's chewy, fruity texture and bold flavor make it a favorite of candy lovers worldwide.
The Starburst brand has always been known for its bright packaging and catchy slogan, "The Unbelievably Juicy Fruit Chew." This slogan gets to the heart of the product, which is to offer a unique candy experience that is intensely fruity and juicy.
Is Starburst Halal?
The quick answer is that not all starburst variants are halal. Most starburst candies available in your local grocery store are not halal.
Starburst candies and Starburst gummies sold in the United States contain gelatin derived from animal products and are not halal-certified.
However, some variants, like the Starburst Fruity Burst and Original flavors, contain no haram ingredients and are all halal.
Furthermore, all Starburst products in the United Kingdom are halal, including Starburst Original, Starburst Sour, Starburst Flavor Duos, Starburst Fruit Chew, and Starburst Jelly Beans.
The main ingredients in Starburst that are not halal are gelatin and carmine, which are controversial ingredients derived from animals and unsuitable for consumption according to Islamic dietary laws.
Although some may say that Wrigley uses beef gelatin in making Starburst products, many believe that the company does not follow Islamic laws when slaughtering the cows, making them not halal.
Since manufacturers in different countries make different things, you should always look for halal labels or halal certification on the packaging.
Starburst United Kingdom: Why Is It Halal?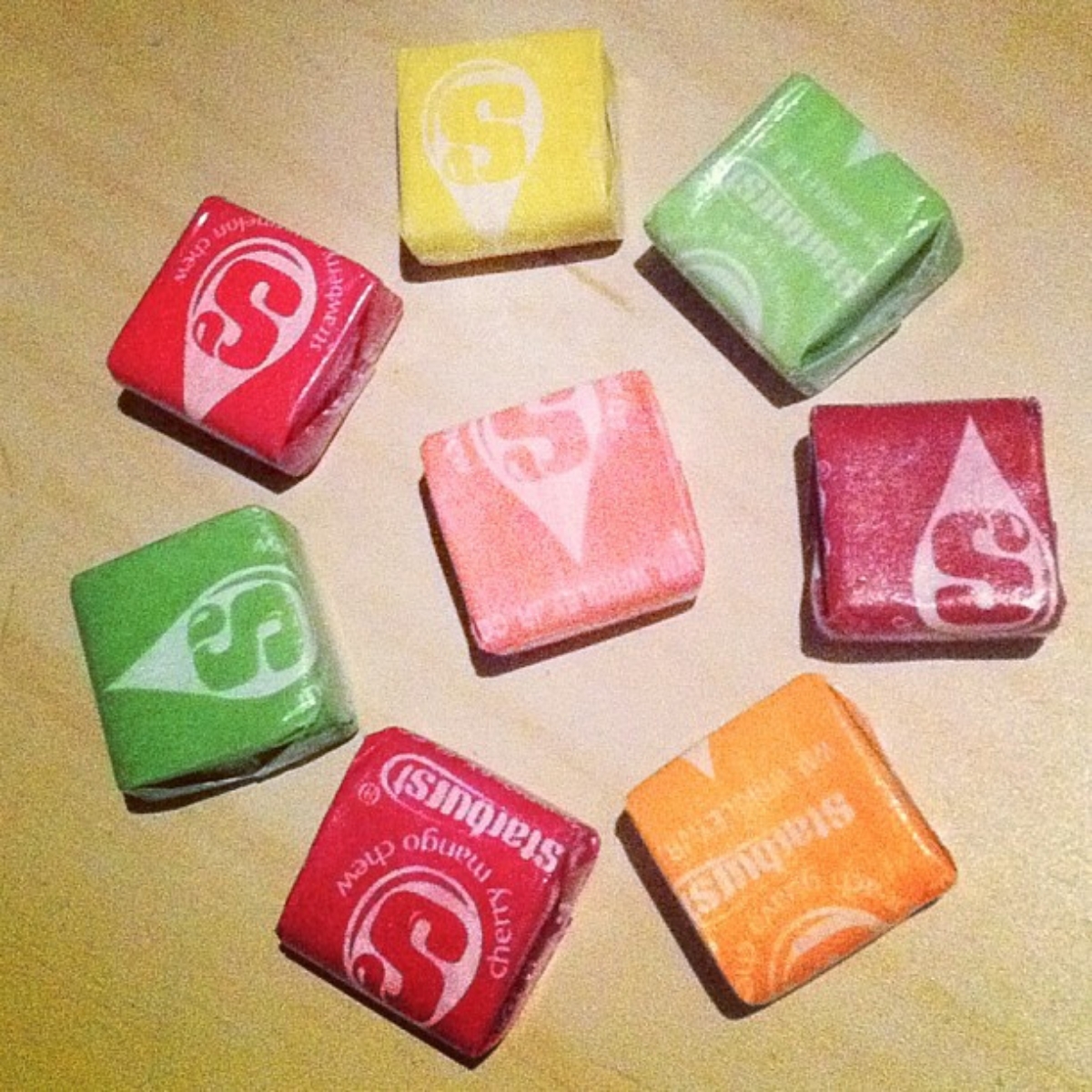 Starburst products from the UK do not contain gelatin, making them halal. For example, the Starburst Original Fruity Chews from the UK list all of their ingredients on the back of the package as follows:
Glucose Syrup, Sugar, Palm Fat, Concentrated Fruit Juices 1.4%* (Apple, Orange, Blackcurrant, Strawberry, Lime, Lemon), Acid Citric Acid, Modified Starch, Acid Malic Acid, Dextrin, Flavourings, Maltodextrin, Antioxidant Ascorbic Acid, Emulsifier Lecithin, Colours Anthocyanins, Beta Carotene, Spirulina Extract
Starburst US Original Ingredients: Are They Halal?
Since there are many Starburst variants, each containing different ingredients, I will only focus on the elements in the Starburst Original flavor.
Gelatin
Gelatin is a flavorless and colorless protein derived from animal collagen, a connective tissue found in most animal bones. It is a common gelling agent in food products such as jellies, jams, desserts, and candies.
Gelatin is not halal most of the time as it comes from animal collagen, which often comes from pigs (pork gelatin), a haram ingredient.
Additionally, extracting the gelatin from the animal collagen does not follow Islamic practices, as the animal is not slaughtered under Islamic law.
Sugar
Sugar is halal in its purest form because it doesn't have any ingredients that aren't allowed. However, some forms of sugar, such as those processed with animal-derived products, are not halal, such as bone char, which Muslims should avoid.
Corn Syrup
This is a sweetener derived from cornstarch and is a sugar substitute. Corn syrup is commonly halal as it is a plant product that undergoes natural processes.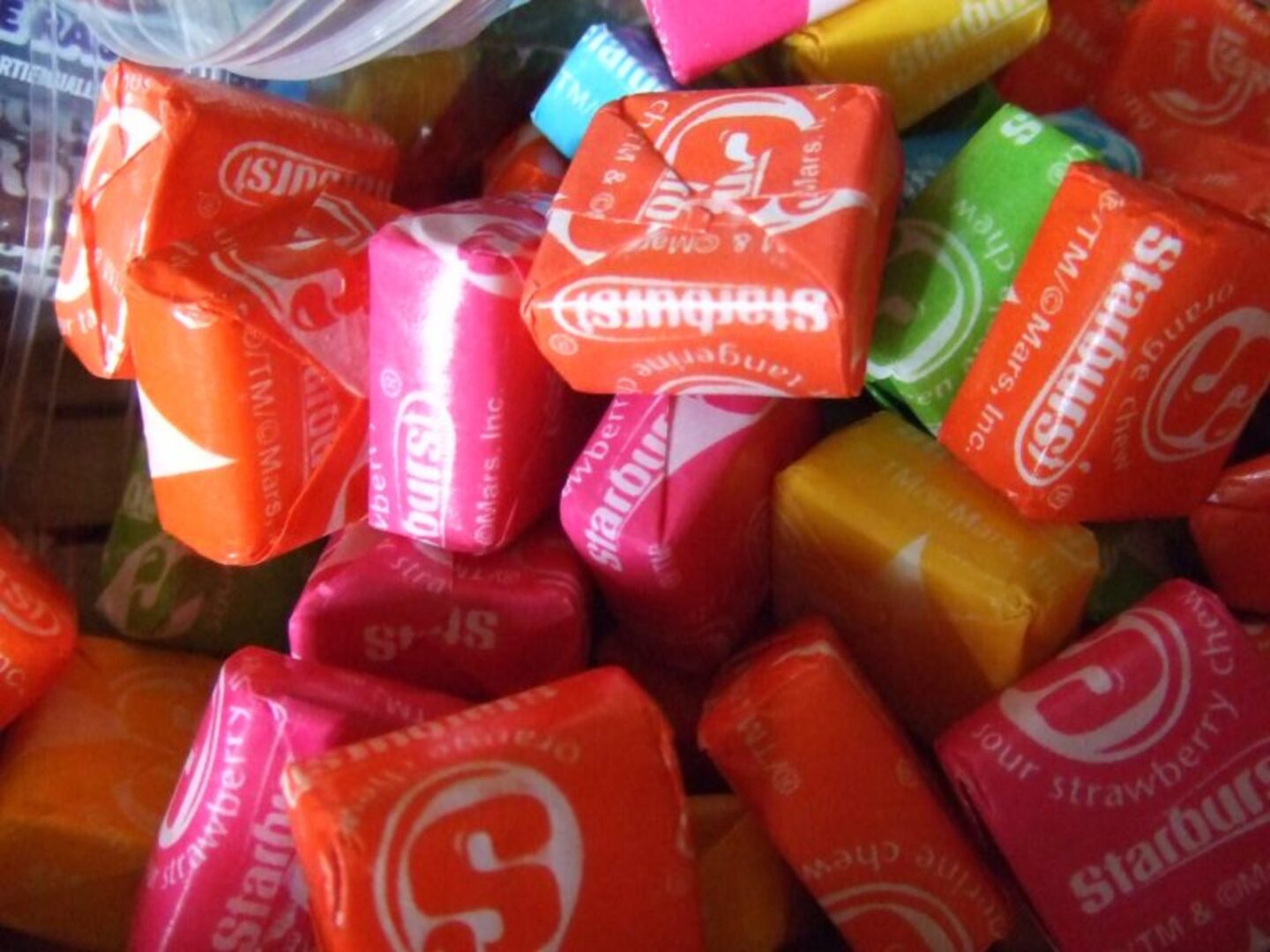 Hydrogenated Palm Kernel Oil
Palm oil is a type of edible vegetable oil derived from the fruit of the African oil palm tree. It is used in a lot of products because it has a high yield and can be used in many ways. Palm oil is halal as long as it comes from a halal-certified producer, which is becoming increasingly common.
Citric Acid
It is a weak organic acid that occurs naturally in citrus fruits and is added to most drinks. Citric acid is halal and is approved for use in foods and drinks by many Islamic authorities.
Tapioca Dextrin
It is a modified starch derived from tapioca, a starch extracted from the root of the cassava plant and commonly used as a thickener and stabilizer in food products. Tapioca dextrin is generally halal, as it is derived from a plant source and contains no animal products.
Apple Juice from Concentrate
This concentrate is apple juice that has been heated to remove the majority of the water content and then reconstituted to create a concentrated juice product for natural flavors.
Apple juice concentrate is halal.
Food Color
There are controversies over the usage of food colorings, as most are from insects such as beetles, which are not halal.
Artificial food colors are either halal or haram, depending on their source.
Carnauba Wax
Carnauba wax is a plant-based wax used in making furniture waxes and shoe polishes, as well as in the food industry. This wax is halal as it is a plant product.
Beeswax
This is the natural wax produced by bees and is commonly used in the cosmetics and food industries. Beeswax is halal.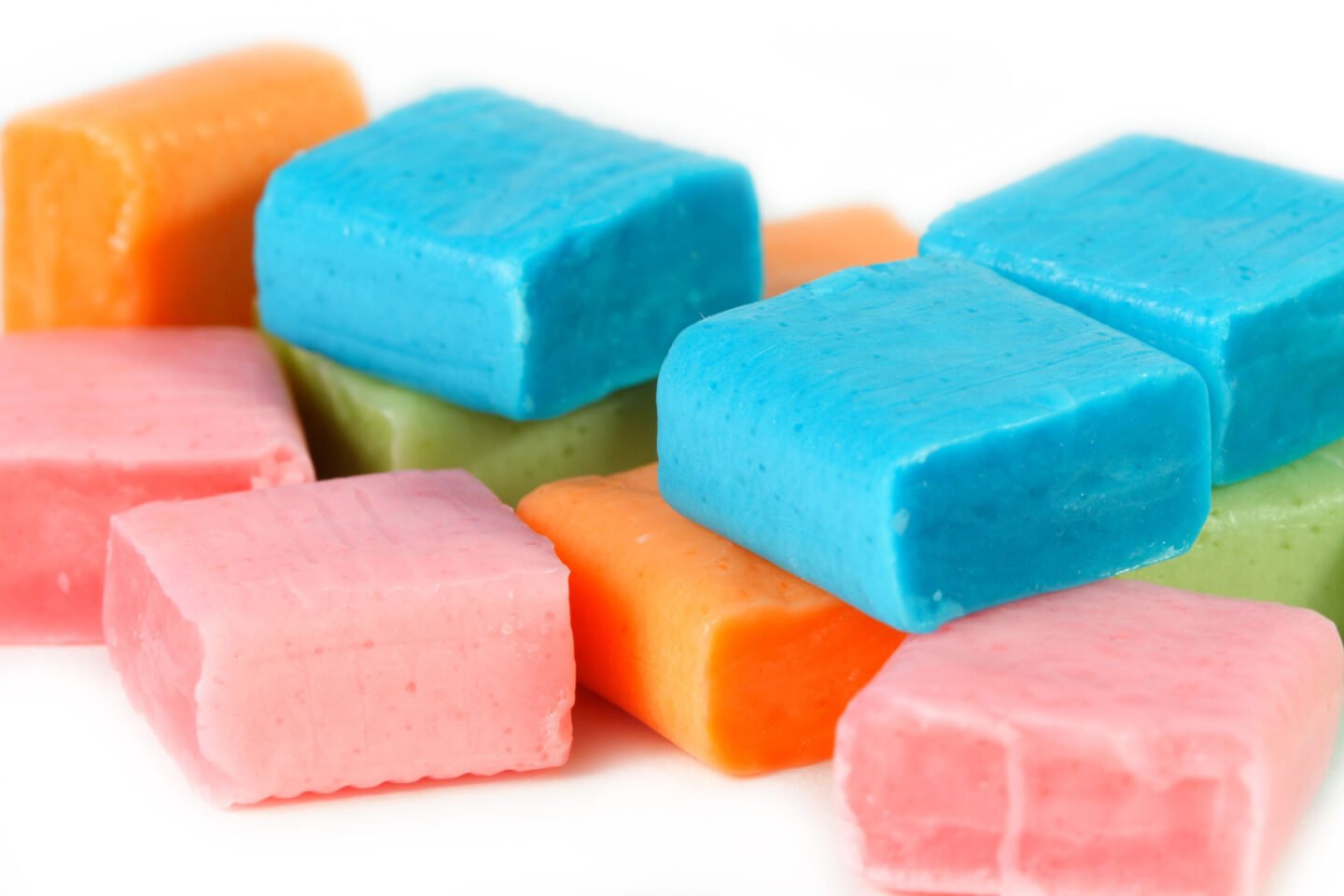 Related Questions
Is Starburst vegan?
No, Starburst is not among your vegan options. Starburst candy contains many animal-derived ingredients, such as gelatin, beeswax, and carmine.
Does Starburst use artificial flavor?
Yes, Starburst candy contains both natural and artificial flavors.