We've all been there: After enjoying a nice home-cooked steak, it's finally time to scrape the grit and grease off our trusty cast iron pan. It can be a big job, and you wouldn't be the first to wonder, "Is cast iron dishwasher safe?"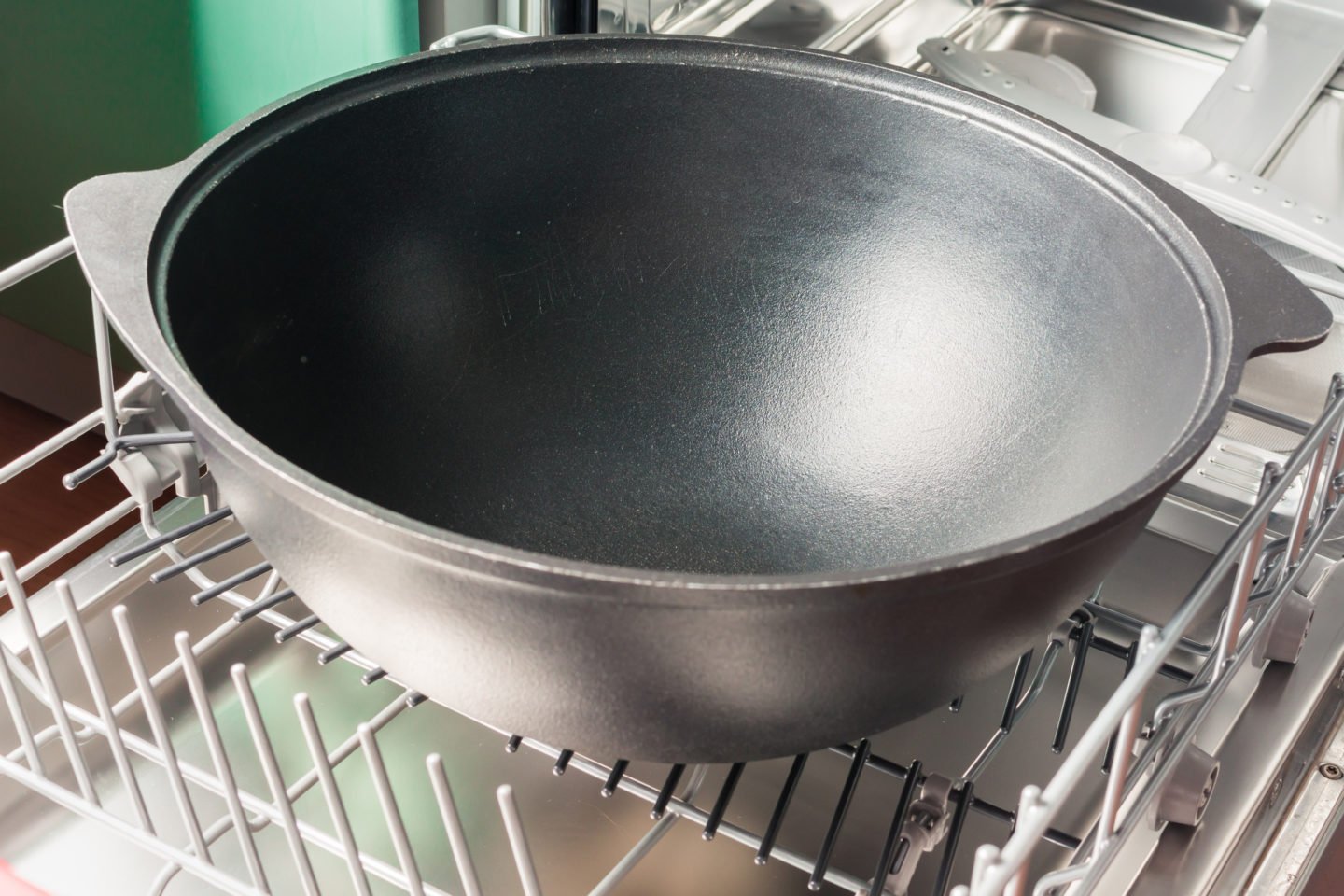 Unfortunately, no, it's not. Cast iron is one of those cookware materials that need to be cleaned by a tender, loving hand. Failing to do so can cause your pan to rust and become useless in a matter of weeks.
Read on to learn more about why cast iron pans can be put in the dishwasher, how to properly care for them, and other dishwasher-safe options.
Table of Contents
Why You Shouldn't Put Cast Iron in the Dishwasher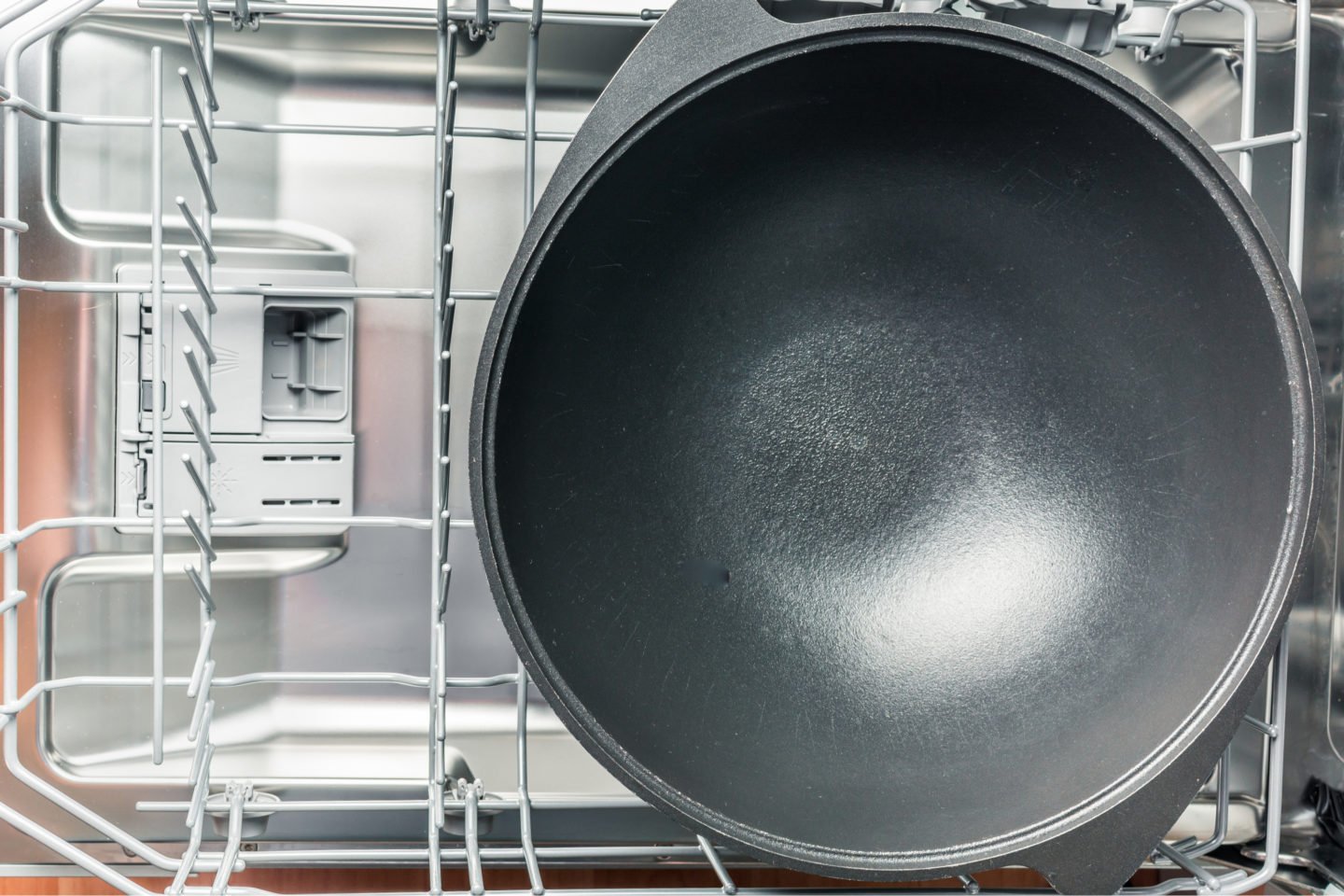 If you're new to cast iron, you might not be entirely sure why it can't go in the dishwasher. After all, it seems heavy and durable, right? The reason is that cast iron is highly susceptible to rust, and dishwashers pose a double threat, making them even more vulnerable.
The first is the water itself. By getting the cast iron wet, the material is exposed to the water's acidic electrolytes, which begin to oxidize the material. It might sound complicated, but the result is plain to see and can seriously damage your cookware.
However, water doesn't immediately cause cast iron to rust unless the metal has been exposed for an extended period. So why is the dishwasher so dangerous?
The dishwasher not only exposes the metal to water but does so with high pressure and at hot temperatures. That can strip the protective coating of seasoning of the pan, making it even more vulnerable. It won't rust immediately, but telltale red patches will begin to form over the cooking surface after a few days.
What To Do If You Put Your Cast Iron Pan in the Dishwasher
You don't need to worry if you've already put your cast iron pan in the dishwasher. As long as you take the proper steps, you can keep your pan protected from rust.
1. Check for Rust
If you washed your pan in the dishwasher several days ago, it might have already formed rust patches. As long as it hasn't been left for too long, these can be removed with a bit of effort.
Start by checking the surface of your pan for any spots. When you find them, try to scrub them off with an abrasive scouring pad. For thicker patches of rust, you may need to use steel wool.
2. Reseason
Once all the rust is removed, you can reseason your pan to protect it from further oxidation. The process involves coating the pan in a thin layer of oil and heating it to a high temperature until it hardens. You can learn more about the complete process here.
Dishwasher-Friendly Pans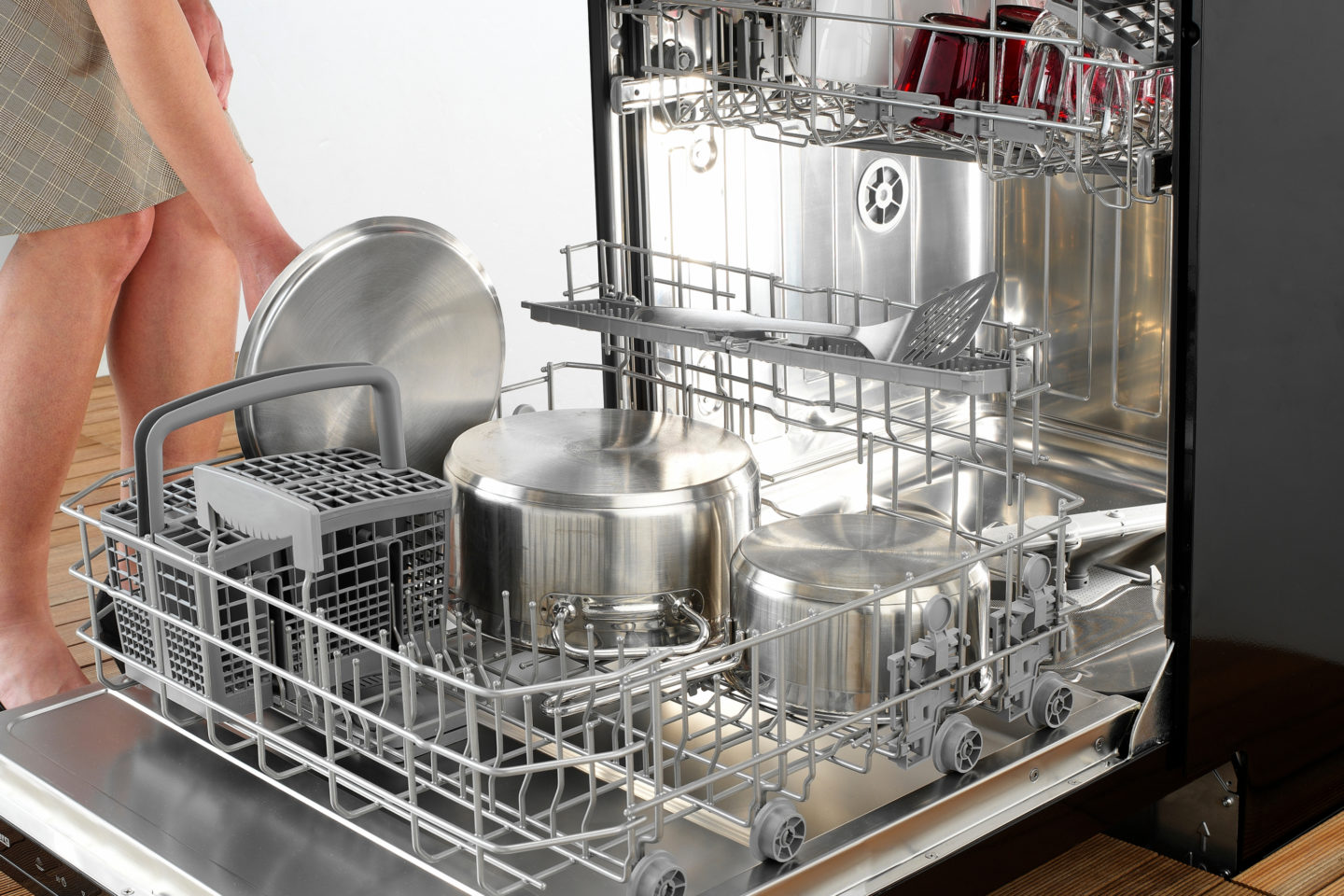 While cast iron pans certainly have advantages, those looking for a low-maintenance option may do better with another material. Try one of these if you're looking for a fast and hassle-free alternative:
Stainless steel pans are some of the most durable and can be safely cleaned in the dishwasher. Just keep in mind that they're a bit heavier than the other two options.
Aluminum pans are lightweight and low-maintenance. However, they tend to be less durable than cast iron or stainless steel.
Ceramic pans are usually covered in a nonstick coating, making them some of the most versatile and convenient. Feel free to throw them in the dishwasher with the rest of your dirty dishes.
Note: Aside from cast iron, the only other material you want to keep out of the dishwasher is carbon steel. This material is just as prone to rust as cast iron, and you'll need to treat it the same.
How to Clean Cast Iron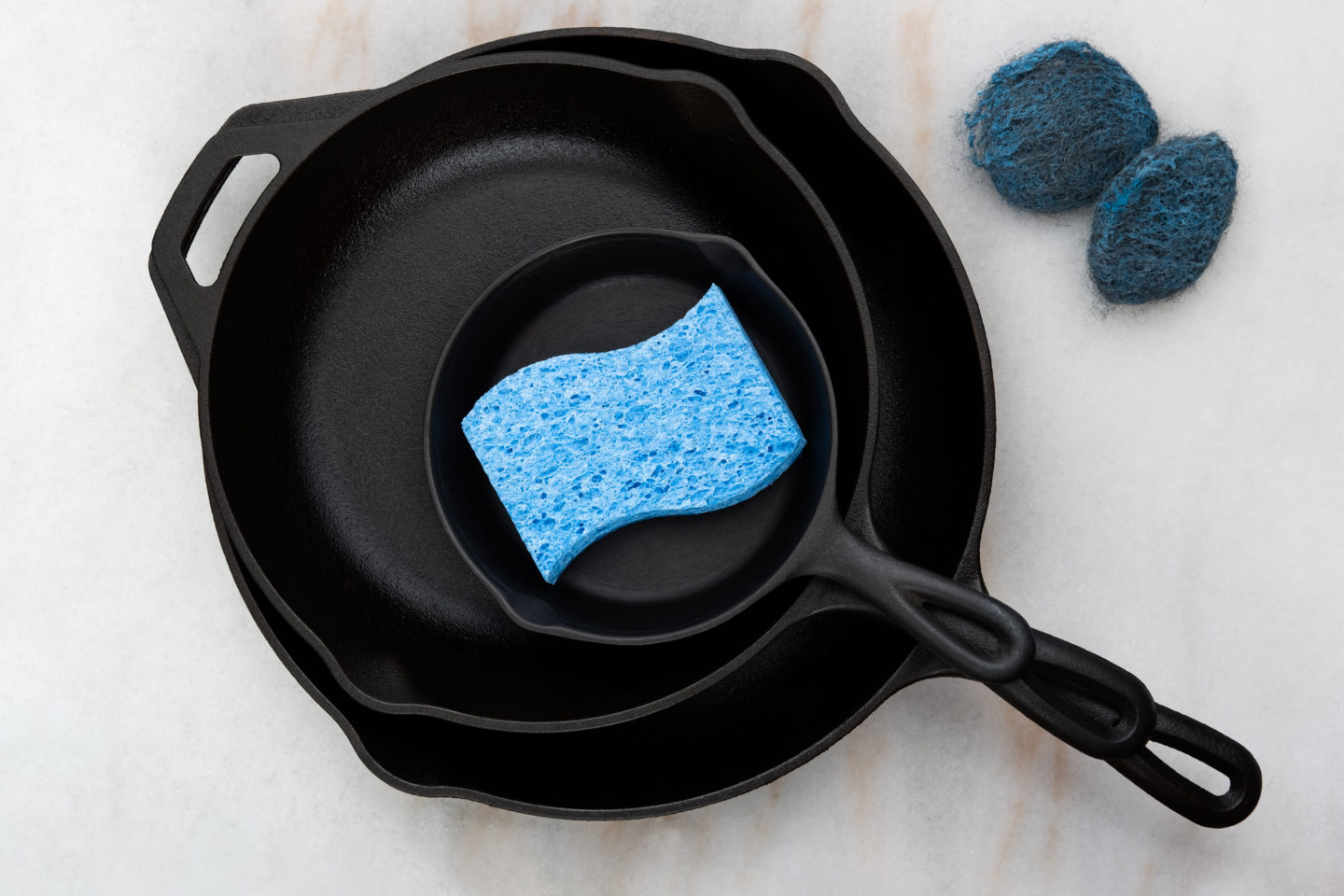 While cleaning by hand is a bit more work than using the dishwasher, knowing the proper steps can help speed up the process. Learn how to keep your cast iron frying pan protected here.
1. Wash
First, wash your pan. Ideally, this should be completed with a small amount of plain water and a soft scrub brush. If you need something a bit tougher to remove caked-on food, try using a stiffer scrub brush.
Completely avoid using cleaning products. These will remove the protective layer of seasoning on your pan and potentially damage the cooking surface.
2. Dry
Since water causes rust, it's essential to dry your pan thoroughly before storing it. The best way to do this is to set it over high heat on your stove for a few minutes. That will evaporate every last drop of water off its surface.
Remember to take caution when drying your pan on the stove. Overheating any pan when empty can cause it to crack or warp. It may also not be visibly hot, posing a potential hazard to other members of your family.
3. Oil
Once your pan has been heated and then cooled, you'll want to oil it before returning it to storage. That will help give an extra layer of protection against rust, especially if you're not going to use it for a long period.
Simply pour a small amount of oil onto a kitchen towel and run it over the surface of the pan. Then, use a second clean towel to wipe off any excess.
Frequently Asked Questions
Is it okay to use soap on cast iron?
A small amount of dish soap is okay when removing thick grease from cast iron, though too much can strip off the seasoning. Even in these cases, many professional chefs entirely swear off soap or cleaning chemicals when using cast iron.

The reason is that fats are part of a cast iron pan's natural cooking surface. It will add an extra layer of protection against rust until the pan is used again and will harden once exposed to heat. As a bonus, it can also add some extra flavor to your dish!
What about enameled cast iron pans?
The one exception to putting cast iron pans in the dishwasher is enameled cast iron. These pans are covered in a protective coating that is much thicker and more durable than regular seasoning. In addition, as long as they are unchipped, they are protected from moisture.
Can cast iron grill supports go in the dishwasher?
In some cases, the grilles on the top of your cooking range are made of cast iron. Unless otherwise specified, these should be kept out of the dishwasher to avoid rust, just like your cast iron pans.