Italian basil (sweet basil) is a mild-tasting herb that plays a vital role in Mediterranean cooking. It is a key ingredient in a range of dishes, including pesto, pasta sauces, dressings, and as a topping on pizzas. It provides a peppery hit initially, which gives way to a subtle hint of sweet, minty, aromatic flavor.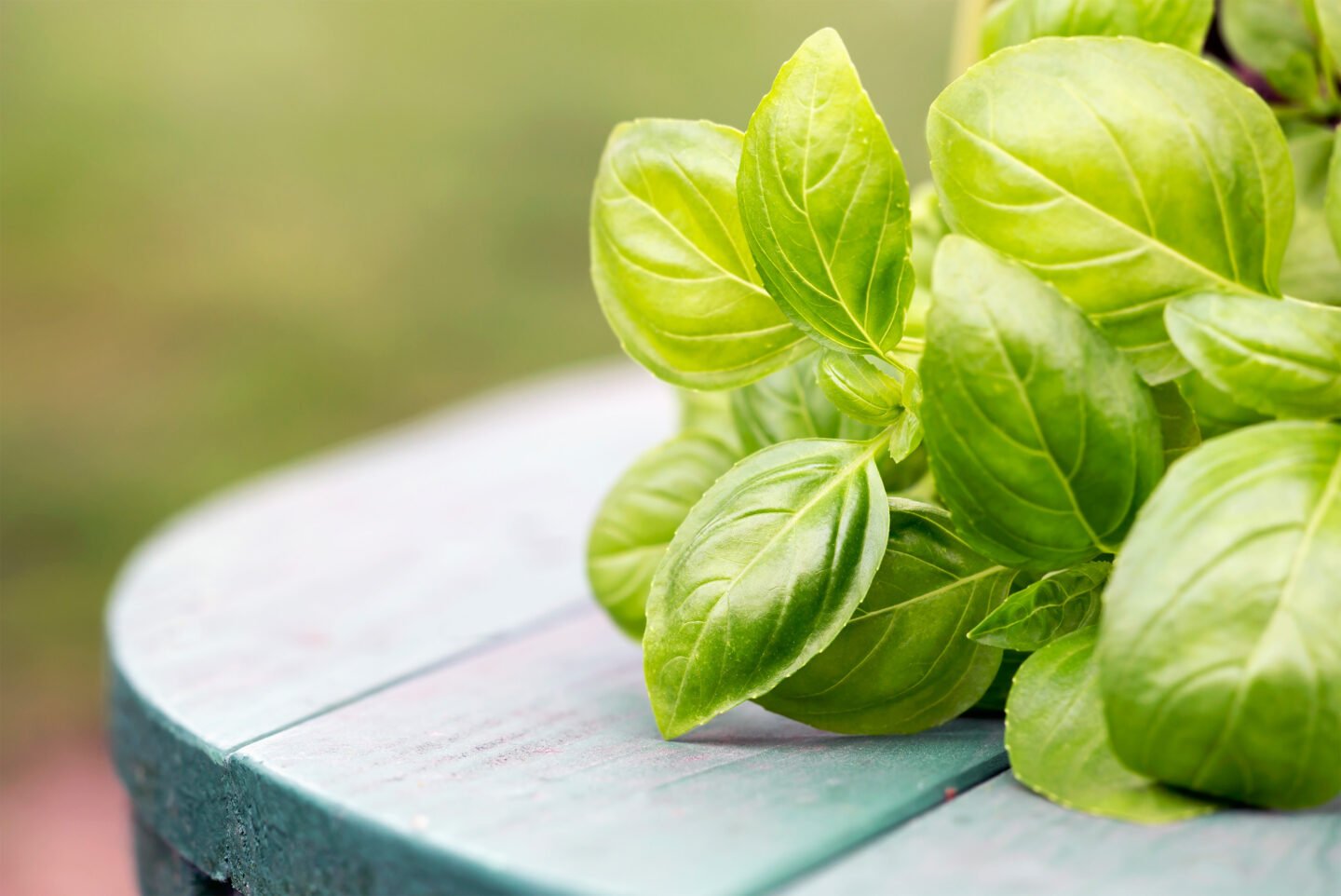 But what if you don't like this herb, or you can't get your hands on any? Then you're going to need a basil substitute that's right for your recipe. We've compiled a list of our suggested alternatives, which will help you finish your meal preparation. Keep in mind that using a different herb will change the result of your meal, as no back-up ingredient will perfectly mimic basil.
Related reading:
Check out all our resources about herbs here. We have loads of information to take your herb skills to the next level!
Table of Contents
What can be used in place of basil?
Some of the options we've provided are on the list to provide a flavor that's close to or complimentary to basil. Others are on there if you don't like the taste and want something a little different. Keep reading to find the right herb for your situation.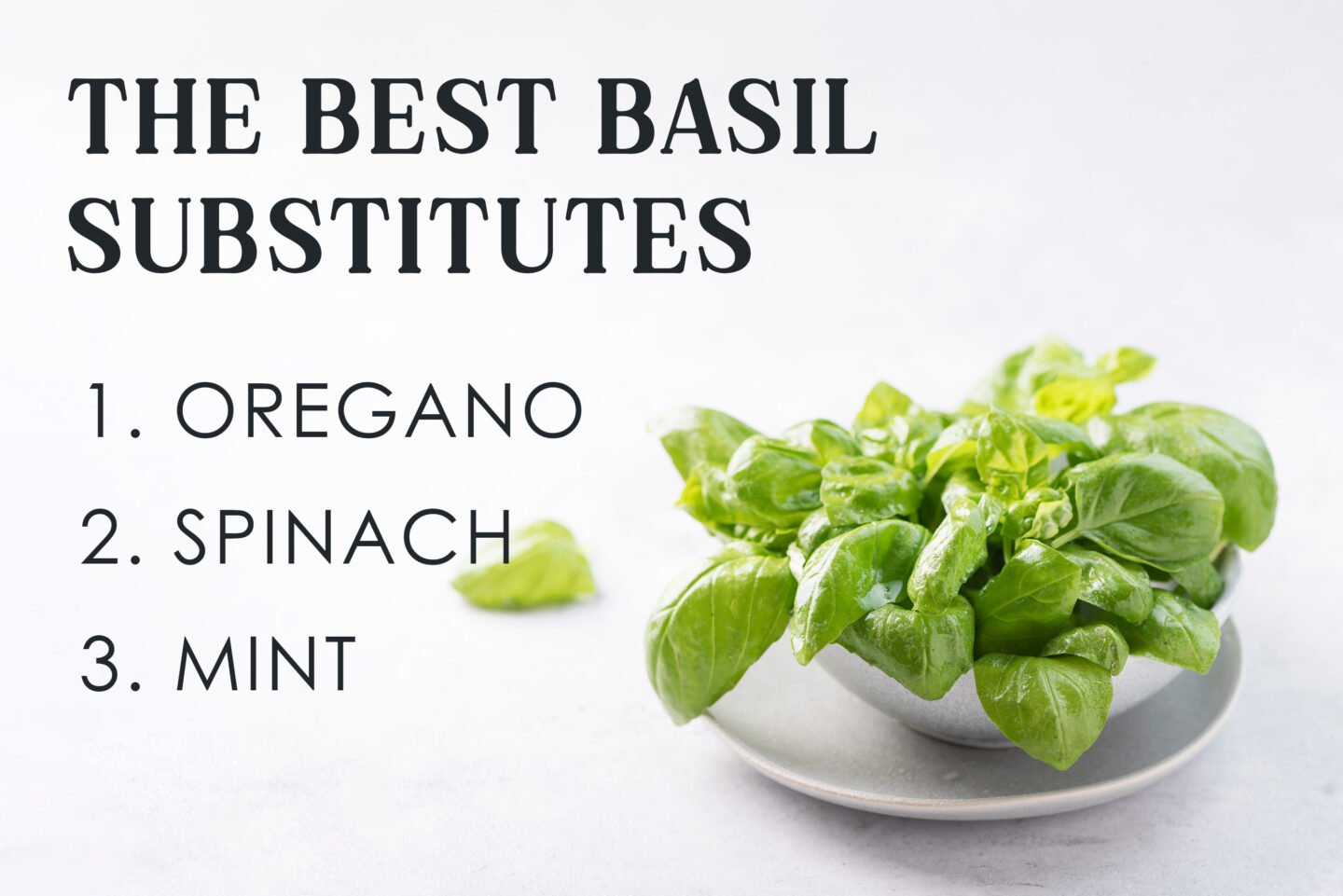 1. Fresh Basil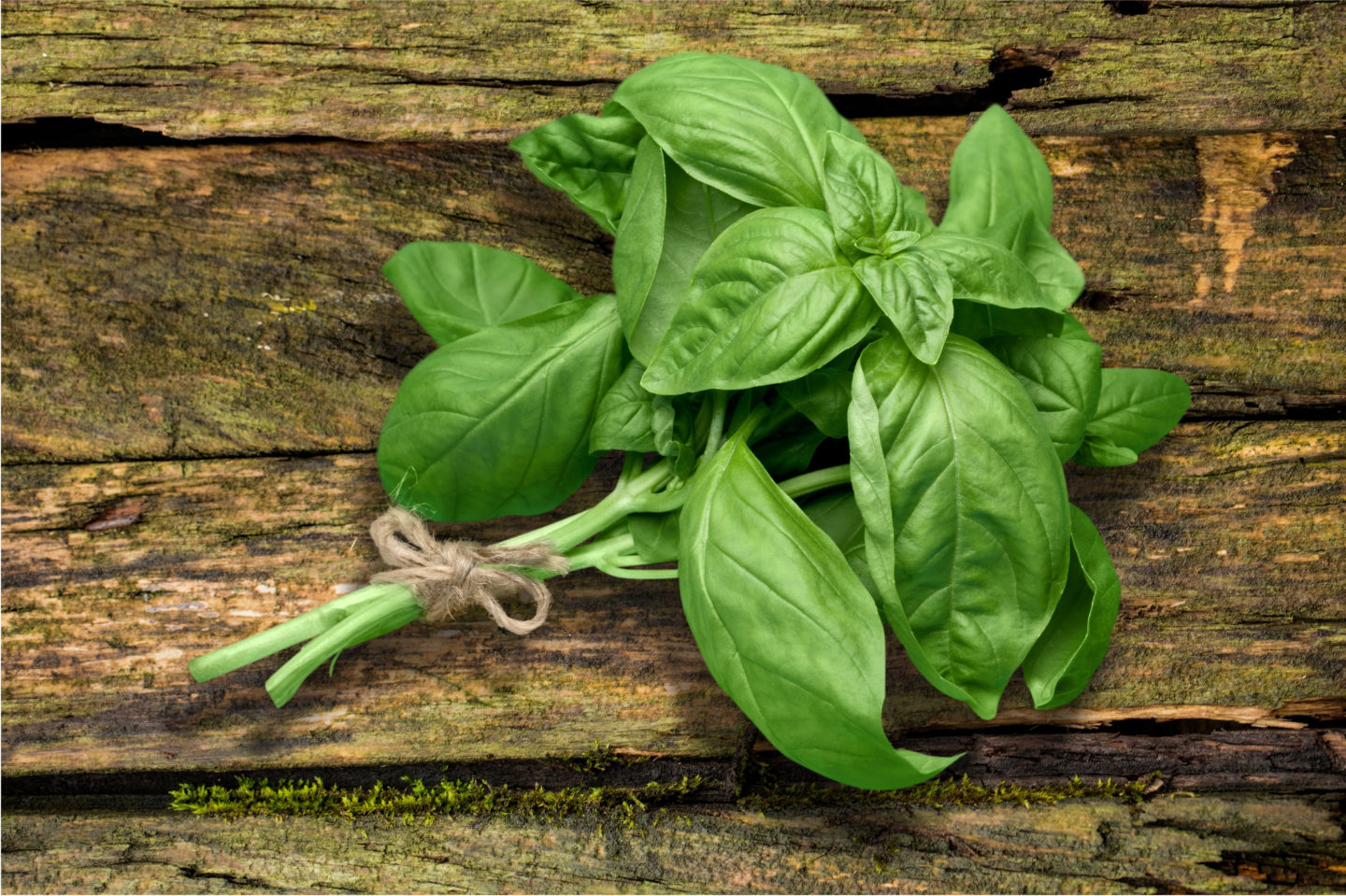 If the recipe calls for dried basil, then your best option is fresh basil. The flavors will be very similar and will work in most recipes. You'll need more of the replacement version to get the same result. If you need one tablespoon of dried basil, then use three tablespoons of the fresh ingredient. Toss in the leaves towards the end of the cooking process, as they can turn bitter or lose their flavor altogether when overcooked.
Of course, you can substitute the other way and use dried if you don't have fresh. For meals such as pizza that use basil as a flavor and a garnish, the dried option won't work as well.
2. Spinach leaves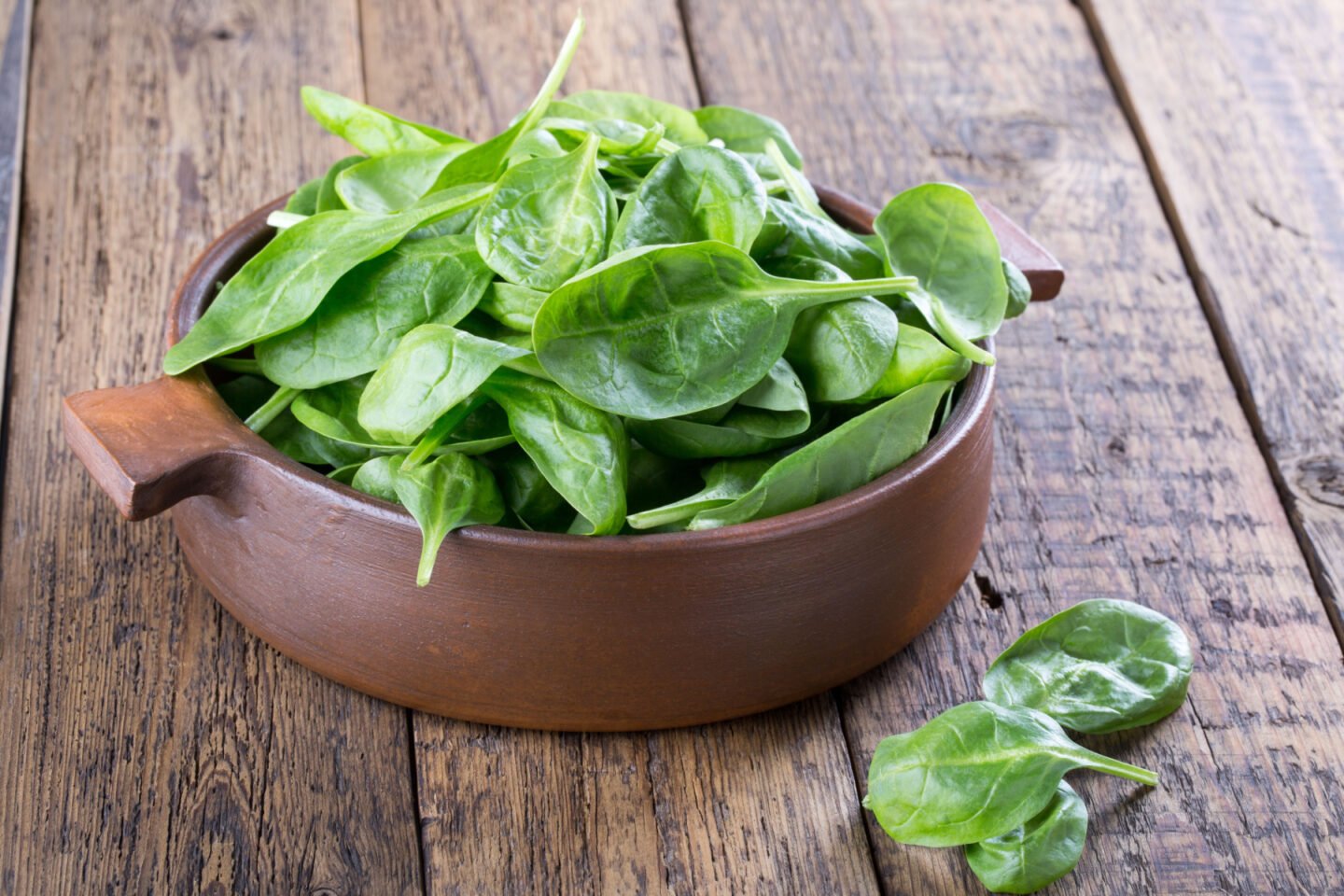 Spinach leaves are an excellent option if you're making pesto. Not everyone enjoys the overwhelming taste of basil, especially kids. To keep the vibrant green color, use spinach leaves instead. Adding a small amount of basil to give the pesto a mild flavor punch may also be an option.
Use spinach leaves in stir-fries or Thai cooking to create a tasty meal without too much overpowering flavor.
3. Italian Seasoning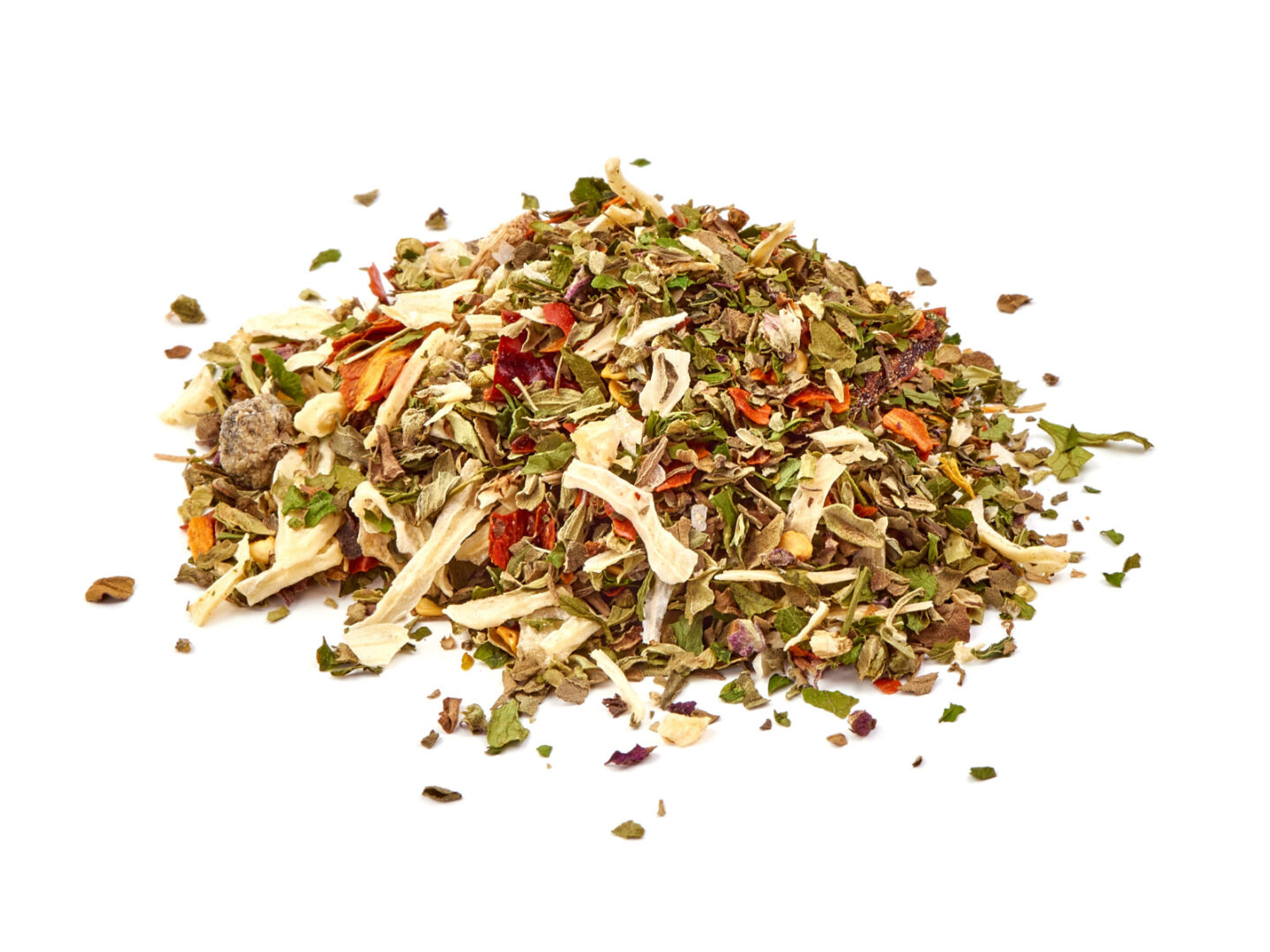 Many Italian recipes will still taste delicious if you use Italian seasoning instead of basil. This seasoning includes parsley, rosemary, thyme, pepper, oregano, and, of course, basil. Pasta sauce is a food that will benefit from this use of Italian seasoning.
If you decide to use this option, check the recipe to see what other herbs and spices are used. If, for example, the ingredients include thyme, then you'll want to use a little less as it is already in the Italian seasoning.
4. Oregano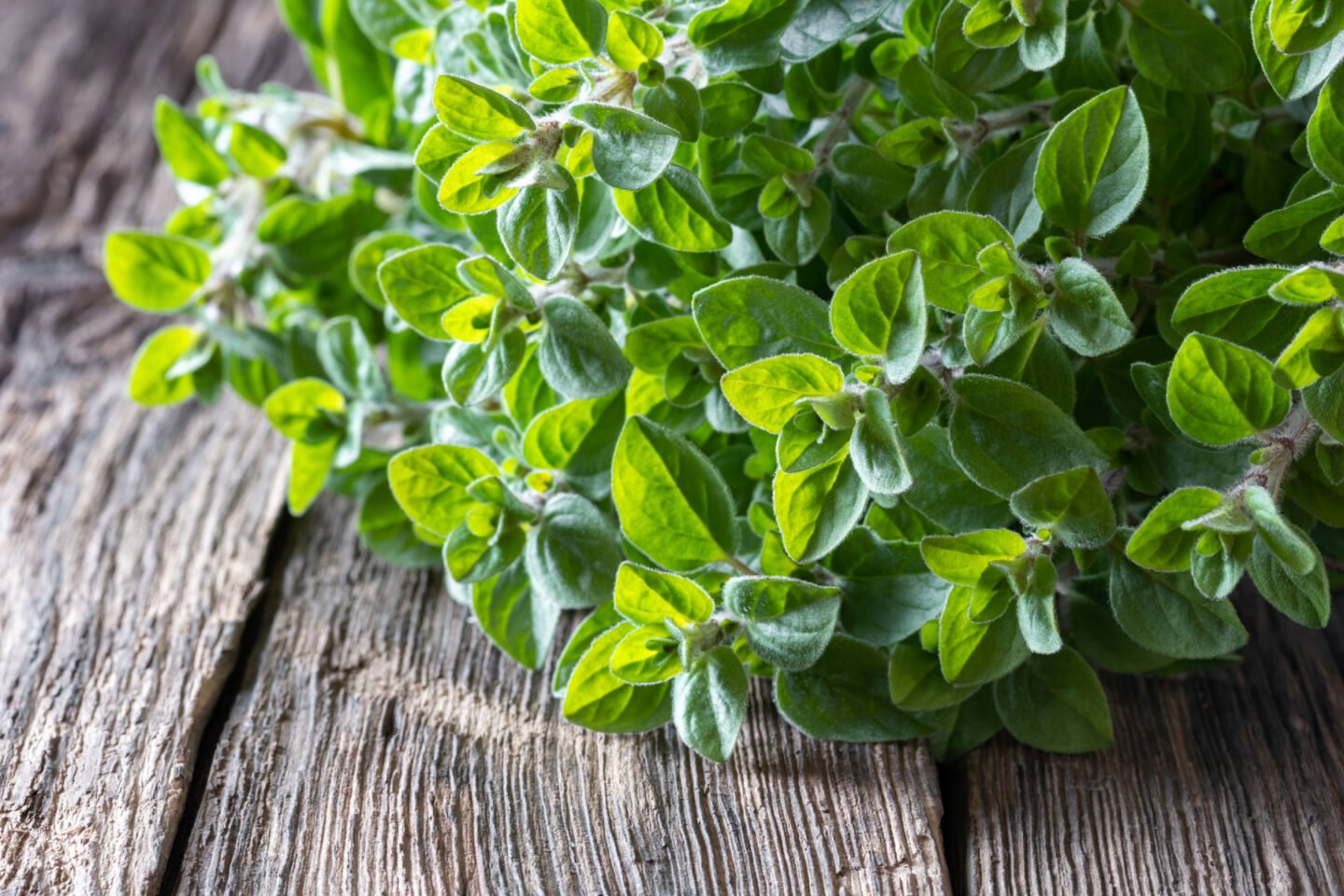 Oregano is another herb that is frequently used in Mediterranean cooking. Although it does have a stronger floral, peppery taste, this popular herb shares a similar flavor profile to basil. Use this substitute in pasta sauces, casseroles, or even as a topping on pizza or bruschetta.
5. Thyme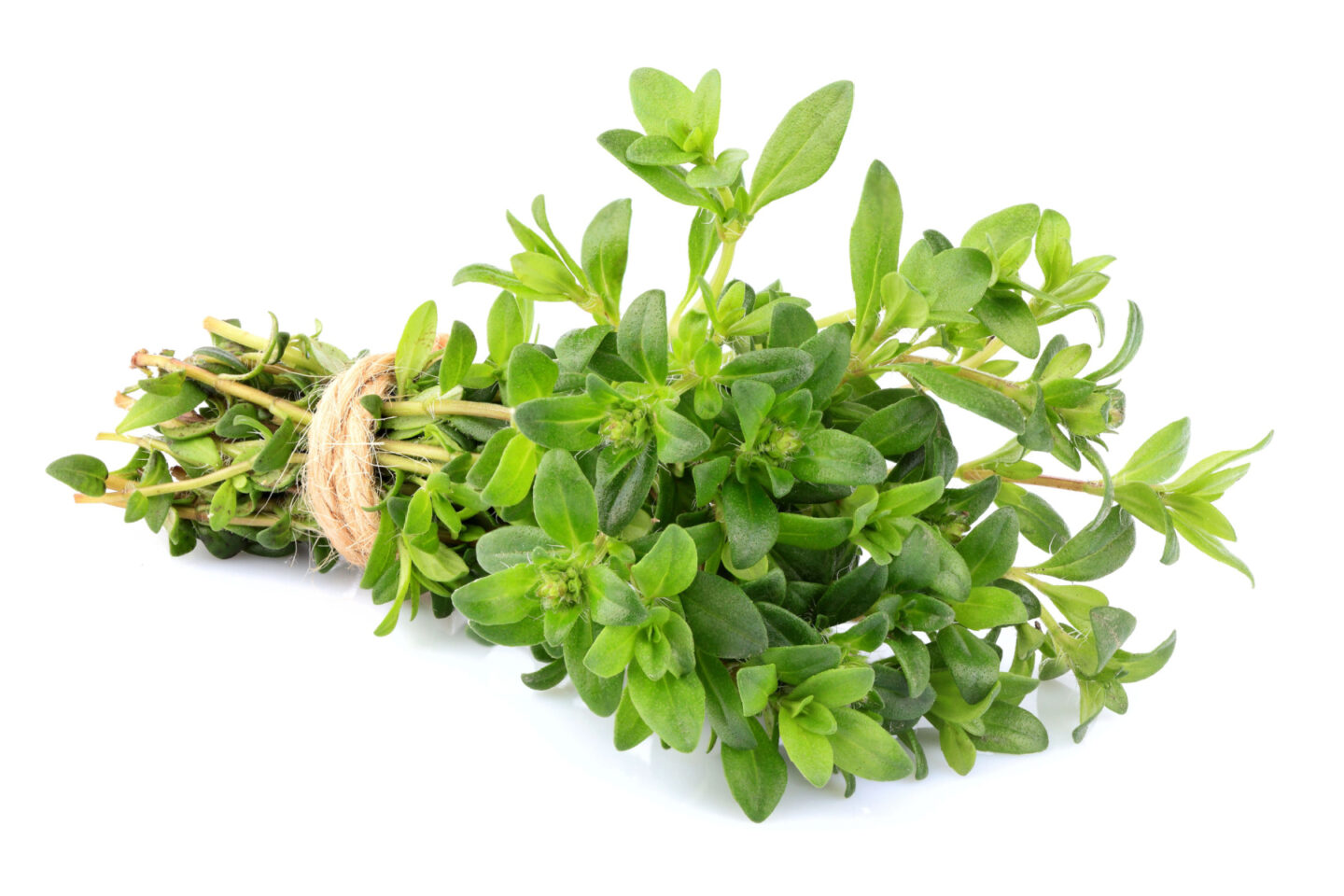 The flavor profile of thyme is warmer than that of basil, and it also has a characteristic lemony taste. A mint undertone is what links it to basil, and as with oregano, it works well in casseroles and sauces.
Go easy on the ratios with thyme. It has a unique taste that could easily give your dish an unpleasant flavor when overused.
6. Celery Leaf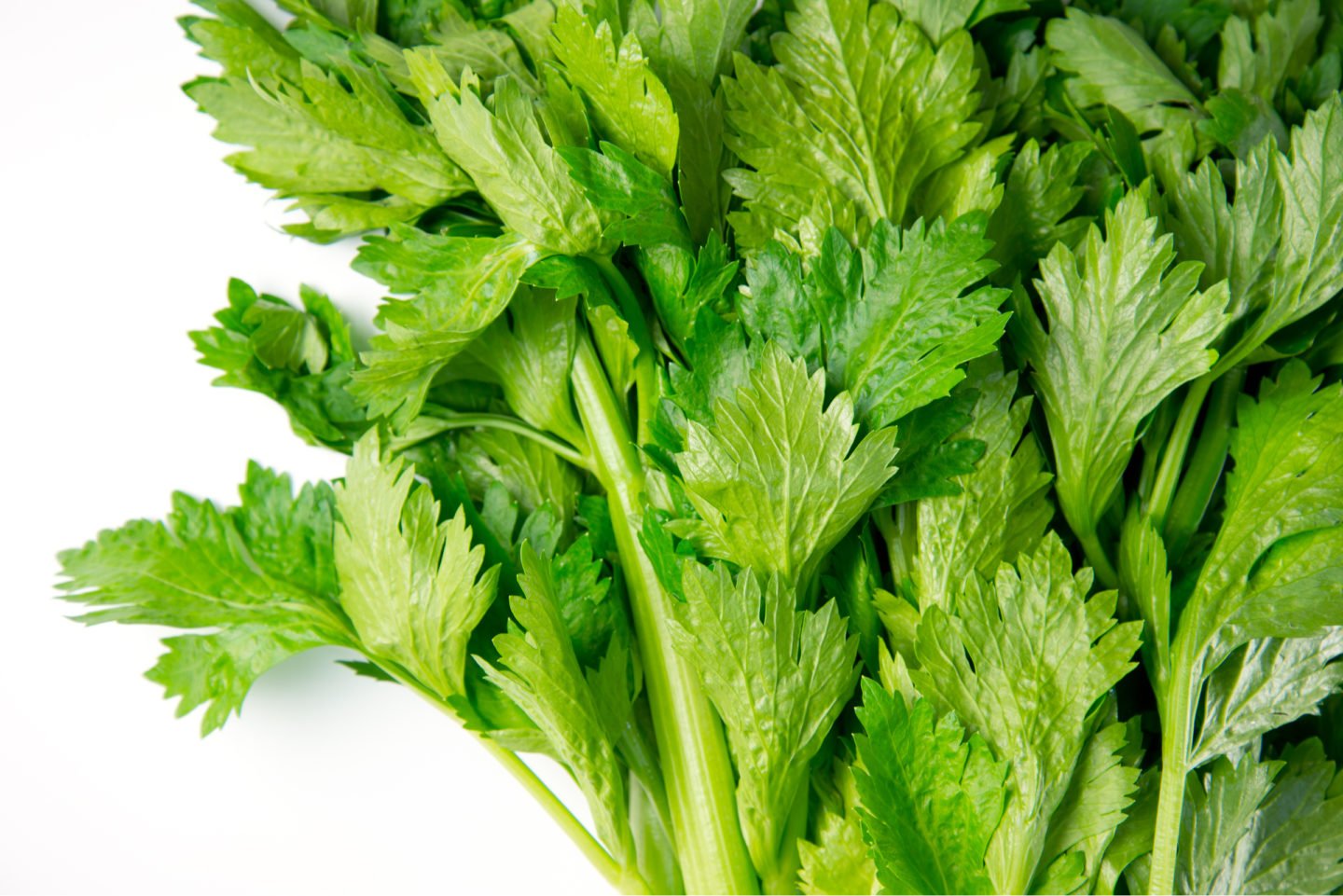 Celery leaf is another superb option if you're making pesto. Don't like the taste of basil? Use the same quantity of these leaves to diminish the flavor while maintaining the green color. For anyone who hates food waste, this is an excellent option, as celery leaves are commonly tossed out in favor of the stalk. Do your part for the earth and use every bit of the celery you buy.
7. Cilantro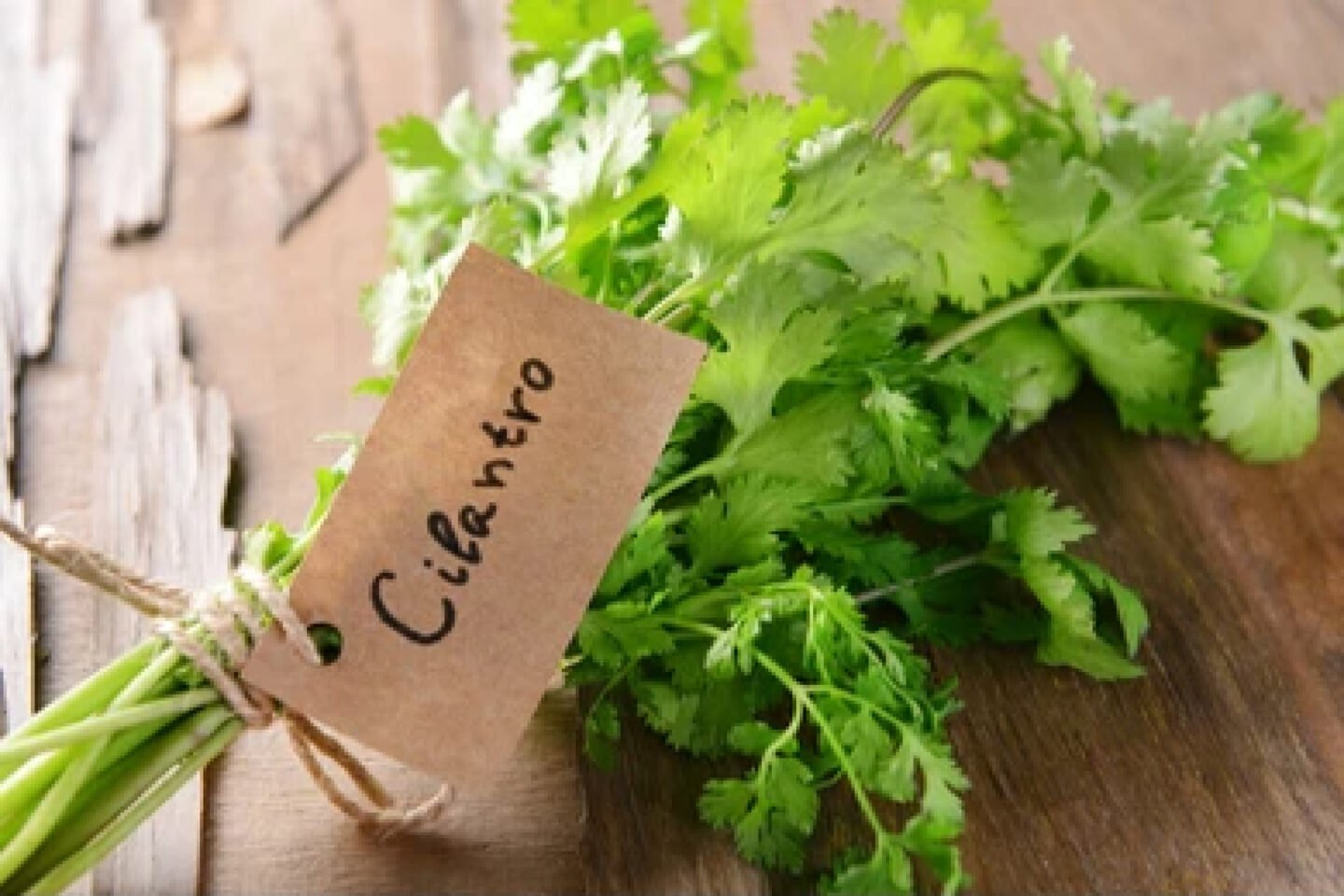 Cilantro, or coriander, provides a definite hit of lemon, mint, and pepper all in the same mouthful. It isn't the herb of choice for some, and it won't imitate basil's flavor. However, it does offer a similar lovely green vibrancy to sauces and dressings. It would work well in Thai cooking, especially curries that are enhanced by hard-hitting flavors.
8. Mint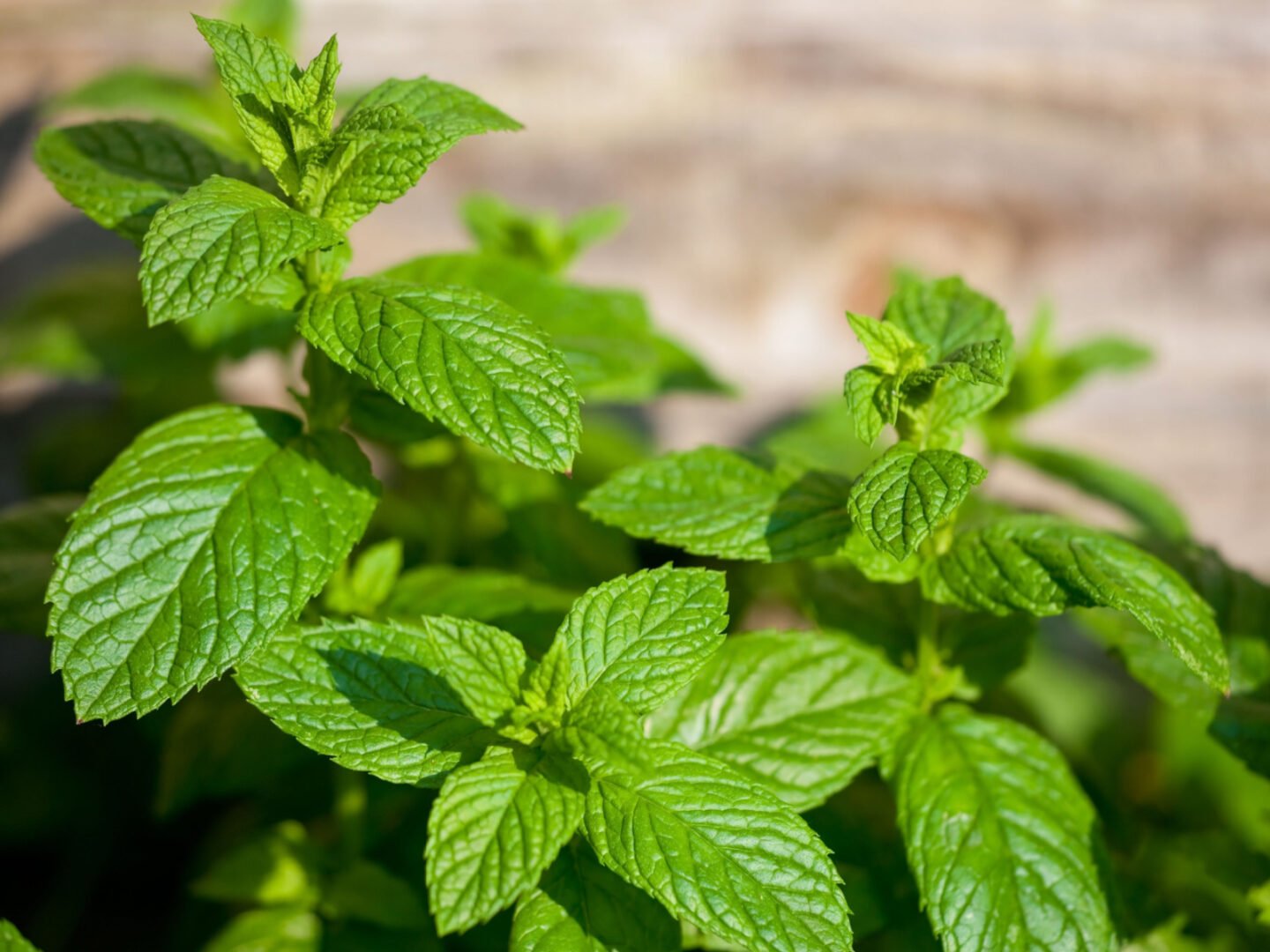 Mint is a cousin of basil, and they share the same "minty" profile. You wouldn't use mint on pizzas or in casseroles. The flavor doesn't quite work due to the cooling taste of mint. Mint's application would be dressings and sauces where cooking isn't involved. The mint will provide fresh flavor as well as vibrant color.
For dessert recipes that use basil, such as basil ice cream or cheesecake, mint is a perfect alternative. It is a more accepted herb for use in sweet dishes and goes well in practically any dessert that calls for basil.
You can find out about our recommended mint substitutes here.
You might also like to read:
What are some easy tarragon substitutes.
What are the best Vietnamese balm substitutes?
Summary
Finding a basil substitute that doesn't ruin the dish isn't a big challenge. There are a range of alternatives that are commonly found in the store. You probably have them in your kitchen now, but not all of them will be suitable for every recipe. You can use fresh and dried basil interchangeably, but reducing the quantity of the fresh option will be essential.
If you don't enjoy the taste of basil, then spinach leaves or celery leaves are both excellent choices. Italian seasoning and oregano are good options if you're making a luxurious Italian pasta sauce and you want to keep the flavors roughly the same.
Do you have a suitable alternative to basil that isn't on this list? Let us know in the comments below.