From cooking to cosmetics, coconut oil provides an endless parade of uses, making it a staple item in every home. Aside from being an excellent cooking oil, coconut oil is also used as a hair treatment and makeup remover, resulting in coconut oil stains. Although coconut oil appears clear, its stains are stubborn and hard to remove.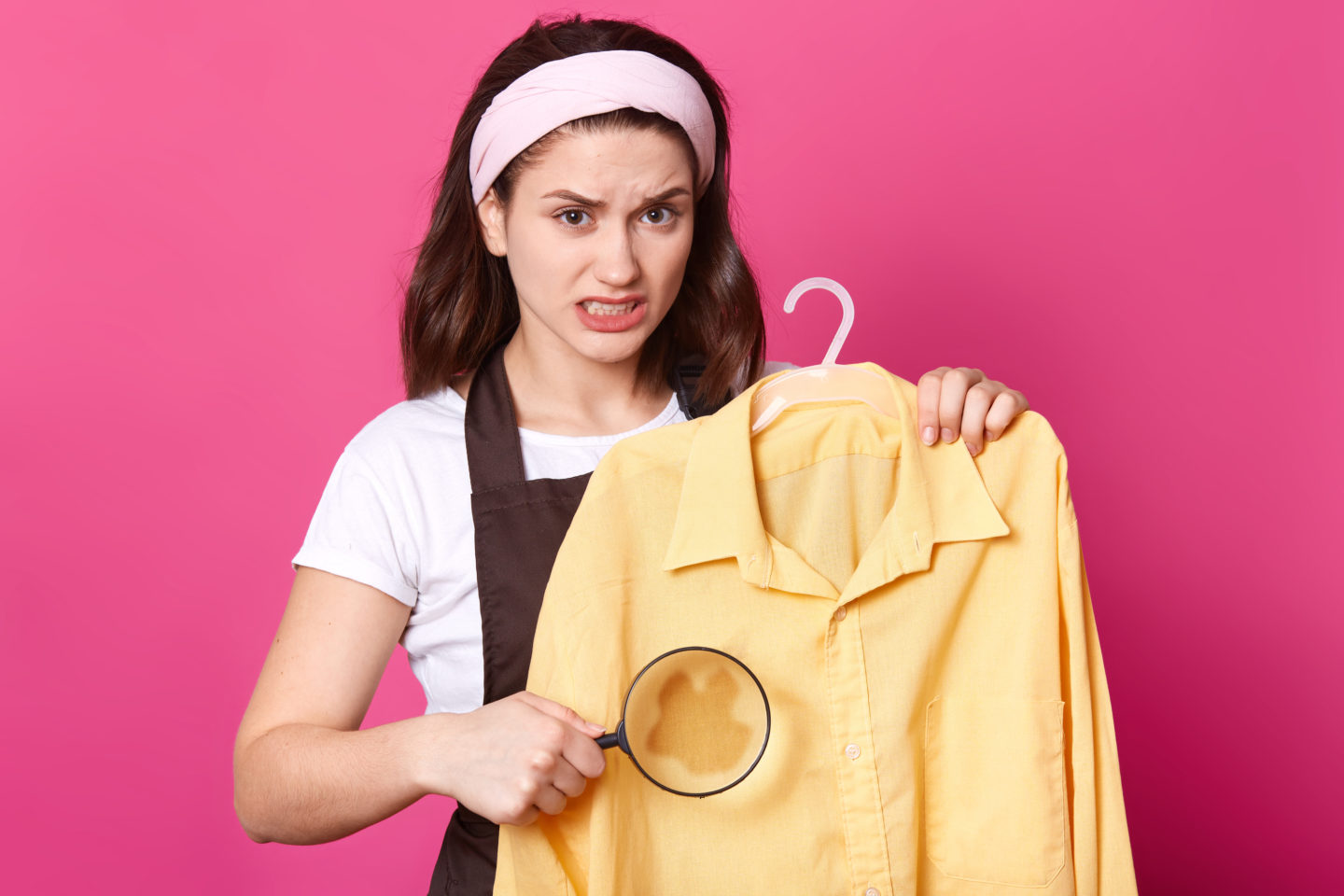 While the removal methods differ with different fabrics, you can first blot excess coconut oil while it's still fresh, making sure to soak up most of the residue. You can then try to apply dish soap and blot the area again. However, if you couldn't lift the grease stain out of the fabric, you can employ other methods, including baking soda, cornstarch, vinegar, soap, or a mixture of these ingredients.
This article will discuss the different methods that work for other garment types and provide easy steps to completely get the coconut stain out of your clothes.
Table of Contents
Does Coconut Oil Leave A Stain?
Coconuts are processed into coconut oil. The oil from coconuts is typically fatty since they are known to have a significant amount of saturated fats. When the material makes contact with cloth, the fat content creates stains. Although grease stains on garments are the first thing that spring to mind, they can stain anything composed of cotton, wool, or even synthetic fibers, including carpets, mattresses, and upholstery.
Whether it's an oil spill when applying makeup, a splatter while cooking, or a residue when using coconut oil as a makeup remover and hair treatment, it will only take a few moments before you realize the stain.
How To Remove Coconut Oil From Fabric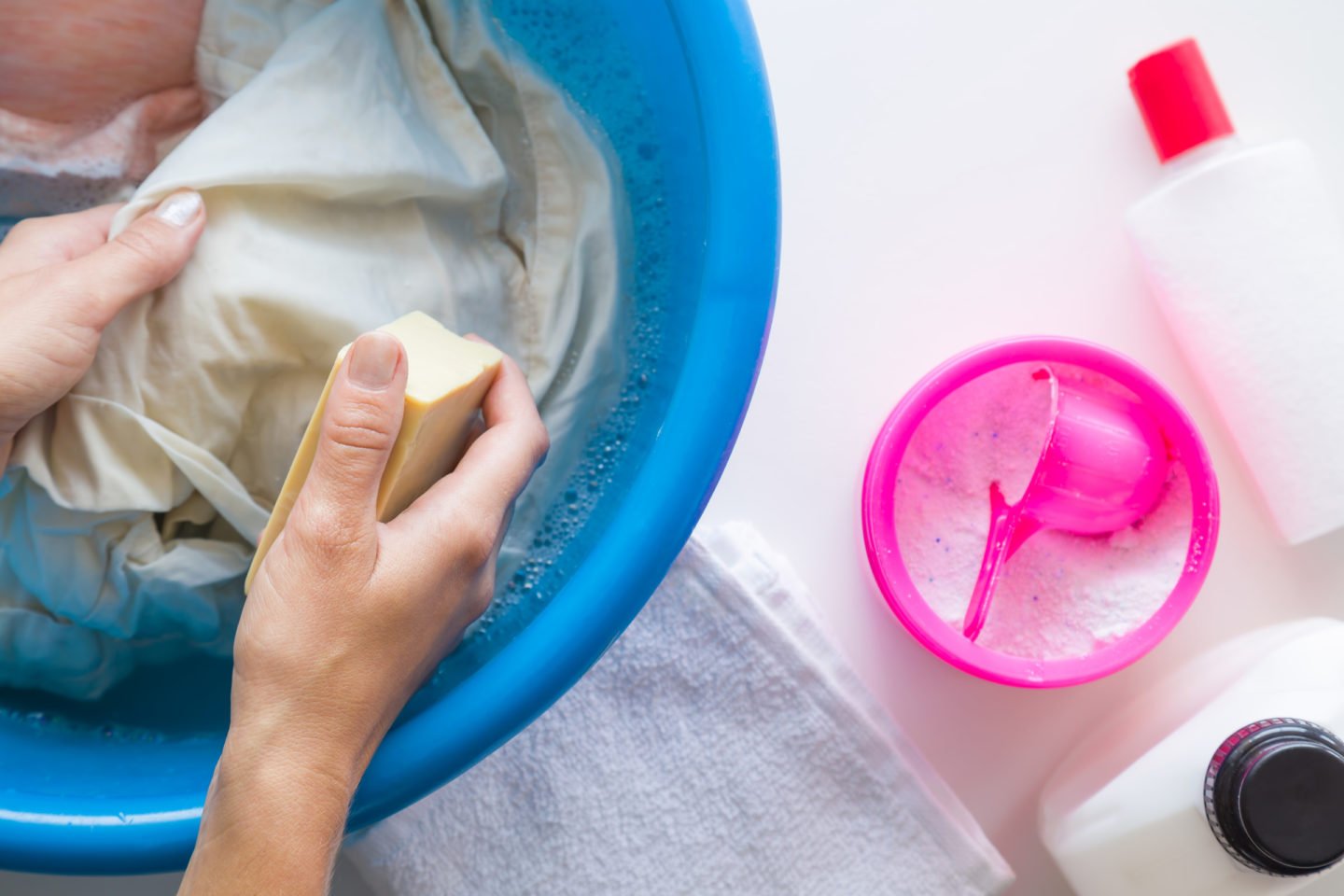 Using Dishwashing Soap
Using dish soap is one of the best methods for removing textile oil stains. That makes sense since soap can cut through grease molecules just like it does with dishes. Just place five drops of dish detergent on a cleaning cloth or any soft towel you have before soaking it in warm water.
After that, apply it to the stain and rub it into it gently in a circular motion. To apply it, you may also use a soft, disposable toothbrush. Finally, give the dish detergent 5 to 7 minutes to work its magic on the stain for the most satisfactory results.
Once you notice the stain coming off, rinse the sheets with warm water. It's essential to use only warm water as cold solidifies oil, making it stick to the material even more. If you're washing a light-colored fabric, you can add a tiny amount of bleach before drying the fabric.
Using Baking Soda
If you are not satisfied with the results of using dishwashing soap, you can proceed with baking soda to make the stain removal easier. Combine dish detergent with one tablespoon of baking soda, rub the mixture to the stained area, and leave it for 30 minutes to process. Then, wash the sheets and see if the stains have lifted.
Removing Coconut Oil From Soft, Cottony Fabric
Cotton absorbs material faster than other fabrics, which can be advantageous during staining. So when removing a stain, use a cotton washcloth to soak up cleaning ingredients. It performs better than other fabrics, making it easier to remove the stain.
If you wish to remove stains from a cotton shirt, mix a tablespoon of detergent with hot water and soak the cloth. Hot water helps break apart fat molecules, and detergent helps eliminate the cooking oil stain. Next, rinse the sheets, and dry them if you no longer see the stains.
Cleaning Coconut Oil Off Bright-Colored Fabric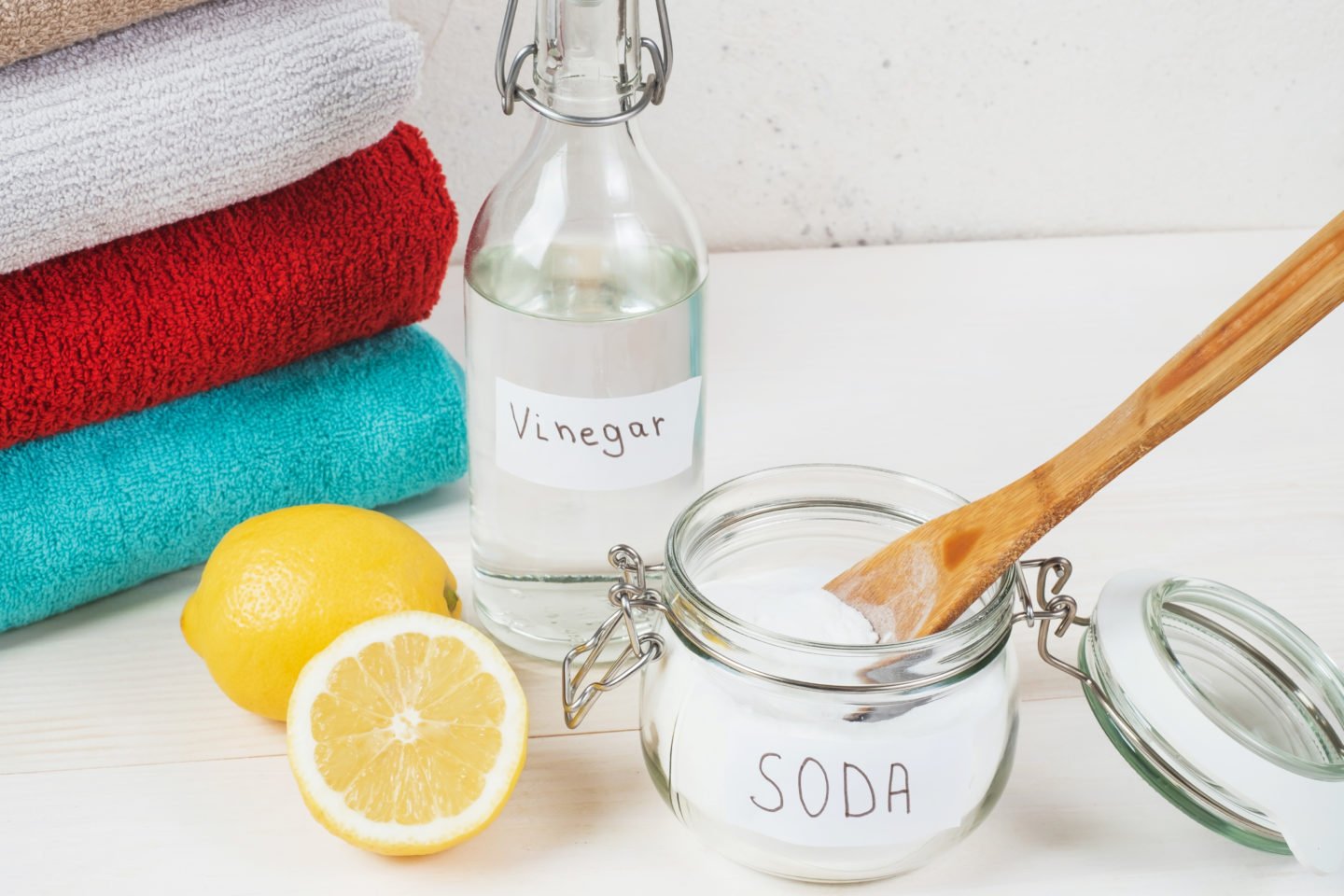 Additionally, you may use a tiny quantity of baking soda to remove a coconut oil stain on clothing. Pour some warm water and 2 teaspoons of baking soda directly over the discoloration. After letting it sit for a while, thoroughly clean it with hot water.
After that, apply laundry soap to the stain and rinse it away with cold water. After rinsing, you may dry the garments right away. If possible, wait to dry the items using a washing machine until all the oil has gone.
Getting Coconut Oil Out of Dark-Colored Fabric
Cleaning dark-colored clothes are a little trickier since you have to preserve the color intensity, and you can't use regular bleach. However, the good thing is you don't have to lift the grease stain fully since it may not be so visible in black or dark-colored clothes.
Simply do the cleaning method using dishwashing soap or laundry soap and hot water. Next, add laundry detergent and let the mixture soak for at least 30 minutes. Make sure not to overdo the mix, as detergent contains ingredients that lighten fabrics.
Removing Coconut Oil From Delicate Fabric
Utilizing baby powder is a quick hack for getting oil out of sensitive clothes. First, sprinkle some powder on the material's surface, then scrub with a moist cloth. Your garments will appear like new when the coconut oil lifts away. You can also use baby powder to get grease off your hands.
Getting Coconut Oil Stains Out of Polyester Fabric
Oil likes polyester fabric. It retains stains more than cotton garments do. While it's okay to use baking soda on polyester, you should not use hot water since it ruins this kind of fabric.
You may need to massage the stained area more or use more baking soda. To keep any stains from setting in further, always air-dry after washing in cold water. Repeat if stains are still discernible. That will require several tries.
Removing Coconut Oil From Upholstery or Textile Furniture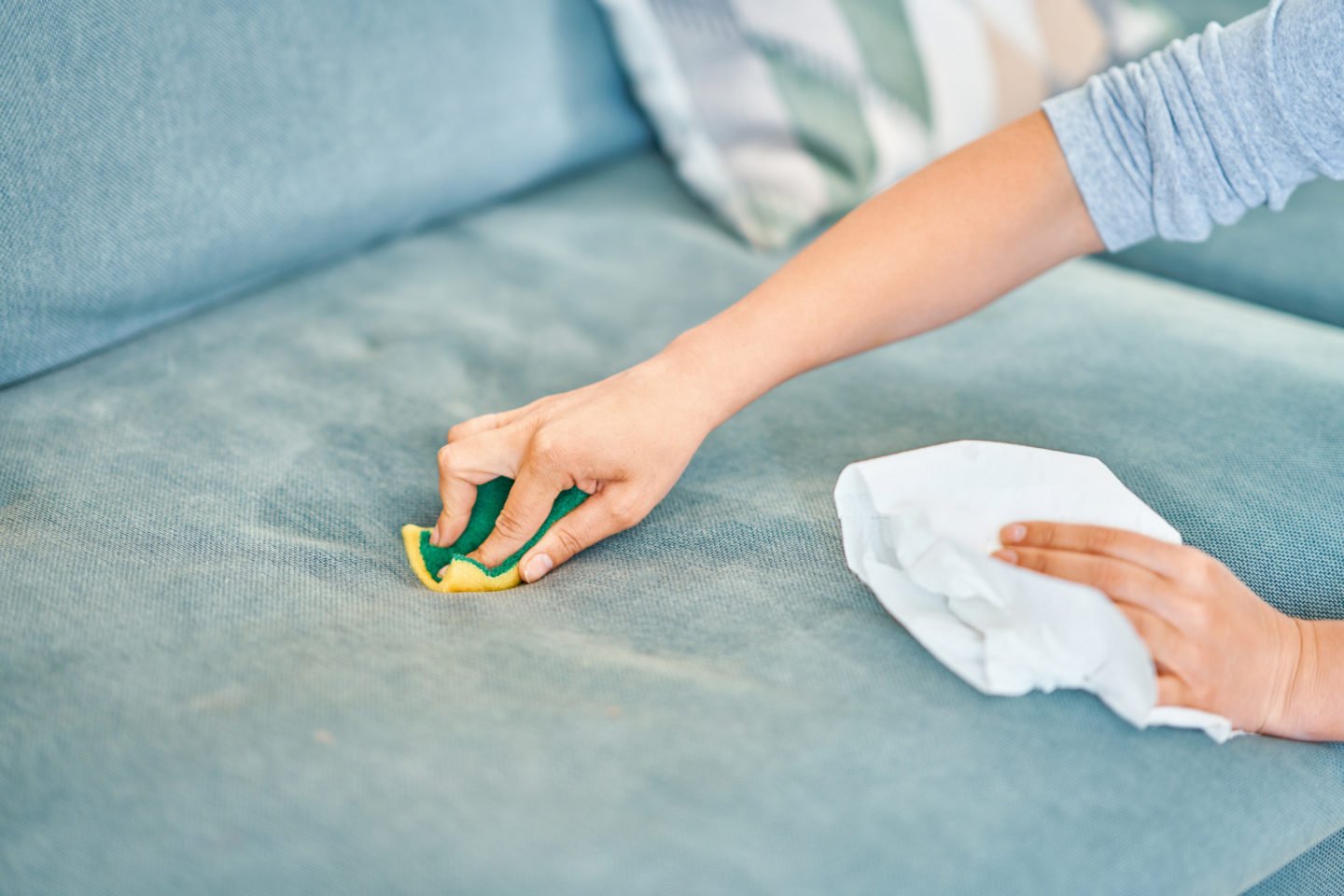 You can remove coconut oil from textile furnishings in a few different methods. One method is to liberally sprinkle the area with baking soda and clean it with a cloth. If it doesn't work, dab a little starch on the spot and massage it with a cloth. Use a pre-treating agent on any tough stain to remove, then wash the item as usual.
Removing Old Coconut Oil Stains
You must apply a stain remover to get a tough stain out of garments. Currently, there aren't any stain removers made, especially for this oil. However, there are several choices for cooking oil. As a result, they will eliminate coconut oil stains just as effectively.
You have two choices when choosing your remover. For a stubborn stain, you have two options: a spot remover or a specialized detergent. You can use bleach for light-colored fabrics and other color-safe cleaners for jeans and other dark-colored clothes.
Other Cleaning Options
Vinegar
When using white vinegar, purchase the distilled variant and only use them for light-colored fabrics.
Commercial Cleaning Solutions
When purchasing a cleaning solution, consider if the product is safe for toddlers and pets, if you have any, and check the fabric you're cleaning.
Rubbing Alcohol
Although very volatile, rubbing alcohol is a versatile stain remover. Plus, it is widely available and commonly found in homes.
Dry Shampoo
Although an uncommon option, dry shampoo soaks up oil and is a great last-minute alternative.
Related Questions
How do you get dried oil stains out of clothes?
Using a specialized cleaner makes the job easier. Oxi-cleaners like bleach and other powered detergents are helpful.
How do I clean up coconut oil?
If it's on a non-fabric surface, just place an absorbent paper towel to soak up excess oil and follow with a towel with hot water and a few drops of dishwashing liquid to break up the fat.