Although incorrectly referred to as a type of yam in some parts of North America, sweet potatoes are starchy vegetables with high carbohydrate content and are very nutritious. Sweet potatoes are usually cooked with no other ingredients by baking, steaming, boiling, grilling, or turning into salads and pancakes. As some recipes require a few ounces or grams of sweet potatoes, you may wonder how much sweet potatoes weigh.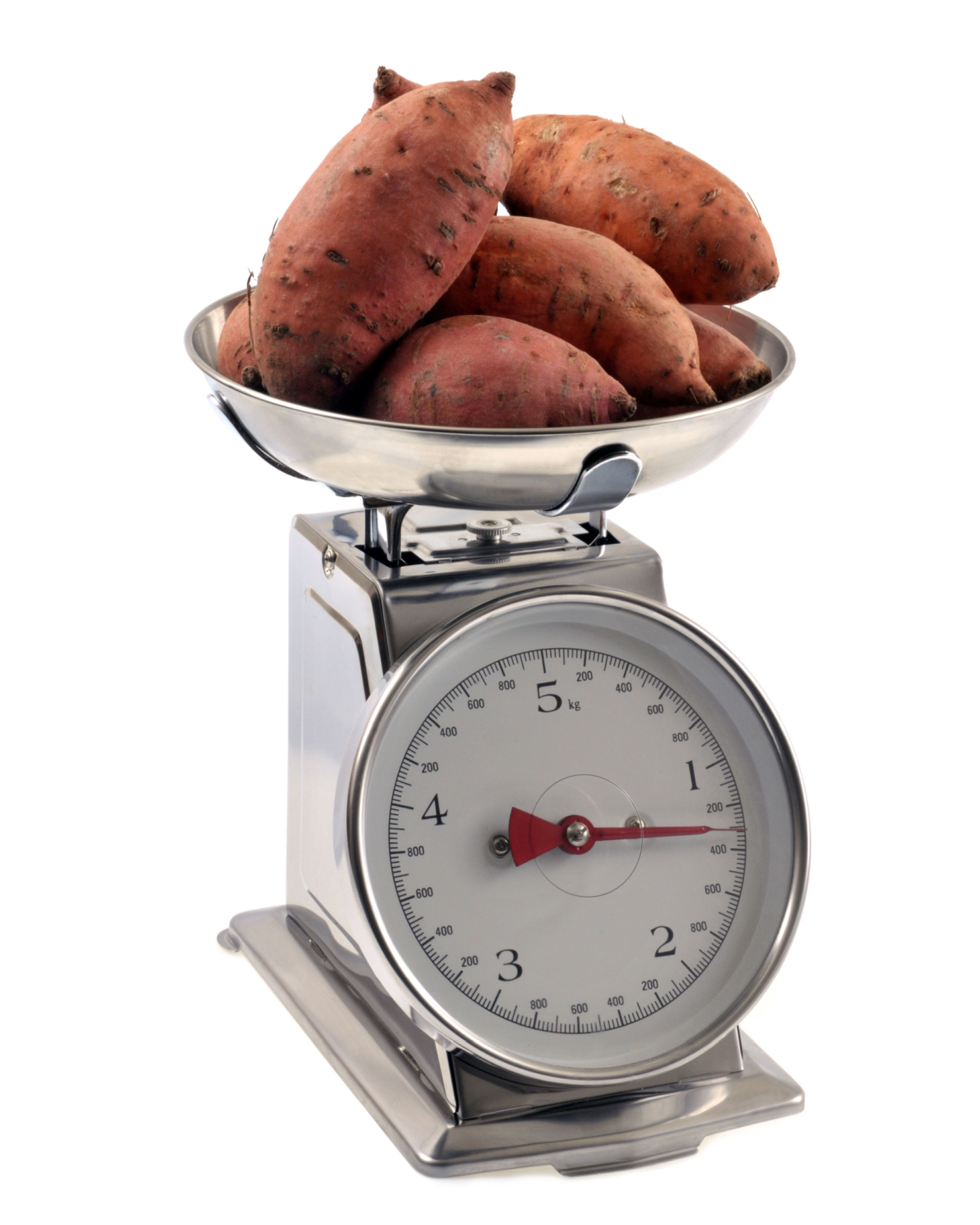 Sweet potatoes come in varying sizes and therefore vary in weight. A regular potato, which is medium-sized, weighs approximately 5 to 7 ounces or 142-198 grams (0.31 to 0.44 pounds). Depending on your kitchen needs, you'll need different sizes of sweet potatoes.
This article provides information about the sizes and weights of sweet potatoes; how to grow larger sweet potatoes; how to cook them; their nutritional benefits; and some related information.
Table of Contents
How Much Does a Regular Sweet Potato Weigh?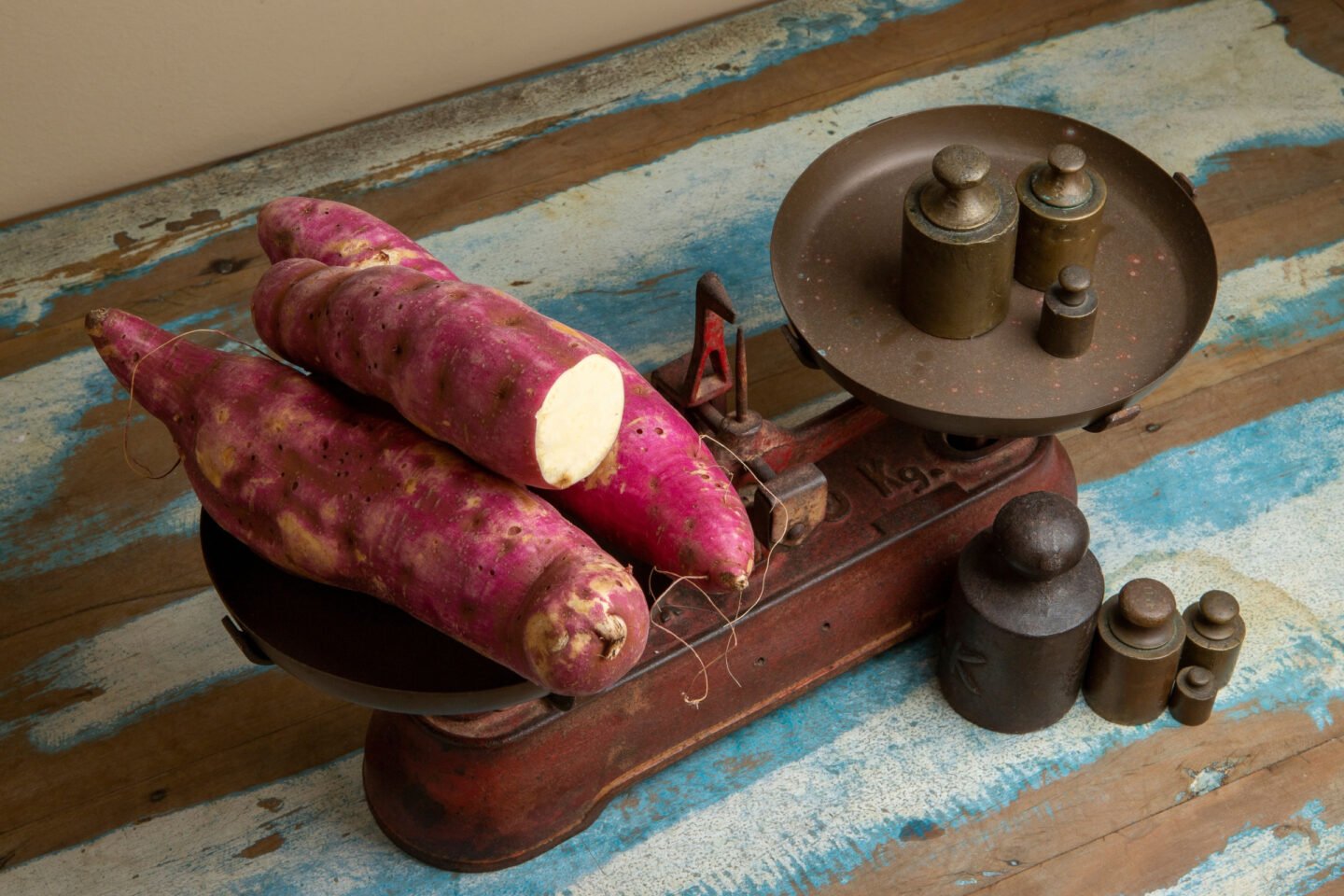 The classification of sweet potatoes is usually divided into small, medium, and large sizes.
Small sweet potatoes usually weigh 3 to 4 ounces.
Medium sweet potatoes have weights between 5 to 7 ounces.
Large sweet potatoes usually weigh over 8 ounces.
How Many Sweet Potatoes Are In A Kilogram or Pound?
It would be a lot easier if you could accurately estimate the weights of sweet potatoes just by looking at them. Here's a good rule of thumb to count how many sweet potatoes are in one kilogram and one pound:
Small sweet potato: Four in one pound, eight in one kilogram
Medium sweet potato: Three in one pound, six in one kilogram
Large sweet potato: Two in one pound, four in one kilogram
How Big Is the Average Sweet Potato?
A regular medium-sized sweet potato measures around 2 to 3 inches long and has a diameter of about 5 inches. This size is usually used in recipes, but some may also prefer smaller or larger sizes.
How to Grow Bigger Sweet Potatoes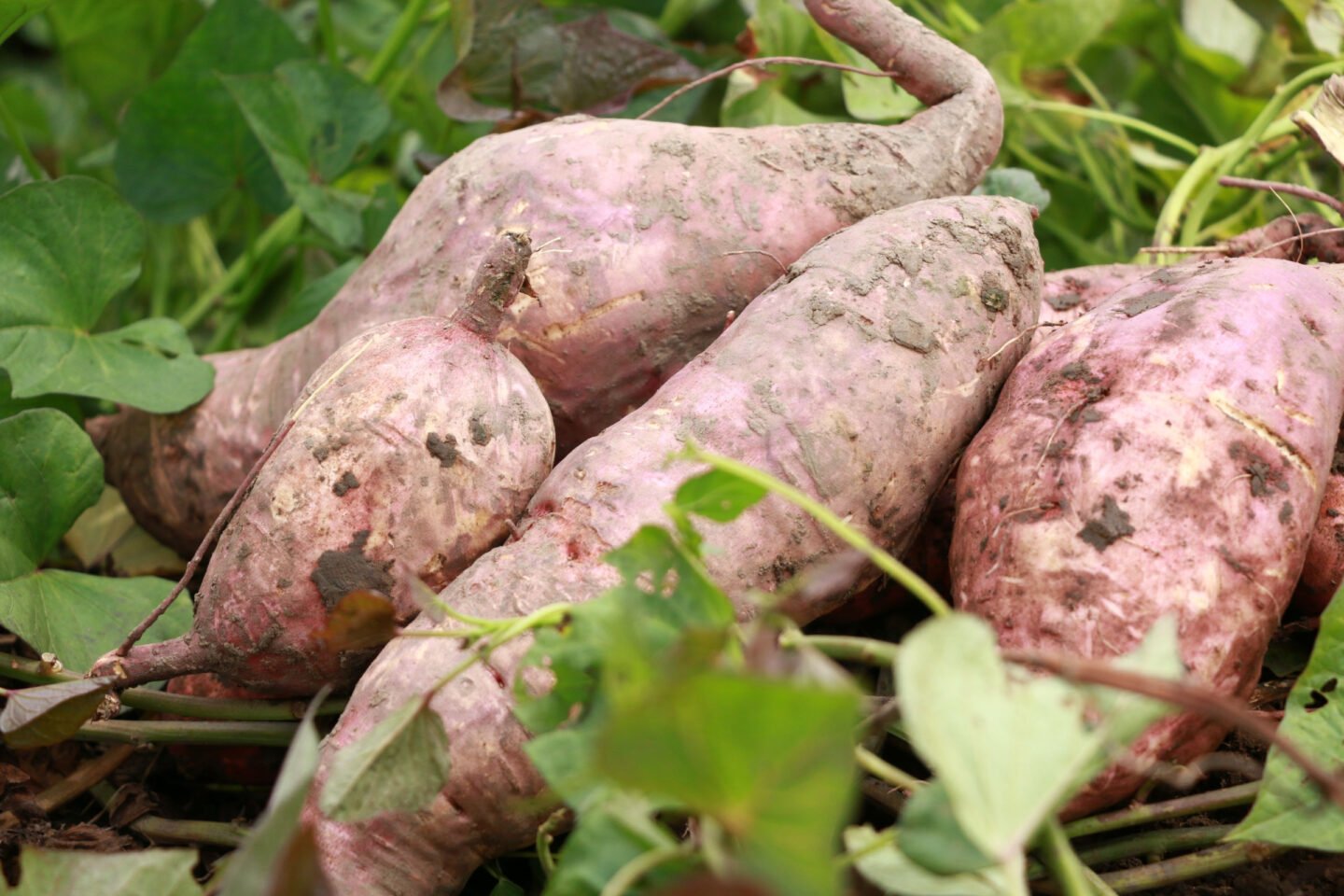 Planting may result in having tiny sweet potatoes if you don't follow the proper techniques. Here are four essential things to remember for you to be able to harvest large sweet potatoes:
Plant your sweet potatoes in an area fully exposed to the sun. Having uninterrupted sunlight for at least 8 hours is vital.
Make sure to water your sweet potatoes regularly. A good indicator would be having at least 1 inch of water per week.
Keep the nitrogen level in the soil to a minimum. Excess nitrogen levels would result in your plants having too many leaves and tiny sweet potatoes.
Sweet potatoes need lots of phosphorus and potassium, and high levels of these minerals in the soil will do wonders for your plants.
How Are Sweet Potatoes Cooked?
There are a variety of ways to cook sweet potatoes. You can boil, steam, bake, fry, or grill them. Like its distant relative, the regular potato, you can make french fries out of sweet potatoes, a delicacy known as sweet potato fries. Canned sweet potatoes are also available on the market. These canned sweet potatoes can be used to make cakes, muffins, biscuits, and even a sweet potato casserole.
The calorie content of sweet potatoes doesn't usually decrease when cooked with no other ingredients.
Sweet Potato Nutrition Information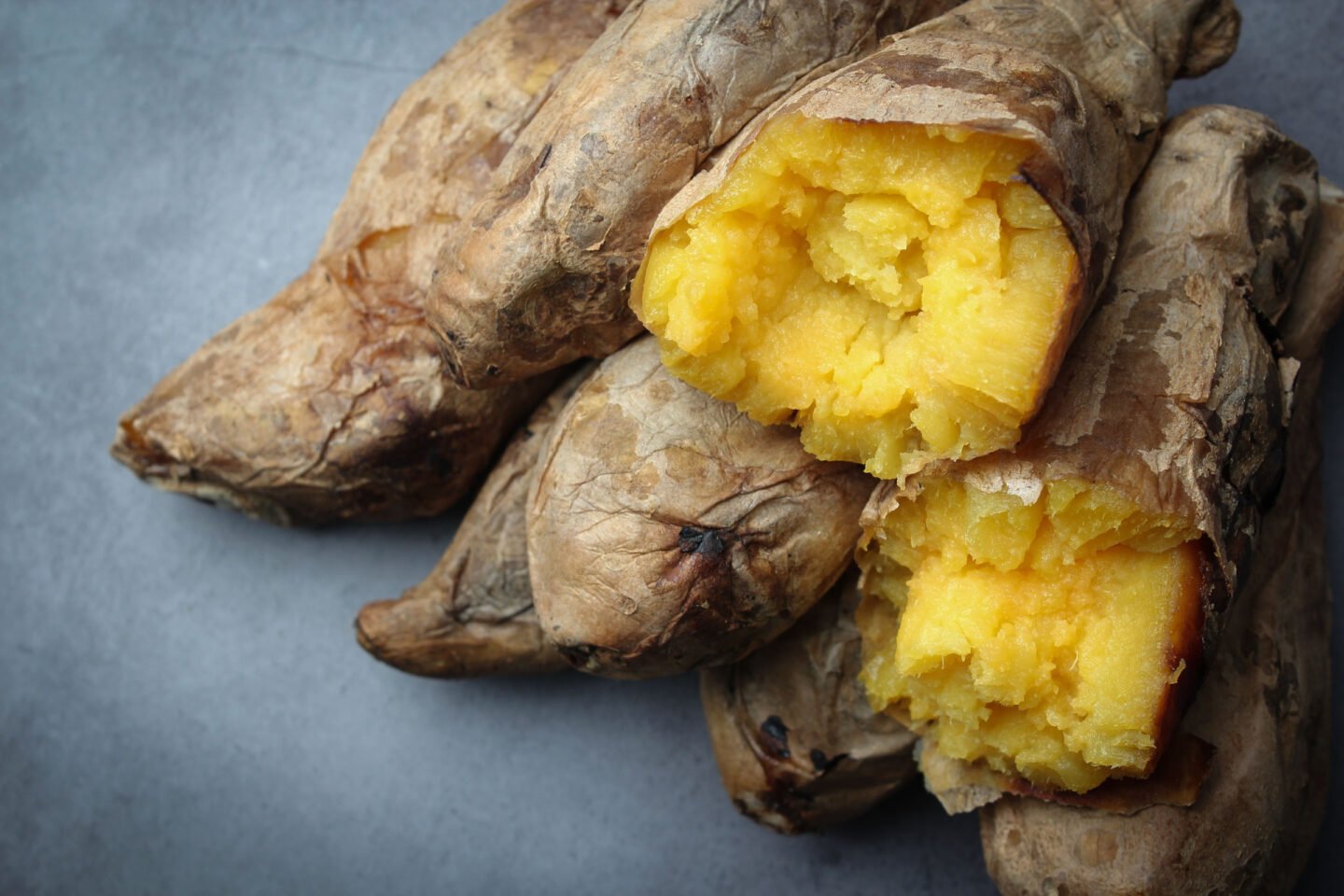 Despite being known as a high-carbohydrate vegetable due to having 20.1 grams of carbohydrates in just 100 grams, sweet potatoes are also very rich in nutrients, especially the skin or flesh of the sweet potato. It has a lot of vitamins and minerals, like vitamins A, B6, and C, and minerals like potassium.
Rich in Fiber
Cooked sweet potatoes are high in fiber, containing 3 grams of fiber per 100 grams. Fiber makes you feel fuller, cuts down on how much you eat, and lowers blood sugar spikes by slowing digestion. Fiber also helps in weight loss and may counteract the weight gain from eating many sweet potatoes.
Rich in Vitamin A
Sweet potatoes are rich in beta-carotene, which is converted by the body into vitamin A. Vitamin A is important for healthy eyesight, makes our immune systems work better, and helps us grow and change.
Rich in Vitamin C
This essential vitamin is also found in fresh sweet potatoes. Vitamin C is an important part of how our immune systems work, and it also makes our skin healthier.
Contains Vitamin B6
Vitamin B6 helps our brains grow and keeps our nervous and immune systems in good shape.
Contains Potassium
Potassium is a mineral that is needed by all human cells. It is vital for the function of the heart, muscles, and nerves.
Contains Antioxidants
Carotenoids, the antioxidants in sweet potatoes that give them their rich dark color, help protect the body's cells from stress and oxidative damage.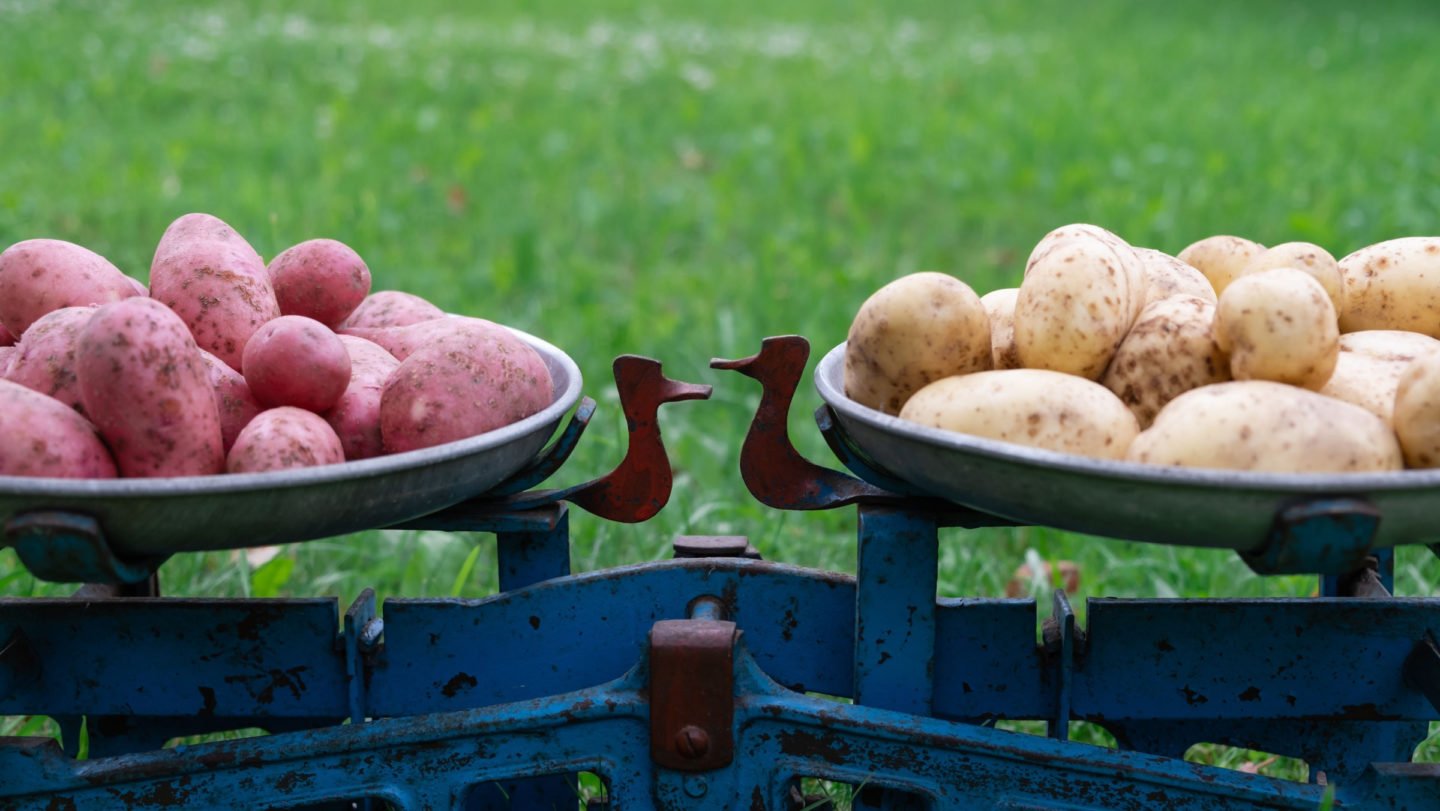 Related Questions
How much does a sweet potato weigh in pounds?
A regular medium-sized sweet potato weighs between 0.31 and 0.44 lbs.
Does raw sweet potato weigh the same as cooked?
It depends on the cooking process. If you boil or steam it to have your mashed sweet potato, it will weigh more because it will absorb the water used in cooking. But if you prefer to have a baked sweet potato, it will weigh less when cooked because its water content will evaporate. Roasted sweet potatoes will also weigh less due to evaporation.
Is a sweet potato a good carb source?
Yes. Sweet potatoes are high in carbohydrates, containing around 20 grams of carbs per 100-gram serving. And if you eat too many sweet potatoes, it could lead to some weight gain.