The first ingredient in almost any loaf of bread is active dry yeast. You've probably seen it in the grocery store, kept in white packets that you can individually unwrap. When shopping for your recipe, you may wonder how many teaspoons are in a packet of yeast.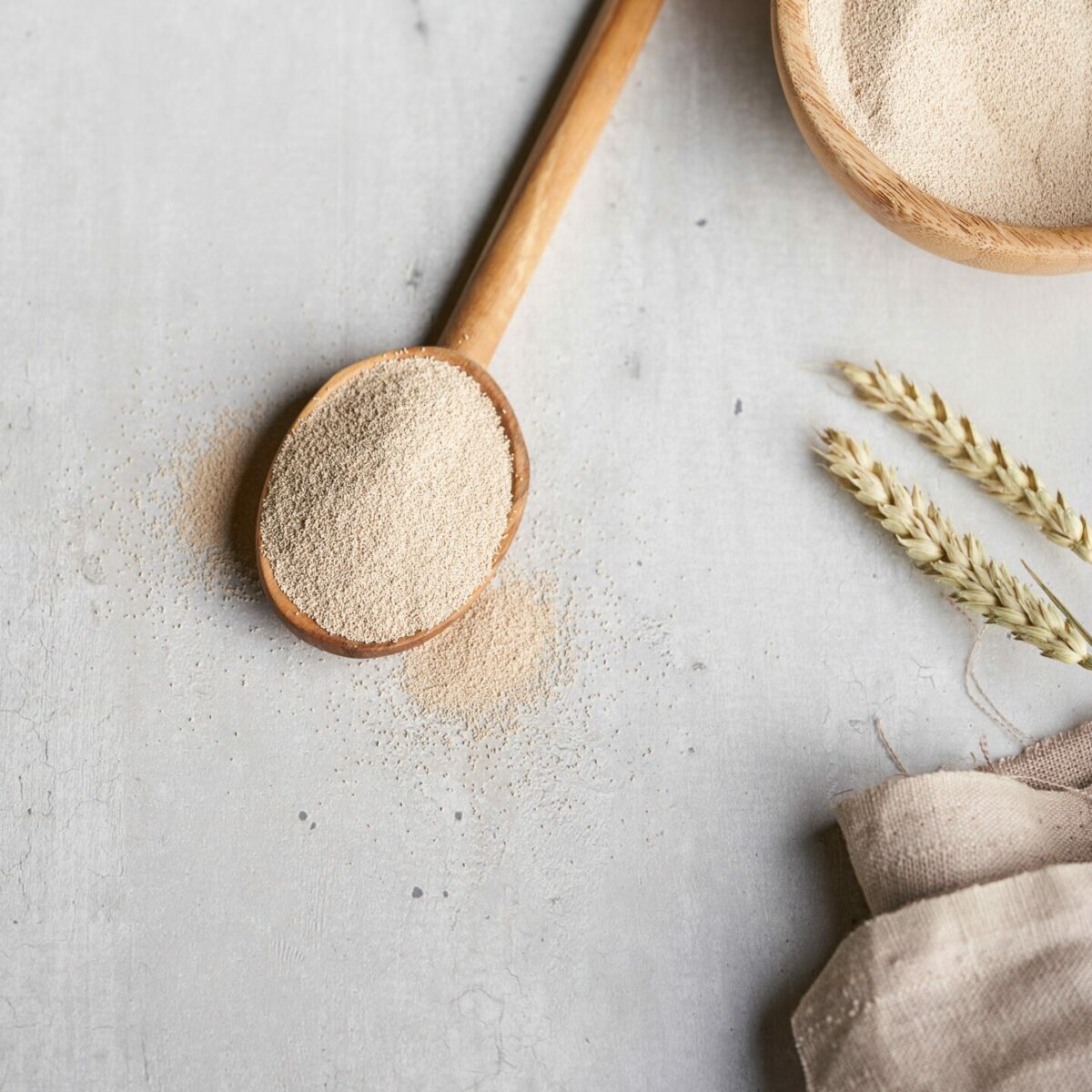 The simple answer is that a packet of yeast contains 2 ¼ teaspoons of yeast. But don't forget that this can vary by brand and type of yeast you buy. To make sure you get the amount you need, take the time to read our complete guide.
Table of Contents
What is Yeast, and How Does it Work?
You may have noticed most bread recipes are highly specific regarding the amount of yeast you put in. The reason is that yeast is the main ingredient that gives the bread its rise, flavor, and texture. It's actually a living organism, which is why it's stored in packets to keep it sealed until it's ready to rise.
Put simply, sugar is the food the yeast eats, while warm water is the environment it lives in. As the yeast eats the sugar, it releases carbon dioxide, which is what creates the bubbles in your bread dough. By balancing yeast, sugar, water, and other ingredients, different effects can be created.
How Much Yeast is in a Packet?
The most common way to find yeast in the grocery store is in packets. They can vary in size, though they generally contain ¼ of an ounce or seven grams of yeast. In terms of your bread recipe, this equates to 2 ¼ teaspoons.
It might sound a little confusing, though there's a reason behind the arbitrary measurements. One packet of yeast is usually the amount you need to make a standard loaf of bread. So when you're stocking up, you can use this as a rule of thumb to know how much to buy.
Yeast is also sometimes found in jars or bags. However, packets are the ideal choice for most bakers, as they are the best at keeping moisture out of your yeast. Remember—even a small bit of water can ruin a whole batch!
Different Types of Yeast
How much you use in your bread depends partly on the yeast you use. In most grocery stores, you'll find three main kinds: active dry yeast, instant yeast, and rapid-rise yeast. Learn more about the differences between them below.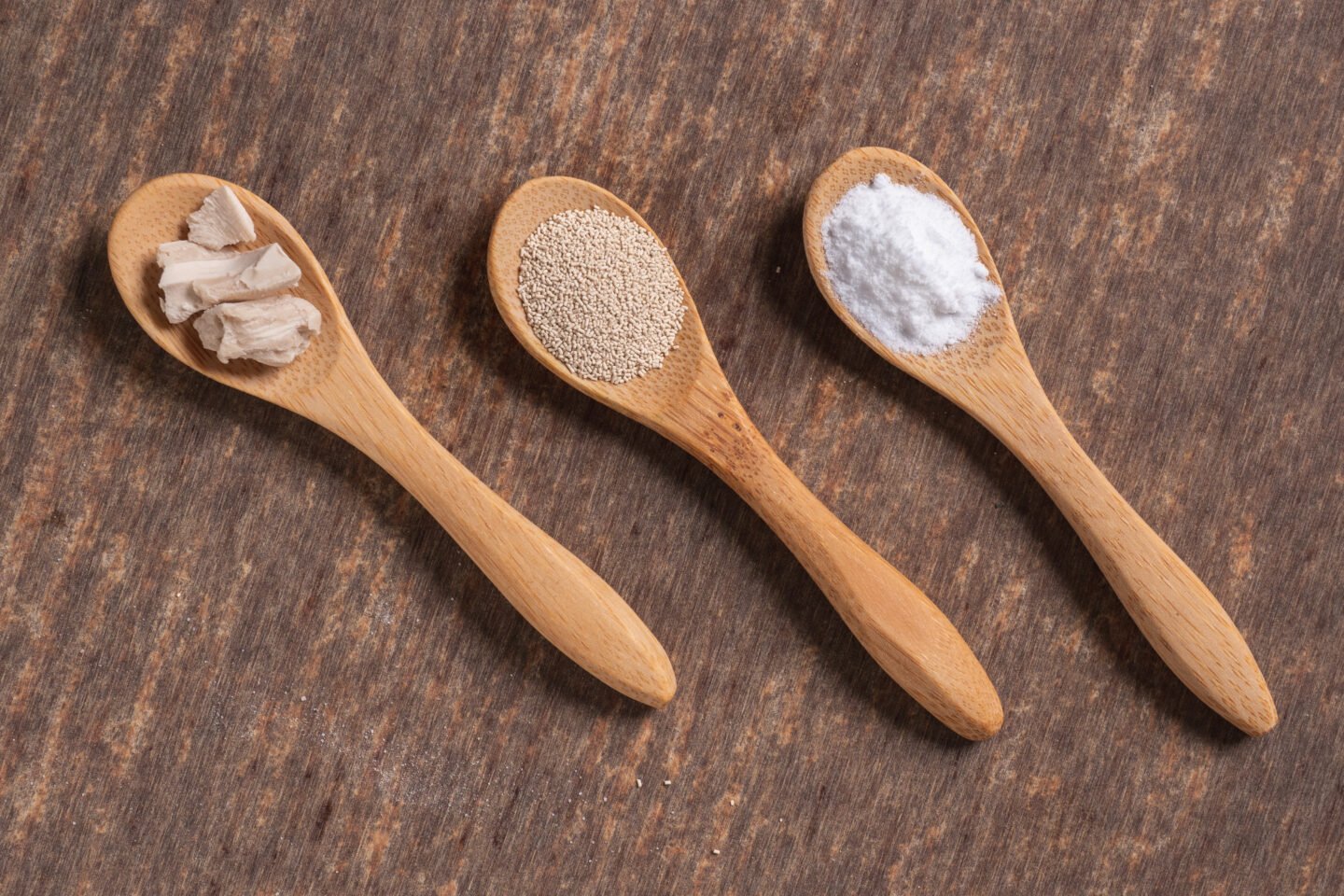 Active Dry Yeast
The most common type of yeast you'll find in recipes is active dry yeast. It's made by removing the water from yeast cultures, which preserves the living organism until it is rehydrated later. Once you add water and sugar, it continues growing to give your bread flavor and texture.
You can use active dry yeast and instant yeast interchangeably in most recipes. However, since it rises more slowly, add 25% more to compensate.
Instant Yeast
Instant yeast is similar to active dry yeast but has a finer granular. The main difference is that instant yeast doesn't need warm water to activate. While it does have a slightly different flavor than active dry yeast, the finished product will be about the same.
The other advantage of instant yeast is that you can use less when substituting it for active dry yeast.
Rapid-Rise Yeast
Rapid-rise yeast is a specialized strain used for recipes that only require a single quick rise. Cinnamon rolls are one example, alongside other types of quickbread. Avoid substituting rapid-rise yeast for other types.
Fresh Yeast
Fresh yeast probably isn't found in your local grocery store as it doesn't have the same convenience as other types. It comes packaged in a solid block and needs to be crumbled before it is used. It only stores for about a week in the refrigerator, so make sure to use it when you have it.
How to Store Yeast
For yeast to work properly, you should use it before its expiration date. Otherwise, the yeast culture will be dead or weakened. Take a close look at the sell-by date listed on yours, and make sure to replace your stock if it's expired. Usually, active dry yeast will last 12 to 18 months and can be stored at room temperature.
Once your yeast is open, its shelf life is drastically reduced, so make sure to use it quickly. If you want to store it, keep it in a resealable plastic bag, squeeze out all the air, and put it in your fridge or freezer. It can keep for three months in the refrigerator and six months in the freezer.
Before using old yeast, make sure to test its freshness first. Otherwise, you might end up with flat, dense bread. Simply add a bit of yeast to some sugar and water and watch to see if the yeast foams up. If it creates bubbles, your yeast is still alive and kicking.

Frequently Asked Questions
Will adding more yeast make fluffier bread?
Since yeast makes bread rise, it makes sense that adding more will make a fluffier loaf, right? Wrong. The yeast you add to bread dough needs to be carefully balanced with food, water, and flour, to get the right balance. By adding additional yeast, your culture will probably just run out of sugar, causing less rise overall.
Can I use yeast at high altitudes?
Baking at high altitudes will cause your dough to rise faster than normal, which can negatively impact flavor and texture. Luckily you can still bake bread. You just need to use less yeast than your recipe calls for. This will slow the rising time, allowing the yeast culture to impart its full flavor.

When baking at high altitudes, a good rule of thumb is to use ½ teaspoon for each cup of the flour your recipe calls for.
Is yeast gluten-free?
While most bread contains gluten, the yeast itself doesn't contain any. Gluten comes from wheat-based products like flour and oats. You can make a gluten-free loaf if you use an alternative flour in your bread.