Brioche is a French bread that has a rich, luxurious buttery texture and a soft crumb. While you may think that baking this bread should be left to professional bakers, you may want to reconsider. The final bread will be well worth the effort. It's not a quick type of bread to make, but there are no difficult techniques or baking skills required.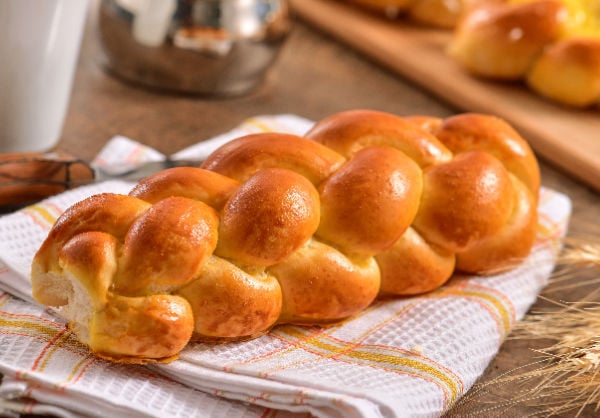 Table of Contents
Why make homemade brioche?
Commercial manufacturers of brioche loaves and buns usually try to reduce costs by cutting down or substituting the butter. Try following traditional recipes like this one and you'll discover how good this French bread can really taste. Making brioche at home will also work out a lot cheaper than buying it at the grocery store or bakery.
Related information: What are the best brioche alternatives?
How to make brioche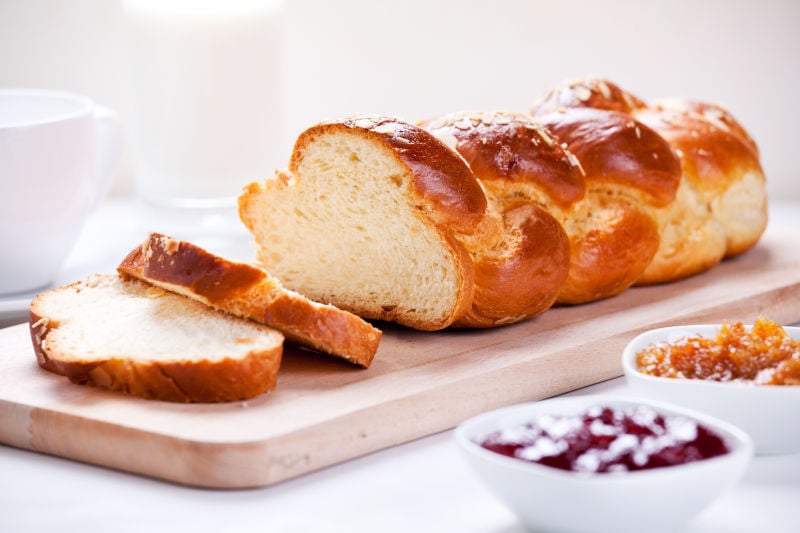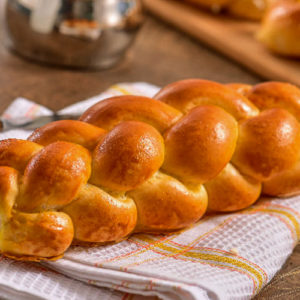 Easy Brioche Bread
Making brioche at home will also work out a lot cheaper than buying it at the grocery store or bakery. It's not a quick type of bread to make, but there are no difficult techniques or baking skills required. Try following traditional recipes like this one and you'll discover how good this French bread can really taste.
The total time to make these buns will take a little over 8 hours so be sure to leave time to get it all done in one day. Alternatively, it's okay to prove the bread overnight and bake it the following day.
Ingredients
4

tbsp

superfine sugar

3 ½

tbsp

whole milk

warmed

½

tsp

instant yeast

rapid rise

2 ½

eggs

lightly whisked

½

egg

for egg wash

2

cups

all-purpose flour

plain flour

1

tsp

salt

good quality

⅔

cup

unsalted butter

softened

canola oil spray (or other neutral-flavored oil)
Instructions
Making the dough
Bloom the yeast by mixing one teaspoon of sugar with milk and yeast in a small bowl. Cover the bowl with plastic wrap or a damp towel and set aside until the liquid is foaming. This takes about 10 minutes.

Add eggs, flour, salt, yeast mixture, and remaining sugar to a stand mixer bowl. Using a dough hook, mix on speed 1 until combined, then continue mixing for a further 5 minutes. Finally, increase speed to 2 and continue for a further 10 minutes.

Slowly add small spoonfuls of butter to the dough, while the mixer is still on speed 2. It may take up to 3 minutes to incorporate all the butter. Your dough should now be a sticky consistency.

Continue mixing further 20 minutes, making sure to scrape the sides of the bowl occasionally. To test the pastry, take a small piece of dough and stretch it out between your fingers. It should be pliable enough to stretch out thinly and be see-through. If it breaks, keep kneading to continue forming the gluten.
Rising, chilling, and shaping
Use your hands to create a large ball out of the dough and return it to the stand mixer bowl. Cover with plastic wrap (aka cling wrap) and position the bowl in a warm spot until it doubles in size. This may take up to two hours.

To release the unwanted air, punch the dough, then scrape it out onto a smooth, lightly floured surface like a benchtop or pastry board. Fold the outside of the dough into the center six times, shaping it into a log. Use a sharp knife to divide the log into three sections and shape them into balls.

Line a roasting pan with parchment paper and spray lightly with oil. Add dough balls and cover with plastic wrap before refrigerating for 90 minutes.

Remove the dough from the fridge and return each piece to the floured surface. Roll each one into a 14" (35cm) log and then braid them together to create one loaf.

Liberally spray an 8.5" x 4.3" loaf pan with oil then add the dough. Give a piece of plastic wrap a light spray of oil, and then cover the dough. Allow rising in a warm place until it doubles in size – this will take up to 3 hours.
The bake
As the dough reaches double its size, position an oven shelf to the bottom third of the oven. Preheat the oven to 390°F (200°C).

Use a pastry brush to gently cover the brioche in egg wash, then cook for 15 minutes uncovered. Your loaf should be a delicious golden brown.

Cover the bread loosely with foil and continue baking for 20 minutes. If you have a thermometer, the internal temperature will reach 190°F (88°C) when it's ready.

Remove brioche from the oven and turn out onto a rack to cool for 30 minutes to serve warm. It'll need longer to cool completely.
Notes
Prep time: 45 minutes.
Rise 1: 2 hours. Refrigeration: 1 ½ hours. Rise 2: 3 hours
Baking: 35 minutes
Cooling: 35 minutes
Tips for baking perfect brioche
Milk: Choose whole milk rather than low-fat options. Those on a plant-based diet are best to use full-fat oat milk, but the texture won't be as good.
Sugar: Fine-grained sugar like superfine (caster) is a great choice as it easily works into the dough. You can also use granulated sugar in this recipe.
Flour: The best flour for baking homemade brioche is all-purpose as it rises better than alternatives like bread flour. You can use bread flour, but keep in mind it has 12% protein while AP has 10%. Bread flour will result in a slightly different texture that is chewier.
Blooming: The blooming step is crucial to successfully get the bread to rise. If you don't see the yeast start foaming, then it is no longer active. Getting fresh, new yeast is essential.
Yeast: To get delicious soft bread, instant yeast (aka rapid rise yeast) is your best option; however, using an equal quantity of dry active yeast will work too if you're in a pinch.
Butter: Soft butter makes it much easier to incorporate into the dough, but don't melt it as your dough will turn greasy and unpleasant. Adding it slowly to the dough helps it incorporate easier.
Salted butter is not recommended as it has higher moisture and, of course, more salt. The final bread's flavor and texture won't be as good using salted butter.
Proofing: Instead of completing the whole recipe in one day, you can prove the dough overnight and it'll still rise the next day.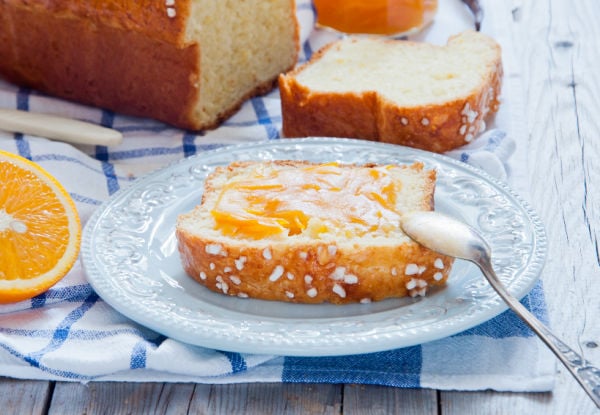 Troubleshooting brioche dough consistency
Why is my brioche dough too crumbly?
If your brioche dough is crumbly, you've likely mismeasured an ingredient. Try adding a teaspoon of warm milk at a time to the mixture and continue to knead until it reaches the desired consistency. As you're at the start of the bread-making process, you can always start over.
Why is my dough too greasy?
Hot kitchens can cause your butter to melt during mixing, which results in a greasy dough that's hard to work with. To fix this problem, refrigerate the dough for 10-15 minutes to allow the butter to firm up.
Why is my dough too sticky?
Pasty dough is a challenge to work with and won't result in good brioche. You can easily remedy this by adding one tablespoon of flour at a time until the dough doesn't stick to your hands.
Best uses for brioche
We've provided some useful ideas below for brioche, but make sure you check out our list of 18 uses for brioche here.
Perfect as a snack with butter and jam for breakfast or afternoon tea.
Brioche bread is ideal for sliders, burgers, or sandwiches.
Serve it as a side dish with soup, stew, or other saucy meals that you can mop up with the bread.
Top it with bacon and eggs.
Make bread and butter pudding, trifle or French toast.
Top with your favorite chicken liver or fish pate.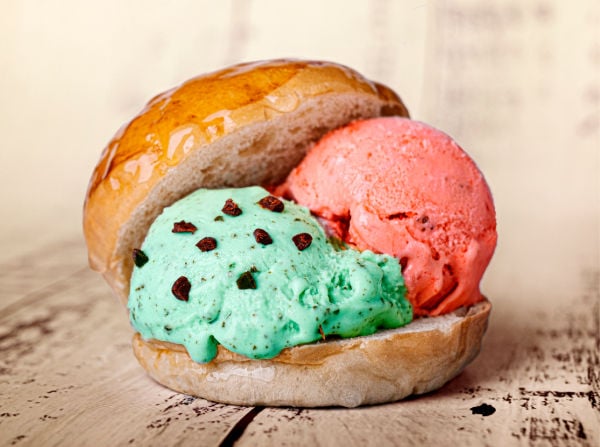 How to store brioche
Brioche can be stored for 3-4 days at room temperature. It should be sealed in a plastic bag or wrapped tightly in plastic wrap so that it doesn't dry out. You can freeze brioche for up to 6 months in an airtight container or foil.
To reheat brioche, wrap the loaf or buns in foil and bake at 350°F for 10 minutes.
Commonly asked questions
Can I make brioche dough in advance?
Brioche dough can be pre-made and stored in the refrigerator for up to 48 hours before baking.
Can I make brioche bread without a stand mixer?
A stand mixer is strongly recommended for brioche making, but hand kneading is possible if you have strong arms!
Can I make extra-sweet brioche bread?
It's okay to increase the sugar content in brioche but it will impact the texture. If you decide to add sugar, then reduce the egg.
Can I make gluten-free brioche?
While brioche relies heavily on gluten to get a delicious fine crumb, you can use an all-purpose gluten-free flour that includes xanthan gum.
Related reading:
How to bake cherry clafoutis for your next dessert.
Genoise sponge recipe that's light and airy.
How to make homemade banana bread loaf.
Recipe for making tortillas the authentic way.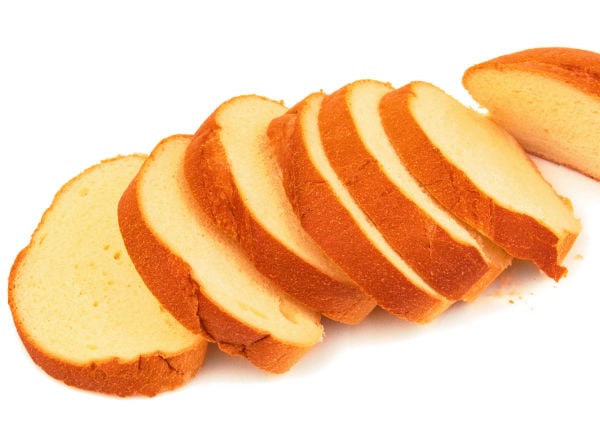 Summing up
If you have made bread at home, you already know homemade bread is hard to beat. Making brioche will take that pleasure to a new level. It is superior to a store-bought product.
If you're cooking for a big family or a crowd, then it's worthwhile investing in multiple pans. Most of the time is taken waiting for the dough to prove; making multiple loaves won't take that much longer than making one loaf.