I struggle with clutter, so like gadgets that serve more than one purpose and the Cuisinart 14 Cup food processor certainly falls into that category. It is an impressive kitchen aid, which has proven so popular that Cuisinart has updated and re-launched this particular processor several times over the years.
Here my aim is to tell you exactly what the Cuisinart DFP-14BCN is capable of, and where it could do better, to be honest, there is not much wrong with this kitchen gadget.
====>> In a rush? Click here to see the current price for a Cuisinart 14 Cup Food Processor on Amazon.
Or feel free to use the table of contents below to quickly navigate through the article:

Table of Contents
What do you get in the box when you buy the Cuisinart food processor 14 cup food processor?
A 14-cup capacity mixing bowl with a handle and extra-large feed tube and pusher
Feed tube adapter to make the opening smaller and pusher
A stainless steel 4mm slicing disc
A stainless steel shredding disc
A stainless steel chopping and mixing blade
A removable disc stem
A plastic spatula
A good quality recipe book
Five-year motor warranty
Three-year unit warranty
What do the Reviews Say About it?
Here are some of the things owners like about the DFP 14BCN food processor, which scored around 4.4 out of 5 across several different review websites:
BPA free components – the plastic components are all BPA free.
Easy to use – most users found this unit intuitive and easy to use and the instruction book was well written and easy to follow.
Great recipes – the recipe book was a welcome addition to the pack that helped users to get more out of the unit.
>All removable parts are dishwasher safe – it is super easy to clean because all parts are dishwasher safe. However, there is an issue with food building up in the safety mechanism.
Amazing capacity – people enjoyed the capacity of this food processor. It made it easy to make two batches of most things in one go, saving time and washing up.
Easy to find and buy food processor accessories – there are several additional accessories available for this food processor and parts are super easy to find on the Cuisinart site.
Versatile – this food processor seems to do everything cutting the effort of beating, grating, and chopping to practically zero. I can be a bit lazy in the kitchen. There is no way I am going to stand there for 10 minutes whipping egg whites into meringue. With this food processor, I don't need to worry because it takes all of the efforts out of this kind of kitchen task.
The few cons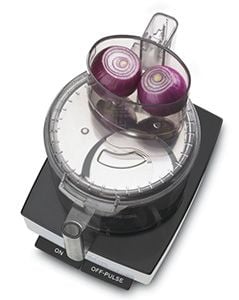 There are very few cons for this processor, so some people were not happy. Not all of these reviews made a lot of sense, and some were just complaining about late delivery. However, here are the issues that you do need to be aware of:
Dirt building up in the safety mechanism – dirt can build up in the safety mechanism on the bowl. One solution could be to rinse the unit immediately after use to ensure that food does not have a chance to coagulate and build up.
Mixed experience of customer support – some people found dealing with Cuisinart support frustrating. One reviewer was asked to send back broken parts, but they had thrown some of them away and could therefore not get replacements. Others felt customer support was slow. Fortunately, very few people seemed to have experienced breakdowns, so the vast majority of people did not need to access this support. Others were happy with the support they got.
What are some of the Accessories For the DFP – 14BCN that you may Find Useful?
One of the reasons this is such a versatile kitchen gadget is that you can buy so many accessories for it. Here is a list of those additional attachments:
Dough blade
Whisk attachment
Specialist disc set that includes a French fry cutter, an 8mm slicing disc, and a fine grating disc
A 6x6 French fry cutting disc
Individual fine shredder disc
Individual medium or fine shredder discs
Individual fine grater disc
Individual 2mm, 3mm 6mm, and 8mm slicing discs
Disc holder to keep all of your discs neat and tidy
Blade and disc holder
Flat cover for work bowl
These accessories increase what you can do with this food processor. There are numerous replacement parts available for the 14-cup capacity Cuisinart including replacement lids, work bowls, pushers, blades, and discs. This combined with the fact it has a sturdy motor means that the DFP 14BCN Cuisinart could be the last processor you need to buy.
How Does it Compare?
Here's how the Cuisinart 14 stacks up against some of it's strongest competitors:
Vs Breville Sous Chef
Here you're comparing a "best for everybody" kind of food processor, to a "best of the best" food processor. The Sous Chef is the latter.
While the Cuisinart 14's main advantage is its price, the Sous Chef comes with much more power, more blades, a much longer warranty, and more versatility in terms of what you can prepare.
That said, unless you need perfection across a wide range of dishes and for a large number of people, the Cuisinart 14 is still the best value for money bet.
Who is the 14-cup Cuisinart Food Processor Right For?
If you use food processors on a regular basis this is a great unit. It is fantastic for families and those who entertain a lot but can also work well for couples or single people because it handles small portions of food just as well as it does large portions.
Naturally, it takes up a fair amount of cupboard or counter space, so if you have a small kitchen a 7-cup processor or a 9-cup processor may be a better option, but bear in mind that these cost nearly the same as this 14-cup model does.
Why You Should Buy Your Cuisinart Food Processor at Amazon
There's rarely a lower price at a different online store. You get Prime shipping if you're a member and the return process is easy and lengthy if you're not happy with the appliance. It's hard to go wrong here.