When you're looking to add an extra dose of heat to your dinner, a few spices come immediately to mind. Chili flakes and red pepper flakes are two of the most common, though not everyone knows the difference between them.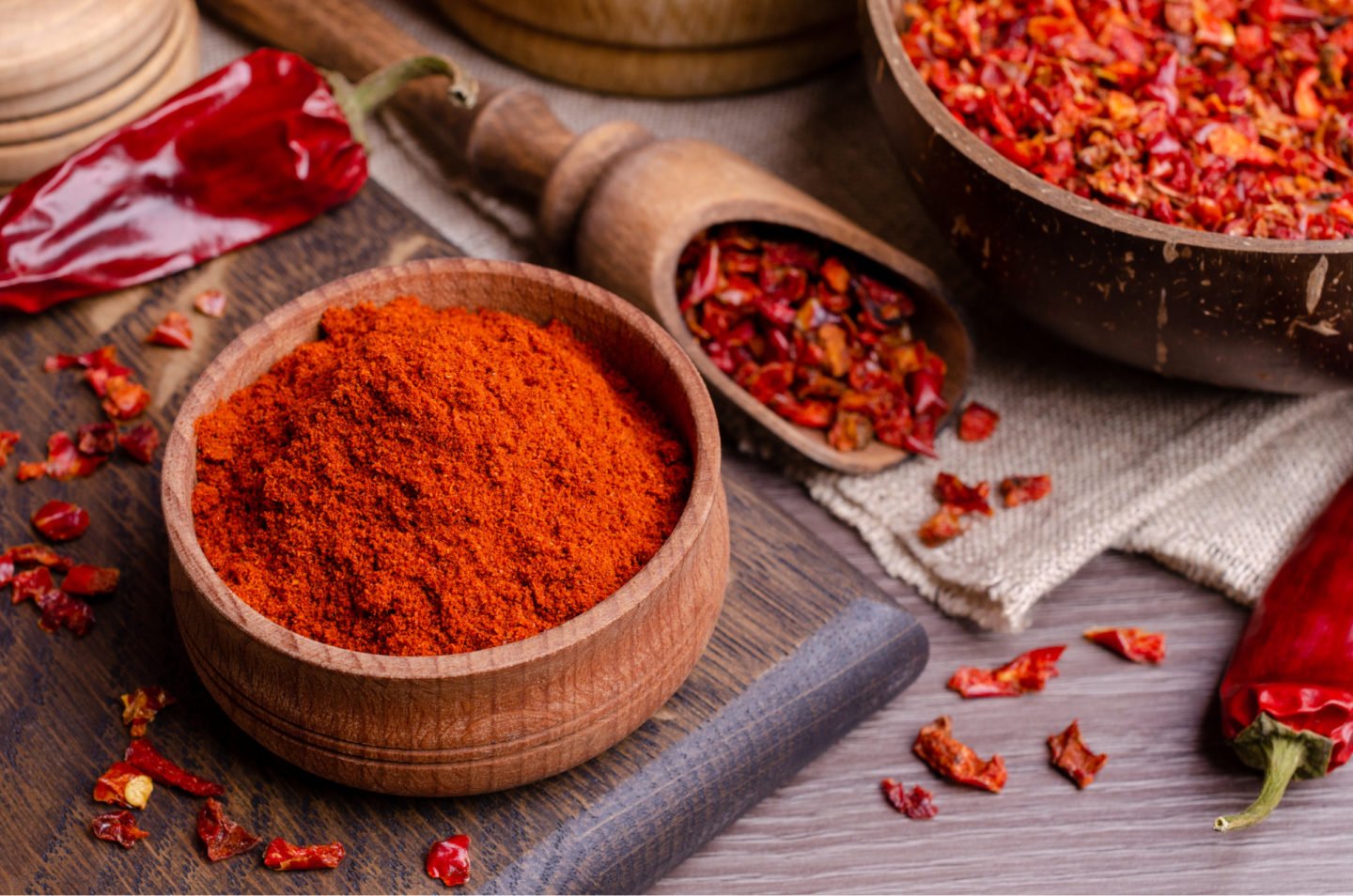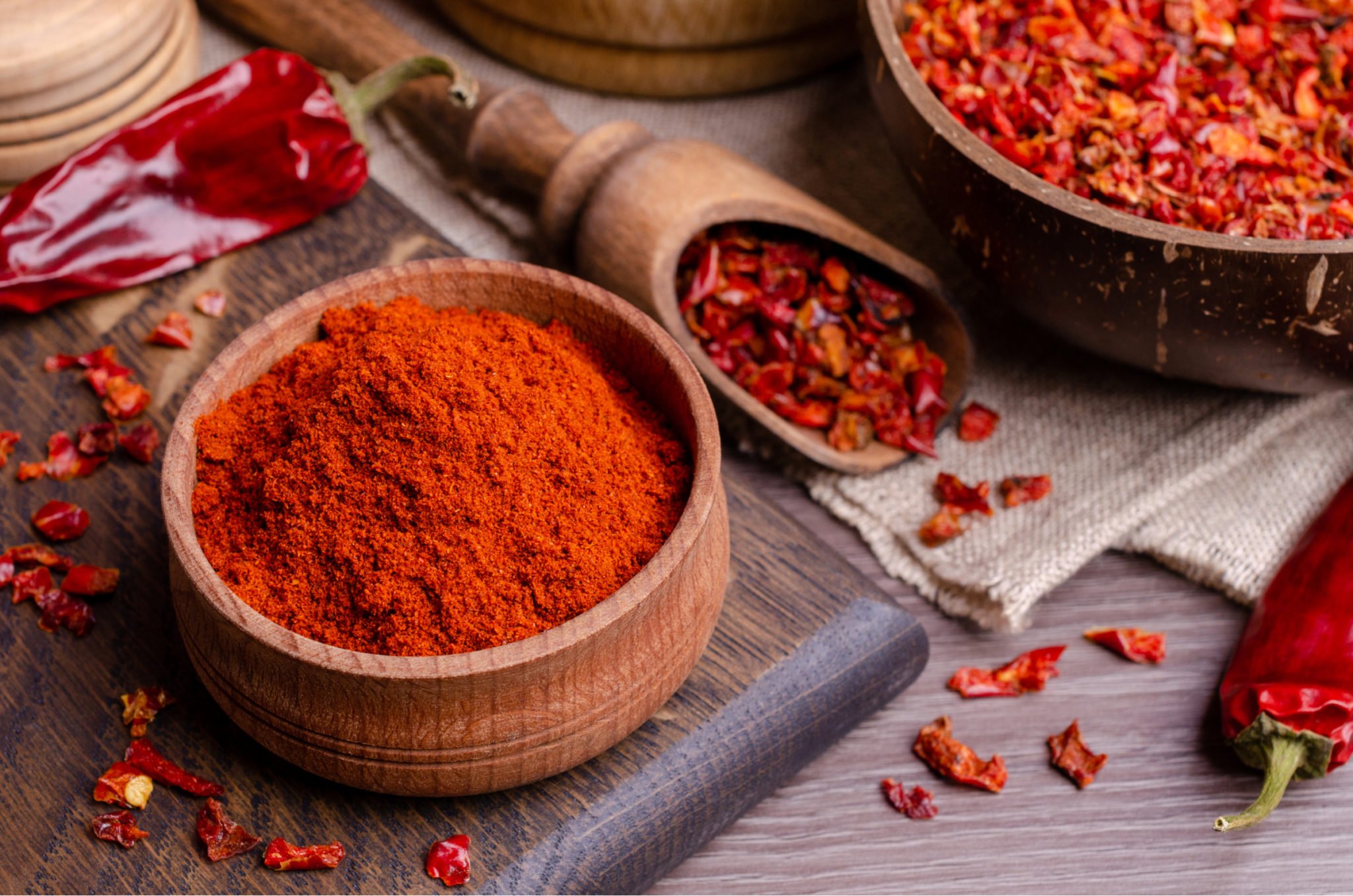 The main difference between chili flakes vs. red pepper flakes is that chili flakes are made from one of several chile varieties. On the other hand, red pepper flakes are a blend that includes skin and seeds.
However, there's more to these spices than meets the eye. Learn more about each of them with our in-depth guide.
Table of Contents
What Are Chili Flakes?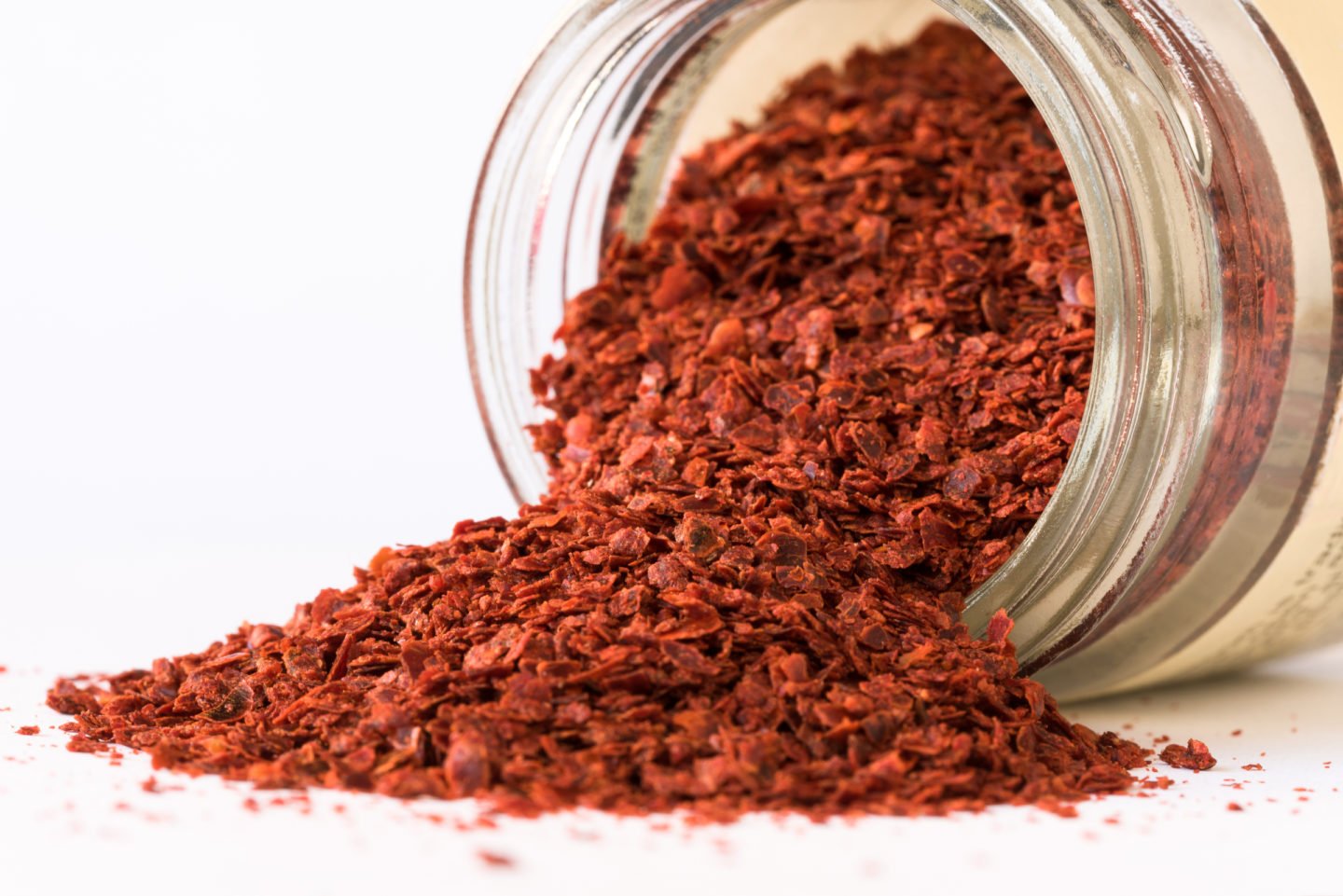 Chili flakes are made from dried and crushed chilies. That may sound obvious, but "chili flakes" is a generic term that can refer to a wide range of spices. Chipotle and Aleppo are just two of the most common types of chiles often ground into flakes.
Appearance
Chili flakes can be distinguished from red pepper flakes by their finer texture and brighter color. Depending on the type of chile used, they will be a bright red to purple color that is relatively uniform all the way through. The darker color results from the seeds being taken out before processing.
Taste
The taste of your chili flakes depends greatly on the type of pepper in question. Take a look at some of the most common varieties and their taste:
Chipotles are known for their deep, smokey flavor and slightly sweet aftertaste
Aleppo peppers have a more earthy taste that is similar to cumin
Urfa Biber peppers are the most unique, with a taste similar to coffee or chocolate.
Uses
Chili flakes have a variety of culinary uses, usually as an ingredient in dishes that benefit from their heat and flavor. Texas chili is probably the most famous, where a blend of peppers adds a rich and complex flavor. Here are some other common uses:
Stir fry
Spicy pasta sauces
Curry
Marinades
What Are Red Pepper Flakes?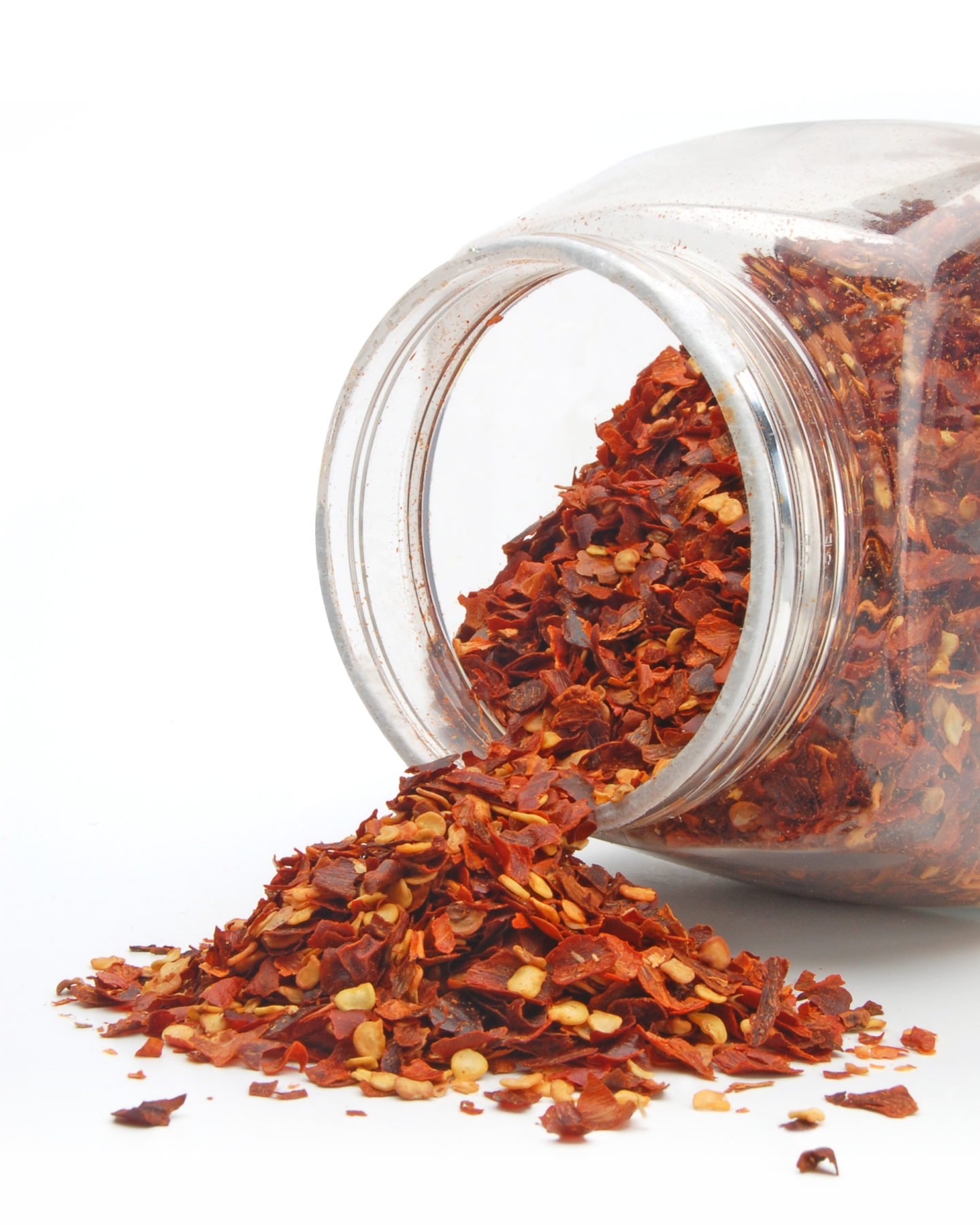 Red pepper flakes are a common seasoning found in pizzerias and Italian restaurants. You'll often find them in a squat glass shaker next to the parmesan cheese. They are similar to chili flakes but have a few key differences worth keeping in mind.
Appearance
Red pepper flakes are much coarser than chili flakes, with bits of skin and seed clearly visible in the mix. Also, unlike the uniform color of chili flakes, they have both red and white pieces mixed throughout.
Taste
While similar in composition to chili flakes, red pepper flakes usually bring something totally different to the dinner table. They usually don't bring the same subtlety of flavor, but they deliver a strong punch of heat in exchange.
Red pepper flakes fall between 15,000 and 30,000 Scoville Heat Units (SHU). As a point of reference, this is about 2 to 4 times hotter than a jalapeno pepper.
Uses
When cooking, the rule of thumb is that red pepper flakes are added right at the beginning or end. When used as an aromatic, you can add them to a pan of hot oil along with garlic and onions to build base flavor. That is how they are most commonly used in Italian cooking.
Otherwise, they make a great condiment to keep on hand at the dinner table. Sprinkle some on your pizza and pasta for an extra burst of heat.
Can I Substitute Chili Flakes for Red Pepper Flakes?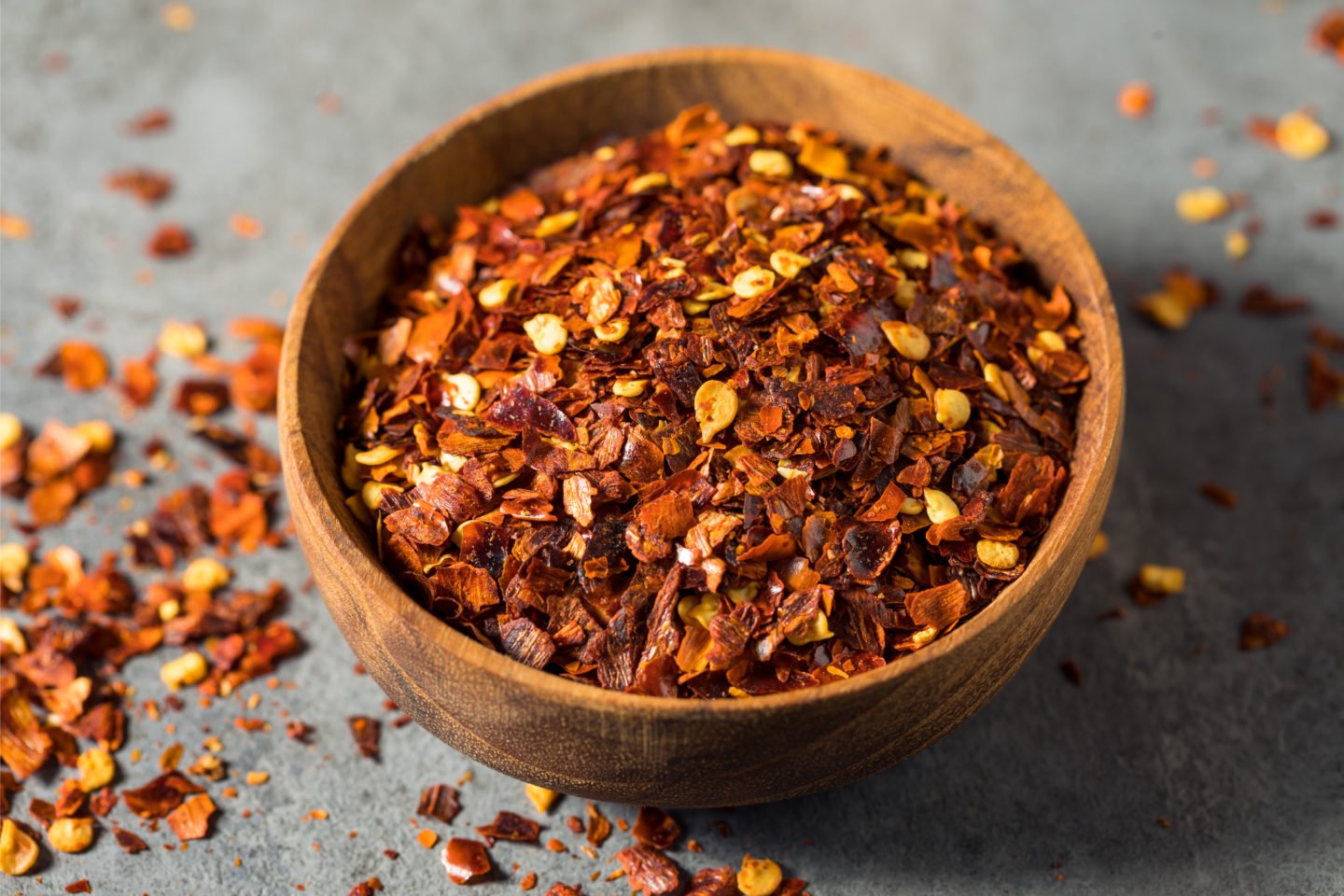 Chili flakes and red pepper flakes make pretty good substitutes for one another. Generally speaking, you can use them interchangeably, as long as you remember to account for their difference in spice.
Red pepper flakes are a bit spicier than most varieties of chili flakes. To maintain a low heat level, try cutting the amount by half.
What Else Can I Substitute For Them?
While these two spices each have distinctive flavors and textures, sometimes it's good to have a substitute handy. If you're running low on your favorite seasoning, try one of these alternatives:
Cayenne Powder
Cayenne powder is a bright red spice that is extremely hot, even in small quantities. It makes a good substitute when sprinkled into a dish during cooking but is probably too strong to be used as a table condiment.
When substituting cayenne powder, use ¼ teaspoon for every tablespoon of chili flakes.
Chili Paste
There is a wide range of chili pastes, from sambal to gochujang. While each brings something a little different to the table, most of them will deliver the heat you're looking for. However, remember that they also add moisture, so be careful not to let your dish get too soggy!
Hot Sauce
If you're looking for a quick way to add heat to your pizza, pasta, or tacos, hot sauce is the best alternative to red pepper flakes. Just a few shakes will deliver the same heat level without extra cooking. Just don't forget that many of them also contain vinegar, which will add a tang to your food.
Frequently Asked Questions
What are Korean chili flakes?
Also known as gochugaru, Korean chili flakes are one of the cornerstones of this culture's cuisine. They add intense heat and definite sweetness to various dishes and can be easily spotted by their bright red color.

Generally, both chili and red pepper flakes will have a higher heat and dryer flavor than the Korean variety. Still, they make an okay substitute.
What is chili powder?
While the names are similar, you definitely don't want to mistake chili powder for chili flakes. The difference is about much more than texture.

Chili powder is a spice blend that incorporates the many different ingredients in Texas chili. That can include dried chile peppers, cumin, garlic, black pepper, and more. While it will add a definite heat similar to chili flakes, it also brings a wide range of other flavors.