Induction cooking is a lot like cast iron cookware in popularity. While both of these options had once faded out of use, they have become more accepted in recent years. Induction cooking has many benefits that standard stoves or ovens do not. Just as importantly, an induction cooktop may be less expensive than other options. For this reason, it is vital to understand more about induction cooking and how it relates to cast iron cookware.
However, does cast iron on induction cooking surfaces work well? Or is induction cooking with cast iron a bad idea? Let's take a look at this vital question to get an idea of what to expect. You'll learn more about induction cookware and your induction burner. You'll also learn more about how cast iron items like a Dutch oven may help you here. Understanding induction cooking and cast iron cookware will help you minimize any issues here.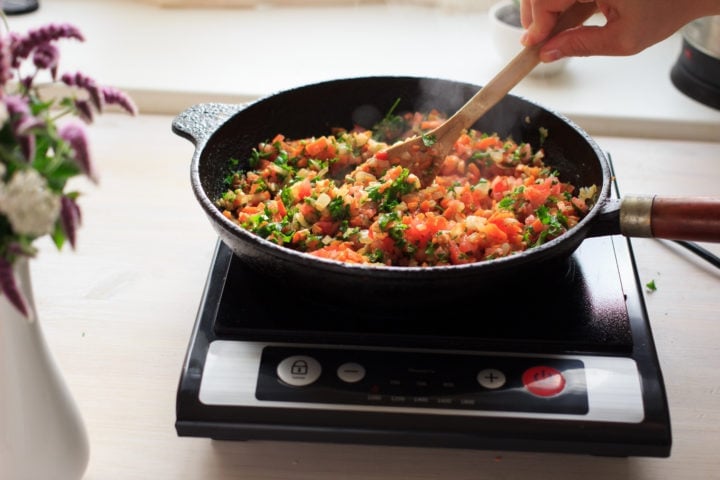 Table of Contents
What are Cast Iron and Induction Cooking?
Cast iron cookware consists of an alloy made with 2-4 percent carbon. It also contains trace amounts of other items, like silicon and manganese. Over the years, cast iron has been used to create many types of incredible cookware options. The earliest known use of cast iron cookware traces back to ancient China. Their American popularity has waxed and waned over the years.
However, the invention of the induction cooktop has made the Dutch oven and other cast iron items popular again. Cast iron and induction cooking pair well and help make both more popular with many individuals. But what is an induction cooktop? And what kind of induction cookware is available on the market? Let's look more deeply into induction cooking and this unique cooktop concept.
The Nature of Induction Cooking
An induction cooking surface does not use flame-based heat for cooking food. Instead, it uses electromagnetic fields to heat the cookware on its surface. This process ultimately produces a unique cooking surface that is very fast and which can provide many benefits. For example, you can boil water more quickly and efficiently on an induction stove than thermal options.
However, it is crucial to make sure that you choose cookware that works the best for an induction stove. This specialized cooking method requires you to avoid choosing items that don't work with induction. For example, you need cookware that is:
Flat, to better touch the surface of the induction stovetop
Magnetized to ensure that the heat transfers to the surface
Not likely to scratch the induction cooking surface
This last point is essential because scratches will affect cooking quality and effectiveness. Try to avoid sliding the pans on the surface to minimize this issue. Or you can use specially treated pans with a non-scratch surface. Enameled cast iron pots or pans are particularly useful for this purpose. However, most stainless steel cookware options should work well for induction cooking.
Pros and Cons of Induction Cooktops
The pros of using an induction hob are pretty diverse. And as a growing number of people purchase an induction stove model, it is essential to know why this step is so intelligent. Also, you must know how enameled cast iron and other iron cookware works with it. These benefits include:
Incredibly fast cooking speed, particularly with a cast iron skillet
Energy-efficient design, especially with iron cookware
Even cooking surface of enameled cast iron skillet surfaces
Precise temperature control minimizes enameled cast iron damage
Comfortable and safe heat level on cast iron skillet models
Induction stove models are easy to install
But are there downsides to an induction stove with enameled cast iron? Of course. While an induction stove is very beneficial, a few concerns must be understood. These include problems that may occur with a cast iron skillet or other iron cookware and include:
Induction stoves need flat, smooth, and magnetic iron cookware
Not compatible with aluminum, glass, or copper skillets
Cannot char food on an iron skillet with an induction stove
Could cost a lot to repair when damaged by a cast iron skillet
While using enameled cast iron pans does help minimize these problems, many cannot be avoided. For example, you simply cannot char any food when using an enameled cast iron pot. However, we still believe that the benefits of this cooking method do outweigh its cons.
Does Cast Iron Help With Induction Cooking?
As mentioned before, cast iron works quite well with induction cooking. When you carefully handle the pan surface, you should minimize scratches. And using a baking mat beneath the pan helps to improve this process further. Compared to stainless steel, a cast iron pan pairs well with an induction cooker. And options like a Lodge cast iron skillet work particularly well on an induction stovetop.
But are there foods that go particularly well with a cast iron griddle or cast iron pot? Absolutely! Like any grill pan surface, some foods go better with enameled cast iron cookware than others. However, any induction compatible cookware of this type should work quite well with most foods. First, however, we should take a few examples of options that work well on your induction burner stove.
Most meats should do very well on a cast iron pan on an induction cooker. There are exceptions (which we'll discuss), but a cast iron pan provides many benefits over stainless steel. The more even cooking surface of a cast iron pan helps when cooking thick meat cuts. And since an induction cooker produces a very even heat flow, this benefit is significant. The burner will heat the meat evenly on a grill pan to create very delicious cuts.
We found a few exciting recipe options online here. These use a cast iron skillet to produce some surprisingly excellent dishes. You can cook it all on an induction cooker with a cast iron pan. And while they'll also work with a stainless steel option, they tend to simmer best on a cast iron skillet. These dishes include recipes as diverse as:
Pan-Seared Rib-Eye Steaks
Lamb or Beef Stew
Seared Scallops or Shrimp
Chicken or Tofu Marsala
Before cooking these meals, it is vital to understand a few other elements of your cookware. For example, you must understand how to minimize any potential complications. Cast iron does require a bit more work than stainless steel. However, the benefits of induction cooking make it worth the effort for most people. Would you please read on to understand what extra steps you must take here?
Will Cast Iron Cookware Affect Food Quality and Taste?
Typically, cast iron cookware (particularly induction ready cookware) doesn't adversely affect your food's taste. On the contrary, as mentioned above, cast iron can enhance the flavor of your food. However, is it possible that a cast iron griddle would damage food when misused? Yes, but only if you're not careful. Just what kind of problems can a cast iron pan cause when used on a heat diffuser?
Most problems start when using cast iron with foods that could damage its surface. For instance, cooking with items like tomatoes and wine is never a good idea. These items can cook quickly on a glass cooktop but often burn onto cast iron surfaces. And the acid in both wine and tomatoes may damage cast iron surfaces. Typically, they cause oxidation or rusting on your cast iron surfaces.
This problem may even occur on a nonstick pan prepared for these food types. Usually, wine is used when cooking wine-braised meats on a stove or oven. Avoid these items to keep your pan as strong as possible. Otherwise, your oven or stove will produce foods of questionable quality. Some people might even get rust on their food! This situation is dangerous because rust may trigger lockjaw and other conditions.
Other foods you should avoid include omelets and delicate fish. These often stick to a cast iron surface when cooked on a stove or in an oven. Many may end up damaging their pans by scraping these items off the surface. Therefore, it is best to stay away from them entirely. Eggs are questionable, as well, for inexperienced chefs. However, careful cooking with low heat can produce great eggs on cast iron cookware.
We also strongly suggest that you avoid using any foods that may cause a "stink." For example, items like garlic, peppers, onions, and some cheeses may affect the taste of the following foods you cook on the pan. While you can season your cast iron pan to remove this smell, some may find that it lingers longer. In this case, a cast iron pan will adversely affect the quality of your food.
Is Cast Iron Magnetic?
Yes, cast iron is magnetic because it is predominantly iron, and iron is magnetic. However, it is less magnetic than pure iron. Let's unpack this a bit.
Cast iron is an alloy, which means it is a metal resulting from the combination of two or more metallic elements. In the case of cast iron, the mixture is around 95% molten iron and less than 5% carbon, silicon, manganese, and other impurities. And while some metals — for instance, gold and copper — are not magnetic, iron is a ferromagnetic material with magnetic properties.
Ferromagnetism is how materials magnetize to either form permanent magnets themselves or develop a strong attraction to magnets. That is, a ferromagnetic material has a very strong attraction to a magnet. Iron is actually one of the most common magnetic metals. In fact, the word "ferrous" comes from the Latin word "ferrum," or "iron."
Conversely, carbon is not magnetic, making the cast iron alloy less magnetic.
Don't Be Afraid to Learn More
So, is cast iron the best option for your induction cooking needs? Most will find that this type of magnetic cookware does work well on an induction stovetop. They do remarkably better than options like aluminum cookware, carbon steel woks, or other conventional options. Compatible cookware of this type should be readily available from many manufacturing companies, as well.
However, it is essential to understand that your cast iron fry pan must be handled carefully on your stovetop. Otherwise, you could damage the heating element. If you find it hard to manage these pans, you may want to consider other options. For example, stainless steel cookware is much less likely to scratch the stovetop. However, it also cooks less effectively than cast iron. So weigh your options carefully here.