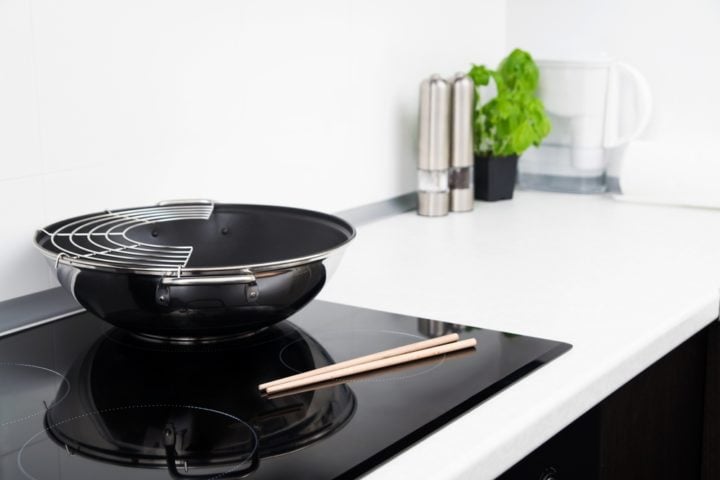 Induction cooktops eliminate gas smoke. They are also more economical than a regular gas range or an electric stove — energy waste is significantly less. The energy savings alone is a compelling reason to get one. But with so many options to choose from, where do you begin? One option is to decide on your preferred material.
Now, different materials will have different advantages and disadvantages. So after picking the alloy of your choice, you're ready to dive into the nitty-gritty. This post mentions our top picks for the best induction-compatible woks per type: cast iron, hard-anodized aluminum, carbon steel wok, and stainless steel.
We even threw in our favorite all-in-one set! And yes, there are workarounds to using a non-magnetic material, such as aluminum, on an induction cooktop — read on to find out. So if you're in the market for one, here's a list of the best woks for induction cooktops.
Table of Contents
Best Cast Iron Wok for Induction Cooktop: Jim Beam 12" Pre Seasoned Heavy Construction Cast Iron Grilling Wok, Large, Black
SAVE 11%
Jim Beam 12" Pre Seasoned Heavy Construction Cast Iron Grilling Wok
The best induction-ready cast iron wok with a flat bottom that sits perfectly without tipping.
Pros: Made of durable materials, stovetop compatible, affordable, saves on space, relatively lightweight for cast iron
Cons: Regular seasoning is necessary, handles are too short
The Jim Beam 12" Pre Seasoned Heavy Construction Cast Iron Grilling Wok is our favorite cast iron wok that's ready to use on an induction cooktop. Cast iron is incredibly durable. And with regular seasoning, cast iron can last for generations. Have a look at our top pick for cast iron conditioners in 2021.
This wok has a solid flat ring that is approximately 4.5 inches wide. At its height, it creates a perfectly balanced wok that doesn't tip on an induction top. And although it is a flat wok, the inner walls curve more than the exterior, possibly improving the evenness of heat distribution. But the wok does heat up quite slow with a flat base, which isn't surprising for cast iron anyway. Cast iron, once heated up, stays hot longer than the other materials, so we'll take the good with the bad.
Speaking of good and bad, the Jim Beam wok has two small handles. Both help in moving the wok around, but we prefer bigger handles for better grip. That said, the small handles do mean you save on storage space. Altogether, there's not much to complain about really.
The 12-inch pre-seasoned wok pan weighs 5.61 pounds. While cast iron woks are inherently heavy, this wok is actually lighter than other cast iron woks of the same diameter.
All in all, this cast iron wok pan by Jim Beam is an excellent choice for induction-compatible woks. Two thumbs up!
Best Hard Anodized Aluminum for Induction Wok: MICHELANGELO Nonstick Wok with Lid, Hard Anodized Wok Pan
MICHELANGELO Nonstick Wok with Lid
A hard-anodized aluminum wok pan that has a magnetic stainless steel baseplate.
Pros: Cool-touch handle, dishwasher-safe, stovetop compatible, comes with neat accessories
Cons: Relatively expensive and heavy, no handy helper handle
With useful accessories like a well-fitting tempered glass lid, a deep frying basket, and a steaming rack, the MICHELANGELO nonstick wok is our pick for the best hard-anodized aluminum wok.
Under natural circumstances, aluminum's crystal structure prevents it from being magnetic. But the MICHELANGELO wok pan has a magnetic stainless steel plate attached at the bottom, making it induction-ready. As a hard-anodized aluminum wok, its heat absorption capacity is also relatively fast.
While there is no mention on the box of the wok's material grade or gauge, it is likely made of durable material based on its weight. Also, the long riveted handle looks pretty sturdy by our judgment and stays cool even during use. However, the hard-anodized aluminum wok weighs relatively heavy given its materials and size. Though this is a sign of durability, it can be challenging to maneuver the wok without a small handy helper.
Nevertheless, the wok's interior has layers of food-grade nonstick coating with granite style. We think the cooking surface is aesthetically pleasing, not to mention dishwasher safe. That is a big plus for cooks who prefer to spend time cooking rather than cleaning. Despite its minor flaws, the pricey oven-safe wok is still a strong buy for us.
Best Carbon Steel Wok for Induction Cooktop: Bielmeier Wok Pan
SAVE 6%
Bielmeier Wok Pan
An ultramodern induction wok with gorgeous accessories.
Pros: Available in two sizes, detachable handle, affordable, features an innovative design, comes with a set of culinary utensils
Cons: Regular seasoning is necessary, no handy helper handle
To say that the Bielmeier Wok Pan is unique is a pretty fair statement. This carbon steel wok sports a spout lip, a detachable handle, and an interior with hammer patterns. The flat bottomed wok also comes with a wooden lid, a set of chopsticks, a wooden spatula, and a loofah pot.
Let's quickly highlight the spout lip. Not only is it useful for pouring soup, but it also acts as a steam vent when you cover the wok with the bundled wooden lid.
Its base measures roughly seven inches wide and is fairly flat. This makes the wok sit nicely on top of our induction coil and doesn't tip over easily. And with its super-thin body, the Bielmeier wok heats up fast.
Furthermore, the interior has neat hammering sketches. However, these grooves can be a pain to clean. Nevertheless, we found that food doesn't stick to the carbon steel's cooking surface. And if it does, the loofah pot should help you clean the wok.
Another novel feature is the ability to detach the handle. This is useful when you'd like to place the wok in an oven. That is, removing the wooden handle means the wok is oven-safe up to 450 degrees Fahrenheit.
And while the Bielmeier wok doesn't have a small handy helper handle, we think that's a minor inconvenience to our pick as the best carbon steel wok in the market for your induction cooktop.
Best Stainless Steel Wok for Induction Cooktop: Cooks Standard Stainless Steel Multi-Ply Clad Wok
SAVE 9%
It's no surprise that the Cooks Standard Stainless Steel Multi-Ply Clad Wok is part of this list. After all, it topped our list of the best stainless steel woks.
This wok sells in two sizes. The 12-inch stainless steel wok comes with a flat, steam-vented glass lid, while the 13-inch bundles with a stainless steel domed lid.
The two lid options are both quality-made and oven-safe. But keep in mind that the maximum tolerable temperature of the glass lid is lower at only 350 degrees Fahrenheit. The stainless steel domed lid can tolerate temperatures up to 500 degrees Fahrenheit. Also, be aware that the wok lid handle can get hot quickly. Like we always say, use protective gear just to be sure.
The Cooks Standard flat bottomed wok has three layers of different premium-quality metals. Specifically, you can find the aluminum core in between two films of 304 stainless steel at 18/10. These numbers represent the stainless steel's chromium and nickel substance, respectively. With its high nickel content, the wok gives off a lustrous effect. Like the wok body, its small and large handles are also made of stainless steel. This is a good thing because it means the handles stay cool longer.
The base, which measures about six inches, is wide enough to sit tidily on the induction wok. And with a stainless steel exterior, heat absorption is superb, too. Not to mention the aluminum core that retains heat longer.
Its heavy body is a necessary tradeoff for the longevity you can expect with the Cooks Standard brand. If you're in the market for a stainless steel wok for your induction cooktop, this one's our bet.
Best Induction Wok Set: NuWave Mosaic Induction Wok with 14-inch Carbon Steel Wok with Tempered Glass Lid
NuWave Mosaic Induction Wok
A hassle-free package deal with an induction hob and a round-bottomed wok.
Pros: Comes with neat accessories, precise heat control settings, versatile wok, portable
Cons: Extremely expensive, frequently sold-out
For a complete wok and induction cooktop set, the NuWave Mosaic Induction Wok is our preferred all-in-one solution. The set includes a round-bottomed carbon steel wok pan and an induction hob with a round-shaped ceramic glass surface — perfectly suited together — and other accessories.
Now, we cannot understate the benefits of getting an induction wok set. It's challenging enough to find good woks — see our multiple lists of the best woks — but it's even more difficult to find good induction-compatible woks. Not to mention the wok ring. We think the convenience is awesome!
On the flip side, we noticed that product availability can be an issue since it is frequently sold out. Regardless, NuWave does continually support the product. You may check the NuWave Mosaic's availability here.
The other accessories that come with the NuWave Mosaic are a tempered glass lid, a stainless-steel wok stand, a frying rack, 25 pieces of wax paper sheets, a bamboo brush, a 2-tier bamboo steamer with a lid, bamboo tongs, a bamboo skimmer, and eight sets of bamboo chopsticks. And did we mention it's a complete set?
The induction wok pan measures 14 inches in diameter and is made of thin, light carbon steel. The wok pan is relatively thinner and lighter than most, but it works perfectly fine with the induction hob.
Like cast iron, the NuWave induction wok does need preseasoning. No worries, though. This just means doing your regular pre-seasoning rituals of applying a layer of oil, and you're set. You can also check out our guide on how to season carbon steel.
Sadly, the wok does not come with a handy helper, which would've been nice. Although you could say, a handy helper isn't needed when the wok almost always sits nicely on the round induction hob. Besides, using two wooden utensils to toss food is easier when it comes to woks on an induction cooktop. Oh, and the single long handle is wrapped in rubber.
And finally, the induction hob has precise temperature controls and can actually house other round bottomed induction woks of the same size. Despite the price, we recommend the NuWave Mosaic — assuming it's available again when you're reading this — for the convenience of an all-in-one set that you can move around from the kitchen to your backyard.
Our Buying Guide on Woks for Induction Cooktops
In choosing the best wok for induction cooktops, the usual suspects when selecting woks are present. Namely, you'll have to consider your budget, the accessories that go with the wok, the characteristics of the handle, and the attributes of the wok — volume or capacity, level of flatness, and materials used.
In this buying guide, we'll explain what these are and why you should take them into consideration.
The Volume of the Wok
Wok sizes are typically measured by the outer circle of the wok. But two woks of the same diameter will not necessarily mean the same volume. They won't even mean the same cooking surface size. This is because woks also come in different base sizes and wall depths, which we'll talk about next.
Smaller bases tend to have more concave walls. Conversely, wider bases have less concave walls. Also, woks with high walls have larger capacities, assuming the same diameters and the same base sizes.
And because there are justifiable reasons for using both smaller or larger woks, it ultimately comes down to your intended purpose. Do you expect to cook for large groups? Or are you primarily a home chef cooking for a small family?
Base Size and Level of Flatness
Although you could use a smaller wok pan on a large induction cooktop, there are two important reasons you would want to buy one that fits just right. The first is that you're not constantly monitoring its heat settings. With the right wok base size, you don't have to worry about burning the bottom of your wok. And the second is in relation to energy savings. By using only what's needed, you optimize your temperature settings.
Aside from size, the level of flatness of your base also matters. Specifically, the flatter the base, the more contact the wok has with the induction hob. And the greater contact translates to better energy transfer rates. That is to say that a wok with a flatter base will perform better in an induction coil than a wok with an uneven bottom surface, assuming the same base size.
Material
Not all woks are made to suit induction cooktops. The body of the wok, or more specifically the base of the wok, should be made of materials with magnetic properties. The inherently magnetic and compatible materials are cast iron, carbon steel, and the magnetic stainless steel series. That said, some manufacturers achieve different workarounds by adding magnetic induction plates on the base of non-magnetic woks like hard-anodized aluminum woks.
Of course, different materials will have different strengths and weaknesses. There will be certain compromises when choosing one or the other. Weight, durability, rate of heat absorption, distribution, and retention are just some of the key differences to consider.
Handle
Wok handles come in all forms — long or short, made of unguarded metal or metal wrapped in rubber, silicone, bakelite or wood, single or double. All these matter and impact your overall cooking experience.
And although you should probably use a kitchen mitt anyway, having cool-touch handles is undoubtedly a convenience that can be worth the added costs.
Accessories
Manufacturers often price products to take advantage of our willingness to spend more on sets. Some woks sell as standalone products, while others bundle with accessories, useful or not.
The most common add-on to a wok is a lid. These, too, come in varying types — flat or dome, vented or non-vented, glass, stainless steel, or a combination of both glass and stainless steel. Not to mention the lid knobs that also come in different materials and shapes. The permutations and combinations are aplenty.
Other useful accessories include steaming racks, wok stands, steamers, and wooden utensils. One of our top choices even comes with its own induction hob!
Budget
And of course, we can't forget about prices. From budget options to premium choices, prices run the gamut. But that's also the good news. Regardless of your budget, you should be able to find an induction wok that's right for you. Don't forget, though, that there's usually a tradeoff between quality or longevity and price.
FAQs
What type of wok is best for induction cooking? What makes a wok good for induction cooking?
An induction stovetop only works with cookware that has a flat magnetic base. This means that the bottom of the wok should be built with cast iron, carbon steel, or magnetic stainless steel. There are workarounds, though, to using non-magnetic alloys on an induction hob. One way is to insert a magnetic base plate into, say, a hard-anodized aluminum wok.
Can you use stainless steel cookware on an induction range?
Stainless steel has different grades with varying metal properties. Only the 400 stainless series possesses inherent magnetic properties. Interestingly, non-magnetic stainless steel can transform when they undergo specific industrial processes. Don't be surprised to see induction-ready 300 series stainless steel woks.
Can you get wok hei from induction?
Using an induction cooktop for wok hei isn't ideal. While it is possible to achieve the smokey flavor using an induction stovetop, it'll probably pale in comparison to using a regular gas stove.

You can achieve wok hei through the continuous tossing of ingredients at extremely high flames. Since induction coils stick to the bottom of the wok via magnets, maneuvering the wok can be a challenge. To address this issue, try tossing the ingredients with two utensils.
Can you stir fry on an induction?
Yes, you can stir fry on an induction. While old technology prohibited this, modern induction hobs can not produce the high temperatures you'll need to stir fry.
What are the disadvantages of an induction cooker?
Because an induction cooker relies on magnets, maneuvering your cookware is one of the commonly mentioned limitations of an induction cooktop. That is, the bottom of your wok attaches by a magnet to the induction hob, so moving around with the wok is restricted.
Is an induction cooker worth buying?
The energy savings alone from an induction wok make it worth buying, assuming you can handle its inherent limitations. The induction cooker emits little-to-no smoke, and there are cost savings to be had in the long run.