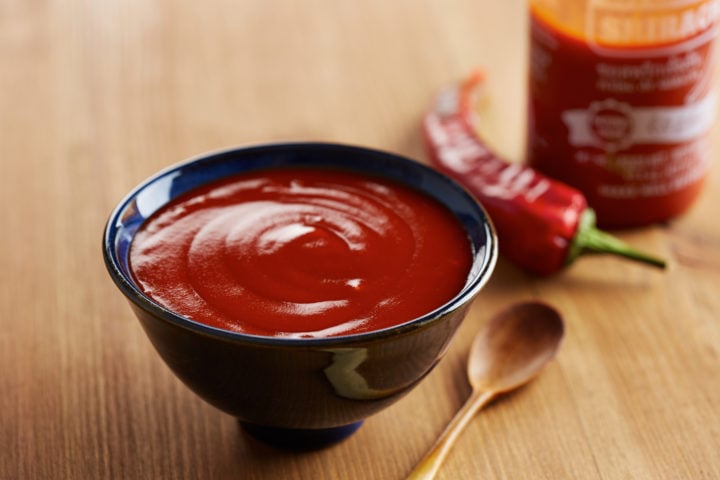 A perfect blend of sweet, spicy, and tangy, sriracha is one of the most popular hot sauces around. In fact, you may love it so much that you frequently find the bottle nearly empty when you need it most. For times like these, it's a good idea to know the best sriracha substitutes.
While there are a wide variety of spicy condiments, you can use as sriracha alternatives, the best by far is Sambal Oelek. Though if that's too exotic, you can also use common brands of hot sauce like Cholula with a bit of sugar added in.
Otherwise, you can try one of the 16 other sriracha substitutions listed below. Each one brings something a little different to the table, so you can pick the one that serves your needs best.
Table of Contents
Best Sriracha Substitutes
Sambal Oelek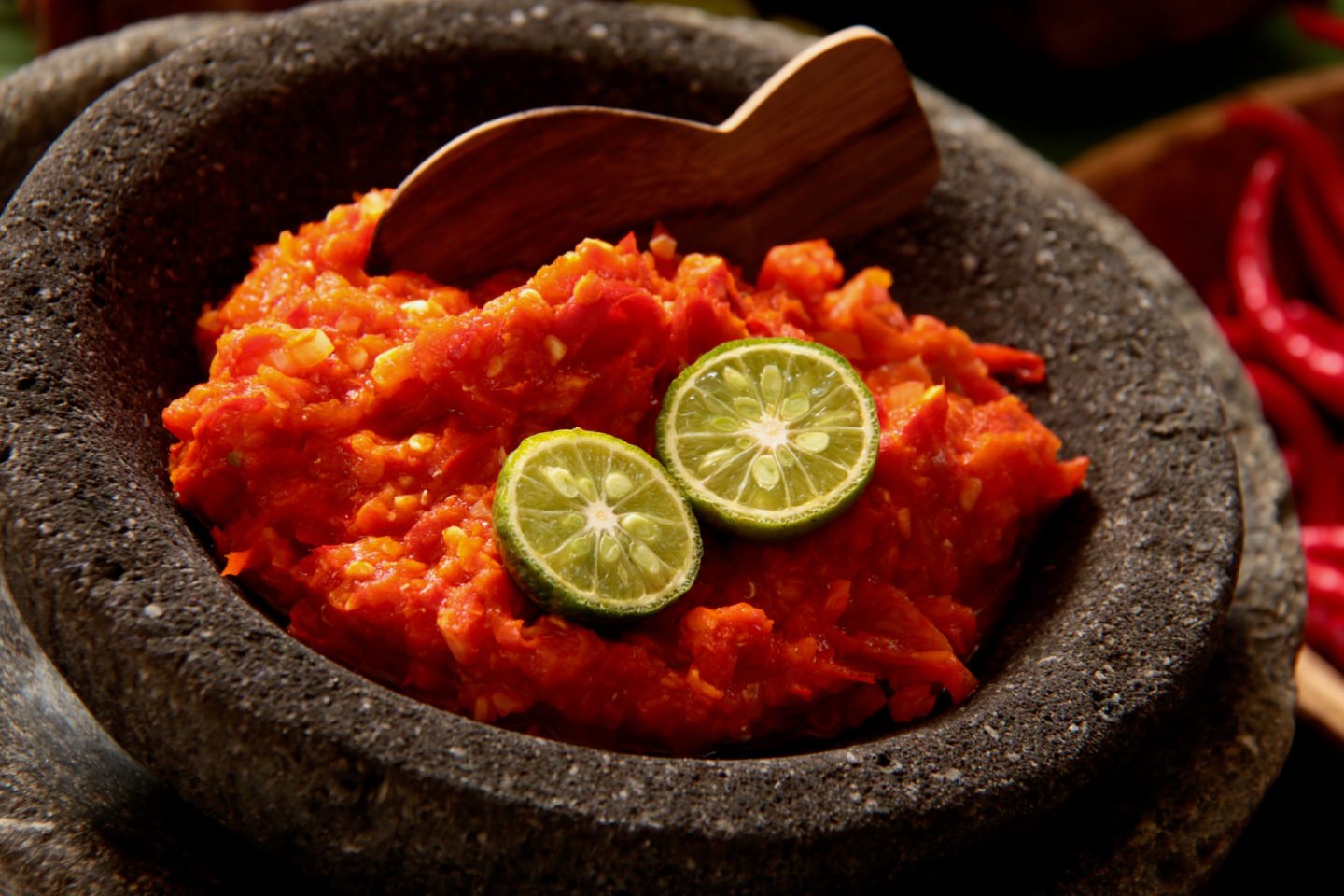 Originating in Indonesia, Sambal Oelek has similar culinary roots as Sriracha. In terms of heat and flavor, it's the closest match you're going to find. The key difference is that it comes in a thicker paste form, which is usually spread rather than squirted.
If it's important to match the consistency of Sriracha, you can add a bit of water and vinegar to the mix for a more fluid sauce. You can also use it as-is on pho and other soups.
Gochujang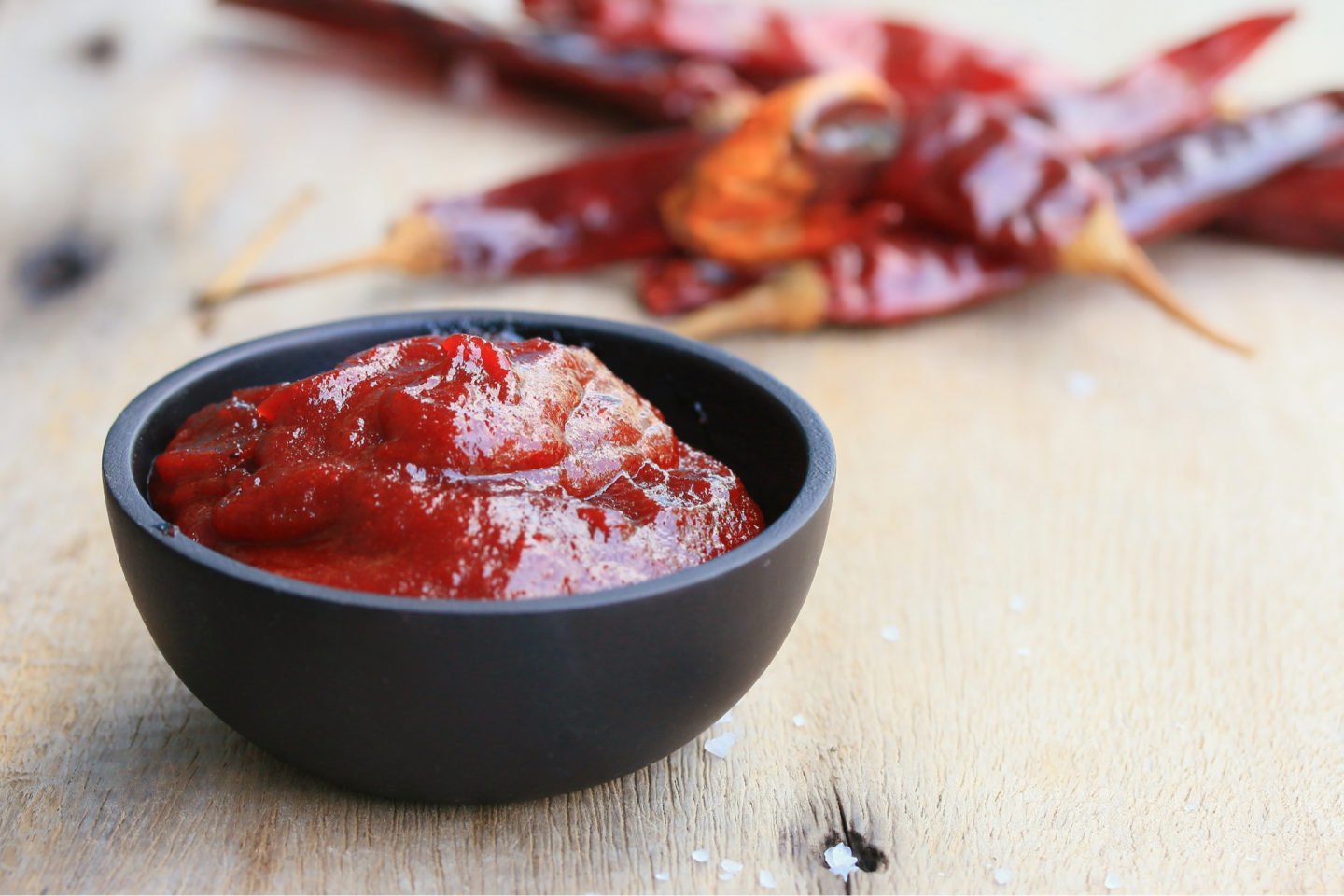 Gochujang might not seem like a good substitute for sriracha at first since it comes as a thick paste in a tub. However, all it takes is a bit of vinegar to thin it out and balance the sugar to get it surprisingly close in flavor. If you like, a bit of garlic powder can make the flavor an even closer match.
This chili paste can commonly be found in Asian grocery stores, though it's important to pay attention to the brand you choose. Brands of gochujang can vary widely in flavor, and you'll want to choose among the spicier options available.
Cholula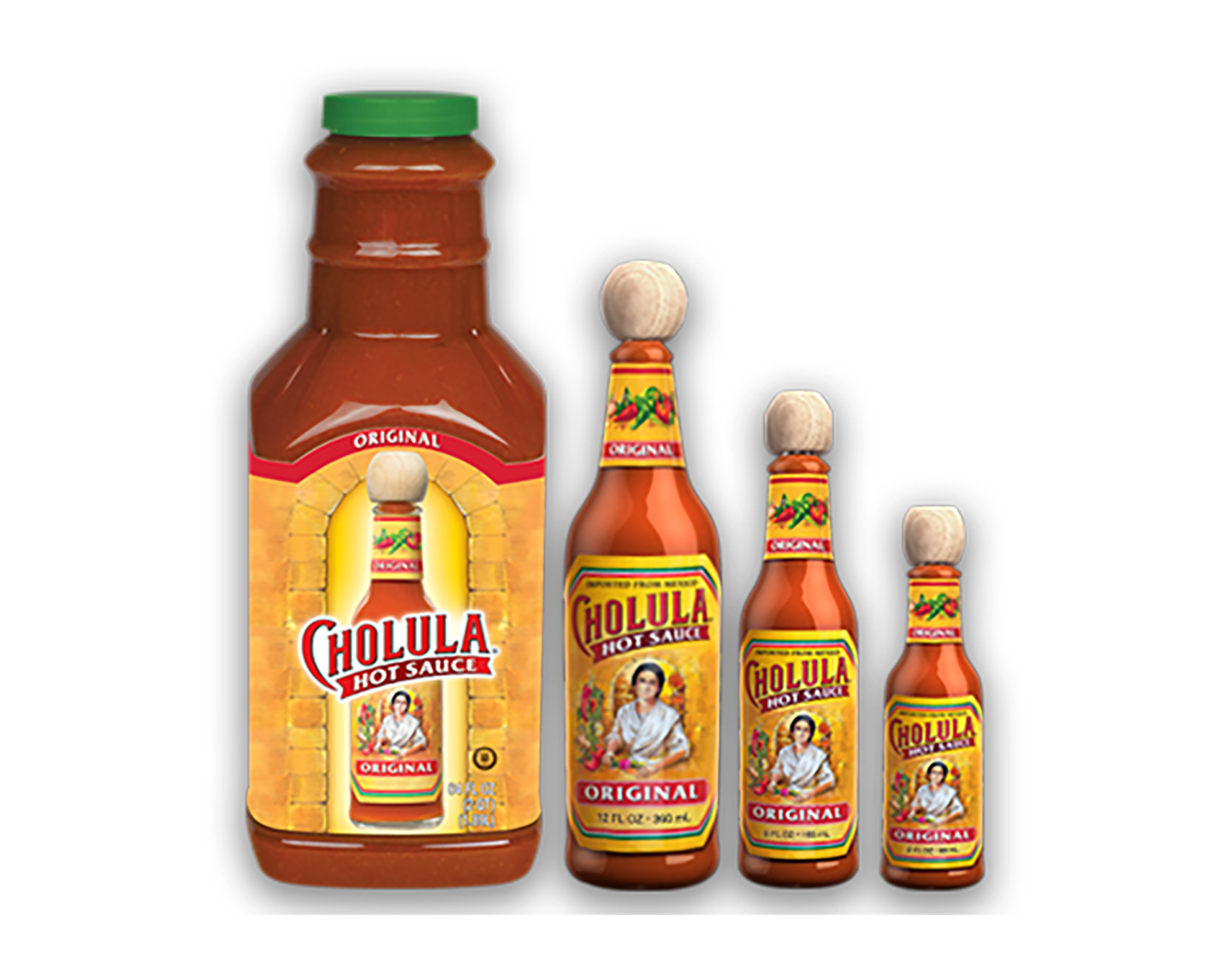 Cholula is a well-loved Mexican hot sauce with balanced heat. It doesn't have as much vinegar as Tabasco or Lousiana Hot Sauce, which makes it a closer match to sriracha. However, one major difference to keep in mind is that it's thinner, so it's better used mixed into dishes.
In terms of heat, Cholula is similar to sriracha, so you can use it at a 1:1 ratio. It doesn't include any garlic, so you may want to add some garlic-infused oil or garlic powder to increase its zestiness.
Harissa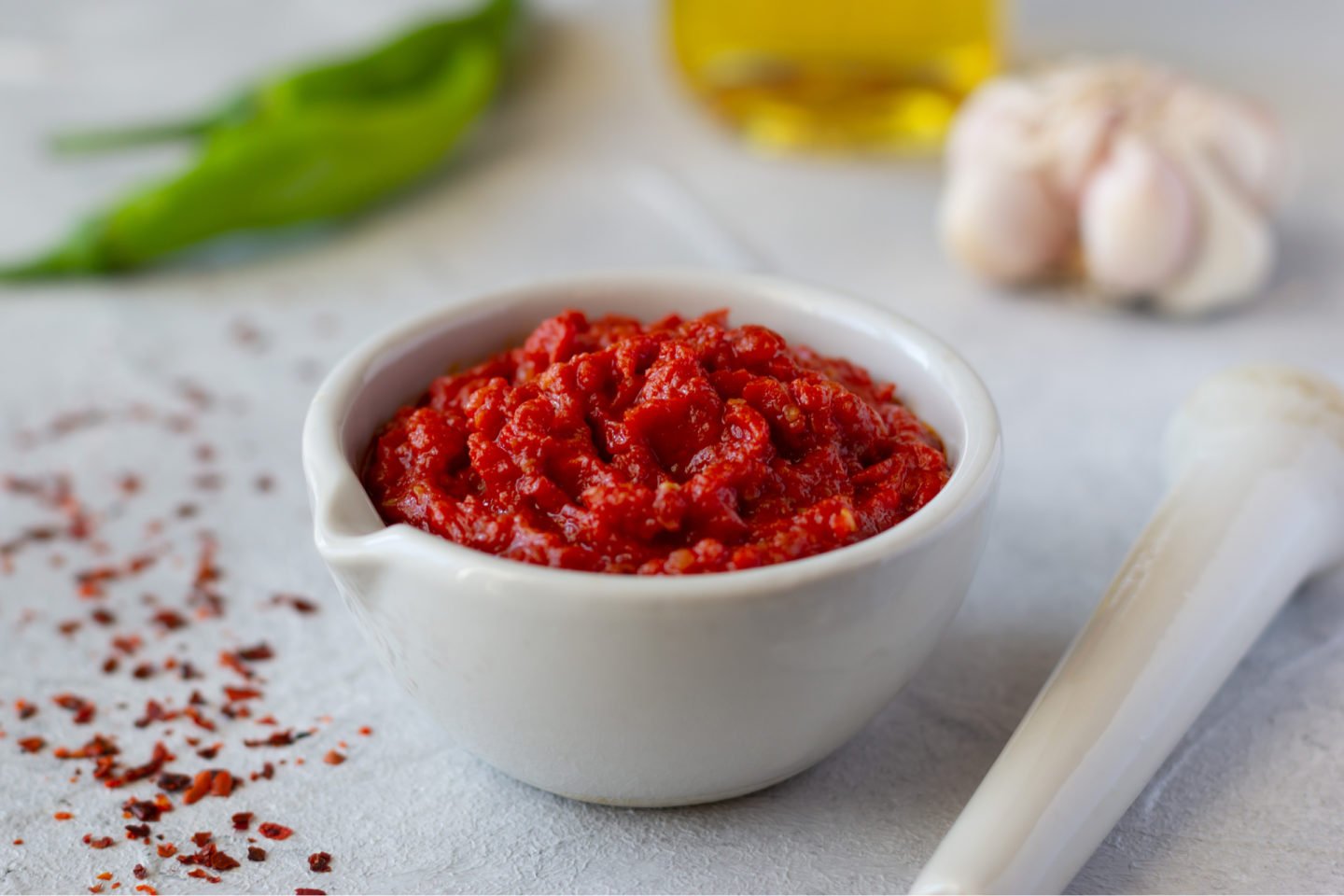 Harissa is a thicker paste, similar to Sambal, though with a character all its own. It doesn't have the same vinegar bite as other hot sauces but instead focuses on warm spices like cumin, coriander, and caraway.
Overall, it's not a close match for Sriracha except in heat. However, if you add in a bit of vinegar, you can make a close approximation.
Use in moderation when cooking, about a teaspoon to start for most dishes. You can also use it as a flavorful rub on meats.
Chili Oil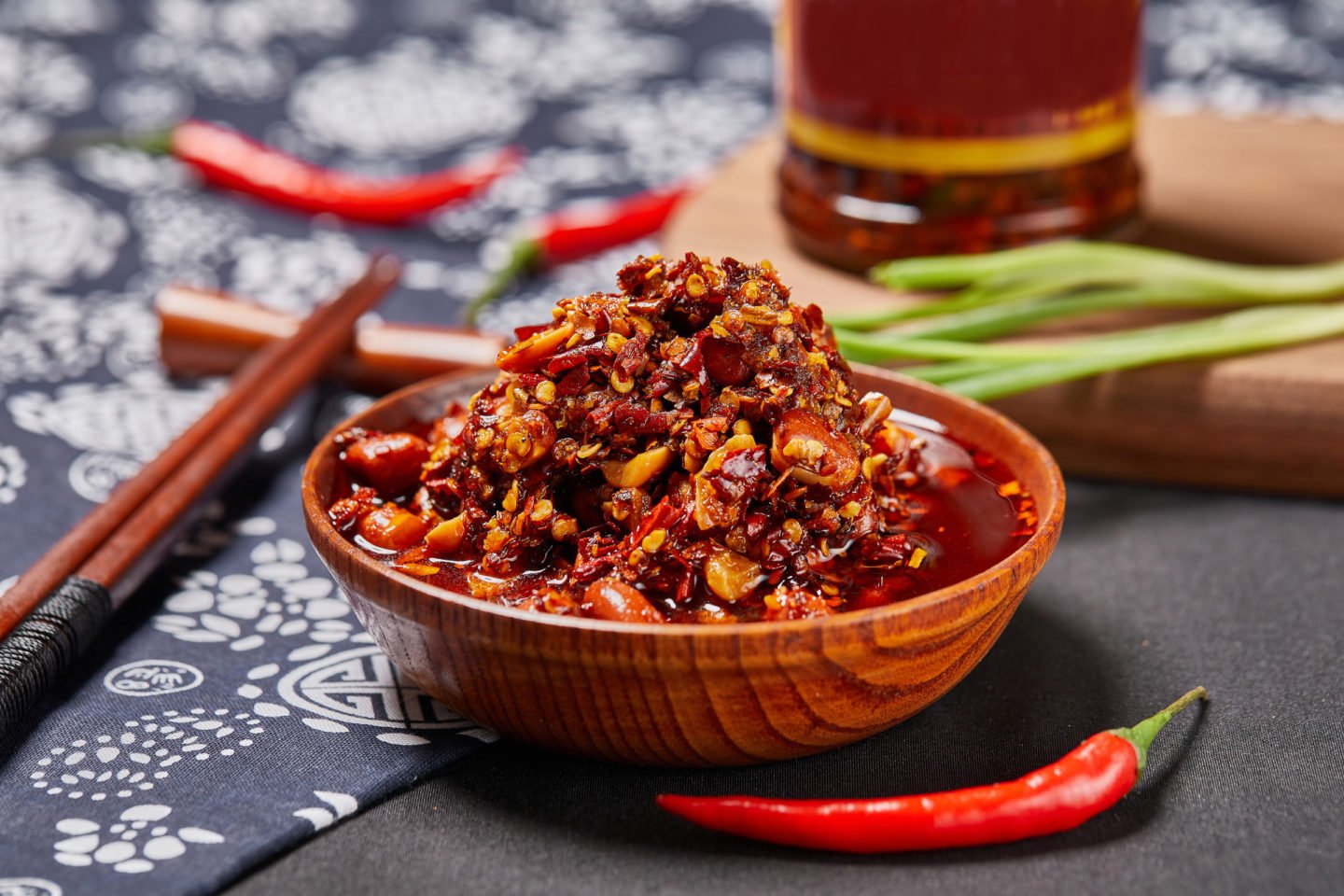 Chili oil is a different sort of product than the hot sauces mentioned on this list. It's made of dried chili flakes submerged in oil, which can be mixed into food or drizzled on top. However, its oily composition brings concentrated heat to any dish, so it's wise to use it sparingly.
The flavor of chili oil is drier and hotter than sriracha. It doesn't include any vinegar or garlic, so you may want to add these if you're looking for a close match. When substituting, use half a teaspoon or less for every teaspoon of sriracha.
Frank's Red Hot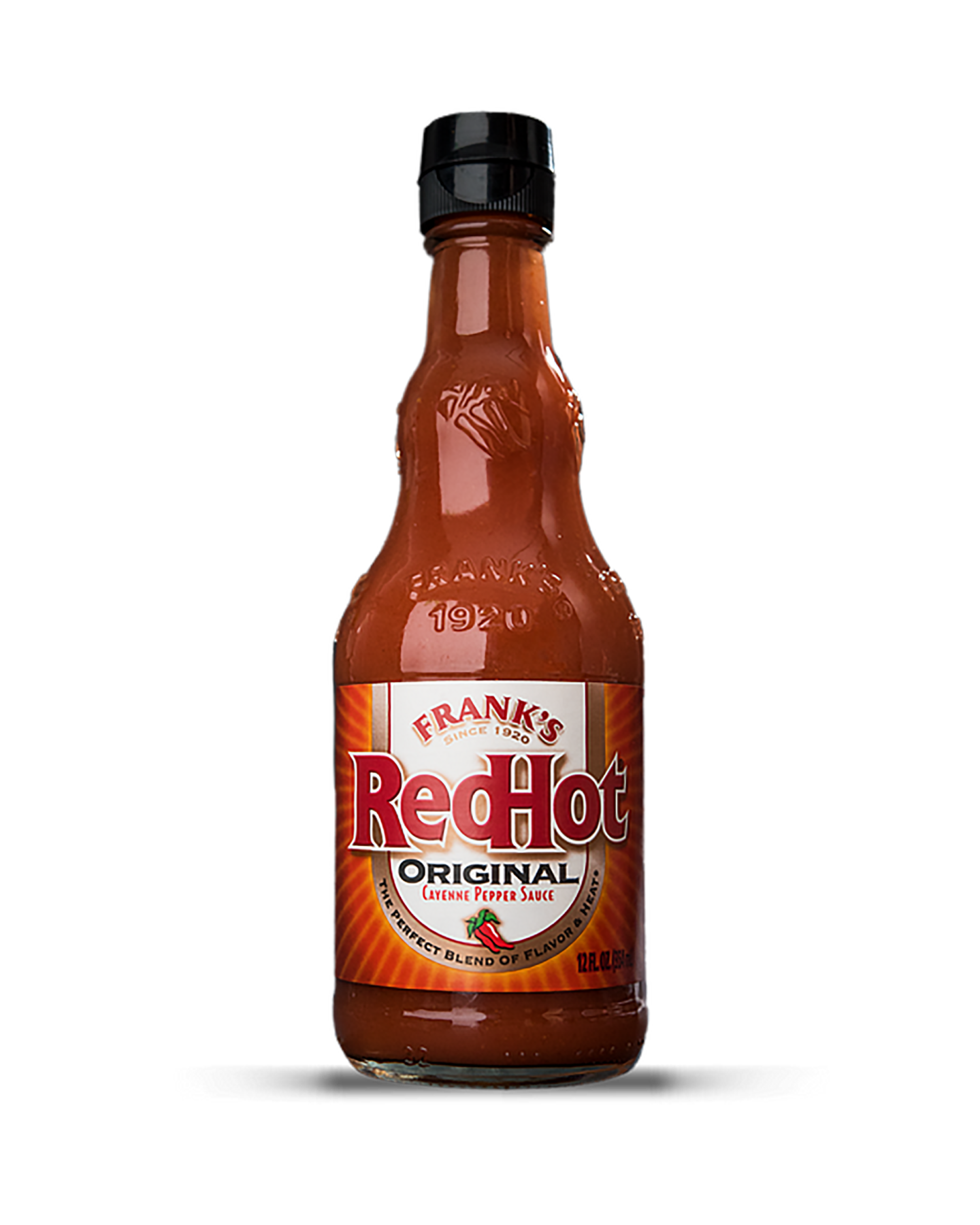 This common hot sauce is the kind most often used in Buffalo sauce. One of its key differences in flavor is that it contains a bit more vinegar than Sriracha. This gives it a brighter taste and a bit more bite.
In terms of heat, it's a little milder. We recommend using just a little more than you would with Sriracha.
The consistency of Frank's Red Hot is also a bit different. For one, it's runnier, which will make it harder to get clean lines when squirting it on top of your food.
Peri-Peri Sauce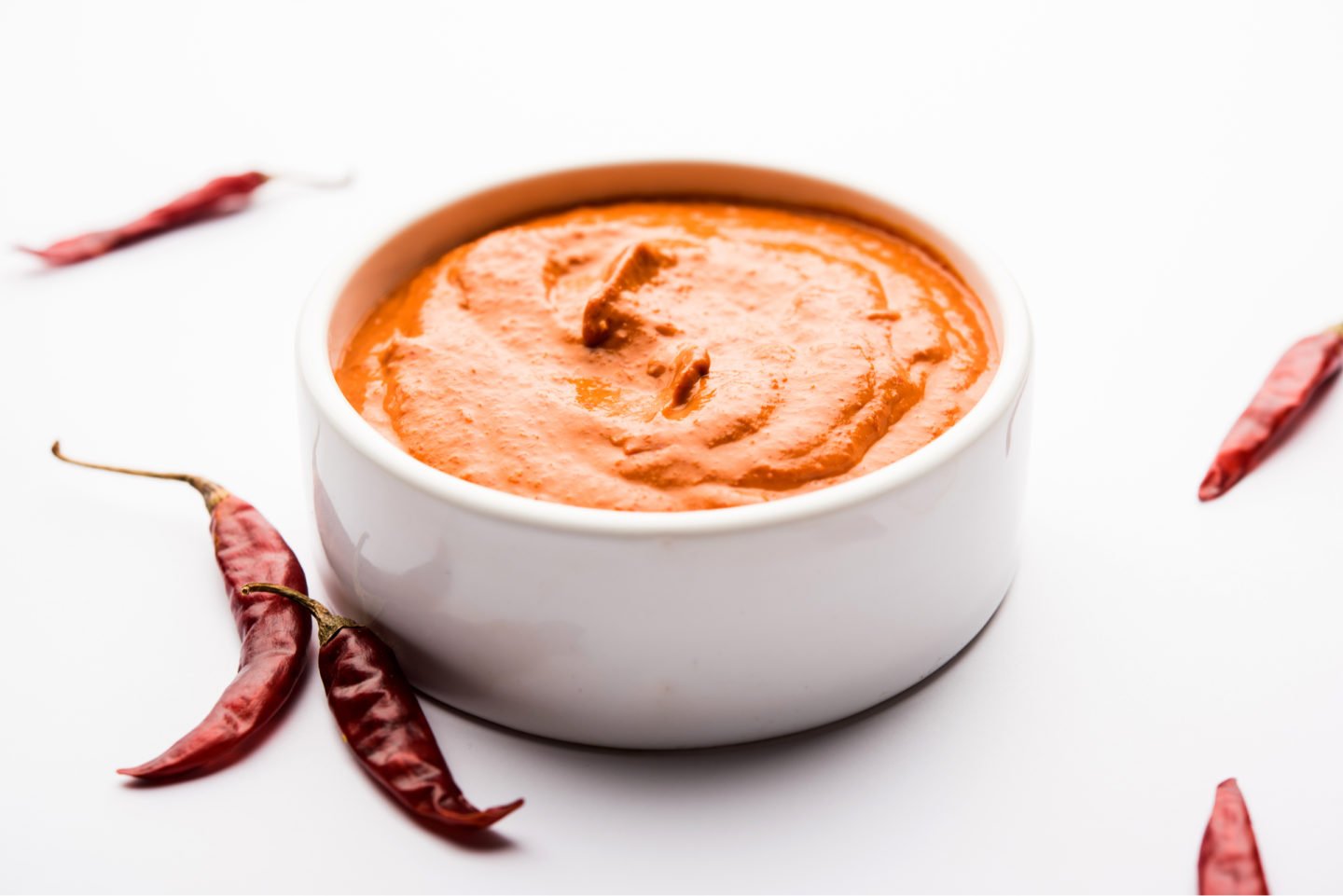 Of all the sauces on this list, peri-peri is probably the most complex, with lemon juice and bay leaf in addition to chiles. This gives it a distinct flavor that's ideal for dipping or drizzling on top of dishes. Overall, its flavor is brighter, fruitier, and herbier than sriracha.
The spice level can range widely by brand and style, but most medium-to-hot options are close to sriracha's heat. Avoid adding more than a tablespoon or two if you're using it for cooking, as its other flavors can overpower a dish.
Red Pepper Flakes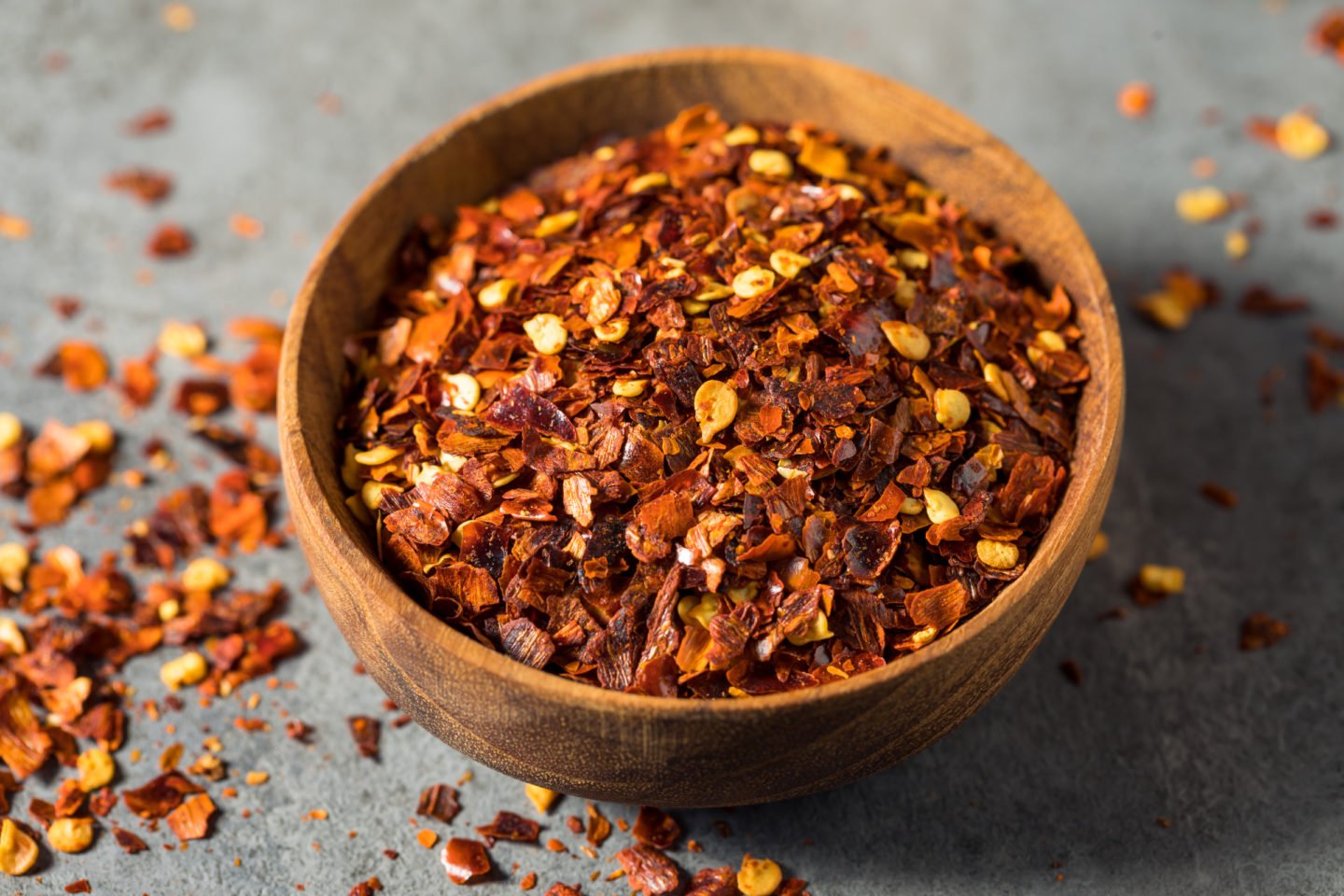 Red pepper flakes are a good default spice to have on hand at all times, which lets you fine-tune any dish's heat level. About a quarter teaspoon of this is the equivalent of a full teaspoon of Sriracha in terms of heat. But, of course, they're better mixed into food rather than sprinkled on top (unless you're dressing a slice of pizza).
Keep in mind that red pepper is only one of sriracha's three main ingredients. If you're looking for a closer match in flavor, add a bit of vinegar and garlic to the dish. Try adding a quarter teaspoon of each for every teaspoon of sriracha you're substituting.
Tapatio Hot Sauce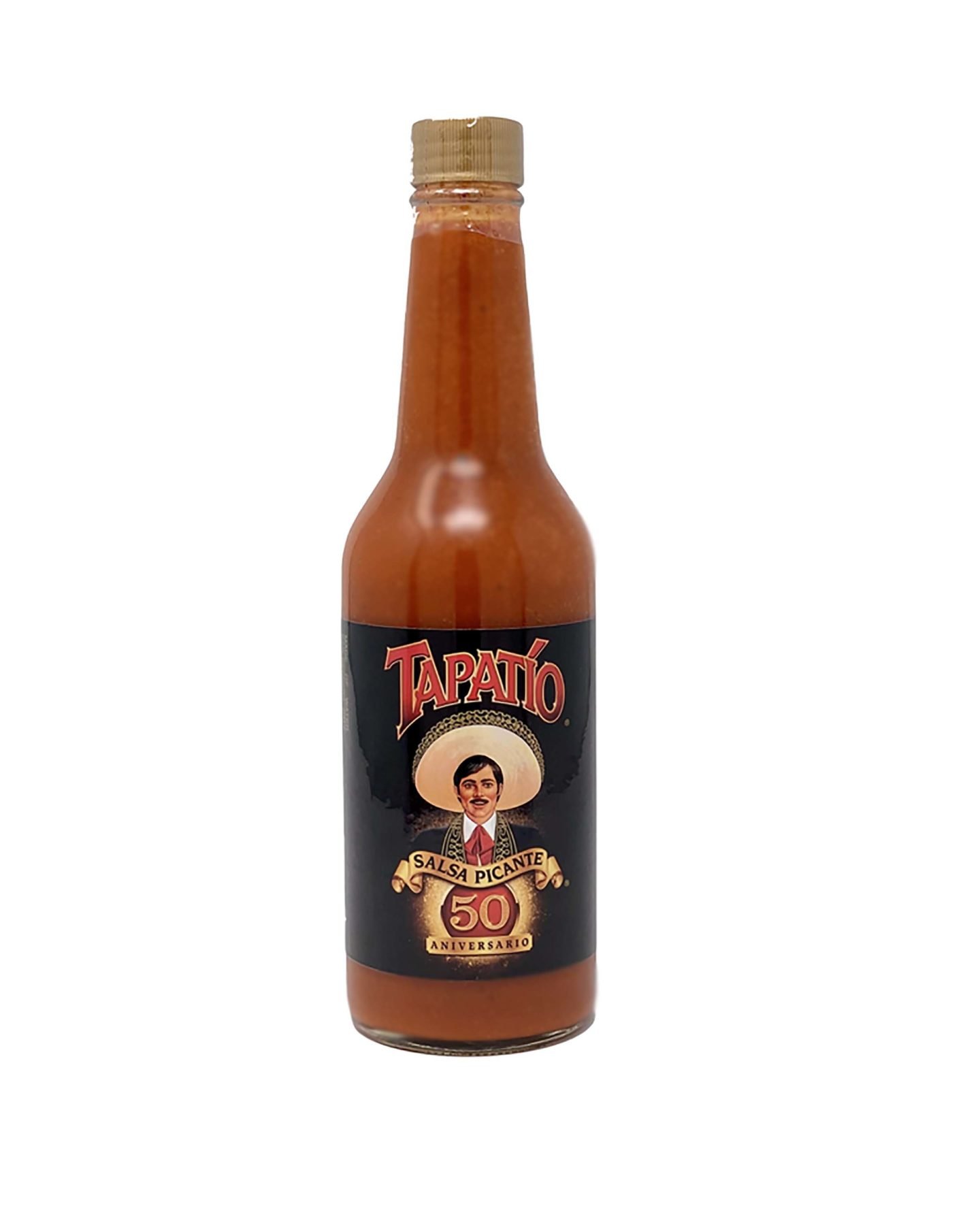 The key difference between Tapatio and sriracha is that this Mexican hot sauce is more tart and savory. This makes it a better choice for tacos or even tomato-based sauces. Its heat is similar to sriracha, though it is a bit hotter, so use a bit less if you're worried about it being too spicy.
The consistency of Tapatio is also runnier than sriracha. This makes it a better choice for mixing into cooking, rather than squirted on after.
Louisiana Hot Sauce Original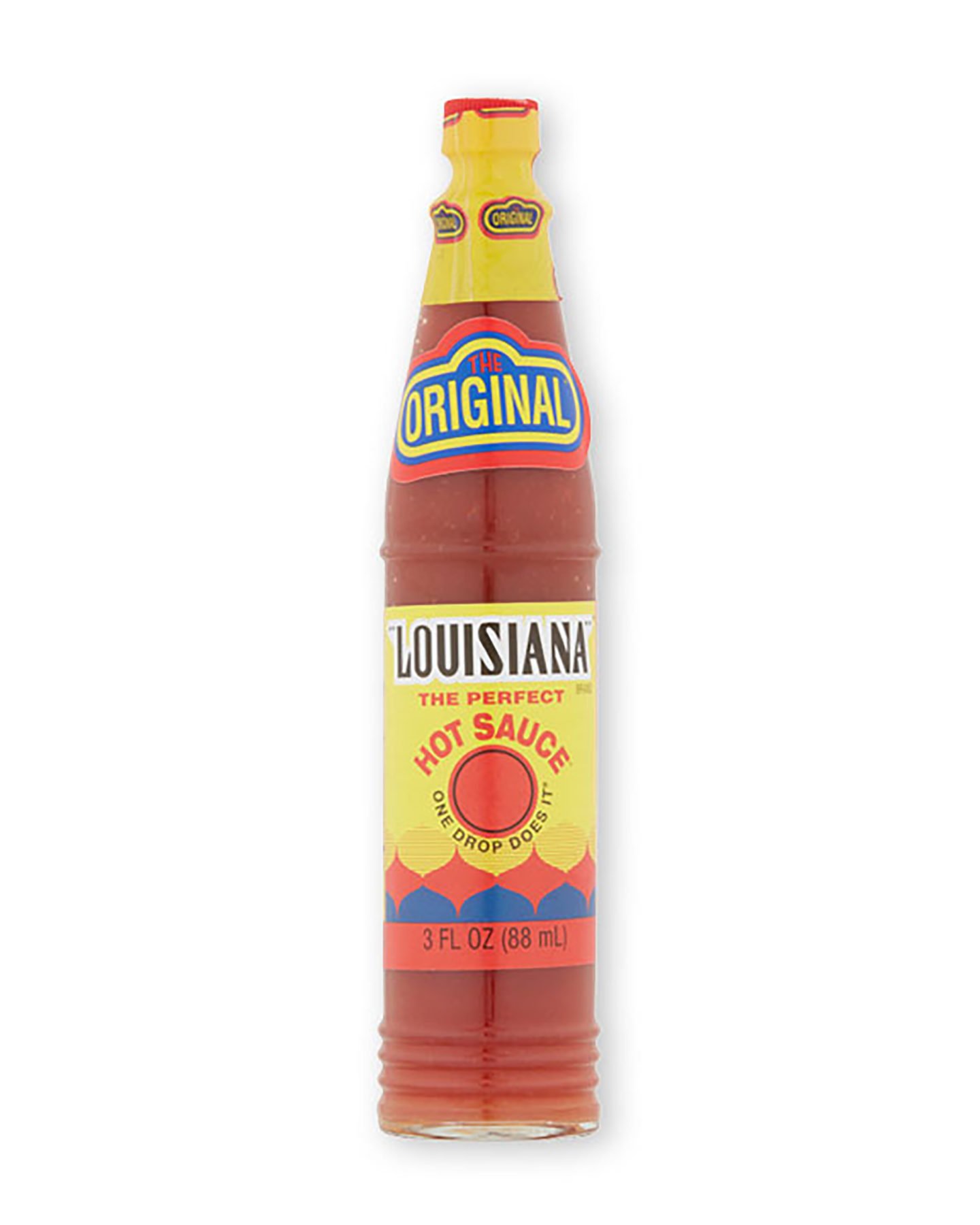 Louisiana Hot Sauce is both a brand and a style of condiment popular in cajun cuisine. Its strong acidity, which comes from the added vinegar, makes it distinct.
Because of this vinegary flavor, it's not an ideal substitute for sriracha. However, in a pinch, you can substitute one teaspoon sriracha for an equal amount of Louisiana Hot Sauce, plus a quarter teaspoon of sugar. The sugar helps balance out the acidity and match sriracha's naturally sweet flavor.
In terms of heat, the two are similar, with sriracha being a bit spicier.
Cayenne Pepper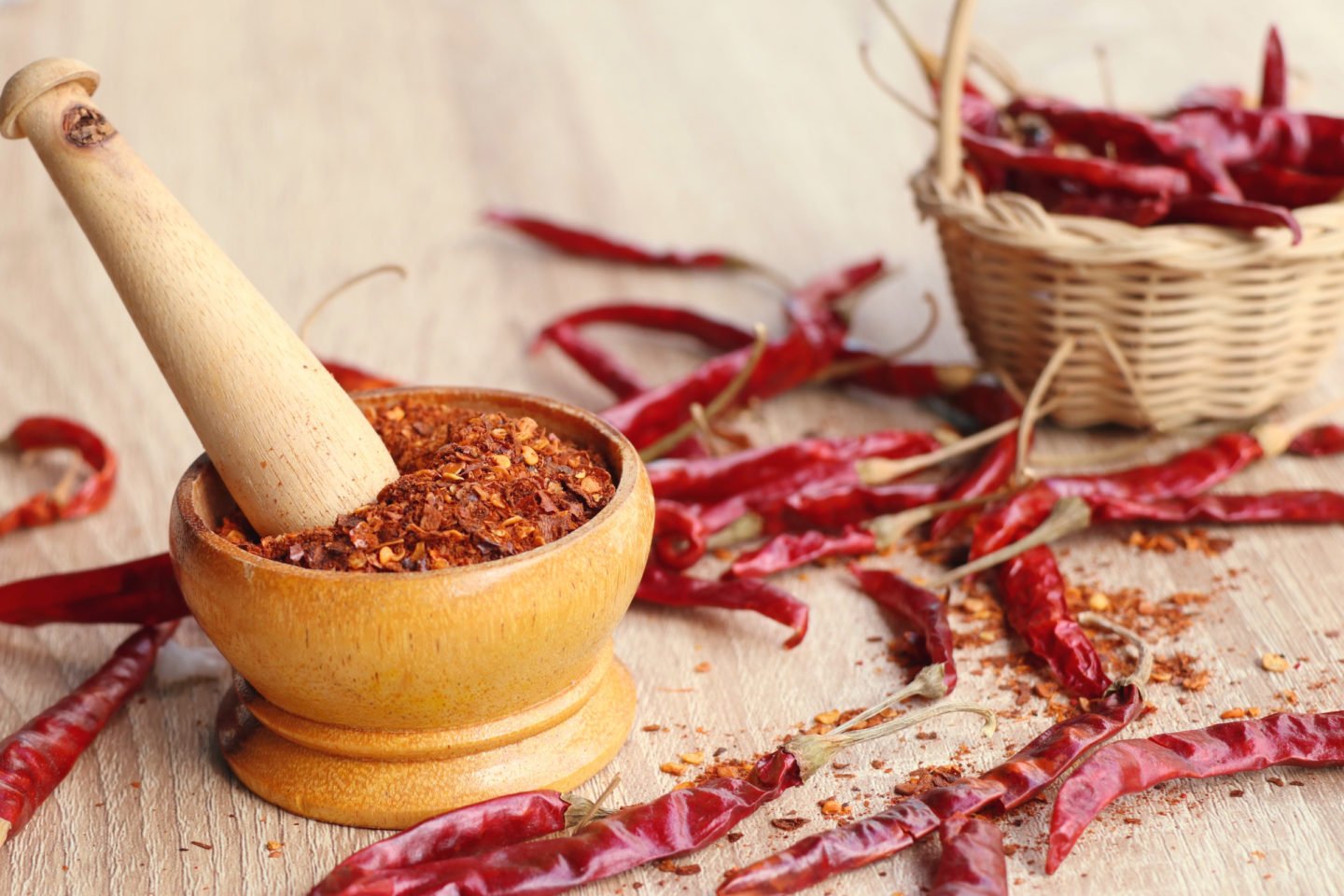 Cayenne peppers are similar to the ones used in Sriracha, making its powdered form a natural alternative. It is similar to heat and can be substituted at a 1:4 ratio by volume. Just keep in mind that it doesn't bring any of the garlic or vinegar flavors of Sriracha.
Of course, it's a good idea to reconsider the moisture levels of your dish if you're using more than a little bit. This powdered spice is also not ideal as a topping, as it's harder to sprinkle evenly.
Thai Chiles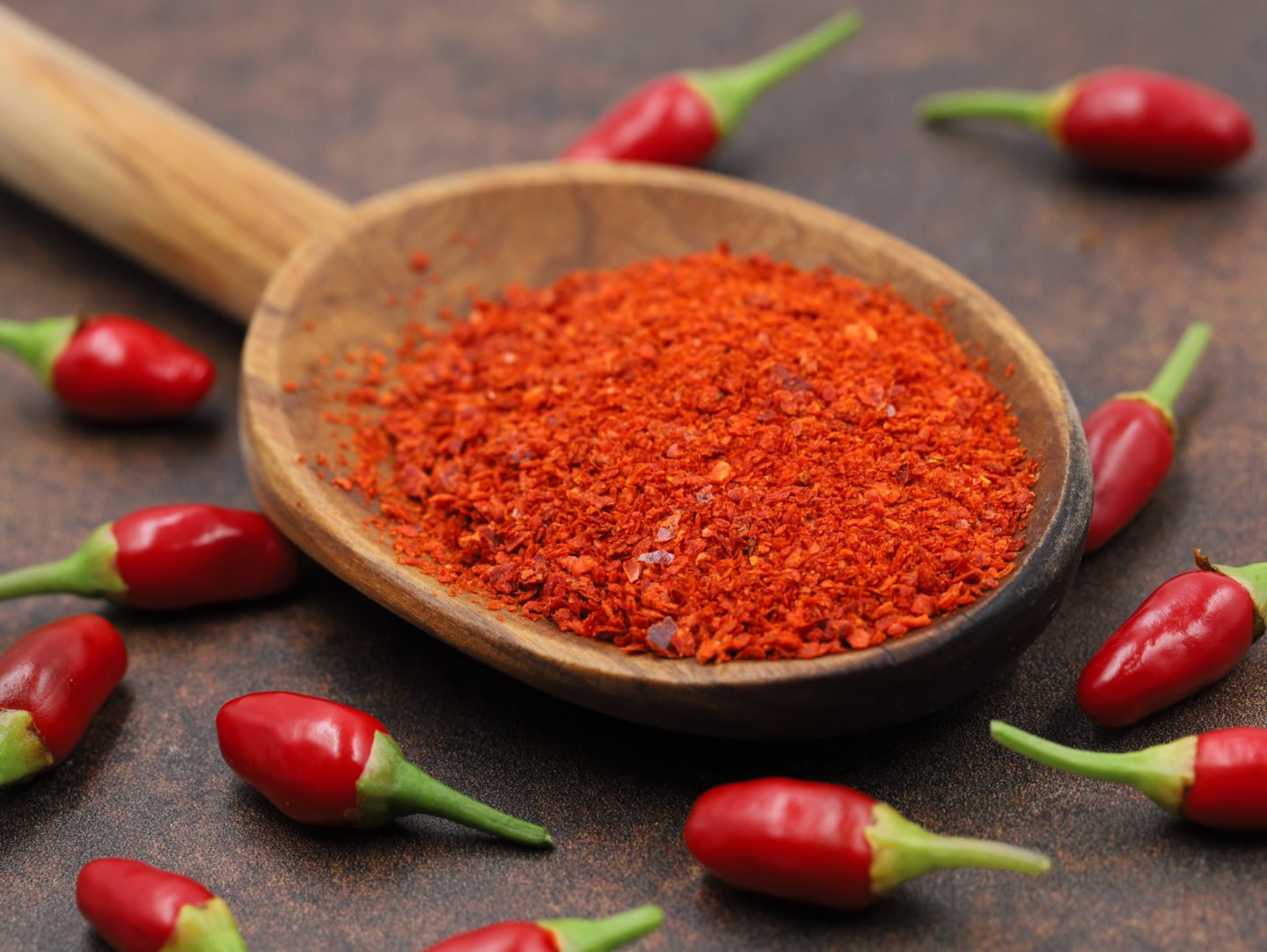 Thai and other east Asian foods commonly use fresh Thai chilis in stir fry, soup, and other dishes. While they require a bit of extra prep, they are a good substitute for sriracha as they bring a more light, fruity, and fresh flavor than dried chili flakes. Substitute 1 medium Thai chili for one tablespoon sriracha.
Of course, the extra ingredients in sriracha give it a more complex flavor than plain chilis. Add a quarter teaspoon of garlic and half a teaspoon of vinegar for each Thai chili for a closer match in flavor.
Scotch Bonnet Sauce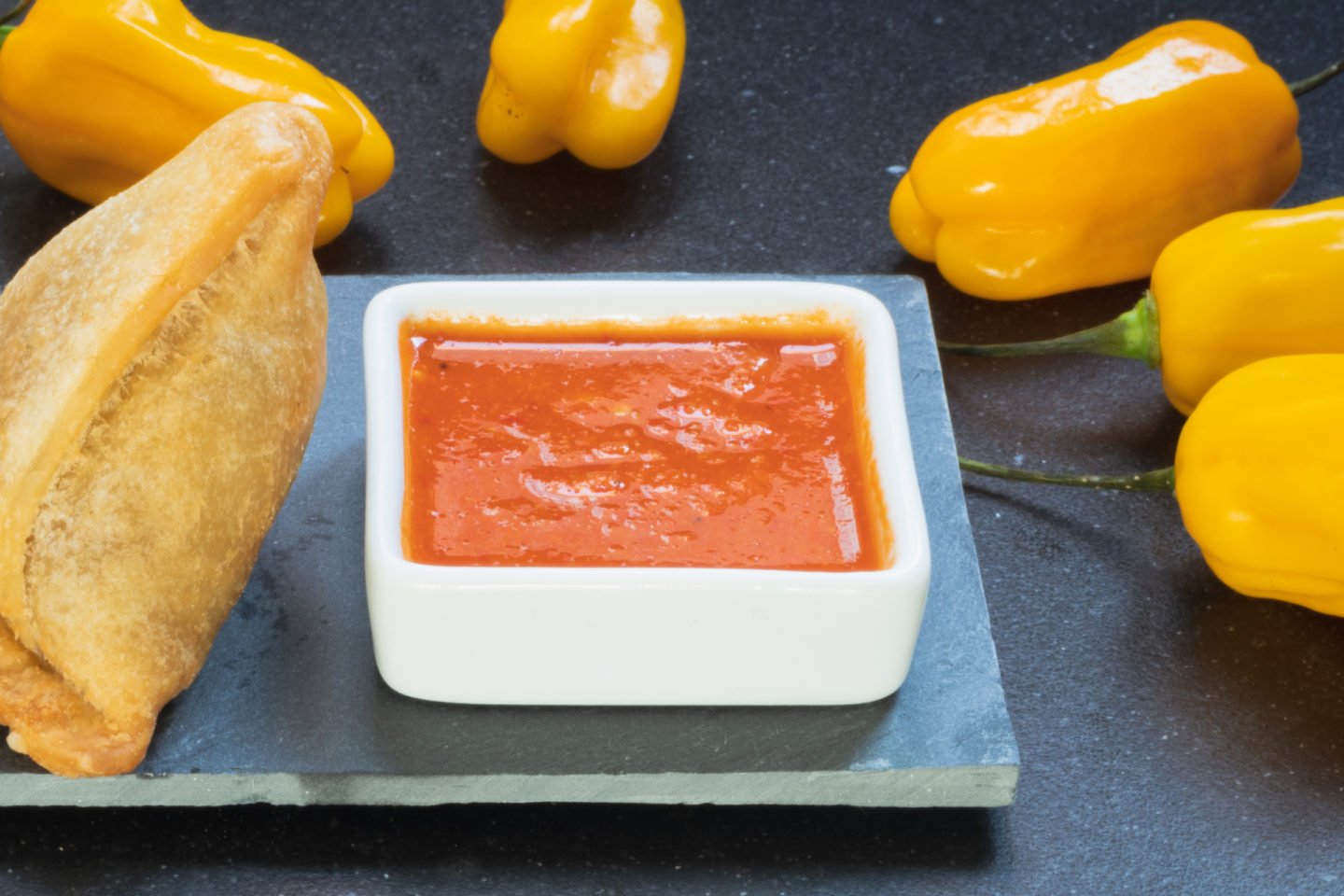 Scotch bonnets are some of the spiciest peppers around, but they also have a distinctive sweet flavor. While they're not exactly the same as sriracha, hot sauces made of scotch bonnets can bring a similar kind of bright fruitiness to your cooking. However, it's important to use it in moderation to keep spice levels down.
When using as a replacement, substitute a quarter teaspoon for every full teaspoon of sriracha.
Tabasco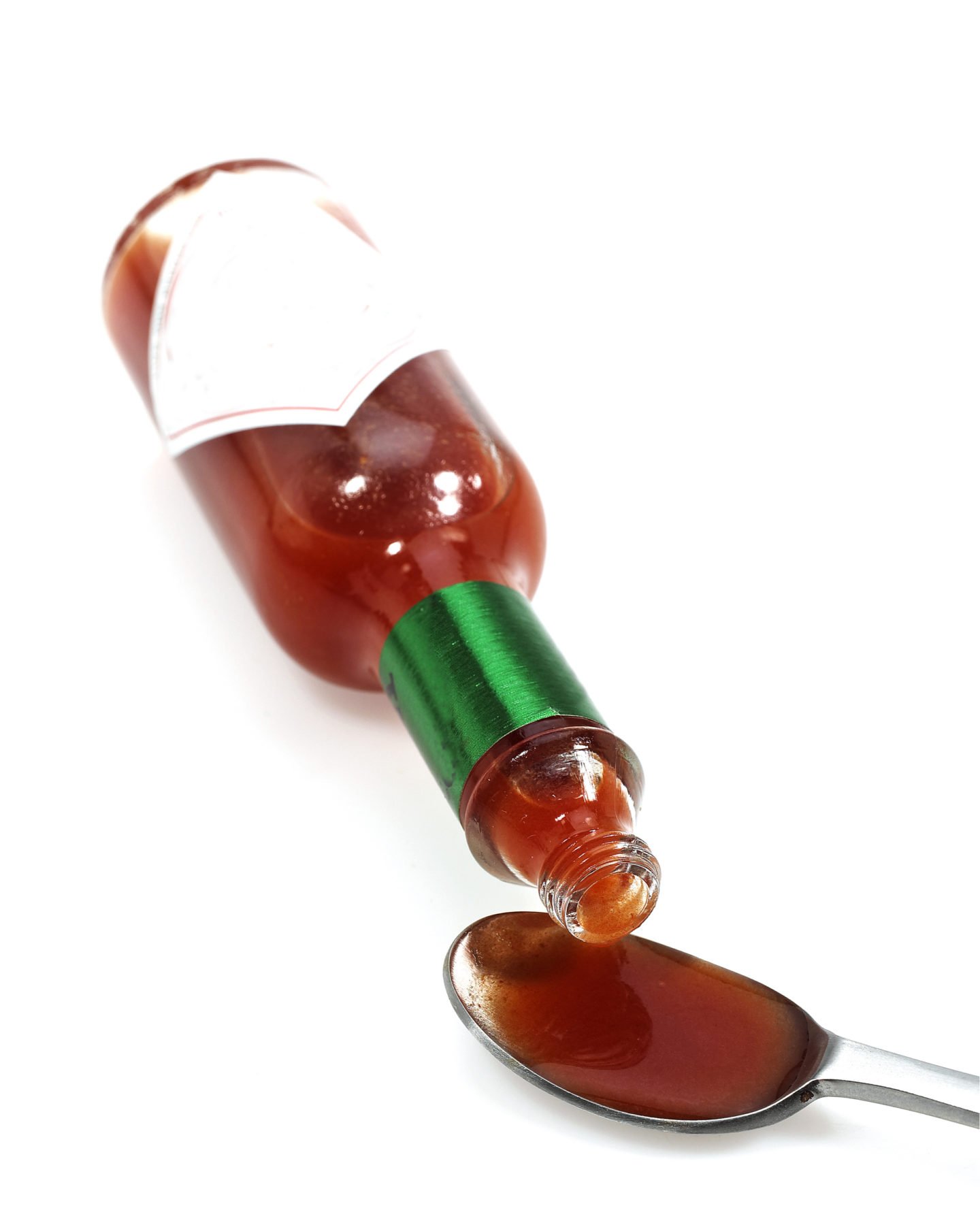 Like Louisianna-style hot sauce, tabasco has a strong vinegar flavor paired with its spice. This, combined with its watery texture, makes it an inexact match for sriracha. Still, it can serve as a good substitution if used correctly.
By adding a bit of sugar to your Tabasco, you can balance out the strong vinegar flavor and give it a slightly thicker consistency. A mixture of one part honey to four parts tabasco can be even better.
Yuzu Kosho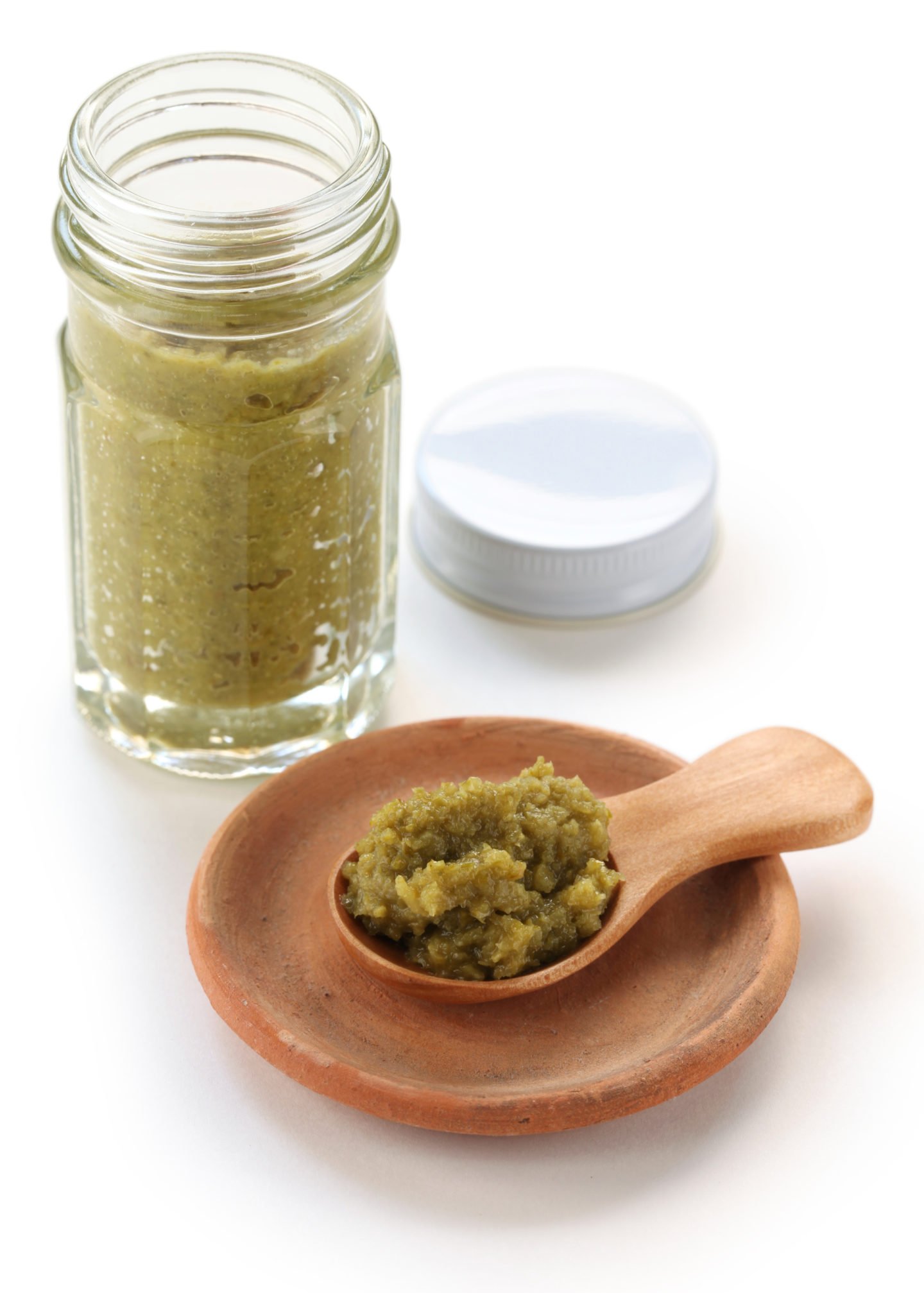 Yuzu Kosho is a unique Japanese condiment made of yuzu fruit and chile. It has a similar level of heat as sriracha but with a strong citrus flavor, a bit like lemon rind. While different, the fruity element can be a good substitution when used as a condiment in soups or sushi.
One good way to use Yuzu Kosho is in marinades. Its strong citrus and chile flavor is a perfect accent to chicken and fish.
Ketchup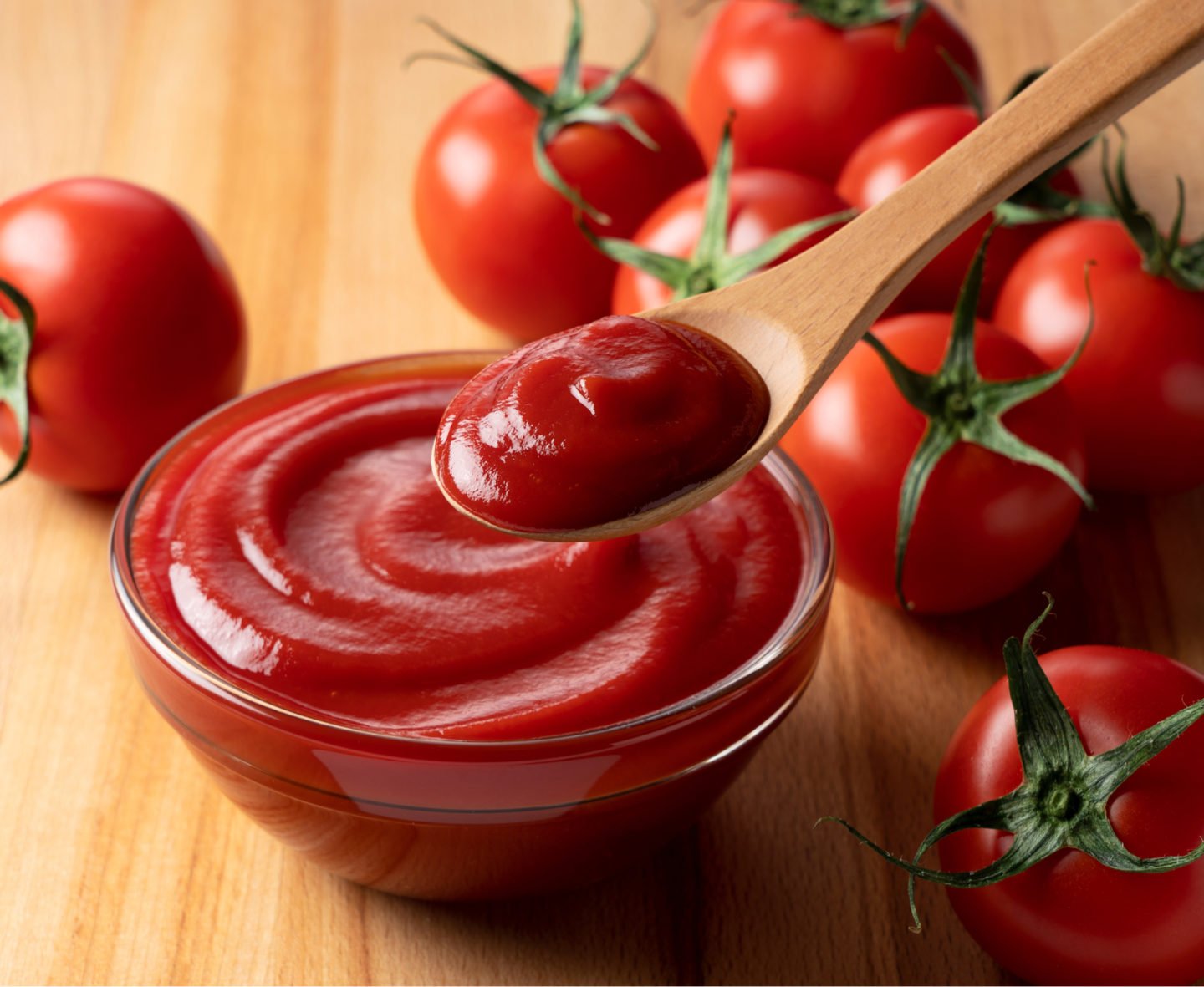 Aside from its color, ketchup doesn't seem to have much in common with sriracha at all. However, it's a better substitution than you might think! Just mix together 1 tablespoon ketchup, a dash of garlic powder, and a teaspoon of either chili oil or cayenne pepper.
Mustard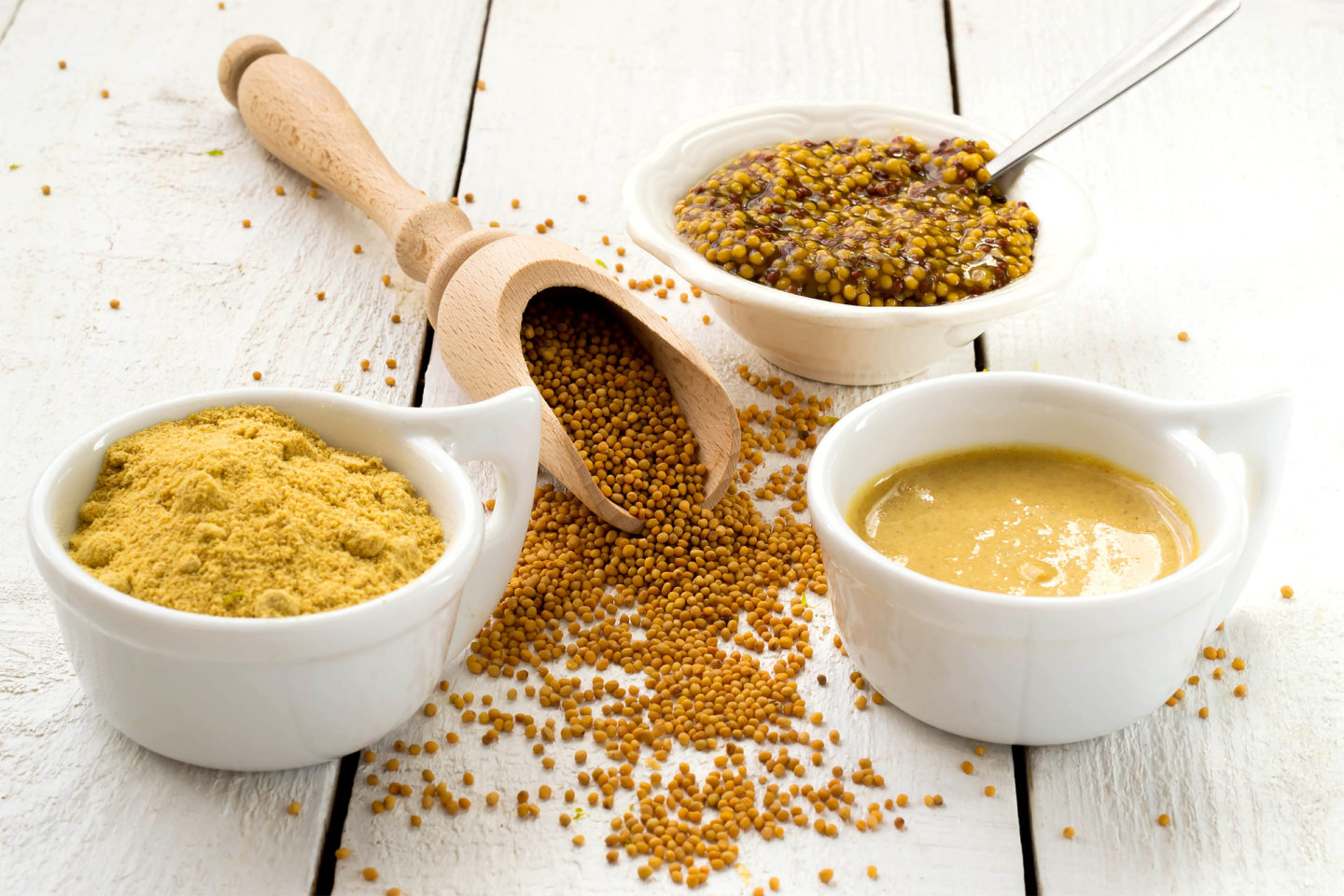 Chinese mustard and other hot mustards have a much more dry and savory heat than sriracha, though they can be used as alternatives in a pinch. They're a serviceable choice for marinating vegetables or making a dipping sauce. While you won't be likely to fool anyone, you'll still end up with a hot and flavorful meal.
Home Made Hot Sauce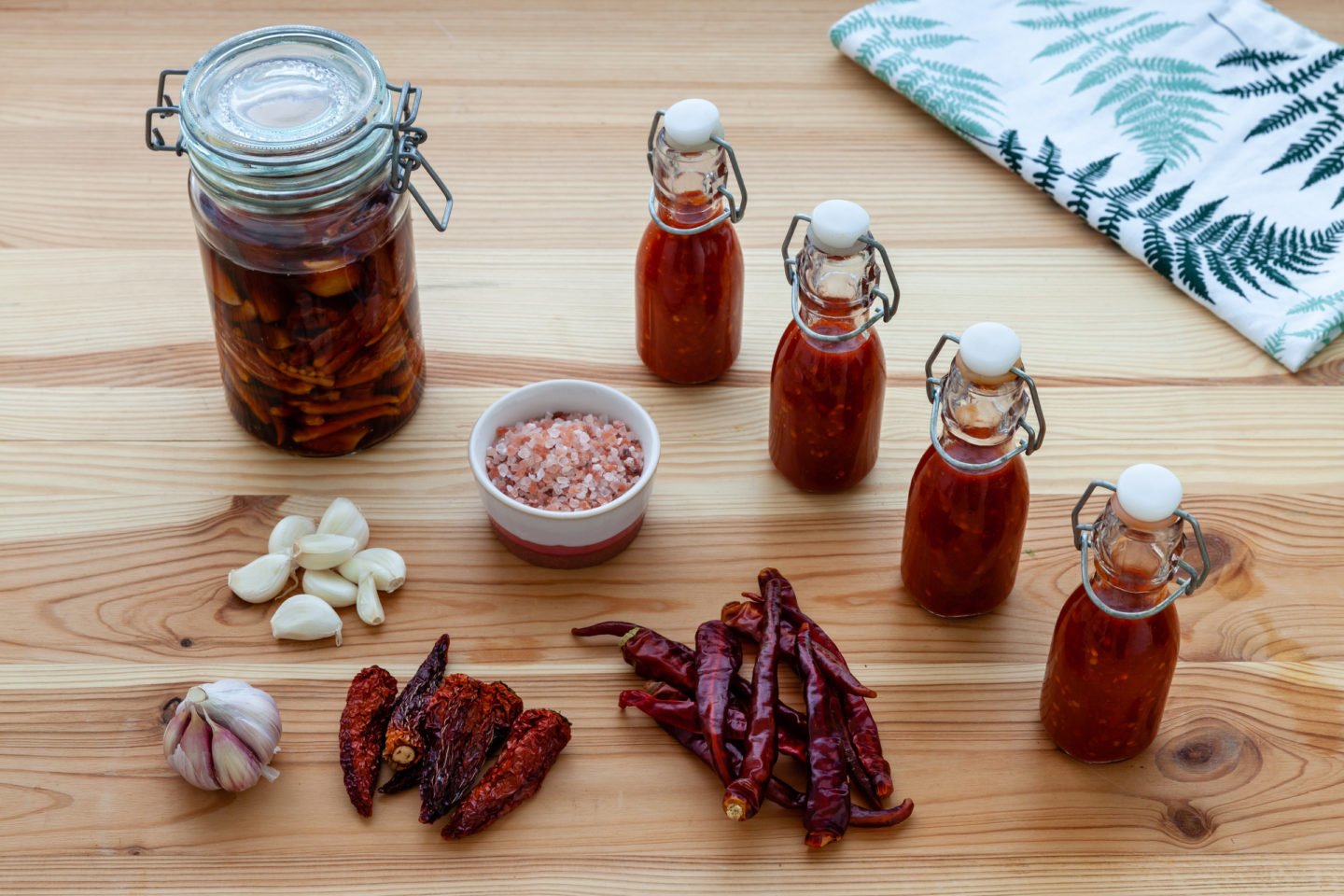 The fact is, sriracha is a relatively simple sauce, and with the right ingredients, you can make it in your own home. For a small batch, take half a pound of hot peppers, 1 clove of garlic, 1 tablespoon sugar, ¾ teaspoon salt, and 2 tablespoons white vinegar, and puree in a blender or food processor. Then add water, one teaspoon at a time, blending between each addition until it's the right consistency.
A blend of jalapenos and serranos is a good way to match sriracha's spiciness. If you're looking to turn up the heat, Thai chilis are a good choice that adds some fruitiness.
Summary Table
Below is a table that summarizes the best sriracha substitutes:
| Substitute | Notes |
| --- | --- |
| Sambal Oelek | It offers the closest match in terms of flavor but with a thicker consistency. |
| Gochujang | Sweeter and thicker than sriracha, but depending on the brand, can offer similar heat. |
| Cholula | One of many vinegar-based hot sauces that have a tangier flavor than sriracha. |
| Harissa | Includes chiles and garlic just like sriracha, but adds in a splash of lemon. |
| Chili Oil | A good way to capture Sriracha's classic heat, but in an oil form. |
| Frank's Red Hot | A classic American-style hot sauce with similar heat but a different consistency. |
| Peri-Peri Sauce | Contains many ingredients Sriracha doesn't, but it can definitely pack a punch. |
| Red Pepper Flakes | A fast and handy way to add a bit of chili heat to any dish. |
| Tapatio Hot Sauce | A popular Mexican hot sauce with similar levels of heat. |
| Louisiana Hot Sauce Original | Much more acidic than Sriracha, but still a good alternative. |
| Cayenne Pepper | This powdered spice can be a fast way to fine-tune heat in your dishes. |
| Thai Chiles | Fresh Thai chiles closely match the heat and flavor of Sriracha, especially if you add garlic. |
| Scotch Bonnet Sauce | Spicier with some added flavors, but a nice way to turn up the heat. |
| Tabasco Sauce | Much thinner and more vinegary, but commonly found in many fridges. |
| Yuzu Kosho | Contains a similar heat as Sriracha but with a strong citrus flavor. |
| Ketchup | Doesn't deliver on heat but matches the color and texture of Sriracha. |
| Mustard | Hot mustard can be used as an alternative if spiciness is your main concern. |
| Home Made Hot Sauce | The truth is that Sriracha isn't that hard to make at home if you have the right ingredients. |
Related Questions
What is Sriracha made of?
Sriracha has more ingredients than you may think, including chile peppers, sugar, salt, garlic, vinegar, and several preservatives. These work together to create a balanced flavor that highlight's the pepper's fruity spice. The peppers used are a red jalapeno hybrid which is bred for their high heat.
How Hot is Sriracha?
Sriracha is rated between 1,000 and 2,500 Scoville units, which is medium to mild compared to other hot sauces. It's about half the heat of Tobasco, though it is often used in greater quantities.

One other factor to keep in mind is that Sriracha is hottest when it's fresh. After it's been sitting in your fridge for a month, it's likely to fall closer to the bottom end of the spectrum.
What is a good dry substitute for Sriracha?
One of the best dry substitutes for Sriracha is cayenne pepper. It brings a good amount of heat to any dish while staying relatively neutral in terms of flavor.

When adding it to your meal, remember to use it in small quantities, about 1:4 in comparison with Sriracha. If you want to capture more of Sriracha's signature flavor, you can also add garlic powder and a bit of vinegar.
Is Sriracha good to cook with?
Sriracha is a great addition to a range of dishes, including Chinese, Thai, Mexican, and even burgers. The reason is because of its balanced flavor and medium heat level.

However, keep in mind that the sauce loses much of its potency when exposed to high heat. That means it's best added to a dish after most of the cooking is done, squirted right on top. It's also a good addition to dips, such as Sriracha mayo.